For a good leg workout, there are more options than just going to the gym. If you want to make sure you have the equipment you need to work and tone your legs, while also getting a rigorous exercise in, at any time of the day, then you will want to consider purchasing the equipment for your own home. If you're not sure what kind of machine you need for what type of result, then you've come to the right spot. We've done your homework for you to determine what machines will work what part of your body and how much it will push it. Of course, machines will require you set them accordingly and a lot of your progress will depend on how hard you want to push yourself. However, if you work hard, the machines on our list can definitely help you reach your fitness goals.
We reviewed dozens of leg exercise and workout machines to identify the best of the best. We looked at leg curl and extension machines that will help you tone your legs and the cardio leg machines that will help you tone while also losing a few extra pounds. Whether you want to build strength or obtain a specific look for your legs, we have the machines for you.
If you aren't able to use a more traditional leg workout or exercise machine as often as you'd like, you may want to consider something you can use under your desk; with that in mind, try our The Best Under Desk Ellipticals list. For those who want a good workout without the machine, you should take a look at The Best Plyo Boxes.
Early in our research, we could easily identify the Sunny Health & Fitness Squat Assist Row-N-Ride Trainer as the clear winner of best overall leg exercise and workout machine. It will give you the physical benefits of squats while ensuring you have all the potential for cardio you could want.
[toc]
The 5 Top-Rated Leg Exercise and Workout Machines for 2019
[table "35" not found /]
*Ratings are from Amazon at the time of publication and can change
Best Leg Exercise and Workout Machine Overall: Sunny Health & Fitness Squat Assist Row-N-Ride Trainer
The Sunny Health & Fitness Squat Assist Row-N-Ride Trainer will let you maximize your leg workout with the added bonus of plenty of cardio, too. Each of the three resistance bands can be adjusted to give you a softer or more intense workout; each band offers up twenty-two pounds of resistance. When engaging this machine, you'll be putting yourself in the same position as a deep squat, but with the added bonus of the machine to guide you – making sure your form is proper and you're not over extending anything to hurt yourself.
The digital display on the machine gives you complete control on your workout, showing you just how many calories you've burnt, how long you've been at it and you can change your resistance or speed based on whether or not you like what you see on the display each step of the way.
With an overall rating of 4.4 stars on Amazon, earned by over 400 customer reviews, we think there's plenty of reason to expect a high quality product that will keep you satisfied.
Sunny Health & Fitness Squat Assist Row-N-Ride Trainer Key Features:
3 resistance adjustment bands
220 weight capacity
3 saddle seat adjustments
Best Leg Lift Machine: Body Champ Fitness Multi Function Power Tower
The Body Champ Fitness Multi Function Power Tower may not be what you had in mind for a leg machine, but keep in mind just how intensely you will push yourself by multiple reps of leg lifts or raises. You'll be using your core plenty, but don't underestimate the leg work, either. You'll likely see all-over results, but more importantly, you'll definitely work up a sweat using this machine!
You'll easily be able to lift your legs while perched on the ultra comfortable padded back and arm cushions and you won't need to worry about slipping on or off with the nonskid feet posts. Beyond the leg lifts, this tower will let you use your own body weight to burn calories and tone your body with inclined push ups, pull ups, and dips. With this leg lift machine, you'll easily get a workout that can adjust to whatever you want to work.
With just under 500 customers on Amazon have felt strongly enough about this leg raise machine that they came back to give their honest feedback. Luckily, that feedback has been predominately positive, leaving it with an overall rating of 4.0 stars.
Body Champ Fitness Multi Function Power Tower Key Features:
42″D x 43″W x 85.8″H
Lightweight and portable; only 70 lbs
Height adjustable
Best Budget Leg Exercise and Workout Machine: Stamina InMotion E1000 Compact Elliptical Trainer
The Stamina InMotion E1000 Compact Elliptical Trainer is a guaranteed way to fit your work outs in, whether you're able to slip away from the office or not. Plopping this under desk elliptical at your feet will make sure that whenever you want to workout you can. You can use it seated or standing, so placing it near your standing desk will ensure your maximum results.
The nonslip textured pedals will make sure you're not going to slip and hurt yourself while you're working and by keeping that grip, you'll safely be able to work more intensely. The listing even suggests this be used for gamers who sit still while playing their video games. While that may not be your cup of tea, if you have time to relax and enjoy your nightly TV, you can add this to your living room to develop stronger legs with more toning.
There are well over 3,000 customer reviews on Amazon for this machine and they've given it an overall rating of a respectable 3.9 stars. But the real selling point on this machine is the price tag: You can pick one up for right around $90!
Stamina InMotion E1000 Compact Elliptical Trainer Key Features:
Minimum space required: 24.5″D x 17″L
Forward or reverse movements
Adjustable intensity dial
Best Leg Extension Machine: Marcy Adjustable 6 Position Utility Bench
The Marcy Adjustable 6 Position Utility Bench is perfect for specific leg training. If you want to tone and strengthen your legs, this extension machine can help with that. It won't give you much cardio, so if you're looking to lose weight, this is probably best used in conjunction with something else (and a healthy diet). But if your goal is less weight loss and more strength building, you can get what you need from this machine, to be sure. If you've had an accident and need to rebuild your strength, a leg extension may just be the best way to make sure you're getting back to normal.
The powder coated steel frame's construction guarantees that this is a utility bench that won't crumble under your fierce workout. You'll easily be able to put this together alone, but should you be worried, you can pay an extra $100 for an expert to assemble it from Amazon. You can set the seat's angle for a more or less strenuous workout and to target a specific muscle group, giving you plenty of control on your results.
This leg extension machine has over 300 customer reviews on Amazon and an overall rating of 4.0 stars. That's definitely sufficient support to convince us of its quality and after browsing the reviews yourself, we think you'll be tempted, too.
Marcy Adjustable 6 Position Utility Bench Key Features:
6 position adjustable back pad
High-density foam padding
Maximum weight capacity: 600 lbs
Best Elliptical Machine for Leg Workouts: Sunny Health & Fitness SF-E902 Air Walk Trainer Elliptical
The Sunny Health & Fitness SF-E902 Air Walk Trainer Elliptical  is an elliptical style of leg machine that ensures your legs tone while giving you the results you're working towards. Unfortunately, that means the results keep in pace with you – if you work out hard, the results will be faster. But if you're just starting out, you may need a slower pace and less resistance and that's something that a machine like this one can accomplish for you.
This machine also boasts that after regular use, not only will your external body be in better shape but your respiratory health will also benefit, and that's certainly a big plus. The nonslip, high tread foot pedals will make sure you don't injure yourself, even when you're so tired that your coordination slips a bit and the LCD display screen will let you determine if you've been working for long enough, or burned enough calories to meet your daily goals.
With nearly 900 customer reviews on Amazon, you can take comfort in the accuracy of its overall rating. And when that rating is 3.9 stars, there's every reason to believe you'll be one of the hundreds of satisfied customers.
Sunny Health & Fitness SF-E902 Air Walk Trainer Elliptical Key Features:
220 Max weight capacity
15L x 19w x 61.5H
Anti-Slip handlebars
Who Should Buy a Leg Exercise and Workout Machine
If you're interested in toning your legs, one surefire way to do so is to buy a machine that focuses on that one certain area. If you want an all-over toning, a machine that uses your entire leg will give you that, and an elliptical, stepper, stationary bicycle or even a rowing machine will do that. But they'll also give you an all-over work out that you may not be able to commit to (or you simply don't want). If that's the case, or if you want to tone your thighs and legs specifically, then a leg extension or curl machine will help you achieve that. If you want to tone your calves, then perhaps tip-toeing on the leg press will be your cup of tea; the part to remember is that if you want a specific part of your leg especially toned, there is a machine that can help you get the results you want. Weight loss is a more minor reason you may want to purchase a leg exercise or workout machine, but you shouldn't discount it entirely. While you may not get the cardio you'll need from a strength building machine like the leg extension machines, you will certainly get all you need to lose a bit of excess weight on an elliptical. If weight loss is your primary goal, you can achieve it with a leg machine, and the added bonus of toning your legs and building strength is definitely one you'll appreciate.
While you may be able to find a gym that has the machine you want, and you may even be able to find one that's open 24/7 to accommodate your schedule, you probably won't be able to find one that will be a less expensive option than simply buying a machine for your home. The national average for monthly gym memberships is $58, and even though you may be able to find far less expensive depending on your local gyms, that's still a lot of money over the course of a year. Consider that you can pick up a moderately priced leg machine for around $100, and the cost comparison becomes a no-brainer. If you don't need the variety that the gym offers, and you have the space, buying the equipment yourself is a smart move.
For people who've experienced an accident that has limited their leg movement, they're probably going to have to build their strength and range of movement back to a normal and fully functional level.  This applies to immediately after the injury and for old injuries that flare up from time to time. You'll need to check with your doctor to make sure you're ready to begin working your legs after they've been given enough time to rest and heal, but once you reach the point where the improvement is based entirely on your workouts, then you'll want to consider how much more you can do when you have access to strength building equipment at your own home.
Important Features to Consider
A leg exercise and workout machines should do several things well. Here's what to consider when selecting exercise and workout machines for your legs:
Long Game. If you're overall interest in a leg workout machine is simply to gain a higher level of endurance and fitness, then you don't need that "burn" from the get-go. There's certainly no shame in spending your free time doing something you enjoy and if that means doubling up your time on your equipment also reading, playing a phone game or watching your favorite television program, then that's okay, too. Understanding that you won't have fast results this way is crucial to make sure you're not disappointed, but if you find yourself getting sucked into a good book or show, then this may be the way to also guarantee you get your workouts in.
Weight Loss. You very likely will not lose too much weight if your leg machine doesn't elevate your heart rate. There are some equations that you can solve to find exactly what your heart rate should be and for how long to burn excess fat, but the basic rule is that you have to sweat and you have to do that for at least 20 minutes, up to an hour. For a strength building machine, you probably won't be at it long enough to lose weight fast. If, however, you know your body's strength is your legs and you want to put them to good use in your weight loss, then a cardio machine that utilizes your strength will be your best bet. You'll notice toning and building strength over time, but the weight loss will happen fastest with a cardio machine like an elliptical or a stepper as opposed to a leg press or extension machine.
Target – Thigh. The fastest way to see results from a machine on your thighs is probably going to be by using a squat machine. We recommend you use a machine rather than free-lifting at home by yourself because the risk is slightly less with a machine for those times when you don't have a spotter and decide to push yourself.  Leg presses will also help your thighs, but more so the knees and calves, so you may want to consider a combination leg squat and leg press machine.
Target – Knees. If you have a knee injury, or just weak knees, using a leg extension machine will help you strengthen it as quickly as possible. (As always with an injury, you'll need to check with your doctor to make sure you won't be working the injured knee too hard and re-injuring or overdoing it. You absolutely can harm yourself by pushing too much, too soon.) Any machine that uses your knees regularly without putting them in an awkward angle will help you strengthen it, but the leg extension and curl machine will allow you to go as slowly as you need to start and build on your success for the best, safest results.
Target – Calves and Ankles. A good leg press will allow you to use it to target more than just the thighs. In fact, extending the press and them going from a flat foot to a tip-toe repeatedly will help strengthen your ankles and show definition on your calves fast. If you have weak ankles and frequent problems with your ankles rolling, this same machine can be used to strengthen your ankles by starting with low weights to build strength over time. A squat machine will also help build your calves, and as you've probably determined by now, one leg machine can be used to target multiple areas of your legs for strengthening and defining.
Feel the Burn. When you're using your leg machine, you'll want to feel the muscles straining and flexing in the exact area you're hoping to tone and strengthen. It may not be the only place you feel it, but if you're not feeling any strain on that muscle at all, then you're not going to see the results there as quickly as if you chose a machine which does cause the "burn" in your desired area. This may seem self-explanatory, but it's often overlooked when you pick up a cardio machine which uses your legs. You won't see the results on your thighs if you're using a machine that uses primarily your calves. And if you feel the intensity of a workout in the beginning, but begin to stop feeling it the longer you do it, you'll be slow to see results then, as well. For example, you may get a solid and strenuous workout on a stationary bike, but you will need to adjust the settings to maintain the burn in your legs in order to tone them. That is, once your legs stop "burning," you're not done; you need to increase the resistance or incline to keep the work difficult for you.
Frequently Asked Questions
What are leg exercise and workout machines and how do they work?
Leg exercise and workout machines are individual pieces of fitness equipment that work your legs more than any other area of your body. Most of these machines will still use other muscles, as well; after all, smiling may use your cheek muscles the most, but they require use of your forehead muscles, too. While there are plenty of leg exercises that don't require machines at all, if you're struggling with form or balance, a machine that helps you teach your body how to perform them would be an excellent starting point. And if you're planning on pushing yourself, but won't always have a spotter to make sure your form is safe, then a machine may be the safest way to get your legs worked without injuring yourself. (Though that can still happen, so be careful when working out alone!) You can opt for a cardio machine that utilizes the strength of your legs to help get you to an overall higher level of fit or you can choose a hack squat machine or a leg press to really focus on building your leg's strength. Your bikes or row machines can do a bit of both, depending on how hard you push yourself, and a curl or extension machine will ensure that your knees are building strength while you're toning your leg muscles.
It's important to keep in mind that the results of your workout, regardless of your machine choice, will be largely dependent on how much effort you put into your workout. You can't put in a half effort on the machine and expect to get maximum results. Likewise, you won't be able to see any muscle defining if you follow your toning workout with a trip to the drive-thru.
What is the best exercise equipment for thighs?
While you don't need specific equipment to tone your thighs, they can certainly make the experience a bit easier. At the very least, they will take away your doubt on whether or not you have the proper form or if you're getting the most out of your workout. Using a bike in its more intense practice, like spinning, will work your legs thoroughly while also strengthening your glutes and core. You'll have a variety of positions available on a spinning bike, but they'll target several other areas besides just your thighs. A squat machine will target your thighs specifically, as will a leg press. A hack squat machine is an inclined squat machine (and these are the machines that can often be re-configured to become a leg press, as well) and can also work your legs while taking some of the pressure off your back. And if you had to pick only one machine to tone your thighs, one that offered you two of the most effective leg workouts (squats and presses) would probably be an excellent place to start.
Important note: Don't just get up from your desk and hop onto the squat machine or leg press and do your max weight or resistance. You'll have to warm up in some way, whether that's starting slowly with lower weight or if it's by stretching your muscles; perhaps a quick run or 10-15 minutes on a cardio machine. Whatever you choose, you will want something to start before you get right to it to prevent injury.
How can I slim down my legs fast?
Building muscles won't slim down your legs, so you need to keep in mind your specific goals when you're choosing your workout regiment. Losing excess weight will, for most people, mean cardio. The bottom line on this is that in order to lose the weight on any part of your body, you'll need to burn more calories than you consume. (There are other health complications that may make this less cut and dry, though, so you'll need to know your body.) Building muscles mass won't make your legs appear slimmer, so maybe squats won't get you the look you want.
However, if you want to make sure your legs are toned and defined when you shed their excess pounds, then a stationary bike is an excellent choice. You have the choice between a standard, upright stationary bike and a static, spinning bike. The spinning will give you a more all-over work out and the upright a more targeted one. (You can also expect the spinning bike to handle the more intense workouts a bit better, so if fast is your goal, that may work best for you.) An elliptical can also offer these results, as can any kind of stepper machine. A row machine is another such way that will lean your legs fast, but it will also give you a full-body workout, making all your muscles appear more defined after you shed those excess pounds with a lot of cardio.
What is the best exercise machine to build leg muscle?
You will very likely find that what works best for you is what you enjoy the most. You may never have considered that you could enjoy any one exercise more than another but the truth is, you'll have favorites. We highly recommend trying a few out before purchase to make sure the one you buy will be both enjoyable and effective. If you don't enjoy the workout, then you won't be as likely to use it and the machine you purchase could turn into a very expensive laundry rack.
While some machines may work better for your specific routine than others, one machine that will universally target your legs is an extension and curl machine. They will often look like benches and by switching the turn of the bar and position of your legs, you'll be able to use the one bench to extend your legs straight and to curl them back, as well. Some machines won't be easily converted and you may need to choose one or the other, but since it's the same equipment, just pushing versus pulling, it has become common for home gym equipment to transition between the two.
Other Leg Exercise and Workout Machines We Reviewed
We looked at 20 other leg exercise and workout machines. Even though they didn't make our 5 best leg exercise and workout machines list, they're the best of the rest and each is still a great option for you. The information you'll need to compare each one is included with the listing.
Stationary Bikes for Leg Workouts
Leg Curl and Extension Machines
Elliptical and Stepper Machines for Leg Workouts
Squat and Leg Press Machines
Stationary Bikes for Leg Workouts
EXERPEUTIC 900XL Recumbent Exercise Bike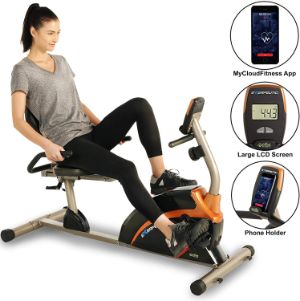 With an easy-to-read 3.5″ LCD screen, you'll easily monitor your progress and be able to count down to your workout's end, taking out that guess work.
Key Features:
Bluetooth available (and access to MyCloud App)
8 resistance levels
Adjustable seat for people 5'3″ to 6'6″
Cost: $200
NordicTrack Commercial Studio Cycle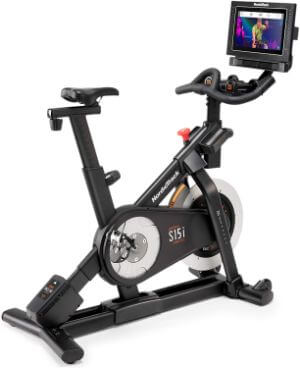 With a 14″ interactive touch screen, you're ensuring that you get the most out of your leg workout to maximize your results.
Key Features:
1-year iFit membership included with purchase
Transportation wheels
22 digital resistance levels
Cost: $1600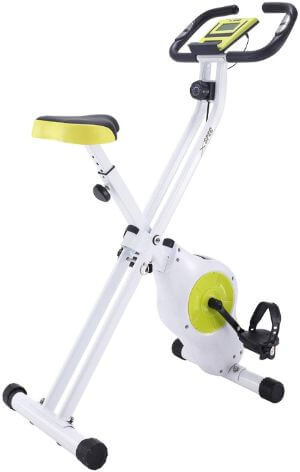 On the included LCD display you'll be able to monitor your heart rate, calories burned, time spent on the workout, and more!
Key Features:
3 colors available
220 lb weight capacity
Adjustable seat for people 4'10" – 5'9″
Cost: $105
YOSUDA Indoor Cycling Bike Stationary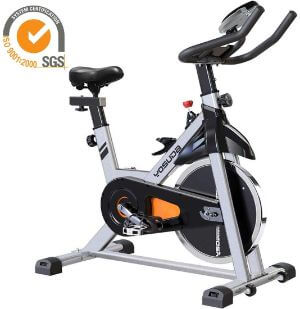 This stationary bicycle can handle an overall weight limit of 270 pounds on its ultra-portable 35 pound design.
Key Features:
Powder-coated steel frame
Transportation wheels
Tablet mount
Cost: $260
Leg Curl and Extension Machines
Valor Fitness CC-4 Adjustable Leg Curl and Extension Machine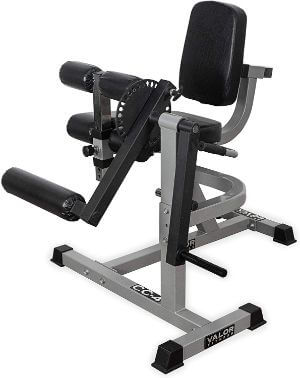 With handles on either side of the seat, you'll be able to brace yourself to lift and extend your legs with the weight you add on, no problems.
Key Features:
2″ x 2″ steel frame
High-density, dual-layered vinyl padding
8 thigh support adjustments
Cost: $285
XMark Rotary Leg Extension and Curl Machine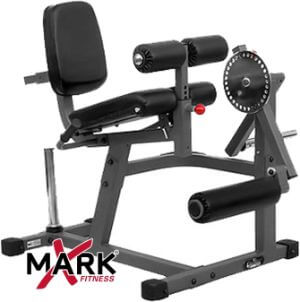 With a fully adjustable backrest pad, you'll be able to comfortably use this leg extension machine, no matter your height.
Key Features:
12 adjustment thigh pads
20 position arm pad
3″ thick Duracraft cushions
Cost: $445
Elliptical and Stepper Machines for Leg Workouts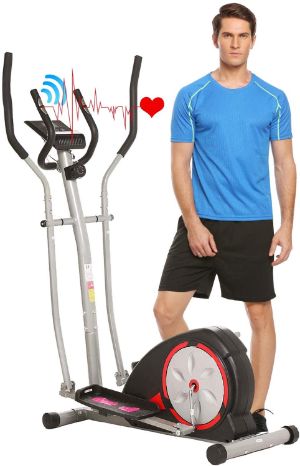 The LCD screen on this elliptical will track your time, speed, distance, heart rate, and calories burnt for the duration of your workout.
Key Features:
2 colors available
13″ large foot nonslip pedals
1-year warranty
Cost: $260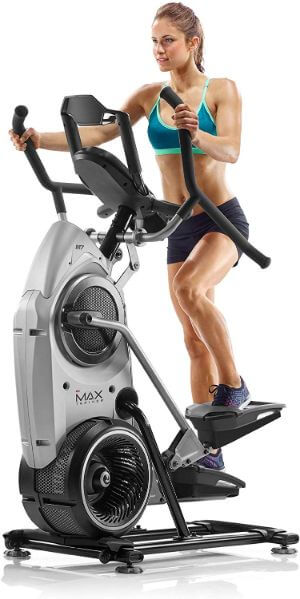 You'll get plenty of cardio while firming and building your leg muscles with this elliptical.
Key Features:
11 workout programs
20 levels of resistance
2 models available
Cost: $1500
Cubii Jr. – Seated Under-Desk Elliptical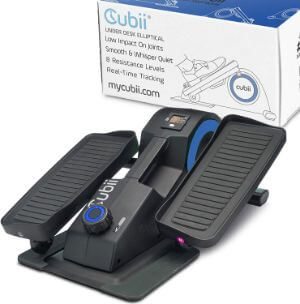 If you don't have time to get to the gym, it's not a far leap to say you may not have time to work out as much as you'd like, either. For the days you're pressed for time, the under desk elliptical will keep you moving and your legs toned.
Key Features:
8 resistance levels
5 color options
Whisper-quiet operation
Cost: $235
EFITMENT Air Walker Glider Elliptical Machine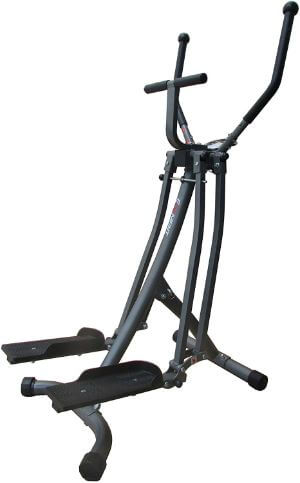 With 180 degrees of full motion you can use this elliptical and glider machine for front-to-back and side-to-side motions for an all-over leg workout.
Key Features:
Ergonomic moving handlebars
Folds for compact storage
LCD monitors
Cost: $115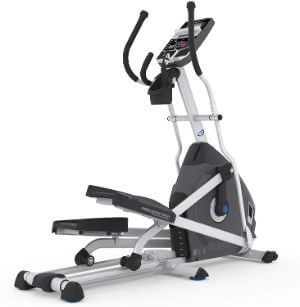 With dual LCD screens, you'll be able to track your heart rate just as easily and in conjunction with, your exercise progress.
Key Features:
20 levels of resistance
22 programs
3 models available
Cost: $700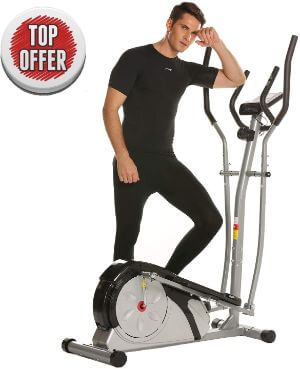 The wheels on the front of this elliptical mean that you can roll this out of the way and back in front of the TV for your workout with no problem what so ever.
Key Features:
Heart rate monitor on stationary handles
2 colors available
8 levels of resistance
Cost: $260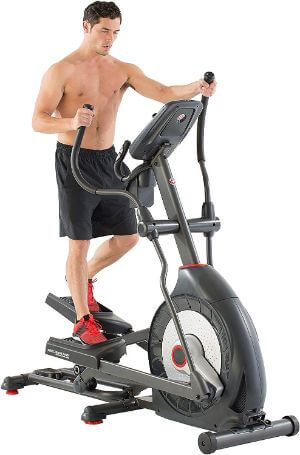 This elliptical will connect via Bluetooth to allow you to track your workout through your phone and maintain a log of your fitness journey.
Key Features:
25 levels of resistance
29 workout programs
4 models available
Cost: $900
Sunny Health & Fitness Stair Stepper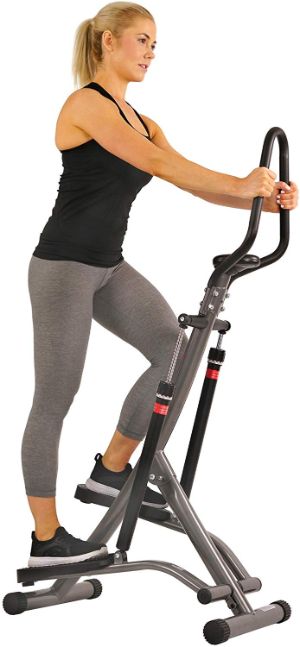 With this stepper, you'll be able to climb your way to optimal leg strength.
Key Features:
12 incline settings
220 lb max capacity
Folds for fast storage
Cost: $110
Teeter FreeStep Recumbent Cross Trainer and Elliptical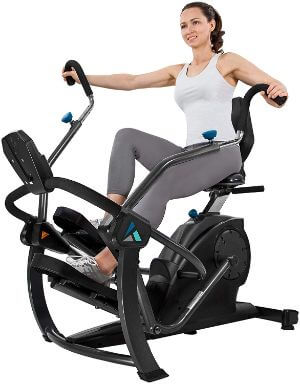 The battery powered digital console will allow you to track your progress each time you hop on this machine.
Key Features:
Mat bundle available in listing
Near silent magnetic resistance
54″ x 38″ footprint
Cost: $750
Squat and Leg Press Machines
Body-Solid GLPH1100 Leg Press and Hack Squat Machine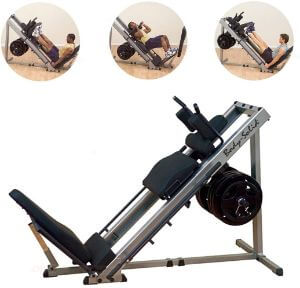 This machine will reconfigure its diamond plated foot plate to become a hack squat machine or a leg press, depending on your mood.
Key Features:
Quad track roller for smooth operation
Under-carriage plate system; 1000 lb capacity
11-gauge steel frame
Cost: $1645
Body-Solid Leverage Squat and Calf Raise Machine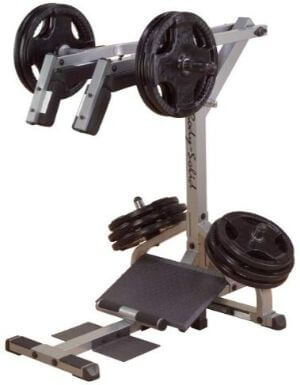 This squat and calf raise machine will stay where you place it, so you won't need to worry about your safety if you push too hard; even without the weights, it's still 170 pounds.
Key Features:
62″L x 43″W x 56″L
800 lb weight plate capacity (weights sold separately)
Durafirm shoulder pads
Cost: $660
Force USA Monster Ultimate 45 Degree Leg Press and Hack Squat Combo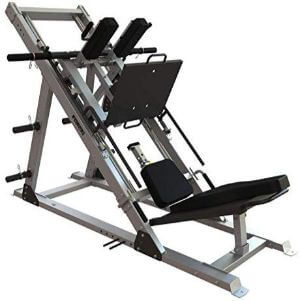 When not in use, you can store your weight plates along the back of this leg press/squat combo with ease.
Key Features:
1000 weight plate rating
5 safety lock out positions
Calf-clock included
Cost: $1600
TDS 4-Way Hip Sled to use as Leg Press
You can use this machine four ways: as a leg press, hack squat machine, with a forward thrust, or with a calf raise.
Key Features:
37″W X 80″D X 52″H
1000 lb capacity (weights not included)
Heavy duty; weighs 300 lbs
Cost: $1300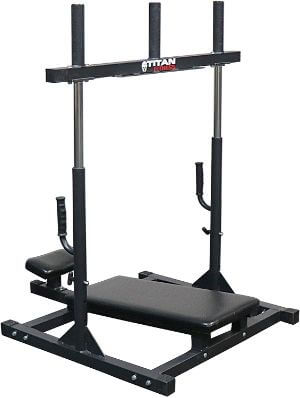 As a standard leg press, you'll easily be able to hold onto the handles while pushing your legs to their max.
Key Features:
3 weight posts to balance pressure
Adjustable footplate to accommodate your size
Steel frame and comfortable pad construction
Cost: $340