A massage without a massage oil is like a sundae without the ice cream. Massage oils reduce friction, nourish the skin, and sometimes add aromatherapy benefits. Whether at a spa or at home, a massage oil can mean the difference between a regular massage and a truly restorative experience.
Standard massage oils include coconut, jojoba, sunflower, almond, apricot kernel, avocado, grapeseed, olive, and kukui nut, but recently, a new one has come onto the market: CBD massage oil. Made with cannabidiol (CBD), a non-psychoactive chemical from hemp plants, CBD massage oil is designed to provide all the standard benefits of any massage oil with the additional benefits of CBD.
As the CBD from the oil sinks into the skin, it may help soothe anxiety, reduce chronic pain, calm inflammation, and speed healing. In a 2016 study, for instance, researchers found that topical CBD application had therapeutic benefits, including the relief of arthritis joint pain.
Which massage oil is best? We recently reviewed dozens of them to determine the answer to that question. We looked at the amount of CBD in each, the other ingredients in the massage oil, the scent and/or aromatherapy benefits, and cost.
We've identified CBD Living Massage & Body Oil as our top pick. With 300 mg CBD per 12-oz. bottle, it provides the CBD you need to soothe tired muscles while hydrating dry skin.
[toc]
The 5 Top-Rated CBD Massage Oils
*Ratings are current at the time of publication and can change.
Best CBD Massage Oil Overall: CBD Living Massage & Body Oil
CBD Living Massage & Body Oil is made with natural oils including hemp seed, grape seed, apricot, and almond. The manufacturer combined 300 mg of broad-spectrum CBD with a proprietary skin retention technology to help the formula sink deeply into the skin, increasing the likelihood you'll experience a welcome relief of pain and tension in your muscles and joints.
This combination of oils also deeply conditions the skin, delivering essential fatty acids to help plump and soften and leaving behind a smooth feel that is never sticky. Use this oil during a massage or simply apply it to the skin after a shower for luxurious moisture. The formula also includes some vitamin E and rosemary oil for extra moisture and protection and is made with all non-GMO ingredients proudly in the USA.
CBD Living uses only organic hemp sourced from state-licensed farms in Oregon and Colorado, and all its products are 100 percent THC-free.
CBD Living Massage & Body Oil Key Features:
300 mg CBD per 12-oz. bottle
Made with natural oils including hemp seed and grape seed
Proprietary skin retention technology helps the oil penetrate deeply
Use to relieve tired and achy muscles and joints while moisturizing skin
THC-free
Best Scented CBD Massage Oil: American Shaman CBD Massage Oil
American Shaman CBD Massage Oil comes in four scents you can use for aromatherapy benefits: Lavender, Palo Santo, Tea Tree, and Natural. All are scented with natural essential oils—no synthetic fragrances here—so you can relax and inhale to your heart's content.
This isn't just a nice-smelling oil, however. It's made with sweet almond oil and apricot oil to help moisturize and plump skin, while hemp extract and CBD oil may help to ease inflammation and pain. American Shaman promises 15 mg of full-spectrum, terpene-rich hemp extract per ounce of the oil.
Terpenes are organic compounds produced by the cannabis plant that are thought to work together with the CBD to create health benefits. Some terpenes are believed to promote relaxation and stress-relief, while others promote focus and acuity. This formula has a broad-spectrum of both terpenes and CBD in the hemp oil concentrate, which are believed to be helpful for achy muscles and joints while keeping skin hydrated.
Each bottle also contains MCT, which stands for "medium-chain triglycerides"—fatty acids that help moisturize and soothe skin irritations.
American Shaman CBD Massage Oil Key Features:
Delivers broad-spectrum, terpene-rich hemp extract
Helps ease achy muscles and joints
15 mg of hemp extract per ounce
Four scents available
Best Budget CBD Massage Oil: Zatural Virgin Cannabis Hemp Oil
Zatural Virgin Cannabis Hemp Oil gives you the benefits of natural hemp oil at a nice price. It's cold-pressed, which means the fragility of the ingredients is protected all the way from harvest to sale. Zatural says the oil is "high in vegan omega 3 & 6," which are fatty acids known to help plump up the skin and make it look more moisturized and youthful. The company goes so far as to measure the omegas in each tablespoon—you get 8 grams of omega 6s and 2.5 grams of omega 3s.
This product is made with organic ingredients grown without herbicides or pesticides and is 100 percent pure with no additives or preservatives. Use the oil straight on your skin, or mix it with your favorite carrier oil to make it last a little longer. It's a great option for easing pain and stress, as well as for moisturizing and soothing the skin.
Researchers rave that this product helps ease upper neck and back pain, and use it both topically and internally.
Zatural Virgin Cannabis Hemp Oil Key Features:
Made with 100-percent organic, virgin cold-pressed hemp seed oil
High in omega fatty acids that help plump and soften skin
Pure, nutrient-rich oil for a nice price
No additives or preservatives
Best Pain-Relieving CBD Massage Oil: CBD Medic Massage Therapy Pain Relief Oil
CBD Medica Massage Therapy Pain Relief Oil is our top pick for massage oils made to relieve pain. Though you're likely to find some pain relief with any CBD massage oil, CBD Medic took some extra steps with this one to provide targeted relief.
First, you get 200 mg of CBD hemp extract in each bottle, which is 100 percent naturally derived. Then you get active ingredients camphor and menthol, which are both known to help soothe achy muscles and joints. Cruelty-free and vegan, the solution contains other natural oils including jojoba seed, cottonseed, honeysuckle, myrrh, argan, and coconut.
This product contains more plant-based oils than any of the others on our list, which means it will soothe, soften, and plump skin while helping to relieve pain. Finally, the product includes frankincense oil, which has been studied for its ability to help tame arthritis pain.
CBD Medic Massage Therapy Pain Relief Oil Key Features:
A unique combination of ingredients meant to help relieve pain and stiffness
Perfect for rubbing on achy muscles and joints
200 mg of CBD hemp extract in each bottle
Active ingredients menthol and camphor help ease pain
Cruelty-free and vegan
Best Relaxing CBD Massage Oil: Receptra Naturals Seriously Relax Body Oil
If you're looking for a relaxing CBD massage, choose Receptra Naturals Seriously Relax Body Oil. It's formulated with a blend of natural and organic ingredients meant to help those who are overwhelmed and anxious to find some relief. MCT oil is the first ingredient, which contains natural fats that help soothe and soften skin.
Arnica and jojoba oil are next—both rich, soothing oils that also have anti-inflammatory properties. Arnica has also been studied for its ability to ease muscle aches and arthritis pain. Then Receptra adds its hemp extract, which is said to deliver 200 mg of CBD per 4-ounce bottle and adds camphor for additional pain-relief action. Finally, a mix of natural lavender and vanilla essential oils provide a relaxing aromatherapy experience.
Receptra products are non-GMO, organic, and free of pesticides. When your life seems a little out of control, use this oil to help yourself to wind down and release.
Receptra Naturals Seriously Relax Body Oil Key Features:
200 mg per 4-oz bottle
Scented with natural essential oils
Ingredients help relieve pain while relaxing the body
Deep-absorbing oil softens and plumps skin
Who Should Buy CBD Massage Oils
One of the best reasons to buy a CBD massage oil is to enjoy the added benefits of CBD with your massage. While any massage can help ease the pain of stiff, achy muscles and joints, adding CBD to the mix may make the treatment even more effective.
CBD can provide a welcome alternative to over-the-counter or prescription pain relief drugs. The Arthritis Foundation surveyed about 2,600 people with arthritis in 2019, and found that 79 percent of them were currently using CBD, had used it in the past, or were considering using it as an alternative therapy to help manage arthritis pain.
In response to the interest in CBD, the Arthritis Foundation partnered with medical experts to provide guidelines on CBD use. They all agreed that CBD could help with arthritis-related symptoms like pain, insomnia, and anxiety, though there are currently no rigorous clinical studies confirming this.
CBD may penetrate the skin during a massage and sink deep enough to help tame inflammation and ease the pain of not only arthritis but muscle soreness and tightness. If you are looking for a way to ease pain without having to take more medications, CBD massage oils may be worth a try.
If you're looking for an at-home massage you can do yourself, you may want to check out The Best Foot Massagers.
Important Features to Consider
When shopping for CBD massage oils, consider the following features:
The amount of CBD in the formula. Whether you feel the benefits of the CBD in the oil is largely dependent on how much CBD is in it and how well it penetrates the skin. Quality products will put the actual amount (10 mg, for example) on the label. Others will simply add "CBD" but won't tell you how much you're getting. You should approach those products with caution, as they may not produce the CBD benefits you're hoping for. You can also look at the ingredient list to see where the source of the CBD is listed. Ingredients that are closer to the beginning of the list are typically included in higher amounts.
The extraction method used. How manufacturers extract the CBD from the hemp plant can affect its quality, safety, and purity. Currently, the best extraction methods are CO2 or ethanol extraction. These use either carbon dioxide or ethanol to separate the CBD from the rest of the ingredients in the plant. Methods you may want to avoid include those that use hydrocarbons like petroleum, butane, or propane. If you're purchasing straight hemp oil, look for cold-pressed extraction, which is the best method for preserving that cannabinoids and other phytochemicals in the oil.
Whether the product is third-party tested. Reputable manufacturers will partner with third-party labs to test their products. These labs analyze the cannabinoids present in the oil and can confirm the amount advertised on the label. They can also confirm that there are no unwanted toxins in the oil, including bacteria, pesticides, or other harmful substances. Products that are third-party tested provide an extra level of quality you can count on.
Is the CBD oil full-spectrum or isolate? Full-spectrum (or broad-spectrum) oils typically contain higher amounts of CBD as well as other cannabinoids like CBN, CBC, CBG, and sometimes THC (the psychoactive cannabinoid), though the level of THC should never be higher than three percent. Full-spectrum oils are thought to be more beneficial than CBD isolates, which include only CBD. If you're concerned about THC, however, check to be sure that the product is THC-free, or choose a massage oil that uses CBD isolate.
What other ingredients are in the oil. Each massage oil has a unique combination of a variety of ingredients. Though all CBD massage oils are expected to have CBD in them, they may also have other oils, extracts, vitamins, fatty acids, scents, additives, emulsifiers (to help the ingredients mix well together), and more. In general, it's best to avoid those solutions with synthetic fragrances and preservatives and choose those that employ natural ingredients that work best with the skin.
Frequently Asked Questions
What does CBD do for massage?
The main reason manufacturers add CBD to massage oil is for the health benefits it may provide. CBD has natural anti-inflammatory properties, which means it may help relieve some of the inflammation present in sore muscles and joints, easing pain and stiffness.
CBD is also thought to help soothe anxiety. In a recent study, researchers gave participants who were struggling with anxiety or poor sleep a 25 mg CBD supplement every day for a couple of months. Results showed that nearly 80 percent of those suffering from anxiety had decreased anxiety scores within the first month, and those scores remained decreased for the duration of the study.
While this study involved CBD supplements—not CBD massage oils—it is believed that topical application of CBD oil may have similar anxiety-relieving benefits.
How do you massage with CBD oil?
You can use a CBD massage oil in the same way as you would any other massage oil. The therapist at your spa may use it on his or her hands during the massage, or you can use it yourself to massage your own painful muscles and joints or to provide relief to a loved one.
Is massage oil or lotion better?
Typically for a massage, an oil works better than a lotion or cream, as it provides the slick surface you need to be able to easily move the hands over the skin. If you have targeted pain, say in the knee or shoulder, you can simply massage in a CBD cream or lotion in that area for pain relief. This is more of a topical application of a pain reliever, however, than it is a massage.
A massage usually lasts longer and involves more manipulation of the skin and muscles. For that type of use, oil is usually the best choice.
Does CBD oil massage work?
Because of the legalities involving hemp and CBD, we are behind in our research on its benefits. There are only a few very small studies using CBD topically, but those we have are showing that CBD oil massage may help relieve inflammation and pain. Now that the laws are changing, scientists are doing more research and will have more results soon. In the meantime, since CBD massage oil is generally considered very safe, you can try it and see if it helps you.
Other CBD Drinks We Reviewed
We looked at 20 other CBD massage oils. Even though they didn't make our 5 best CBD massage oils list, they're the best of the rest and each is still a great option for easing pain and stiffness while moisturizing skin. The information you'll need to compare each one is included with the listing.
CBD Massage Oils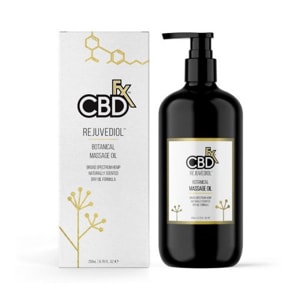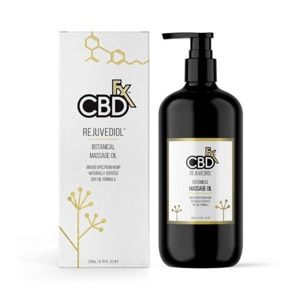 This dry oil formula provides a nourishing massage without the oily, sticky feel of other massage oils. Includes 150 mg of organically grown CBD hemp oil.
Key Features:
A dry oil that won't leave you feeling sticky
Contains 150 mg of organically grown CBD hemp oil
Other ingredients include jojoba and evening primrose oils
Cost: $35 for 6.76 ounces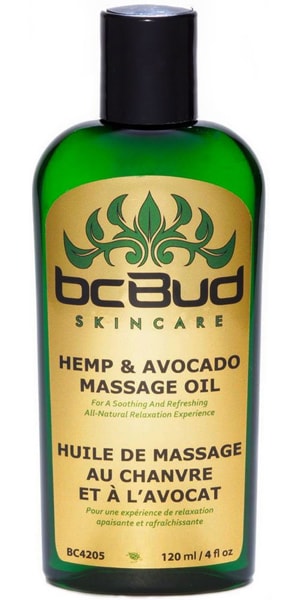 Made with all-natural, cold-pressed hemp oil, this product smoothly glides on skin, leaving it feeling silky soft.
Key Features:
Cold-pressed hemp oil retains more healthy plant nutrients
Also includes a combination of jojoba, avocado, grape seed, and meadowfoam seed oils
Enhances intimacy when used with a partner
Cost: $20 for 4 ounces
Premium Nature Organic Hemp Seed Carrier Oil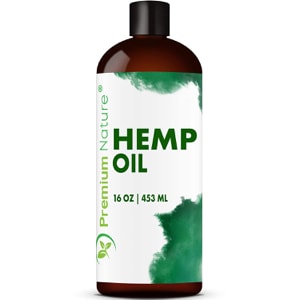 Use this oil to help calm inflammation and irritation on the skin's surface. Helps moisture and encourages healing. Perfect for use as a carrier oil.
Key Features:
Made with 100-percent natural hemp oil extract
Full of antioxidants that support the skin's youthful appearance
Balances oily skin, moderating oil production
Cost: $16 for 16 ounces

Perfect for the amateur or professional massage artist. Provides a nice slick glide on the skin. Made with a 100-percent natural blend of oils.
Key Features:
Provides a slick glide on the skin
Made with 100-percent natural hemp, almond, apricot, and grape seed oil
Absorbs deeply and leaves behind no greasy residue
Cost: $19 for 8 ounces
Hempz Pure Hemp Bath, Body, & Massage Oil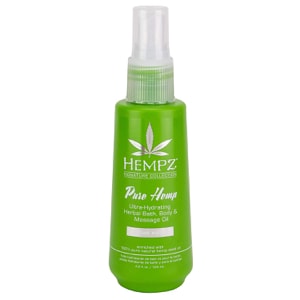 Enjoy this multi-purpose, silky, lightweight oil in the bath, straight onto the skin, or as a massage oil. No matter how you use it, it will leave the skin feeling conditioned, hydrated, and radiant.
Key Features:
Versatile hemp oil that softens skin
Contains other oils too, including sunflower
Complete skin conditioner with triglycerides, shea butter, and aloe
Cost: $11 for 4.2 ounces
Plant Therapy Hemp Seed Carrier Oil

Use this carrier for all your massage needs. It's made with 100 pure hemp seed oil and provides omega-3 and omega-6 fatty acids to help nourish hair and skin.
Key Features:
100-percent pure and natural hemp seed oil
Absorbs easily into the skin
Contains natural fatty acids that help plump and hydrate
Cost: $14 for 3.4 ounces
Lazarus Naturals CBD Massage Oil
This full-spectrum CBD massage oil contains 100 mg CBD per ounce. Made with jojoba, coconut, and sweet almond oils.
Key Features:
100 mg CBD per ounce
Non-GMO and made in the USA
Ethanol-based extraction process
Third-party tested for potency, pesticides, and heavy metals
CBD Pain Relief Massage Oils
Imperial Being Royal Arnica Hemp Oil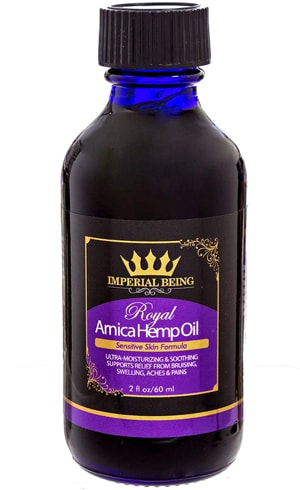 Made for sensitive skin, this herbal formula helps relieve sprains, strains, tension, and aches. It contains arnica extract, which has been found in studies to help relieve pain.
Key Features:
Made for sensitive skin
Mean to soothe the pain of strains, sprains, and aches
Contains a unique blend of oils including hemp, Frankincense, myrrh, and eucalyptus
Cost: $37 for 2 ounces
This pain-relieving oil contains 500 mg of hemp extract per bottle, as well as arnica oil to help provide temporary relief of minor aches and inflammation.
Key Features:
Includes 500 mg of hemp extract
Lightweight and fast-absorbing
Eases sore muscles and helps with cramps
Cost: $30 for 8 ounces
Blue Ridge Hemp Massage & Body Oil
Use this massage oil to gain relief of muscle pain and soreness, joint pain, nerve pain, and inflammation. Made with 99.7-percent pure CBD isolate.
Key Features:
Helps relieve muscle and joint pain
Made with 99.7-percent pure CBD isolate
Also contains a blend of many other plant-based oils
CBD Relaxing Massage Oils
Mana Artisan Botanics Hemp Massage Oil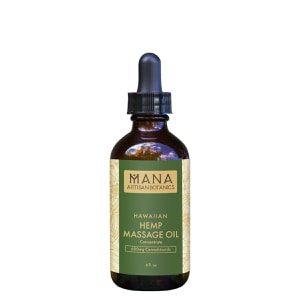 This high-potency oil is meant to be added to another carrier oil to boost the relaxing effects. It's made with organic MCT coconut oil infused with phytocannabinoid-rich organic hemp and vitamin E oil.
Key Features:
Easily mixes into the oil or cream of your choice
Delivers 150 mg of phytocannabinoids per ounce
Boosts the relaxing, anti-anxiety effects of any massage
Cost: $110 for 4 ounces
Perfect for its soothing and relaxing effects, this oil nourishes the skin when used as a massage or body oil. Includes organic hemp seed and coconut oils.
Key Features:
Helps revitalize the body and relax sore muscles
Leaves the skin feeling hydrated with a pleasant coconut scent
Reviewers say it helps with skin conditions like psoriasis
Other CBD Massage Oils
Aspen Green Nourishing Body Oil
This nourishing body oil is infused with whole-plant hemp extract as well as a blend of natural plant-based oils like jojoba and evening primrose.
Key Features:
Broad-spectrum whole hemp plant extract
Soothes and softens skin
Includes jojoba, MCT, and evening primrose oils
Less than 0.3 percent THC
Cost: $65 for 4 ounces

This cold-pressed hemp oil is organically grown and rich in vegan omega fatty acids. Apply directly to skin or hair.
Key Features:
Made with 100-pure hemp oil
Rich in omega fatty acids that help nourish skin and hair
Cold-pressed and organically grown
Cost: $20 for 16 ounces
Sky Organics Organic Hemp Seed Oil
Lightweight and non-greasy, this massage oil is made with cold-pressed hemp seed oil. It provides long-lasting moisture to the skin without clogging pores.
Key Features:
Lightweight and non-greasy
Contains 100-percent pure, cold-pressed organic hemp seed oil
For all skin types
Cost: $18 for 16 ounces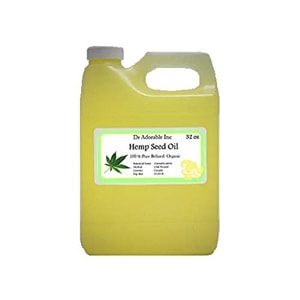 Keep your skin moist and wrinkle-free with this cold-pressed, 100-percent pure hemp seed oil. Works great in soaps, creams, and lotions, or for massage purposes.
Key Features:
Made with 100-percent natural, organic hemp seed oil
A versatile product you can use in many ways
Contains fatty acids that help smooth and soften skin
Cost: $25 for 32 ounces
This 100-percent pure and natural hemp oil is rich in vitamins, minerals, and plant chemicals that help promote healthy, youthful skin and hair.
Key Features:
Contains only 100-percent pure hemp oil
No synthetic additives, preservatives, or dyes
Helps soften and hydrate skin and hair
Cost: $14 for 3.4 ounces
SVA Organics is serious about being organic. This USDA-certified organic product contains only hemp seed oil and is cold-pressed extracted to preserve the beneficial compounds.
Key Features:
USDA-certified organic
Includes only cold-pressed hemp seed oil
Use to moisturize the skin and prevent premature aging
Cost: $10 for 4 ounces
Wonder Earth Virgin Hemp Seed Oil
This freshly-pressed virgin hemp seed oil is packaged in a dark amber glass bottle to help preserve the active nutrients. Contains 100-percent pure, organic hemp seed oil.
Key Features:
Preserved in a dark amber glass bottle
Includes 100-percent pure, organic hemp seed oil
Smooths and nourishes skin and hair
Cost: $15 for 4 ounces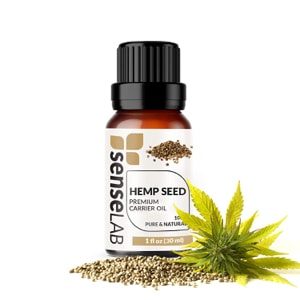 This premium carrier oil is made up of 100-pure and undiluted hemp seed oil that's been extracted through cold-pressing the hemp seeds. No fillers, additives, or artificial substances added.
Key Features:
100-percent pure, cold-pressed hemp seed oil
No fillers or additives
Mix with your favorite carrier oil to enjoy the relaxing benefits
Cost: $7 for 1 ounce