Meal kit delivery services have taken off in terms of popularity in recent years. The way they work is that home cooks choose the meals that they want to cook from a predetermined menu, and the company will send you the ingredients as well as instructions on making the recipe.
For those who don't have time to grocery shop or prep their ingredients, this service can be a lifesaver! Other people who benefit include those who want to expand their cooking repertoire as well as those who just want to add a bit more variety to their families' diets. Meal delivery services help you to cook delicious, nutritious meals without waste; their recipes are designed to feed a set number of people without a lot of extra, so if you're not into eating leftovers, you won't need to feel guilty.
We have taken a look at over a dozen meal kit delivery services to bring you the best. We looked at overall value, what's included, ease of shopping, and what consumers had to say about the services. You'll find the information you need to compare the companies in each listing.
If you're looking for convenient delivery options for all your grocery needs or simply want to be able to pick and choose your own ingredients to prepare your favorite recipes at home, check out our review of the best grocery delivery services. If you're looking for the convenience of ready-to-prepare meals, however, read on to learn more about the top-rated meal kit delivery services.
[toc]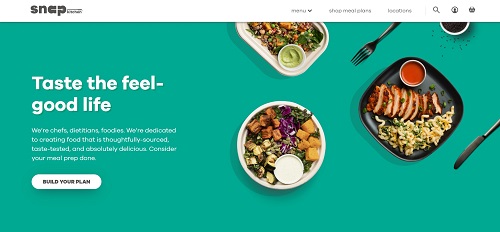 If you are looking for a lot of choices when it comes to customizing your meal plan, Snap Kitchen might be the best choice for you. They have tons of personalized options available, so if you follow a special diet, you're likely to be able to stick to it. Some of the special diets they can accommodate include keto, vegetarian, Whole 30, paleo, and high protein. Snap Kitchen takes pride in including superfoods in their recipes and says that they can reduce inflammation, boost energy levels, clear up skin, and more. In addition, you can indicate if you have a food allergy so you don't receive foods containing that ingredient.
This company delivers to customers in most parts of Texas, Oklahoma, Arkansas, Louisiana, Kansas, New Mexico, Pennsylvania, Connecticut, New Jersey, Maryland, Delaware, New York, Massachusetts, Virginia and West Virginia.
Key Features of Snap Kitchen:
A la carte options are available
Easy to use if you are on a special diet
Offers breakfast, lunch, dinner, and snack foods
Uses whole, nutritious foods
Choose the number of meals you want each week
No preservatives
Compostable packaging
Entire menu is gluten-free, hormone-free, and antibiotic-free
Cost: $70 to $115 weekly. The company sometimes has special offers. At the time of this writing, you can click here to get $40 off and free shipping.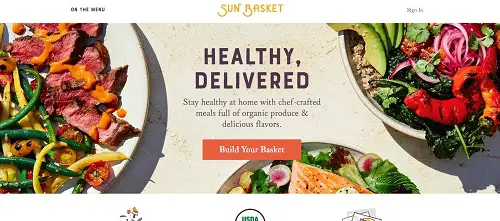 Sun Basket is another meal kit delivery service that focuses on healthy foods. They allow you to customize your box to get meals for one person, two people, or up to four people. Some special diets can be accommodated; these include vegetarian, pescatarian, low-calorie, gluten-free, low-carb, and Mediterranean. You can also mix and match between the various plans available. The foods are organic and the menus are created by chefs. You will be able to see some of the recipes available on the front page of the site.
Sun Basket delivers meals to all of the continental United States except for Montana and parts of New Mexico.
Key Features of Sun Basket:
Accommodates special diets
Uses organic foods
Uses antibiotic-free meat
All packaging is recyclable
Kid-friendly meals are available
Cost: $72 to $88 per week. At the time of this writing, you can click here to receive their promotional offer of $35 off plus four free snack items.

Have you dreamed of being able to throw a tasty dinner together in 15 minutes? Gobble has you covered with their super fast meal kits. How do they do it? Everything is prepared for you: Veggies are chopped and meat is pre-marinated, so all you need to do is put it in a pan, cook it, and feed it to yourself or the hungry people in your household. They have a few different meal plans available. You can choose classic dinners or lean-and-clean dinners, depending on your dietary needs. They also have a lunch menu plan that allows you to pack a grab-and-go lunch for your workdays.
Gobble delivers meals nationwide in the United States.
Key Features of Gobble:
You do almost no prepwork
Dinner is ready in 15 minutes
Several plans to choose from
Lunch plan is available
Has options to help you avoid allergens and stick to your diet
Cost: Dinners start at $12/serving and lunches at $8/serving. At the time of this writing, you can click here to get free shipping off of your first order.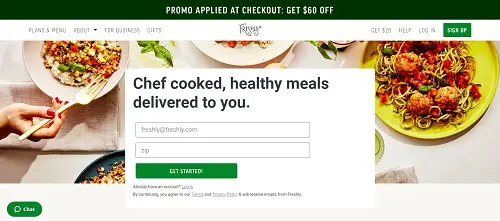 Do you live alone or do you prefer to have a meal that you can quickly heat and eat? Freshly is a service that caters to these needs. Rather than making a meal for two to four people (or more), each Freshly meal is made for one person. Chefs do all of the work for you; you won't have to prep or really cook the food at all. Pop the meal into the microwave for a few minutes and serve. That's it! There are several categories of meals to choose from, including comfort foods, twists on takeout favorites, and meals that you might be served in a bistro. You can also choose to have between four and 12 meals delivered each week. If you are looking for a super easy option for feeding yourself, this one just might be it!
Freshly is available in the continental United States.
Key Features of Freshly:
All meals are single-serving size
Meals range from 300 to 650 calories
All meals are gluten-free and peanut-free
Weekly rotation of 30+ dishes
Some meals low carb and/or dairy free
Meals can be frozen
Delivered weekly
Cost: Costs range from $8 to $11.50 per meal, depending on how many you would like delivered each week. There is a shipping charge as well. Visit Freshly to find out more.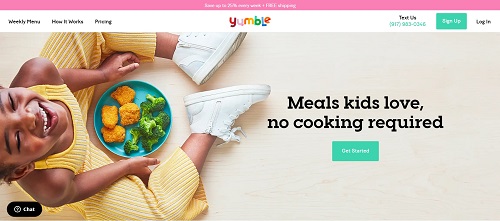 Children can be difficult to cook for for a few reasons. If you sometimes find it hard to come up with nutritious meals that your kids find delicious, you will want to check out Yumble. This is a meal delivery service that features kid-friendly food in the perfect serving sizes for your little one. Recipes include delicacies like pasta, chicken nuggets, and ham and cheese pinwheels, so your child won't balk at being served food that typically requires a more adult palate. These can be warmed up in the microwave and will be ready to enjoy within minutes–say goodbye to hunger-induced meltdowns with the help of Yumble. Depending on how many meals you need for the number of children you have, you can order between six and 12 meals per week. Deliveries also include coloring pages, flashcards, and other fun extras.
Yumble delivers to parts of the west coast, east coast, Texas, and the Midwest. You can enter your zip code on the site to see if they are delivering yet in your area.
Key Features of Yumble:
Kid-friendly foods
Heat and eat
Microwaveable (can also be heated in the oven)
Order between 6 and 12 meals per week
Recyclable packaging
Delivered fresh, not frozen
100% satisfaction guaranteed
Cost: Meals cost between $6 and $8 each, depending on how many meals you order each week. Shipping is free. For Healing Daily readers, they are offering a 50% off promotion; click here to redeem.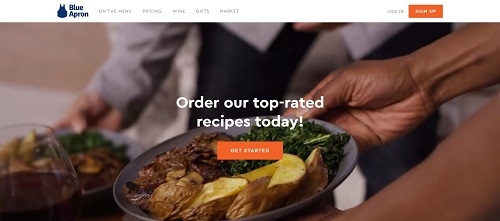 Blue Apron is one of the well-known meal kit delivery services that has a wide range of options available. They have recipes that are WW-friendly, good for those with diabetes, plant-based, and so on. They also have plenty of menu items that are appropriate for those who eat all types of meat. The shipping plans are flexible; you can choose to feed two or four people two to four times per week, so whatever your needs are in that respect, you should be able to find an option that works. The meals are also portioned well to avoid any food waste. Recipes include fresh produce, responsibly farmed seafood, and original spice blends.
Blue Apron delivers to the continental United States.
Key Features of Blue Apron:
Is compatible with many dietary plans
Lots of shipping flexibility
Seafood is sustainably sourced
Accurately sized portions
Recyclable packaging
Easy-to-use recipes
Cost: The cost of Blue Apron varies from $7.50 to $10 per serving. You can get free shipping if you order three or more shipments per week or if you order the four-serving package. Order from Blue Apron today!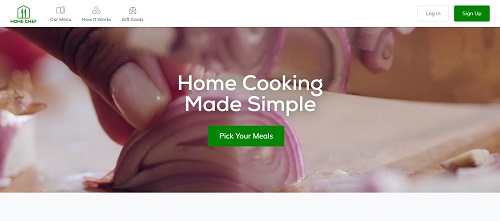 Home Chef is a popular meal kit service for people who don't want to spend a lot of time in the kitchen. They offer ingredients that are great for slow-cooker recipes; you can set it all up in the morning, go off to work, and come home to the smell of your delicious fully-cooked dinner. They also have a 15-minutes-or-less menu for super quick weeknight suppers. Their classic meals are done in about a half hour. They also have oven-ready options, salads, and meals meant for special occasions. You can choose from different diet-friendly options and you can also tinker with the serving sizes to make it work for your family.
Home Chef delivers nationwide.
Key Features of Home Chef:
Easy to customize
Lots of quick dinner options available
Lots of menu items to choose from each week
Can customize up to a month at a time
Can customize most of the recipes
Easy to avoid allergens
Choose the serving sizes that fit your family
Cost: The meals start at $7/serving, so your cost will depend on what foods you choose and how many people you are feeding. Click here to get started.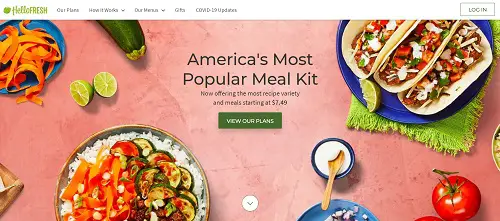 Even if you are brand new to the meal delivery kit industry, you have probably heard of Hello Fresh. It is America's most popular meal kit service and people who use it tend to really like it. This service is known for being affordable and easy: If you want to skip a week or cancel, it's super easy to do online. Hello Fresh provides you with fresh, whole ingredients, including sauces, and colorful recipe cards that you can use again and again with your own ingredients. They have quick dinners, vegetarian dinners, one-pot meals, foods from exotic cuisines, gourmet meals for special evenings, and so on.
Hello Fresh is available across the United States.
Key Features of Hello Fresh:
Easy to customize shipping options
Includes recipe cards
Lots of variety
Recyclable packaging
Can choose meals up to a month in advance
Cost: $7 to $9 per serving plus $8 shipping.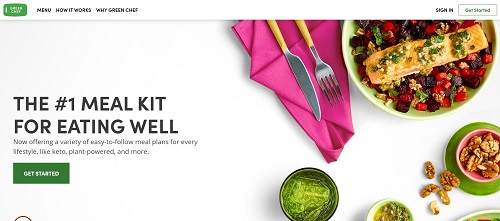 Green Chef is a meal delivery service that offers tons of flexibility. You can order weekly, biweekly, or monthly, and you're able to skip weeks in between, too. There are various plans, including keto, paleo, plant-based, and a family plan. Busy home cooks will be happy to learn that each meal should take about a half hour to make. And each box includes organic, non-GMO ingredients, as well as signature sauces, fully prepped ingredients, and easy-to-follow instructions that will help you navigate the recipe, step by step. You choose the dishes you want each week and can change your meal plan as desired.
Green Chef delivers to the continental United States with the exception of parts of Louisiana. If you are in Louisiana, enter your zip code on the site to see if they can deliver in your area.
Key Features of Green Chef:
Works with various diets
Certified organic company
Eco-friendly, recyclable packaging
Flexible shipping options
Choose meal plans for two or four people
Easy-to-follow recipes
Cost: Depending on the meal plan you choose, the recipes range in price from $10 to $13 per serving. At the time of this writing, you can get $80 off of your Green Chef order.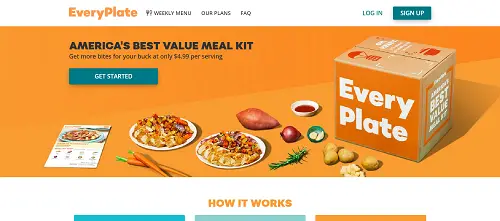 If you are looking for an affordable meal delivery service, we can recommend EveryPlate. Priced at just $5 per serving, this meal kit is a great way to try this type of service without spending a lot of money. It's also good for those on a budget. Each week, there are 11 different recipes to choose from, and you can choose up to three weeks in advance. You can skip weeks if you don't need a delivery. One caveat is that in order to keep their prices low, EveryPlate has chosen not to offer meal plans for those who need to follow special diets at this time, so this service is really only appropriate for people who can eat a fairly wide range of foods with few to no limitations.
Most of the continental United States can have EveryPlate deliveries, but there are a few exceptions, so enter your zip code on the site to be sure.
Key Features of EveryPlate:
Very affordable
Flexible shipping options
11 recipes to choose from each week
Choose recipes up to 3 weeks in advance
Does not cater to special diets
Cost: Each meal costs $5 per serving. There is also a weekly shipping charge of $9 that applies no matter which size package you get.
Plant-based eating has never been simpler, thanks to Daily Harvest. This company harvests fresh fruits and veggies and freezes them immediately to retain the maximum nutrients. Then they send them to you based on whether you want to use them to make smoothies, soups, chia bowls, lattes, snacks, or one of their other options. You will get your items packed in ice along with directions to turn it all into a delicious and super healthy concoction. All of the ingredients are organic and chosen for their superfood status.
Daily Harvest delivers to most of the United States. Enter your zip code to find out whether they go to your area.
Key Features of Daily Harvest:
Exclusively fruits and vegetables
Produce is harvested and frozen
Make smoothies, bowls, soups, and more
Delivered frozen
All organic
Cost: Each ready-to-make item is between $7 and $8 depending on how much you order each week or each month.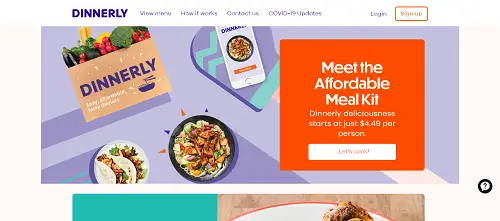 Dinnerly is another meal kit delivery service to consider if you are on a budget. Starting at just $4.49 per serving, this can be the least expensive option out there. They keep prices low by focusing on recipes using just a few ingredients (6 or fewer!) and by using digital recipe cards rather than sending paper ones. They do have a good selection of recipes that you can choose from, featuring vegetarian and meat-containing options. They also indicate which tend to be kid-friendly, which have no dairy or gluten, and which can be made in under 30 minutes. If you want to make dinner quickly and not spend a lot, Dinnerly might be the right choice for you.
Dinnerly delivers to most of the contiguous United States.
Key Features of Dinnerly:
Six ingredients or fewer per recipe
Vegetarian, gluten-free, and dairy-free options available
Low cost
Digital recipe cards
Lots of variety to choose from each week
Flexible shipping options
Cost: Each recipe is between $4.50 and $5 per serving, depending on how many meals you order each week. There is also a flat $9 shipping charge.

Those with plant-based or vegetarian diets should consider giving Purple Carrot a try. This company delivers breakfasts, lunches, dinners, and snacks that are focused on fresh produce and grains. They can accommodate many different allergies, including gluten, soy, and nuts. Even if you aren't vegetarian, some of these recipes look so delicious that you might still want try out the service. There are various cuisines represented, including Korean, Japanese, Italian, and Caribbean, so it might be a great way to try out recipes from various parts of the world.
Purple Carrot delivers nationwide.
Key Features of Purple Carrot:
Vegetarian meals
Delivers breakfast, lunch, dinner, and snacks
Accommodates for allergies
Various world cuisines represented
Recyclable packaging
Cost: You'll pay $8 to $10 per serving, plus between $12 and $24 shipping. Your first box is eligible for a $20 discount at the time of this writing, so go to Purple Carrot to sign up.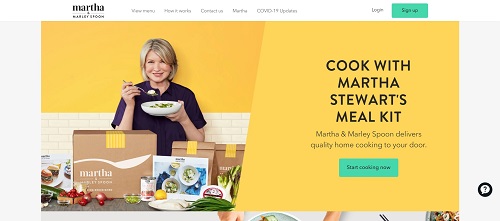 Have you ever wished that Martha Stewart could cook for you right in your own home? Well, Martha & Marley Spoon might be the next best thing. As you'd expect from a meal delivery service featuring Martha Stewart, you'll receive crisp, seasonal ingredients and truly inspired recipes. Each recipe has six steps and should take about 30 minutes, so you don't need to worry that you'll be in the kitchen half the day. This service is able to accommodate various dietary needs, including low-carb, gluten-free, vegan, and dairy-free. Each week, there are 22 options to choose from, giving you a nice variety.
Martha & Marley Spoon delivers to most of the continental United States.
Key Features of Martha & Marley Spoon:
Six-step meals
30 minutes in the kitchen
Accommodates various dietary needs
22 options to choose from each week
Seasonal ingredients
Flexible shipping options
Cost: You will pay between $7 and $10 per serving, and there is a flat $9 shipping charge.
When your days are filled with work and other obligations and you're short on time to prepare healthy meals each day, meal kit delivery services are an ideal solution. Give one of these meal kit delivery services a try, and it might just transform your lifestyle.