Multivitamins, also called multiminerals, are a combination of many different vitamins and minerals normally found in foods and other natural sources. Multivitamins are becoming more and more popular with each coming year for a plethora of reasons. Most notably, their popularity is soaring due to their convenience of helping individuals round out their nutrient profile and help address scenarios including pregnancy, illness, and nutritional gaps to name a few. It should be noted, however, that multivitamins do not replace consumption of a healthy diet.
We have reviewed dozens of multivitamins for men to bring you a list of our favorites. We looked at various features (whether it has probiotics or superfood blends, for example) so you can decide exactly what you want in a multivitamin. We checked prices, whether the ingredients were of quality, and what customers had to say about them.
Our top pick is the Rainbow Light Men's One Multivitamin. This high-quality multivitamin provides men with essential vitamins, minerals, and antioxidants to meet the demands of a vibrant lifestyle. However, this product stands out due to providing extra benefits such as digestive support and an impressive superfood blend.
[toc]
The 5 Top-Rated Multivitamins for Men
*Ratings are from Amazon at the time of publication and can change
Best Multivitamin for Men Overall: Rainbow Light Men's One Multivitamin
Rainbow Light Men's One Multivitamin easily made our top spot in our list of the 5 best men's multivitamins. From one easy-to-digest daily tablet, you will get a boost of essential vitamins and minerals. However, going above and beyond what the typical multivitamins include, these include digestive support along with a quality specialty superfood blend. This multivitamin also includes plenty of antioxidants.
As with most multivitamins, it can be taken with or without food. With a potent B vitamin complex profile, a common occurrence among the 5,000+ reviewers is a perceived boost in energy and mood.
Rainbow Light Men's One Multivitamin Key Features:
May increase energy and nerve cell protection due to B vitamin complex and choline
Non-GMO, gluten-free, and vegetarian
Organic superfood blend
Probiotics
150 count
Best Whole Food Multivitamin for Men: Dr. Tobias Adult Multivitamin
Dr. Tobias Adult Multivitamin is a multivitamin was formulated for multi-system support to help engineer optimal health for men. They are a solid option to help fill in your daily nutritional gaps.
Made from 42 fruits and vegetables, this whole food multivitamin can supply your body with quality nutrients by ingesting three tablets daily, preferably with meals or as directed by your health care professional. Considering the very high amounts of vitamins that can cause issues in some populations, it's worth talking to your healthcare professional before using this multivitamin.
Dr. Tobias Adult Multivitamin Key Features:
Includes plant-based enzymes
Non-GMO, with potent antioxidants
Formulated for multi-system support
Manufactured in FDA registered and GMP-certified facility
90 count
Best Budget Multivitamin for Men: One A Day Men's Multivitamin
The One A Day Men's Multivitamin is our top pick among the most budget-friendly men's multivitamins. This multivitamin, which has been around for over 75 years was formulated to address the leading concerns for men's health which are heart health, physical energy, regulating blood pressure, immune health, and muscle functioning.
Along with that, this multivitamin has 100% daily value of 12 essential nutrients that support men's overall well-being. If you're looking for a basic foundational multivitamin, this multivitamin, which requires ingesting one tablet per day is a solid option to get the most bang for your buck.
One A Day Men's Multivitamin Key Features:
Addresses the leading health concerns for men
Free of gluten, artificial colors and sweeteners, and dairy
Cost-efficient
Compliant with the new FDA labeling regulations
Long-standing in the industry for 75 years
Best Multivitamin for Men Over 50: Centrum Silver Men
The Centrum Silver Men Multivitamin is our top pick for the best multivitamin for men over 50. Besides being cost-effective, this multivitamin is specifically formulated in its vitamin and mineral ratios for men age 50+. The four big areas of focus are heart health, brain health, eye health, and muscle functioning.
This complete multivitamin also has Centrum's highest levels of the vastly important Vitamin D3 to support muscle functioning. Vitamin D is also vital for bone health, nerve functioning, and immunity.1 In this multivitamin is an excellent choice for any 50+ aged males who are looking for a comprehensive but affordable option that has been independently lab tested.
Centrum Silver Men's Multivitamin Key Features:
Addresses the specific leading health concerns for men 50+
Number one doctor and pharmacist recommended brand
Verified non-GMO and gluten-free
Cost-efficient without a sacrifice of quality
Formulations backed by 40 years of nutritional science
Best Gummy Multivitamins for Men: CBDfx CBD Gummies with Multivitamin For Men
Not everyone is a fan of swallowing tablets each day. With that in mind, CBDfx CBD Gummies with Multivitamin For Men is our top pick for the best gummy multivitamins for men. These multivitamins contain vitamins A, C, E, biotin, and 5mg of CBD per gummy. They're made with organic CBD hemp extract which has been cultivated in the US.
If you're considering using a CBD-infused multivitamin, it's worth keeping in mind that major nutrition academies currently have a neutral stance on CBD products. This is mainly due to the fact that there needs to be more research in regards to the dosage, safety, and effect on the human body of CBD products during various lifecycle stages.
CBDfx CBD Gummies with Multivitamin For Men Key Features:
Ingredients include premium CO2-extracted CBD and vitamins
Provides a solid foundation for optimal well-being
Made with pectin, no gelatin
Lab tested by an independent third party
Currently comes with a FREE CBDfx washable, cloth Face Mask
Who Should Buy a Men's Multivitamin
Deciding to use a multivitamin in order to fill in missing gaps from your daily nutritional repertoire is a wise choice of action. Important minerals and vitamins run the chance of not being consumed in adequate amounts. Common reasons for nutritional inadequacy include over-consumption of calorie-dense foods that lack robust nutrition, traditional Westernized diet, and certain disease states. Those following a vegan or vegetarian diet, malnourished individuals, and the elderly may also be likely to suffer from nutritional inadequacy.
In those situations, these multivitamin supplements may be an excellent addition to address potential deficiencies. Beyond that, men who are inconsistent with their daily nutritional habits will also benefit from using a multivitamin to help bridge the gap. If you have specific health issues or genetic predispositions, make sure your talk to your doctor about all of the multivitamins and supplements you're taking.
Consulting with your healthcare provider will allow you to get expert advice on which multivitamin would be most beneficial for your unique circumstances. For those also looking to make sure they're getting the proper amount of electrolytes, you will definitely want to check out The Best Electrolyte Tablets, Supplements And Powders.
Important Features To Consider
There are numerous multivitamins already in existence. With that said, there are some key features that men should think about before purchasing their multivitamins. Here are a few of the bigger ones to keep in mind as you decide which is the right one for you:
Age. Besides being gender-specific, the next big guideline to consider is your age. A 55-year-old male has different nutrient needs compared to a 30-year-old male.
Size and form of consumption. If you have difficulty swallowing large pills or gel-coated capsules, consider powder formulations or gummy options.
Allergies and how it's manufactured. Some multivitamins are vegetarian and gluten-free along with being processed in facilities free of soy, peanuts, and other similar potential allergic items. And some aren't. Therefore, before making your purchase, check for allergens on the label. You can also check if the product is vegan or vegetarian, if those features matter to you.
Special features. While most multivitamins will contain the essential vitamins and minerals, not all contain the extras. If you're looking for extra support that is beyond the basics, looking for digestive support, superfood formulations, and other targeted issues important to your specific lifestyle.
Nutrient amounts. As each multivitamin is formulated with differing amounts of each nutrient, it's worth checking the label carefully before buying to know precisely what you'll be ingesting. If you have health conditions, be sure to ask your doctor which multivitimin is best for you.
Frequently Asked Questions
What are multivitamins for men?
Men and women have a handful of differences among each other including nutrient requirements. Leveraging a multivitamin specifically with a man's need in mind can help bridge the gap. These various vitamins and minerals are important to your overall health and daily functions and perform numerous (and critical) roles for your body.
Do men need to take a multivitamin?
Not necessarily. However, most men may benefit from taking a multivitamin because they may not be getting the recommended essential vitamins and minerals through diet alone. Plus, a multivitamin can serve as a way to bridge the nutrition gap to staying a vibrant and healthy man no matter your age. But as aforementioned, it is important to be mindful that multivitamins do not replace consumption of an overall healthy diet.
What supplements should men take?
Men aren't required to take any sort of supplement. We can get all of our nutrition through a well-rounded healthy diet. But, since men often lack in fruit, vegetable, whole grain and legume intake, takign a multivitamin may be beneficial. The first area of focus with your supplementation plan is to look into a solid multivitamin to cover your foundation bases. Additional nutrient deficiencies should be addressed by your doctor and registered dietitian.
Should I take multivitamins in the morning or at night?
Consistency is key when taking a multivitamin, so take it whenever you're most likely to consistently do so. Taking it with a meal can help reduce having an upset stomach if you're sensitive.2
Other Multivitamins For Men We Reviewed
In addition to the five that made our top spots above, we also reviewed 20 other multivitamins for men. Even though they didn't make our 5 best multivitamins for men list, they're the best of the rest and each is still a great option. The information you'll need to compare each one is included with the listing.
Foundation Multivitamins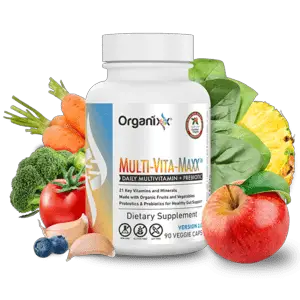 A premium multivitamin that contains 21 vitamins and minerals to help you keep optimal immune and digestive health.
Key Features:
Essential vitamins, such as vitamins A, C, D, E, and more.
Includes prebiotics and probiotics
Includes an organic blend of fermented vegetables and fruit
Cost: $60
NATURELO One Daily Multivitamin for Men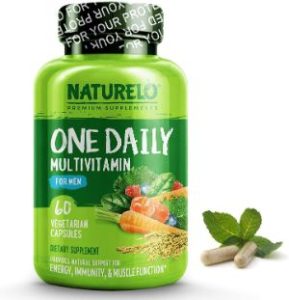 A natural source and a blend of organic fruits and vegetables that are rich in phytonutrients. It also includes B vitamins.
Key Features:
Vegetarian formula with raw B complex vitamins cultured in probiotics
Iodine from organic algae
Includes K2 as the important, but rare form of Menaquinone-7
Cost: $20
Nature Made Men's Multivitamin Tablets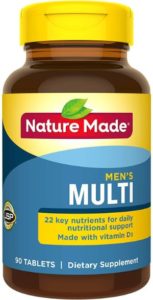 A cost-effective multivitamin that contains 20+ key vitamins and minerals to help you have vibrant health and energy.
Key Features:
Contains a high level of antioxidants such as Vitamins C and E
Gluten-free
Cost-efficient option
Cost: $8
Plant Vital Whole Food MULTIVITAMIN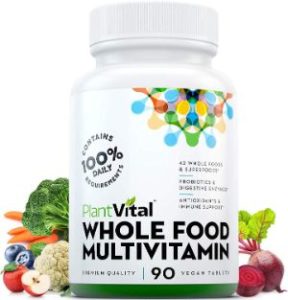 A vegan comprehensive multivitamin that contains whole food-derived nutrients designed to give your body the proper nutrients and energy it deserves.
Key Features:
Probiotics and enzymes support for gut health
Antioxidant support to help joint and immune health
100% of key vitamins, minerals, and nutrients
Cost: $20
Life's Fortune Multivitamin & Mineral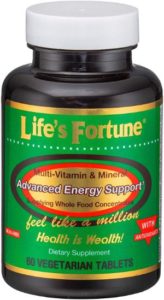 An award-winning multivitamin that features a blend of nutrients such as Vitamin B complex, spirulina, and Korean Ginseng.
Key Features:
Complete nutrient-rich formula
Vegetarian
GMO-free
Cost: $24
Solaray Once Daily High Energy Multivitamin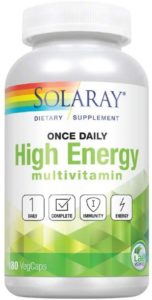 A potent and comprehensive multivitamin that places extra attention to helping improve daily energy levels.
Key Features:
Formulated to help support immune health and daily energy levels
Over 100% daily value in more than 10 essential vitamins
Rigorously tested for potency, purity, and identity
Cost: $33
Garden of Life Multivitamin for Men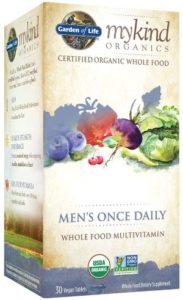 A certified organic whole food multivitamin that is completely tailored for men's needs in mind. This multivitamin is made from over 30 fruits, vegetables, and herbs.
Key features:
Uses methylcobalamin (a form of vitamin B12), which is an important nutrient for vegan and/or vegetarian men 3
Innovative scientific-driven formulas
Free of synthetic ingredients, binders, and fillers
Gummy Multivitamins For Men
One A Day VitaCraves Multivitamin Gummies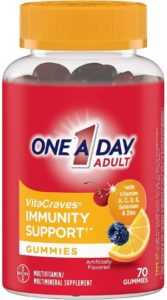 A complete gummy multivitamin with flavor and packed with plenty of nutritional conveniences to cover your overall health needs.
Key Features:
It's chewable and fruit-flavored
Formulated to support immune health
Has 100% daily value or more of 7 essential nutrients for your health
Cost: $10
Nature Made Men's Multivitamin + Omega-3 Gummies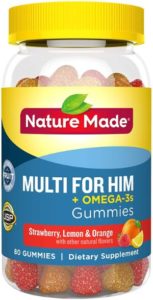 A unique multivitamin that is chewable along with containing amounts of the all-important omega-3 fatty acids.
Key Features:
Contains 60 mg of heart-healthy omega-3s EPA and DHA per serving
Vitamins A, C, and D, as well as small amounts of zinc to help and support your immune system
Vitamin D to help support your healthy bones and teeth
Cost: $14
One A Day Men's Vitacraves Multivitamin Gummies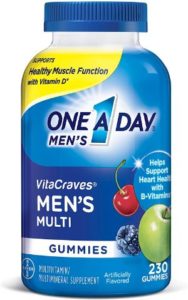 Fruit-flavored gummies that also provide the convenience of supporting the specific health issues most important to men.
Key Features:
100% daily value of 10 essential nutrients that support men's overall well-being
One a day is suffice
230 count
Cost: $19
SmartyPants Men's Formula Daily Gummy Vitamins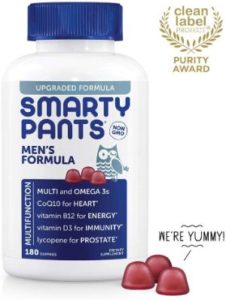 This Purity Award-winning multivitamin contains 17 essential nutrients along with lycopene to support prostate health.
Key Features:
Contains CoQ10 which may support cardiovascular health, especially for certain cardiovascular conditions such as hypertension, ischemic heart disease, myocardial infarction 4
Contains Omega-3 fatty acids
Contains Lycopene, which has been linked to supporting prostate health 5
Multivitamins For Active Men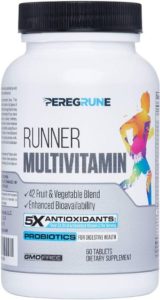 This is a unique multivitamin specifically engineered for runners. It aims to support their health by addressing runner-specific health needs through the provision of vitamins A, B-complex, C, D, and E.
Key Features:
Contains vitamins A, B-complex, C, D, and E
Created from a proprietary blend of 42 fruits and vegetables
60 count
Cost: $20
Thorne Research Multi-Vitamin Elite 
A truly unique comprehensive multivitamin for the high-performance athletes. This multivitamin comes with a morning formula to promote energy production while the night formula promotes rest and relaxation.
Key Features:
NSF Certified for Sport
Tailored made for athletes
Clinically studied
Cost: $65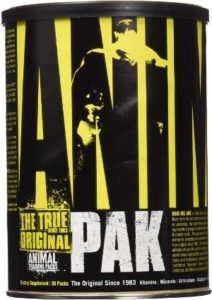 A complete formulation that's been around since 1983 created for men who are athletes or into strength training.
Key Features:
Engineered specifically for the hardest training athletes
Blend of formulated vitamins, minerals, amino acids, herbs, and antioxidants
Contains 30 individually wrapped packs
Cost: $26
GNC Mega Men Sport Daily Multivitamin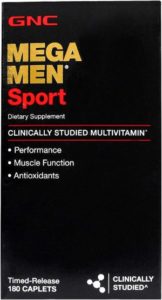 A comprehensive multivitamin designed for sport enthusiastic men while also cover the bases for everyday foundational health.
Key Features:
Contains a clinically studies multivitamin blend for men
Contains unique performance features such as beta-alanine
Supports athletic endeavors
Extra Men's Support Multivitamins
Vimerson Health Men's Daily Multimineral Multivitamin Supplement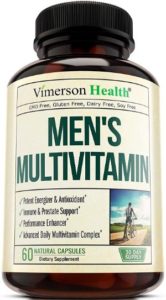 A multivitamin complex with a unique proprietary blend designed for men's unique needs that include zinc, selenium, and magnesium. This supplement also contains 170mg of their Male Support Blend, which includes Urtica Dioica Extract, Saw Palmetto, Lutein, and Lycopene.
Key Features:
Immune and prostate support
Advanced daily multivitamin complex
GMO-free, gluten-free, and dairy-free
Cost: $20
NaturesPlus Source of Life Multivitamin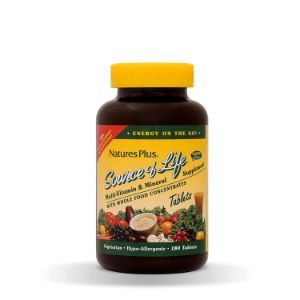 While a little pricier than others, this high-quality family-owned brand packs a punch as far as what's included in this premium multivitamin.
Key Features:
Bioflavonoids and botanical extracts
Naturally derived essential vitamins, minerals, enzymes, and amino acids
Whole food and green superfood components for ultimate nutritional support
Cost: $60
Whole Food Multivitamin for Men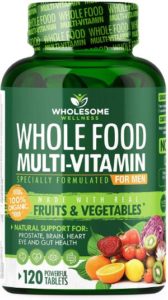 A premium men's whole food formulated multivitamin designed with the key male health issues in mind. It's designed by a small family-owned business that contains natural food-based ingredients.
Key Features:
Food-based support for prostate, brain, heart, eye, and gut health
Non-GMO and 100% organic
120 count
Cost: $40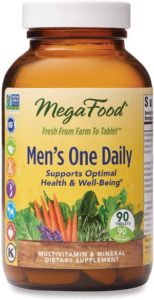 A specialty multivitamin for men derived from the farm and formulated into a tablet to help men feel like their best self.
Key Features:
Tested for 125+ herbicides and pesticides
Contains 15mg of zinc to support cell metabolism and immunity 6
Vitamins and minerals to support healthy energy production and nervous system health
Cost: $45
Pure Encapsulations O.N.E. Multivitamin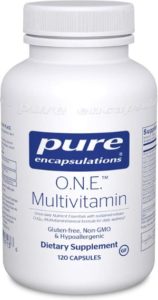 A potent multivitamin that is ideal for anyone with one or more food intolerances. The formula is free from wheat, gluten, egg, peanuts, magnesium stearate, hydrogenated fat, artificial sweeteners and colors, and other unnecessary excipients.
Key Features:
Non-GMO
Hypoallergenic and research-based supplements
Excellent reputation
Cost: $65
Article Sources
Healing Daily uses only high-quality sources, including peer-reviewed studies, to support the facts within our articles. Read our editorial process to learn more about how we fact-check and keep our content accurate, reliable, and trustworthy.