Plyo boxes are the new fitness craze. This simple exercise is wonderful for your legs and core. Unlike some exercises, the technique is not complicated or easy to mess up. Plyo boxes are also easily stored and take up much less space than other workout equipment. They really are the new rockstar of the workout world.
We reviewed dozens of plyo boxes to help you choose the best of the best. We considered size, durability, strength, quality, versatility, and customer reviews when rating each product.
After reviewing each plyo box, the Synergee 3 in 1 Plyometric Box quickly made its way to the top as the best one. It features four different sizing option. Depending on whichever way you turn it, each box has three different height, providing maximum versatility and allowing the box to grow with you. Plus, it can hold up to 450 pounds and is built to last.
[toc]
The 5 Top-Rated Plyo Boxes
*Ratings are from Amazon at the time of publication and can change
Our Top Pick: Synergee 3 in 1 Plyometric Box
The Synergee 3 in 1 Plyometric Box is the best on the market. It is created from high-quality plywood that is designed to stand up to punishment. Each side of the box is ¾ inches thick, ensuring that it'll stand up to your repetitive jumping. The box is made to hold up to 450 pounds. So, no matter where you're starting your fitness journey, this box can work for you. Each box can be used as three different heights. Unlike some other boxes, there is no need to fiddle with complicated adjustments – just turn the box on the side that matches the height you want to use! You can adjust the size easily as your skill level grows. There are also four different sized boxes available, so you can choose the perfect one to fit your height and skill level.
Designed to be versatile, this box can be used for box jumps, dips, lunges, and a wide range of other exercises. Truly, it is a whole gym in itself. However, unlike other home gym equipment, it takes up very little space. After all, it is quite literally a box.
Customers praised this company's quick customer service. If there is a problem with your box for any reason, the company will send you a new one absolutely free. This company is committed to your satisfaction.
Synergee 3 in 1 Plyometric Box Key Features:
Holds up to 450 pounds
Three heights in one box
Multiple sizes available
Versatile
Our Runner Up Pick: Titan Fitness 3 in 1 20″ 24″ 30″ Foam Plyometric Box
Like our Top Pick, the Titan Fitness 3 in 1 20″ 24″ 30″ Foam Plyometric Box is three heights in one. All you have to do flip the box over to try a completely different height. This compact box is perfect for starting your own at-home gym. It is compact and easily stored under a bed or in a closet. However, it is also extremely versatile. With the right exercises, this foam box can be used to work out every part of your body. If you're just starting out on your fitness journey, this box is a great way to dip your feet in.
While this box is foam, it is also very durable. It is a solid foam platform that can support countless hours of workouts. However, the foam construction also means that it isn't hard on your knees or back. It is plushy when in use but with professional-quality durability. Unlike some wooden boxes, this plyo box does not slip or slid around. A slippery box can be detrimental during a workout, especially if you're doing a box jump. A box slipping out from under you can lead to injury very easily. This box also doesn't require any assembly. After all, it is quite literally a foam box.
Titan Fitness 3 in 1 20″ 24″ 30″ Foam Plyometric Box Key Features:
Three sizes in one
Slip-free surface
No assembly required
Durable foam
Best Budget Pick: Rage Fitness Steel Plyo Boxes
The Rage Fitness Steel Plyo Boxes is a good budget option for those that are just getting into fitness. It also comes with no assembly required. It is just one piece with no screws that could possibly come loose and make it collapse. Unlike many of our other top-rated plyo boxes, this one cannot be flipped to a different height or adjusted. However, there are five different heights available, so you can still select one that fits your skill level. The smallest size available is 12", which should be small enough for most beginners, even those who have not been involved in fitness previously.
Despite the low price, this plyo box is still quite durable. It is built to withstand repeated use and the extreme conditions often present at the gym. It easily nests into storage to help save you room in your home. You can even stack the same size boxes easily for storage. It can easily hold over 500 pounds as well. If you are just beginning your fitness journey and don't want to spend too much, this box might be suitable.
Because this is a budget item, it is not put together that well. Many customers reported that the rubber grippings were not held on very well and there were scuff marks on the metal. It is also apparent that the glue work around the box may have aesthetic issues. Customers also reported that it has a very strong chemically scent to it that is very hard to mask. Despite all this, they still say it has very solid metal work.
Rage Fitness Steel Plyo Boxes Key Features:
Five sizes available
Easily "nests"
Constructed out of steel
Able to withstand repeated jumping
Best Soft Plyo Box: Garage Fit Plyo Box
If you aren't interested in our foam runner up pick, the Garage Fit Plyo Box is another suitable soft box option. It comes in a wooden and foam option. Depending on your preferences, you can choose whichever one best fits your needs. While many people assume foam plyo boxes will be more comfortable to use, this is not always the case. Foam boxes have a lot of giving, which can cause you to exert extra effort when compared to a wooden box. Just because you have a knee problem or want a comfortable box to use doesn't necessarily mean you should purchase a foam plyo box. We recommend trying out multiple styles at your gym if possible, and then choosing whichever one suits you better. Whether you want a foam or wooden box though, this box comes in that option.
This box can be flipped like many other boxes for different heights. There are multiple size options available, but not every one is available depending on the box style you choose. This box can handle up to 350 pounds, which is lower than some other boxes but still plenty for most people. There is some assembly that is required, but most customers agreed that it was a very straightforward process.
Garage Fit Plyo Box Key Features:
Foam and wood available
3 sizes for the price of 1
Holds up to 350 pounds
Multiple sizes available
Best Adjustable Plyo Box: Stamina | X Adjustable Height Plyo Box
There are many situations where an adjustable plyo box might be suitable. If you use different sized boxes regularly, you're probably better off buying one, adjustable box like the Stamina | X Adjustable Height Plyo Box. If you're just beginning to use a plyo box, you might also be better off purchasing an adjustable one. As our skill level increases, you'll need a taller box. Getting an adjustable box right off the bat might be helpful in the long run and save you money. Having an adjustable box is also useful if you use plyo boxes for different exercises, which might not all need the same box height.
This plyo box adjusts to 12", 16", 20", and 24", giving you many options for your workouts. It features a durable, non-slip surface, which is extremely suitable if you plan on using your box for jumping. It is also heavy-duty and designed to withstand lots of use. Unlike the majority of plyo boxes, it is also assembly-free. Plus, because it can adjust to a small size, it is easy to store and does not take up much space. It is made out of steel and can hold up to 300 pounds, which should be enough for most purposes. Customers were very impressed with this box's durability, and many exclaimed that there was no box like it!
Stamina | X Adjustable Height Plyo Box Key Features:
Non-slip surface
Steel construction
Heavy-duty
No assembly required
Who Should Buy a Plyo Box
Plyo boxes are a wonderful addition to any gym. They are particularly useful for those who are just starting to build an at-home gym because they are extremely versatile. Plyo boxes are particularly designed for plyometric workouts, hence their name. This type of workout is used by athletes to help improve sports performance. However, that doesn't mean you have to be an athlete in order to perform these exercises. Plyometric exercises are great for those who easily get bored with traditional workouts or who appreciate exercises that easily translate into everyday life.
If you're going to give plyometric exercises a go, a plyo box is absolutely necessary. This piece of exercise equipment is required if you want to do plyo jumps. However, it can also be used for plenty of other exercises as well. Many plyo boxes are also adjustable or feature different sizes on the varying sides, so they can easily be adjusted as your skill levels grow.
Important Features to Consider
A plyo box should have a few important features. Here's what to consider when selecting a plyo box:
Durability. No matter what you're using it for, a plyo box is likely going to take a beating. It is vital that the box is designed to be repeatedly jumped on and used for other exercise activities. After all, the last thing you want is for the box to break while you're using it. A durable box is a safe box.
Versatility. While plyo boxes are primarily used for box jumps, there are also plenty of other exercises you can do with them as well. The majority of plyo boxes are going to be versatile. However, some boxes do have strange designs that make it difficult to use for some exercises. If you're planning on using your plyo box for more than just box jumps, make sure the model you get is capable of doing whatever exercises you have in mind.
Size. For those that are new to plyometric exercises, you are probably going to want to use a smaller size box. However, as your skill and comfort level increases, you're going to need to move up to a larger box size to make the most out of your workout. Preferably, your box should accommodate this need and provide size options, whether that's by adjusting or just flipping the box over onto another side.
Material. Plyo boxes are going to be made out of foam or wood in most cases. Both of these materials have their pros and cons. Foam boxes are soft and less likely to scrape your legs if you miss your jump. However, they also tip easier and tend to have a lot of giving – just because a box is foam doesn't necessarily mean it is the best option for you if you're looking for a "soft" box. In most cases, soft boxes are going to lead to more injuries due to their tendency to flip and become slippery. Wooden boxes are also more durable while still being largely inexpensive. There are also metal plyo boxes available; these boxes are typically more expensive and come in an adjustable format. They are usually not like a "box" in the traditional sense, but more like a really tall step stool.
Frequently Asked Questions
What is a plyo box and how does it work?
A plyo box is a sturdy, well-built box that is designed to be used for plyometric exercises. Box jumps are typically the most common exercise performed with these. However, they are not the only way to use a plyo box. Step ups, lateral step over, and other exercises are also common. How exactly you use this type of box will depend on what exercise you're doing.
What size are plyometric boxes?
The most common sizes are 12", 16", 20", 24", and 30". If you are like most people who are just starting to try plyometric exercise, you're probably going to want to start with a smaller size box. Typically, many CrossFit programs suggest using either a 24" or 30" for those that are used to the activity. We recommend using whatever size pushes your limits without becoming so difficult that you tire quickly or lose your balance.
How many reps of box jumps should you do?
On average, you should be doing about 20-40 box jumps per workout depending on your fitness level. These should be broken up into 2-3 sets. Remember: do what challenges you without wearing you out so much that you can't concentrate on technique or safety.
Are box jumps bad for your knees?
If your technique is poor, box jumps can hurt your knees. It is important to learn the correct form for jumping onto the box and getting off of it. Remember to concentrate on form even when you're tired and just want to get the reps over with. Take your time. Box jumps are not designed to be rushed.
Other Plyo Boxes We Reviewed
We also reviewed 20 other plyo boxes. Even though they didn't make out 5 best plyo boxes list, they're the best of the rest, and each is still a great option. The information you'll need to compare each one is included with the listing.
Best Soft Plyo Box
Ainfox PVC Soft Foam Plyo Jump Box
This plyo box is ideal for heavy-weight athletes and those just starting their fitness journey. Customers really admired how sturdy and safe this product felt to use.
Key Features:
Affordable
PVC fabric cover
Comes in purple and green
Cost: $92.00
Body-Solid Tools 3 Way Soft Plyometrics Box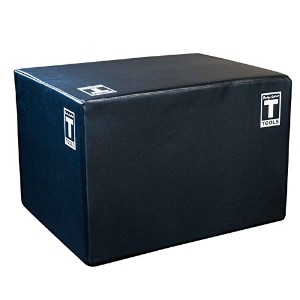 This compact plyometric box is able to be positioned in three different ways to allow for different heights. Customers loved the varied heights but did find the box wasn't as stable as expected.
Key Features:
Vinyl cover
3 different heights in one
Durable foam interior
Cost: $217.00
MAT EXPERT PVC Soft Foam Jumping Box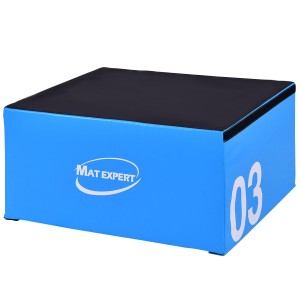 This box has soft edges and sides making it safe and beginner-friendly. Customers are in love with this product, giving it an 89% five-star rating.
Key Features:
350 lb. weight limit
Constructed from high-density foam
Comes in three height options
Cost: $190.00
As this box has a soft impact absorbing surface, it is ideal for those recovering from injuries or with joint sensitivities. Customers loved the quality of this product, as well as how safe the heavier box made them feel.
Key Features:
Stable and tip resistant
Soft impact absorbing surface
Comes in ten different height options
Cost: $269.00
REP 3 in 1 Soft Foam Covered Plyo Box
This box offers a space-saving 3 in 1 design and has soft edges to protect from injury. Customers felt confident in using this product due to the weightier design.
Key Features:
Soft edges
3 in 1 design
Affordable
Cost: $139.00
Sunny Health & Fitness Foam Fitness Plyo Box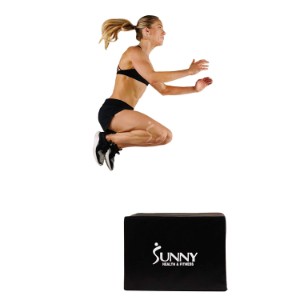 This product has a 3 in 1 design allowing for varied workouts. It also has a heavy-duty vinyl coating, as well as a slip-resistant surface which offers complete safety. Some customers did have issues with the stability of this product, while others fell in love with it.
Key Features:
Tear-resistant vinyl coating
3 in 1 design
Affordable
Cost: $107.00
Valor Fitness PBS-A Soft Plyobox
This product features a strong wooden structure that is securely coated with high-density foam creating a safe and soft plyo box. Customers really loved the quality of this product but did find the vinyl cover hard to add or remove.
Key Features:
Tear-resistant vinyl cover
3 in 1 design
Constructed from wood and foam
Cost: $205.00
Yes4All 3-in-1 Foam Plyo Jumping Box
This product comes with a 1-year warranty for complete peace of mind and can support up to 350 pounds, making it ideal for heavyweight athletes. Customers loved this product but did find it initially had a plastic smell, which faded after a few days.
Key Features:
1-year warranty
3 in 1 design
Supports up to 350 lbs.
Cost: $121.00
Best Plyo Box Set
Crown Sporting Goods Set of 3 Plyometric Jump Boxes
This plyometric box set is constructed of welded metal with a comfortable fabric top. Customers found this set both safe and comfortable to use.
Key Features:
Set of three
12″/18″/24″ sizes
Constructed from welded metal
Cost: $219.00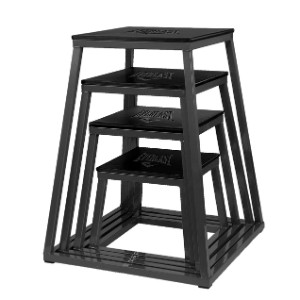 This product is made by a well-known European sports brand 'Everlast. It comes with four box heights which are clearly labeled. While this product has not yet been reviewed on Amazon US, the Everlast brand is very popular on other continents.
Key Features:
Set of four
12″/18″/24″/30'' sizes
Premium brand
Cost: $299.00
Happybuy Plyometric Platform Box Set
This set features a tapered frame design for extra stability and safety. Customers were mostly happy with the product but did suggest that it is more suited to beginners or light use.
Key Features:
Set of three
12″/18″/24″ sizes
Affordable
Cost: $140.00
This set of four has a tapered frame design as well as rubber stoppers allowing it to be used safely on any surface. Some customers experienced issues with quality control, while others were perfectly happy with the product they received.
Key Features:
Set of four
12″/18″/24″/30'' sizes
Heavy duty steel construction
Cost: $229.00
Popsport Plyometric Platform Box
This set features boxes with non-slip rubber bases and tops ideal for safety and security. Customers were torn in regards to this product, with many experiencing quality control issues, but others found them perfectly acceptable for the price paid.
Key Features:
Set of three
12″/18″/24″ sizes
Affordable
Cost: $140.00
This set is weighty and sturdy, making it ideal for heavyweight athletes. This product is yet to be reviewed and may be ideal for those looking for a stronger alternative to their current set up.
Key Features:
Set of four
12″/18″/24″/30'' sizes
Premium product
Cost: $400.00
Shop Sport Foam PVC Soft Plyo Box
This soft plyo box set comes with three foam core boxes which can be easily stacked for varied workouts and is also ideal for gymnastic training. While unreviewed, this set would be ideal for those looking for a soft alternative to other plyometric box sets.
Key Features:
Set of three
Child-friendly
Premium product
Cost: $452.00
Best Adjustable Plyo Box
Black Mountain Products Adjustable Plyo Box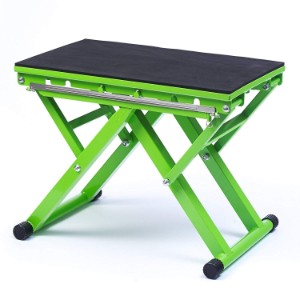 This plyo box is constructed from heavy-duty steel and is able to be adjusted to three different sizes. Customers loved the design of this product as well as how easy it was to change between settings.
Key Features:
Heavy duty steel construction
Three adjustable sizes
Comes with a lifetime manufacturer's warranty
Cost: $135.00
Fuel Pureformance Adjustable Plyometrics Box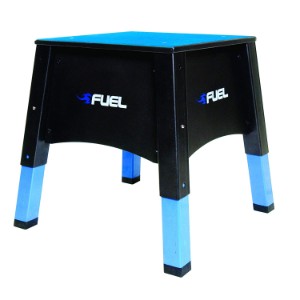 This adjustable box features an attractive blue and black design and has three height settings. Customers found this product was of excellent quality, especially when considering the price paid.
Key Features:
Spring button adjustment system
Three adjustable heights
Affordable
Cost: $115.00
Rep Adjustable Height Plyo Box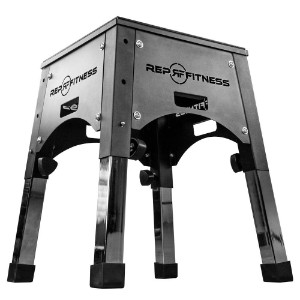 This product can be adjusted to heights starting at 16'' and ending at 24''and is constructed of steel. While customers did find the initial assembly tricky, once completed they loved their new plyo box.
Key Features:
Heavy duty steel construction
Three adjustable heights
Rubber feet and top for non-slip use
Cost: $140.00
Titan Fitness X Adjustable Height Step Plyo Box
This product is able to provide a height range between 12''-24'' making it ideal for those aiming to build their jump strength. Customers did enjoy this product but recommended beginners to opt for an alternative.
Key Features:
Slip-free top surface
Four adjustable heights
Supports up to 300lbs
Cost: $133.00
Valor Fitness Adjustable Plyo box
This product offers a wide range of heights over 7 settings, allowing for a varied workout. Customers found assembly was very straightforward and noted the product felt sturdy and stable to use.
Key Features:
Constructed from heavy-duty steel
18-31-inch height variation
7 adjustable positions
Cost: $192.00