A bike lock is an essential piece of kit for any cyclist. Whether you commute to work on your bike and need to leave it locked up outside on the street, or spend your weekends mountain biking with a stop on the way home for lunch, our bikes are way too precious and expensive to leave unsecured. Luckily, bike locks come in a huge range of shapes, styles, and weights so no matter where you're cycling there will be a bike lock to suit your needs.
We've reviewed dozens of bike locks to find the best of the best for a wide range of purposes. We looked at features including the type of metal used to construct the lock, any additional features to resist breakages, mounting options, and cost. As well as a detailed breakdown of our 5 favorite bike locks, we included a summary of other options for you to consider.
As the best bike lock overall, we selected the Kryptonite Kryptolok U Lock. Combining a super-tough shackle made from hardened steel with a steel looped cable, this lock provides the flexibility of the additional security provided by the cable, with a tough U shackle designed to effectively resist attacks using a wide range of tools. If you're looking for a great all-rounder bike lock, this is it.
[toc]
The 5 Top-Rated Bike Locks
*Ratings are from Amazon at time of publication and can change
Best Bike Lock Overall: Kryptonite Kyrptolok U Lock
As the best bike lock overall, we selected the Kryptonite Kryptolock U-Lock. This lock combines a U-Lock made from a 12.7 mm hardened steel, and a 10 mm steel looped cable that can be passed through one of your bike's wheels for additional security.
Kryptonite says that the shackle can resist hand tools, bolt cutters, and leverage attacks. The ergonomic design reduces the torque that can be placed on this lock, which stops it from breaking when bent. The hardened deadbolts at each end of the lock increase its holding power even more.
Kryptonite Kryptolok U-Lock Key Features:
Includes 2 keys
Comes with anti-theft protection
Includes mounting bracket
Best U Lock for Bikes: Via Velo Bike U Lock with Cable
Next up, we chose the Via Velo Bike U Lock with Cable as the Best U Lock for Bikes. If you need to lock your bike up in all kinds of weather and are worried about corrosion affecting your lock, this is a great choice. The PVC cover over the lock effectively keeps out dirt, dust, and water meaning this lock won't seize up.
The 14 mm shackle is made of hardened steel which protects from attacks using bolt cutters. This is combined with a 10 mm cable to provide excellent security. The 1.78-meter cable is long enough to wrap through one tire and back to the shackle. Via Velo also offers a Key Guard scheme, so you can register your key code with them and easily order replacement keys if you lose yours.
Via Velo Bike U Lock with Cable Key Features:
Includes 2 keys
Provides all-weather protection
Includes mounting kit
Best Budget Bike Lock: Sanwo Security Bike Lock
If you're looking for the best budget bike lock, then we recommend the Sanwo Security Bike Lock. By using a 4-digit combination lock, you never need to worry about losing your keys again. Simply program the number combination of your choice into the lock.
The flexible steel cable is designed to provide excellent security, while the protective black coating is made from ABS plastic and will stop any scratches developing on your bike's frame. This lock is also extremely lightweight, but bear in mind it's quite a lot shorter than some other locks, so that limits what you can secure your bike to.
Sanwo Security Bike Lock Key Features:
Key-free security
60 cm in length
Weather-resistant
Best Bike Chain Lock: Kryptonite Keeper 785 Chain Bike Lock
As the best bike chain lock, we selected the Kryptonite Keeper 785 Chain Bike Lock. This chunky chain bike lock is made from 7 mm four-sided links, forged from manganese steel. The end of the chain is designed to secure to the hardened deadbolt within the high-security cylinder.
This chain includes 2 ergonomically designed keys that can be registered with Kryptonite's Key Safe Program. If you lose your keys, they'll ship you free replacements! You can also choose to sign up for their Anti-Theft Protection, which compensates you if this chain is ever destroyed by bike thieves.
Kryptonite Keeper 785 Chain Bike Lock Key Features:
Available in 5 colors
Weather-resistant
85 cm length
Best Bike Cable Lock: NDakter Bike Cable Lock
IF you're looking for the best bike cable lock, we suggest the NDakter Bike Cable Lock. Unlike many combination locks that use just 4 digits, this lock has instead 5 digits, which gives a huge 10,000 possible codes, making it much tougher to crack. This is combined with a high tensile strength steel cable, designed to resist 7 KN shear force, and 2.4 KN tension.
The long length of this cable, stretching to 1.2 meters, means you can easily secure multiple bikes together, or attach your bike to larger items like trees, or gateposts. If you need an even longer lock, then you can attach multiple locks together to create a longer cable. The steel cable is covered in a protective layer of PVC to prevent scratches to your bike frame.
NDakter Bike Cable Lock Key Features: 
Choose from 7 colors
1.2-meter length
Includes mounting bracket
Who Should Buy a Bike Lock
If you've got a bike – you need a bike lock! Whenever you need to leave your bike unattended, it's essential to lock it securely to something solid like a lamppost, fence, or railing. Bikes are expensive pieces of kit, especially if you've invested in a top-end model. Even if you have an old road bike for the occasional commute, it's still worth protecting with a bike lock!
While no manufacturer would say that any bike lock is 100% unbreakable, your bike lock acts as a great deterrent that means any would-be thieves are far more likely to walk past your bike. Bike locks are available in different levels of security, so you'd want to choose the highest security lock if you live somewhere like Manhattan where there's more risk of your bike getting stolen. If your bike is low-value and you live in a rural area, you can select a lower security lock if you want to.
Important Features to Consider
When choosing the best bike lock for your needs, there are a few important things to consider before making your purchase.
Lock strength. Not all bike locks are created equal. It's important to choose a lock that will suit the location you usually leave your bike locked up. Most manufacturers will state the level of protection that each individual lock offers. As a general rule, the thicker the lock, the more security if offers, but these locks will be heavier and more expensive as a result.
Weight. Some bike locks, like small cable locks, are pretty lightweight and you won't actually notice you're carrying them. Others, such as chain locks, weigh a lot more. The weight of lock will depend on the level of security it offers, but sometimes it's better to choose a heavier lock that offers more security, and accept that extra weight is necessary!
Style. Bike locks come in 4 main styles. U Lock, chain, cable, and folding.  Some popular locks combine a U Lock and cable for additional security. U Locks with cables are also great for securing through your bike helmet. If you live in an urban area with a high level of bike thefts, then a small cable lock on its own probably won't be enough to deter thieves. U Locks and Chain locks offer the best security, but they're also heavier and more expensive.
Mounting bracket. Many bike locks come with a mounting bracket so you can secure the lock to the frame of your bike while riding. This a great if you don't want to weigh down your backpack. Others, such as cable locks, can be wound around a part of the frame. Chain bike locks can't really be mounted on your bike frame as they're more flexible than U Locks, so you'll need to either wrap them around your frame or pop them in your backpack.
Frequently Asked Questions
How does a bike lock work?
Bike locks are designed to secure your bike by allowing you to lock it to a solid and immovable object like a railing or gate. The way each bike lock works will depend on the style of lock, but all should immobilize the one wheel and the frame.
Can a locksmith open a bike lock?
Locksmiths can usually open bike locks using picks. Some locks do offer anti-pick protection, but depending on the skill of a locksmith they may be able to circumvent this. Many manufacturers also offer replacement keys if you've lost yours!
How much does a bike lock cost?
The price of the locks within this review ranges from $10 for a simple cable lock, up to a heavy-duty, and state of the art chain costing $125. On average, cables locks are the cheapest and chain are the most expensive.
The cost of each lock will depend on the quality of materials used in its construction, and how much security it offers. As a general rule, the more expensive locks will offer a better level of protection.
Do all bike locks have the same key?
The short answer is no. If you buy a bike lock with a key then this will be individual to your bike lock only. Most manufacturers will allow you to register your keys with them, and they can then provide a replacement if you happen to lose your keys. Bike locks usually come with a set of two keys, so we suggest using one for everyday use and keeping the other in a safe and secure place. The other option is a combination lock, which uses a range of digits instead of a key. You can program your chosen number combination into the lock when you buy it. Just don't forget what they are!
Other Bike Locks We Reviewed
After selecting the five top bike locks, we looked at 20 other bike locks that are the best of the rest. Each of these is still a great option for securing your bike. The information you'll need to compare each one is included with the listing.
Bike U Locks
This budget U Lock uses a shackle and crossbar made from 12 mm hardened steel to provide a medium level of protection. The steel is covered with a vinyl coating to protect your bike from getting scratched.
Key Features:
Includes 2 keys
Carrying bracket included
Free key replacements
Cost: $15
The 12 mm hardened steel shackle of this U Lock by well-known brand Kryptonite is designed to resist attacks from bolt cutters, hand tools, and leverage tools.
Key Features:
Includes 2 keys
Anti-theft protection
Mounting bracket included
Cost: $32
Kryptonite New York Standard Heavy Duty Bike U Lock
This U Lock is specifically designed for use in higher crime areas such as cities. It comes with an optional Anti-Theft Program which includes reimbursement of up to $4,000 if your bike is stolen while using this lock.
Key Features:
Includes 3 keys, one with LED light
Lifetime guarantee
16 mm steel shackle
Cost: $115
SIGTUNA Heavy Duty Bike U Lock
This U Lock includes a 16 mm shackle made from high-performance steel, combined with a steel cable for additional security.
Key Features:
Includes 3 keys
Mounting bracket included
Anti-picking mechanism
Cost: $50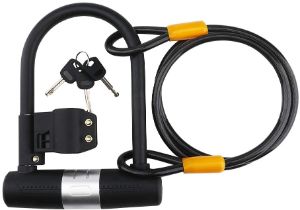 The one-button release mounting bracket makes it super easy to carry this U Lock with you. It combines a heavy-duty steel shackle with a self-coiling cable for maximum security.
Key Features:
Includes 3 keys
16 mm steel shackle
Cable is 47″ long
Bike Chain Locks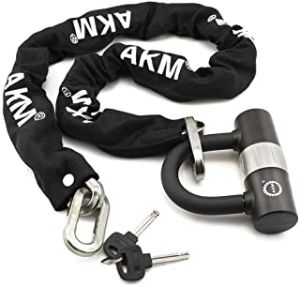 This high-security chain lock uses a combination of a 10 mm thick chain and a heavyweight 16 mm U Lock for ultimate protection.
Key Features:
Available in 2 lengths
Nylon chain cover for protection
Rust-resistant steel
Cost: $70
This extra-long 6 mm chain can be used to lock multiple bikes together
Key Features:
110 cm long chain
Includes 2 keys
Protective nylon sleeve
Cost: $15
Kryptonite Evolution Mini Bike Lock Chain
This smaller 10 mm chain is made from 3T manganese steel with an innovative end link that reduces the weak spot usually found on chain locks.
Key Features:
Includes 3 keys
Weather-resistant sleeve
Sliding dustcover overlock
Cost: $80
Kryptonite New Youk FAHGETTABOUDIT Bike Chain Lock
When you need a bike chain lock that can stand up to the toughest areas, this is the one for you. The New York disc lock has a patented 15 mm shackle for ultimate security.
Key Features:
14 mm chain links
Anti-drill and anti-pull protection
Includes 3 keys
Cost: $125
The keyless locking system on this chain uses a combination of 5 digits to provide excellent security without the need to worry about keys.
Key Features:
Chain links made from 0.27-inch steel
Protective dust cover
Easy to reset number combination
Bike Cable Locks
Kryptonite Kryptoflex 1018 Cable Lock
The 10 mm steel cable used in this lock helps to resist cutting attempts, keeping your bike safer.
Key Features:
4-digit combination
Lightweight
Protective vinyl covering
Cost: $26
This bestselling budget bike cable lock is long enough to secure multiple bikes together.
Key Features:
1.8 meters long
Self-coiling for easy storage
Vinyl coated steel
Cost: $12
This flexible cable includes a mounting bracket for easy transportation.
Key Features:
12 mm steel cable
Self-coiling
Resettable 4-digit combination
Cost: $13
This budget-friendly cable bike lock by Schwinn uses an 8 mm steel cable to provide strength. Perfect for occasional trips where you might need to lock your bike up for short amounts of time.
Key Features:
Includes 2 keys
4 foot in length
Protective vinyl coating
Cost: $8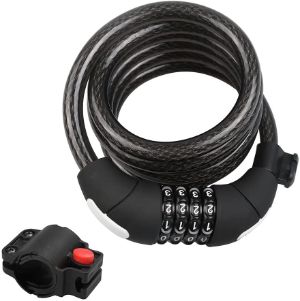 This lock uses a 12 mm steel cable with a 4-digit resettable combination.
Key Features:
6-foot length
Includes mounting bracket
PVC coated for protection
Folding Bike Locks
This six-jointed folding lock uses steel bars and a 4-digit combination lock to provide excellent protection.
Key Features:
4-digit re-settable combination
Lightweight
Includes mounting bracket
Cost: $25
This fast and easy to use folding bike lock uses anti-drilling technology to provide superior protection.
Key Features:
Available in 4 colors
Only weighs 2.2 pounds
Includes mounting bracket
Cost: $90
Kryptonite Keeper Folding Bike Lock
This folding lock by Kryptonite uses 3 mm hardened steel sections to provide moderate security.
Key Features:
Available in 2 lengths
Includes 2 keys
Includes mounting bracket
Cost: $58
Via Velo Folding Steel Bike Lock
The hardened steel alloy used in this folding bike lock is covered with a PVC coating so it won't scratch your bike's paintwork.
Key Features:
Lightweight
Includes 3 keys
Includes mounting system
Cost: $30
The folding steel sections of this lock are covered in rubber lacquer which protects it from the weather. Each aluminum section is 1 cm thick.
Key Features:
90 cm length when unfolded
Includes 3 keys
Lightweight
Cost: $33