Losing weight takes a combination of exercise and good nutrition. In some cases, people lose weight more effectively if they use weight loss supplements or medications. There are many non-prescription weight loss pills that you can purchase over the counter. As with any type of supplement or pill, it is important to check with your doctor before adding any of these to your regimen.
We have evaluated dozens of weight loss pills so we could tell you about the ones we think are the best. We looked at the ingredients, how they work, and how people who used them felt about them and their results.
Leanbean Fat Burner is at the top of our list of the best weight loss pills. This is a natural supplement that is formulated specifically for women. It enhances fat-burning without the use of potentially dangerous stimulants. It also reduces the appetite, leading to a more svelte figure.
[toc]
The 5 Top-Rated Weight Loss and Diet Pills
*Ratings are from Amazon and might change over time.
Best Weight Loss Pills Overall: Leanbean Fat Burner
The best weight loss pill that we have found is the Leanbean Fat Burner. This is a pill tailored to women. It works in several ways: by suppressing the appetite, boosting metabolism, and increasing energy levels. When you experience all three of these at once, you'll likely eat less and exercise more, leading to effective weight loss.
Leanbean Fat Burner does not contain potentially dangerous stimulants. The energy increase comes from natural caffeine in green coffee beans. Natural thermogenics are responsible for the increase in your metabolism. One small study found that thermogenic dietary supplementation led to elevated RMR and may contribute to increased calorie burn. 1
Leanbean is also an appetite suppressant. It uses natural dietary fiber called glucomannan, which swells in your stomach and banishes hunger pangs and can even reduce cravings. 2 This ingredient swells up in your stomach, making you feel fuller than you are. Notably, glucomannan intends to be approved by the Food and Drug Administration (FDA) as a form of dietary fiber. 3
Leanbean Fat Burner Key Features:
Suppresses the appetite
May help boost the metabolism
Helps to increase energy levels
Caffeine from natural green coffee beans
Natural ingredients
Made with clinically proven ingredients
Formulated for women
Best Weight Loss Pill With Energy Boost: Nobi Nutrition Premium Fat Burner for Women
If you're looking for a weight loss pill that will boost your energy, try Nobi Nutrition Premium Fat Burner for Women. This is another pill that is formulated for females.
It's a good one to take if you are on a ketogenic (keto) diet, because it may help you better use alternative energy forms by blocking carbs. It includes a BHB carb blocker to work against the enzymes your body uses to digest carbs. If the carb-digesting enzymes work slower or less effectively, you may be able to slow or reduce carb digestion. Research is mixed in this area, with some studies showing that there may be positive effects for weight loss and others finding no significant impact. 4 5
Nobi Nutrition Premium Fat Burner for Women Key Features:
60 capsules
Contains a BHB blend
Blocks carbs
Good for the keto diet
Best Budget Weight Loss Pill: Natures Craft Apple Cider Vinegar Pills
Losing weight doesn't have to cost a lot, and Natures Craft Apple Cider Vinegar Pills are our top pick for budget-friendly weight loss pills. These pills will work for men and women and they come in a package of 60 capsules. Apple cider vinegar is a popular way to control a variety of different health issues. It has gotten lots of buzz for weight loss and health, but currently more research and larger studies are needed to confirm these findings. 6 When you take apple cider vinegar regularly, certain components in apple cider vinegar may help you feel full longer through a gut-brain connection to suppress appetite. 7
This supplement also contains health-boosting ingredients like kelp, apple pectin, and vitamin B6. These increase the potency of the apple cider vinegar and bring additional benefits to your overall health. The ingredients used by this company are non-GMO and come from certified laboratories.
Natures Craft Apple Cider Vinegar Pills Key Features:
60 capsules
For men and women
Suppresses the appetite
All-natural
Boosts overall health
Best Weight Loss Pill Gummies: Vegan Apple Cider Vinegar Gummies with B Vitamins
Vegan Apple Cider Vinegar Gummies with B Vitamins are a gummy weight loss pill that we recommend. This is a package of 90 gummies. They are suitable for both men and women, and they taste good. This formula contains antioxidants for good overall health and immune system support. They can also keep your digestive system on track.
These gummies may be able to act as an appetite suppressant so that you're likely to consume fewer calories, promoting weight loss. This supplement can aid your weight loss efforts when you add this product to a healthy diet and exercise program. Those with food allergies and dietary restrictions will be glad to know that they are produced in an FDA-approved facility without milk, wheat, shellfish, soy, gluten, or peanuts.
Vegan Apple Cider Vinegar Gummies with B Vitamins Key Features:
90 gummies
For men and women
Taste good
Contains antioxidants
Appetite-suppressant
Free from several top allergens
Best Chewable Weight Loss Pill: Healthy Delights Naturals, Appetite Control Soft Chews
Healthy Delights Naturals, Appetite Control Soft Chews made our top spot for weight loss pills that are chewable. These are acai berry-flavored soft chews that will keep your appetite and cravings under control. In addition to providing these benefits, they also give you something sweet to chew on, which can satisfy you and make you less likely to want to turn to other types of sweets.
These contain green tea, and green coffee bean, which may be most notable for their caffeine properties. Caffeine itself may help boost physical performance during a workout, helping you burn more calories. 8 It also has shown to aid in appetite suppression, especially if consumed about an hour before mealtime. 9 Green tea is believed to aid in weight loss, however, research is still mixed on type, dosing, and how much meaningful weight loss can be attributed to each ingredient. 10 These substances work together to help control your appetite. Each chew contains 20 calories and 2 grams of sugar.
Healthy Delights Naturals, Appetite Control Soft Chews Key Features:
30 soft chews
Acai berry flavored
Minimizes cravings
Suppresses hunger
Use with good nutrition and exercise
Who Should Buy Weight Loss, Diet Pills
Anyone trying to lose weight needs to reduce their caloric intake while increasing their physical activity. If you want to lose weight, your first step should be a consultation with your doctor. He or she will help you decide how much weight is safe for you to lose and how you should go about it. In some cases, using weight loss pills can be a good way to augment your weight loss.
There are some circumstances where buying weight loss pills is not the safest option. If you are pregnant, breastfeeding, under 18, taking prescription or nonprescription medications, taking herbal supplements, or are affected by any type of health issue, it's important to talk to your doctor before adding a weight loss pill to your routine.
Important Features to Consider
When looking at weight loss pills, there are some features that you will want to keep in mind for your safety and to gauge the effectiveness of the pills. Here's what to consider.
Ingredients. Are there any ingredients that you'd like to avoid or are sensitive to, such as gluten or caffeine? You will, of course, want to avoid these. Check the ingredients list of any diet pills you are considering.
Doctor's recommendation. Talk to your doctor about the right weight loss pills for you, and follow his or her advice before making a purchase.
Formulation. Some weight loss pills are made for women, while others are made for men (and lots are suitable for anyone). You might want one that boosts energy or that is right for someone on a keto diet. Read the details of each pill you are considering.
Frequently Asked Questions
How do weight loss pills work?
Weight loss pills can work in a variety of ways. Some common ways that they work is to suppress your appetite and/or to boost your metabolism. Some also give you more energy so you are more likely to be able to finish your workout. And others increase your fat-burning capabilities. Read the details carefully to see how the ones you are considering will work.
What are the side effects of weight loss pills?
Any medication or supplement, including natural or organic ones, can cause side effects. These side effects will depend on the ingredients in the pill. Some common side effects can include nausea, diarrhea, feeling jittery or nervous, a higher blood pressure than usual, a faster heartbeat than usual, and trouble sleeping. If you experience these, contact your doctor.
How can I lose weight fast?
The safest way to lose weight is to try to lose 1-2 lbs per week. 11 If you lose weight more quickly than that, you are at an increased risk of side effects (fainting, lightheadedness, gallbladder problems, digestive issues). You will also likely gain it back quickly. Talk to your doctor about the best way to lose weight. Usually, this will include reducing your intake of calories while increasing your daily exercise. It might include prescription or non-prescription weight loss pills, medications for other conditions you might have, or even surgery.
If you are hoping to begin an exercise program at home, check out our lists of the best elliptical machines and the best exercise mats.
Can I ask my doctor for weight loss pills?
Yes, it's a good idea to talk to your doctor about any weight loss pills you are considering. Some require a prescription, so you would get those from your doctor. The ones reviewed here do not require a prescription, but it's still important that your doctor is aware of what you are taking, as some could be contraindicated with certain health issues or medications.
Other Weight Loss Pills We Reviewed
With so many weight loss pills out there, there were a lot to review. We looked at an additional 20 pills over and above the ones that made our top 5 list. These were the rest of our favorites.
Weight Loss Tablets/Capsules
This is a natural appetite suppressant that is based on saffron and 5-HTP. Consuming pure saffron on a regular basis may help reduce your appetite and leave you feeling full after meals. 12 In addition to appetite control, it may also improve mood and enhance metabolism of glucose and fat. 13 14 Some research shows 5-HTP has helped participants better control calorie intake. 15 16 17 It is good for men and women and it is 100% caffeine-free.
Key Features:
50 veggie capsules
Caffeine-free
Uses less common weight loss ingredients compared to the others on the list
Cost: $30
Herbtonics Apple Cider Vinegar Capsules
This is a keto-friendly supplement that includes apple cider vinegar, BHB and MCT oil. There's some research to show that MCT oil may acutely decrease food intake, but does not have a long-term impact on your diet. One study found that having MCT 1 hour before a meal led to a decrease in food intake at that meal. But, it did not show the same effects when the MCT was taken 3 hours before the meal. 18
Key Features:
120 vegetarian capsules
May help you decrease carb digestion
Contains MCT oil
Cost: $22
Keto Vida Weight Loss Fat Burner for Night Time
This fat burner is taken at bedtime. It contains vitamin D and a variety of natural extracts and ingredients. It contains vitamin D and a variety of natural extracts and ingredients.
Key Features:
60 pills
Contains vitamin D
Taken at bedtime
Cost: $21
NatureWise Raspberry Ketones Plus
Naturally increase your body's fat-burning processes with the power of raspberry ketones, green tea, mango, acai, and other healthy ingredients. Some small, short term studies have shown positive effects on weight loss when raspberry ketone supplements are used, however, plenty of other research is mixed in its effectiveness. 19 20 In fact, one case study reported sudden adverse cardiac effects shortly after taking raspberry ketones. 21 Again, always check with your doctor before taking any weight loss supplements.
Key Features:
120 capsules
Contains antioxidants
400mg raspberry ketones per serving
Cost: $17
NutriWise Garcinia Cambogia Extract with HCA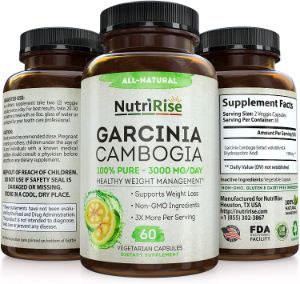 This is an appetite suppressant and carb blocker that works thanks to garcinia cambogia, which is a tropical fruit known for its weight-busting properties. 22
Key Features:
60 capsules
Non-GMO
Gluten and dairy-free
Cost: $13
Old School Labs Real Keto Fat Burner
This keto-friendly fat burner may help you lose weight using caffeine and 5-HTP.
Key Features:
60 pills
Vegetarian capsules
Non-GMO and gluten-free
Cost: $40
Phytochoice Pure Saffron Extract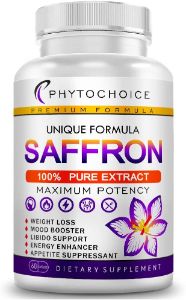 This natural weight loss pill is made from saffron extract, which can suppress hunger and help manage mood.
Key Features:
60 capsules
Vegetarian capsules
Made in the USA
Cost: $20
Purely Inspired 100% Pure Garcinia Cambogia Extract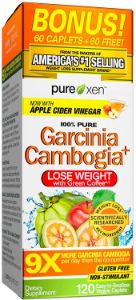 This weight loss pill combines the power of apple cider vinegar, garcinia cambogia extract, and coffee extract.
Key Features:
120 tablets
Vegetarian
Contains green coffee
Cost: $10
This is a fat binder made from okra and inulin. The company says it can help you lose one pound per week.
Key Features:
60 capsules
Vegetarian
No fillers
Cost: $30
Youth & Tonic Weight Management
This is a weight management pill that contains apple cider vinegar, glucomannan, and cayenne powder. Compounds like cayenne may have a beneficial effect on weight management and calorie burn. 23
Key Features:
60 capsules
Vegetarian-friendly capsules
Non-stimulant
Weight Loss Gummies
Hydroxycut Non-Stimulant Weight Loss
This is a weight loss gummy that contains all sorts of micronutrients and coffee bean extract.
Key Features:
90 gummies
Contains 30 calories and 5g sugar per serving
Fruit flavored
Cost: $20
NaturalGenius Fat Burning Gummies
These sugar-free gummies contain garcinia cambogia, raspberry ketones, and green coffee extract. They contain sugar alcohols, which can cause some people gut distress. 24
Key Features:
90 gummies
Contains 30 calories per serving
Sugar-free
Cost: $25
Pure Apple Cider Vinegar Gummies
Love the weight-loss benefits of apple cider vinegar but hate the taste? These organic apple cider gummies with mother will be just what you need.
Key Features:
60 gummies
Pure, organic
Natural apple flavor
Cost: $15
SkinnyMint Super Fat Burning Gummies
This is a two-step process for losing weight. When you wake up, use a power-up gummy, then as afternoon hits, take a hunger buster gummy.
Key Features:
120 gummies
Two-step process
Use this gummy to curb hunger when you're craving something sweet
Cost: $50
Slimquick Pure Extra Strength Gummies
This is a natural, stimulant-free appetite suppressant containing green tea.
Key Features:
60 gummies
Formulated for women
All-natural ingredients
Cost: $16
World's First Apple Cider Vinegar Gummies 
Because these gummies are vegan, organic, non-GMO, and gluten-free, almost everyone can tolerate these appetite suppressing apple cider vinegar gummies.
Key Features:
60 gummies
Contains organic beetroot
Contains 12 calories per gummy
Chewable Weight Loss Pills
Healthy Natural Systems (HNS) Garcinia Cambogia Chews
These tropical fruit-flavored chews contain garcinia cambogia. They have zero grams of sugar, but they do contain sugar alcohols.
Key Features:
30 chews
20 calories per chew
Contains soy
Cost: $9
Natures Craft Chewable Vitamin B12
Vitamin B12 is really important for red blood cell formation, neurological function and cellular energy production. 25 Vegans and vegetarians are especially at risk for vitamin B12 deficiency and often need supplementation. 26
Key Features:
90 chewable tablets
Contains 42.66% of your daily B12 recommendation
Contains soy
Cost: $10
Purely Inspired Probotics + Weight Loss Tablets
Lose weight with the help of green coffee. You get an extra 24 chewable tablets with this package. It contains probiotics for digestive and immune health.
Key Features:
84 chewable tablets
Probiotics blend
Contains garcinia, green tea and green coffee bean extract
Cost: $10
This is an effervescent tablet: You don't chew it, but you dissolve it in water. This gives you a tasty drink in the suggested 16-20oz of water, which will help you feel full.
Key Features:
30 effervescent tablets
Contains 10% of your daily sodium recommendation
Curbs cravings
Cost: $80
Article Sources
Healing Daily uses only high-quality sources, including peer-reviewed studies, to support the facts within our articles. Read our editorial process to learn more about how we fact-check and keep our content accurate, reliable, and trustworthy.