h If you think your body could use a little detoxification, then you may have the best luck attempting a detox with tea. Not only do they often taste great, but they can also give you several health benefits, too. You may not know where to begin in your search for the right one, though, and that's where we come in. We've done all the legwork for you!
We reviewed dozens of detox teas to identify the best of the best. We found the teas that will cleanse your liver, your skin, your kidneys, and more. We looked for detox teas that will work fast, and those that will keep working overtime. No matter what kind of detox tea you're looking for, we've found the right one for you!
While we were researching the best detox teas, one clearly stood out among its peers as the obvious choice for our best overall. The Organixx Organigreens can be served hot or cold, with all the greens your body needs to speed those toxins right out of your body.
[toc]
The 5 Top-Rated Detox Teas
*Ratings are current at the time of publication and can change
Best Detox Tea Overall: Organixx Organigreens
The Organixx Organigreens is an excellent detox – and one that you can serve warm with one of two delicious flavors, sweetened and pure unsweetened. The naturally detoxifying power of the impressive 71 antioxidant-rich vegetables and fruits will assist your body's digestion with flushing the toxic wastes right through your body, letting you feel clean and healthy even faster.
Another thing you'll definitely appreciate is that this powder will still be useful in the hot summer months when hot tea is the last thing on your mind. You'll be able to add it to cool water and still get the same detox power – without making yourself sweat in the process.
Over 450 customer reviews on this detox's website have awarded it an overall rating of an impressive 4.8 stars. THat's enough to build your confidence in a product, fur sure!
Organixx Organigreens Key Features:
1-year money-back guarantee
2 flavors available
USDA certified organic
Best Loose Leaf Detox Tea: CBD Living Passion Green Tea
With the powerful detoxification power of green tea, the CBD Living Passion Green Tea is a loose-leaf detox tea that you'll love the taste of and love even more how it makes you feel. You'll barely notice the difference in your routine, especially if you drink green tea regularly anyway. But even if you don't, the tea quality of this detox is so high that you'll probably start!
You'll use a tea infuser, or a mesh ball to contain the loose-leaf, and then steep it as you would a teabag. Bear in mind that the flavor may be stronger and richer with a tea ball, so you'll likely need less – and even be able to get more than one cup from each serving size, which will save you big in the long run. The hemp extract will help you reduce inflammation and ease stress, too, making this one tea such a life-improving one that you'll want to drink it every day.
CBD Living Passion Green Tea Key Features:
2 oz package
12.5 mg CBD per serving
Flavored with green tea, mango, and peach
Best Budget Detox Tea: Zero Tea 14 Day Detox Tea
The Zero Tea 14 Day Detox Tea includes so many ingredients to help your body rid itself of toxins that you'll see a difference in more than just your liver and kidney function. The green tea, cinnamon, cloves, nutmeg, and more will reduce inflammation, bloating, and stress, just to name a few positive effects of the detox.
It also claims to recharge your metabolism and energy levels, and throughout the 14-days you drink this tea, you'll notice feeling better and better each day. (You may even notice some weight loss, too!)
This detox tea has the numbers to back up its claims, too. More than 10,000 customer reviews on Amazon have earned it an overall rating of 4.3 stars! That makes it a statistical likelihood that you'll be satisfied, as well. The best part of this tea, though, is definitely the cost. You can get these detox tea bags for just under $15! – A total steal.
Zero Tea 14 Day Detox Tea Key Features:
Drink within 20 minutes of waking
14-day supply
All-natural ingredients
Best Whole Body Detox Tea: CBD Living Matcha Instant Green Tea
If you don't have the time to wait for your tea to steep, then you're going to want to check out the CBD Living Matcha Instant Green Tea. The matcha is a product made from specially grown and processed green tea leaves, then ground into a fine powder for faster absorption, making it easier to get your tea blended and you drinking it even faster. You can add this mix into your hot or cold water, stir vigorously, and enjoy your detox!
This tea also includes CBD to make sure you're getting the most from your tea. Not only does it contribute to reducing inflammation and anxiety, but recently, studies have also shown that it, in itself, is a good detoxifying agent. Not only will it help your body ease into its detox state, but it may also create homeostasis for your body, making you feel better than you ever have before.
CBD Living Matcha Instant Green Tea Key Features:
25 mg CBD per serving
Non-GMO, cruelty-free, and vegan
10 servings per container
Best Instant Detox Tea: Organixx Daily Detox
Adding Organixx Daily Detox to your diet can help your body perform optimally, and you feel better than before. You'll get excellent liver support to let it do its job better and faster, but the ingredients included in this mix are specially chosen to detox your entire body, not just the liver. It will boost your energy without caffeine and give your lungs, digestion, and colon a supportive detox to make sure your whole body is working just the way it should.
This powder gets added to your hot or cold water, or even bone broth for added nutrients, stir vigorously until it's blended and enjoys.If you're looking for high-quality, make note that this tea is made vegan, without GMOs, gluten, soy, or dairy, and third-party tested to guarantee its standards.
Organixx Daily Detox Key Features:
USDA-certified organic
1-year money-back guarantee
Milk thistle, matcha, thistle, dandelion leaf, and more
Who Should Buy a Detox Tea
Your kidney and liver are pretty excellent detoxifiers, so why would you need to detox your body any more than what it's naturally doing already? There are a few reasons, believe it or not. The most popular reason is probably weight loss, and while detoxing, you will shed some pounds. However, there's so much more to detoxing than just weight loss. The truth is, your body (barring any health concerns or problems) is an efficient detoxifier. If you do happen to have any health problems, though, your kidneys and liver may need a little bit of assistance in shedding those toxins. You can definitely boost the efficiency of your liver by replacing your caffeine or sugary drinks with a detox tea.
Even without the weight loss potential and improvement of a health concern, though, there's one big reason to detox your body: You'll speed the process up. All the junk food you eat (sugar and alcohol, for example) makes your body work overtime, and when you detox, you're giving your body the tools to better flush and combat those toxins. For those of us who live with a diet of regular toxin (and we're not judging), your organs can use all the help they can get! Just keep in mind that as long as you keep putting toxins in your body, your organs will still strain to get rid of them, and you won't notice as big of an improvement in your health as you would if you gave them up. If you're beginning a new diet where you limit the more severe toxins you consume, then you're going to see big benefits of the detox tea faster, and you'll notice a bit of the weight loss and an overall improvement in your health even faster.
If you're looking for a way to cut pounds fast, though, you may want to check out The Best Appetite Suppressants.
Important Features to Consider
A detox should do several things well. Here's what to consider when selecting a detox tea:
For liver. For a liver detox, then you'll want to find a tea that includes ingredients like green tea, milk thistle, zinc, selenium, citrus, and Tumeric. If your liver is performing optimally, it becomes a filtration system to your body. One of its jobs will be to convert toxins you've ingested into your body's waste.  It also metabolizes nutrients and medications into the proteins your body needs and cleanses your blood. If any of these things are your primary concern, then check out those liver-helpers.
For kidneys. If you're looking to detox your kidneys, then look for teas with like apple cider vinegar, lemon juice, kidney beans, watermelon, pomegranate, dates. Your kidneys work as a filtration system, as well, but are primarily concerned with excess fluid and wastes. – Which is sensational news if you retain a lot of water weight. If that's not your primary concern, then maybe you shouldn't seek out those ingredients, but they will still help your body push those wastes and excesses through your system faster.
For other. Lungs will more easily cleanse with the steam of a good green tea. Actually, the steam of any tea will help soothe your lungs and help them detox. Your skin will also benefit from the same green tea, so doubling up will take care of all. (Are you picking up on the trend? Green tea is an excellent detoxifier!)
Caffeine content. You'll definitely need to pay attention to the caffeine content in your teas if you prefer to drink your tea in the evening. Green tea, unless otherwise stated, contains caffeine, and that leads manufacturers to feel less need to clarify. What that means for you is that you'll have to look a bit harder to make sure. In fact, you may not notice anywhere on your container at all where it says caffeine or not
Weight loss. A more healthy body is one that metabolizes your foods and drinks efficiently and quickly – that in itself may just make you lose weight faster. You can also expect to lose some weight due to the extra quick waste removal of your body. (That's the most delicate way we can put it – to be more clear, the detox will make you use the restroom more, and you'll lose plenty of water weight that way, too.) You'll likely see yourself bloating less and less while detoxing, as well.
Frequently Asked Questions
What is a detox tea, and how does it work?
A detox tea is a tea that will help your body rid itself of toxins that you've been exposed to or have consumed. If your body is healthy, it's already an effective detoxifier, but a detox tea can help your body perform more efficiently. It won't replace the detoxifying system your body already has, but rather it is made with ingredients that are specially chosen to help strengthen your body's detoxifying organs. You'll sometimes steep it in hot water, and sometimes you'll add a powder to your hot (or cold) water. Some manufacturers even recommend you add it to bone broth to get even more nutrients into your body. They come in bags, loose-leaf, and powders and a variety of tastes, so there's every possibility you'll be able to find a tea you love – even if you don't normally like tea!
Do detox teas really work?
As we mentioned above, your body already is an excellent filtration system for toxins. So will a detox tea take the place of your already functioning organs? No, of course not. However, if you use them properly, detox teas can help your body's filtration system, and the applicable organs operate more smoothly. After all, you probably already know that if you put good things into your body, you feel good. Just like you feel worse after gorging on junk food, a detox tea will help you feel amazing – by putting nutrients, herbs, and minerals into your body that make your organs perform more efficiently.
If you're looking for a detox tea for the exclusive purpose of weight loss, you may be disappointed in the long run. Though you have every possibility (and likelihood!) that you'll lose a few pounds while you're drinking the tea, if your other diet habits don't reflect the same mentality of good foods and healthy options, your tea will only be able to do so much. A detox tea is excellent for hosting your body's ability to filter the wastes and toxins in it, but it's only "okay" at making you lose big pounds.
How long does it take for detox tea to work?
Everyone is different, just as every body is different. Depending on what you mean by "working" it could be as little as a few hours, or it could be a tea that has a more building effect. Some detox teas use a little cheat to make you go to the bathroom faster – a laxative herb called Senna. It's not really detoxing you, but it is flushing you in a sense. It's not, however, going to give you long-lasting benefits like a detox that relies on quality ingredients will. You'll lose water weight relatively fast because of the loss of excess fluids. – Even if you didn't know you were storing a big of extra fluids, you might lose a few pounds those first couple weeks. And hey, if you're just trying to shed a couple of pounds fast, then this may be what you're looking for! But if you want an overall healthy body with that clean and good feeling, then opt for the teas that will target specific organs to boost them, rather than the ones that are going to make you go to the bathroom fast. It may take a few weeks to really feel the results.
If you're on a true detox mission, please note that toxins are also purged from your body through sweat. So get moving to notice those results faster! And don't starve yourself – your body needs good foods during a detox more than ever.
What comes out of your body when you detox?
To be brief: Bad stuff! When you detox, whether your body has the boost of your tea or not, you'll notice more frequent bathroom trips while your body is flushed of waste and toxins that you've been exposed to and have consumed. (Caffeine, nicotine, sugar, alcohol, etc.) Think of your body as a machine and the detox tea as an oil. Does the machine need the oil to operate? No. But your body performs better, and you feel better when you rid your system of those toxins that will clog up the gears.
Other Detox Teas We Reviewed
We looked at 20 other detox teas. Even though they didn't make our 5 best detox teas list, they're the best of the rest, and each is still a great option for you. The information you'll need to compare each one is included with the listing.
Detox Tea Bags
Bikini Body Boost – Best Daytime Energy & Detox Tea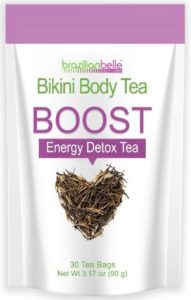 Get a boost of energy while you're enjoying the other side effects of a detox tea.
Key Features:
Subscribe and Save eligible
15-day supply
100% money-back guarantee
Cost: $25
Bikini Body Detox Tea for Weight Loss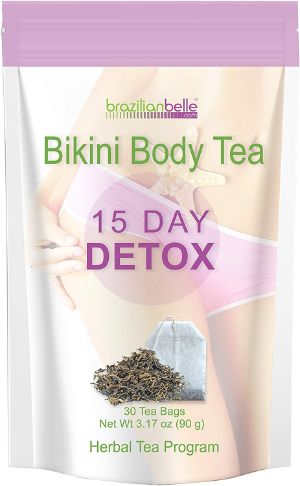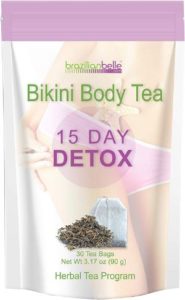 If you have a deadline, then the 15-day cleanse will detox your body as best as possible within that timeframe.
Key Features:
Made with oolong tea leaf, pu'er tea leaf, and green tea leaf
Risk-free, money-back guarantee
30 tea bags included
Cost: $25
Bikini Body Gentle Colon Detox Tea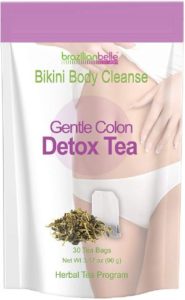 If you're struggling with the toxins in your colon, this tea should help you ease it into a more regular performance.
Key Features:
30-day cleanse
Drink tea nightly
Reduces bloating and constipation
Cost: $25
Lifestyle Awareness Dandy Liver Detox Tea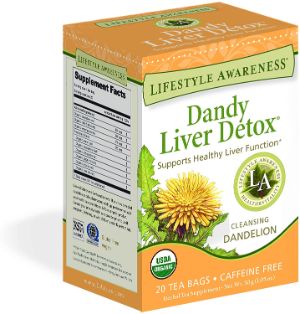 If you're interested in using dandelion to cleanse your body and detox it, this tea is the one for you!
Key Features:20 tea bags
Caffeine-free
Subscribe and Save eligible
Cost: $6
Lipton Herbal Supplement with Green Tea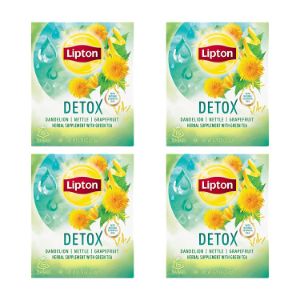 There's no better brand recognition with tea than Lipton, so this detox tea comes with trust built into its very name.
Key Features:
Made with nettle and dandelion
60 bags included
7 flavors
Cost: $15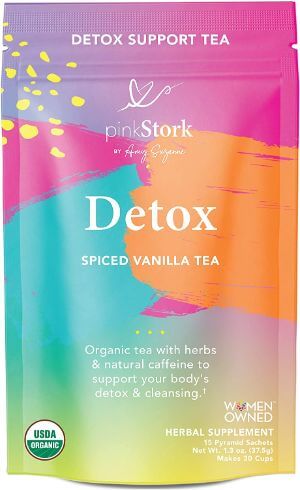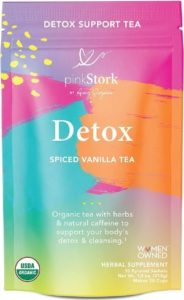 This women-owned company has made a detox tea perfect for women to use when needing their support – and it's delivered in a spiced vanilla flavor.
Key Features:
30 servings per package
Includes stinging nettle, ginger, milk thistle, and green tea
USDA certified organic
Cost: $15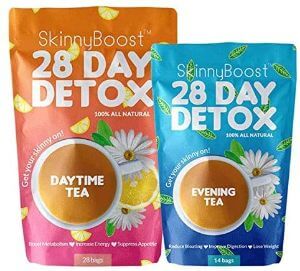 This 28-day detox kit offers you a morning tea with energy boosts, and a nightly tea to help you wind down for a good night's sleep.
Key Features:
Appetite-suppressant
42 total bags included
Made with dandelion, green tea, oolong tea, and more
Cost: $30
The ORIGINAL Fit Tea 28 Day Detox Tea
This natural and organic tea will target your colon for a detox that works fast.
Key Features:
Made with pomegranate, green tea, ginger, oolong tea, and garcinia Cambogia
Appetite-suppressant and body cleanse
Includes caffeine
Cost: $35
Total Tea Caffeine Free Detox Tea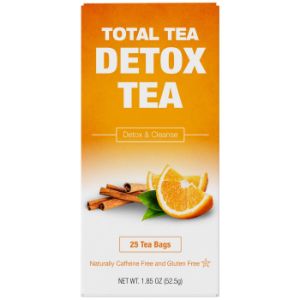 If you want a detox tea but are hesitant to get one for fear of harsh reactions, this tea will be gentle as it flushes your system.
Key Features:
25 bags included
Caffeine and gluten-free
Subscribe and Save eligible
Cost: $20
Traditional Medicinals Organic EveryDay Detox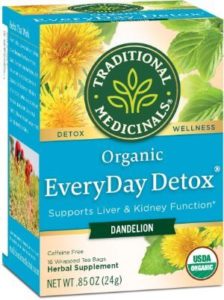 If you enjoy this tea and the support it offers your liver and kidney function, then you can Subscribe and Save on Amazon to make sure you never go without.
Key Features:
3 flavors available
96 tea bags included
Non-GMO certified
Cost: $25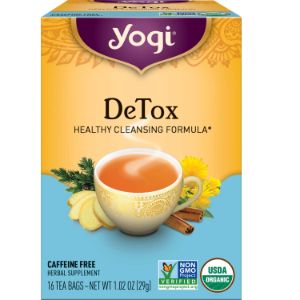 In order to cleanse and detox your body, these detox tea bags will help you by drinking them daily.
Key Features:
Made with ginger, peppers, sasparilla, licorice, and more
Caffeine-free
Non-GMO certified USDA organic
Cost: $25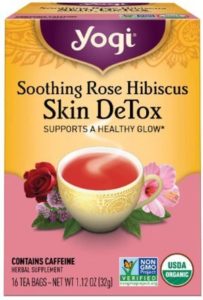 This detox tea will give your largest organ, your skin, the cleanse it needs.
Key Features:
Certified non-GMO
16 bags included
Contains caffeine
Loose Leaf Detox Teas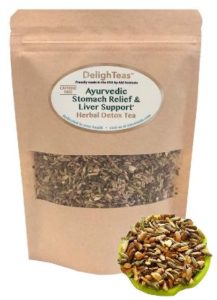 This detox tea uses organic milk thistle, ginger root, peppermint leaf, fennel, and more to give stomach relief and support your liver.
Key Features:
2 size options
Caffeine-free
Purchase with or without infuser
Cost: $10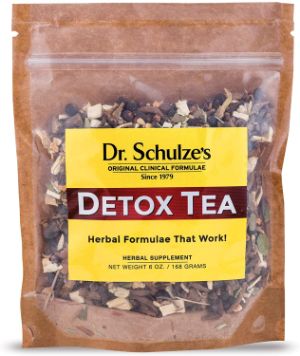 This detox tea focuses on your liver with its blend of herbs, including ginger, fennel, clove, dandelion, orange peel, and more!
Key Features:
6 oz pack
Resealable bag
Gluten-free and non-GMO
Cost: $25
Elevate Tea CITRUS DETOX GREEN TEA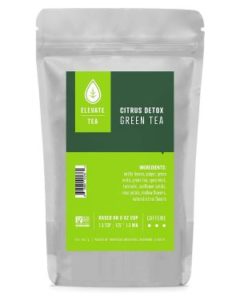 You'll get a medium level of caffeine to boost your body's energy levels while you detox with this tea.
Key Features:
3-pack
2-ounce per resealable pouch
Citrus and green tea flavoring
Cost: $30
JusTea PEPPERMINT DETOX Loose Leaf Herbal Tea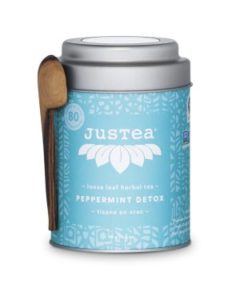 You'll get a bonus wood serving spoon with this peppermint and citrus-flavored detox tea.
Key Features:
Other flavors available
3 packaging options
100% organic and non-GMO
Cost: $15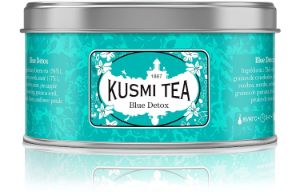 This loose-leaf detox tea comes in an eco-friendly tin so you can reuse it over and over.
Key Features:
Sugar and preservative-free
3 size options
Uses green tea, rooibos, pineapple, and more
Cost: $25
Tealyra 911 Detox Digestive Tea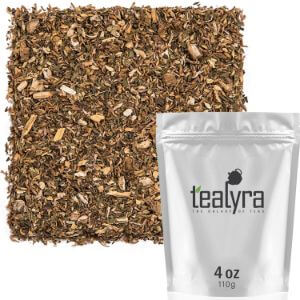 With this loose leaf tea, you'll get your detox as strong or gentle as you make it.
Key Features:
Resealable bag
Includes organic ingredients like licorice, dandelion, ginger, peppermint, and more
Minty peppermint taste
Cost: $15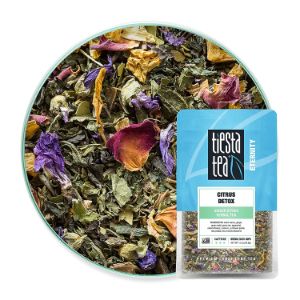 The citrus flavor may just have you craving this detox tea each morning.
Key Features:
3 packaging options
25 servings
3 flavors available
Other Detox Teas
Total Tea Herbal Detox Tea K-Cup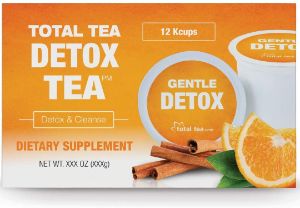 If you want to utilize your Keurig or another such device, these K-Cups will give you your tea in no time.
Key Features:
12 pods included
Made in USA
Gentle formula
Cost: $20