Suppressing your appetite is one approach to losing weight. If you aren't feeling very hungry, you aren't going to eat as much as you usually would. Ideally, this eventually leads to losing weight, especially if you pair it was exercise and a healthy diet. However, not all suppressants are equal. Some don't work very well, and others can produce unhealthy side effects. It is essential to choose the right appetite suppressant for you.
We reviewed dozens of appetite suppressants to identify the best of the best. We considered each product's ingredients, effectiveness, safety, and ease of use when evaluating each product.
Out of all the products we reviewed, Leanbean came out on top. It strives to reduce your appetite and encourages your body to burn stubborn fat.
Legal Disclaimer
In general, the FDA has limited regulation on OTC/online supplements before they are available for purchase, so use caution when choosing and using supplements. All supplements are not regulated for potency and effectiveness.
If you or someone you know is misusing appetite suppressants, it is important to consult your healthcare team.
If you find yourself having specific cravings while trying to curb your appetite, you don't have to go cold turkey! You won't want to miss out on our article, How To Wean Off Sugar: A Complete Guide On How To Wean Yourself Off Sugar.
[toc]
The 5 Top-Rated Appetite Suppressants
[table "25" not found /]
*Ratings are from Amazon at the time of publication and can change
Our Top Pick: Leanbean
Leanbean quickly rose to the top as the best appetite suppressant available. It is specially designed for female athletes and focuses on appetite suppression using glucomannan.* Research has proposed that this ingredient has to reduce hunger and cravings, allowing you to keep your calorie intake down without feeling like you're starving.1 It is even approved by the Food and Drug Administration as a dietary fiber.2
In addition to this powerful ingredient, Leanbean also includes ten other natural ingredients to help you lose weight. These ingredients include things like konjac fiber, choline, chromium picolinate, chloride, vitamin B12, and a variety of vitamins.34567 All these ingredients work together to burn fat, normalize your digestion, help maintain healthy blood glucose, and reduce fatigue.
What's more, Leanbean is also formulated to work around the clock. When you take it, you may not need to worry about getting hungry as night approaches or waking up starving in the morning. This company is so confident in their product that they offer a 90-day money-back guarantee. If the pill doesn't work for you as described, you can send it back for a full refund. Leanbean is also produced in an FDA registered facility.
Leanbean Key Features:
Strongest appetite suppressant designed for women
Quality ingredients that empower your body to burn stubborn fat
Produced in an FDA registered facility
90-day money-back guarantee
*If you have a history of upper gastrointestinal pathologies, glucomannan may cause issues, so check with your healthcare team before using it in such cases.8
Our Runner Up Pick: Zotrim
There was no question in our minds that Zotrim is well-deserving of its second place spot. It beat out dozens of other appetite suppressants because of the fact that it's clinically proven and easy to take. Zotrim can not only help you to reduce your appetite and curb your cravings, but may also help to resist snacking and cut your daily calorie intake. It's all thanks to its patented formula which has been developed and tested by an international team of medical researchers.
The natural, herbal formula focuses on three potent appetite reducing ingredients to work its wonders: yerba maté, guarana, and damiana. As the brand explains, "These powerful South American plant extracts help you lose weight by enabling you to gain control of your eating habits."
Zotrim isn't just all talk, either. It's supported by five clinical trials and over ten expert approved papers published in scientific journals, as the company's website shows. For example, in one study, people invited to a buffet lunch who took Zotrim ate 112 fewer calories on average, less high fat foods, and stopped eating 3 minutes earlier than those who didn't take Zotrim. In fact, Zotrim even has been shown to outperforms prescription drugs in trials.
It's also worth noting that there are numerous success stories on their website in which you can see the effectiveness of Zotrim with your very own eyes. For example, Heidi Lambeth who dropped a whooping 12 dress sizes with the support of Zotrim. Other benefits of Zotrim include that it comes in very convenient pill dispensers and that it's vegan-friendly. You're unlikely to be disappointed if you give this product one a go – especially considering the brand offers free shipping and a 100-day money-back guarantee!
Zotrim Key Features:
Supported by 5 clinical trials and 10+ expert approved papers
Natural, herbal formula
Has outperformed prescription drugs in trials
100% money back guarantee
Best Budget Pick: 100% Pure Garcinia Cambogia Extract by Orphic Extract
Garcinia is a natural appetite suppressant that has been shown in studies to help individuals lose weight.9 This 100% Pure Garcinia Cambogia Extract by Orphic Extract is designed to help you lose weight by preventing the absorption of fat, suppressing your diet, and boosting your metabolism. This extract may keep your appetite in check by increasing levels of serotonin in your brain. High levels of serotonin have been noted to curb cravings.10 It may also aims to help prevent overheating, emotional eating, and sugary cravings. Despite having all these positive effects, this supplement is less expensive than most other options.
This pill provides 100% pure garcinia cambogia extract and has very few ill side effects, unlike some other diet pills. Most customers do not report any side effects like nausea or headaches. Some customers even said that their energy levels were higher than usual. Plus, this extract is free of GMO, gluten, preservatives, additives, and other fillers.
100% Pure Garcinia Cambogia Extract by Orphic Extract Key Features:
Capsule form
High concentration (2100mg per serving)
Increased energy per customer reviews
Made in the USA
Best Appetite Suppressant Pills: PhytoChoice Pure Saffron Extract Dietary Supplement
One of the best diet pills we discovered was PhytoChoice Pure Saffron Extract Dietary Supplement. These 100% natural pills are truly multifunctional. Not only do they help to suppress your appetite and control hunger and overeating, but they also help to boost your heart health and reduce your blood pressure, among other potential benefits.
This is all possible thanks to its key ingredient, saffron extract. The plant is anti-oxidant rich and has been shown to help curb hunger pangs as well as a range of other health concerns. These pills are made in the United States and are third-party lab-tested for quality. It has an average rating of 4.2 out of 5 from more than 1600 customers, who are clearly pleased with its effectiveness as an appetite suppressant based based on customer reviews.
PhytoChoice Pure Saffron Extract Dietary Supplement Key Features:
100% pure extract
3rd party lab-tested
Made in the USA
60 capsules
Best Appetite Suppressant Powder: Amino Slim
Appetite-suppressant powders can be easily added to your morning shake or pre-workout. The best appetite suppressant powder we found was Amino Slim. This powder is designed to suppress your appetite, reduce your body's stress response, and boost your metabolism. It can take the place of your post-workout supplement, as it is tailored to hydration and recovery, helping your muscles heal faster and preventing soreness.
This formula contains BCAAs as well as a variety of other amino acids. Research has noted that, "In some situations the intake of BCAAs also improves physical performance."11 Experimental studies have also linked these ingredients to counteracting muscle loss, but further research is needed. For appetite suppression, this formula includes saffron, which has been shown in one study to work as a sound appetite suppressant.12
We all know that stress can make your body hold onto your extra weight. Because of this, Amino Slim contains 300mg of organic ashwagandha, which has been noted by research to effectively improved resistance towards stress.13
can reduce your stress levels naturally. When you're feeling calmer, your body will find it easier to shed those pounds. This option is designed to help fight stress while also losing weight. All the ingredients work together to keep your body rejuvenated, your mind relaxed, and your belly full.
Amino Slim Key Features:
Reduces stress
Saffron for appetite suppression
100% vegan
Post-workout recovery
Who Should Buy an Appetite Suppressant
Hunger is a significant roadblock to weight loss. If you're trying to lose weight, you need to create a caloric deficit. In other words, you need to burn more calories than you eat. If you're continually craving food, though, this can be torturous. Appetite suppressants can help you conquer this problem when other methods like healthy snacking, hydration, and behavior changes fail. When combined with exercise and a healthy diet, these supplements can prevent you from feeling as hungry as you normally would, potentially leading to more weight loss.
However, appetite suppressants are not for everyone. If you don't have a problem with food cravings, these supplements probably aren't going to help you lose weight. They also won't replace a healthy diet or exercise. Still, they can be accommodating for those who suffer from near-constant food cravings, tend to eat emotionally, or have problems controlling their portion sizes. See a registered dietitian if you're struggling with food. If you've tried traditional methods of losing weight but are still having trouble, an appetite suppressant might be the way to go. Of course, you should always talk to your doctor before starting a new supplement, especially if you have health problems or are on any medications.
Important Features to Consider
An appetite suppressant should do several things well. Here's what to consider when selecting an appetite suppressant:
Ingredients. The main feature you should use to judge each appetite suppressant is the ingredients they contain. The formula each appetite suppressant has can vary quite a bit from pill to pill. Some might contain only one ingredient, while others might have dozens. Some ingredients are more effective than others. Look for supplements that have scientifically-proven ingredients and check the concentration of each. You should also check to see if the appetite suppressant you're looking at contains a stimulate. Stimulants can be very useful to some people, but they can also cause adverse side effects. For example, overconsumption of caffeine may cause restlessness and insomnia.14 So it may be a good idea to skip your morning cup of coffee if the supplement you're taking has a stimulant in it.
Side effects. Nearly every supplement is going to have potential side effects. However, some are going to have worse and more frequent side effects than others. Many companies will have a list of possible side effects in the product's description or on the label. Formulas that contain higher concentrations of ingredients have a higher likelihood of causing side effects. We also recommend that you talk to your doctor to get an idea of what side effects you can expect.
Dosage. Appetite suppressants have varying dosages. Some might need to be taken with other meals, while others need to be taken once or twice a day. If the idea of swallowing pills or drinking shakes multiple times a day doesn't seem like something you can stomach, choose a product that has a lower dosage rate.
Form. These supplements come in two forms: capsules and powders. Pills are the most common and don't need to be prepared beforehand so may be more useful for those that are on the go. With tablets, you don't have to stop to make a shake and can easily take them with you every day. If you're already drinking shakes regularly throughout the day, though, a powered appetite supplement can be straightforward to add to your routine.
Frequently Asked Questions
What is an appetite suppressant, and how does it work?
An appetite suppressant is a supplement that reduces hunger and food cravings. While hunger is a natural response, excessive cravings can get in the way of weight loss. These supplements work in a variety of ways depending on their ingredients. Some work by changing your brain chemistry, while others fill up your intestinal tract. Many work in more than one way to potentially maximize effectiveness.
Do appetite suppressants help lose weight?
If you find yourself having the urge to snack, an appetite suppressant can help erase those cravings. These suppressants are also useful if you have trouble controlling your portion sizes. They can curb your appetite so that you eat a more appropriate amount of food. Furthermore, this supplement can also be useful if you're an emotional eater. However, these supplements do not replace a healthy diet, exercise, or evaluation by a medical professional to rule out food-related issues. Instead, they're available to help those who have overactive appetites or who tend to overeat.
Are appetite suppressants dangerous?
They can be when misused or for those with certain medical conditions, especially for people with eating disorders and disordered eating pattern. Taking an appetite suppressant doesn't mean you don't need to eat and they do not replace a healthy diet. They should be taken as indicated on the nutrient label. It would be best if you still ate complete, healthy meals and snacks with these supplements. You should always speak to a doctor before starting an appetite suppressant as well. They should also not be taken with certain medical conditions or medications.
What can I do to suppress my appetite?
Alongside an appetite suppressant, there are a couple of other things you can do as well. Eating complete, balanced meals can help reduce your appetite, as can drinking more water. Your body will crave food if it doesn't get what it needs during meals, so filling up on high-quality, nutrient-dense foods is essential. Choose more proteins, fiber-rich foods, and solid foods. Slowing down while eating your meals. Slowing down while eating your meals can also make you feel fuller, even if you aren't eating more food. Pay attention to your food while you eat it and chew slowly. Eating on a smaller plate can help reduce your portion sizes by tricking your brain into thinking you're eating more than you are.
Other Appetite Suppressants We Reviewed
We looked at 20 other appetite suppressants. Even though they didn't make out 5 best appetite suppressants list, they're the best of the rest, and each is still a great choice. The information you'll need to compare each one is included with the listing.
Appetite Suppressant Pills
Nobi Nutrition Premium Fat Burner for Women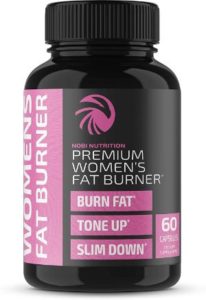 This product is specially formulated for women and is designed to help suppress your appetite and support weight loss without all the caffeine found in other products. One bottle of this product contains 60 pills.
Key Features:
Boosts metabolism and energy
Supports weight loss
Specially formulated for women
Cost: $23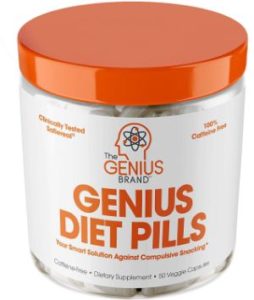 Designed to be used safely for long periods of time with daily use, this product is formulated to help you lose weight thanks to its key ingredient, SATIEREAL® saffron extract.
Key Features:
Caffeine-free
SATIEREAL® saffron extract
50 veggie capsules
Cost: $24
Youth & Tonic Utmost Natural Appetite Suppressant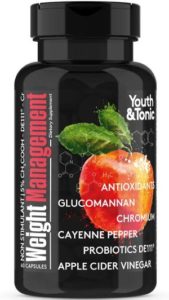 This appetite suppressant was created to support healthy weight management with a unique blend of ingredients including apple cider vinegar, cayenne pepper, and glucomannan.
Key Features:
Caffeine-free
Apple cider vinegar
Contains probiotics, which has been linked to weight loss15
Cost: $20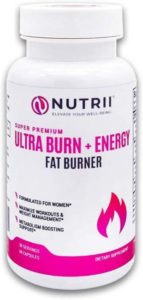 Nutrii Ultra Burn + Energy is a 100% natural ingredient appetite suppressant. This product keeps vegans in mind and adheres to their strict diet.
Key Features:
Vegan
Contains Caffeine
Made in the US with natural ingredients
Cost: $20
Lean-XT Non-Stimulant Fat Burner Weight Loss Supplement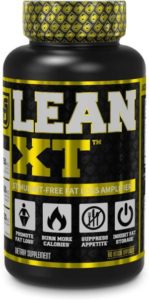 Another product from Jacked Factory, Lean-XT can be stacked with other appetite suppressants and thermogenic fat-burners for maximal weight loss potential.
Key Features:
Caffeine-free
Keto-friendly
Unisex formula
Cost: $25
Cut-XT Appetite Suppressant for Weight Loss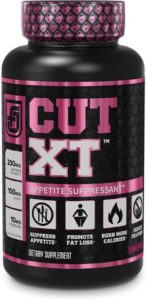 Featuring saffron extract and vitamin B6, this innovative stimulant-free appetite control supplement may help you reduce your food cravings.
Key Features:
Stimulant and caffeine-free
Saffron extract
May reduce food cravings
Cost: $20
Genius Fat Burner – Thermogenic Weight Loss & Nootropic Focus Supplement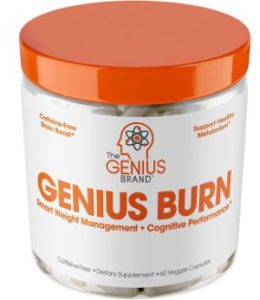 This product is formulated to help you boost your memory, focus, and clarity of thought. It also may help you lose weight by suppressing your appetite, increasing your metabolic rate, and stimulating thermogenesis in your body.
Key Features:
Caffeine-free
Cognition-enhancing ingredients such as Cognizin, AlphaSize, and TeaCrine
No fillers or chemicals
Cost: $40
Appetite Suppressant Powders
No/Snak! Advanced Appetite Suppressant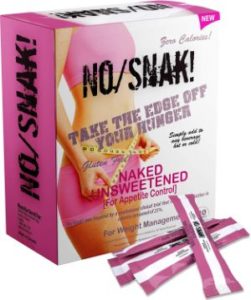 This product contains three-times the amount of garcinia cambogia found in some of the most common pill formats. Garcinia cambogia has been linked to weight loss in some studies, but further research is needed.16 It is safest to use it for short periods of 12 weeks or less. No/Snak! can be mixed with any liquid.
Key Features:
Supports weight loss via its key ingredient, garcinia cambogia
Unisex formula
Reviewed and approved by Health Canada (NPN: 80068690)
Cost: $21
Micro Ingredients Organic Garcinia Cambogia Powder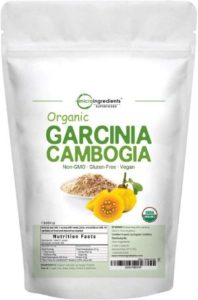 This USDA Organic garcinia cambogia extract powder by Micro Ingredients contains no additives or sugar and conforms to a vegan diet.
Key Features:
Bulk-sized
No additives
Vegan
Cost: $25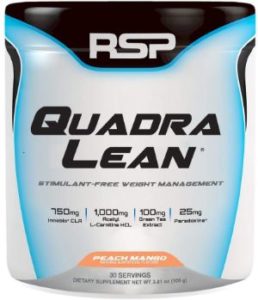 Coming in two flavors, Green Apple and Peach Mango, RSP QuadraLean aims to provide customers with a weight loss solution without any caffeine. One container of this product contains 30 servings.
Key Features:
Caffeine-free
GMP certified
Green tea extract
Cost: $25
Prime Drive Energy & Weight Loss Powder
Prime Drive weight loss powder comes in a multitude of flavors to suit many different preferences. This product contains 30 servings of powder.
Key Features:
Supports weight loss via ingredients such as yerba mate leaf17
4 flavor options
30 servings per tub
Cost: $40
This formula contains six trademarked ingredients, including Capsimax and Paradoxine, that may help to support your weight management efforts. It's caffeine-free and can be used in conjunction with other supplements, like STAR6URN-PM.
Key Features:
Contains six trademarked ingredients
No hidden ingredients
Third-party tested
Cost: $25
Appetite Suppressant Gummies
NatureWise Raspberry Ketones Plus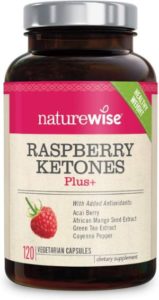 This options from NatureWise contains 400 mg of raspberry ketones per serving. Early animal studies have shown that this ingredient has promise as a weight loss supplement, however, further research is still required.18
Key Features:
400 mg of raspberry ketones per serving
120 capsules per bottle
Vegetarian-friendly
Cost: $20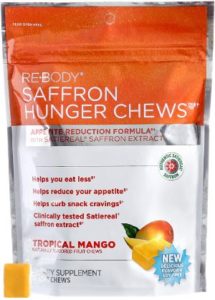 These naturally-flavored chews may help to curb your appetite and cravings by harnessing the power of SATIEREAL® saffron extract. It does this without all the caffeine found in some other supplements.
Key Features:
Tropical mango flavor
Free from artificial sweeteners
Caffeine-free
Cost: $16
NLA for Her Appetite Control Performance Chew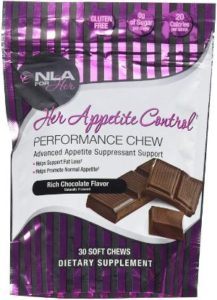 Dieting doesn't have to be awful all the time. Soothe your cravings for chocolate and possibly slim some weight at the same time with NLA for Her's Appetite Performance Chew.
Key Features:
Chocolate flavor to satisfy cravings
Gluten-free
20 calories per chew
Cost: $18
Healthy Delights Naturals Appetite Control Soft Chews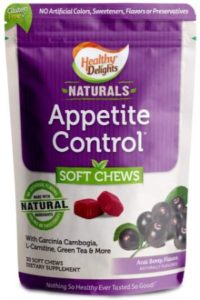 These gummies help you suppress your appetite and prevent cravings from rising while also maintaining an easily palatable taste. These gummies are made with açai berries.
Key Features:
No artificial ingredients
Satisfies your cravings for sweets
Healthy, low-calorie treat
Cost: $14
Appetite Suppressant for Night Time
Lean-PM Night Time Fat Burner, Sleep Aid, and Appetite Suppressant
You can burn off excess weight during all hours of your day, even when you're sleeping with Jacked Factory's Lean-PM Night time fat burner and appetite suppressant.
Key Features:
Helps to support restful sleep thanks to the inclusion of L-theanine19
Caffeine-free
No artificial fillers, preservatives, or food dyes
Cost: $30
Dr. Emil PM Fat Burner, Sleep Aid and Night Time Appetite Suppressant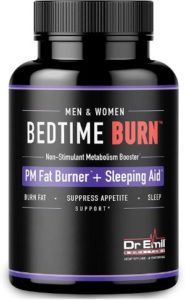 This product is an all-natural solution to help suppress your appetite and curb your late-night cravings.
Key Features:
Assists restful sleep via the inclusion of L-theanine20
Gluten-free
Stimulant free
Cost: $26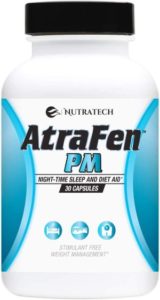 Get deeper and more restful sleep while losing weight with Atrafen PM. Stack this product with Atrafen Elite for up to 25% more fat-burning potential.
Key Features:
Contains melatonin, which has been shown to be helpful for restful sleep21
Capsule form (30 count)
30-day money-back guarantee
Cost: $34
Optimize your sleep and burn off excess weight while you sleep with Team Six's STAR6URN-PM. Combine this with other Team Six products to burn fat during the day as well.
Key Features:
Third-party tested
Caffeine-free
Made in the USA
Cost: $35
Article Sources
Healing Daily uses only high-quality sources, including peer-reviewed studies, to support the facts within our articles. Read our editorial process to learn more about how we fact-check and keep our content accurate, reliable, and trustworthy.