There are numerous methods for maintaining a healthy lifestyle. Between rowing and mini-trampolines to name a few tools, options are bountiful. One other effective tool to add to the fitness arsenal is utilizing the elliptical machine. Besides being one of the most popular machines at your gym, it's also a fantastic option for at-home exercising. Elliptical machines have been a go-to option for exercise enthusiasts for many years due to minimal impact on the joints, good endurance builder, improving balance, being a total body workout, and possessing a low learning curve.
We've looked over dozens of elliptical machines in search of the best to suit a bevy of different budgets. We took into account their size, Amazon ratings, price, usability, technology, and what the customers had to say about their experience of using the product before making our decision. Finally, we identified the five best-rated elliptical machines you can purchase to help you stay healthy and active.
It was a tough call and there are models that have a few extra features, but we chose the Nautilus E614 Elliptical Trainer due to it providing a great number of features for a fair price. Boosting 22 different programs along with having a high speed and high inertia drive system—this elliptical is easy to start up and operate; thus leading to smooth and consistent workouts.
[toc]
The 5 Top-Rated Elliptical Machines
*Ratings are from Amazon at the time of publication and can change
Best Elliptical Machine Overall: Nautilus E614 Elliptical Trainer
The Nautilus E614 Elliptical Trainer was our top pick as it was a combination of some key high-end features while being in the middle tier in terms of a price point. Retailing at a price point of $699, you'll be equipped with two dual track LCD displays. which bolster an impressive array of 22 workout programs.
This elliptical is also an ideal selection as it's learning curve is minimal at best which is perfect for those who may be a little more green behind the ears when it comes to health and fitness. With a high inertia drive system on top of perimeter-weighted flywheels, you can expect your workouts to be a smooth overall experience.
Nautilus E614 Elliptical Trainer Key Features:
20 levels of resistance for varied workout intensity
Cushioned footplates
Heart rate initiated through contact
Includes media tray
Best Compact Elliptical Machine: Go Elliptical V-200 Standard Stride
Efficient, effective, and far from being a space-eater is how you can begin to describe the Go Elliptical V-200 Standard Stride. While compact in nature, this elliptical machine can offer you a diverse set of training capabilities due to its unlimited programs and 24 levels of difficulty.
Whether you're planning a cardio session or a more strength-based session, you'll be able to effectively challenge yourself in a safe manner. This can happen due to an oversized pedal and high-quality front transportation moving wheel. And for extra luxury, you'll have a nice water bottle holder to ensure you're staying hydrated while focusing on the goal at hand. The Go Elliptical V-200 Standard Stride is priced at $399.
Go Elliptical V-200 Standard Stride Key Features:
Stride length is 17 inches
The LCD display is a 5.5-inch large back LT color touch panel
Maximum user weight is 300 pounds
MP3 & iPod compatible music system (through the headphone port)
Best Budget Elliptical Machine: Doufit Elliptical Machine
The Doufit Elliptical Machine is not only our top budget choice retailing at $240, but it's always a viable candidate if you're looking for something that is fairly portable while maintaining the major key features. Due to possessing some high-quality flywheels, the Duofit Elliptical Machine will provide a smooth and quiet workout due to the quality of materials it was constructed with.
If you have a household of fitness enthusiasts, then this machine is also a good option since there are 8 adjustable levels of magnetic resistance, which equates to different training intensities being a possibility for each family member. Also of note is that this machine is ideal for toning your body and exercising your muscles effectively without much pressure on your joints and bones.
Duofit Elliptical Machine Key Features:
Dual-action workout arms
Pulse Sensor & Monitor
Silent Flywheel
Adjustable Magnetic Resistance
Best Portable Elliptical Machine: Stamina Inmotion Elliptical
Stamina Inmotion Elliptical, priced at $120, is a portable, quiet, and efficient cardio tool perfectly suited for the busy professional. This portable tool is effective at toning the lower body, which is going to lead to burning more calories. On top of all of this, you're going to be improving your cardiovascular while exercising in a joint-friendly manner.
Whether you're watching television, reading a book, or working out at the office, this portable tool is a perfect companion so you'll always have your health top-of-mind. The Stamina Inmotion Elliptical also comes with a multi-function monitor.
Stamina Inmotion Elliptical Key Features:
Forward or reverse motion
Can be used sitting or standing
Adjustable tension dial
Compact design (24×17.5 in) makes for an easy, portable workout
Best Elliptical Machine with LCD Monitor: Ancheer Elliptical Machine
Ancheer Elliptical Machine is a beautiful machine with upgraded advanced LCD digital monitoring which reflects your distance, calories burned, time, speed, scan, room temperature, and target zone heart rate monitoring. With 35lbs built-in of effective magnetic precision-balanced flywheel along with a V- belt drive provided for a smooth and quiet exercise experience—this is a solid choice the tech enthusiasts.
This machine, priced at $340 also has some transportation wheels so it'll be easy to remove from the living room in case you have company coming over. You'll also be provided with fully adjustable non-slip pedals to fit your arm length, which will provide different and challenging ways for you to exercise.
Ancheer Elliptical Machine Key Features:
A stride length of 18 inches
A max load-bearing weight of 330 lbs
Qiber APP & Training along with 21 Game Scenes to keep you entertained
Who Should Buy an Elliptical Machine
The great thing about elliptical machines is that anyone can benefit from purchasing one. Not only because of the ease of starting due to the learning curve being minimum, but also, because there are so many different types of ellipticals to suit a multitude of preferences. An obvious person who would be ideal for purchasing an elliptical machine is a busy professional who works long hours and has difficulty being consistent at the gym. Having an elliptical at home would alleviate the subtle stress and guilt that could be had from routinely missing gym sessions.
Another reason for buying an elliptical is not only for the calorie-burning, but also, the safety in which you'll be exercising. the main goal of exercising is to do it in a way that helps you feel good for the long-term, not beat your body in the process. And through leveraging ellipticals, you'll be doing low-impact exercise that is highly joint-friendly. This is ideal for those who may be more on the stiffer side of things or people who have dealt with some past injuries. A versatile tool while being beneficial for your cardiovascular system is what utilizing an elliptical machine will bring to the table.
Important Features to Consider
Elliptical machines are one of the most popular machines in most commercial gyms and come in all different types and shapes. With that said, a good elliptical machine will have a few important features. Here's what to consider when selecting an elliptical machine:
Stride length. This is important to consider as a standard 14-inch stride won't be sufficient for an average-sized person. These can go up to 21 inches and an adjustable stride would be ideal when multiple people plan to use it.
Technology. As time goes on, ellipticals are becoming more and more sophisticated and technological-based through social networks, competitive environments, and even libraries of prepared workouts. Some can also have built-in wireless connectivity and browsers, or Bluetooth capabilities. This list could go on with a litany of things. The key thing in the decision making process is to decide how on the level of technology you're comfortable with or desire.
Pedals. The size and shape along with the ability to go in reverse and of course, forward are the important things to consider here. Also, keep in mind how they fit your specific foot shape.
Performance and type. Do you want something that's sturdier or something small and compact so you can put it away when not in use? Think about your angle and height as well to ensure it'll be comfortable for your unique body makeup. Think about how much of a challenge you want your elliptical to be since different ellipticals have varying levels of resistance that they can max out at.
Ergonomics. One of the big difference between ellipticals and treadmills is that an elliptical constrain your movements a little more. Some things to look out for when choosing your ideal elliptical is if you're able to maintain an upright posture when holding on the moving handles with ease and comfort. Also, don't overlook how it feels on your lower body as well when you're taking your strides.
Frequently Asked Questions
What is an elliptical machine and how does it work?
Elliptical machines are of the most popular pieces of equipment at most commercial gyms and a popular at-home choice. These machines provide low-impact cardio that simulates running, but greatly reduces the impact on your joints and has a low learning curve to proficiency. Besides protecting joints such as your knees and hips, elliptical workouts can be fun because you vary the time, intensity, and style to your likening.
Which is better, treadmill or elliptical?
Both are effective tools that can help you become fitter and healthier. The big deciding point comes down to your goals, how your body feels, and what type of movement you would enjoy most.
Treadmills can be great for avid runners and racers who want to avoid training in not-so-good weather. Treadmills are also useful for lower-body specific training and are a tool that can help you control your pace and push your speed. On the contrary, ellipticals provide more of a full-body workout and provide immediate relief to those who are more overtrained or have chronic achy joints. If you're more specifically targeting your glutes, the elliptical will be more ideal.
For the average everyday busy professional who wants overall wellness in an efficient manner, electing for the elliptical will fill that bucket due to it being more low impact and more of a full-body workout.
Do ellipticals help lose belly fat?
Just like any other form of exercise, ellipticals can play an important role in helping you lose belly fat. Due to it being more of a full-body workout, utilizing the elliptical will burn a few more calories than other standard machines at the gym. Of course, it has to be said, that starting a proper healthy eating regimen must going along with being more active to lose belly fat.
How long should you work out on the elliptical?
In terms of proving overall wellness where you're improving both cardiovascular and losing weight, the American College of Sports Medicine recommends exercise 3 to 5 days per week. There are no hard and tried rules with exercising, just standard guidelines given out like the one shared in the previous sentence. Ultimately, it's up to you to decide how long and how many days you want to exercise. Generally, when using the elliptical, if you plan reaching levels of dire exertion, these sessions are generally shorter compared to something that's less intense.
Other Elliptical Machines We Reviewed
We looked at 20 other elliptical machines. Even though they didn't make our top 5 best elliptical machine trainers, they're the best of the rest and each is still a great option for you. The information you'll need to compare each one is included with the listing.
Luxury Ellipticals
Nautilus Elliptical Trainer E618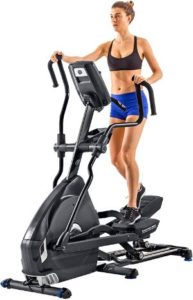 This elliptical trainer by Nautilus features Bluetooth connectivity and it enables you to sync with a free downloadable Run Social App and run this through 19 locations with 27 routes alongside people from all over the world in real-time so you'll never be alone.
Key Features:
Bluetooth connectivity
22 inches Precision Path stride length
Explore the world app
Cost: $1300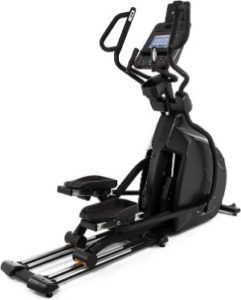 This elliptical trainer has an adjustable stride length while also possessing Bluetooth capability. Coming with a large LCD display console and built-in pulse sensors, this is a trainer for those who want the best of the best.
Key Features:
Bluetooth Compatible
Multiple levels of incline for users of all abilities
A whisper-quiet drive system provides a smooth, quiet ride
Cost: $2200
Nautilus Elliptical Trainer E616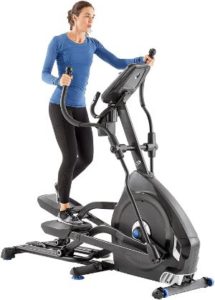 This elliptical trainer is user friendly as it's ergonomically placed with padded moving and static handlebars for a variety of hand positions. This also comes with the explore the world app so you won't be bored anytime soon.
Key Features:
Bluetooth Compatible
DualTrack LCD displays
20″ Precision Path Stride
Cost: $1000
Bowflex Results Elliptical E116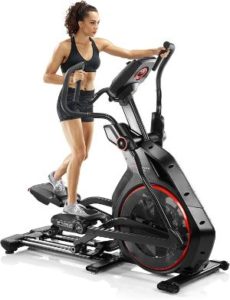 This elliptical trainer is also a state of the art machine as well which comes with Bluetooth compatibility and explore the world app. There's also a burn meter that lets you gauge and adjust workouts to your personal comfortable level
Key Features:
Bluetooth Compatible
7.5" full color, back-lit LCD screen with 9 simplified "push and go" intuitive workout programs
22″ stride length
Cost: $1500
NordicTrack NTEL71218 Commercial 12.9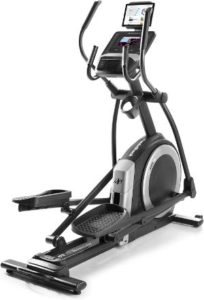 This elliptical trainer comes with an Interactive Personal Training at Home powered by iFit, which includes a 1 year iFit membership included with your elliptical purchase. This machine also comes with a Silent Magnetic Resistance so you can consistently experience a smooth, quiet workout
Key Features:
Stream video workouts to your home any time of the day or night with 12,000+ On-Demand Workouts
7 inch HD SMART Touchscreen Display
24 Digital Resistance Levels
Cost: $1340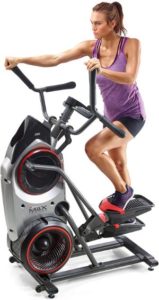 This elliptical trainer powered by Bowflex has been an industry staple for years. One of the features is an interactive backlit display featuring 8 workout programs and 16 resistance levels.
Key Features:
Max Trainer App to track your progress
Compact design
Burn rate display
Compact Ellipticals
Stamina InMotion Compact Strider with Cords

This simple and compact elliptical trainer is great for those who are highly mobile and want to still prioritize their health. This trainer comes with carrying handles to make life even more convenient for you.
Key Features:
Adjustable tension
Reverse-motion pedals
Multi-function monitor
Cost: $140
Jfit Stand Up and Under Desk Mini Elliptical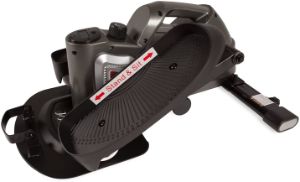 This simple and compact elliptical trainer is the perfect companion for those who want versatility with their exercising. You'll also be provided with a great tracking system to stay on top of your progress and goals.
Key Features:
Series 1050 Monitor that records your time, distance, speed, and calories burnt
Adjustable difficulty
Quiet operating system
Cost: $115
Stamina InMotion E1000 Compact Strider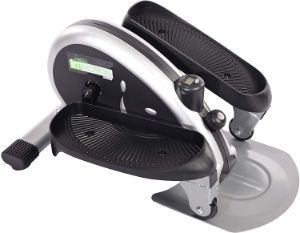 This efficient cardio tool comes with an adjustable tension along with a simple monitor. You'll also have multiple movement options.
Key Features:
Multi-function monitor
Adjustable tension
Textured pedals
Cross Trainer Ellipticals
Body Power 3-in-1 Exercise Machine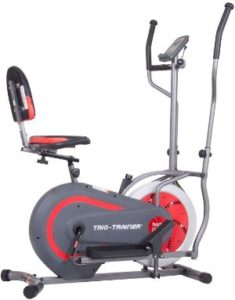 This modern cardio tool can function as an elliptical trainer, upright stationary cycle, and recumbent bike. This also comes with a fluidity flywheel system.
Key Features:
Easy to use computer console
28-day meal plan by Leisa Hart included
Integrated heart rate sensor
Cost: $260
Body Champ Programmable Dual Trainer Machine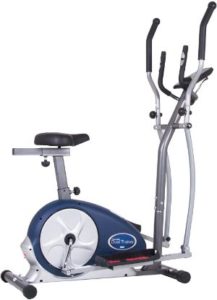 With a two in one patented technologic design, this cross trainer is perfectly suited for those who enjoy both the elliptical and the upright exercise bike.
Key Features:
2-way adjustable seat
Deluxe programmable LCD console
Hassle-free adjustments
Cost: $280
Teeter FreeStep Recumbent Cross Trainer and Elliptical LT1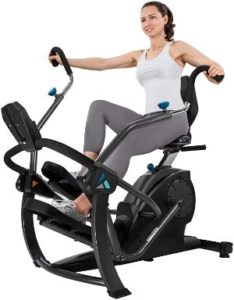 This zero-impact trainer is ideal for all fitness levels as it provides a total body workout. You can also track your progress with an easy to use monitor.
Key Features:
Adjustable design to fit your body
Patented technology
Digital console
Cost: $750
HCI Fitness Physio Step HXT Recumbent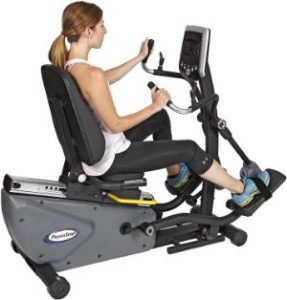 This zero-impact trainer comes with a comforting seat with the ability to track your heart rate through holding your hands on the handles.
Key Features:
User-friendly LCD display
Fully adjustable rotating handles
Independent semi-elliptical motion
Cost: $2000
This zero-impact hybrid- trainer comes possesses a 350-pound weight capacity. You'll also have transport wheels to make relocating easier along with adjustable pedals.
Key Features:
EKG Grip Pulse Sensors
Onboard Sound System
iFit Coach ready
Cost: $400
Body Champ 3-in-1 Trio Trainer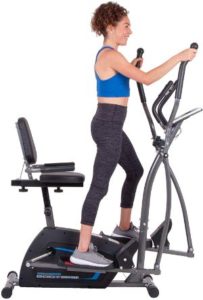 This patented 3-in-1 multifunction machine includes the options of using the elliptical trainer, upright stationary cycle, and recumbent bike.
Key Features:
Straightforward computer with a media holder
Hassle-free transitions
Two-way adjustable seat
Budget Ellipticals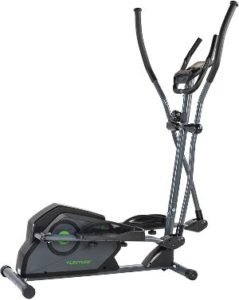 This budget elliptical comes with an easy-to-read LCD monitor that displays essential data such as time, speed, distance, heart rate, and calories burned. You'll also be able to set up customizable full-body workouts.
Key Features:
Tablet holder
Heart rate monitor
Rear-drive
Cost: $260
Sunny SF-E902 Air Walk Trainer Elliptical Machine
This budget elliptical comes with non-slip pedals designed to help you simulate a slow walk or even work out to a full run.
Key Features:
Space-saving and efficient
LCD monitor
Built-in fitness programs a fun, yet challenging workout
Cost: $90
This budget elliptical includes a sturdy flywheel, extra-large foot pedals, and a nice LCD display screen amongst many other good tools.
Key Features:
Dual-track design pedal & stride
LCD display
Dual-handle and heart rate detection
Cost: $260
Body Champ New Elliptical Machine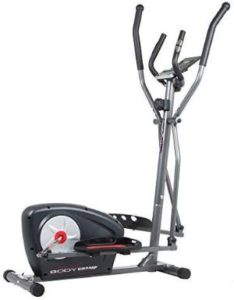 This budget elliptical includes a built-in hand-grip heart rate system and electronic computer console which tracks your calories, time, speed, and distance.
Key Features:
8 levels of magnetic resistance
Dual-action handlebars
Built-in hand-grip heart rate system
Cost: $220
Marcy Magnetic Elliptical Trainer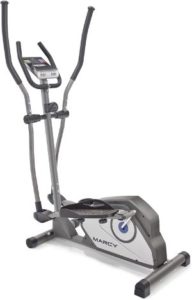 This budget all in one machine will help you adequately train both your upper and lower bodies. This machine also comes with transport wheels so you can remove it from room to room if needed.
Key Features:
8 resistance levels
Ergonomically designed handles
Tension control knob:
Cost: $200