Treadmills offer an excellent way to get in shape and work on your fitness without leaving the comfort of your home. They also provide a much safer and attractive alternative to jogging on hard or uneven surfaces outdoors, in traffic, polluted streets, or, perhaps most importantly, in foul weather. Whatever your fitness or health goals, age, budget, or the spatial restrictions in your home, gladly, there's a treadmill out there perfectly suited to your needs. To help you find it, in this article we'll introduce you to our selection of the top 25 treadmills on the market in 2020.
We reviewed dozens of treadmills to identify the best of the best. We examined a range of factors, including type, max user weight, speed range, size of running surface, features, convenience, cost, and average customer reviews.
Having considered a large number of treadmills, we chose the 3G Cardio Elite Runner Treadmill as our top pick. This treadmill may be pricey, but it offers the type of build and range of features typically only found on commercial models designed for heavy-duty use in gyms. This treadmill has a powerful 4.0 horsepower motor, an Ortho Flex Shock suspension system that's ideal for users with knee or joint issues, a generously sized running platform, a built-in fan and speakers, dozens of programming options, simple touch-screen controls, a max speed of 12 miles per hour, a max user weight of 400 pounds, and a 10-year parts warranty and 2-year home labor warranty for added peace of mind. What more could you ask for, right?!
[toc]
The 5 Top-Rated Treadmills
[table "80" not found /]
*Ratings are from Amazon at the time of publication and can change
Best Treadmill Overall: 3G Cardio Elite Runner Treadmill
Having considered a very wide array of options, the treadmill that wins our vote as the best model currently on the market is the 3G Cardio Elite Runner Treadmill.
This treadmill may well cost a small fortune, but in terms of performance, it's all but peerless, boasting the specs and build typically only found in top-end commercial models intended for use in gyms.
The Cardio Elite boasts a very generously sized running platform that measures 22 by 62 inches, which represents an upgrade of several inches on most other models in our review and makes it suitable for even very tall users and those who plan to use the treadmill for running at high speeds (and, hence, with longer strides). It also has a maximum user weight recommendation of a whopping 400 pounds, making it suitable for a far wider range of users than the vast majority of cheaper models of treadmills.
The most notable difference users will discover when using this treadmill is the superior robustness and sturdiness compared to most domestic models of treadmills. Its 368-pound weight may mean it takes a little bit more effort to install the device in your home, but all those extra pounds go into an exceptionally stout build that translates directly into a more stable, smoother, and rattle-free running experience.
The max speed on this device is an impressive 12 miles per hour and the minimum speed 0.5 miles per hour, meaning it's suitable for both walkers and runners planning on high-speed and more intense workouts. It also boasts automatic incline adjustment from 0 to 15 degrees, an Ortho Flex Shock suspension system that provides plenty of cushioning underfoot, and an orthopedic treadmill belt that buffers the impact of each stride, thus reducing the potential of injuring your knee, ankle, and/or hip joints.
Other nice touches featured on this machine include built-in speakers, a large digital LCD console, intuitive controls, and an auto-stop function for added safety.
3G Cardio Elite Runner Treadmill Key Features:
22″ x 62″ running platform
Max user weight: 400 lbs
Max speed: 12 mph
Built-in speakers
Multi-speed fan
LCD console
Auto incline adjustments
10-year parts warranty; 2-year in-home repair warranty
Best Curved Treadmill: Assault Fitness AirRunner
The Assault Fitness AirRunner uses a manually rotating belt and curved design that helps to burn up to 30% more calories than a standard motorized treadmill by relying on the energy and force applied by the runner alone for rotation.
This machine was designed with high-intensity interval training (HIIT) in mind and, as such, is a great choice for more advanced users looking to maintain a high level of fitness from home or to get more out their workouts in shorter time periods. Unlike motorized treadmills, this device has no maximum speed limit and will go just as fast as you push it. And because it uses no electricity, moreover, it also has a low carbon footprint and will save you a handful of $ on bills in the long run.
What we love most about this treadmill is the comfort and smoothness of the running experience it provides. Unlike traditional treadmills, on this device, you truly feel, as its name claims, like you're running on air, mainly thanks to the machine's curved design in tandem with its robust frame and nicely cushioned, generously sized running surface, which also boasts an incredible lifespan of up to 150,000 miles.
Finally, this treadmill also adds a few user-friendly touches that add to its overall convenience and practicality, including Bluetooth compatibility, an intuitive, high-contrast LCD control panel, and built-in wheels that let you shift it easily around your home.
Assault Fitness AirRunner Key Features:
Max user weight: 350 lbs
Burns up to 30% more calories than a motorized treadmill
150,000-mile belt life
17.25″ x 62.2″ running surface
Zero electrical consumption
Curved design promotes more natural running stride
Lifetime warranty
Best Budget Treadmill: ANCHEER Electric Treadmill
The ANCHEER Electric Treadmill stands as testimony to the fact that you don't have to spend big to equip your home or office with a treadmill that wouldn't look out of place in a gym.
While this isn't the most powerful treadmill in our review, it offers more than enough in the way of performance to satisfy the needs of most recreational users. It offers a max speed of 6 mph, 3 workout modes, and 12 preset workout programs that allow you to align each session with your fitness, weight loss, or training goals. It also comes with all the safety features required to give the runner peace of mind, including a safety key and emergency switch-off button that cuts the power supply immediately in the event of a fall, a shock-absorbing system in the base that reduces the impact on your leg and hip joints, and a non-slip running surface that measures in 41 by 15 inches, which is amply large for most walkers and joggers under 6'4″ in height.
This device also has a max user weight of 250 pounds, which is around 30 pounds more than most other models in its price and performance range and folds up into a slim rectangle that can easily be stashed away under a bed or in a cupboard to help you save on space between sessions.
Other endearing features in this low-cost treadmill are a low-noise motor that won't drown out your workout tunes or disturb you, family members, while you get your run on, a large and easy-to-use LCD control display, and handlebar heart-rate sensors that allow you to ensure you maintain your target heart rate throughout your workout.
All in all, a straightforward but very functional device that will tick all the boxes that need ticking for most walkers, joggers, and long-distance runners.
ANCHEER Electric Treadmill Key Features:
41″ x 15″ running surface
Max speed: 6 mph
Max user weight: 250 lbs
Folds up to 50.39″ x 23.58″ x 9.45″
12 preset workout programs
Large LCD display
Low-noise motor
Best Folding Treadmill: ANCHEER 3.25 HP Folding Treadmill
In the ANCHEER 3.25 HP Folding Treadmill, we find a machine that boasts the burly, rock-solid build and full feature set of fixed-frame, gym-style models, but which also uses a folding design that lets you stow it away after each workout to save on space and keep it out of harm's (or the kids'!) way.
This treadmill uses a low-noise, 3.25-horsepower motor that provides just a little more "juice" than many other models in its price range. Not only does it offers slightly superior max speed of 9 miles per hour (compared to the 7/8 mph common in its competitors) but also comes with a hugely handy automatic incline adjustment feature that allows you to increase the gradient of the running surface in one-degree increments from zero up to fifteen degrees. It also boasts a max recommended user weight of 300 pounds, which is the second-highest in our review and an upgrade of 50-80 pounds on most comparably priced models.
Other nice features included in this treadmill are an intuitive LCD display panel that tracks distance, time, speed, calories, and heart rate, 3 workout modes and 12 preset workout programs, Bluetooth-enabled speakers, and a large device holder that lets you watch shows or movies on your phone or tablet while doing your workout.
While a little pricier than other folding models listed below, this one wins our vote on account of offering just a little more bang for our buck and, compared to most folding models, a far superior feature set.
ANCHEER 3.25 HP Folding Treadmill Key Features:
47″ x 17″ running surface
Max user weight: 300 lbs
Max speed: 9 mph
LCD display panel and heart rate sensor
Automatic incline control
Built-in Bluetooth speaker
Low-noise motor
Best Under Desk Treadmill: Goplus Under Desk Electric Treadmill
The Goplus Under Desk Electric Treadmill is an excellent choice of a treadmill for anyone who wants to maintain a healthy, active lifestyle despite spending long hours at the office or not having enough space in their home to accommodate a full-sized treadmill.
This incredibly low-profile little device is stylish enough to fit in in any office environment and compact enough that it might not have to—if your boss or colleagues take umbrage to the appearance a piece of fitness equipment in their office, you can simply slip it under your desk when not in use and slide it out again during breaks to squeeze in a quick workout.
What wins the Goplus our vote over its competitors is its generous max user weight of 220 pounds and its use of an ultra-quiet motor that lets you use it at work (even at a standing desk in a crowded room) without invoking the wrath of your co-workers or even disturbing them in the slightest. With this device you can also adjust settings and track your performance while you walk thanks to a remote-control console that saves you having to hop off and on again—as is the case with most under desk devices—every time you want to change speed or check time elapsed, calories burned, or distance walked.
Finally, while the Rebel offers a max speed of 4 miles per hour, walking at that pace for just an hour of any given working day could see you burn up to 370 calories in that hour alone—roughly four times more than you'll burn when sitting at your desk.
Rebel Treadmill 1000 Under Desk Treadmill Key Features:
Max user weight: 220 lbs
Max speed: 4 mph
51.5-inch length
Remote operation
Weighs 55.5 lbs.
LED display
Planning on building a gym in your home? If so, check out our guide to The Best Rowing Machines.
Who Should Buy a Treadmill
There are many reasons why using a treadmill can be beneficial to your health and fitness, and many more reasons why you should consider buying one instead of using one in the gym should you be looking to improve your fitness, lose weight, or simply as part as an integrative approach to living a more healthy lifestyle.
First up, treadmills allow you to burn calories and improve fitness without the associated dangers of jogging outdoors. Because you're working out from the safety of your home, you not only avoid pollution and the risks posed by traffic but are also doing your running on a far softer surface that reduces the impact of each stride, thereby making it a far safer option for the health of your joints (the knees, hips, and ankles in particular). Using a treadmill, you also avoid the vagaries of the weather and can be safe in the knowledge that your workout won't be curtailed by a torrential downpour. In fact, the most significant bonus of treadmill ownership for most fitness enthusiasts is that it offers a means of getting in a good cardio session on those days when searing heat, rain, snow, or any other inclement weather conditions might otherwise have seen them take the day off. Finally, for many parents, working out from home is far more convenient than hitting the roads or trails, allowing you to keep one eye on the kids while getting in your exercise.
Important Features to Consider
Type. Folding, manual, electric, curved, or under-desk? These five main types of treadmills each have drawbacks and benefits, all of which we'll discuss in more detail below:

Folding: These devices come in a wide range of sizes and offer different capabilities as regards top speeds, incline and decline functions, and programming functions. As a general rule, however, they represent the second most compact option after under-desk models and, as such, are a good choice for those with limited space.
Manual: These are the most basic type of treadmill on the market and work by using the runner's movement instead of an electrical charge to rotate the running surface. As such, these models don't feature adjustable speeds or many of the other controls and programs offered in electric models. On the plus side, manual models are usually very quiet and cost a fraction of what you can expect to pay for most electric models.
Electric: This broad category covers everything from bargain-basement, compact models offering limited controls and features to top-end behemoths with every function and feature under the sun. What they all have in common is that they are powered by electricity as opposed to body weight and the movement of the runner. The main benefits of electrical devices are the ability adjust speeds and incline, to use preset programs that match your fitness or weight-loss goals, and a few additional features that further enhance convenience and enjoyment, such as LCD monitors that provide feedback on your performance, integrated speakers, Bluetooth connectivity, cooling fans, and single-touch pulse meters. On the downside, electric treadmills are usually much heavier and more expensive than manual models.
Curved: These relative newcomers to the treadmill family are a kind of throwback to manual devices in that they are self-powered and use no electricity. That, however, is where the resemblance ends. Compared to standard manual treadmills—and, indeed, electric treadmills—curved models place more demand on the runner, engaging more muscles and burning more calories in shorter running times. They also allow the user to run on the balls of their feet, in a more natural style and promote a better, healthier running posture.
Under Desk: As the name suggests, this type of treadmill is designed to save on space by slipping under your desk when not in use. Most under-desk models are slim, flat devices that may or may not have folding arms and/or integrated monitors. While these treadmills are typically low-power and short on features, they're usually also relatively low-cost and a great way to squeeze in workouts during breaks at the office or while you work at a standing desk.

Programs. All types of treadmills, with the exception of a few under-desk and manual models, have pre-programmed workouts designed to help you achieve your fitness goals and/or catering to the specific needs of the user. The difference between low-cost and top-end models usually lies in the number of these programs and their range as regards speed, incline, and intensity levels. Some programs you can expect to find include the following: weight loss, calorie-burning, cardiovascular performance, high-speed interval training, distance training, and hill training.
Motor. On electric treadmills, the power of the motor usually determines the speed and level of incline at which the treadmill can operate. The power of motors is measured in horsepower (HP). As a general rule, models offering 2.0 HP should be perfectly adequate for most recreational users, though more serious athletes and those keen on doing high-speed, high-intensity workouts or hill training will most likely be best served by a more powerful model with a 3-4.0 HP motor. Those who plan on using their treadmill for walking or low-speed jogging have the option of choosing a model with a smaller motor, which will not only be more than adequate for their needs but also, in most cases, cost significantly less.
Speed. Most treadmills offer max speeds of somewhere between 6 and 15 miles per hour. As a general rule, more low-cost and basic models offer the lowest max speeds and more high-end models the highest max speeds. The max speed you will require in your device will depend on your own goals and how you plan on using it. While treadmills with max speeds of 8 or even 6 mph will be perfectly adequate for walkers and joggers, for runners or those who plan on using their device for high-intensity interval training, a model that offers max speeds of 12-15 mph is a better bet.
Touchscreen controls. These allow you to adjust speed, incline, and program settings via a touchscreen monitor. While most advanced electric models use touchscreen controls, before buying you should take the time to watch any videos posted with the listing and read user reviews to check that the controls are intuitive and easy to use while running.
Weight limit. Most models of treadmill list a recommended max user weight in the product description or specifications. When drawing up your shortlist, this should be one of the fist boxes you should seek to tick, particularly if you weigh over 300 pounds (recommended max. user weights typically range from 250-400 lbs.).
Incline. This feature allows you to adjust the gradient of the running surface, usually to an angle between 10 and 15 degrees. The main consideration when buying, however, is not the degree of incline but the configuration of the adjustment mechanism. While some electric models allow you to automatically adjust incline with the push of a button, most require you to step off the device and adjust the incline manually, which, of course, means interrupting your workout every time to wish to tweak the running surface gradient.
Running surface. The size of running surfaces on treadmills typically ranges from around 40 to 65 inches long and 15 to 24 inches wide. The length and width of the running surface on your device is important because different users have different lengths of running or walking stride and different lengths and widths will be required depending on how you plan on using it. If the device is too short, you're likely to find yourself tripping on the front of the machine or slipping off the back, which is likely to make your workouts more frustrating than they're worth very quickly. If moving at higher speeds, moreover, it's more difficult to stay centered on the machine and running on a narrower surface is likely to make you nervous about stepping on the frame and taking a tumble. Given this, we'd always recommend opting for a slightly larger model than you think you'll need if you have enough space to accommodate the device in your home. While compact models can save space, they may also cause you to artificially shorten your stride and, thus, not get the most out of your workout. Because runners take longer strides than walkers, runners should opt for a model with a running surface of roughly 55-65 inches in length and 18-24 inches wide, particularly if planning on running at higher speeds or over 6 feet tall. Walkers, on the other hand, will most likely be able to get away with shorter surfaces measuring 42-50 inches long and under 18 inches in width.
Wi-Fi connectivity. Some more advanced electric treadmills offer Wi-Fi connectivity that allows you to stream movies, shows, or watch simulated workouts while doing your own workout. While unlikely to be a deal-maker or breaker for most, this is a very handy feature to have if you prefer to have a little visual entertainment while getting your workouts in.
Support rails. This feature is not only very handy but perhaps essential to the needs of elderly walkers or those using their treadmill as part of a recovery program following illness or injury, giving you added peace of mind and something to grip onto should you stumble or otherwise lose control.
Frequently Asked Questions
What is a treadmill and how does it work?
A treadmill is a device used for walking or running while remaining in the same place. Most machines use a platform with a rotating conveyer belt that is powered either by the motion of the runner (manual) or an electric motor (electric). In both electric and manual models, the running surface (the best) is propelled to the rear of the device at varying speeds, forcing the user to walk or run at the same speed in order to stay on the surface.  In the case of electric models, speed is controlled by way of a console or control panel in the frame or arms of the device; in manual models, speed is controlled by the motion of the walker or runner.
Can you lose weight on a treadmill?
If used as part of a controlled diet and exercise regime, sure! As with a cardio exercise, working out on a treadmill is a great way to burn calories, with a one-hour session running at just 6mph burning up to 1,000 calories.
The most effective way to lose weight on a treadmill is to exercise at your fat-burning heart rate, which is the "zone" in which you burn the highest number of calories per minute. To find your personal fat-burning zone, you first have to determine your maximum heart rate, which is 220 minus your age. If, for example, you are 50 years old, then your maximum heart rate is 170 beats per minute. As a general rule, the optimal fat-burning zone is around 70% of your max heart rate, meaning that in the above example (a 50-year-old user), the fat-burning zone falls up to three beats per minute either side of 119 beats per minute (170 x 0.70 = 119).
The above equation lets you know exactly just how hard you should be pushing in order to maximize weight loss. During your workout, use the heart-rate monitor to gradually build up to your fat-burning zone and remain in that zone for 5-30 minutes, depending on just how much fat-burning you wish to achieve and how much "gas" you have in the tank!
How much does a treadmill cost? (talk about overall price range, average for different types, what factors impact cost, etc.)
The cost of different models of treadmills can vary greatly depending on their type, configuration, quality of build, and features.
The most expensive treadmills are usually electric models with large running surfaces, more powerful motors, heavy-duty construction, multiple programming options, large digital displays, and incline/decline settings. The best of these also include other bells and whistles like integrated fans, Bluetooth speakers, and Wi-Fi connectivity. Most models with all of the above features and design characteristics will probably cost in excess of $1,000, rising to $3,000 in the case of the most advanced models. That said, there are many budget and mid-range electric treadmills on the market in the sub-$1000 price range, with the cheapest models costing as little as $250.
The cheapest type of treadmills out there are usually manual and under-desk models. Even the most expensive of these models can be picked up for under $500. As with electric models, the factors that impact most upon cost are the range of features included in the device (heart rate monitors, digital or touchscreen displays, adjustable speed, incline adjustment, Bluetooth speakers), the quality of the materials used, motor power (in under desk models), and the size of the running surface. Bare-bones budget models that include only a few of the above features can be picked up for under $200.
How can I burn 1,000 calories on a treadmill?
This will very much depend on your weight and body type, but burning 1,000 calories can be achieved by using your treadmill in the optimal fat-burning heart rate zone mentioned above in as little as an hour when running at 6 mph.
Your running or walking speed and your weight are the most significant determiners of how many calories are burned. According to the website Treadmill Run, a 180-pound user will burn 744 calories running at 5 mph for an hour and a 180-pound walker will burn 480 calories per hour walking at just 3 mph for an hour. A 130-pound user will burn 347 calories per hour at 3 mph and 537 per hour at 5 mph. In both cases, increasing the incline of your walking or running surface can boost calorie burning by up to 5% per hour.
Other Treadmills We Reviewed
We looked at 20 other treadmills. Even though they didn't make our 5 best treadmills list, they're the best of the rest and each is still a great option for your home workouts. The information you'll need to compare each one is included with the listing.
Budget Treadmills
SereneLife Smart Electric Folding Treadmill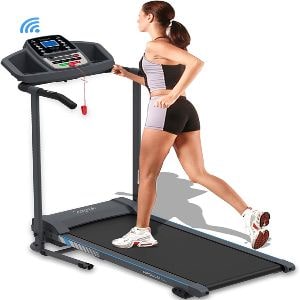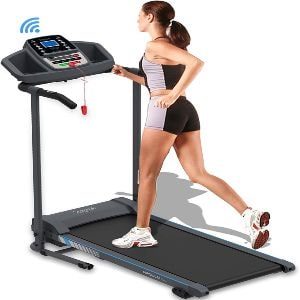 This treadmill's low price should categorically not be taken as an indicator of low quality. In addition to a remarkably robust build, this device boasts 12 preset programs, a decently sized running surface, Bluetooth connectivity, manual incline adjustment, and a digital LCD display.
Key Features:
40″ x 16″ running surface
12 preset programs
Max user weight: 265 lbs.
Cost: $279.99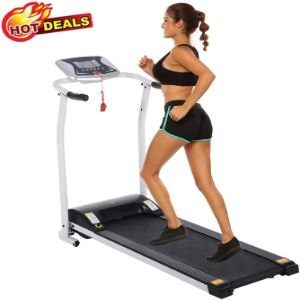 This low-cost folding treadmill might lack a little in the way of running-surface but is one of the most compact electric models in our review and boasts plenty of user-friendly features, including a digital LCD display, a low-noise motor, and auto-stop function for added peace of mind.
Key Features:
41″ x 14″ running surface
12 preset programs
Max weight: 220 lbs.
Cost: $239.99
MaxKare Foldable Electric Treadmill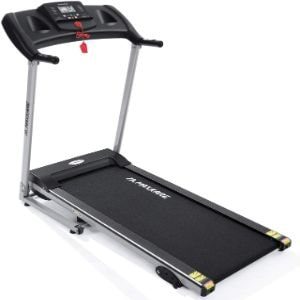 This very reasonably priced treadmill lacks some of the bells and whistles of pricier models but is perfectly suited to joggers and walkers under 220 pounds in weight.
Key Features:
12 preset programs
Max speed 7 mph
Three manually adjustable incline levels
Max user weight: 220 lbs
Cost: $249.99
Sunny Health & Fitness SF-T7632 Space Saving Treadmill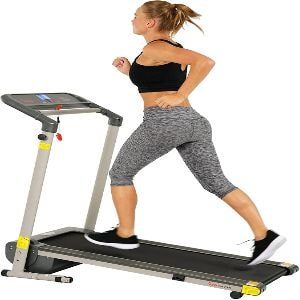 This very neat, tidy, compact little treadmill has a comparatively small running surface and max user weight but is ideal for those short on space or lighter runners.
Key Features:
44.5″ x 14″ running surface
Max speed: 7 mph
Max user weight: 220 lbs
12 preset programs
Digital display
Cost: $269.99
Sunny Health & Fitness SF-T7515 Smart Treadmill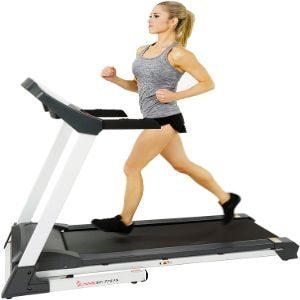 This feature-rich treadmill boasts a max speed of just 8 mph but has an auto-adjusting incline function, a max user weight of 250 lbs, Bluetooth speakers, and a large, intuitive digital control panel and monitor.
Key Features:
12 levels of incline (auto-adjustable)
49.5″ x 16.5″ running surface
Max speed: 8 mph
Max user weight: 250 lbs
Cost: $403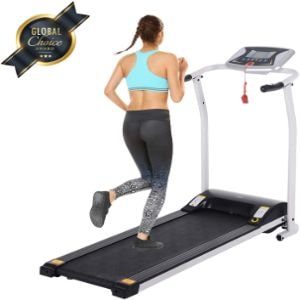 This simple, frill-free device boasts a very low operating noise (under 60 decibels) and is one of the most compact folding models in our review. A great choice for those who live in apartments or keen to save on space.
Key Features:
41″ x 15″ running surface
Max user weight: 220 lbs
12 preset programs
Cost: $239.99
Fitness Reality TR1000 Manual Treadmill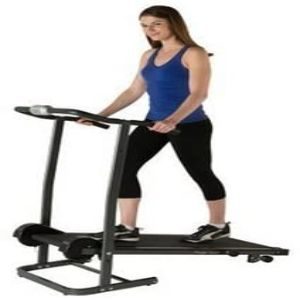 This manual treadmill is not only the cheapest in our review but also among the lightest and most compact. A good choice for those looking for a simple, easy-to-use device that's low on frills but perfectly adequate for the needs of most walkers and joggers.
Key Features:
Max user weight: 230 lbs
2 incline levels
LCD display provides elapsed time, distance walked, calories burned, and speed
Weighs only 49 lbs
Folding Treadmills
XTERRA Fitness TR150 Folding Treadmill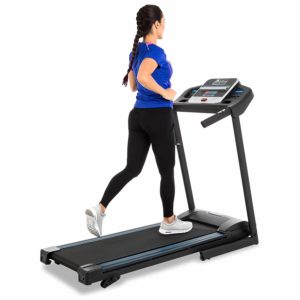 This device folds up into a neat, tidy, slim rectangle that can easily be slid under a bed or even a desk. It's also feature-rich, uses a cushioned deck, and has a max speed of 10 mph, making it ideal for both joggers and those wishing to run at higher speeds.
Key Features:
16″ X 50″ walking/running surface
5-inch LCD display
Speed range 0. 5-10 mph
12 preset programs
3 manual incline settings
Cost: $349.99
3G Cardio Lite Runner Treadmill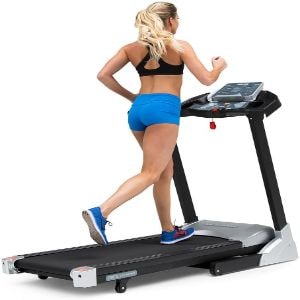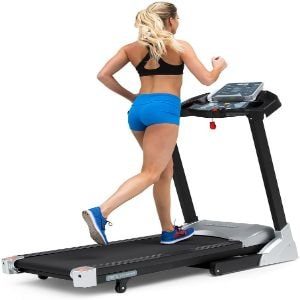 This high-end treadmill boasts the build, feature set, and generously sized running surface of most gym treadmills but can be folded up to let you move it easily around your home or to save space when not in use.
Key Features:
2.5 HP, high-torque motor
Speed range: 0-12 mph
Built-in USB speakers
18.5″ x 51.5″ OrthoFlex running surface
One-touch speed and incline control
Cost: $999.99
Sunny Health & Fitness Asuna SpaceFlex Electric Treadmill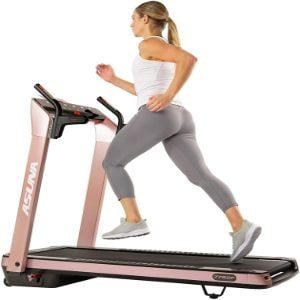 This remarkably sleek treadmill is a little low on power and max speed but is a great choice for minimalists, those short on space, and users aiming to run at lower speeds for longer durations.
Key Features:
Max user weight: 220 lbs.
51″ x 19″ running surface
Max speed 8 mph
8 preset programs
Cost: $829.99
Ultrar 3.25HP Folding Treadmill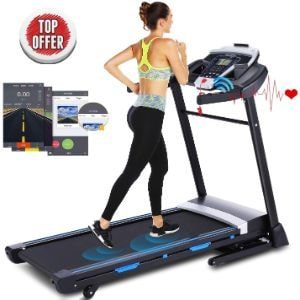 This very powerful treadmill offers the kind of stability usually only found in far pricier models of treadmill and packs plenty of endearing features to boot, including a large digital LCD display, Bluetooth connectivity, smartphone app control, and 12 preset programs.
Key Features:
47 x 17-inch running surface
Max user weight: 300 lbs.
12 preset programs
Bluetooth speaker
Smartphone app control function
Cost: $519.99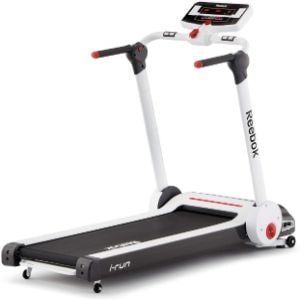 This outstandingly practical machine folds up into a slim rectangle that can be stowed away easily under a bed or couch or stood against a wall or in a cupboard. It also boasts one of the widest running surfaces of all the treadmills in our review, 12 preset programs, and an intuitive LED display and control panel.
Key Features:
12 preset programs
Body fat tester
LED control console
Max speed: 8 mph
Cost: $490
Merax Folding Electric Treadmill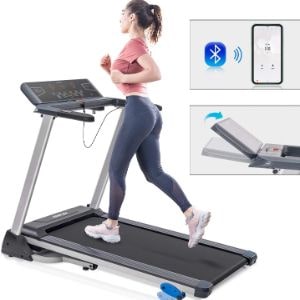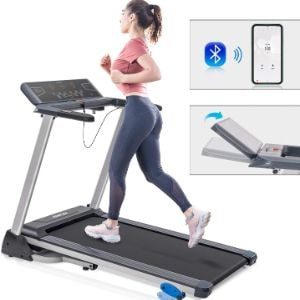 This very quiet and compact device is a low-cost option that packs many of the features and the sturdy build found on most models of a treadmill in the $500+ price range. The most notable of those features include 15 preset programs, 3 incline levels, an integrated sound system with Bluetooth compatibility, and an associated app that lets you track your progress during and after your workout.
Key Features:
47" x 16.5" running surface
15 preset programs
Max speed: 8 mph
Cost: $369.99
Sunny Health & Fitness Strider Treadmill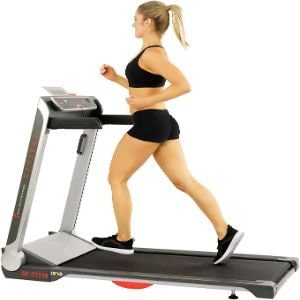 This very robust and sturdy treadmill offers users a very smooth running experience and packs plenty of useful features, including an associated app that lets you track performance, Bluetooth speakers, and a large tablet holder that allows you to watch shows while you do your workout.
Key Features:
47″ x 20″ running surface
Max weight: 250 lbs.
Max speed: 9 mph
9 preset programs
Connects to the Sunny Health and Fitness mobile app
Under Desk Treadmills
LifeSpan TR1200-DT3 Under Desk Treadmill
It may be pricey, but this incredibly well-made treadmill packs more power, a larger walking surface, higher top speed, and a quieter motor than the vast majority of its lower-cost competitors.
Key Features:
Measures just 63″ x 28.5″ x 7.25″
Max speed: 4 mph
20″ x 50″ walking surface
Lifetime warranty on frame, 3 years on motor, 2 years on parts, and 1-year labor
Cost: $706
Goplus 2 in 1 Under Desk Treadmill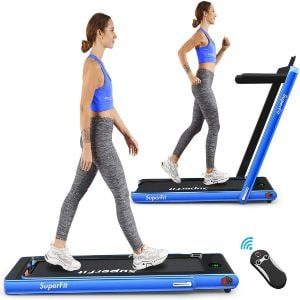 This sleek, space-saving machine slips easily under most desks and boasts a wealth of convenience-enhancing features, including a Bluetooth speaker, remote control, and a multifunctional LED display and control panel.
Key Features:
40″ x 16″ running surface
2 modes: with and without handrail
Max speed: 8 mph
Max user weight: 265 lbs.
Cost: $369.99
Xspec Under Desk Walking Treadmill
This wonderfully compact, low-profile treadmill wouldn't look out of place in even the fanciest of office environments and is a great pick for use at both standing desks and in office cubicles.
Key Features:
Max user weight: 265 lbs.
Max speed: 3.7 mph
39.3″ x 14.3″ walking surface
LED display computer tracks steps, time, speed, calories burned, and distance
Touch button interface and remote control
Cost: $319.99
This incredibly portable little treadmill is the smallest and lightest under desk device currently on the market. It also packs a handful of useful features and has a max user weight of 254 pounds.
Key Features:
Max user weight: 254 lbs.
Weighs just 43 lbs.
Max speed 3 mph
Cost: $399
RHYTHM FUN Under Desk Treadmill
This relatively lightweight and very portable treadmill boasts a large walking surface, a max speed of 3.7 mph, a large LED display, and a smart remote and workout app that allow you to control the device remotely while doing your walking.
Key Features:
47″ x 18" walking surface
Max speed: 3.7 mph
Remote app control function
10-year frame warranty; 2-year motor warranty; 1-year parts warranty
Cost: $499
GYMAX 2-in-1 Under Desk Treadmill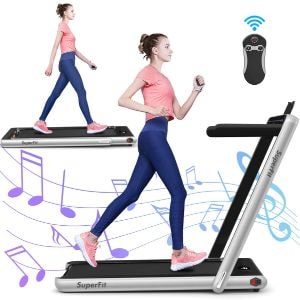 This device performs like a full-sized electric model but boasts a streamline, ultra-compact design that lets you slip it under your desk with ease and offers a far higher max speed than the vast majority of its competitors in the under-desk treadmill category.
Key Features:
Max user weight: 265 lbs.
40″ x 16″ running surface
Bluetooth speaker
Converts into standing treadmill
Max speed: 8 mph
Cost: $409.99