Rowing is an excellent form of exercise that works muscles over your whole body, plus provides a cardiovascular workout. But, how many of us have access to a rowboat and a safe body of water? That's where rowing machines come in handy. These exercise machines let you replicate the motions required for rowing while staying stationary and on dry land.
We reviewed dozens of rowing machines to identify the best of the best. To sort the good models from the bad, we examined a range of factors, including workout options, adjustability, resistance type, cost, and average customer reviews.
It was a tough call, but we ultimately chose the Concept2 Model D Indoor Rowing Machine as our Top Pick. This is a top quality option that's a pleasure to use and is as good as any rowing machine you'd find at the gym. The performance monitor includes preset workouts to help you reach your fitness goals. With over 2,000 positive reviews, this is an extremely popular model that users have faith in.
[toc]
The 5 Top-Rated Rowing Machines
*Ratings are from Amazon at the time of publication and can change
Our Top Pick: Concept2 Model D Indoor Rowing Machine
If you're looking for a high-end rowing machine, the Concept2 Model D Indoor Rowing Machine is our top choice. Retailing at around $950, it's certainly not a budget machine, but it's extremely effective, well-made, and easy to use. It comes with the Performance Monitor 5 (PM5), which measures paces, distance, watts, and more. It also includes games for motivation, preset workouts, and a range of stored data. Additionally, the machine links directly to various fitness apps and fitness hardware (such as heart rate monitors).
The rowing machine itself is extremely sturdy and crated from a mixture of steel and aluminum with a rugged powder-coated finish to avoid corrosion. Thanks to the adjustable footplates, it can fit a majority of users. It also separates into two pieces and features caster wheels for easier storage, which is great if you don't have the space to keep it set up full time. The air-resistant flywheel is extremely responsive and smooth, plus you can easily change the airflow to increase or decrease the resistance.
Concept2 Model D Indoor Rowing Machine Key Features: 
Comfortable ergonomic handles
Makes minimal noise
Bluetooth compatible
Our Runner Up Pick: Stamina Avari Programmable Magnetic Exercise Rower
If you're looking for an alternative to our Top Pick for a slightly lower price, consider the Stamina Avari Programmable Magnetic Exercise Rower. It might not have all the bells and whistles of the Concept2, but it's still a respectable machine that will suffice for the majority of home users.
Rather than utilizing air resistance, this model uses adjustable magnetic resistance. The LCD monitor keeps track of a range of useful statistics, such as the amount of time you've been working out, the "distance" you've traveled, and your strokes per minute. You can also quickly and easily adjust the magnetic resistance using the LCD screen. The Stamina Avari features 12 workout programs. Six are preset, one is fully manual, four can be customized by the user, and one is a heart rate program.
Stamina Avari Programmable Magnetic Exercise Rower Key Features: 
Comes with a heart rate monitor chest strap
Ergonomic seat and padded handles
Features wheels for portability
Best Budget Pick: Sunny Health & Fitness SF-RW5639 Full Motion Rowing Machine
Not everyone can afford to spend $500 to $1,000 (or more!) on a rowing machine. If you're happy to sacrifice some of the extra features and general usability for a wallet-friendly price tag, consider the Sunny Health & Fitness SF-RW5639 Full Motion Rowing Machine. This bare-bones model might look basic, but it will give you a decent workout and it only costs around $130, which is a fraction of the price of high-end options.
The small LCD display monitors those all-important stats, (though some users say it's positioned in a way that makes in difficult to look at while you're working out). One great feature is the full-motion arms, which force you to use a great range of motion when pulling back on them, working the shoulders more effectively than standard options. The seat is padded for comfort and the arms feature non-slip ends to give you a better grip.
Sunny Health & Fitness SF-RW5639 Full Motion Rowing Machine Key Features: 
12 levels of resistance
Adjustable foot straps
Hydraulic tension resistance
Best Water Rowing Machine: WaterRower Natural Rowing Machine
Water rowing machines use a water flywheel, consisting of rotating paddles in a tank of water, to give you a rowing experience more similar to rowing on water. The WaterRower Natural Rowing Machine is the best water rowing machine out there. This model gives you smooth and consistent resistance through the full stroke, with no flat spots when resistance drops out. It's quieter than many options, though you can hear it moving with each stroke (but many people like this). Since you get a similar level of resistance to what you'd get when actually rowing a boat, it's perfect for rowers in training when they can't get out on the water.
Crated from solid ash and honey oak, the WaterRower not only looks great but also absorbs sound and vibrations in a way that metal rowing machines do not. The top-notch performance monitor can track your heart rate, stroke rate, distance, and more, as well as providing a range of pre-set and customizable programs. The one downside of this rowing machine is the high price. You'll need to pay almost $1,200 to take this rowing machine home, which is out of many people's budgets, even though it's most certainly worth the price.
WaterRower Natural Rowing Machine Key Features: 
Can be stored upright to save space
1,000 pound weight limit
Extremely quiet operation
Best Folding Rowing Machine: Circuit Fitness Deluxe Foldable Magnetic Rowing Machine
Some buyers are put off by rowing machines due to storage issues. Unless you have plenty of space, you won't want to keep your rowing machine set up all the time, but storing a large rowing machine is challenging. If you choose a folding model, such as the Circuit Fitness Deluxe Foldable Magnetic Rowing Machine, storage gets far simpler. What's more, this model also features wheels so you can easily roll it to the corner or into the closet to get it out of the way.
Its foldability isn't its only great feature, though. The Circuit Fitness Deluxe Foldable Magnetic Rowing Machine features a manual magnetic resistance system that offers multiple intensities. Its durable, injection-molded seat offers maximum support and comfort, even for long workouts. Foam-covered handlebars and adjustable footstraps provide superior grip and stability. The LCD display lets you keep an eye on your stats, including speed, distance, time, calories burned, SPM, date, and ambient temperature.
Circuit Fitness Deluxe Foldable Magnetic Rowing Machine Key Features: 
Comfortable injection-molded seat
Easy to fold and transport
8 levels of resistance
Who Should Buy a Rowing Machine
If you want to work out at home, a rowing machine is an excellent choice, especially if you only intend to buy one exercise machine. Rowing machines provide both cardio and strength training. Since you have to push back with your legs and pull with your arms, they also work a wide range of muscle groups, unlike exercise bikes, for example, which predominantly work the muscles in your legs.
Because rowing machines are low impact, they're great for people who can't do high impact exercises, such as running. Rowing machines are also great for people who actually row out on the water, since they help you to build all the muscles you need to row effectively from the comfort of your own home.
Important Features to Consider
A rowing machine should include a few important features. Here's what to consider when selecting a rowing machine:
Resistance type. Rowing machines can use different methods to create resistance: air, water, hydraulic, or magnetic. Air and water rowing machines are generally considered the high-end options, whereas magnetic and hydraulic choices are usually more affordable. That said, hydraulic and magnetic choices do have their plus points, such as being extremely quiet, especially compared to air rowers.
Resistance levels. Your rowing machine should offer different levels of resistance. On low resistance, you can row quickly with less effort, which is good for increasing your heart rate for an effective cardio workout. On high resistance, you must put in much more effort with each stroke, which means you row slower.
Frame material. The vast majority of rowing machines have metal frames, usually made from either steel, aluminum, or a combination of the two. However, you can also find some rowing machines with wooden frames; usually water models.
Adjustability. Some rowing machines let you adjust the position of the footplates, which can be helpful for taller-than-average or shorter-than-average users.
Workout programs. You can find rowing machines with preset workout programs, automatically changing the resistance or instructing you to row at a certain speed or for a set duration. These are great for people looking to boost their fitness but who don't know where to start.
Stats and display. Virtually every rowing machine we've examined comes with some kind of LCD display. This usually shows you certain stats, such as your speed, stroke rate, and calories burned. You may also be able to change the resistance and choose a preset program from the display screen.
Frequently Asked Questions
What is a rowing machine and how does it work?
A rowing machine is a type of exercise machine that replicates the experience of rowing, without needing to go anywhere near a body of water. The exact way that it works depends on the model and the type of resistance, but the way you use it is similar in all models. Users must sit on the seat with their feet on the footplates and their hands gripping the handle. They then pull back on the handle and push off with their feet and legs, which moves the seat back, return to their starting position.
How good is a rowing machine workout?
As we've touched on earlier in this post, using a rowing machine is an excellent form of exercise. It works a wide range of muscles in your legs, arms, shoulders, and chest, rather than focusing just on your lower or upper body. What's more, when you row quickly, it's also a great cardiovascular exercise.
Can you lose belly fat on a rowing machine?
No matter what anyone tells you, no workouts or exercises can target fat on a specific part of your body. Of course, if you work out and don't replace the calories burned, you will lose some fat from all over your body, including your belly. That said, we would much rather focus on exercising for health, rather than weight loss.
How long should you row on a rowing machine?
This really depends on your fitness level and fitness goals. If you're just starting out, 15 to 20 minutes three to five days a week should suffice. If you're already physically fit and you're training to reach a new goal, you might spend as much as 30 to 60 minutes on your rowing machine, five to seven days a week.
Other Rowing Machines We Reviewed
We looked at 20 other rowing machines. Even though they didn't make our 5 best rowing machines list, they're the best of the rest and each is still a great option. The information you'll need to compare each one is included with the listing.
Water Rowing Machines
First Degree Fitness Apollo Pro II Rowing Machine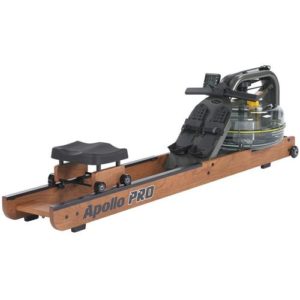 This pricey yet stylish wood and the steel-framed rowing machine is extremely smooth and responsive.
Key Features:
Adjustable footplates
Patented variable fluid resistance system
Upright storage option
Cost: $1,600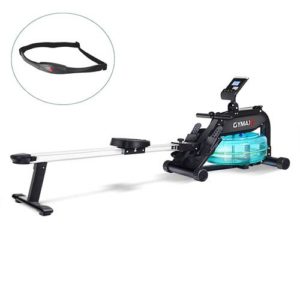 It might not be quite as stylish or smooth to use, but this model is very affordable compared to other water rowing machines.
Key Features:
LCD fitness monitor
Variable water resistance
Heavy-duty construction
Cost: $500
Incline Fit Wood Water Rowing Machine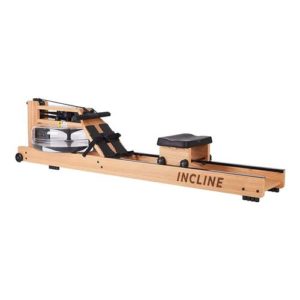 Thanks to the upright storage option, this is an excellent choice for someone with limited space.
Key Features: 
Attractive wooden frame
Large display screen
Two wood options
Cost: $900 to $1,000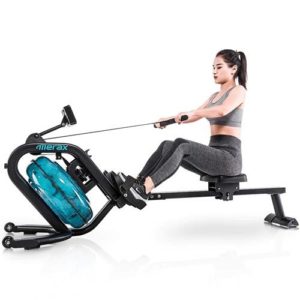 You get an extremely smooth rowing motion with this model, plus the built-in wheels make it easy to move.
Key Features:
Quiet rowing
Compact footprint
Multi-function LCD monitor
Cost: $550
Sunny Health & Fitness Water Rowing Machine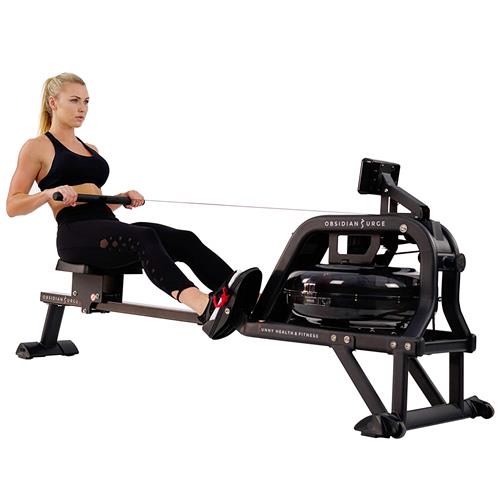 Sure, it's bulkier than and not as stylish as other high-end water rowers, but this model comes with an exceptionally reasonably price tag.
Key Features:
Smooth, continuous resistance
High-profile design
Easy-to-read monitor
Cost: $400
WaterRower Oxbridge Rowing Machine

With its gorgeous cherry wood frame, the Oxbridge is about as fancy as its namesake.
Key Features:
Self-regulated water resistance
No maintenance required
High-tech performance monitor
Cost: $1,360
WaterRower Xeno Muller Indoor Rowing Machine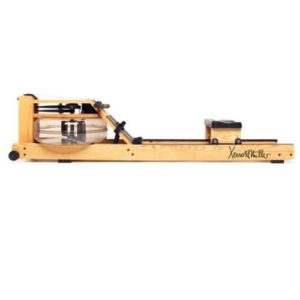 This high-end rowing machine is the signature model of Swiss Olympic gold-medalist rower, Xeno Muller.
Key Features:
Wide handles for extra comfort
Solid ash frame
Includes access to Xeno Muller's rowing instruction website
Magnetic Rowing Machines
Fitness Reality 1000 Plus Bluetooth Magnetic Rower Rowing Machine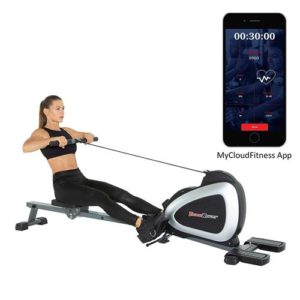 A basic magnetic rowing machine that comes complete with its own app to track your workouts and fitness progress.
Key Features:
14 adjustable tension levels
Extra-wide handles
Front stabilizer foot pads allow you to do additional exercises
Cost: $330
Lifecore R100 Commercial Rowing Machine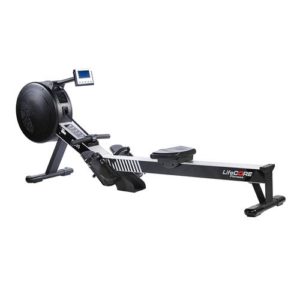 This commercial-grade rowing machine is extremely rugged and has 14 magnetic resistance levels.
Key Features:
Includes 15 preset programs and 4 heart rate control programs
Stores data for four users
Ergonomic design
Cost: $1,300
Sunny Health & Fitness Magnetic Rowing Machine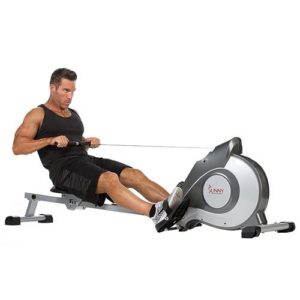 It might not have a huge range of extra features, but this is an affordable model great for occasional home use.
Key Features:
Soft foam handle
LCD display
Wheels for easy transportation
Folding Rowing Machines
Goplus Magnetic Folding Rowing Machine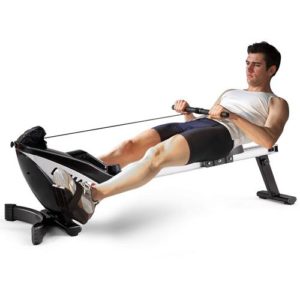 Since it takes up very little room once folded, this is an ideal model for anyone with storage space issues.
Key Features:
8 levels of resistance
Large LCD screen
Comfortable seat
Cost: $240
Marcy Foldable 8-Level Magnetic Resistance Rowing Machine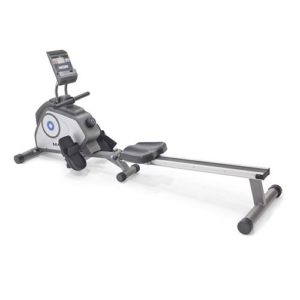 The ergonomic design of this magnetic rowing machine makes it comfortable and pleasant to use.
Key Features:
Large display unit
Easy to switch between 8 resistance levels
Compact, foldable design
Cost: $200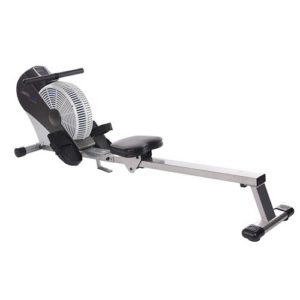 A folding air rower that dynamically adapts to your rowing speed.
Key Features:
Three color choices
Well-padded seat
Adjustable footplates
Other Rowing Machines
Concept2 Model E Indoor Rowing Machine PM5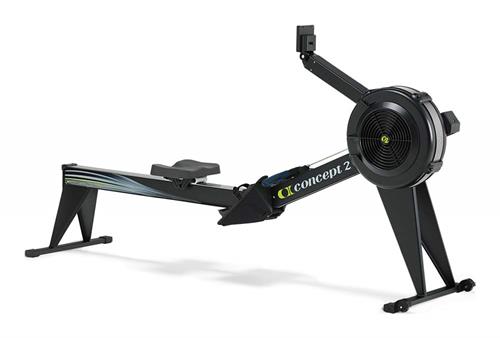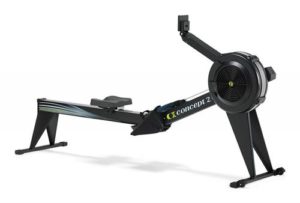 This is a similar model to our Top Pick, with a few small differences, such as its design being set higher off the ground.
Key Features:
Flywheel design
LCD display with preset programs and games
Sturdy steel and aluminum frame
Cost: $1,160
EFITMENT Aero Air Fan Rowing Machine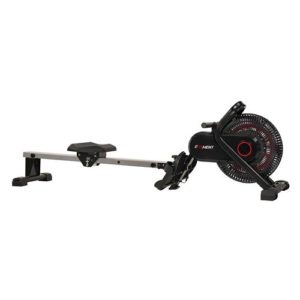 The progressive air resistance means the resistance strengthens the faster you row, a great feature for serious rowers.
Key Features:
Ergonomic design
Sturdy steel frame
LCD performance monitor
Cost: $270
Stamina 35-1215 Orbital Rowing Machine
With an alternative handle setup from the majority of rowing machines, you get a better range of motion in your arms than many other machines.
Key Features:
Simple single-button monitor
Comfortable seat
Pivoting footplates
Cost: $260
Stamina Body Trac Glider Rowing Machine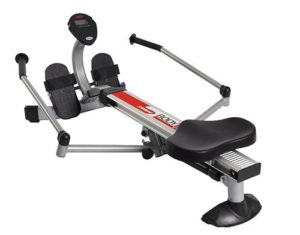 Like the above model, this machine offers full-range-of-motion rowing that mimics the experience of rowing a real boat.
Key Features:
Hydraulic cylinder resistance
Padded handles and seat
Easy to switch between resistance levels
Cost: $110
Sunny Health & Fitness SF-RW1205 12 Adjustable Resistance Rowing Machine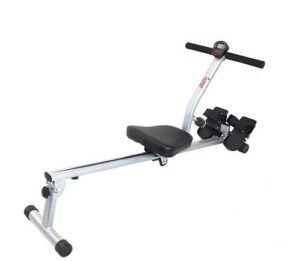 This extremely inexpensive rowing machine isn't as smooth or comfortable as some options, but it's a great budget choice.
Key Features:
Basic LED performance monitor
12 resistance levels
Pivoting footplates
Cost: $80
Sunny Health & Fitness Incline Full Motion Rowing Machine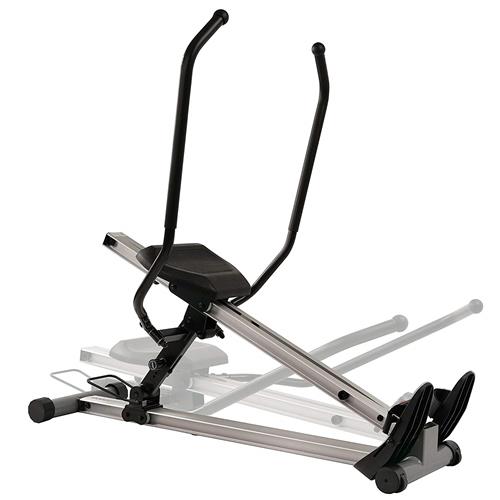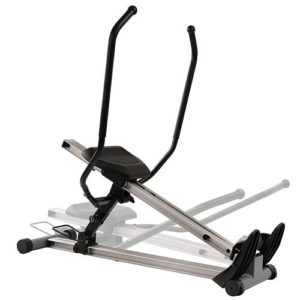 Use the adjustable incline level to give an even more intense workout to your arms and quads.
Key Features:
Digital console
5 levels of incline
Anti-slip pedals
Cost: $180
Total Gym Fitness Elevate Circuit Row Trainer Full Body Workout Rowing Machine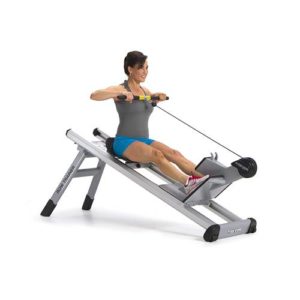 As with the model above, the Total Gym uses a degree of incline to further intensify your workout.
Key Features:
Adjustable incline
Smooth action
Sturdy frame
Cost: $1,050