Are you a woman who works out for the health benefits, muscle growth, or weight loss? If so, you might consider taking a pre-workout supplement to help prime your body before you exercise. These come in various formulations and can boost your energy, help you optimize your muscle use, and help you burn more calories. Note that you should check with your doctor before taking a pre-workout, as they might contain substances that can interfere with medications you are taking or exacerbate health conditions that you might already have.
We looked at dozens of pre-workouts for women and came up with a list that includes the best ones out there. We looked at the ingredients, how easy and appealing they are to use, and how well consumers liked them.
The pre-workout that made the very top of our list is Powher. It is designed to promote more weight loss for women in particular. It does this by suppressing your appetite, reducing cravings, and boosting your energy levels. It uses some well-researched ingredients that have shown positive effects on exercise and physical performance.
[toc]
The 5 Top-Rated Pre-Workouts for Women
[table "144" not found /]
*Ratings are from Amazon and might change over time.
Best Pre-Workout for Women Overall: Powher
Powher earned the top spot on our list of the best pre-workouts for women. As mentioned above, it uses clinically proven ingredients to give you a better workout and better results from going hard at the gym. Some other pre-workouts for women aren't as finely tuned as this one, so Powher was the clear winner among similar products.
There are a number of ingredients in Powher that make it so effective. A small amount of caffeine has shown to be beneficial when it comes to working out and burning more calories. 1 2 Research is mixed, however there are some instances that show caffeine can also temporarily reduce appetite, especially close to mealtime. 3 Powher also includes some important B vitamins, which help maintain healthy metabolism so you can unlock energy from the food you eat. 4
Powher Key Features:
Contains clinically proven ingredients
Contains B vitamins for optimal metabolism
Fights cravings
Boosts energy
Contains caffeine
Optimized dosing
Best Pre-Workout Powder: SkinnyFit Jump Start Pre Workout Supplement for Women
If you're looking for a pre-workout powder, our top recommendation is the SkinnyFit Jump Start Pre Workout Supplement for Women. This product may give you the energy and motivation you need to get into your workout even after a long day. In addition to helping you feel more energetic with caffeine, SkinnyFit contains some beetroot juice, which may help improve physical endurance and delay exhaustion. 5
This is a package containing 30 servings, so you'll be ready for a month's worth of exercise. The energy it provides won't leave you jittery or make you crash later like you might have experienced after using coffee to fuel your workouts. Just mix one scoop (included) of this pink lemonade powder into a glass of water, and you'll be hydrated, energized, and ready to get your heart pumping for better health.
SkinnyFit Jump Start Pre Workout Supplement for Women Key Features:
30 servings
Boosts energy
Pink lemonade flavored
May help delay muscle exhaustion
Can help you kickstart your workout
Easy to mix
Best Budget Pre-Workout for Women: Monster Girl
Monster Girl is our top pick among the budget-friendly options for pre-workouts formulated specifically for women. The ingredients include apple cider vinegar, garcinia cambogia, caffeine, yerba mate, and ginseng. These work together to help you stay energized, suppress your appetite, and make the most out of every workout. 6 7 This is a bottle containing 60 capsules.
The yerba mate, guarana, and ginseng improve your overall health, as well. Yerba mate contains helpful antioxidants and has been used in ancient medicine against digestive trouble, but it may be beneficial for other chronic diseases once more research is conducted. 8 9 Some research points to ginseng and guarana's ability to reduce fatigue, especially in cancer patients and those with chronic fatigue symptoms. 10 11 12
Monster Girl Key Features:
60 capsules
Non-GMO ingredients
Helps you stay energized
Contains several anti-fatigue ingredients (such as caffeine)
Boosts overall health
Best Pre-Workout for Women Drink: Cellucor, C4 on the Go
Cellucor, C4 on the Go is our favorite drinkable pre-workout for women. If you are feeling fatigued and need a pick-me-up before your workout, this drink has 200 mg of caffeine, so it will get you moving quickly. Just open the bottle and drink; there's no preparation, measuring, or mixing necessary. You can keep it in your gym bag or purse and use it to hydrate and energize on your way to the gym.
This drink contains B vitamins which may help raise your mood. 13 Getting enough B12 can also help prevent anemia and associated fatigue symptoms. 14 This pre-workout drink comes in a variety of flavors; this one is cherry limeade, but it is also available in flavors including cotton candy, fruit punch, orange, watermelon, and berry blast. This is a pack of twelve 11.7 ounce bottles.
Cellucor, C4 On the Go Key Features:
Twelve 11.7 ounce bottles
Available in various flavors
No measuring or mixing
Contains 200 mg of caffeine
Contains vitamins B6 and B12
Best Natural Pre Workout for Women: BoostMe Natural Energy Gel Shot
Do you prefer a natural lifestyle? If so, BoostMe Natural Energy Gel Shot will fit right in with the way you live your life. These packets of gel provide all of the energy you need for your workout without relying on GMO ingredients, artificial flavors, or added sugars. In addition, these are gluten-free and vegan, so you can get the energy boost you're looking for without compromising your commitment to natural living.
According to the company, you can get 5-8 hours of energy by taking these get shots. There's no crash and burn, and you won't experience jitters or other negative side effects that you might notice with some energy products. They include black cherry extract as well as guarana and green coffee, providing you with important antioxidants that you need for good health. You don't need to mix this gel with water or drink water after it; it's easy to swallow and easy to digest.
BoostMe Natural Energy Gel Shot Key Features:
6 gel packs
Non-GMO
Vegan, gluten-free
Enjoy 5-8 hours of energy
Contains antioxidants
No need to mix with water
Who Should Buy Pre-Workouts for Women
If you are a woman who enjoys exercising, you might consider using a pre-workout product. These come in a variety of formulations, from powders that you mix with water to capsules to ready-made drinks. A pre-workout can boost your energy as well as optimize the fat-burning power of your workout. Many contain antioxidants, vitamins, and minerals that you need for good health. Some are formulated especially for women, while others can be used by women or men but have ingredients that will benefit women in particular.
Important Features to Consider
There are some features that you should keep in mind as you consider all of your options for pre-workouts for women. Here are some of the factors you might want to look at.
Type. Do you prefer powder, drink, gel, or capsule? If you are often on-the-go before your workout, you might consider a type that requires no mixing, such as a capsule or ready-to-drink pre-workout.
Ingredients. If you are sensitive to ingredients such as caffeine or gluten, it's important to look for a pre-workout that does not contain these ingredients.
Flavor. You won't want to take your pre-workout if it doesn't taste good. While this is not usually an issue with capsules, it can be with the other types.
Safety. If you are taking any prescription or over-the-counter medications, including herbal supplements, you should check with your doctor or pharmacist before adding a pre-workout to your routine. Similarly, if you have any health issues, talk to your doctor before taking these products.
Frequently Asked Questions
What is a pre-workout for women?
A pre-workout for women is a product that you can take before your workout to boost your energy levels and, in some cases, enhance the intensity and effectiveness of your workout as a whole. Some may also relieve muscle soreness. Many contain caffeine, but others use other types of natural stimulants to keep you moving and motivated.
Can you lose weight with pre-workout?
Yes. A pre-workout can give you the energy you need to stick to your exercise plan, which, in turn, can improve your health and help you lose weight. Some also have added ingredients to reduce hunger and optimize your metabolism which can also help you whittle your waistline. Also, take a look at our list of the best weight loss pills if you are interested in losing weight.
How long before working out should I take a pre-workout?
Most pre-workouts should be taken about 30 minutes before exercising. This gives the product time to work without allowing it to wear off before your workout is over. If you aren't able to hit the gym, you can take the product before working out at home. Looking for some inspiration? Consider checking out our list of the best elliptical machines.
What are the benefits of pre-workout for women?
This will depend on the ingredients in the particular pre-workout you choose. Most pre-workouts focus on boosting your energy levels. Some can help you lose weight in other ways, and some may boost your mood and motivation levels. You might experience less muscle soreness after your workout. Some contain antioxidants and various vitamins to help you stay healthy even between workouts. Read the ingredients list and the features of each pre-workout you are considering so you understand what the benefits are.
Other Pre-Workouts for Women We Reviewed
In addition to the ones we reviewed above, we also looked at 20 other pre-workouts for women in a variety of formulations and types. These are described below with the information you will need to compare them as you decide which one to try.
Powdered Pre-Workout for Women
CORDYCEPS Full-Spectrum Mushroom Superfood Powder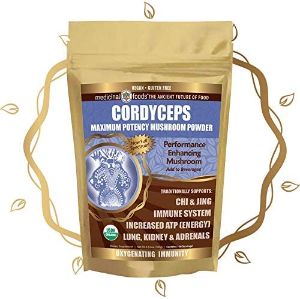 This organic, vegan, non-GMO pre-workout is great for the woman who enjoys pursuing a natural lifestyle. According to the company, this can boost your immune system and increase energy.
Key Features:
100 servings
Improves energy, strength, and stamina
Add to your tea, milkshake, etc.
Cost: $30
Evlution Nutrition BCAA Energy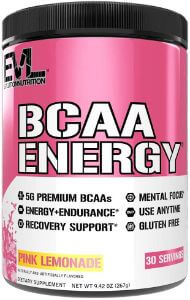 This is a clean energy source that will help you get through your workout and beyond without crashing or losing your focus on your goals.
Key Features:
30 servings
Comes in various flavors
Protective antioxidants
Cost: $22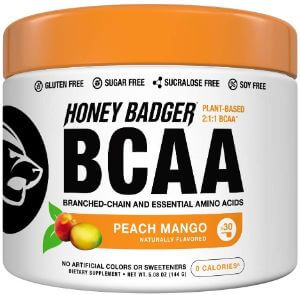 Women following the ketogenic diet will find that this pre-workout fits right in. It contains no sugar, sucralose, soy, or gluten.
Key Features:
30 servings
100% vegan
All-natural ingredients
Cost: $25
IdealLean, Best Pre Workout for Women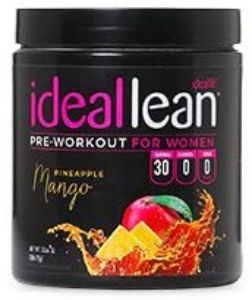 You may have a better mood and a surge of energy with this tasty pre-workout designed especially for women. Available in several delicious flavors.
Key Features:
30 servings
Contains natural caffeine
Helps with focus
Cost: $40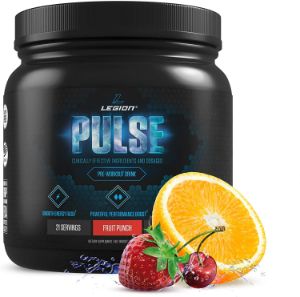 This is a three-week supply of nitric oxide pre-workout powder. The dosage and ingredients are clinically proven to keep you moving. One thing to note is that 1 serving contains 10% of your daily sodium intake, so make sure you minimize sodium in other areas of your diet.
Key Features:
21 servings
Comes in various flavors
Caffeine-free varieties available
Cost: $35
Nitric Oxide Boosting Pre Workout for Women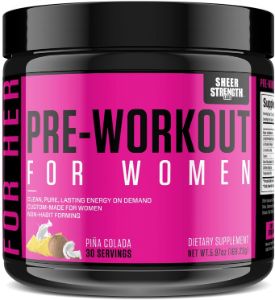 This powerful energy supplement contains niacin, L arginine, and L citrulline. This may be a supplement that can help women reach their fitness goals.
Key Features:
30 servings
Pina colada flavored
Formulated for women
Cost: $30
Nutricost Pre-Workout Powder for Women
If you need extra energy for your workout, try this brand; it's formulated for women and packed with powerful ingredients.
Key Features:
30 servings
Non-GMO and gluten-free
Available in various flavors
Cost: $20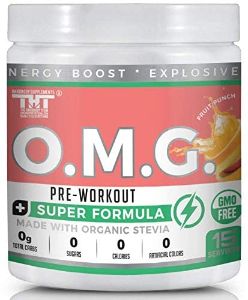 This powder mixes up into a drink that provides electrolytes, organic sources of caffeine, and organic stevia for better mental focus and performance.
Key Features:
15 servings
Contains no carbs
All organic caffeine sources
Cost: $25
Optimum Nutrition Amino Energy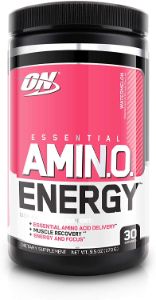 Green tea and green coffee extracts give you the energy you need for your workout, while amino acids aid in muscle recovery after you're done exercising.
Key Features:
30 servings
Helps with focus
Contains 1 carb per serving
Cost: $19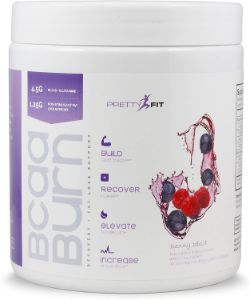 This pre-workout powder is filled with amino acids and contains CLA. It's all-natural There have been beneficial results of CLA in animal studies, but far more human studies are needed to conclude CLA's effects. 15
Key Features:
30 servings
No stimulants
Boosts endurance
Cost: $25
Zantrex High Energy Fat Burning Protein
This mixes up into a delicious chocolate shake that will stave off those chocolate cravings while also improving your workout.
Key Features:
21 servings
Contains caffeine
Boosts metabolism
Pre-Workout for Women Capsules and Tablets
This supplement helps boost energy with green tea and caffeine. It also helps to reduce appetite using glucomannan, a fiber that fills up your stomach to keep you feeling full. 16
Key Features:
60 soft gels
Promotes a healthy metabolism
Body-shaping and toning
Cost: $12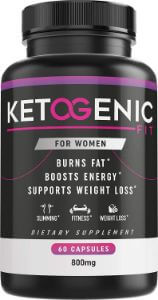 Enhance your energy levels while continuing to stick to your ketogenic lifestyle with the help of this pre-workout.
Key Features:
60 capsules
Contains gelatin
Clean, healthy energy
Cost: $22
Nobi Nutrition Apple Cider Vinegar Pills for Women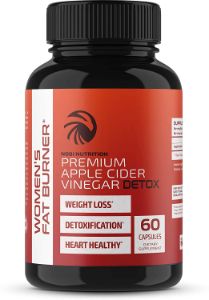 Maximize your weight loss efforts with the aid of apple cider vinegar, a powerful appetite suppressant. Apple cider vinegar has gotten lots of buzz for weight loss and health, but currently more research and larger studies are needed to confirm these findings. 17
Key Features:
60 capsules
No vinegar taste
May improve weight loss
Cost: $17
Nobi Nutrition Premium Fat Burner for Women
According to the company, you can boost your metabolism and burn off fat, especially stomach fat, as fuel during your workout.
Key Features:
60 capsules
Enhances weight loss
Contains gelatin
Pre-Workout for Women Drinks
Alani Nu Sugar-Free Energy Drink
Enjoy a tasty boost of energy with no guilt thanks to this pre-workout drink containing just 10 calories. One thing to note is that this drink contains sugar alcohols, which can cause GI distress in some people.
Key Features:
Case of twelve 12 ounce cans
Comes in various flavors
Contains 2g sugar alcohol
Cost: $28
Core Power Elite High Protein Shakes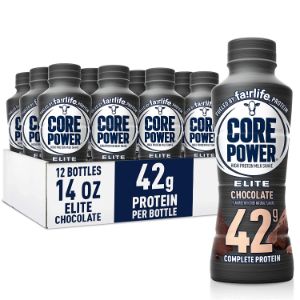 Drink one of these delicious chocolate-flavored proteins before your workout to combat chocolate cravings and enhance your post-workout recovery.
Key Features:
Case of twelve 14-ounce bottles
Comes in various flavors
Lactose and gluten-free
Cost: $35
If you're dealing with a chocolate craving, this shake is going to be what you need to feel great before, during, and after your workout.
Key Features:
Twelve 11 ounce cartons
30 grams of protein
50% less sugar than the original Gatorade shake
Cost: $20
Muscle Milk Genuine Protein Shake
Enjoy sustained energy and good muscle recovery with this protein shake. No need to mix anything, and it will help you stay hydrated, too.
Key Features:
Twelve 14 ounce bottles
Various flavors available

Contains 50% of your phosphorus needs and 35% of vitamin A, C, D, calcium, and magnesium
Cost: $35
Premier Protein 30g Protein Shake

This pre-workout fuel contains caffeine to keep you going as well as 30 grams of protein to aid in muscle recovery and good health.
Key Features:
Twelve 11 ounce bottles
Eight delicious flavors
Contains caffeine
Cost: $25
Article Sources
Healing Daily uses only high-quality sources, including peer-reviewed studies, to support the facts within our articles. Read our editorial process to learn more about how we fact-check and keep our content accurate, reliable, and trustworthy.