Most everyone in this world could use a fast way to relax and a neck massager is one such way. You can opt for an electric massager that does the work for you or a more controlled, manual massager that lets you apply the exact amount of pressure you need. And for those with a the extreme of either side, sensitive muscles or in desperate need for deep tissue, this power in your hands can be a big win. You may be unclear, however, which of the massagers is best suited for you. Never fear, though; we've done the homework for you.
We reviewed dozens of neck massagers to identify the best of the best. We looked at the electric massager wraps that you can lay on your neck and let it do the work for you and manual neck massagers that will give you the most control over your massage. We found the massagers with heat and those that you can lie on for an ultimate relaxation. No matter what kind of neck massager you're interested in, we have the right one for you.
If you're looking for ways to help soothe your body and you have heat, specifically, in mind then you'll want to also check out The Best Heating Pads. For those who are on their feet all day, a massage to those aching feet will definitely be in order, so make sure to find The Best Foot Massagers, too.
From the beginning of our research, we could easily identify the Zyllion Shiatsu Back and Neck Massager as the obvious choice for our best overall neck massager. With relaxing shiatsu massaging nodes and a calming heating function, you'll have your neck tension released in no time.
[toc]
The 5 Top-Rated Neck Massagers
*Ratings are from Amazon at the time of publication and can change
Best Neck Massager Overall: Zyllion Shiatsu Back and Neck Massager
The Zyllion Shiatsu Back and Neck Massager offers a powerful three-dimensional deep kneading massage given by four shiatsu nodes. The adjustable straps will let you secure it to your chair or the seat of your car so that you can make those longer road trips a bit more manageable and the heating function will add a new level of relaxation to your massage.
That heating function isn't one you'll need to worry about though; it has a built-in overheat protection to keep everyone and everything safe. So you won't need to worry about the heat burning your skin gradually (and without you knowing until it's too late), nor will you need to be concerned about your massager causing a fire with the heat, and the motor won't over work itself and burn out either. After twenty minutes of operation, the massager and heating elements will automatically shut down.
There are an impressive number of customer reviews on Amazon for this neck massage pillow, over 10,000! And when that many people award a product an overall rating of 4.4 stars, that's definitely something that raises a few eyebrows. If you're hesitant to buy this based on a likelihood of your satisfaction, the reviews and ratings should calm those worries.
Zyllion Shiatsu Back and Neck Massager Key Features:
Made with a top-quality textured leatherette material
Automatically reverses direction every 60 seconds
1-year replacement guarantee
Best Shiatsu Neck Massager: Body Back Buddy Trigger Point Back Massager
Because a shiatsu massager refers to pressure points and trigger points that can be pushed to relieve muscle tension and pain, the Body Back Buddy Trigger Point Back Massager is a perfect massager for those who love this type of massage. The eleven separate knobs will ensure that the S-hook design will reach whatever part of your body you want, but you'll especially appreciate the two balls positioned closely to push on either side of your spine along your neck to get to those muscles perfectly.
You'll control the pressure of your massage completely with the manual type this massager offers. You'll be able to pull or push the hook and use your own body as a type of leverage to make sure you're getting the exact massage you want, and that kind of control can't be under sold.
Over 6,000 customer reviews on Amazon have awarded this massager an overall rating of 4.6 stars. The listing details will give you a good idea of the quality of the product but after taking a look at those customer reviews, we think you'll be convinced.
Body Back Buddy Trigger Point Back Massager Key Features:
3 colors available
Buy more and save – 2 packaging options
100% made in the USA
Best Budget Neck Massager: Coolife Neck Massager
The Coolife Neck Massager is a manual neck massager that let you will address your neck tension in a direct, hands-on way. Unlike other manual massagers that can work just as well on other parts of your body, as well, this one is especially designed for your neck. And that means you'll be able to pull it out whenever your neck pain is flaring up to work out your neck tension out, possibly preventing more headaches and all over pain, too.
The handles will provide a comfortable grip that is flexible enough that you can stretch the massager a bit in each direction to make sure that you're getting the right spot at all times. And if you struggle to find that trigger point that's going to work magic to release your tight, tense muscles, this can the solution for which you're looking.
Sitting on Amazon with right around 150 customer reviews and an overall rating of 4.3 isn't a deal breaker, to be sure, but it may not be enough to convince you. However, the price tag on this is a deal setter: You can get this up for under $10! That makes it possible to have more than one for maximum convenience.
Coolife Neck Massager Key Features:
2 – 1.6″ knobs
13.5″L x 7″W
Ergonomic handle grips
Best Heated Neck Massager: RESTECK- Massagers for Neck
The RESTECK- Massagers for Neck will provide you with an additional layer of relaxation you're sure to love: heat. Not only will you receive the relaxation of the massaging nodes to work your muscles free of their tension, but with the heat function, you'll be better equipped to do so even faster. And if your neck is injured or simply too sensitive for the massage, you can still apply the heating to the sore spots to gently relax the muscles, too.
Because this massager is a strap or wrap that will rest on your neck and the pressure controlled by you, you'll be able to make sure you're getting the exact pressure your muscles need; no more, no less. It also includes an auto-shutdown to make sure you're not overusing it and the speed, direction and heat are all controllable by you, at the touch of a button.
While all these features make it a quality purchase, what struck us as most noteworthy was how well-loved it is by its clients. It has a genuinely impressive overall rating on Amazon of 4.8 stars given by just over 5,000 customer reviews. Considering how many positive reviews this massager has, we think you'll agree this is a sound investment for your neck.
RESTECK- Massagers for Neck Key Features:
8 massage nodes
Independent heating controls (so you don't have to massage while applying heat)
Includes car and wall adapters, carrying bag and user manual
Best Neck Massage Pillow: Papillon Back and Neck Massager
The Papillon Back and Neck Massager is one that will allow you to lie back and truly allow yourself to relax. If you're in a more relaxed position, the easier it is for the muscles being massaged to release the tension built up there. But even more than just that one purpose – lying on it at the comfort of your own home, you can use this pillow in your desk chair to work out the muscles in the exact spot you build up the tension.
If you find that your problems don't end with just your neck, but travel down your back as well, this is the perfect massager for you. After all, if your tight neck muscles aren't released, over time that tension can travel to other parts of your body, most notably your back. This pillow can help you relax the tightness, and therefore relieve the pain, in your back as well as your neck, so you may want to consider using it for 20 minutes on each spot to make sure your body is getting the full benefit.
Well over 600 customer reviews on Amazon have earned this massager an overall rating of a solid 4.5 stars, and that's something for which the manufacturer can be proud. This is one massager your neck will thank you for buying.
Papillon Back and Neck Massager Key Features:
4 massaging nodes
15 minute auto shut-off
3 adjustable speeds
Who Should Buy a Neck Massager
A neck massager is one way to make your relaxation time a bit more relaxing. You can really unwind if you're also working out a kink in your neck or knot in your shoulder. The heat and massage features on your neck will relax the muscles the massager come into direct contact with but as a result, your other muscles may be affected, as well. As muscles relax, they can have a chain effect on other parts of your body, too. Before long, you may notice your neck joints "cracking" into a more comfortable position, and that could even travel down your back to relax you all over. For those of us who carry their tension in your shoulders or neck, a neck massager (rather than a shoulder massager, even) can help with this domino kind of effect. The relaxation starts at the top and works down and no matter how stressed you are, you'll likely feel less so after a bit of time with your neck massager.
If you experience neck and shoulder pain, it's probably obvious that a neck massager could do wonders for your pain level. Relaxing tight muscles allow your joints and bones to realign into a better, more natural position and that alone will help your pain level. If you have an injury of any kind you will want to talk to your doctor, but there's a good chance that if used properly, the injury's pain can be at least partially eased with a good massage. The pain that you may see soothed the fastest, though, is headache pain. If you suffer from chronic headaches, the massager may not be the magic wand to make your headaches disappear, but they could work at least some of the time. One of the most common causes of headaches, or at least of tension headaches, is the muscle tension in your neck. If you can relax those muscles, you may be able to prevent or relieve some headaches; which is going to be a big win for headache sufferers.
Important Features to Consider
A neck massager should do several things well. Here's what to consider when selecting a massager for your neck:
Pillow. The beauty of a pillow massager is that you can really relax while you're using it. It's not quite the same as lying on a masseuse's table and getting an hour of your muscles worked out, but it may just be the next best thing. You can find the pillows that work While you're lying on your back with your head resting on it, and that means you may need to find one with a timer, too, because you're much more likely to go to sleep while relaxing and lying down.
Rollerballs. Rollerballs are the hand held, manual style of massagers that you can use practically anywhere. They'll roll against your skin wherever you push it and as you slide over your body, the balls will roll along, massaging as they go. For a rollerball massager that targets your neck, you'll be looking for a U-shaped contraption that has one or two balls in the dip of the U. You'll control the balls with the ends and apply as much pressure as you want to slide the balls up, down, side to side against your neck. Of course, you can also use the roller balls that are meant for anywhere, and get plenty of use of them even when your neck isn't your desired target. They are going to be the least expensive option for a massager and will give you the most bang for your buck, but they're also the most labor-intensive.
Hooks. To coincide with rollerballs, the massage hooks are another manual massager that will allow you control over your massager. The hooks don't have balls that roll, but they feature stationary balls that are ideal for trigger point massages that "work out" knots and kinks in a specific area. The hook style will allow you to use your body and the hook as leverage so you can apply pressure to the intended spot without quite as much effort as the rollerball versions.
Shiatsu. The name "Shiatsu" is derived from the Japanese term for finger pressure and that may be enough to lead you to what type of massage it is. It will feel as if finger tips are pushing along your muscles to apply pressure and relax tension. It is closely related to acupuncture in that it also uses pressure points to stimulate bloody flow (or energy if you subscribe to that belief), to facilitate healing. Although there is no scientific reason for the effect, it is theorized that the stimulation will calm your nervous system, and possibly relieve pain, promote healthy circulation, and reduce stress. A shiatsu massage is often deep tissue massage but it doesn't need to be. You can control the pressure through your neck massager and you can get this type of massage from several types of massagers, regardless of manual or electric.
Wrap/strap. The wrap and strap type of massager will look similar to a towel that you've tossed around your neck after a workout. You can pull down on the ends to apply more or less pressure and the electric-powered balls within the massager will give you a variety of massage; primarily roll, vibrate, pulse, or shiatsu. They come battery powered or plugged on, and you can expect much stronger and consistent power from the corded option, but may prefer the convenience of the battery. You can wear this on the drive home to help yourself unwind (but only use it hand-free, of course!), at the office, or when watching your favorite shows each night. You'll just need to make sure you don't relax too much and fall asleep sitting up!
Heat. Heat goes hand-in-hand with massage in terms of relaxation tools. When you combine the two, you'll be increasing the effects of your massage substantially and that means you're more likely to see the potential benefits. Your muscles will relax more easily, making your joints and bones will align properly, and you'll see the effects of stress less and less. The heat will require you be a bit more aware of your massager, though; causing a fire in your home or office is hardly relaxing. Many massagers have an auto-off function, and they rarely get hot enough to cause an actual fire, but you'll want to be careful, especially your first few uses. For those with sensitive skin, you may even burn yourself a bit if you put it directly against your skin and you're not careful.
Frequently Asked Questions
What is a neck massager and how does it work?
A neck massager is, unsurprisingly, a device that will massage your neck. There are several types that you can use and of those the most common fall into either the manual or electric category. The manual massagers are less expensive but still incredibly varied. You'll be able to use a hook, rollerball, or a U-shaped combination. Each of these three primary massage designs rely on your own strength to increase or lessen the pressure and because of that, you'll have the most control with these. Of course, that also means you'll have to work the most for them, as well. The hook will use your body as leverage to minimize the strength you need to use to accomplish a deeper massage. You can use the hook on most parts of your body with just as much success as the neck. For the best bang for your buck, this may be the best option for you. The U-shaped will use a roller ball (though it may actually be stationary, too) to massage your neck specifically. The roller ball will be hand held and you can also use it all over your body. However, unlike the hook, you'll need to use more force and you won't be able to reach some more commonly agitated areas where you could really use the muscle relaxation I.E. your back.
Electric massagers will utilize either a battery or a power cord to operate and you can expect the battery massager to be a bit less consistent in its power as the battery's power drains. For some though, the convenience of cordless will trump that con. These massagers will use a variety of massaging motions, the most common being vibration, circular movements, and a shiatsu pressure point style of massage. If you find one that will do all three, then all the better and the best part of any electric massage is that it can use heat to make the massage all the more relaxing.
How often should you use a neck massager?
Massages will relieve pain on a short term basis, so you can't expect one massage to have you set for the week. That may be the most tempting component to the purchase of your own neck massager; You won't need to schedule and pay for your massage each time you need it and even a high quality neck massager still costs less than one or two massages by a professional masseuse. Even if you do have a regular standing massage appointment, it's unlikely to have it as often as you would need to see lasting benefits. You can see significant stress relief and health benefits by using your neck massager for about twenty minutes each day. In fact, you may find that your best bet for the most lasting relief from your common stress and tension, as well as pain, will be to have your regular monthly (or bi-monthly) massages and use your at home massagers for roughly twenty minutes daily.
Are neck massages dangerous?
Consider how in the wild, predators go for the most vulnerable place to kill their prey. Your neck is absolutely the most vulnerable part of your body, you'd be reckless not to consider any potential risks that am massage to that area can cause. Massages aren't as risky as an alignment to your neck that you may see at a chiropractor, but there are still risks of blood vessel damage that could lead to a stroke. Because of this, you want to make sure any massages someone else give you will be performed by a qualified person, but for self-massages, the good news is that you're less likely to harm yourself. You won't continue to massage a place that causes you pain, and since pain is the best indicator of something wrong with your body, that's a good protection built into your body. You won't want to over extend it or perform vigorous movements to the neck. Slow is always better for a massage; Not only does it feel better, there will be less risk of any sudden injuries. While you're giving yourself a massage, increase the pressure slowly to make sure you're not damaging yourself. Neck massages are not inherently dangerous, but they are risky if not done properly, so be careful.
There is one thing we want to make sure to note, with the increasing popularity of electronic pulse massagers like the TENS unit: do not use a tens unit on the side or front of your neck. It is too close to your throat and brain and those are the absolute worst places to send random electrodes into your body.
Is massage good for neck arthritis?
As long as you're not agitating a specific joint with the massage, it can actually be incredibly helpful for the pain associated with arthritis. It's key to remember that the massage is for muscles not bone. So you'll want to make sure your neck massager is not directly on your spine. Not only will using the massager on your muscles relax you, the relaxed muscles will release the tension they're holding the joint in, making it easier to move your inflamed joints. You may see an increase in your range of motion and posture, both of which will prevent future inflammations, as well. You'll see a better circulation in your body which can help inflammation as well as heart health.
Other Neck Massagers We Reviewed
We looked at 20 other neck massagers. Even though they didn't make our 5 best neck massagers list, they're the best of the rest and each is still a great option for your neck. The information you'll need to compare each one is included with the listing.
Manual Neck Massagers
Body Back AccuMassage Neck & Back Massager
You can grab hold of each side of this massager to get good leverage when you're manually massaging your neck, or use the strap to secure in place to make it easier on you.
Key Features:
Soft, firm rubber balls for pressure
3 optional positions
2 packaging options
Cost: $20
With this hook, you'll be able to reach nearly any place on your body, but perhaps the best part is how easily you can reach your neck and shoulders.
Key Features:
3-year warranty
BPA-free
Ergonomic design
Cost: $20
You'll be able to easily give yourself a shiatsu massage with this manual neck massager.
Key Features:
4 germanium knobs for gentle
Pressure point deep tissue with 2 points
Rotating knobs
Cost: $15
TriggerPoint AcuCurve Massage Cane for Neck
You can use the hook design to ergonomically reach your neck and shoulders without contorting your body in order to reach them.
Key Features:
Lightweight; ~0.6 lb
16.5″L x 7″W
3 knobs for pressure points
Cost: $15
VOYOR Neck Trigger Point Massager
With this manual massager, you'll be able to reach your neck muscles to give yourself a shiatsu massage with a double head massager.
Key Features:
Ergonomic handles
Adjustable strength
Simple and portable design
Pillow Neck Massagers
ETTG Massager Neck Pillow Portable Electric Travel Neck Pillow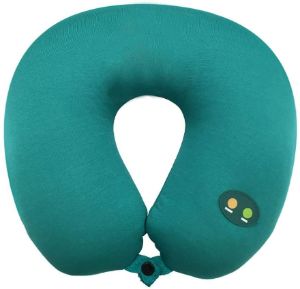 This comfortable, plush pillow is perfect for travel and to massage as you rest.
Key Features:
Anti-slip buckle
Spandex fabric
Requires 2 AA batteries (not included)
Cost: $20
Homedics 3D Shiatsu & Vibration Massage Pillow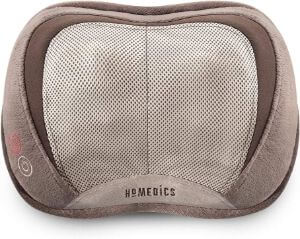 This pillow will heat and massage to give a fully relaxing shiatsu massage where you lie.
Key Features:
Optional vibration
Circular kneading massage
6′ power cord
Cost: $35
Kim Carrey 3D deep Tissue Electric Massage Pillow for Neck
With two massagers on either side of this pillow, it's perfect for lying back and relaxing as the pillow does all the work.
Key Features:
4 kneading massage nodes
15-minute auto off
Optional heating function
Cost: $30
Papillon Cervical Alignment Chiropractic Pillow Neck Massager
This pillow is perfect for your neck, but if you are having pain elsewhere it will also work well under your knees, ankles, feet, and even lower back.
Key Features:
Made with PU leather and high elasticity sponge
71″ length
3-year service warranty
Cost: $30
Papillon Shiatsu Neck Massager
This pillow is perfect for either your neck or back while you're sitting upright, so you don't have to lie on your bed or couch to feel the full benefits.
Key Features:
16 massage nodes
Dust proof cover
3 adjustable speeds
Cost: $40
Zuzuro Shiatsu Pillow Massager with Heat
You can use this massager as it was intended and especially designed, for your neck, or opt to use it for your back, legs, or abdomen, too.
Key Features:
Heating function
Car charger for use while travel
4 massage nodes
Wrap/Strap Neck Massagers
InstaShiatsu+ Neck, Shoulder & Full Body Massager
This neck massager is rechargeable, so you can use it over and over without any cords to fuss about.
Key Features:
2 hour battery life
A/C adapter included
2 models available
Cost: $130
KESHI Deep Kneading Neck Massager
You can use your own strength to intensify or lessen the power of the massage on this neck massager.
Key Features:
Heating function
8 massage nodes
3 massage speeds
Cost: $40
MagicMakers Neck Massager with Heat
This neck massager uses a stretch fabric to allow you to get the most pressure from your massage without straining the massager itself.
Key Features:
Ergonomic U-shape design
8 massage nodes
2 color options
Cost: $35
Mirakel Shiatsu Back Neck Massager with Heat
With this neck massager, you'll get a bi-directional rotating kneading massage at the touch of a button and a pull of the straps.
Key Features:
15-minute auto-shutdown
3 custom speed modes
Real hand simulation with 8 nodes
Cost: $55
Naipo Shiatsu Back and Neck Massager
While you're using this neck massager, you won't have to worry about overheating yourself because the added safety function will auto-shutdown after 20 minutes.
Key Features:
20 minute auto shutdown
8 massage nodes
3-D rotation kneading massage rollers
Cost: $50
Nekteck Electric Deep Tissue 3D Kneading Massager
There is a built-in infrared advanced heating function to really make the most of each of your massages from this massager.
Key Features:
15 minute auto shutdown
8 massage nodes
3 color options
Cost: $55
With just a gentle pull down on these straps, the neck massager will apply customizable pressure to make sure your massage is exactly what you want it to be.
Key Features:
Bi-directional shiatsu kneading massage
30-day money back guarantee
Rechargeable
Cost: $50
This TENS unit is specially designed for your neck and should be completely safe for use, but always be careful to put it on properly so your throat and brain are still protected.
Key Features:
4 hour battery life
Heating element function
30 minute massage
Cost: $100
TENKER Shiatsu Cordless Neck Back and Shoulder Massager
This neck massager offers the best in portability with it's cordless and rechargeable function along with its carrying case.
Key Features:
Cordless and rechargeable
4 kneading massaging nodes
Made with breathable mesh and PU leather
Cost: $55