Light therapy is something that we may not be consciously aware we need, but after a bit of consideration, the practice can actually appeal to just about anyone. During winter months, when your days are full, less of sunshine and more of clouds, you may notice your mood and spirits diminishing dramatically. Though it may not be especially obvious, you may notice these changes subconsciously and once you notice them, you'll find yourself desperate to change them. Light therapy can help with mood and mental health, but physical conditions and injuries, as well. Infrared light therapy lamps, in particular, are excellent sources to improve your physical health.
We reviewed dozens of light therapy lamps to identify the best of the best. We looked at light therapy lamps which you can place on your desk to improve your mood when you're stuck inside working and those that you can help improve your skin conditions. We found the best light therapy lamps that you can take on your travels and those that are best for full-time use. No matter what you're looking for in light therapy, we have the right lamp for you.
If you're interested in specific conditions that you'd like to see improved, there are more than just light therapy treatments that can help you see changes. If they apply to your specific needs, you won't want to miss How To Get Rid Of Perioral Dermatitis Overnight. And if you're one of the millions (if not billions) who have a bit of cellulite they'd rather have gone, then you won't want to overlook How To Remove Cellulite: 10 Ways To Get Rid Of Cellulite.
From nearly the beginning of our research, we could easily see the Circadian Optics Lumos 2.0 Light Therapy Lamp was the obvious choice for our Best Overall Light Therapy Lamp pick. With the adjustable levels of brightness and light angle, you can make sure to get the right therapy every time.
[toc]
The 5 Top-Rated Light Therapy Lamps
*Ratings are from Amazon at the time of publication and can change
Best Overall Light Therapy Lamp: Circadian Optics Lumos 2.0 Light Therapy Lamp
The Circadian Optics Lumos 2.0 Light Therapy Lamp has three levels of brightness to give you the exact setting you need to customize your light therapy for you. This is especially helpful in homes with different people suffering from depression and even more practical when considering the way your needs will change as the day wears on. First thing in the morning, you may not be up for the brightest setting, but if you decide to sit for a session of therapy mid-morning, the brightness may act perfectly to keep you energized and motivated all day long.
The 10,000 lux brightness makes it ideal and the most effective brightness to defeat your seasonal blues. It's made with LED lights that will make this one lamp up to 50,000 hours of use; making it far, far more effective than your typical fluorescent bulbs. So even when you don't need the simulated sunlight, it's still a smart choice for your home.
Right around 1,200 customer reviews on Amazon have earned this light therapy lamp an overall rating of 4.4 stars, and that's definitely a big deal. After browsing the reviews for just a few moments, we think you'll be more than a little tempted to purchase.
Circadian Optics Lumos 2.0 Light Therapy Lamp Key Features:
Rotating light panel
2-year warranty
UV-free light
Best Infrared Light Therapy Lamp: Beurer IL50 Infrared Light Therapy
The Beurer IL50 Infrared Light Therapy will allow you to use your lamp for the type of therapy that only red light and infrared lights can provide, and that means for more physical and visible results rather than mood and mental improvements. The infrared lights will penetrate to your dermis, stimulating circulation, metabolism, and even boosting collagen production. While you may think of collagen's effect on smoothing wrinkles, know that the benefits won't end there; you'll also notice smoother joint movement, less inflammation and therefore, very likely less pain. This one lamp can even result in a faster recovery from injury.
You'll want to keep the lamp at a twelve to sixteen-inch distance from your body, no matter what the affected area, but after a few weeks of one to fifteen-minute treatments each day, you should start to see and feel results. You may even notice deeper results with improved cardiovascular health your doctor will notice on your blood tests.
With nearly 1,000 customer reviews on Amazon and an overall 4.4 stars, this lamp may be more than just a good investment, it may provide hope for problems you had previously thought there was none. And if you have pains or skin conditions that cause you regular problems, this is a chance you won't want to overlook.
Beurer IL50 Infrared Light Therapy Key Features:
Includes AC adapter and cord winder
6″ W x 6″L screen size; 11.8″ x 15.7″ treatment area
UV-free; safety glass
Best Budget Light Therapy Lamp: TaoTronics Light Therapy Lamp
The TaoTronics Light Therapy Lamp includes a variety of timer settings so you can make sure you're working up to more time with your light therapy and with absolutely no UV-rays, this is a lamp that may even have you in a better mood than when you're in the real sunshine. There are also three brightness settings to let you gradually build to the brighter setting, or to customize the settings based on your mood, the time of day, or just your whim.
You can easily prop this lamp up with the bracket stand, or fold it in and opt to mount onto the wall to makes sure you're getting it placed in whatever the best position is for your specific home. The touch control makes it easy to use and the LED lights will last far longer than a more traditional fluorescent light will.
With an overall rating on Amazon of 4.7 stars and over 650 customer reviews, you may be sold on the wisdom of this purchase, but that isn't even the best part! Picking this lamp will only set you back around $30, and that's a total steal.
TaoTronics Light Therapy Lamp Key Features:
6 timer presets
10,000 lux
3 brightness settings
Best Portable Light Therapy Lamp: Verilux HappyLight Light Therapy Lamp
The Verilux HappyLight Light Therapy Lamp may not be what you traditionally think of for a portable electronic device – it does still have a power cord. However, battery-powered lights will vary in consistency and because the change is slight, mostly light therapy lamps that rely on specific and set brightness levels, they tend to steer clear of battery power. It's approximately the size of a tablet, and only about a half-inch thick so it will easily fit in any of your travel bags. Should you be concerned about the weight, you needn't be; it weighs about one pound and the power cord itself is an AC adapter that includes a thin but durable, easily wrapped cord to travel well.
You'll be able to prop this lamp onto your desk or a table to get the full benefits, or should you choose, you could also hang it to simulate the sun's rays pouring down upon you. The soft-touch on and off button makes operation easy, allowing you to control the light with just one finger push.
Over 1,000 customer reviews on Amazon have awarded this light an overall rating of 4.4 stars, and that suggests not only that you'll be pleased with your purchase, but that this light is certainly one which you won't want to ignore.
Verilux HappyLight Light Therapy Lamp Key Features:
Detachable stand and mounting hook
 0.5 x 6.5 x 8.5
72 UV-free, LED lights
Best Light Therapy Lamp Alarm Clock: TITIROBA Sunrise Simulation Dual Alarms Clock
The TITIROBA Sunrise Simulation Dual Alarms Clock will give you the benefit of rising with the sun, even when the sun doesn't rise until well after you've arrived at work. The simulated sunrise with this alarm clock will give you the gentle awakening that the sunrise will, brightening gradually until it's as if you're waking in a fully sunned beach house. You can set the timer to begin "sunrise" up to an hour before your alarm is scheduled to sound and if it comes time to wake but the simulated sunrise hasn't roused you from your slumber, there are seven sounds that will also play to calmly wake you.
Studies have long shown that it's not physically good for your body, particularly your heart, to be shocked into an awake state. Because our bodies are meant to be awoken with the sunrise and are often forced awake before, we inherently feel the weight of that on our mood and mental state, as well. Waking with a healthy dose of light therapy is an undeniably better way to begin each day.
With an overall rating of 4.5 stars on Amazon, given by over 450 customer reviews, you have every reason to believe this alarm clock that gives you a dose of light therapy is one you'll be pleased with. After all, 80% of customers can't be a fluke!
TITIROBA Sunrise Simulation Dual Alarms Clock Key Features:
7 natural alarm sounds
UV-free, simulated sunrise
USB charging cable to charge your other devices
Who Should Buy a Light Therapy Lamp
Seasonal Affective disorder (SAD) is a specific depression that hits us all to some degree. When the weather gets gloomy, we're more likely to feel so, as well. Even if it's not something that you're consciously aware of, we miss the sunshine. Not only can a simulated sunshine therapy lamp help during the months with less sunshine, but it may also be able to help a number of other conditions where you may want an extra boost. Other types of depression can be positively impacted, as well as jet lag, and sleep disorders, and even dementia, by a light therapy lamp. You can also re-train your body to a new sleep schedule if you're switching jobs, and that's a big bonus, as well. You can usually find a smaller desktop one for under $50, so if that strikes you as worth the investment, you may want to pick one up when you get hired for your new shift.
The term "light therapy" refers to more than just the mood-altering effects that the right light can give you, though. The infrared light therapy can do wonders for your skin. If you have a skin condition like eczema or simple bad acne, you may see a dramatic improvement after a few weeks of infrared light therapy. For more serious psoriasis, you certainly shouldn't treat your condition exclusively with infrared light therapy, but you may very well see an improvement. For the treatment of pain, there have been some studies that indicate infrared lights can promote circulation and help your body's cells regenerate over time. That doesn't mean you'll pop a light on an injury and poof! it's healed, but it can mean that your recovery time be lessened and the overall pain you feel decreased with the proper infrared light treatment. And even the chance of that is one worth investigating further; talk to your doctor to make sure you're making the right choice for you.
Important Features to Consider
A light therapy lamp should do several things well. Here's what to consider when selecting a light therapy lamp:
Seasonal depression lamps. In order to combat Seasonal Affective Disorder, seasonal depression, or SAD, you need not pick up a lamp with the UV rays. Simulated sunlight lamps will rely on the light bulbs contained within to create the appearance of natural light, rather than the more artificial light we rely on to brighten our rooms typically. By using those artificial lights, you'll unknowingly be depriving yourself of the natural, mood-elevating light that the sunshine brings to your life. When you recreate it, you'll feel its absence less. You probably don't notice its absence consciously, but if you take a moment to track your moods, you may find a strong correlation to gloomy weather and gloomy attitudes. We can't all live in Hawaii; the light therapy lamps are a realistic alternative.
Infrared light lamps. While the mood-altering effects of ultraviolet light can impact most, if not all, of the world, the infrared benefits are a bit more concise in the potential target. For infrared light therapy to be the most beneficial, you'll need to have something above a bad mood bothering you. The stronger penetration of infrared light will ensure the light is absorbed more deeply, making it more effective at treating injury and repairing cells. It can improve your skin appearance from psoriasis to scars, wrinkles, and even acne.
Travel lamps. If you're seeing success with your light therapy, the last thing you want to do is abandon that progress as soon as you're scheduled to get away from home. If you're vacationing to the beach somewhere bright and shiny and your therapy revolves around improving your seasonal depression, then skip taking a travel-sized lamp, of course. But if you're planning on visiting Europe in the fall, you will definitely want to take it.
Alarm clocks. There are few things that we as a species can universally agree on, but waking up earlier than we want to a loud and offensive alarm clock is one thing that can put anyone in a bad mood. Unfortunately, we have places to be and things to do,m so we have to get out of bed, and very notoriously, earlier than we'd like. Luckily, we don't have to rely on those traditional, blaring alarm clocks, anymore. A simulated sunrise alarm clock is the closest to a natural and relaxing way to get out of bed without actually sleeping until the sunrise wakes you. If you're interested in a light that improves your mood, then one that will also keep you from getting up in a bad mood will certainly be a big win.
Sunlight lamp for a whole room. Natural light can be simulated without any UV rays and without the UV rays, why would you need to limit your access to it? If you want a lamp that will create the effect of warm sunlight rather than an artificial orange tint to your office or living room, then you can ensure you get that by using a sunlight lamp. You can keep yourself awake with these lights, so we recommend not using them as your nighttime reading lamp, but if you spend your days inside working, then you may want to look into a lamp that will give the same quality of brightness and positivity that you subconsciously get from sunshine.
Frequently Asked Questions
What is a light therapy lamp and how does it work?
There are two primary types of light therapy and both have drastically different intentions. The first and most common is the sunlight simulated lamp for more mood-altering benefits. Of that, there are going to be two subcategories. You'll either buy a lamp that will emit artificial UV light, giving your skin the same impact as the sun – for better or worse. The other category is a strictly simulated light; that is, a bulb that will give the appearance of natural light but will not emit any of the UV rays. That means you'll get none of the bone-deep benefits, but none of the potentials for skin cancer, either. The natural sunlight simulation may improve depression, boost your energy, even lessen the effects of dementia.
The second primary light used in light therapy is an infrared light that will help with more physical conditions, used commonly for skin conditions and injuries. The infrared light will stimulate cell regeneration and promote circulation, both of which are especially helpful to make your body look and feel more healthy.
Are light therapy lamps safe?
When used properly, yes, light therapy lamps are safe. Ultraviolet rays do run certain risks, even when they're artificial. For example, it's common knowledge at this point that too much time in the tanning beds can be bad for you, and may even cause cancer. Just as too much time outside with constant sunburn will increase the chances of developing cancer if you're not careful your light therapy lamp can do you more harm than good. Infrared therapy is a bit different because it can not give you any negative effects, as far as we know. To put it simply, light therapy lamps probably aren't any more dangerous, even when used improperly, than spending too much time in the sun.
How often should you do light therapy?
Depending entirely on your intended use, you may use the light therapy lamp daily or as needed. Infrared light will be the latter most often; using it only when a skin condition flares up or when you're recovering from an injury. You can find a lamp that is similar to the UV or sunlight lamps, with a bulb that emits light freely, or one that has a more directed apparatus. For example, you may find one that targets the acne on your face to be mask shaped or a wand for you to aim directly at the affected area. You should use these types for 15 minutes each day until the condition is improved. If you're not seeing results, talk to your doctor. Infrared therapy, just like any light therapy, is not intended to replace medical treatment.
For the UV rays benefits, you'll get the best results placing your light therapy lamp at eye level and roughly two feet away from your eyes. Incline the light so that it isn't shining directly into your eyes, and you should try to use it daily, each morning for about twenty minutes. You can use it for up to sixty minutes, but start small and work your way up. There's absolutely nothing saying you can't use that time to multitask so, by all means, place this lamp on your desk and check your emails each morning, or on your table and enjoy your morning coffee.
Does light therapy work for anti-aging?
Some types of light therapy can help with anti-aging. As we've mentioned, the use of the infrared light will help your cells regenerate, and that's a big help in both the appearance and the feel of aging. Your joints may move a bit smoother and your skin look it if your body receives a regular boost to skin regeneration. You can't expect miracles, by any means, but the added circulation you're going to get in addition to that cell regeneration will definitely help the way you feel the effects of aging.
Ultraviolet rays, however, can have an opposite effect on aging. Even if you steer clear of the cancer-causing UVB rays, UV rays can cause tanning and tanning, as much as we love it in our youth, will create more wrinkles. The UV rays can have a positive effect on your skin conditions, however, so don't discount them entirely. (Consider how better your skin feels when you get a healthy amount of sun.) The simulated sunlight can improve your mood, but you probably shouldn't use it for anti-aging. Different light therapy will give different results.
Other Light Therapy Lamps We Reviewed
We looked at 20 other light therapy lamps. Even though they didn't make our 5 best light therapy lamps list, they're the best of the rest and each is still a great option for you. The information you'll need to compare each one is included with the listing.
Light Therapy Lamps for Mood Improvement
BEIEN Dimmable Therapy Energy Light Alarm Clock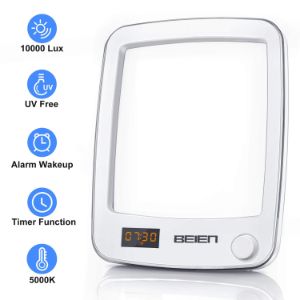 This light therapy lamp comes with an alarm clock function so that you can double your use of it.
Key Features:
UV-Free
1-year warranty
10,000 lux
Cost: $45
Carex Day-Light Classic Bright Light Therapy Lamp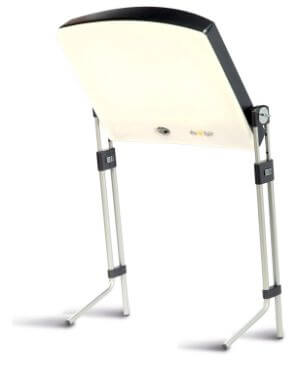 This lamp is adjustable so you can soak in the rays full-on, or set it above to make sure it won't get in the way of your routine.
Key Features:
2 light settings
Provides 99.3% UV-filtered light
5-year warranty
Cost: $85
Circadian Optics Lattis Light Therapy Lamp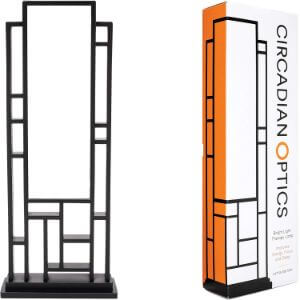 Designed to be an accent piece, you'll be able to use this lamp for your seasonal depression without throwing off your room's well-planned decor.
Key Features:
3 light levels
UV-free
2-year warranty
Cost: $70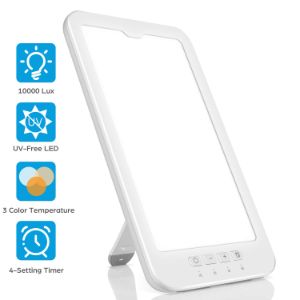 With three color temperature settings, you'll have a more accurate and complete range of simulated sunlight.
Key Features:
Memory function stores last setting
4 timer presets
9.5″H x 5.6″ x 0.7″ thick
Cost: $45
Miroco LED Bright White Therapy Light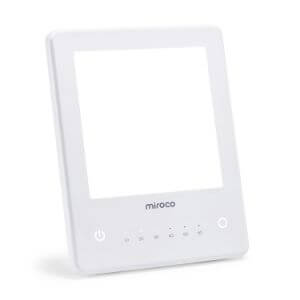 You'll get the full effectiveness of simulated light therapy with this compact and portable lamp that sits on your desk or mounts on the wall for whatever fits your home best.
Key Features:
UV-free light at 10,000 lux
6 timer settings
3 brightness modes
Cost: $50
Sunrise Sensations – DayBright Light Therapy Lamp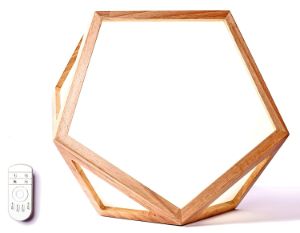 This stylish lamp will fit your decor more easily than some of its counterparts and looking at a light therapy lamp that fits your home will only help improve your mood even further.
Key Features:
10,000 lux
Controlled remotely
Uses energy-efficient LEDs with a 27-year life expectancy
Light Therapy Lamps for Pain
AMZCOOL Near Infrared Red Light Therapy Device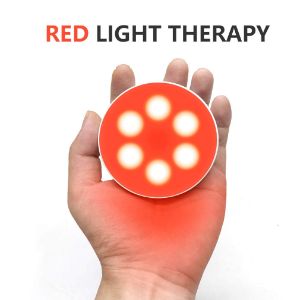 This handheld infrared light is perfect for on-the-go use, and that means it's ideal for travelers with skin or pain concerns that red light therapy may be able to help.
Key Features:
USB rechargeable
Adjustable brightness
Memory saves previous settings
Cost: $45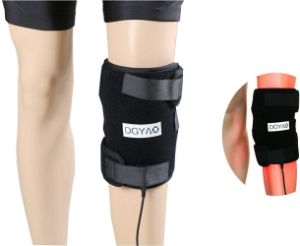 This light therapy lamp comes encased in a wrap specially designed to help your knee (or elbow) pain and recovery.
Key Features:
Made with wear and heat-resistant SBR pads
164 deep-penetrating infrared and red lights
1-year warranty
Cost: $130
DGYAO Red Light Near Infrared Therapy Wearable Wrap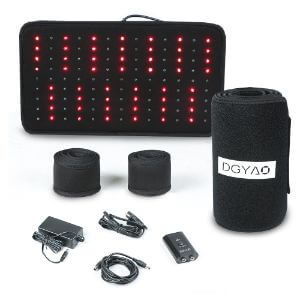 This light therapy lamp is a wearable wrap that will treat your back, shoulder, legs, arms, neck, and more to make sure you're getting what you need just where you need it.
Key Features:
13.8″ x 8″ x 0.6″
Flexible wrap with 117 piece red and infrared lights
Auto-off in 20 min
Cost: $180
Hooga Red Light Therapy Device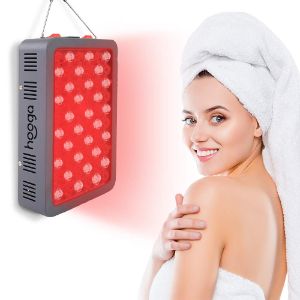 You can hang this red light lamp directly on your wall to see the benefits of standing in front of it
Key Features:
Lifespan for the panel is 50,000 hours
60 total lights: 30 LED red lights, 30 infrared
2-year warranty
Cost: $190
Minkow Brothers Care MB Red Light Therapy Device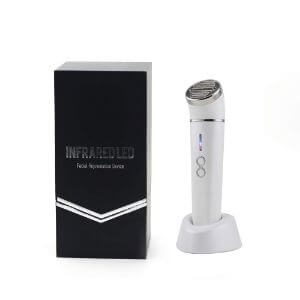 You'll get a lot of extra from this little wand, including the infrared and red LED light treatments, and a magnet massage.
Key Features:
100% money-back guarantee
Warms to 107.6 degrees F
Includes 1 Lithium Polymer battery
Cost: $75
SGROW 45W Red Led Light Therapy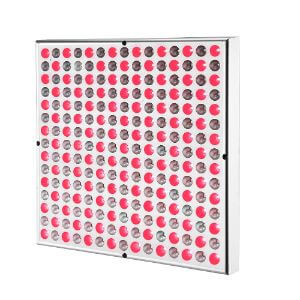 The recommended use for this light therapy lamp is along your torso; back, abdomen, or possibly your legs to get the best results.
Key Features:
Combo LED red and infrared lights
12.2″W x 12.2″H x 1.4″D
1-year warranty
Cost: $100
TENDLITE Red Light Therapy Device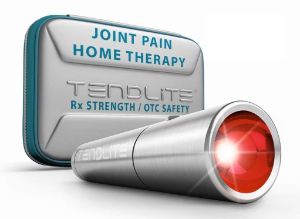 You'll switch this red light on and hold it directly to your ailing joint and the light is meant to help relieve the pain from injury and arthritis.
Key Features:
FDA cleared medical device
1-minute use
Includes storage sleeve, wrist band, protective eyeglasses, 2 rechargeable batteries, and charging cable
Light Therapy Lamp for Skin Care
Anyork Body Red Light Therapy Devices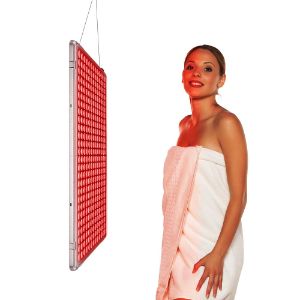 The red light therapy used in this lamp will work to reverse the effects of aging and to boost your skin's collagen, slowing future wrinkles forming.
Key Features:
22″H x 11.8″W x 0.7″D
660 nm red light
2-year warranty
Cost: $180
Dermashine Pro 7 Color LED Mask for Face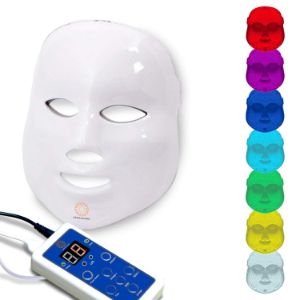 This mask will give the best light treatment therapy for your skin to recover from scarring, acne, or even wrinkles.
Key Features:
Color and brightness adjustable
UV-free
Lifetime warranty
Cost: $100
NEWKEY Light Therapy Facial Skin Care Mask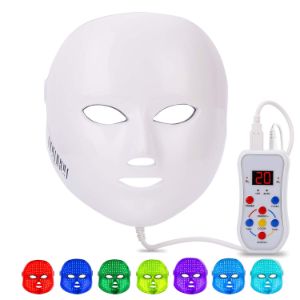 By targeting your face, this mask light therapy lamp will address any of the concerns you have with your skin there, as well as potentially offer the happy side effect of preventing headaches.
Key Features:
Adjustable color and brightness
1-year warranty
Perfect for all skin types
Cost: $120
NuDerma Portable Handheld High Frequency Skin Therapy Wand Machine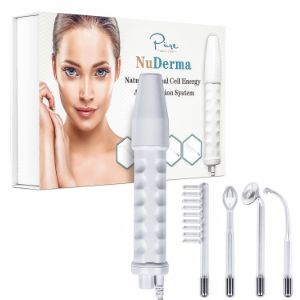 By utilizing a wand-style of light therapy, you'll be able to concentrate the effects directly to the area affected; which means you'll be able to handle acne, no problems.
Key Features:
Amplifying ATP production to boost metabolism
Includes 4 heads for specialized areas
10 W power; 50-60 Hz frequency
Cost: $40
Project E Beauty 7 Color LED Mask Photon Light Skin Rejuvenation Therapy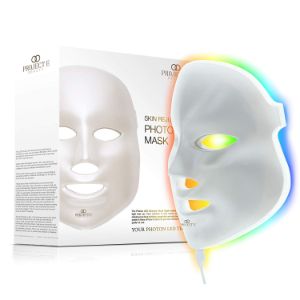 This is a chemical-free way to treat your skin, treating acne, preventing wrinkles, and minimizing headaches all in one swoop.
Key Features:
UV-free
7 LED color options
150 LED lights
Cost: $110
Serfory Led Red Light Therapy Lamp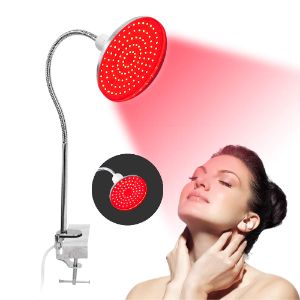 With just 15-20 minutes each day, you'll see a dramatic difference in your skin in as little as five weeks with this red light therapy lamp.
Key Features:
660 nm wavelength for optimal collagen stimulation
Adjustable height and angle
1-year warranty
Cost: $70
Trophy Skin RejuvaliteMD Red Light Therapy Device
With an adjustable stem, you'll be able to arrange this lamp to shine on your face as you work or as you lie beneath it, making it convenient for you no matter where you are.
Key Features:
FDA cleared
Stimulates collagen production
25% infrared lights, 75% LED red lights
Cost: $250