Natural alternatives to traditional medicine like essential oils continue to gain popularity. There are over 90 essential oils used to treat everything from anxiety and depression to hypertension and indigestion. Once mixed with a carrier oil, essential oils are added to lotions, scrubs, sprays, and jewelry where they soak into the skin and go into full effect when they hit the olfactory senses. They can be used to treat illness or just to invigorate your mind first thing in the morning.
We reviewed dozens of essential oils in search of the best of the best. We compared the source and purity of each oil. Many products say they're essential oils, but they may be mixed and diluted to potencies that aren't effective. Finally, we considered the oil's source, looking for products that are free of harmful chemicals during the growing, harvesting, and manufacturing process.
Organixx Tea Tree Essential Oil has everything you want in a quality essential oil. It's USDA organic with no harmful additives. In this pure form, it's ready to be mixed with a carrier oil for use in a diffuser, lotion, oil burners, or in a bath. It can be mixed with other essential oils like lavender and eucalyptus to give your immune system a boost or applied to the skin as a cleanser and natural hand sanitizer.
[toc]
The 5 Top-Rated Essential Oils
*Ratings are current at the time of publication and can change
Best Essential Oil Overall: Organixx Tea Tree Essential Oil
Tea tree oil comes from the Melaleuca alternifolia. The Organixx Tea Tree Essential Oil is a pure, 100 percent organic essential oil that's ready to be mixed with a carrier oil or added to a diffuser or other essential oil mixtures. Organixx creates incredibly pure essential oils. They're made without fillers or any additives or preservatives. This essential oil comes from plants without any genetic modifications. You're getting a pure oil that won't have any surprises like unwanted herbicides, pesticides, or diluted compounds.
With this essential oil, you get the pure effects of tea tree oil, which include antiseptic and antibacterial properties that fight fungus, bacteria, and viruses. It's also used in mixes and lotions to treat acne, sunburn, insect bites, and dandruff. Tea tree oil can also be used to treat respiratory problems associated with the common cold. Organixx suggests mixing their tea tree oil with a carrier oil like jojoba or coconut oil before applying directly to the skin.
Organixx Tea Tree Essential Oil Key Features:
Organic
non-GMO
Can be added to baths, diffusers or mixed with a carrier oil for direct skin application
Best Essential Oil Kit: Organixx The 12-Pack Total Health Essentials Kit
Organixx knows how to make quality essential oils. They combine their very best in The 12-Pack Total Health Essentials Kit. The kit contains:
clove
eucalyptus
frankincense
geranium rose
grapefruit
lavender
lemon
orange
oregano
peppermint
rosemary
tea tree
If you want a basic essential oil to treat common ailments, invigorate your senses, and sharpen your mind, this kid has it. Every essential oil in this kit is 100 percent organic and made from non-GMO ingredients. These powerful essential oils can treat everything from anxiety to a toothache. Lemon and grapefruit are a popular combination first thing in the morning to awaken the senses. When you're ready to calm down for the evening, there's lavender to soothe you into dreamland. Of course, if you want to give your immune system a boost, there are tea tree oil and peppermint.
We love that you get a whole kit's worth of high-quality, organic essential oils for a better deal than if you'd bought the same essential oils separately.
Organixx The 12-Pack Total Health Essentials Kit Key Features:
Organic
Twelve (12) essential oils
Less expensive than buying each oil separately
Best Budget Essential Oil: Artizen Lavender Essential Oil
Lavender is one of those oils that belongs in every medicine cabinet. The Artizen Lavender Essential Oil is an undiluted, therapeutic grade essential oil that comes at an incredibly affordable price. Just for a comparison, most essential oils come in .33 ounce to .5 ounce bottles. This lavender isn't diluted in a carrier oil, which means you get to the mixing yourself. That's good for you because you know exactly how much lavender you're using.
We like Artizen's UV protective coating on their bottles. Essential oils can easily break down if left in the sun. While you still can't leave this bottle outside all day, the protective coating offers a barrier against spoilage. Artizen also offers a lifetime warranty on all of their products. That's a pretty good guarantee for a product you could potentially use every day.
Artizen Lavender Essential Oil Key Features;
Lifetime warranty
Therapeutic grade lavender essential oil
Undiluted
Best Essential Oil for Anxiety: Gya Labs Ylang Ylang Essential Oil
The sweet floral scent of Gya Labs Ylang YLang Essential Oil soothes the mind and body into a relaxed, happy state. This ylang ylang comes flowers grown in Madagascar. Organically grown and harvested, you won't find artificial fillers in this oil.
Ylang ylang's uses go beyond calm and relaxation. It's a natural perfume and nourishes the scalp and hair, making it a popular additive to shampoos. It also has some antibacterial properties and has shown some evidence for use as an aphrodisiac. Gya Labs provides all of those benefits in a pure essential oil that's ready for mixing with a carrier oil.
Gya Labs Ylang Ylang Essential Oil Key Features:
Organically grown and harvested
Ready for mixture in a carrier oil or lotion
For use on the skin and hair
Best Essential Oil for Digestive/Gut Health: Organixx Peppermint Essential Oil
Organixx Peppermint Essential Oil brings everything we love about Organixx to peppermint, one of the best essential oils for digestive health. This USDA certified organic essential oil skips additives and fillers, just like other Organixx products. It's ready for use in a diffuser or a carrier oil for skin application.
Peppermint is one of those essential oils that's just smart to have around. It can treat headaches, upper respiratory infections, and calm an upset stomach. If you need a natural alternative to manage your gut health, this is the oil for you.
Organixx Peppermint Essential Oil Key Features:
USDA certified organic
Can be applied to the skin or ingested
non-GMO
Who Should Buy Essential Oils
There are approximately 90 different essential oils available on the market. They're used to treat everything from headaches and tension to the common cold and sleep disorders. Essential oils are an alternative to traditional medicine but also a way to boost health and well-being on a daily basis. Some people may be hesitant to jump on the essential oil bandwagon, but there are many simple ways to use these oils from the first day they arrive at your door.
Essential oils can be added to lotions, shampoos, and used in specially designed jewelry to provide a steady dose of fragrance throughout the day. When loaded into a diffuser, their effects waft through the home to create a relaxing atmosphere. Whether it's to relieve anxiety or reduce inflammation, these natural extracts magnify the benefits of the plants from which they come. For some, they're a way to treat chronic conditions, while for others, they're mood enhancers that keep life in balance.
Important Features to Consider
An essential oil should have a few important features. Here's what to consider as you make your choice:
Look for scientific and/or Latin names. What's in a name, you ask? Usually, only high-quality essential oils bear their extended scientific or Latin names. It's a quick way to get an idea of the essential oil's quality. Taking note of these names also lets you know what variety of the base oil you're getting. For example, there are several varieties of lavender, each with a different scientific name. If you find one you like, make sure to look for the specific name, so you don't end up with an alternative that doesn't affect you in quite the same way.
Price. Of course, you always want to be mindful of cost, but price tells you a few other things about the essential oil. The cost of the distilling and/or extraction process varies from plant to plant. If you run across a manufacturer that prices all of their essential oils the same, it could be an indication that they're using additives rather than pure essential oil. Comparing prices between manufacturer's also gives you an idea of what the base price is for a particular oil. For example, Helichrysum often costs well over $100 per bottle. If you see it for far less, it's probably been mixed with other filler oils. While you don't necessarily need to buy the most expensive option you find, keep in mind that lower than average prices probably indicate poor quality.
Packaging. Essential oils are easily damaged by direct sunlight, and some are known to break down plastic. Glass bottles and containers with UV protective coatings are important for the longevity of the oil. In addition, store the oils in room temperatures and out of direct sunlight.
Ingredients. The list of ingredients on the essential oil should only be the oil itself, which may be listed under the scientific name. Lower priced essential oils may list several ingredients due to mixing with less expensive oils and fillers.
GC-MS testing. Gas chromatography and mass spectrometry testing break down the essential oil to identify the quality and presence of volatile molecules. They're used to compare and contrast essential oils. Some manufacturers use this test to show the quality of their essential oils, and it is a valuable tool to identify the oil's purity. Usually, if the manufacturer is willing to show customers a GC-MS test, they're offering essential oils of excellent quality.
Frequently Asked Questions
What are essential oils? 
Essential oils are compounds extracted from plants. Various extraction methods are used like distillation and cold pressing. The result is an oil that contains the plant's scent, flavor, and "essence" or desired properties. Raw essential oils are too potent for direct use. The oil must be mixed with a carrier oil before it can be applied directly to the body. Some essential oils can be ingested, but you have to be careful since many aren't designed for that purpose.
What are the most popular essential oils?
The most popular essential oils are those that are relatively affordable and can be used in a variety of ways. A few of the most popular include lavender, peppermint, sandalwood, tea tree, bergamot, rosemary, and chamomile. These oils are used to treat anxiety, heal wounds, reduce anxiety, and enhance sleep, among other conditions and illnesses. Most of them have multiple uses, which means you can treat many conditions and illnesses by owning relatively few essential oils.
How do I use essential oils?
In their pure form, essential oils can burn the skin, so they first must be mixed with a carrier oil like coconut, apricot kernel, or jojoba. Carrier oils are cold-pressed, so they dilute the oil and prevent them from evaporating right away. Essential oils can be inhaled directly by simply smelling them while they're still in the bottle, or you can pour a few drops into boiling water and inhale the steam. Diffusers are another popular way to use essential oils. Once you've put in a few drops of the essential oil, the diffuser emits the scent into the air where it can be inhaled. For a relaxing end to the day, add essential oils to a warm bath.
Are essential oils safe? 
Essential oils are safe as long as they're used appropriately. The pure oil should never have direct contact with your skin because their high potency can cause burns. And most essential oils should not be ingested. There are a few exceptions, like peppermint, but it should only be ingested according to the directions given by a certified aromatherapy expert. Ingesting essential oils that are not designed for that purpose can be dangerous.
Other Essential Oils We Reviewed
We looked at 20 other essential oils as we searched for the best of the best. These oils didn't quite make our list, but many of them are high quality and treat a variety of ailments. We've included the information you need to compare the oils to find those that are best for you.
Essential Oils for Anxiety
Diffuse Essential Oils Bergamot Essential Oil

Bergamot is among the many essential oils used for anxiety, but it's also well known for the treatment of acne and improving your overall skin condition.
Key Features:
Undiluted essential oil
Built-in dropper
UV resistant bottle
Cost: $7
Handcraft Blends Frankincense Essential Oil
This frankincense essential oil has two important characteristics — natural and pure.
Key Features:
All-natural
Relieves tension and stress
Includes built-in lid dropper
Cost: $18
Organixx Geranium Rose Essential Oil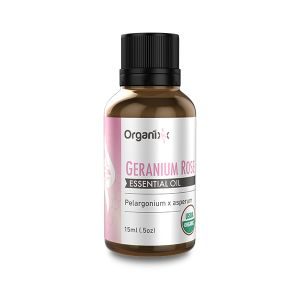 Like all of Organixx other essential oils, this geranium rose oil is certified organic and offers pure oil that's of the highest quality.
Key Features:
Certified organic
Non-GMO
Variety — Pelargonium x asperum
Cost: $29
Organixx Lavender Essential Oil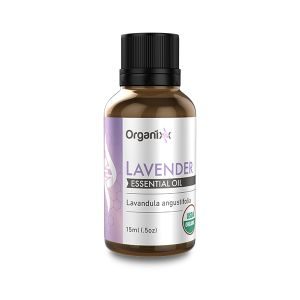 Whether you use it for anxiety or as an air freshener, this oils lets you use the power of lavender for healing.
Key Features:
Organic
non-GMO
Variety — Lavendula angustifolia
Essential Oils for Digestive/Gut Health
Cliganic Organic Lemon Essential Oil

Cliganic doesn't cut corners and produces a certified organic, non-GMO lemon oil that's refreshing and excellent for your digestive health.
Key Features:
Certified organic
Non-GMO
Variety — Citrus limon
Essence-Lux Sandalwood Essential Oil

A UV resistant amber bottle and all-natural sandalwood make this essential oil a great way to manage digestive problems and urinary health.
Key Features:
UV resistant bottle
All-natural
Treats digestive health, anxiety, and wound healing
Cost: $10
Gya Labs Roman Chamomile Essential Oil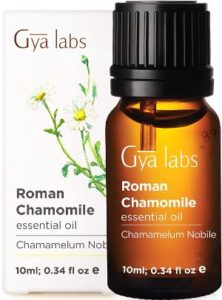 Extracted from the Chamaemelum mobile, this natural essential oil works for wound healing, anxiety relief, and eczema.
Key Features:
All-natural
Non-GMO
Variety — Chamamelum mobile
Cost: $17
Healing Solutions Organic Peppermint Essential Oil 

This certified organic essential oil works wonders for an upset stomach. It's also used for headaches and muscle pain.
Key Features:
USDA-certified organic
GC-MS tested for quality
Mixed with purified water
Cost: $8
Ola Prima Premium Quality Peppermint Oil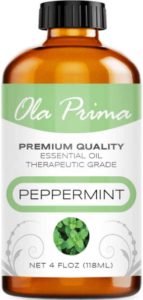 Ola Prima offers affordable essential oils. This peppermint oil is somewhat diluted, but if you're on a budget, it's a great way to get the benefits of peppermint at an affordable price.
Key Features:
Four (4) ounce bottle
Diluted
Affordable
Essential Oil Kits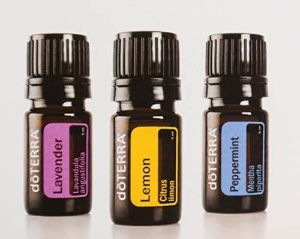 doTERRA's kit gives you three of the most popular essential oils all at once. Lavender aids relaxation; peppermint offers relief from stomach upset; and lemon opens the lungs and awakens the mind.
Key Features:
Lavender, lemon, and peppermint
Peppermint has high menthol content
Varieties — Lavendula angustifolia, Citrus limon, Mentha piperita
Cost: $27
NOW Foods 3-Pack Variety Essential Oils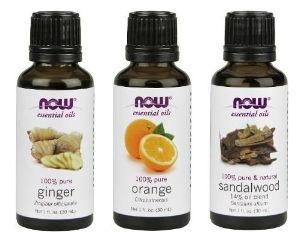 Pure oils like these are necessary to get a mix that's powerful enough to enliven and heal.
Key Features:
Ginger, orange, and sandalwood
Pure essential oils with no fillers
All-natural
Cost: $33
Radha Beauty Top 8 Essential Oils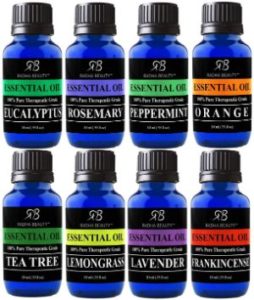 If you want to start using aromatherapy but aren't sure where to begin, this is the kit for you. It's affordable and provides enough essential oils to test what works for you.
Key Features:
Lavender, tea tree, peppermint, and rosemary
Oregano, eucalyptus, lemongrass, and frankincense
All-natural
Essential Oils for General Health
Eden's Garden Grapefruit Essential Oil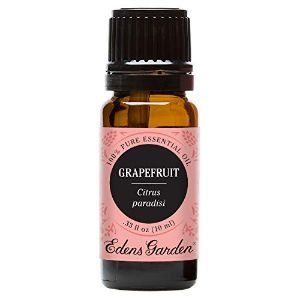 Is there anything better than the refreshing scent of grapefruit? It's not only invigorating but also helps weight loss and the immune system.
Key Features:
Cold-pressed
Made from pink grapefruit
Variety — Citrus paradis
Cost: $13
Eve Hansen Organic Tea Tree Oil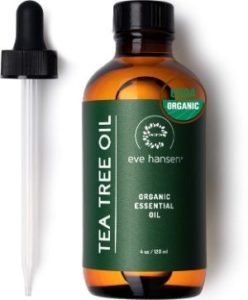 Whether you need a natural antiseptic or a boost for your hair and scalp, this organic tea tree oil provides numerous options to improve your health.
Key Features:
Certified organic
Treats acne, skin tags, and keloids
Variety — Melaleuca alternifolia
Cost: $31
Maple Holisitics Rosemary Essential Oil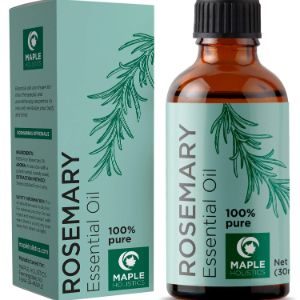 Thicken your hair and boost your memory with this powerful rosemary essential oil.
Key Features:
Distilled
Excellent for skin and hair
Variety — Rosmarinus officinalis
Cost: $10
Nature's Oil Organic Cypress Essential Oil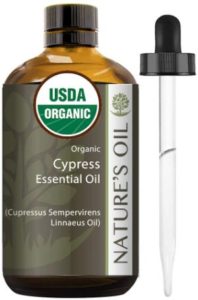 This certified organic cypress oil is pure and comes in a UV protectant bottle.
Key Features:
Certified organic
GC-MS tested
Variety — Cupressus sempervirens linnaeus
Cost: $20
Organixx Eucalyptus Essential Oil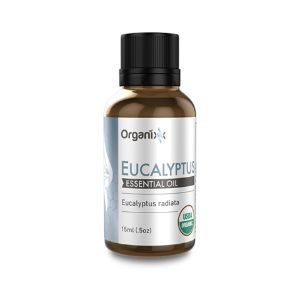 Organixx doesn't cut corners on the essential oils. This certified organic eucalyptus can reduce pain, relieve cold symptoms, and treat cold sores.
Key Features:
Certified  organic
Non-GMO
Variety — Eucalyptus radiate
Cost: $16
Plant Therapy Oregano Essential Oil

Oregano offers incredible immune support. Plant Therapy provides a GC-MS test for all of their essential oils.
Key Features:
Undiluted
GC-MS test results available
Variety — Origanum vulgare
Cost: $9
Sun Essential Oils Clove Essential Oil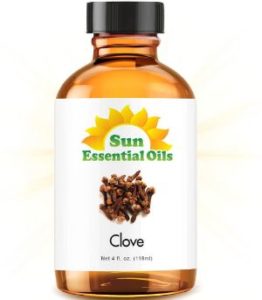 Clove has antibacterial and pain-relieving properties that you can get an affordable price with this essential oil.
Key Features:
Affordable price
Made and bottled in the United States
Diluted
Cost: $13
Young Living Helichrysum Essential Oil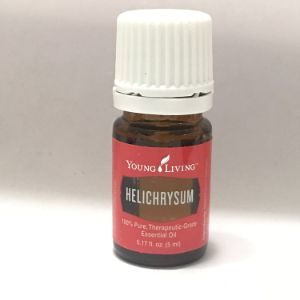 Helichrysum is one of the most expensive essential oils on the market, but it's a powerful antioxidant and supports skin and circulatory health.
Key Features:
Diffuse or mix with a carrier oil for direct application
Stimulates the nerves and nourishes skin
Variety — Helichrysum italicum
Cost: $95