Though essential oils aren't medicine, per se, they can certainly help you to lead a more comfortable life. The aromatherapy benefits are undeniable, and if you're skeptical, go read the back of your Vicks Vaporub. The menthol included in the that has probably been soothing your sicknesses for decades, and you had no idea that you were already using an essential oil. If the menthol can help your breathing, there's every possibility, even likelihood, that other essential oils can help you with other concerns, too. It's not a substitute for medical care, but you can probably avoid needing a doctor as often if you properly use your diffuser and essential oils.
We reviewed dozens of essential oil diffusers to identify the best of the best. We looked at essential oil diffusers for large rooms and small areas. We have the portable diffusers and those that will help your sore sinuses with an extra humidifying effect. No matter what type of diffuser you want for your essential oils, we have the right choice for you.
When you're considering the benefits of an essential oil diffuser, you may also want to think about how you can go about Taking "Me" Time. And for those of us who just need a few tips on a healthy life, both physically and mentally, try our article, How To Live Longer And Feel Better: 10 Tips For Healthy Living.
We found the URPOWER 2nd Version Essential Oil Diffuser and all through our research, it was the obvious choice for best overall essential oil diffuser. With a whisper-quiet operation and two adjustable mist settings, you'll have plenty to tempt you into this purchase.
[toc]
The 5 Top-Rated Essential Oil Diffusers
*Ratings are from Amazon at the time of publication and can change
Best Overall Essential Oil Diffuser: URPOWER 2nd Version Essential Oil Diffuser
The URPOWER 2nd Version Essential Oil Diffuser has all the features you'll want in an essential oil diffuser and it creates them with quality and durability. You can operate the mist and light independently to make it essentially two products in one and even while you're operating the oil diffusing mist, you can choose between two settings. There is a continuous mode that will last for approximately three hours and an intermittent mode that works on a 30-second on, 30-second off-cycle and lasts around six hours.
The auto shut-off feature will protect the device and your home from overheating and burning out when the tank runs dry and you can program on and off cycles to customize the use for your ideal operation. The seven colors will cycle through or you can choose which one you'd like to match either your room or your mood, giving a fully personalized feel to your home.
There are no two ways about it, the numbers for this diffuser are impressive. It has an overall rating of 4.4 stars on Amazon and that's wonderful, but considering the rating is based on 36,000 customer reviews, that's an even bigger achievement. One look at this product, and we think you'll be sold.
URPOWER 2nd Version Essential Oil Diffuser Key Features:
7 LED color lights
4 style choices
100 ml water tank
Best Battery Powered Essential Oil Diffuser: Weljoy Wood Grain Portable Diffuser for Essential Oils
The Weljoy Wood Grain Portable Diffuser for Essential Oils is such a convenient essential oil diffuser that you won't want to overlook it, especially if you find yourself in new places frequently throughout your day. In fact, it's so portable that you can even carry it in your pocket to take with you where ever you go. It has a hand strap so you'll be able to wear it around your wrist and a mounting pad that will prevent it from slipping when you place it atop it, for your car or elsewhere.
You can recharge this diffuser with the included USB cable and you can expect the battery to last for different periods of time based on what setting you have the fan on. You can use level one setting to last 5.5 hours; level two, 2.5 hours; and level three, 1.5 hours. The oil pads are replaceable but also reusable so you can use each pad multiple times before you replace them. Everything is made with BPA-free and essential oil-friendly materials.
An overall rating of 4.4 stars with over a hundred customer reviews suggests your purchase is likely to be a sound one. But more than that, the conveniences on this portable diffuser make it an invaluable addition to any room.
Weljoy Wood Grain Portable Diffuser for Essential Oils Key Features:
2.5″W x 2.5″L
2 color options
Includes 8 oil pads, strap, and mounting pad
Best Budget Essential Oil Diffuser: Homeweeks Colorful Essential Oil Diffuser
The Homeweeks Colorful Essential Oil Diffuser fits perfectly in your home or office, to release a healthy dose of aromatherapy that will keep you calm, relaxed and in optimal health. You'll have a separate control button for the cool mist and for the light so you can take advantage of the ambiance the lights create without needing to release the aroma or visa versa.
The cool misting will operate in a continuous mist to release your oil into the air at a consistent stream, or you can opt for the intermittent mode that will release mist for 30 seconds, and then release for 30 seconds until the water and oil run dry; which is ideal for the times you don't want the scent to overpower you, but still want the benefits. You also won't need to worry about the diffuser when it runs dry because it has a safety automatic shut down feature to make sure it won't burn out or pose a danger to your home.
There's plenty to tempt you into purchase on this diffuser, but even if reading through the convenient features didn't sway you, consider that the overall rating of 4.3 stars comes with a price tag of just under $15 – a total steal!
Homeweeks Colorful Essential Oil Diffuser Key Features:
100 ml reservoir
Includes measuring cup
3 hr continuous run time or 6 hours intermittent mode
Best Essential Oil Diffuser for a Small Room: Pure Enrichment PureSpa Essential Oil Diffuser
The Pure Enrichment PureSpa Essential Oil Diffuser will allow you to see the effects for your smaller room with no problem – it boasts an overall coverage of 250 square feet. It has an optional LED color changing feature that will allow you to cycle through 4 colors for your nightlight or, if you prefer, operate the diffuser without any light at all for a less distracted sleep. Just cycle through the options to get the best customization for you.
To operate this simple machine, you'll place a few drops of your preferred oil into the 100-milliliter tank reserve, along with enough water to fill to the "fill line" and then push one button to operate. When filled, you'll have enough water to last approximately seven hours on continuous use and you won't need to worry about what happens when the water runs dry, there's an auto-off feature that keeps the diffuser from damaging itself.
Without any of these best practices in an oil diffuser, you'll still have plenty to sing about with this on. It has over 4,500 customer reviews on Amazon and an overall rating of 4.3 stars, which definitely make it a diffuser that you're likely to adore.
Pure Enrichment PureSpa Essential Oil Diffuser Key Features:
100 ml tank
2-year warranty
Safety shut-off
Best Essential Oil Diffuser for a Large Room: Everlasting Comfort Humidifiers with Essential Oil Tray
The Everlasting Comfort Humidifiers with Essential Oil Tray will allow you to pick your favorite essential oil and because the oil is added to a separate tray, you won't go through the oil quite as quickly, even though you do have a larger room to cover. The humidity of the room has less to do with the oil's consumption and the large water tank means you won't have to add several drops to ensure enough aroma is emitted.
Whether you use it as an essential oil diffuser all year or not can be entirely up to you. Even after you've run out of your oils, or when you're just not in the mood for them, you can still see the benefits of this humidifier; and that means you're bound to use it frequently. The oil tray may not really give off a strong aroma once the oil has been consumed but the smell may stick around longer than the diffusers which require you put the oil directly into your water tank. You will want to make sure you're cleaning the tray because the oil can corrode and make the tray stick otherwise.
There are right around 6,500 customer reviews on Amazon for this diffuser and when that many people have come back to review the product and give it an overall rating of 4.2 stars, you know the product is of high quality.
Everlasting Comfort Humidifiers with Essential Oil Tray Key Features:
6 Liter, 1.6 gallon tank
2 colors available
Adjustable mist settings
Who Should Buy an Essential Oil Diffuser
Essential oils will be more effective at the ails you cannot see than those you can, but as an adult, you probably have plenty of unseen ails that can use a bit of assistance. Probably the most undisputed use of the peppermint to keep you alert and awake. So if you find yourself suffering from a mid-day droop, popping a diffuser on your desk with a bit of peppermint can really get you through the day. Lavender has long been used to relax and relieve stress; your masseuse will often use that essential oil to help relax your muscles, perhaps in conjunction with other relaxing oils like rose and chamomile. Diffusing the oils in the lobby while you wait, or during your massage will help you begin to unwind. If you find yourself struggling with this even at home, a diffuser for these times can help, too. And the best part of this is that even if you don't see consistent results, your house will still smell amazing, and that alone can put you in a good mood.
As we've already touched on, there are several health benefits that you can receive from your essential oil diffuser. The aromatherapy can have a positive effect on your mood, but it can even improve your health, too. Eucalyptus, just like the menthol, can help your breathing if you're congested but oils can help more than just the common cold. Peppermint may be the only thing to get you through a nauseous period, and diffusing it may make a big difference than for a longer period of time than just popping in a peppermint. Peppermint and lavender combined may help relieve your headache, as well. And if you suffer from migraines, there are likely very few tricks for getting rid of them that you'd pass up.
Important Features to Consider
An essential oil diffuser should do several things well. Here's what to consider when selecting a diffuser for your essential oils:
Humidifier. Diffusing an essential oil will automatically release a bit of moisture into the air; that's why you'll often see the product description listed as a "cool mist" – releasing oil into the air via water is bound to do that. However, that doesn't necessarily mean you'll be getting the benefits of a humidifier if you don't find a diffuser that's listed as a humidifier, as well. A humidifier will release warmed air rather than cool and on a bigger scale. You'll be able to tackle a larger room with a combo and that means you may go through your oils faster. You may find for larger rooms, it's cheaper, in the long run, to buy a moderately priced humidifier for a larger space and the diffuser for directly next to where you'll be spending the bulk of your time. For a smaller room, office, or if you're just not that invested in the humidifier feature, then a good combination will suit you just fine.
Included Oils. Restocking your oils will undoubtedly be the most expensive component of utilizing essential oils. You can find more or less expensive oil types, and the more expensive oils will be purer. Even if you use the less purified oils, though, you'll still be spending over $10 for a 0.5 mL bottle and that doesn't go far when you're diffusing every day. If you can find a new diffuser that gives you oils included, that's definitely something to sweeten the pot for you. In fact, a good beginner set with a diffuser and a variety of oils may be the best way for you to try a variety of different oils to test what you like the most so you won't have to guess each time.
Capacity and Time. You will want to consider how many liters of water the diffuser can store and how long it will operate on that amount. If you want an oil diffusing for your sick child all night, you won't want to have to sneak in at 3 am to refill it. You can easily find a diffuser that will go all night or all day, but it's unlikely you'll be picking one up that will last all day and night. If you just want it in your cubical during your workday, then make sure you're turning it off when you step away from your desk, to conserve your time to actually benefit you. Besides, you don't know if your co-worker wants the same oil side effects that you do.
Battery Powered vs. Power Cable. It probably goes without saying that the battery-powered diffusers are best for traveling and the cord-powered diffusers will last much longer and operate more efficiently. Battery-powered will also often give you an oil pad rather than a traditional misting diffuser. This means that rather than refilling the tank, you'll be reapplying the oil to a felt-style pad within the portable diffuser. The pad will need to be replaced and the fan that projects the aroma of the oil into the air will only allow for the oil to travel so far. It has a far shorter range and you will inevitably go through more oil if you use it frequently. However, you can't overlook the convenience and if you aren't able to run to a sink to refill the tank of a more traditional diffuser, this may still win out.
Lights. Diffusers have begun to become almost synonymous with relaxing lighting. You'll be able to use a large portion of the available diffusers as mood lighting as well as night lights for your bedtime diffusing and that will make them all the more useful for your day-to-day. if you want to create an environment that will give you the maximum amount of de-stressing, then you can't overlook the lighting and luckily, the diffusers will often take care of that for you.
Timers. For those who use oil to relax you to the point where you can comfortably fall asleep but do not require the oil diffused all night long, a timer is a perfect solution. Diffusing a bit of lavender and chamomile to help you fall asleep is an excellent opportunity to diffuse for a few hours, and to quietly shut off after you've entered into a deep sleep. You can turn it on each morning with a bit of citrus and peppermint to wake you up and set it to turn off after you leave for work so that your home doesn't have any electronics working all day (and to make sure you're not wasting the aromatherapy to an empty home).
Frequently Asked Questions
What is an essential oil diffuser and how does it work?

An essential oil diffuser is an appliance of sorts that will allow you to project an oil into the air by diffusing it. The oil can be applied directly to a water reservoir that will work as a humidifier, dispersing the aroma and oil particles throughout the room. A larger humidifier may have an oil pad slot for you to apply the oil to and allow it to blow out along with the humid air, and you will need to replace both the oil and the pad. You can also use a diffuser that will absorb the oil and a small fan to blow the fumes from the oil into your home. As you can imagine these don't cover as much area, but they're relatively inexpensive, so it's a trade-off in which you may be interested. You can also use an aroma heater to warm the oil to make it more potent. Combined with a fan or blower, the oil will disperse.
The aroma benefits of essential oils are the least controversial, so a diffuser is a solid investment even for those who don't buy into the speculated homeopathic benefits. Some claim absorbing the oils into their bodies can give dramatic health benefits, but the scientific community is not, as a whole, convinced yet. Though the science may not be supportive of it as an alternative to medicine, many doctors will recommend it as a supplemental aid. That is, they'll suggest that it may not fix a chemical imbalance, but it could improve your mood. And, unless you have other health concerns, there's a good chance you'll be risking very little outside of your financial investment. Worst case scenario is you likely to be a pleasant-smelling room.
Is diffusing essential oils safe for your lungs?
If you don't have any problems with your lungs, then diffusing essential oils in your home will pose no threat – as long as you're not over-using them. Some people claim they actually see improvement in their overall lung health when diffusing the right essential oils. Though there's no scientific evidence to support this yet, exploring the benefits of essential oils is still relatively early in research for the scientific community. That being said, if you do have a lung condition, COPD or asthma, for example, you'll want to avoid breathing in anything extra, and that includes essential oils. The oil particles in the air may cause inflammation or trigger an attack, so err on the side of caution until more research is done.
The most common downside to the diffused oils is when you overuse them and develop a tolerance to the oil. Not only will you stop seeing the aromatherapeutic benefits of oil you can no longer smell, but it could also cause a bit of aroma sensitization. Beyond that, you'll still need to keep in mind that just because the oils are natural doesn't mean we can use them without prejudice. If you want to diffuse it in a common room where you don't spend a lot of time, but want the oil on when you walk through or past it, then you won't need to be careful, but for a room, you're in all the time, you'll probably want to stick with a few bursts of diffusing throughout the day. Some pulmonologists recommend thirty-minute increments with a big break in between.
How long do essential oil diffusers last?
The quality and design of an essential oil are the biggest determining factors for how long an oil diffuser will last. There may not be a hard and fast rule that once any diffuser reaches, it dies, but you can estimate that an essential oil diffuser of quality will last about 4,000 hours. If you plan on using this nonstop, then you may want to look for a diffuser with a warranty; especially considering there are over 8,000 hours in a year.
The oil within the diffuser is easier to track. You'll be using the oil until the water's gone in most traditional misting diffusers. Once the water's gone, so is the oil. A few drops per "tank" will work and that means however long the reserve lasts is how long the oil will, too. For the diffusers that use an oil pad rather than applying the oil directing to the water, you'll replace as needed, or rather, when you can no longer smell it or it doesn't have the aroma strength you prefer.
Where do you put an essential oil diffuser in the bedroom?
You'll want to place it a few feet away from where you'll be sleeping. By your bed on a nightstand is ideal, but be sure to place it on the far side, not the closest. You may love the smell but too much of it could have the opposite intended effect and keep you stimulated rather than relaxed. Too much of a good thing is still bad, even when you're using essential oils. If you have a partner who would like to benefit from essential oils, as well, then you have a few options. You can switch sides periodically, either the two of you or the side where the diffuser goes – but that is rather bothersome, so you may not settle on this solution even if it's where you start. You could get a diffuser for each side of the bed, too; that would make it easier for you each to diffuse the oils that work best for you. So if your partner has a cold and you're stressed, he can diffuse eucalyptus and you can diffuse lavender. But bear in mind that just because the diffuser isn't on your side doesn't mean you won't see any of the benefits. Opt for smaller diffusers if this is the route you take. Your final solution is the most ideal, but not always (or often) possible: find a place to put it that's equal distance to you each. In a perfect circumstance, this means you'll have a headboard or shelf behind the bed that you can pout the diffuser on. You may be able to see the best benefits if it's placed on a side table by the foot of the bed, but make sure if it aims, that it's pointed at you.
Other Essential Oil Diffusers We Reviewed
We looked at 20 other essential oil diffusers. Even though they didn't make our 5 best essential oil diffusers list, they're the best of the rest and each is still a great option for you. The information you'll need to compare each one is included with the listing.
Essential Oil Diffusers for a Large Area
ASAKUKI 1500ml Essential Oil Diffuser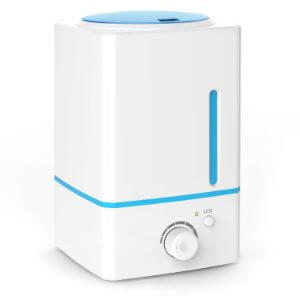 With a 1.5 liter capacity, this diffuser will last up to 20 hours emitting your preferred oil into the air.
Key Features:
Covers 300-450 sq ft
7 LED lights
Whisper-quiet operation
Cost: $40
GENIANI Humidifier & Essential Oil Diffuser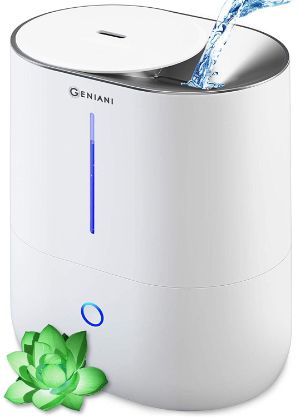 This humidifier and diffuser will make sure that your larger room or area will see the full benefits.
Key Features:
4L capacity
2 colors available
2-year warranty
Cost: $60
Homasy Cool Mist Humidifier Diffuser
The sleep mode will switch off the mood light and convert it to a nightlight to make sure you're not visually distracted for your sleep.
Key Features:
7-color mood lighting
2 mist level
3 color choices
Cost: $35
Homasy Humidifiers with Essential Oil Nozzle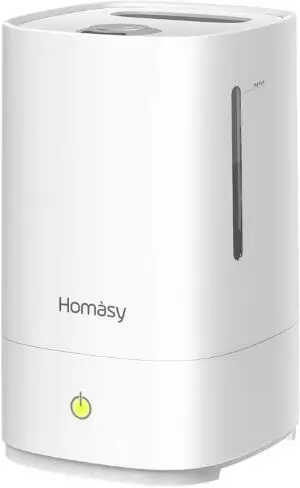 This large capacity humidifier and diffuser will cover your room up to 540 sq ft with aroma-therapy oils for a calmer, cleaner life.
Key Features:
30 hr operation time
4.5L capacity
2 color options
Cost: $40
JBTOR Ultrasonic Humidifier and Essential Oil Diffuser
You can control this diffuser and humidifier with a touch of a button from the comfort of your bed with the included remote control.
Key Features:
Quiet 32-34 decibel operation
3 mist strength levels
1.2 gallon capacity
Cost: $60
LEVOIT Classic Humidifier for Large Room with Essential Oil Tray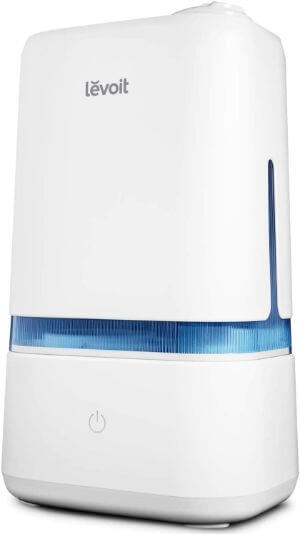 This humidifier/diffuser combination has an oil tray for you to apply your preferred essential oil to fill your air with fragrant oils that can help your mood and health.
Key Features:
Operates at less than 30 dB
Display light auto-off after 30 sec
1.05 gallon capacity
Cost: $40
LEVOIT Cool Mist Ultrasonic Humidifier Essential Oil Diffuser
This top fill ultrasonic humidifier and oil diffuser will allow you to fill it with water and add the few oil drops directly to the water reserve for a high quality aromatherapy.
Key Features:
1.8L capacity
Intelligent sleep mode
3 mist speeds
Essential Oil Diffusers for a Small Area
ASAKUKI 500ml Premium Essential Oil Diffuser
This diffuser has an auto-off feature that ensures you won't burn anything when the tank is empty of its water reserve.
Key Features:
7 LED light colors
500 mL tank
3 color options
Cost: $30
BZseed 300ml Diffusers for Essential Oils
You can turn this diffuser of for one, three, or six hours as well as the constant feature to make sure you're optimizing your use.
Key Features:
2 color options
Lasts 8-12 hours
1-year replacement warranty
Cost: $30
Everlasting Comfort Diffuser for Essential Oils
With your purchase of the Everlasting Comfort Diffuser you'll receive a cleaning kit, making it all the easier to make sure your diffuser is working properly.
Key Features:
Auto empty shutdown
4 timer options
2 style choices
Cost: $35
Gold Armour 400ml Aromatherapy Essential Oil Diffuser
With the 400 ml capacity, you can expect up to 12 hours of continuous use for this diffuser.
Key Features:
4 styles available
4 timer options
2-year warranty
Cost: $30
InnoGear Upgraded Version Aromatherapy Essential Oil Diffuser
There are three working modes on this diffuser, allowing you to run it on continuous use, with an intermittent misting, or as a nightlight without the diffuser on at all.
Key Features:
7 lights for mood changes
4 style options
Whisper-quiet operation
Cost: $15
mixigoo Essential Oil Diffuser
You'll get all you need to reap the rewards of an essential oil's aromatherapy with this whisper-quiet diffuser with seven colorful lights.
Key Features:
Empty water auto-off function
BPA-free construction
3 sizes available
Cost: $35
Secret Garden Essential Oil Diffuser
You won't have to worry about this diffuser clashing with your home decor with this fashionable oil diffuser.
Key Features:
4 timer modes
Up to 10 hours continuous use
100% satisfaction guarantee
Cost: $45
URPOWER OD-501 500ml Aromatherapy Essential Oil Diffuser
With the seven LED lights to choose from, you'll be sure to get the desired mood for the best relaxation you can get.
Key Features:
12-month warranty
3 styles available
Requires weekly clean
Cost: $25
VicTsing Essential Oil Diffuser
You can control just how long this diffuser will operate and what color you want while it does so with several customization options.
Key Features:
3 style choices
14 light colors
Up to 10 hr continuous use
Essential Oil Diffusers for Travel
If you frequently find yourself stuck in traffic, you may be able to diffuse the stress of the situation with a bit of lavender diffused directly in your car.
Key Features:
Car plug and USB ports
4 color choices
1-touch control
Cost: $20
Ominihome Essential Oil Diffuser
If you want to make sure you have the aromatherapy benefits of your essential oils without disturbing those around you, you can start with a compact diffuser such as this one.
Key Features:
30 hr max working time (intermittent use)
1-touch operation
Rechargeable with included USB cable
Cost: $40
SpaRoom Aromafier Portable Fragrance Essential Oil Diffuser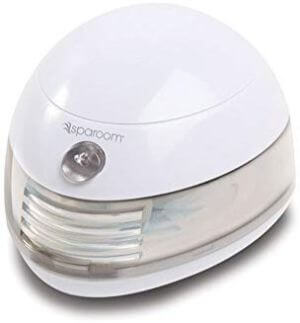 This could be perfect to pop into a small bedroom when you're sick and would like some Eucalyptus to help you breathe or to take with you while you travel.
Key Features:
4 color options
USB or battery powered (2 AA batteries not included)
Includes 3 replaceable fragrance pads
Cost: $20
Vyaime USB Car Essential Oil Diffuser
This portable diffuser is made to fit securely into your car's cup holder, making it all the more portable by designing it with a location pre-selected in your vehicle.
Key Features:
USB powered
1-button operation
Auto stop function
Cost: $20