If you're finding that you're in need of a little extra support and you're just not finding it elsewhere, you may be able to ease your mind and body with a CDB supplement. Since they are notorious for having a grassy taste (or aftertaste in the case of pills), then perhaps you'll fare better with a gummy supplement rather than an oil or pill. Not only will it give you what you need to help you with a wide array of physical and psychological concerns, but it is far more likely to taste good while it's at it.
We reviewed dozens of CBD gummies to identify the best of the best. We looked for CBD gummies that will help you with sleep, and those that can help with anxiety. We found the CBD gummies that your child can take, and the stronger dosage gummies for the most bang for your buck. No matter what you're looking for in a gummy, we have the right ones for you.
Throughout our research, there was only one obvious choice for our best overall CBD gummy – the Green Garden Gold CBD Gummies. With a variety of yummy flavors and the ability to get them shipped as often as you want – with a discount, they're pretty hard to beat!
[toc]
The 5 Top-Rated CBD Gummies
[table "156" not found /]
*Ratings are current at the time of publication and can change
Best CBD Gummies Overall: Green Garden Gold CBD Gummies
Green Garden Gold CBD Gummies are an excellent option if you want to add a regular dose of CBD to your diet and enjoy the taste of it, too. In fact, they taste and look just like regular gummy bears, so be careful where you put them so that others don't eat these thinking they're candy. (Not that it'll hurt them, but it's a pretty costly treat!)
The suggested serving size is one gummy, but it recommends you take one to two gummies as needed. That's great news because it means you can create a baseline of one daily, but if you find yourself needing more, then taking more won't hurt you. In fact, you could take even more. With this kind of gummy, we love that you have the freedom to adjust your dosage as you need. (Of course, don't eat a handful at a time – if you need that many, then you should probably talk to your doctor to see if there's a better option for you.)
It has an overall rating on its page of 4.8 stars, earned by over 150 customer reviews. The manufacturer has also provided you the option to "Subscribe and Save" – You can save 30% on your first order, making it right around $20, while every subsequent order will receive 15% off. You can even choose the frequency – from every week to every six months. You get complete control!
Green Garden Gold CBD Gummies Key Features:
15 mg CBD per gummy
24 gummies per package
Four yummy flavors included
Best CBD Gummy for Kids: CBDfx Gummies
CBDfx Gummies are an excellent option for your child who needs a bit of help calming himself down or to try to control seizures. When your child is struggling, there's nothing you wouldn't do to try to ease that. And though we can't guarantee your little one will have a better life by taking a CBD gummy every day, there are significant numbers to support the chance.
There's no corn syrup, artificial flavors or sweeteners. It even includes only one gram of sugar, and that's harvested from organic cane sugar, so you'll love that your child is getting the best ingredients possible with this organic CBD gummy.
On its website, there are over 750 customer reviews, and it has an overall rating of 4.8 stars. There are plenty of other selling points, but you can't discount the success that those kinds of numbers suggest.
CBDfx Gummies Key Features:
100% vegan
Berry flavored
60 gummies per bottle
Best Budget CBD Gummy: Sunday Scaries CBD Gummies
If you're not sure that CBD will give you the benefits you're hoping for, then it makes sense you don't want to start with a huge investment. The Sunday Scaries CBD Gummies allow you to buy a bag of just ten gummies to give you a chance to try it out. That means you won't have to commit to a month-long experiment.
The CBD will, of course, work better over time as you establish a kind of baseline of CBD in your system; however, the ten gummies will give you an idea of whether or not they can help you. And should you decide these gummies work, you can pick up a bottle of thirty gummies for your next purchase. The smaller bag works great for travel or sharing, as well.
There's plenty to celebrate about these gummies, they do have over 150 customer reviews on their site with an overall rating of 4.4 stars, but you don't want to overlook the cost – you can get these gummies for just $15!
Sunday Scaries CBD Gummies Key Features:
Includes flavors cherry, lime, pineapple, orange, and lemon
10 mg per serving
Proprietary broad spectrum nano hemp extract
Best CBD Gummy for Anxiety: Charlotte's Web CBD Gummies – Calm
If you're struggling with anxiety, and are looking for something to help before resorting to medical intervention, then you should definitely look at Charlotte's Web CBD Gummies – Calm. It utilizes the broad spectrum of hemp in conjunction with known relaxers like lemon balm and L-theanine to create a gummy that's made for your anxious days. With the sense of calm you get, you'll be better able to focus on your tasks throughout the day without the stress weighing you down.
If you find you love the product, you can sign up for an auto-ship, and you'll qualify for "Subscribe and Save" discounts – 10% off every purchase, and your seventh order is free! You'll love the product and love the savings, too.
Nearly 100 customers on the website have given it an overall rating of 4.5 stars, which, we think, is more than enough to suggest you're likely to be well satisfied with your purchase.
Charlotte's Web CBD Gummies – Calm Key Features:
Lemon-lime flavor
10 mg CBD per serving
60 gummies per container
Best CBD Gummy for Sleep: MedTerra CBD Gummies – Sleep Tight
If you're tossing and turning, then you're going to love the MedTerra CBD Gummies – Sleep Tight. Not only will it help you ease into your night's sleep, but the CBD still will give you all the lasting benefits it's known for, as well. That means you may stop waking up each morning with anxiety or the usual aches and pains – how's that for added perks to a supplement?
These gummies are purity tested with 99.6% CBD and certified by the US Hemp Authority. You can take them with or without food; they're 100% THC-free, as well as gluten-free and certified non-GMO. It's also made with organically grown hemp in the USA.
You'll love the potency of each gummy, as well as the natural flavor, but you'll also appreciate that on its website, it has an overall rating of 4.3 stars. That's certainly going to build your confidence in the quality!
MedTerra CBD Gummies – Sleep Tight Key Features:
25 mg per serving
30 gummies per container
Natural strawberry flavoring
Who Should Buy CBD Gummies
There are several health benefits to CBD that you may not know about. Some have had great success with using CBD as a supplement that acts as a home remedy to several ailments. For physical ailments, you'll appreciate the reduction of inflammation throughout your body. Some even appreciate that after an especially grueling workout, soothing sore and overworked muscles. That may result in fewer headaches, fewer flare-ups of arthritis, and for epileptics, there may even be fewer seizures (or the intensity may be lessened). For your less obvious concerns, CBD can also ease anxiety and depression, and promote sleep.
There have been some studies to suggest that CBD can help with ADHD, as well. This may make them a huge help for your children as they struggle to adapt to an academic environment. You'll want to make sure you're not overdosing them, though, so make sure you look for a gummy that the manufacturer has either claimed is meant for children or the dosage is based on weight. Even so, you'll want to check with your pediatrician before starting your child on it – However, several children have seen great improvements on a regular CBD gummy schedule. And the gummies make it all the easier for them to take without complaint.
For other pain relieving supplements, you may want to check out The Best Joint Supplements.
Important Features to Consider
A CBD gummy should have a few important features. Here's what to consider when selecting a CBD oil:
Sugar content. Taking a gummy rather than a pill comes with one huge benefit – taste! Who are we kidding, we take way more vitamins than is probably necessary just because they taste so good! If you're known to consider taste above all else, you'll want to weigh that with the sugar content. After all, you don't want your yummy gummy to help you with your anxiety, sleep, pain, etc., and then give you a dozen cavities! There are sugar-free options, but even still, you'll want to make sure you're brushing and flossing all the more carefully under a regular dose of gummies.
Multivitamin. If you're going to enjoy the sugary goodness of a gummy, then why not get all your daily vitamins in one-fell-swoop? Like we just mentioned, gummy vitamins will frequently increase your daily sugar intake, and the more you take, the more drastic the jump. If you're trying to minimize the sugar that you're ingesting – or just the number of supplements or vitamins you need to take – finding a CBD gummy that also serves as a multivitamin can be a bit help.
Extra help. If you're taking CBD for a specific ailment, you may also benefit from an ingredient that will address your special needs, as well. For example, if it's anxiety, you're trying to tackle, then a CBD gummy that also includes well-known anti-anxiety traits, like lavender, could be beneficial. If you struggle with pain, particularly late at night, then a CBD gummy that contains melatonin to help get you to sleep may help, too. Even if you don't need the extra help for any particular reason, you may love finding a CBD gummy that also gives you a boost to your body's hair and nails with a bit of biotin.
Dosage vs. quantity of package. Just as you should do with any of your vitamin or supplement purchases, when weighing the value, you'll have to consider how many servings there are in each package. In CBD, it's even easier to misconstrue the value based on the overall, big, impressive number of mg in the container. Sure, the bottle or package has 450 mg of CBD – but each serving may only have 5 mg – and you have to eat two or more gummies! Always check to make sure your CBD gummies have your desired potency.
Broad-spectrum CBD. A full-spectrum CBD contains all the cannabinoids that are contained within the cannabis plant. That includes THC, the component that will give a high. For gummies to be sold without regulation, you're looking for a broad spectrum CBD, which includes all the cannabinoids, save the THC. Either broad or full spectrum will be less processed and more effective, as the cannabinoids are already working in conjunction with each other.
Frequently Asked Questions
What are CBD Gummies, and what do they do?
Cannabidiol is more commonly referred to as CBD and occurs naturally in both the marijuana and hemp plant. Only hemp is completely legal n the United States, so most likely, your CBD is sourced from the hemp plant. It's a supplement and not a medicine, so the benefits and side effects aren't universal; however, CBD is often used as a home remedy for anxiety and depression, as well as insomnia. The most dramatic help it's provided, however, may be the effect it has to lessen seizures. CBD inhibits inflammation and other kinds of chronic pain, as well. In gummy form, taking it is as simple as popping the yummy treat as directed by the manufacturer and going about your day.
As a general rule, your CBD gummies won't start giving you the full benefit for six to eight hours after ingesting them. For this reason, you'll very often not take them "as needed" but will see an overall improvement to your life if you take them regularly and allow the CBD to build into your system. Waiting until you're stressed, or in pain won't be to your best benefit. However, the glaring exceptions are the "extras" that often come with your CBD – melatonin and lavender are fast-acting, and you'll see those effects right away. In the instance of a sleep aid, the CBD will have you relaxed when you wake, so win-win.
Does CBD show up on a drug test?
In theory, CBD shouldn't show up on any kind of drug test. However, you'll need to be careful with taking it because it's classified as a supplement and not a medication and, as such, isn't closely regulated. This means that while it's incredibly unlikely, you could, in theory, find a batch that has a higher content of THC. This will most often occur when the CBD is made from the marijuana-based plant rather than hemp. It's also more likely to happen with smaller companies that sell without any kind of oversight. That is, while you may want to support small businesses, we'd recommend against buying homemade CBD products if you're worried about potential drug tests.
Can you get high off CBD?
No, it won't get you "high." Both CBD and THC (tetrahydrocannabinol) occur in cannabis plants, so the confusion between the two is fairly common. However, it's the THC in the cannabis plant that can cause a euphoric state, and the CBD, at most, will have a calming or uplifting effect. – Not a high. CBD pulls even further away from its THC relative by occurring in large doses in hemp, as well as cannabis. Hemp plants have less than 0.3% THC, and with that small percentage, even the pure hemp won't get you high. Hemp is universally legal, while there are strict regulations on marijuana.
Can CBD gummies help with anxiety?
Yes! CBD may very well be a life-saver when it comes to your anxiety. If you're struggling and don't want to resort to medication right away, then you may be able to ease your anxious mind with a bit of daily CBD. The cannabinoids will block your serotonin receptors from other agonists by binding to them. While the cannabinoids are bound to the serotonin receptors, they can potentially block the molecules that are causing both anxiety and depression. This may not be a guaranteed fix, but the potential is definitely there, and several have had great success.
Please note, CBD may not take the place of your prescription medicines, and if you have severe anxiety, you'll definitely need to speak with your doctor regarding medicines and CBD oil.
Other CBD Gummies We Reviewed
We looked at 20 other CBD gummies. Even though they didn't make our 5 best CBD gummies list, they're the best of the rest and each is still a great option for you. The information you'll need to compare each one is included with the listing.
CBD Gummy Multivitamins
CBDfx/ Gummies 300MG- Men's Multi Vitamin
For a formula specialized to address the needs of a male, this CBD gummy will work wonderfully.
Key Features:
Only 1 g sugar
10 mg CBD
60 gummies
Cost: $50
CBDfx/ Gummies 300MG- Women's Multi Vitamin
For a woman who wants the CBD mixed into her everyday multivitamin, this may just be her best bet.
Key Features:
Vegan, non-GMO
60 gummies
10 mg CBD
CBD Gummies Plus
CBDfx CBD Gummies with Biotin for Hair and Nails
If you're looking to promote growth and strength for your hair, nails, and skin, combining biotin with the CBD with these gummies.
Key Features:
10 mg CBD
5000 mcg Biotin
60 gummies
Cost: $50
CBDfx CBD Gummies with Turmeric & Spirulina
You won't wonder if these gummies really have the CBD oil you're looking for with these gummies that look like cannabis.
Key Features:
Includes tumeric and spirulina
Non-GMO, gluten-free, vegan
8 gummies per pack
Cost: $10
CBDfx/ Gummies 300MG- Apple Cider Vinegar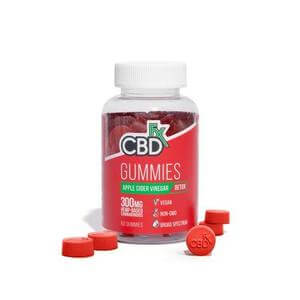 Not only will you get all the benefits of your CBD oil with these gummies, but you'll also get the numerous benefits of apple cider vinegar – but without the bitter taste!
Key Features:
2 gummy serving size
10 mg CBD per serving
60 gummies
Cost: $50
CBDfx/ Gummies 300MG- Sleep Melatonin
Taking these gummies right before bed means you'll get to sleep faster, and the CBD may just stop your late-night panic attacks.
Key Features:
5 mg melatonin per serving
2 gummies per serving
10 mg CBD
Cost: $50
Charlotte's Web/CBD Gummies – Recovery 10 MG
In order to bounce back after a strenuous workout or physical activity, these CBD gummies will help your body shrink inflammation and get you back to normal faster.
Key Features:
Made with tumeric and ginger for recovery
10 mg per serving
60 gummies per container
Cost: $45
Charlotte's Web/CBD Gummies – Sleep 10 MG
If you're looking to sleep with your CBD gummies, this is a hemp-infused gummy that will help you along your way.
Key Features:
Derived from hemp
60 gummies per container
Raspberry flavor
Cost: $45
MedTerra/CBD Gummies – Calm – Tropical Fruit 25 MG
Just as the name suggests, this pack of CBD gummies is designed to ease your anxiety and allow you to keep calm.
Key Features:
Made with L-Theanine for anxiety
25 mg per serving
30 gummies per bag
Cost: $40
MedTerra/CBD Gummies – Stay Alert – Citrus Punch 25 MG
Though some types of CBD can be formulated to make you tired, this one has been created to give you a boost to your energy levels that don't come with the typical caffeine-jitters.
Key Features:
Made with green tea, ginkgo Biloba and guarana for energy
25 mg CBD per serving
30 gummies per bag
Other CBD Gummies
American Shaman/CBD Energy Gourmet Gummies – Lemon – 250 MG
Get more done in your day when you have the energy and calm provided by these CBD gummies.
Key Features:
Includes green tea, vitamin B6, and B12 for energy
25 mg CBD per serving
10 gummies per bag
Cost: $50
American Shaman/CBD Energy Gourmet Gummies Sugarless
If you're looking for a CBD supplement that won't give you loads of sugar and still taste good, try these sugar-free CBD gummies.
Key Features:
Take 1 gummy as needed
25 mg CBD per serving
10 gummies per bag
Cost: $50
American Shaman/CBD Gourmet Gummies
There are so many flavors with this brand of CBD gummies; you're sure to find the right one for you that can turn into your daily treat.
Key Features:
25 mg CBD per serving
1 gummy per serving
8 flavors available
Cost: $50
American Shaman/CBD Gummies – Fruit Flavored – 10 MG
These gummies are an excellent option for an adult wanting to fit a potent dose of CBD in their daily routine.
Key Features:
10 mg CBD per serving
Fruit flavored
30 gummies per bottle
Cost: $60
If you're looking for a CBD gummy and love sour tastes, then this pack of gummies may just be the ticket for you.
Key Features:
10 gummies per bag
2 size options
Derived from Hemp
Cost: $15
Charlotte's Web/CBD Gummies 3 pack bundle – 10 MG
If you're not sure what kind of boost you want to your CBD gummies, then pick this variety pack and try each of the best sellers.
Key Features:
Includes Sleep, Recovery, and Calm gummy packs
180 gummies total
Each has 10mg of CBD per serving
Cost: $110
Joy Organics/CBD Gummies – 10 MG – Green Apple
Even the jar of these gummies are made with your safety in mind – the jar is BPA-free.
Key Features:
30 gummies per bottle
10 mg per serving
Green apple flavor
Cost: $40
Joy Organics/CBD Gummies – 10 MG – Strawberry Lemonade
These premium gummies are an excellent way to introduce CBD to your body in a way that will have your tastebuds dancing.
Key Features:
10 mg per serving
Strawberry lemonade flavor
30 gummies per bottle
Cost: $40
Sunday Scaries/CBD Gummies 1 BOTTLE
Named after the overwhelmed, stressed out feeling that comes before a stressful week, these gummies will help you fight those anxious times with 10 mg of CBD.
Key Features:
20 gummies
10 mg per serving
Only 2g of sugar
Cost: $30
Sunday Scaries/CBD Vegan Gummies 1 BOTTLE 
You'll get the same kind of ease and ability to relax as the original, but this formula is made 100% vegan.
Key Features:
Take 2-3 daily as needed
100% vegan formula
10 mg per serving
Cost: $35