If you're not a fan of how your waistline looks, there are several options at your disposal to help you get the look for which you're hoping. If traditional methods haven't worked or you're looking to maximize your results as quickly as possibly, then you may want to look into a waist trainer. Not only will they be able to help you get the appearance you want, but they'll also help a number of other concerns, as well. If you're lost on where to start, relax. We've done the work for you.
We reviewed dozens of waist trainers to identify the best of the best. We looked at the waist trainers that are perfect for use in the sauna and those that are good for your everyday kind of use. We found corset waist trainers and those that give your back the kind of extra support you need. No matter what type of waist trainer you need, we have the right one for you.
If your goal with the waist trainer is to lose weight and avoid the loose skin that often happens when you experience a dramatic weight loss, then you may want to check out our tips How To Prevent Loose Skin When Losing Weight: 10 Tips On Tightening Skin. For other ways to flatten your stomach, take a look at How to Get a Flat Stomach.
From the beginning of our research we could easily identify the Sports Research Sweet Sweat Premium Waist Trimmer as the obvious choice for the best overall waist trainer. With an adjustable Velcro closure and a grid inner liner, you will get the most out of the compression without worrying about dripping sweat.
[toc]
The 5 Top-Rated Waist Trainers for 2019
*Ratings are from Amazon at the time of publication and can change
Best Overall Waist Trainer: Sports Research Sweet Sweat Premium Waist Trimmer
The Sports Research Sweet Sweat Premium Waist Trimmer is a wrapped belt that will cover your waist from just above your hip bones to just below your pectoral muscles. (For women, it will fit to just under your bra.) It's a simple enough design that you'll easily be able to use it; just wrap it around you and pull it as tight as you feel comfortable doing. The Velcro will secure one side to the other and the sizing options are unlimited, but the manufacturer does caution that if you're unsure which size you should choose, you should size down.
The contoured and flexible neoprene construction will make this a comfortable fit while the double overlook stitching will keep the layers together so it will stand the test of time. In fact, if you're goal is to pull it extra tight, the double Velcro will combine with that stitching to make sure it stays securely fastened to your body without popping open and loosening over time. The nonslip surface on the interior will also make sure that it won't slide up and down while you move.
Nearly 10,000 people have purchased this waist trainer from Amazon and awarded it an overall rating of 4.5 stars. With that kind of rating, it's safe to say purchasing this waist trainer will very likely result in you being one of the 87% of customers who've left positive feedback.
Sports Research Sweet Sweat Premium Waist Trimmer Key Features:
Made with latex-free neoprene
5 sizes available
Double Velcro for extra support
Best Waist Trainer for Women: Nebility Women Waist Trainer
The Nebility Women Waist Trainer has a corset design closure, but that's not all. It also features a zipper that will ensure your corset fasteners stay in place no matter how you twist or turn. Both are conveniently in the front, so you'll easily be able to get in and out of this without any assistance. This is perfect for waist training and for making sure your big night out and that little black dress goes perfectly.
While you're secured in this corset waist trainer, your back will be given ample support and your posture will be forced to perfection, so you won't need to worry about your subconscious slouching. And who knows, maybe while waist training, you'll actually train your spine to default to a more proper position, as well. While the corset will give a big of a push up to your breasts, it does not include a bra, so you can pair this with your best bombshell bra for a big va-va-voom or you can pop on your sports bra for a bit more comfort.
Nearly 8,000 people have purchased this product on Amazon and felt strongly enough to come back and leave a rating. That in and of itself is saying something, but when they've come back to leave an overall rating of 4.3 stars, it's definitely enough to convince us!
Nebility Women Waist Trainer Key Features:
3 corset size adjustments; adjustable straps
7 size options
90% polyester, 10% spandex
Best Budget Waist Trainer: ChongErfei Waist Trainer
The ChongErfei Waist Trainer is a belt style of waist trainer that is a flexible and comfortable design that will let you loosen and tighten the trainer as you continue your day. If you're not new to the waist training practice, that means you can wear this under your clothes all through your work day and tighten and loosen as you go. No one will even know and you'll be able to step into the bathroom for a fast adjustment to allow you to eat comfortably and then tighten up after.
The pierced fabric provides holes that create a breathable trainer that will keep you from sweating so you can wear this in any scenario. For your workout, the four, reinforced bones sewn vertically into the trainer will give you the extra support to make sure your posture stays on point while you do your squats and lifts. You may want to consider removing it for crunches and abdominal workouts, though.
Sure, the fact that around 1,000 people have given this belt an overall rating of 4.2 stars is pretty nice to read, but the real selling point of this belt is that you can probably pick one up for less money than you can buy a pizza! This waist trainer will run you under $15 – a total steal.
ChongErfei Waist Trainer Key Features:
5 sizes available
12 color options
100% latex-free neoprene design
Best Waist Trainer for the Sauna: HOPLYNN Neoprene Sauna Waist Trainer
The HOPLYNN Neoprene Sauna Waist Trainer will secure around your waist as a snug fit based on the zipper closure, so you'll want to make sure you're sizing it appropriately. If you've ever struggled to zip jeans up, you know just how difficult the zipper can be to operate when the article of clothing is too small, but for a waist trainer you may be inclined to do it anyways. Don't do it with this sauna waist trainer. Not only will it be too much for you to comfortably handle in the sauna, it may not be safe, either. And don't worry about when you're not in the sauna; you can tighten it further with the adjustable Velcro strap around the waist.
The two millimeter thick neoprene fabric will make sure you're sweating – up to three times as much, in fact. This will speed up your calorie burning process, and make sure you're getting the most out of your sweat. It's modest enough that you'll be able to easily and comfortably get away with wearing just this vest to even a public, co-ed sauna and won't be showing anything a tank top wouldn't.
For a waist trainer with so much to offer, you probably won't be surprised by the overall rating on Amazon of 4.2 stars, nor with it's popularity: it has earned this rating from over 1,500 customer reviews. Not too shabby!
HOPLYNN Neoprene Sauna Waist Trainer Key Features:
7 color options
2 styles: vest or belt
8 sizes available
Best Waist Trainer for Men: SHAPERX Waist Trainer Belt
We know what it looks like, but the SHAPERX Waist Trainer Belt actually is for men, too. It's difficult to find a waist trainer for men, at first glance, but the truth is, most waist trainers will work for men, as well. This waist trainer, in particular, will work perfectly for a man. You may want to steer clear of the hot pink color, but there are much more manly colors available, as well, if they're more to your liking. The mesh fabric of the trainer means that while you may benefit from the extra sweat wearing this provides, it won't dehydrate you with excessive sweating.
If you're planning on wearing a waist trainer for back support, this one is going to accomplish that beautifully. For recovering from an injury or to make sure you don't cause one while you're pushing yourself at the gym, the heavy-duty canvas material has bones enclosed within, providing ample support for your back and preventing rolling or slipping while you're wearing it. The robust Velcro closure will make sure it stays in place for any activity you choose to wear it during.
With well over 5,000 customer reviews on Amazon, you can definitely feel confident the overall rating is an accurate representation of the product's quality and effectiveness. And that's certainly nice to hear when the overall rating for this waist trainer is a 4.0 stars.
SHAPERX Waist Trainer Belt Key Features:
11 color options
5 sizes available
100% latex construction
Who Should Buy a Waist Trainer
If you want to have an hourglass figure, the chances are, you're going to need something to help; it definitely doesn't come naturally. Even if you can get the weight down (or if you have no weight problems at all!) your body won't give you an unnatural shape and don't forget you have organs in there! However, if you're wanting an extra push to accentuate your natural curves, a waist trainer can do that for you. It won't be permanent, though it can last for a good long while after you've take it off if you're consistent with your training. If you want it for a big night out, you can start training a few weeks prior to make sure your dress really dazzles, or you can just wear the waist trainer under the dress.
If the shape isn't your primary goal so much as just weight loss, the waist trainer can help you with that, too. Not only will the compression and additional layer make you sweat more, causing you to lose water weight and minimize bloating, but you can also expect to have a decrease in your appetite while you're wearing it. Over time, your appetite will reset to a more healthy level and if that's your biggest barrier to success in achieving your target weight, this could be the big win for which you're searching.
If you've lost a lot of weight recently, you may not be as pleased with your body as you thought you'd be. If the reason is because you still have all that extra skin, you may want to look into a waist trainer. It can't make the extra skin disappear, really only time and surgery can help with that, but it can make sure the extra skin isn't appearing through your clothes as if you've lost less weight than you have. Additionally, the waist trainer can have a big affect on your recovery from surgeries – whether it's from a c-section or a burst appendix, those stitches will benefit from a bit of support and the waist trainers can certainly help with that.
Important Features to Consider
A waist trainer should have a few important features. Here's what to consider when selecting a trainer for your waist:
Corset. The corset tends to get a bad rap because it can be uncomfortable, but the counter to that is if it's properly fit it actually won't be too uncomfortable. Most people wear a size too small, wear it too long, or pull it too tightly for their comfort level. If you find you're struggling to breath, it's the wrong fit. You should be able to breath; but you won't have the give in a corset that you can get from the belt or vests. The big selling point of a corset is that they will most often come with bones – or bars of vertical support to prevent the trainer from rolling or slipping out of place. It will mean that your movement will be more restricted than a lot of the other waist trainer styles, but for the short-term, big night out, there's definitely something to be said for having that much-coveted hourglass figure.

Sauna Vest. If your intention with the waist trainer is to lose a bit of the bloating you can't seem to get off, then a trip to the sauna with it on may do the trick. (Always adhere to the time limitations, but that's especially important when you have the sweat-vest type of waist trainer on. Because the tight compression on your stomach promotes sweating, you'll already be sweating more than normal, even without the sauna, so you won't need to use this type of waist trainer exclusively in the sauna, but those that are designed especially for it are going to have more sweat resilient features, like a nonslip lining and a material that does not breath. After all, the intention is to sweat; anything to get more of that excess water weight off will help with that goal. This is particularly helpful for fast results you can see – Water weight isn't something you can completely avoid or get rid of, but if you want to shed a bit for a big night out, then this could help. (Again, word of caution to be safe and not dehydrate.)

Recovery Trainers. If you've ever sneezed shortly after an operation on your abdomen, then you probably already know what it feels like to worry that your organs are going to pop out of your recovering wound. Generally, the stitches are more robust than that, but the support that you can get from a waist trainer during your healing weeks will make you feel a bit more secure while also minimizing the pain of coughing, sneezing, going to the bathroom, or even just walking. Don't pull it too tightly, though: this isn't the time to "train" your waist, but rather to offer a bit of extra support. If you have an adjustable waist trainer, you can use it for the training after you've fully recovered.

Supportive Waist Trainers. While thinking of the ways a waist trainer can support your body, consider what it could do for your bad back.

A waist trainer will often offer a wonderful side effect of improving your posture. Forcing yourself to stand and sit straight will take off so much pressure, just wearing the trainer for a few hours a day may ease some of your pain. In addition to that bonus, the tight strapped-in feeling will provide your back substantial support, as well. It's not, strictly speaking, the same as a weightlifting belt, but it will offer

some

of the same support. If you're interested in good posture and a bit of support for your not-so-strenuous workout, this could be the answer for you.

Weight Loss. You won't likely see huge numbers in terms of weight loss, but if you're struggling with a plateau or those last few pounds, a waist trainer may be the extra push your body needs. The act of wearing the waist trainer alone will make you sweat, losing excess water weight, and it will likely curb your appetite while wearing it. If those two things are big struggles for you, the waist trainer could give you the results you want; just make sure you're being realistic on your goals. You won't lose 20 pounds by wearing a waist trainer and changing no other habits.
Semi-Permanent Effects. The term "waist trainer" can be a bit deceiving. You will be "training" your waist, in a matter of speaking but for a more "permanent" result, you'll actually be "training" yourself to eat less. If you struggle with overeating the use of the the waist trainer will curb your appetite and reset your "appetite thermostat" so that you need less food to feel full. If you're training it to look as if it's an hourglass, the effect will likely be temporary. Humans aren't meant to look like the traditional Barbie; even with no excess body fat, your organs still have to reside in your body and if you actually succeed in maintaining the hourglass shape after you remove the waist trainer, it likely won't be for long; your organs will reset their location. If you wear the waist trainer so much that they don't reset location, that's a bad thing and can cause all kinds of health problems.
Frequently Asked Questions
What is a waist trainer and how does it work?
A waist trainer is a wrap, band, or tank that you'll wear around your waist that will tighten and "train" your stomach to keep that shape. It uses compression to achieve a more preferable appearance for you. It will train your stomach similarly (but less drastically) as the way bound feet are "trained" to not grow. As we said, it is less drastic, so there is less risk and rather than constant use like feet binding, a waist trainer will be used for shorter, safe periods of time. You can chose what width you prefer and tighten it according to the occasion and your comfort level. You can cinch your waist in tightly for an hourglass figure or keep it snug but breathable to offer your back or stomach support while you recover from an injury. The waist trainer will smooth out any extra curves while you're wearing it and that compression may just hold for a while after you take it off, too.
The waist trainer will also help you sweat and limit your appetite, so you'll likely lose a few pounds along with the training of your body to your desired shape. If your results are coming from water weight, that's probably a temporary result, but the appetite control is a more permanent one.
Do waist trainers help you lose weight?
If you're looking for a quick fix, we're sorry to say the waist trainer is not magic. (We really do wish it were.) It absolutely will help you lose a few pounds, but it is best used in conjunction with a healthy diet and regular exercise. Your biggest results will come from those methods. However, if you want to sweat a bit extra, a waist trainer can help you do that. It will also help your posture and make you appear thinner. Probably the biggest result you'll get from the waist trainer for weight loss is the effect it has on your appetite. If your stomach is compressed, it won't be desperate for food and if you struggle with overeating or an over active appetite, the waist trainer can have big results in that capacity. Over time, the bigger appetite will shrink and you may see yourself eating a more healthy amount even without the trainer on.
How long does it take for a waist trainer to work?
Depending on what you want the waist trainer to do, the results could very well be immediate. If you're interested in a waist trainer to make your waist smaller and your figure to more resemble the hourglass, then as soon as you slip it on, it's doing its job. If you want those effects even after you take it off, that's another matter entirely. If you're combining it with a healthy diet and workout regiment, then you'll see results faster; otherwise you can expect the full result potential after about 7 days. The results won't be permanent, but they'll last for a while after you remove it. So, for example, if you just want to look your absolutely best in your bathing suit for vacation, then you can waist train for a week or so before you leave and won't need to continue on the first few days of your vacation to keep seeing the results. The longer you train, the longer the results will last but keep in mind the healthy shape that your body is supposed to have and don't get too overzealous; you can make your waist training dangerous.
Is waist training dangerous?
The intention of a waist trainer is not to be dangerous, but to ensure that, you need to make sure you're using it properly. There are some that are more difficult to wear safely for extended periods of time, but there should always be a warning or instructions on these trainers to make sure you're being safe. A sauna belt will keep you compressed and is meant to maximize your sweating for the period of your sauna time. Adhere to the maximum time allotted for you to safely be within the sauna for how long you wear the vest, as well. (Bear in mind travel times if you're not comfortable changing or removing the vest in a locker room, as well.) The vests that more resemble belts will be less dangerous for extended use and some will even allow for overnight use. (You'll probably have to work up to that, though!) Most waist trainers will recommend no more than six hours of use. For beginners, wearing them for just a few hours at a time is safest. If your waist trainer is meant for use during workouts, then only wear it for the duration of your workout and remove it (or at least loosen it) if you being to feel the slightest bit discomforted.
Believe it or not, that's the good news. We feel ethically obligated to tell you the worst possibility, as well. If you do not use your waist trainer properly, you run the risk of permanently damaging yourself. There's a reason those women in the 1800's were always fainting. A waist trainer too tightly bound can make it difficult to breath, dehydrate you due to over sweating, and even rearrange your organs. We always recommend adhering to a product's instructions, but when it comes to moving around your lungs it's next level importance.
Other Waist Trainers We Reviewed
We looked at 20 other waist trainers. Even though they didn't make our 5 best waist trainer list, they're the best of the rest and each is still a great option for your waist. The information you'll need to compare each one is included with the listing.
Belt Waist Trainers
Corset Waist Trainers
Waist Trainers for the Sauna
Belt Waist Trainers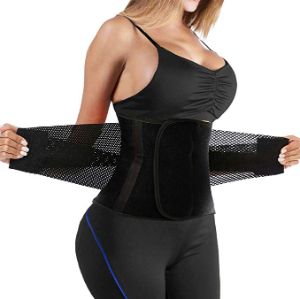 This is a unisex style belt that you can pull as tightly as you feel comfortable and will give you boned support.
Key Features:
Made with latex-free neoprene
4 flexible acrylic bones
5 sizes available
Cost: $15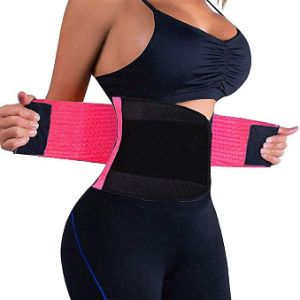 This belt is wide enough to cover your entire torso, making the effect a more widespread one and this belt one that works as unisex.
Key Features:
Made with 100% latex-free neoprene
5 sizes available
10 color options
Cost: $15
Hot Shapers Hot Belt Waist Cincher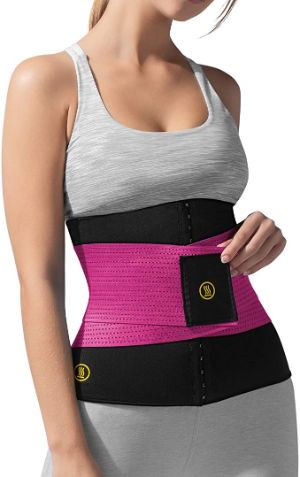 Designed with a woman in mind, this manufacturer claims to be the perfect solution to a woman who wants that extra push to your ideal size.
Key Features:
4 color options
7 sizes available
60-day warranty
Cost: $60
Mermaid's Mystery Waist Trimmer Trainer Belt
This waist trainer includes a breathable fabric that will make it more comfortable for extended use.
Key Features:
100% latex-free neoprene
3 sizes available
Unisex
Cost: $25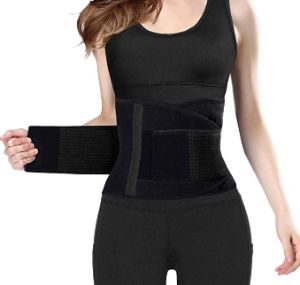 With a flex boning within this waist trainer, you'll have maximum support to maintain a healthy posture all through your day.
Key Features:
100% latex-free neoprene
7 color options
6 sizes available
Cost: $10
Sports Research Sweet Sweat Premium Waist Trimmer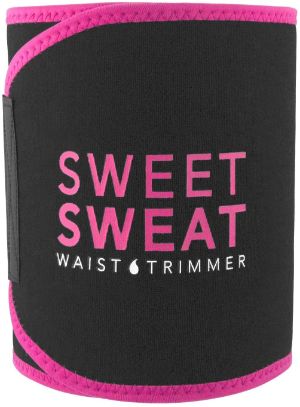 This simple design will let you wear it without any instructions needed; wrap, Velcro, and you're set!
Key Features:
Latex-free neoprene construction
5 sizes available
Note: Sizes run large, size down
Cost: $20
VENUZOR Waist Trainer Belt for Women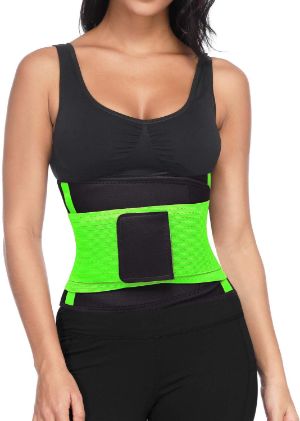 Secure this waist training belt in place easily with Velcro that works for any size imaginable.
Key Features:
5 sizes available
13 color options
Neoprene and polyester design
Cost: $15
YIANNA Waist Trainer Slimming Body Shaper Belt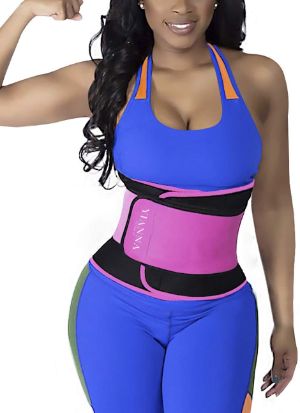 The manufacturer of this waist trainer likes to refer to it as the "waist eraser" and with the 12 flexible bones contained within, that's no surprise.
Key Features:
4 size options
6 colors available
100% Latex-Free neoprene construction
Cost: $25
Corset Waist Trainers
Ann Darling Women's Fajas Colombiana Latex Sport Waist Trainer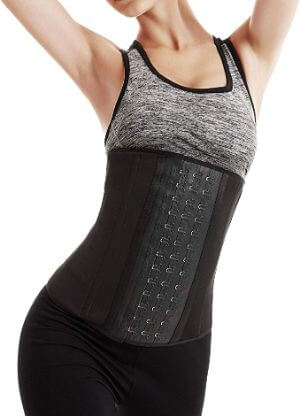 This corset will easily fasten in the front making it ultra easy to put on by yourself, giving you your absolute independence while dressing with it.
Key Features:
7 sizes available
7 color options
96% cotton, 4% spandex
Cost: $25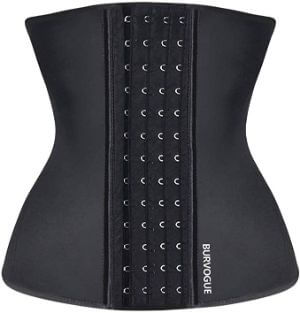 With four eye hooks, you'll be able to adjust to your size, as you lose weight.
Key Features:
2 color options
8 size options
100% synthetic latex
Cost: $30
HOPLYNN Neoprene Sweat Waist Trainer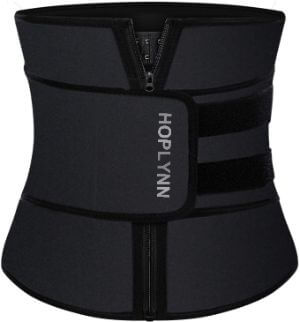 Give yourself the ultimate cinching with corset eye hooks, zipper securing, and a further adjustable belt.
Key Features:
3 colors available
2 mm thick neoprene design
6 size options
Cost: $20
LadySlim by NuvoFit Lady Slim Fajas Colombiana Latex Waist Trainer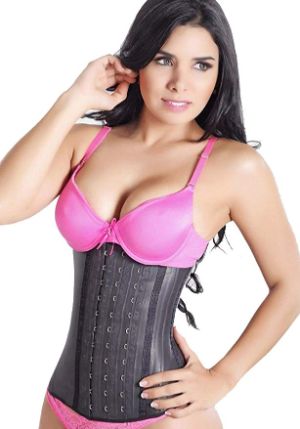 This corset will give you the hourglass figure you want for the big night and little dress.
Key Features:
8 sizes available
5 color and style choices
Latex construction
Cost: $30
SHAPERX Women's Heavy Duty Waist Trainer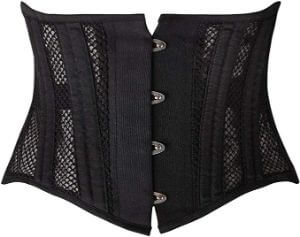 You can wear this corset under your clothing to train your waist, or use it on top of it for an epic period dress.
Key Features:
6 color and style choices
7 sizes available
26 steel double bones
Cost: $40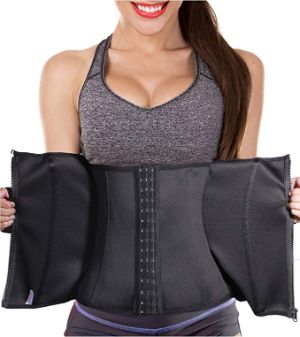 Above the three adjustable eye hooks, you'll zip closed the additional fastener to make sure the hooks are secure, no matter how you twist or turn.
Key Features:
7 sizes available
2 color choices
Money back guarantee
Cost: $15
YIANNA Women's Underbust Latex Sport Girdle Waist Trainer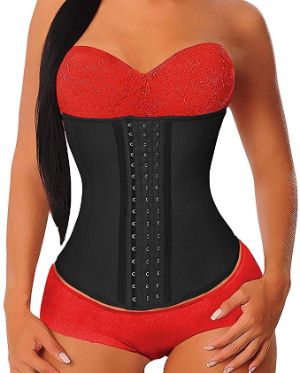 Three adjustable eye hooks will allow you to wear this corset tightly or loosely depending on your comfort level and the occasion.
Key Features:
100% latex
14 color choices
10 sizes available
Cost: $25
Waist Trainers for the Sauna
Eleady Best Neoprene Waist Trainer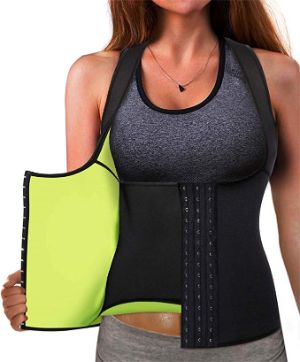 This sauna vest waist trainer will slip on like a shirt and fit under your bust, then tighten even further for optimal compression with the eye hook closures.
Key Features:
6 sizes available
4 hook adjustments
Made with absorbent neoprene
Cost: $20
GAODI Women Waist Trainer Vest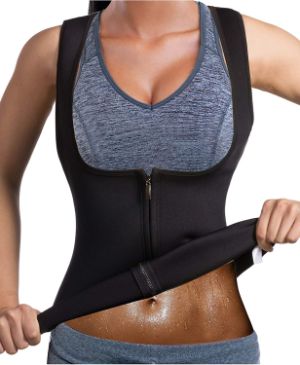 The neoprene fabric will absorb your sweat, making you feel just that tiniest bit more fresh and keep you cooler when the hot sauna is sweating you out.
Key Features:
2 color options
6 sizes available
Zipper closure
Cost: $20
Rolewpy Women Waist Trainer Corset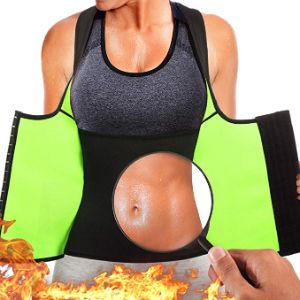 This sweat vest fits under the bust and closes with an adjustable eye hook fastener.
Key Features:
6 sizes available
4 eye hook adjustments
3-layer neoprene
Cost: $20
Rolewpy Women Sweat Neoprene Waist Trainer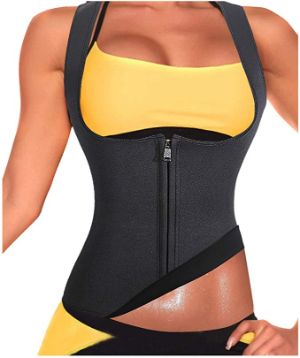 In this listing you'll be able to chose between a zipper closure or no closure, allowing you to trust your sizing to be just right or chose the easier zipper for getting in and out of your sauna vest.
Key Features:
2 color options
2 closure choices
6 sizes available
Cost: $15
SlimmKISS Neoprene Body Shaper with Adjustable Waist Trimmer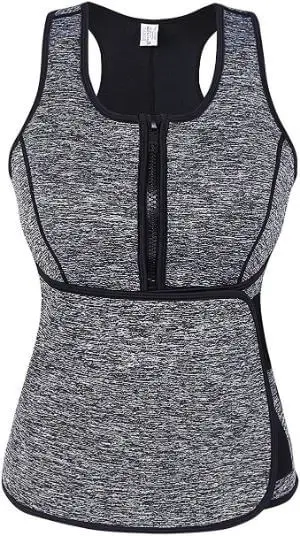 The top of this vest will zip close and the waist is cinched with a Velcro belt to make sure your breathing isn't impacted by your snug waist trainer.
Key Features:
8 colors available
Hidden interior pocket
7 size options
Cost: $25