Whether you're an aspiring boxer, martial artist, kickboxer, or just looking to burn off some calories with a high-contact, full-body training session, the punching bag is a fantastic addition to any home workout kit. Not only can this simple piece of equipment be used to get in a thorough cardiovascular workout and build muscle tone and strength, it also provides a great way to let off some steam at the end of the day. But punchbags aren't a one-size-fits-all kinda apparatus, and the quality between different models can vary vastly. To help make sure you find the best one for your needs, in this article we'll introduce you to the top 25 punching bags out there.
We reviewed dozens of punching bags to identify the best of the best. We examined a range of factors, including type, size, surface material, fills materials, stability, weight, cost, and average customer reviews. All of these punching bags are available on Amazon.com.
Having considered a large number of punching bags, we chose the Dripex Freestanding Punching Bag as our top pick. This outstandingly well-made bag is suitable for users training in a wide range of disciplines and its freestanding design makes it a very convenient option that can be easily shifted from one room to another when need be.
[toc]
The 5 Top-Rated Punching Bags
*Ratings are from Amazon at the time of publication and can change
Best Punching Bag Overall: Dripex Freestanding Punching Bag
The punching bag that wins our vote as the best of the bunch is the Dripex Freestanding Punching Bag.
This outstandingly well-made bag is the ideal choice for a wide variety of sports, including karate, boxing, kickboxing, Muay Thai, and just about any other martial arts discipline. It's made with a superbly robust, durable 2 mm PU leather striking surface that boasts impressive tear resistance and is built to withstand the onslaught of even the most powerful blows over many years of use. This surface is backed up by high-density EPE foam that absorbs shock and reduces strain on your joints and muscles as well as an eco-friendly fabric buffer that gives each punch or kicks a little more "feel." This bag doesn't come with a fill included, allowing you to choose the best material—and weight—for your needs and goals.
What we love most about this punching bag is the thought that's gone into the design. It uses a rounded ABS base tank that makes it very easy to roll from one room to another and 12 strong suction cups to keep it firmly in place while you're doing your workouts. It also features dual TPU absorbers and springs that combine to provide excellent shock absorption and virtually eliminate the noisy squeaks that can make training with lesser models virtually unbearable (for you and your neighbors!) just a few minutes into a session.
This bag stands 69 inches (175 cm) tall, making it perfectly well suited to all but the tallest of adults, and the base diameter is a mere 20 inches, which means it takes up very little space and can easily be shifted into the corner of a room or office post-workout.
Dripex Freestanding Punching Bag Key Features:
Freestanding design
Easy to transport
Can be filled with water or sand
Dual TPU shock-absorbers reduce muscle and joint strain
Multi-layer surface material
Stable base attaches to floor with 12 suction cups
Best Hanging Punching Bag: Aqua Training Bag 120-Pound Bag
The Aqua Training Bag 120-Pound Bag is a great choice for buyers who are training for traditional boxing or want to build their upper body strength while getting in their cardio workouts.
This teardrop-shaped bag measures in at just 18 inches in diameter and weighs a mere 12 pounds prior to filling, meaning it's very easy to install and shift around from one location to another. It's also made with commercial-grade vinyl that provides a very authentic feel, outstanding durability, and is entirely leak-proof, and can be filled up to a weight of 120 pounds for power-intensive workouts or only partially for smaller users and speed training. This versatility makes the bag ideal for families, couples, or for users who plan on switching between different training styles, i.e. those that place more of an emphasis on either speed or power.
Finally, because this bag is water-filled, it absorbs the energy you put into every punch and kick and, therefore, goes a little easier on your joints and muscles than bags filled with sand. This not only means that you'll be able to workout for longer and harder before stopping due to aches and pains in your hands, arms, and shoulders, but also that there's less risk of developing any long-term injuries in the same areas.
Aqua Training Bag 120-Pound Bag Key Features:
Water-filled bag
Made in the USA
Made with commercial-grade vinyl
2-year warranty
Weighs 120 lbs when filled with water
Hanging kit not included
Best Budget Punching Bag: Flexzion Heavy Punching Bag
The Flexzion Heavy Punching Bag is the ideal pick for buyers who want the old-school, no-nonsense practicality of a traditional boxing heavy bag.
This pro-quality, heavy-duty punching bag is made with incredibly robust, durable canvas materials that offer far more in the way of longevity than most canvas bags and is built to withstand even the heftiest of blows from the most powerful of users. While it doesn't come with a fill, the bag can be easily filled up with the material of your choosing, whether that be something lighter like cotton or plastic bags or something heavier and more suitable for power-intense workouts like old clothing or a combo of shredded cloth and sand. If opting for the latter, you can fill the bag up to a mighty 110 pounds, which should be more than enough for even the most powerful users and will allow you to throw the hardest punches and kicks you're capable of without having to hold back.
Measuring an impressive 71 inches long by 14.2 inches in diameter, this bag is ideal for both taller and shorter users and suitable for both the low kicks used in Muay Thai and other martial arts and the hooks, uppercuts, and jabs used in traditional boxing. Unlike many heavy bags, moreover, the Flexzion comes with a 360-degree rotating chain and swivel for installation, meaning all you need to get started are a pair of gloves and a sturdy ceiling joist to hang it from.
The bottom line? A very reasonably priced, high-quality heavy bag that's built to last a lifetime and is suitable for a wide variety of training styles.
Flexzion Heavy Punching Bag Key Features: 
Measures 71 inches long by 14.2 inches in diameter
Heavy-duty canvas materials
Hanging chain and swivel included
Fill material not included
Ideal for MMA and boxing training
Best Freestanding Punching Bag: Ringside Elite Freestanding Heavy Bag
The Ringside Elite Freestanding Heavy Bag is a great choice of punching bag for buyers who don't have the option of using a ceiling beam to mount their bag from and want the flexibility of being able to move their bag around their home.
This bag uses a highly durable synthetic leather shell filled with shock-absorbing foam that reduces the forceful impact of kicks and punches, making it a safer best than many competitors for the long-term health of your hands, wrists, shoulders, and legs. It also comes with a very handy foam collar that provides protection for low kicks and can be added or removed to customize your workout. When added, the collar increases resistance in the upper section of the bag, thereby optimizing the setup for power-based workouts with uppercuts, kicks, and hooks. When removed, the spring in the base of the shaft recoils more quickly, making it ideal for speed and reaction training.
The bag is supported by a very sturdy, stable plastic base tank that can be filled with up to 270 pounds of sand or water, which makes it able to withstand even the kind of power that pros put into the punches without falling over. In addition to its quality build, what we love most about this bag is the ease with which it can be relocated. By simply emptying the base tank, it can be shifted easily by even one person from your bedroom or workout space to your garden and back again.
All in all, a very practical, convenient, and hard-wearing option that's ideal for users of all levels and training for just about any discipline.
Ringside Elite Freestanding Heavy Bag Key Features: 
Synthetic leather surface material
Shock-absorbing foam fill
Added base pad for protection when kicking
Base tank can be filled with up to 270 lbs of sand or water for added stability
32-inch base diameter; 72-inch height; 18-inch striking surface diameter
Best Speed Punching Bag: Hicient Reflex Speed Bag
If your workouts are more about speed, eye-hand coordination, and endurance than they are power, the Hicient Reflex Speed Bag could well be the punching bag for you.
This freestanding, water-filled speed bag can hold up to 66 pounds and is supported by a sturdy, superbly stable plastic base that connects to the teardrop-shaped bag via a spring-loaded, stainless steel pole. The bag itself is made with leak-proof, robust, and highly durable PU (polyurethane), foam, and faux leather providing a hard-wearing but supple striking surface that, together with the spring-loaded base, absorbs most of the shock from each punch or kick and reduces impact strain on your muscles and joints.
One highly endearing feature found in this bag that's not a given in competitor models is its adjustable height setting, which allows you to choose one of four heights to suit your workout and alternate easily between kicks and punches or uppercuts and jabs.
Finally, this bag also measures just 19 inches at the base by 53.5 inches in height, making it very easy to move around your home and one of the most convenient options out there for buyers who are short on space.
Hicient Reflex Bag Speed Key Features: 
Adjustable height settings (from 53.5 to 61 inches)
Water-filled bag
Sturdy base
Bag holds up to 66 pounds of water
Spring-loaded stand
Who Should Buy a Punching Bag
Even if you're not a boxer, kickboxer, karate enthusiast, or don't take part in any other sport or martial art that can be practiced with a punching bag, there are plenty of reasons why owning a punching bag can be beneficial. First up, training with a punching bag provides an outstanding cardiovascular workout whilst also toning all of your major and minor muscle groups, making it one of the best full-body workouts there is. Secondly, working out with a punching bag can seriously improve your self-defense abilities—you might not become Rocky or Jason Bourne overnight, granted, but given just a few weeks of training you'll start to notice muscle gains in both your upper and lower body, fat loss, and also gain confidence in knowing that if you ever have to throw a punch in self-defense, you'll be able to do so effectively. Thirdly, because most punch bags are built to last, your purchase should be a one-time acquisition, meaning you'll still be able to use your bag years down the line, even if you venture into other sports in the meantime and only end up using it once in a while. Finally, training with a punching bag is a great stress reliever —and a far more suitable and practical way to offload any built-up angst, anger, or stress than on your walls/boss/laptop!
Important Features to Consider
Punching bags should do several things well. Here's what to consider when selecting a punching bag for your workouts:
Type. The six main types of punching bags include heavy bags, freestanding bags, speed bags, double-end bags, uppercut bags, and wall bags.

Heavy bags are large, heavy-duty punching bags that are generally hung from the ceiling with a chain or rope and are designed to withstand powerful impacts from both punches and kicks. Heavy bags come in a wide variety of shapes and sizes and can weigh anything from 25 to 200 pounds. These bags are ideal for boxing, kickboxing, Muay Thai, and karate.
Free-standing bags, as the name suggests, are not hung from a ceiling but instead are mounted on a heavy base that can be moved freely from one position or room to another. As such, these are a great choice for buyers who don't have an exposed ceiling joist to hang a heavy bag from or who would prefer more flexibility as regards where they do their workouts. Because freestanding bags rise from the floor, they are a good option for sports or disciplines—Muay Thai and karate—that require low kicks.
Speed bags are, as their name implies, designed to help fighters train with shorter, quicker punches and are a good way to develop upper body strength, endurance, timing, and hand-eye coordination. Speed bags are typically much smaller than other types of punching bag and are usually filled with air. They can either be hung from a ceiling, suspended to a wall using a bracket, or use a weighted, freestanding platform.
Double-end bags are designed to offer most of the benefits derived from training with speed bags, including sharper reflexes, better hand-eye coordination, and speedy reactions. These bags can be mounted to a ceiling or wall and come in a wide variety of sizes and weights. Unlike standard speed bags, they attach to both the floor and the ceiling, meaning installation can be tricky unless you have a dedicated workout space.
Uppercut bags are designed specifically for uppercut training. While most can also be used for other types of punches, they are not a good option if you plan on training with kicks and are generally only recommended for users who are training for traditional boxing.
Wall punching bags are a good option for buyers who want to reduce the amount of space their workout equipment takes up in their home. Unlike heavy bags, speed bags, double-end bags, and uppercut bags, wall punching bags can be mounted directly to a wall at the desired height and are a good option if mounting a bag to your ceiling isn't an option. On the downside, these bags are static, i.e. they do not rebound when punched or kicked.

Size and weight. Punching bags come in a wide variety of sizes and weights, ranging from lightweight, low-volume speed bags to 200-pound, 6-foot-tall and 2-foot-wide heavy bags. If looking for a heavy bag, freestanding bag, or uppercut bag, as a general rule, you should aim to buy a bag that is roughly half your weight, i.e. that weights 100 pounds if you weigh 200 pounds.
Surface material. The materials most commonly used in punching bags are leather, canvas, vinyl, nylon, and different types of plastic. Because the most important attribute to look for in the surface material of any punching bag is durability, leather is undoubtedly the best option. That said, leather bags can be pricey and can be prone to mold if your workout are is particularly humid. The least durable material is canvas, which is sometimes prone to splitting or bursting over time but is nevertheless a decent low-cost option for low-frequency, low-intensity workouts, particularly if your punch strength isn't particularly high. Vinyl, nylon, and plastic bags offer a happy medium between the two, boasting decent durability and resistance to mold, and usually cost much less than bags made with leather.
Fill material. The most common fill materials used in punching bags are sand, water, textiles, and air (in the case of speed bags and some double-ended bags). The fill used in your punching bag will largely determine the feel of the bag when punching or kicking it and, naturally, also has a significant bearing on weight, firmness, and cost. Sand-filled bags are a good option for heavy bags, offering a very even, firm hitting surface with no real downsides barring the difficulty entailed in shifting the bag from A to B during installation on account of its weight. Water-filled bags offer a little more "give" than sand-filled bags and, as such, are usually considered a safer option owing to the reduced strain on joints and muscles. Water-filled bags are also easy to install and usually very reliable as regards resistance to bursts and leaks. Air is most commonly used in speed bags and double-end bags. These bags are usually cheaper and much easier to transport than bags filled with textiles, water, or sand. The only downside to air-filled bags is that they usually need to be pumped up frequently due to deflation. Textile punching bags are a good option if you are concerned about impact strain caused to your muscles and joints by heavier materials like sand and water. The materials used in textile-filled bags provide a relatively lightweight and softer hitting surface that offers a lot more "give" than sand, water, and even air.
Frequently Asked Questions
Are freestanding punching bags good?
In most cases, freestanding bags are easier to kick but don't provide quite the same resistance as hanging bags for punches, particularly in the case of uppercuts. They are, however, usually a much more convenient option because they can be moved around easily and don't need to be fixed to your ceiling, which can be a fairly expensive and time-consuming job. As with hanging punching bags, workouts with freestanding punching bags are a great way to develop muscle tone.
Does using a punching bag provide a good workout?
Workouts with punching bags provide a toning, aerobic full-body workout—particularly if you integrate kicks into the workout in addition to punches—and are a great, low-cost way to build strength and enhance power. All of the muscles in the arms, chest, shoulders, back, legs, and core are engaged in punching bag workouts and you can expect to burn between 350 and 550 calories per hour, depending on your body weight.
Is it easy to hang a punching bag from my ceiling?
The best and safest way to hang a punching bag at home is to chain it over a ceiling joist—one of the large horizontal beams that support the ceiling. Hanging your punching bag is not difficult if the joist is already exposed, but if you have to remove drywall or paneling to reach the beam then hanging your punching bag then it's well worth thinking about the aesthetic implications before doing so.
Can I kick a punching bag?
Kicking a punching bag can elevate your punching bag workouts from an upper-body-focused workout to a full-body workout. Adding kicks into your training sessions not only benefits your legs, glutes, abdominals, and lower back muscles, but also makes the workout far more aerobic in nature due to the added exertion required for each kick.
Looking for at-home workout equipment? If so, check out our guides to the Best Plyo Boxes and the Best Rowing Machines.
Other Punching Bags We Reviewed
We looked at 20 other punching bags. Even though they didn't make our 5 best punching bags list, they're the best of the rest and each is still a great option for your workouts. The information you'll need to compare each one is included with the listing.
Budget Punching Bags
This very reasonably priced bag is made with a combination of robust canvas cloth and durable PU and comes with a hanging chain that lets you mount it easily to your ceiling or a wall frame.
Key Features:
Canvas and PU materials
Hanging chain included
Unfilled (can be filled with sand, old clothes, cotton, or even plastic bags)
Sponge lining absorbs impact
Cost: $32.99
TOCO FREIDO Double End Punching Ball
This double-ended, ball-shaped bag is made with highly durable, double-stitched PU materials and comes with everything you need to get your reflex and speed training sessions underway. Ideal for improving accuracy, reaction time, agility, and endurance.
Key Features:
PU striking surface
Air-filled bag
Lifetime guarantee
Pump, reflex balls, elasticated ropes, and attachment carabiners included
Cost: $30.99
This reflex training speed bag features a soft sponge PVC leather striking surface and six suction pads in the weighted base for added stability. Measuring just 17 inches at the base and 9.5 inches in diameter at the top, this is a good choice for apartment owners or anyone else short on workout space.
Key Features:
Adjusts from 42.5 to 60 inches
PVC leather striking surface backed by soft sponge
Gloves and pump included
Cost: $51.99
This lightweight speed bag is made with genuine cowhide leather that is lined with 4 layers of poly-cotton for added impact absorbency and comes with a superbly sturdy, double-lined hanging strap and riveted attachment ring for easy mounting.
Key Features:
Made with genuine cowhide leather
Poly-cotton lining
Hanging straps and mounting bracket/ring included
Cost: $39.99
888Warehouse Full Heavy Boxing Punching Bag
This simple, unfilled bag comes with a full complement of everything needed to mount the bag to your ceiling and start your boxing, Muay Thai, or karate training. While not quite as rugged or robust as some of the more expensive heavy bags in our review, this kit's ideal for less frequent users or enthusiasts who aren't packing pro-like power into their kicks and punches.
Key Features:
Heavy duty canvas punching bag
Chain, hanging hooks, gloves, and hand wraps included
Can hold up to 80 kg
Freestanding Punching Bags
Everlast Powercore Punching Bag
The Everlast brand has become virtually synonymous with quality boxing products since founded back in 1910 and the Powercore Punching Bag carries this longstanding tradition into the freestanding format. This intelligently designed bag features a power transfer ring that absorbs impact and an air-foam chamber that gives it a far more realistic feel than most of its competitors and uses a far larger base than most of its competitors, meaning you can throw everything you've got at it without having to worry about it toppling over or shifting around your workout area.
Key Features:
Base can be filled with water or up to 370 pounds of sand
Air-foam inner chamber provides realistic feel
Power transfer ring absorbs impact and reduces base movement
Cost: $169.99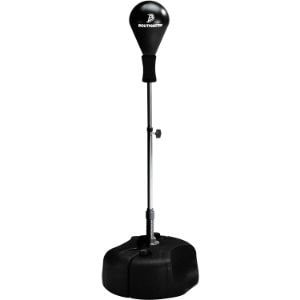 This incredibly well-made freestanding bag is made with EVA foam for superior shock absorbency and uses a spring-loaded, adjustable shaft and heavy duty base that can be filled with up to 100 pounds of sand for added stability.
Key Features:
Solid EVA foam punching ball
Spring-mounted base
Adjustable from 49 inches to 63 inches
Freestanding base can be filled with 66lbs of water or 100lbs sand for stability
Cost: $150
NUBARKO Freestanding Punching Bag
This very stable freestanding punching bag uses a rounded ABS base tank that is engineered for easy roll relocation after you've landed your punches and kicks and features a multi-layer striking surface with thickened PU leather, high-density EPE foam, and an eco-friendly fabric buffer.
Key Features:
175 cm tall
Teat-resistant, PU leather striking surface
Base can be filled with sand or water
Multi-layer surface material for added shock absorbency
Cost: $159.99
This bag's a great pick for novice boxers or fitness enthusiasts who want to get a great workout while developing accuracy, timing, and upper-body strength. The durable, synthetic leather punching bag mimics the movement of a real opponent thanks to a fast-reacting chrome spring and the sturdy base tank can be filled with up to 240 pounds of sand, which is more than enough to keep the bag in place throughout even the most hard-hitting workouts.
Key Features:
Height adjusts from 49″ to 69″
Made with durable synthetic leather
Base tank can be filled with up to 125 pounds of water or 240 pounds of sand
Heavy Bag Punching Bags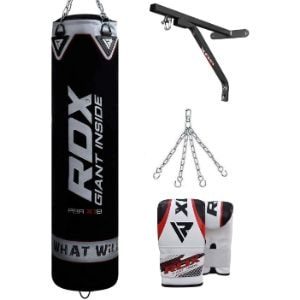 This five-foot bag comes with a wall bracket, hanging chains, and gloves, giving you everything you need to get your workout sessions underway. The bag is made with highly resilient Maya leather and uses gel foam padding to ensure efficient shock absorbency and safe power transmission that protects your hands, arms, and shoulder from injuries.
Key Features:
Wall bracket, hanging chain, and gloves included
Made with durable Maya leather and shock-absorbing gel foam
Wall bracket can hold up to 100 kg
Weighs 20 kg
Cost: $149.99
PROLAST Filled 4FT Boxing MMA Heavy Punching Bag
This gym-grade bag might be pricey but it offers a serious upgrade on all but the very best of its competitors in terms of quality and durability. It's made with a rip-stop exterior, high-quality, 100% cotton shredded fill fabric, and comes with durable hanging straps and heavy-duty, chrome-covered D rings for hanging.
Key Features:
Made in the USA
Weatherproof
Rip-stop shell
Shredded cotton fill
Weighs 85 lbs.
Cost: $199.99
This 40-pound bag is made with robust, highly durable synthetic leather with reinforced webbing and uses a specially blended filler mix of synthetic and natural fibers to provide solid, long-lasting shock absorbency.
Key Features:
Synthetic leather surface material
Synthetic and natural fiberfill
Weighs 40 pounds
Heavy-duty nylon straps and chain included
Cost: $135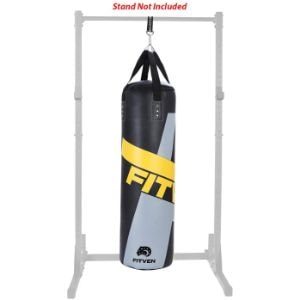 This 50-pound bag is made with rugged, durable synthetic leather and is pre-filled with shredded rags that help to retain the bag's shape and improve shock absorbency in the longer-term and also reduce strain on your muscles and joints.
Key Features:
Weighs 50 pounds
Includes one hook, steel chain, hanging strap, and two snap hooks for hanging
Made with synthetic leather
Cost: $101.99
This three-foot bag can be filled with either air or water and uses MaxxMMA's patented Softstrike technology to simulate the feel of punching or kicking a real human opponent.
Key Features:
Weight adjustable from 70 to 120 lbs.
Inner tube fills with air; outer tube fill with water
Measures 3 feet in height by 13 inches in diameter
Heavy duty synthetic leather shell
Welded, leak-proof PVC bladder
Cost: $98.99
This synthetic leather heavy bag is stuffed with a custom filling of natural and synthetic fibers blended with sifted sand for a homogeneous and more natural feel. It also comes with a pair of genuine leather gloves, hand wraps, and a heavy-duty ceiling hanger.
Key Features:
Weighs 70 lbs.
Gloves, hand wraps, and hanging kit included
Filled with blend of natural and synthetic and sifted sand
Punching Bags for Kids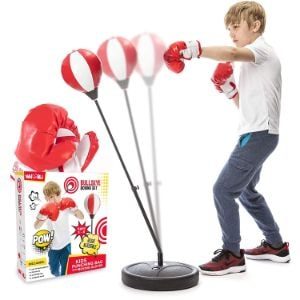 This boxing kit includes an adjustable, air-filled speed bag and a pair of protective boxing gloves and offers the ideal way to get kids aged 3 to 8 working out in the safety of your home.
Key Features:
Suited to kids ages 3-8
Air-filled bag
Freestanding design (adjustable from 33″ to 44″)
Cost: $42.97
UpgradeWith Inflatable Punching Bag for Kids
This lightweight inflatable bag can be assembled and disassembled in next to no time and uses a water-filled base that keeps it in place while your kids get in their workouts.
Key Features:
Made with lightweight, non-toxic PVC
Water-filled base, air-filled bag
Freestanding design
Height: 160 cm
Cost: $38.99
Tech Tools Punching Bag for Kids
This set is very easy to set up and comes with everything you need for your kid's boxing sessions, including an inflatable punching ball speed bag, a durable base, a spring-loaded adjustable shaft, comfortable boxing gloves, and a pump to inflate the boxing ball.
Key Features:
Adjustable from 31 to 42 inches
Suitable for kids aged 4 to 12
Base fills with 15 lbs. of sand or water
Gloves and pump included
Cost: $59.95
Cloudbox Punching Bag for Kids
This simple, lightweight, air-filled speed bag is easy to set up and move around and uses hard-wearing PU material. Adjustable from 31.5 to 47.3 inches in height, this one's ideal for kids aged 4 to 12.
Key Features:
Air-filled bag
Bag made with eco-friendly plastic
Gloves and pump included
Height adjustable from 31.5 to 47.3 inches
Cost: $29.99
This air-filled PVC bag can be filled at the base with sand or water for added stability and uses a soft striking surface that springs back after each blow to test your kid's reaction time and hand-eye coordination.
Key Features:
Suitable for kids over five
Made with heavy-duty PVC
90-day warranty
Cost: $28.98