Chopping, shredding, grinding, making dips—a food processor simplifies a range of common kitchen tasks. If you love cooking but hate all the prep involved, a quality food processor will make your life easier. The question is, which food processor is right for you? Do you need a powerhouse of a food processor that can tackle even the toughest duties, or do you just want a simple model for chopping veggies or making to odd batch of hummus? Whatever your needs, we've got a food processor for you.
We reviewed dozens of food processors to identify the best of the best. To compare models, we considered various important features, such as bowl size, blades and accessories, overall power, setting options, and the opinions of existing users.
After hours of careful research, it was clear that the Breville BFP800XL Sous Chef Food Processor should be our top pick. This hugely powerful food processor can slice, dice, chop, shred, whisk, knead, and more. With two bowl sizes, it can handle tasks large and small.
[toc]
The 5 Top-Rated Food Processors
*Ratings are from Amazon at the time of publication and can change
Our Top Pick: Breville BFP800XL Sous Chef Food Processor
If you're looking for a heavy duty food processor that can take on all kinds of tasks from kneading dough to making your own nut butters, look no further than the Breville BFP800XL Sous Chef Food Processor. The powerful 1,200 watt motor doesn't shy away from heavy tasks, so you don't knead to worry too much about burning it out. It comes with three different blades and five discs (all of which fit into an included storage case) for tackling a wide range of slicing, dicing, chopping, and shredding tasks—this food processor can even neatly julienne vegetables for you.
As we mentioned above, it comes with both large and small bowls. The large bowl has a dry capacity of 16 cups or a wet capacity of 12 cups, which is large enough to cook for a crowd. The small bowl has a 2.5 cup capacity, which is perfect for chopping onions or garlic, mincing herbs, or making small batches or dips or sauces. It has an LCD display with a multi-directional timer, so you can choose between a delayed start and an automatic stop after a set amount of time.
The only real downside to this workhorse of a food processor is the high price tag. Depending on which color option you go for, it will set you back between $350 and $370.
Breville BFP800XL Sous Chef Food Processor Key Features: 
Made with BPA-free plastics
Extra-wide chute with multiple options
Micro-serrated S-Blade for quick and consistent chopping and mixing
Our Runner Up Pick: Robot Coupe Magimix 12-Cup Food Processor
If you're looking for a quality alternative to our top pick with a slightly lower price tag, try the Robot Coupe Magimix 12-Cup Food Processor, which retails for around $300. The 650 watt motor isn't quite as powerful, but it's both quiet and extremely efficient, adapting its power use to the task at hand. That said, it's still powerful enough to make nut butters and knead dough. Cooks who like to make lavish meals with lots of different items to prep will love the fact that this model comes with three bowls, allowing you to process various different foods without needing to empty and clean the bowl in between.
The extra-wide feed chute saves you time as you won't need to pre-chop the majority of vegetables before introducing them. It comes with a range of blades and discs, including "blendermix" blades, which give you a smooth finish when blending liquid-heavy foods, similar to the results you'd get with a blender. All in all, this is an excellent food processor that keen home chefs will love.
Robot Coupe Magimix 12-Cup Food Processor Key Features: 
Comes with app and recipe book
Simple three-button operation
14 and 16 cup models also available
Best Budget Pick: Hamilton Beach 70820 Stack & Snap Food Processor
Not everyone has several hundred dollars to spend on a food processor but that doesn't mean you have to settle for a poor quality model. The Hamilton Beach 70820 Stack & Snap Food Processor might be fairly basic, but it performs well and has a reasonable $100 price tag. If you hate the fiddly process of twisting the bowl in place on a food processor, you'll love the "stack and snap" design. You simply place the bowl on top of the motor housing and pull the metal arm upward to lock it in place.
You can carry out plenty of everyday kitchen tasks with the included stainless steel s-blade, reversible shredding disc, adjustable slicing disc, dough blade, and bowl scraper. The eight cup capacity isn't huge, but will suffice for the majority of uses. With two processing speeds and a pulse setting, you can fine tune the results to get dips and sauces just how you want them. The 450 watt motor might struggle slightly with very heavy tasks, but will have no issues with most day to day uses.
Hamilton Beach 70820 Stack & Snap Food Processor Key Features: 
All parts that food touch are BPA-free
Built-in bowl scraper reduces need for scraping down with a spatula
Comes with storage case for blades and discs
Best Small Food Processor: KitchenAid KFC3516ER 3.5 Cup Mini Food Processor
If you only need a compact food processor, the KitchenAid KFC3516ER 3.5 Cup Mini Food Processor should be high on your list. The 3.5 cup capacity is ideal for day to day use, such as chopping onions, garlic, and other vegetables, and making small to medium batches of sauces and dips. Since it only features blades, not discs, it can't slice and shred, but if you just need to chop and puree, it's an excellent choice. Like most KitchenAid it comes in a wide range of colors (16 to be precise) both bold and neutral, so you can pick one that looks great in your kitchen. It retails around the $35 mark, but the price can vary slightly depending on which color you choose.
It features two speed settings, plus a pulse option, so you can get coarse or smooth results, depending on your requirements. The bowl, lid, and blade are all dishwasher safe, which makes cleanup much easier.
KitchenAid KFC3516ER 3.5 Cup Mini Food Processor Key Features: 
Pour spout for easier serving
BPA-free bowl
Lightweight, compact design
Best Large-Capacity Food Processor: Cuisinart DFP-14BCNY 14-Cup Food Processor
If you have a large family or you regularly cook for a group, then only the largest of food processors will get the job done. Save yourself from the fate of processing multiple batches with the Cuisinart DFP-14BCNY 14-Cup Food Processor. It comes from a respected mid-range brand in the world of food processors and is reasonably priced at around $160 (though some other color options cost a little more). The 720 watt motor is powerful enough to deal with large batch loads, including dough and and nuts.
The extra-large chute fits most fruits and vegetables down whole for even slicing and less pre-chopping. Plus, you get both small and large pushers for dealing with different kinds of foods. The majority of the removable parts are dishwasher safe, meaning cleaning up afterward is easier.
Cuisinart DFP-14BCNY 14-Cup Food Processor Key Features: 
Includes a shredding disc, slicing disc, and chopping blade
Single-touch operation
Spatula included
Who Should Buy a Food Processor
In our opinion, anyone who cooks from scratch regularly should buy a food processor. Food processors can take on some of those tedious prep tasks in just a fraction of the time you could do it by hand, leaving you more time to enjoy meals with your loved ones and simply to relax.
Food processors also slice and shred much more evenly than most amateur cooks can, so your food will be evenly cooked and look neat, too.
Important Features to Consider
A food processor should do several things well. Here's what to consider when selecting a food processor:
Blades and discs. Your food processor should come with a range of blades and discs, each one to perform a different task. Standard stainless steel S-blades are used for pureeing and roughly chopping ingredients, but many food processors also come with an additional dough blade for kneading. Then you have disc, which sit at the top of the bowl and are designed for uniform slicing and shredding. Generally, these discs will offer a few different shred and slice sizes, some can even julienne or make french fry shapes.
Wattage. The wattage of a food processor's motor is an indication of how powerful it is. There are other factors at play, so two different 500 watt food processors might not be equally effective, but looking at the wattage will give you an idea of the unit's power. If you want a heavy duty model that can handle tough jobs, like regular kneading or making nut butters, we'd recommend a food processor with a motor of at least 600 watts.
Bowl capacity. You need to choose a food processor with a bowl large enough to fit your needs. An 8 to 10 cup capacity is fine for small families, but you'll need a 12 cup capacity or greater if you like to batch cook or you cook for a large group. A less than 6 cup capacity falls into mini food processor territory.
Extra bowls. Some food processors come with extra bowls. Usually, the extra bowl is more compact for smaller chopping tasks (it's impossible to chop a few cloves of garlic in a standard food processor, for instance) but some extra bowls are there so you can process different ingredients without needing to empty and wash the bowl. You'll also find some food processors than come with blender jugs, so you can blend and process all on the same base.
Speed settings. Food processing isn't a particularly nuanced job so many food processors simply have an on button and a pulse function. The pulse function is good for roughly chopping, while the single speed does for everything else. However, some models have two speed settings, which give you a bit more control over how smooth or chunky your finished dishes are.
Frequently Asked Questions
What is a food processor and how does it work?
A food processor is a small kitchen appliance that helps prep and process ingredients. It consists of a base unit with a motor inside it, a lidded bowl, and various blades and discs. The motor turns whichever blade or disc you put in place, which shreds, slice, purees, or mixes ingredients.
What can you do with a food processor?
There are so many things you can do with a processor. Everyone knows that you can use a food processor to shred, slice, and chop vegetables to go in other dishes, as well as puree dips and sauces, but there are some lesser-known uses, too. If your food processor comes with a dough blade, you can use it to knead dough for bread or pizza bases. Food processors are excellent for making pastry and shortbread, since the fat stays much cooler than if you work it with your hands, which stops it becoming tough. You can also mix up cake batter and pancake batter in a food processor. As long as the motor is powerful enough, a food processor can even grind raw ingredients into flours (oat flour, chickpea flour, etc), grind nuts into a fine powder, and make nut butter.
Can you use a food processor like a blender?
Blenders are generally designed for pureeing very liquid foods and drinks, such as soups and smoothies. The shape of the jug and the blades helps get extremely smooth results. Although you can attempt to use a food processor like a blender, it will take longer and you may never get the same smooth consistency. That said, some food processors come with special blades to give you results closer to those you'd get with a blender, and others include a blender jug that fits on the base.
How do you use a food processor step by step?
The first step to using a food processor is to plug it in and lock the bowl in place. Next you fit whichever blade or disc you'll be using onto the shaft in the center of the bowl. The next step depends on whether you're using a blade or a disc. With a blade, you put all the ingredients into the bowl, put the lid on, and switch on the food processor, letting it run until you have the desired consistency. With a disc, you put the lid on first, switch the food processor on so it's running continuously, then push ingredients down the chute in the lid to introduce them to the blade, which will shed or slice them as it spins.
Other Food Processors We Reviewed
We looked at 20 other food processors. Even though they didn't make our 5 best food processors list, they're the best of the rest and each is still a great option. The information you'll need to compare each one is included with the listing.
Small Food Processors
BLACK+DECKER 1.5-Cup Electric Food Chopper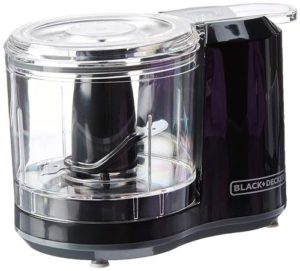 If you only have modest chopping and pureeing needs, this 1.5 mini food processor might be what you need.
Key Features: 
One-touch operation
Dishwasher safe parts
Sturdy stainless steel blades
Cost: $15
Cuisinart DLC-4CHB Mini-Prep Plus 4-Cup Food Processor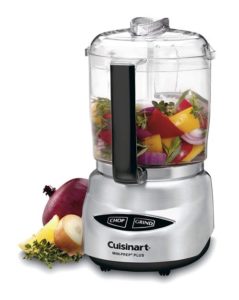 This nifty little food processor has two modes; one for chopping and one for grinding.
Key Features: 
4 cup bowl
Easy-grip handle
Dishwasher safe bowl and blades
Cost: $40
Hamilton Beach 70510 Food Processor & Mini Chopper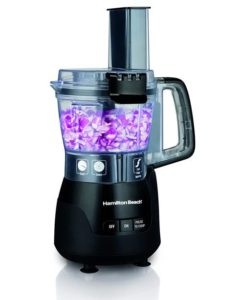 This compact food processor includes blades and discs for chopping, shredding, slicing, and pureeing.
Key Features: 
Stack and snap bowl
Large chute
4 cup capacity
Cost: $40
Hamilton Beach 72500RY 1.5 Cup Food Chopper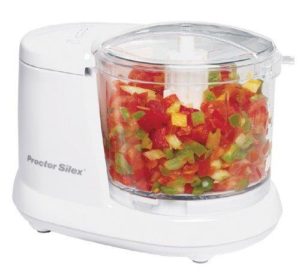 If you're looking for a simple, compact food processor for chopping and pureeing, this model fits the bill.
Key Features: 
Dishwasher safe parts
Easy to use
Lightweight design
Cost: $15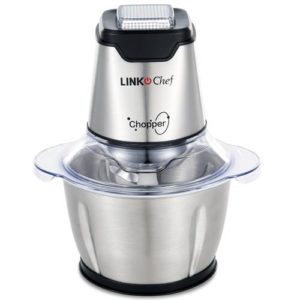 This model is a bit different from your average food processor, as the motor fits on top of the bowl, rather than the other way around.
Key Features: 
Capacity of just over 2 cups
Strong stainless steel bowl
Anti-slip base
Large-Capacity Food Processors
Braun FP3020 12 Cup Food Processor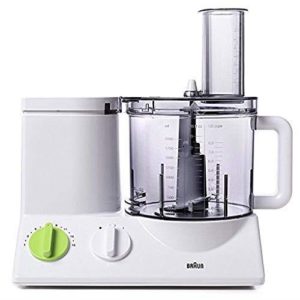 With its ultra-quiet motor and variable speed settings, this food processor is a joy to use.
Key Features: 
Comes with citrus juicer attachment
Includes 7 discs and blades
Bowls, blades, discs, and other accessories are dishwasher safe
Cost: $160
Breville BFP660SIL Sous Chef 12 Cup Food Processor
This slightly smaller version of our top pick is an excellent choice for anyone who wants a more affordable option (though it's still not cheap).
Key Features: 
Powerful 1,000 watt motor
BPA-free bowl
Extra-large chute
Cost: $285
Cuisinart DFP-14BKSY Custom 14-Cup Food Processor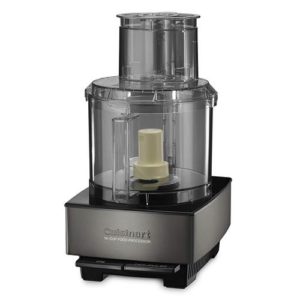 A powerful, rugged food processor that packs a 720 watt punch.
Key Features: 
Comes with shredding and slicing discs, plus a stainless steel S-blade
Large feeding chute with small and large pushers
All parts (except base) are dishwasher safe
Cost: $170
KitchenAid KFP1322ER 13-Cup Food Processor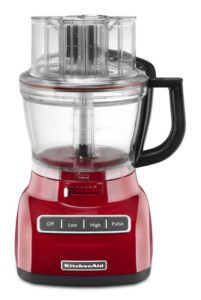 If you're looking for a stylish food processor, the KitchenAid fits the bill. It performs well and will stand the test of time.
Key Features: 
High, low, and pulse functions
Extra-wide chute allows for vertical or horizontal slicing
Exact-slice system lets you slice thinly or thickly
Cost: $200
Robot Coupe R 2 Dice Continuous Feed Combination Food Processor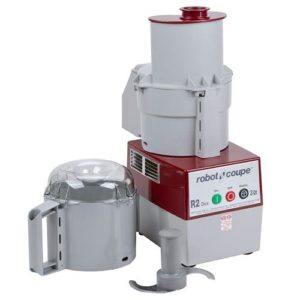 This industrial grade food processor makes light work of any food processing task. It might have made our top picks if it weren't way above most people's price ranges.
Key Features: 
12 cup capacity
Continuous feed design for bulk processing
Commercial speed and quality
Food Processor/Blenders
Black & Decker FX400BMG 400W Food Processor with Blender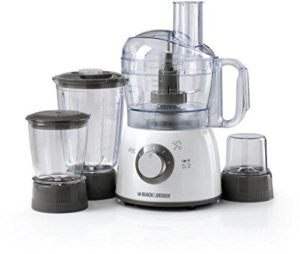 Along with the standard food processor bowl, this model includes a few blender jugs, including a mini cup blender for smoothies.
Key Features: 
Performs 33 functions
Variable speeds
Rugged design
Cost: $140
Cuisinart BFP-10CH PowerBlend Duet Blender Food Processor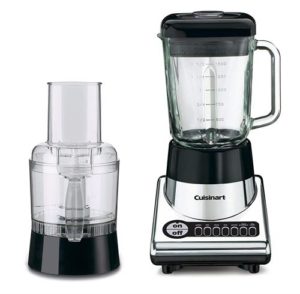 The full-sized blender jug holds approximately 1.5 liters but the food processing bowl only has a 3 cup capacity so it's best for small tasks.
Key Features: 
7 pre-programmed settings
500 watt motor
Dishwasher safe parts
Cost: $100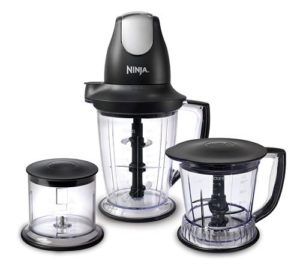 Thanks to the 48 ounce blending jug, 40 ounce food processing bowl, 16 ounce mini processing bowl, this is a hugely versatile investment.
Key Features: 
450 watts of power
Compact design
BPA-free
Cost: $50
Oster Pro 1200 Blender with Food Processor Attachment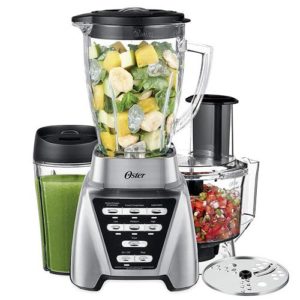 The main blender jug holds six cups and the food processor bowl holds five, plus you get an individually-sized cup for smoothies.
Key Features: 
1,200 watt motor
Wide range of speed settings and programs
BPA-free plastic parts
Other Food Processors
Cuisinart DLC-10SY Pro Classic 7-Cup Food Processor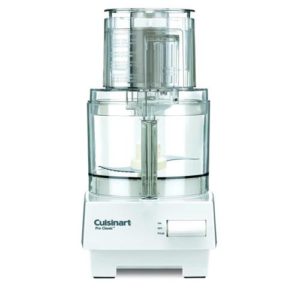 This compact food processor is perfect for small families and won't take up too much space.
Key Features: 
Simple controls
Includes a variety of discs and blades
Adjustable chute
Cost: $100
Cuisinart DLC-2009CHBMY Prep 9 9-Cup Food Processor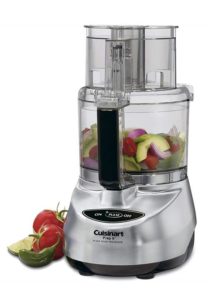 Another option from Cuisinart, but this one has a larger 9 cup capacity and flat button controls that are easy to wipe clean.
Key Features: 
Speed automatically adjusts to the task at hand
Rugged Lexan bowl
Extra-wide chute
Cost: $130
Cuisinart FP-8SV Elemental 8 Cup Food Processor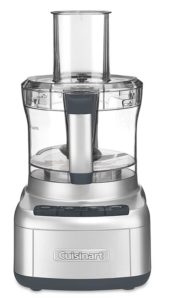 This smart, sturdy food processor is available in either 8 cup or 11 cup sizes with a range of finishes on offer.
Key Features: 
High, low, and pulse settings
Dishwasher safe parts
SealTight Advantage system locks blades and prevents leaks
Cost: $75 to $110
Hamilton Beach 70450 8-Cup Food Processor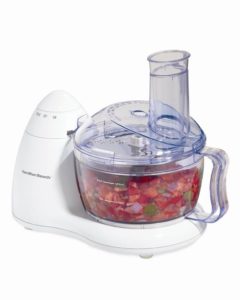 A simple and highly affordable food processor that's great for smaller households on a budget.
Key Features: 
Includes S-blade and reversible disc for shredding and slicing
300 watt motor
Easy to use
Cost: $35
Hamilton Beach 70670 Food Processor & Vegetable Chopper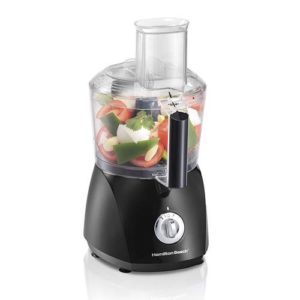 If you like the simplicity and affordability of the above model but want a slightly larger capacity, this is a great option for you.
Key Features: 
10 cup capacity
Simple dial operation
525 watt motor
Cost: $50
KitchenAid KFP0718CU 7-Cup Food Processor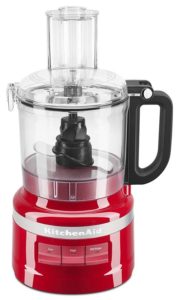 This mid-sized 7 cup offering has the same KitchenAid quality in a smaller package and is ideal for compact kitchens.
Key Features: 
Low, high, and pulse settings
Twist-free bowl attachment
Dishwasher safe parts
Cost: $75