Imagine if there was a way to strip back all of the gunk from your hair that's stopping it from being the healthiest it can be. Thanks to detox shampoos, you don't need to imagine any longer. Detox shampoos are formulated for this very purpose; to remove all of the years of harmful buildup that's been accumulating on your scalp and hair. A well-formulated one can also help to enrich your hair with vitamins and nutrients to leave it looking better than ever before. Think of it as a typical body detox, but for your hair!
If you're new to detox shampoos or simply want to upgrade your current one, you've come to the right place. We looked at dozens of detox shampoos in order to identify the best of the best. In our evaluation, we considered a range of factors such as each product's ingredients, ease of use, price, results, and customer reviews to select our top picks.
After careful consideration, the winner was clear: Nutra Cleanse Folli-Clean Shampoo. In only an hour, this carefully formulated shampoo will offer your hair the deep detox it's been craving. Keep reading to find out more details about this product as well as the other 24 products we reviewed.
[toc]
The 5 Top-Rated Detox Shampoos
[table "175" not found /]
*Ratings are current at the time of publication and can change
Best Detox Shampoo Overall: Nutra Cleanse Folli-Clean Shampoo
If you've been looking for a powerful detox shampoo that's formulated to give your hair the deep detox it craves, look no further than Nutra Cleanse Folli-Clean Shampoo. Unlike many regular detox shampoos that only superficially revive your hair, Nutra Cleanse's boutique detox shampoo works to eradicate any toxins that are weighing it hair down. The GMP certified product is pH balanced and is even safe to use on both permed and color-treated hair.
It will take around an hour for the product's cleansing effect to start coming into effect. Amazingly, it will continue cleansing your hair for a full 24 hours! Once complete, you can expect healthier, toxin-free hair from root to tip.
Keep in mind that in order to use the product safely and effectively, you'll need to carefully read and follow the product's instructions to a tee. If you have any lingering questions about the product at all, there's a handy toll-free Live Cleansing Coach you can call to answer them for you. If you're still wondering if Nutra Cleanse Folli-Clean Shampoo is right for you, the only way to find out is by giving it a try. And why not do so, considering that the company offers a 100% money back guarantee if you're not 100% satisfied?
Nutra Cleanse Folli-Clean Shampoo Key Features: 
Cleanses your hair for a full 24 hours
PH-balanced
GMP certified
100% money back guarantee
Best Detox Shampoo With Activated Charcoal: WOW Activated Charcoal & Keratin Detox Shampoo
If you've been trying everything to achieve shiny, more manageable hair, it's high time you gave WOW Activated Charcoal & Keratin Detox Shampoo a go. The vitamin-rich formula, which is suitable for all hair types, promises to cleanse, detox, detangle, and restore your hair strands and follicles by leveraging the power of activated charcoal powder and keratin.
These aren't just empty promises, either. While many products claim to transform your hair, countless customers can attest to the effectiveness of this product. Just ask the 500+ customers who gave it a very strong average rating of 4.4 out of 5 stars.
So why have so many customers have fallen head over heels for WOW's product? In addition to the fact that it genuinely helped to improve their hair, it's also bursting with features. For starters, the product is hypoallergenic and dermatology tested. Moreover, it's free from parabens, sulfate, and silicon. Last but not least, it can proudly call itself a 100% vegan and cruelty-free product. We could go on, but we think you'll agree that there's already more than enough reasons to give it serious consideration.
WOW Activated Charcoal & Keratin Detox Shampoo Key Features:
Activated charcoal
Vitamin-rich
Color-safe
Natural ingredients
Best Budget Detox Shampoo: John Frieda Detox and Repair Shampoo
Looking for an at-home solution to your hair woes that won't break the bank? John Frieda Detox and Repair Shampoo has you covered. As you may already know, John Frieda is a brand synonymous with salon-quality hair products at reasonable prices. This product is no different. It is formulated to achieve two main aims for your hair: remove product build up and repair it.
The eye-catching ingredients list makes it clear how the product delivers this. It boasts both antioxidant rich green tea and nourishing avocado oil. So whether your hair is feeling dry and dull or stressed from constant product application, John Frieda Detox and Repair Shampoo can give it the nutrient boost and cleanse that it's crying out for.
John Frieda Detox and Repair Shampoo Key Features:
Salon-quality
Green tea
Avocado oil
Best Vegan Detox Shampoo: ABBA Detox Shampoo
ABBA Detox Shampoo is our top choice for anyone who's looking for a highly-effective detox shampoo that just so happens to be vegan. There are few brands who excel at vegan hair products like ABBA; it certainly helps that they can call themselves the first brand to make 100% vegan hair products!
ABBA's detox shampoo decreases heavy build-up and impurities from your hair all the while rescuing damaged hair fibers. It's all thanks to its unique blend of soda and molasses, as well as the brand's exclusive 'ProQuinoa Complex,' which features quinoa, barley, and soy proteins. Who says you ethical products can't also be effective?
In addition to being vegan, this product is also free of many unsavory qualities that come part and parcel with many detox shampoos. Specifically, it's free from gluten, DEA, parabens, phthalate, sodium chloride, and sulfate. If one thing's clear, this product doesn't mess around when it comes to offering customers with a premium detox for their hair that's vegan-friendly to boot.
ABBA Detox Shampoo Key Features:
100% vegan
Soda and molasses
ProQuinoa Complex
Best Color-Safe Detox Shampoo: Living proof Perfect Hair Day Triple Detox Shampoo
If your color-treated hair yearns for a pick-me-up, it can be tempting to grab the first detox shampoo you get your hands on. However, if you pick a product that's not color-safe, you're in for a nasty surprise; your hair color will likely end up far worse off! It's for this reason we recommend anyone with color-treated hair to use Living proof Perfect Hair Day Triple Detox Shampoo.
Living proof's non-stripping, color-safe detox shampoo is specially formulated to provide some major TLC to color-treated hair. Conveniently, it can be used on chemically-treated hair too. In an effort to revitalize your hair, this product targets three major causes of buildup: product, pollution, and hard water.
The formula contains the Living proof's patented Healthy Hair Molecule, which the brand says repels dirt, resists humidity, polishes, protects hair strands, and smooths without weighing hair down. Other notable ingredients include activated charcoal, which absorbs oil from scalp and hair, and witch hazel, which helps to moisturize the scalp.
Living proof Perfect Hair Day Triple Detox Shampoo Key Features:
Improves both color-treated or chemically-treated hair
Activated charcoal
Witch hazel
Who Should Buy a Detox Shampoo
There are few people who are perfectly content with their hair. After all, it's quite normal for your hair to have one or many problems such as dryness, dullness, frizziness, and/or tangles—to name but a few examples. If your hair is in dire need of improvement, or could simply do with a bit of a boost, a detox shampoo could be just the thing to help.
Detox shampoos are especially useful for anyone who regularly uses hair products, or dyes or chemically treats their hair. They can even help to remove the harmful effects of pollution and hard water from your hair. Considering the number of problems that detox shampoos can address, pretty much anyone can benefit from using one themselves.
Important Features to Consider
Detox shampoos should have a few important features. Here's what to consider when selecting a detox shampoo:
Which detoxifying ingredients are used. When considering different detox shampoo options, be sure to take note of which detoxifying ingredients the formula includes. There are a number of ingredients that detoxifying shampoos may use to cleanse your hair, from more natural ingredients such as activated charcoal to chemically-based ingredients. Some products may use a combination of both. To find out what exactly is in each product, carefully read the ingredients label.
Which types of ingredients the product is free from. It's equally important to understand what a products lacks as it is to understand what it features. When it comes to detox shampoos, being free from certain ingredients can definitely be a benefits. For example, many products are proudly free of many harmful or undesirable ingredients for your hair such as silicon, parabens, and sulfate. It's also easy to find options that are vegan and/or cruelty-free.
Which hair types it accommodates. Not all detox shampoos are created for all hair types. If you have a particular hair type, such as curly, color-treated, or chemically-treated hair, you will need to find a product that is made with your hair needs in mind
How often you should use it. Are you after a detox shampoo that you can use to permanently replace your regular shampoo? Or are you searching for one that you can use once a week or whenever your hair needs a pick-me-up? Detox shampoos vary in how often you can and should use them, so this is definitely a consideration to be mindful of when shopping around.
Frequently Asked Questions
What is the best detox shampoo?
The best detox shampoo for you will depend on a range of factors related to both your hair and preferences. In order to find the best detox shampoo for your hair, you'll need to consider which product most effectively matches your hair type, the condition of your hair, and your hair goals. You'll also need to find one that offers the features you're after and suits your budget. We've featured a broad range of products in our roundup of the top 25 detox shampoos on the market, so you're sure to find one that perfectly suits your needs.
What does detox shampoo do to your hair?
Detox shampoos are formulated to remove any harmful or unnecessary substances from your hair while simultaneously strengthening it with enriching ingredients. Detox shampoos have become well-known for transforming many people's hair for the better by directly address the root cause of common hair problems. Instead of only washing away surface level impurities like most regular shampoos do, detox shampoos thoroughly cleanse any toxins and excess buildup that has penetrated the hair. The best detox shampoos will be formulated with nutrient-rich ingredients that will leave your hair stronger, shinier, and more manageable.
How can I detox my hair at home?
If you want to detox your hair in the true sense of the word, you should aim to stop using or reduce your usage of hair products. Needless to say, this is far easier said than done! You may rely on hair products to keep your hair maintained in a certain way. What's more, you may just want to use hair products as you're passionate about hair styling. And there's certainly nothing wrong with that!
With this in mind, the most practical way to detox your hair at home is to use hair care products that have been formulated for this very purpose. In addition to detox shampoos, you may wish to use a range of other detox products, such as conditioners and hair masks.
Of course, you could always go the DIY route and mix up your own hair concoctions. Just keep in mind that not only can DIY hair detox products be time-consuming to make, but they also may not leave your hair as dramatically different as a high-quality detox shampoo can.
What are the best practices for using detox shampoos?
Each detox shampoo is formulated differently. As such, the most important thing you can do is to read and follow the usage instructions found on each product. It's unwise to assume that a detox shampoo works in the same way as a regular shampoo. For example, in order for it to work effectively, you may need to prepare your hair before using it, leave it on for a certain time, or reapply it after rinsing it off, and so on. Failure to follow a product's usage instructions could mean you don't reap the desired effects of the product. At worst, it could prove to be harmful.
As we touched on above, it's also vital to select the right detox shampoo that suits your hair needs and personal preferences. Using a product that matches these needs and preferences will give you the best chance of achieving the results you're hoping for.
Other Detox Shampoos We Reviewed
We looked at 20 other detox shampoos. Even though they didn't make our 5 best detox shampoos list, they're the best of the rest, and are still great options. The information you need to compare each one is included with the listing.
Detox Shampoos for All Hair Types
Redken Detox Hair Cleansing Cream Clarifying Shampoo
This shampoo promises to leave your hair healthier and shinier by removing dry shampoo, product build up, excess oil, pollution, and hard water minerals in just one use. Even those with colored-treated hair can use it.
Key Features:
Leaves hair shiny
Can be used for color-treated hair
Results in just one use
Cost: $23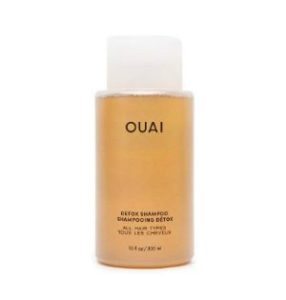 Celebrity hairstylist Jen Atkin made OUAI after noting a lack of luxury hair products at affordable prices. This detox shampoo from the brand can be used once or twice a week to get rid of product, hard water buildup, dirt, and oil.
Key Features:
Made by a celebrity hair stylist
Can be used once to twice a week
Easy-to-use
Cost: $30
ColorProof ClearItUp Detox Shampoo
This product is on the pricier side, but keep in mind that it's just over 25 oz in capacity. What's more, it's formulated with high-end ingredients to keep your color-treated hair looking pristine. As the company explains, "The proprietary blend of 11 sulfate-free, salt-free surfactants derived from coconut and palm delivers gentle cleansing with 96% color retention."
Key Features:
25.4 oz
96% color retention
Proprietary blend
Cost: $68
Plant-Based & Natural Detox Shampoos
SheaMoisture African Water Mint Detox & Refresh Shampoo
With a 4.6 out of 5 star rating form more than 500 customers, this $10 shampoo is an undeniable hit. The shampoo's unique blend of fair trade shea butter, African water mint, ginger extract, and activated charcoal is free from a range of nasty ingredients including sulfates, parabens, phthalates, propylene glycol, mineral oil, and petroleum.
Key Features:
Organic shea butter and African water mint
Free from sulfates, parabens, petroleum
Not tested on animals
Cost: $10
ACURE Detox-Defy Color Wellness Shampoo
Activated charcoal and sunflower seed extract combine in this powerful vegan formula that's designed to offer environmental stress protection for color-treated brown, auburn, and dark toned hair.
Key Features:
100% vegan
Activated charcoal
Sunflower seed extract
Cost: $12
PHYTO Phytodetox Clarifying Detox Shampoo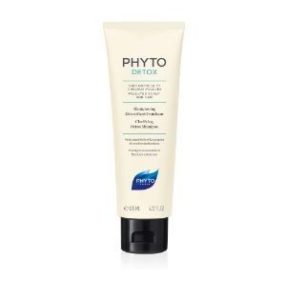 This vegan detox shampoo harnesses the power of eucalyptus essential oil and burdock extract to banish residue to leave your hair feeling "soft, light, and refreshed."
Key Features:
Eucalyptus essential oil
Burdock extract
Vegan
Cost: $19
Nothing But Clarifying Shampoo Sulfate-Free Detox for Natural Hair
100% free from harmful chemicals including petroleum, sulfates, mineral oil, and parabens. It's also great news that it's safe to use on all hair types including color-treated, curly, Black, and biracial hair.
Key Features:
Free from chemicals
Sulfate-free
Can be used by all hair types
Cost: $10
Sun Bum Revitalizing Detox Shampoo
You won't feel any pangs of guilt using this vegan and cruelty-free detox shampoo. It relies on a variety of natural ingredients including apple cider vinegar and blue agave to cleanse impurities from your hair.
Key Features:
Apple cider vinegar
Blue agave
Vegan and cruelty-free
Cost: $10
Jane Carter Solution Renewable Difference Detox Shampoo
Featuring glycolic fruit extracts of sugar maple, orange, and lemon, this vegan and cruelty free option from Jane Cater Solution is just as tempting as it sounds. Suitable for all hair types.
Key Features:
Glycolic fruit extracts
Color-safe
Vegan
Cost: $13
Pravana Nevo Detox Clarifying Shampoo
If you're after an option that won't dry your hair and is free of sulfates to boot, this ultra gentle option is well worth considering.
Key Features:
Sulfate-free
Gentle formula
Won't dry your hair
Cost: $32

Luseta's color-safe natural detox shampoo is sulfate-, phosphate-, and paraben-free. If you discover you're a fan of it product or simply want to get more bang for your buck, consider buying the 33.8 oz size. It's double the size but not double the cost—it'll set you back just under $30.
Key Features:
Color-safe protection
Charcoal
Free from sulfate, phosphate, and parabens
Cost: $18
CurlFriends Purify Clarifying Shampoo
Give your curls some love with this natural treatment that's specifically formulated for those blessed with curly hair. In the words of CurlFriends, you can use it once a week to "gently detoxify, clarify, eliminate frizz and dramatically improve the health of curly hair."
Key Features:
Specifically for curl care
Use once a week
Color-safe
Cost: $10
BRÖÖ Craft Beer Detoxifying Shampoo and Body Bar
For only $5, you'll get this travel-friendly, 2-in-1 detoxifying shampoo and body bar that's been brewed with real beer. It may come as a surprise, but beer contains plenty of protein that can nourish your hair. This vegan and cruelty-free bar also contains activated charcoal to purify your scalp, hair, skin, and beard!
Key Features:
Brewed with real beer
2-in-1: Can be used for your hair and body
Vegan and cruelty-free
Cost: $5
Black Magic Charcoal and Black Clay Detoxifying Shampoo
The brainchild of celebrity hairstylist Brandon Martinez, this detoxifying shampoo draws on activated charcoal, black clay, aloe vera, botanical oat to renew and restore your hair.
Key Features:
Created by a celebrity hairstylist
Activated charcoal
Black clay
Cost: $9
Hask Charcoal with Citrus Oil Shampoo (2 Pack)
The hero ingredient in this formula is charcoal extracted from coconut shells in the Philippines. Lemon and grapefruit oils also work in unison to eliminate impurities from your hair and scalp.
Key Features:
2 pack x 12 oz
Charcoal extracted from coconut shells
Lemon and grapefruit oils
Cost: $15
Be Care Love SuperFoods Kale Damage Detox Shampoo & Conditioner
This vegan, color-safe shampoo and conditioner duo promises to "Breathe new life into dull, damaged hair." While it's pricier than many other option, you'll get what you pay considering the formula focuses on sophisticated ingredients such as vitamin B7 supplement, quinoa protein, and avocado oil.
Key Features:
17.5 oz shampoo and 17.5 oz conditioner pack
Vitamin B7 supplement
Quinoa protein
Cost: $50
Detox Shampoos for Daily Use
SEXYHAIR Style Detox Daily Clarifying Shampoo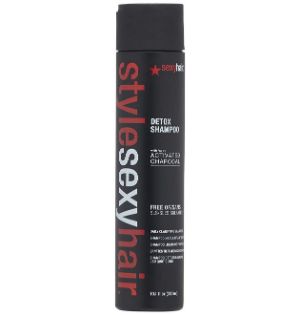 The fact that you can use this activated charcoal infused shampoo on the regular is certainly convenient. After all, when you're on a mission to boost the health of your hair, every day counts!
Key Features:
Contains activated charcoal
Botanical extracts
Free from sodium lauryl sulfate (SLS) and sodium laureth sulfate (SLES)
Cost: $17
Klorane Detox Shampoo for Dull Pollution-Exposed Hair
This anti-pollution detox shampoo doesn't mess around. It's aquatic mint blend removes 97% of polluting particles from your hair including polluted air, ozone, and cigarette smoke.
Key Features:
Aquatic mint
Removes 97% of polluting particles
Free from silicons and parabens
Cost: $20
Kenra Platinum Detox & Deflect Shampoo and Conditioner
Believe it or not, buying this detox shampoo and conditioner set is the same price as just the shampoo! Take advantage of this generous deal to rock shinier, softer hair.
Key Features:
8.5 oz shampoo and 8.5 oz conditioner set
Safe for color-treated hair
Salon-quality
Cost: $19
Soapbox Activated Charcoal Shampoo (3 Pack)
This affordable bulk set of 3 detox shampoos pack a serious punch. They're not only color-safe, paraben-free, and silicone-free, but also cruelty-free, vegan, and gluten-free. The cherry on top is that each bottle works out to be only around $7.
Key Features:
Bulk pack of 3 x 16 oz
Cruelty-free and vegan
Color-safe
Cost: $23