Acne patches are another tool you can add to your blemish-fighting toolkit. When used in addition to a regular skincare routine, such as cleansing and moisturizing, they can be an excellent way to keep stubborn acne at bay – or at least reduce its appearance.
We reviewed dozens of acne patches to find the best of the best for targeting facial acne in all forms, from cystic acne to blackheads. A few features we specifically looked for when narrowing our options were the type of acne the patches target, how quickly they give noticeable results, how well they moisturize the skin underneath, and what effective acne-fighting ingredients they contain.
We chose the Dermala Patch Me (if You Can) as our top pick because of their drug-free ability to spot-target stubborn acne without leaving your skin feeling dry and angry. These patches can be used for hours at a time to clear up pimples.
[toc]
The 5 Top-Rated Acne Patches
*Ratings are current at the time of publication and can change
Best Acne Patch Overall: Dermala Patch Me (if You Can)
The Dermala Patch Me (if You Can) is hard to beat if you're looking for somewhat of a one-size-fits-all approach to reducing your acne. Along with a regular cleansing and moisturizing routine using products designed to fight acne, these little patches give just the right boost to help you say, "So long!" to those pimples that just keep lingering. The patches come in two different sizes, so you can always start with the larger ones for new breakouts and switch to the smaller ones once they start reducing in size.
Perhaps the most stand-out feature of these patches is that they contain no drugs or medicines, which is perfect for individuals with sensitivities to typical acne-fighting solutions. Instead, these patches use the power of hydrocolloid, which helps shrink pimples, reduce oiliness and bacteria, and keep the skin moist and hydrated while the patches work their magic. If you're interested in purchasing these patches, be sure to save a little money – 15% off your purchase – when you use the code SAVE15 at checkout.
Dermala Patch Me (if You Can) Key Features:
Transparent patches
Hydrocolloid technology
Lowers pH to slow bacterial growth
Two patch sizes
Easy to remove
Best Acne Patch for Cystic Acne: KILLA Kit by ZitSticka
Not all acne patches work for ridding your skin of cystic acne, but KILLA Kit by ZitSticka is probably one of the best acne patches you'll find for the job. When it comes to cystic acne, you need a powerful patch with medication that penetrates deep into the skin to clean out oil, bacteria, and other gunk in your pores. These patches have little microneedles that do exactly that, allowing them to reach into your pores and pull out the stuff that's responsible for causing breakouts.
These transparent patches can be worn anytime of day or night – even underneath your makeup, if you want – without people noticing, for cleansing and clearing whenever you need it most. The strong adhesive ring keeps them comfortably in place, right where you want to target new pimples. Customers love how fast these patches get to work, with some noticing visible results after just leaving them on overnight.
KILLA Kit by ZitSticka Key Features:
24 microneedles on each patch
Dermatologist-supported ingredients
Targets current and upcoming pimples
Includes cleaning swabs
Cruelty-free
Best Budget Acne Patch: Cosrx Acne Pimple Master Patch
For less than $13, the Cosrx Acne Pimple Master Patch kit includes 96 patches, which is plenty to keep you clearing up your skin for several weeks, or even months. These hydrocolloid patches work just like others on the market, keeping the skin clean and hydrates as the patch works to reduce the size of pimples and redness they cause. You can keep the patches on your face until you start noticing a reduction in size.
There are two different sizes included in each package, so you can use only how much you need for your breakouts. Customers love that these pads don't dry out the skin underneath. Instead, it remains smooth and moisturized to cut down on irritation during and after use. Several customers also note that they're able to physically see the dirt and oil the patches pull out when they remove them.
Cosrx Acne Pimple Master Patch Key Features:
24 patches in each package
Great for sensitive skin
Fast-acting
Promotes healing
Reduces scarring
Best Acne Patch for Hormonal Acne: Avarelle Acne Absorbing Cover Patch
Hormonal acne is common and can strike whenever your body decides it's time. Fortunately, many acne patches are able to handle hormonal acne, but Avarelle Acne Absorbing Cover Patch is one of our top picks for doing the job. These patches are clear and free of drugs, using only the power of the hydrocolloid patch and a few natural ingredients, like tea tree oil, to shrink acne and clean out pores.
Each package comes with 40 adhesive pads, all of which stay inside the resealable pouch to keep the healing properties inside until you're ready to use them. The adhesive on these patches is very strong, but the pads themselves remain breathable to help your skin stay dry and comfortable underneath.
Avarelle Acne Absorbing Cover Patch Key Features:
Slim patches
Three different patch sizes
Easy-peel design
Transparent; easy to see when to peel off
Safe for use as often as needed
Best Acne Patch for Whiteheads: Basic Concepts Acne Patches
With the Basic Concepts Acne Patches, you may never have to worry about unsightly whiteheads again. These powerful patches use tea tree oil, an ingredient that naturally cleanses the skin to remove buildup from pores that can easily cause acne breakouts. Whiteheads appear when that grime makes its way to the surface, and these patches help draw it all out quickly and in a targeted way to clear up your skin faster than other acne products.
Some customers note that they use these acne patches underneath their makeup routine, so the tea tree oil and hydrocolloid patch can continue to work all day without makeup adding more oil and buildup to already-clogged pores. There are 120 patches in one box, giving you plenty of single-use pads to use daily.
Basic Concepts Acne Patches Key Features:
Noticeable results quickly
Reduces inflammation
Three sizes
Non-irritating
Can use overnight
Who Should Buy an Acne Patch
Acne treatments come in a range of product types, and an acne patch is one of them. Acne patches can be a good option for people who need a little extra acne-fighting ingredients to clear their skin than cleansers and creams can do alone. You can wear acne patches throughout the day or overnight to give your skin a concentrated dose of acne-busting ingredients.
Even if acne patches don't rid your skin of acne, they can reduce redness and inflammation while decreasing the size of pimples to make them a little less bothersome. Acne patches can also be excellent spot treatments for sporadic pimples that pop up on your skin from time to time.
Important Features to Consider
Acne patches should have a few important features. Here's what to consider when selecting an acne patch for your skin:
Blemish-fighting ingredients. Hyaluronic acid, salicylic acid, tea tree oil, and benzoyl peroxide are among the common acne-fighting ingredients you'll find in acne patches that are designed to get rid of pimples quickly.
Hydrocolloid technology. A hydrocolloid patch is a type of patch that is waterproof, yet provides a moist surface to heal wounds. Many acne patches include hydrocolloid technology that works to concentrate the acne-fighting medicine on a targeted area while drawing out oil and dirt and keeping the skin moist as it heals.
Size variations. Acne patches range in size from teeny-tiny single-pimple patches to larger patches that cover your full cheek. If you tend to get large breakouts, a larger patch that covers more surface area might be your best option. For spot treatments, consider small, round patches that cover up a single pimple.
Type of acne. Not all acne patches can treat all types of acne. For example, some are better for major breakouts from cystic acne while others take care of more sporadic hormonal breakouts. Some patches may also banish whiteheads from the face but not be strong enough to remove blackheads. Read the description thoroughly to learn more about the types of acne each patch is designed to get rid of.
Color. Most acne patches are nude-colored or transparent to help them blend in with almost any skin color. Others are a little more fun, though, printed with designs or cut into different shapes.
Moisturizing. Acne patches contain some strong ingredients that can sometimes leave the skin feeling dry or flaky when you remove them. Some acne patches include moisturizing and skin-soothing ingredients, though, to keep your skin underneath feeling and looking healthy.
Frequently Asked Questions
What is an acne patch and how does it work?
Acne patches are typically adhesive, hydrocolloid patches that stick to your skin over an area of acne and transfer acne-fighting ingredients to the skin, allowing them to penetrate the surface, remove oils and buildup, and minimize acne. For as long as you keep the patch on a pimple, the medicine on the patch will continue doing its job with the help of the hydrocolloid technology, which draws out oils and other gunk that cause acne while keeping the skin moist and soft.
Do acne patches work on cystic acne?
Some can at least reduce the appearance of pimples caused by cystic acne, but not all acne patches are designed to completely fight them. For clearing cystic acne, you'll want to look for heavily concentrated pads that contain effective ingredients for minimizing and clearing pimples, like salicylic acid, which works its way into pimples to remove gunk and dry them up. You should also consider a patch with niacinamide or vitamin E to reduce redness.
How long do you leave acne patches on?
Most acne patches are wearable for several hours at a time or overnight. This gives the patch plenty of time to get to work releasing its powerful ingredients into your skin. Be sure not to leave a patch on your skin longer than the manufacturer recommends, however, to avoid irritation and dryness.
Do acne patches actually work?
Many acne sufferers find success with clearing their pimples with acne patches in addition to a regular washing and moisturizing routine. Like any acne product, though, some people may not find acne patches effective. How well they work for your depends on the type of acne you suffer from, the type of patch and what it's designed for, and how serious your acne is.
Other Acne Patches We Reviewed
We looked at 20 other acne patches. Even though they didn't make our 5 best acne patches list, they're the best of the rest, and each is still a great option for your skin. The information you'll need to compare each one is included with the listing.
Acne Patches for Cystic Acne
DERMAKR Discreet Acne Pimple Patch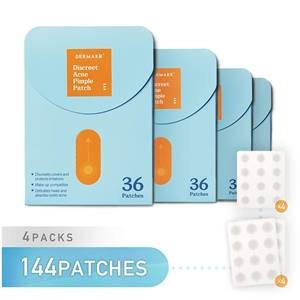 This large set of acne patches comes with two sizes  to make sure you've got every inch of your pimples covered. These patches do a good job at reducing redness and irritation associated with cystic acne.
Key Features:
144 patches
Fast results
Reduces oily buildup
Cost: $20
ICONIC Acne Pimple Healing Patch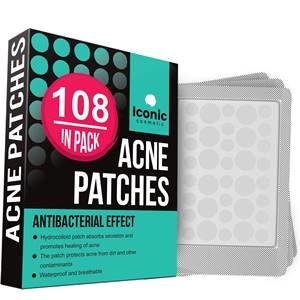 These patches are designed to let the skin underneath them keep breathing, which helps speed up the healing process and get you back to your smooth, healthy-looking skin.
Key Features:
Hypoallergenic ingredients
Reduces redness
Can wear for up to 24 hours
Cost: $12
Medical Miracles Advanced Healing Acne Patches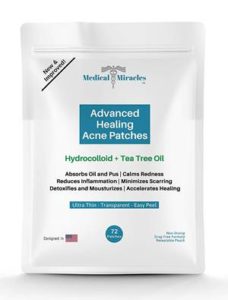 When it comes to cystic acne, an advanced healing process is just what you need – and that's what these patches provide with maximum strength tea tree oil that also soothes the skin.
Key Features:
Natural ingredients
Resealable pouch
Different size patches
Cost: $13
Peter Thomas Roth Acne-Clear Invisible Dots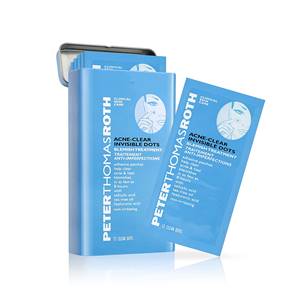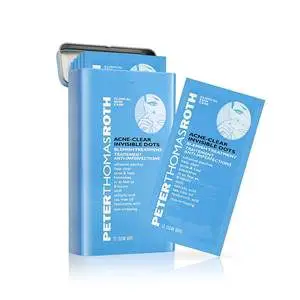 If you need to head outdoors with your acne patches on, then these invisible ones can do the trick. With salicylic acid as the active ingredient, they go to work fast to clear up your acne.
Key Features:
See results in eight hours
Invisible patches
Convenient storage tin
Cost: $32
Rael Microneedle Acne Healing Patch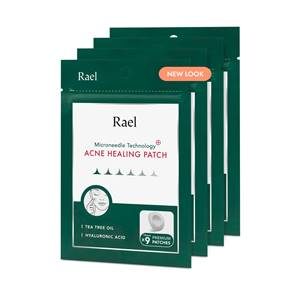 The microneedle technology of these patches helps to fight any pimples that are trying to sneak up to the surface. The Rael Microneedle Acne Healing Patch uses acne-fighting and skin-enhancing ingredients like tea tree oil, salicylic acid, and hyaluronic acid.
Key Features:
Large patches
Able to wear overnight
Non-toxic ingredients
Cost: $37
Acne Patches for Hormonal Acne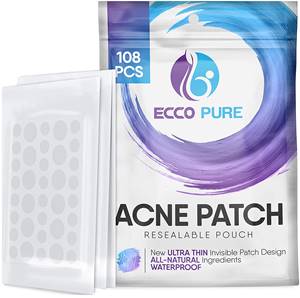 These invisible patches are waterproof, so they can cling to your skin for hours at a time to ensure that they're able to clear up breakouts.
Key Features:
Two different sizes
Super thin pads
Natural ingredients
Cost: $7
Fanofi Micro-needle Acne Soothing Patch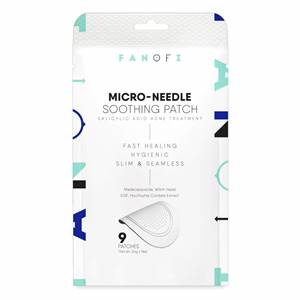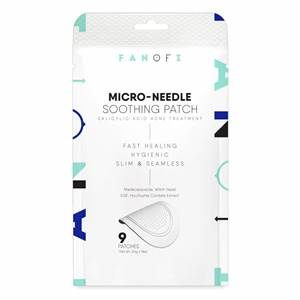 These pads use salicylic acid as the primary active ingredient, along with natural ingredients like witch hazel and Houttuynia Cordata Extract for a comprehensive approach to ridding your skin of acne.
Key Features:
Microneedle pads
Soothes skin
Can use overnight
Cost: $12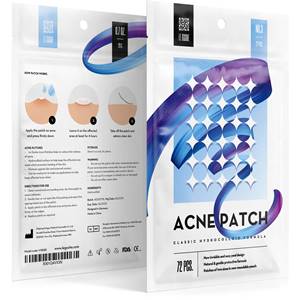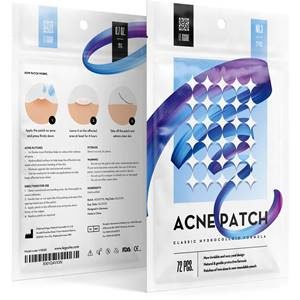 Try the Le Gushe Acne Patch when you need a quick fix for your hormonal acne. They're transparent, so you can use them day or night.
Key Features:
72 patches
Waterproof design
Invisible
Cost: $12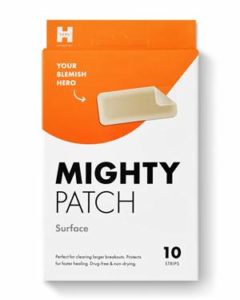 Large breakout areas will benefit from the Might Patch Surface, which covers a larger surface area than the typical acne patch.
Key Features:
10 patches per pack
Drug-free
Strong adhesive
Cost: $18
These hydrocolloid acne patches are made with thin, breathable material to allow your skin to heal underneath.
Key Features:
Transparent
Two sizes
FDA registered
Cost: $11
Acne Patches for Whiteheads
Alba Botanica Acnedote Pimple Patches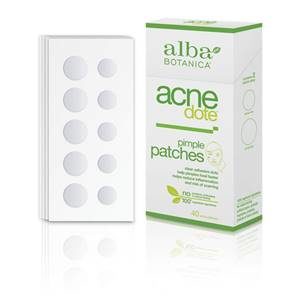 These little patches help draw out the moisture and buildup from acne, which is what causes the tiny whiteheads that appear on the surface.
Key Features:
Vegetarian formula
Dermatologist tested
Paraben free
Cost: $8
Dakik Acne Pimple Healing Patch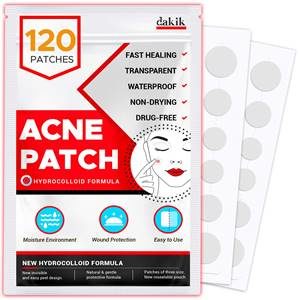 These acne patches from Dakik fit perfectly over small and large pimples to draw out oils and buildup and start working on clearing acne and whiteheads.
Key Features:
Won't dry skin
Protects against scarring
Hypoallergenic ingrients
Cost: $7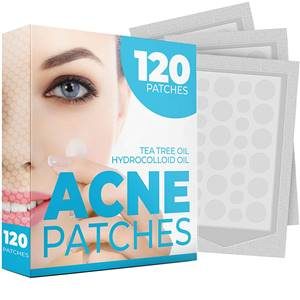 These tea tree oil patches help cleanse the pores naturally, bring yucky stuff to the surface, and rid your face of unsightly acne, redness, inflammation, and whiteheads.
Key Features:
Works within eight hours
Tea tree oil as active ingredient
Two sizes
Cost: $8
These invisible patches from Might Patch can sit underneath makeup to clear away acne and whiteheads all day long, whether you're working, sleeping, or lounging around the house.
Key Features:
Medical-grade hydrocolloid patch
Small and medium sizes
Reduces inflammation
Cost: $18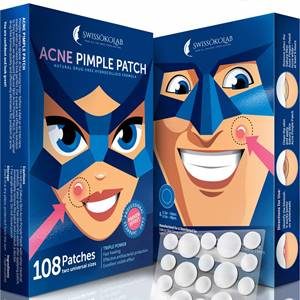 Swissokolab Pimple Patches are made for use on all skin types to rid your face of acne breakouts and whiteheads quickly and easily.
Key Features:
Antibacterial protection
72 patches
Hypoallergenic
Cost: $8
Acne Patches for Blackheads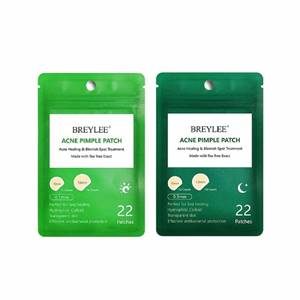 These patches work just as well for blemish spot treatments – like blackheads – as they do for clearing your skin from pimples.
Key Features:
Shrinks pores
Leaves skin healthier looking than before
Able to use overnight
Cost: $9
Clearasil Overnight Spot Patches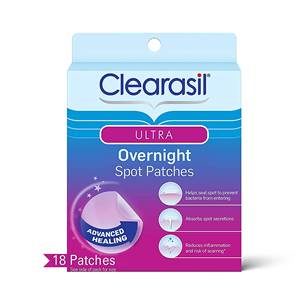 You can use these patches overnight to shrink and clear pimples, whiteheads, and blackheads while you sleep and keep excess oil and dirt from intruding your targeted pores.
Key Features:
Clear patches
Reduces inflammation
Works on pimples on and under the surface
Cost: $10
MEDca designed these acne patches to work on most non-inflammatory breakouts, including removing blackheads from deep within your pores.
Key Features:
Strong adhesive
Transparent to blend with all skin tones
Two sizes
Cost: $12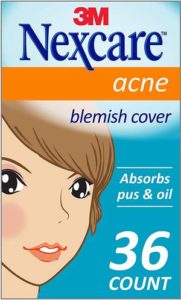 Nexcare's acne and blemish patches can be used during the day or overnight to draw out oil and buildup safely and easily, making your face a spot where acne doesn't stand a chance.
Key Features:
Cost: $5
Safe for most skin types, Peace Out Acne Dots use salicylic acid to cleanse pores and fight acne and blackheads while Vitamin A restores skin back to a healthy state.
Key Features:
Aloe vera-infused to soothe skin
Noticeable results in six hours
Can prevent breakouts
Cost: $44