There's no denying that facial acne can be both physically and mentally challenging to deal with. Let alone that acne can cause major discomfort and pain, acne can also significantly impact your self-confidence. If you've already tried acne face washes (also called acne face cleansers) to no avail, you may have all but given up your efforts to rid yourself of this problem.
However, before you throw in the towel, we suggest finding an acne face wash that actually works. While you may have tried one or more of these products in the past, keep in mind that the variety of options that have become available in recent years are on a whole other level. They leverage the power of innovative acne-fighting ingredients to help people just like you reduce or even get rid of their acne entirely.
To save you the trouble of tracking down these products, we looked at dozens of acne face washes to shine a light on the best of the best. We considered a range of factors such as each product's ingredients, the quality of the formulation, effectiveness in treating acne, price, and customer reviews to select our top picks.
After careful deliberation, we selected DERMALA CLEANSE with Benefits™ as our #1 pick. We couldn't look past the quality of its ingredients, how easy it is to use, as well as the rave reviews customers left about its effectiveness as an acne treatment. Want to learn more? Keep reading to find out more details about this product as well as the other 24 products we reviewed.
[toc]
The 5 Top-Rated Acne Face Washes
*Ratings are current at the time of publication and can change
Best Acne Face Wash Overall: DERMALA CLEANSE with Benefits™
The reason DERMALA CLEANSE with Benefits™ is our very top pick is because it combines all of the qualities you could hope for in an acne face wash. This product shows that acne-fighting face washes don't need to aggressively cleanse your skin with abrasive ingredients in order to work. We're not the only ones who think this; 84% of customers who left a review gave it 5 out of 5 stars. What's more, 80% of participants in an 8-week, controlled, double-blinded study conducted by DERMALA saw their pimple numbers go down in as little as 2 weeks after using it.
Essentially, DERMALA CLEANSE with Benefits™'s pH balanced formula offers a gentle but nevertheless effective means of clearing your skin from acne. According to the company, this product harnesses the power of a SE Microbiome Complex that combines prebiotics and postbiotics from the skin microbiome to eliminate acne-causing bacteria, reduce inflammation, and support the growth of the good, acne-fighting bacteria on the skin.
If that wasn't already enough, this acne face wash also contains natural plant oils, vitamins, and amino acids to boost your skin's health. We also couldn't fail to mention how easy it is to use. All you need to do to start seeing results is combine a small amount of the product with water and massage it onto your skin for up to 60 seconds every morning and evening.
DERMALA CLEANSE with Benefits™ Key Features:
pH balanced
Prebiotics and postbiotics
Rich in natural plant oils, vitamins, and amino acids
Easy-to-use
Best Acne Face Wash with Charcoal: CBDfx CBD Rejuvediol™ Face Cleanser
While there are no shortage of acne face washes that feature charcoal, CBDfx CBD Rejuvediol™ Face Cleanser clearly stands out among the pack. After all, its formula enhances charcoal's natural antibacterial properties by combining them with mint to in effect "eliminate and remove the day's dirt, oil, and grime—replacing it with layers of lasting hydration and noticeably clearer skin and pores."
There's another notable ingredient that makes this option so eye-catching: 100% organically grown hemp CBD oil. This oil not only helps to calm your skin down, but also reduce the production of excess facial oil. The result is an acne face wash that offers real results, as the product's 4.9 out of 5 star customer rating attests to.
CBDfx CBD Rejuvediol™ Face Cleanser Key Features:
Gel formula
Charcoal
Mint
100% organically grown hemp CBD oil
Best Budget Acne Face Wash: La Roche-Posay Effaclar Medicated Gel Acne Face Wash
Due to the high price of certain acne-fighting ingredients, acne face washes can be on the pricier side. Very cheap options do exist, but they often don't contain the potent ingredients needed to stop acne in its tracks. If you're after a budget buy that contains premium ingredients and features, we strongly recommend La Roche-Posay Effaclar Medicated Gel Acne Face Wash.
This product was developed by dermatologists to target acne, along with excess oil and blackheads. We can't rate its star ingredients enough; salicylic acid (2%), which is known for its ability to exfoliate and dislodge dead skin, and lipo-hydroxy acid, which targets oiliness and gently removes both debris and dirt.
In addition to these ingredients, the product offers an enviable combination of features. For example, it's oil-free, fragrance-free, paraben-free, and allergy-tested. Given all of these features, it's hard to believe that this product will set you back only $15. While there are even cheaper products available, they can't stack up to the eye-catching features and ingredients that make La Roche-Posay Effaclar Medicated Gel Acne Face Wash such an effective product.
La Roche-Posay Effaclar Medicated Gel Acne Face Wash Key Features:
Developed by dermatologists
Salicylic acid (2%)
Lipo-hydroxy acid
Oil-free
Best Acne Face Wash With CBD: CBDMEDIC Acne Treatment Medicated Cream
There are countless reasons why we believe CBDMEDIC Natural Foaming Facial Cleanser is the best acne face wash with CBD as its star ingredient. The formula is 99% naturally derived and features high-quality THC-free CBD hemp at center stage. As we touched on above in our review of CBDfx's product, CBD can play a significant role in helping to reduce facial acne. The reason CBD is increasingly being hailed as a fundamental ingredient in the fight against acne is because it actively helps to reduce sebum production.
If you're wondering what other features this foaming facial cleanser boasts, you won't be disappointed. It's also cruelty-free, paraben-free, steroid-free, petrolatum-free, phthalates-free, and free from artificial dyes and synthetic fragrances. Whew—we think you'll agree that's certainly a lot of notable features for a single product to have!
CBDMEDIC Natural Foaming Facial Cleanser Key Features:
THC-free CBD hemp
99% naturally derived
Cruelty-free
Travel-friendly
Best Gentle Acne Face Wash: No B.S. Skin Care Gentle Foaming Cleanser
Short of trying a product yourself, customer ratings go a long way in providing an insight into just how effective an acne face wash is. If you were to go off of No B.S. Skin Care Gentle Foaming Cleanser's incredible customer ratings alone, you would be hard-pressed to find a better-reviewed option. After all, nearly 200 customers have given the product a 5 star rating.
So what exactly are customers saying about it? Numerous customers have stated that their skin felt softer after using this product. Many others have commented that they love how gentle it is and the fact they can use it daily.
Apart from how gentle it is, we think that the best thing about it is how multi-functional it is. Ingredients like aloe vera, cucumber, and green tea won't only deeply cleanse your skin and rid it of acne-aggravating impurities, but it will also help to reduce the appearance of common signs of ageing, such as fine lines and dullness. The cucumber will also help brighten your skin and heal scars over time. For those with oily skin, the green tea can help balance oilness.
No B.S. Skin Care Gentle Foaming Cleanser Key Features:
Cruelty-free and vegan
pH level: 7.3-8.3
Sulfate-free
Brightens skin
Who Should Buy a Acne Face Wash
Anyone who suffers from facial acne can substantially benefit from buying and using an acne face wash. Acne face wash is formulated to target the root causes of acne so that you can begin to enjoy clearer, healthier skin. You can use an acne face wash as a part of your general acne skin care regimen or by itself.
An acne face wash may also be useful if you find yourself breaking out more regularly or dealing with a particularly bad breakout. It's important to note, however, that if you're suffering pimples rather than acne, it may not be wise to use an acne face wash regularly. The reason being that acne face washes are designed to eliminate acne, so contain much stronger ingredients than regular face washes or even face washes for pimple-prone skin. As such, it's advisable to only use an acne face wash just once every so often or when you're in need of a particularly deep clean.
Important Features to Consider
Acne face washes should have a few important features. Here's what to consider when selecting an acne face wash:
Acne-fighting ingredients. One of the key features you should be mindful of is which acne-fighting ingredients a product has. These can vary quite considerably from product to product. A product may harness the power of more natural ingredients to fight acne, such as charcoal, botanicals, vitamins, and minerals. Or, it may use skin-safe chemicals that are renowned for helping with acne-prone skin, such as benzoyl peroxide and salicylic acid. Whether you choose a more natural or chemical-based acne skin wash is up to you. Your choice should ultimately depend on your particular skin as well as your personal preferences.
What the product is free from. Another vital feature you should take note of is what each product is free from. For example, many acne face washes will make it known that they're free from such ingredients as parabens, oils, petrolatum, and fragrances. You may also wish to check if a product is cruelty-free or vegan if these qualities align with your values.
Price point. Acne face washes come in a range of price points. Most fall within the $10 to $30 range, so you won't have a problem finding a product that suits your budget. When it comes to acne face washes, you will often get what you pay for in terms of the types of ingredients used as well as their quality. That being said, there are some very good budget buys around, as our guide highlights.
Size. The size of a product is yet another factor you should account for when shopping around. You'll quickly notice that just like price points, the size of products can vary quite dramatically. Be sure to keep in mind that a bigger sized product doesn't necessarily mean you'll get more usage out of it. Some products require you to use only a small amount each time, while others will require you to use a larger amount. Likewise, some products should only be used once a day, while others should be used both morning and evening.
Frequently Asked Questions
What is the best face wash for acne?
There are many face washes that have been shown to be highly-effective in reducing acne. The best one for you, however, will depend on your particular skin. For example, your skin may react well to one ingredient/formula but not another, while the opposite may be true of someone else. Due to the fact that there isn't one "best" face wash for acne that will suit absolutely everyone, your goal should be to pinpoint which product will be most suitable for your skin.
We've provided a wide range of options in this article so that you can find a product that matches up with your skin's unique needs. If one product doesn't work for you, try your best not to give up. Finding the best face wash for acne for your skin may take some trial and error. But keep in mind that your efforts will be well worth it once you find a product that helps to reduce your acne once and for all.
Does face wash help acne?
Face wash can help with acne, as long as you use one that is formulated with this purpose in mind i.e. acne face washes. The reason acne face washes are generally preferable to regular face washes when it comes to fighting acne is because the ingredients in regular face wash aren't designed to reduce acne. As such, it's very unlikely that using such a product will help you with your acne.
On the other hand, acne face washes offer a carefully thought-out balance of acne-reducing ingredients. It's for this reason that using an acne face wash will give you your best shot of minimizing your facial acne.

Why do I get pimples after using face wash? 
If you get pimples after using a face wash, this may be a sign that you're using the wrong product for your face. For example, it may be too harsh for your skin. In such a case, it's advisable to switch to something gentler. Remember, everyone's skin is unique, so yours may not react in the same way that the product intended it to. Another reason why you may be getting pimples after using face wash could be because you're irritating your skin by scrubbing too hard. It's vital to always be gentle with your acne prone skin—especially when it comes to washing it.
Then again, getting pimples could be a sign that your skin is 'purging.' As dermatologist Dr. Deanne Mraz Robinson explains, "The term 'skin purging' refers to a reaction to an active ingredient that is increasing skin cell turnover rate." Should this be the case for you, you can try to wait it out to see if your skin indeed improves. Alternatively, if you don't want to wait or it seems like they're typical pimples rather than from a purge, try switching to a gentler product.
How do you wash your face with acne?
The way in which you should wash your face with acne will depend on the product you're using. After all, each product will come with specific usage instructions. Always make sure to follow any product instructions precisely to give it the best chance of working and to also help avoid experience any adverse reactions. Generally speaking, most products will instruct you to squeeze a small amount of the product into the palm of your hands and mix it with a bit of water to create a lather. You will then need to gently massage this lather onto your face and rinse it off after a certain amount of time.
Other Acne Face Washes We Reviewed
We looked at 20 other acne face washes. Even though they didn't make our 5 best acne face washes list, they're the best of the rest, and are still great options. The information you need to compare each one is included with the listing.
Acne Face Washes with Natural Ingredients
CHIC REPUBLIC All Natural Activated Charcoal Facial Cleanser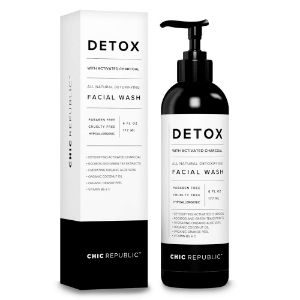 Talk about a stylish and premium take on an acne skin wash! CHIC REPUBLICIC's cruelty-free, hypoallergenic product offers a unique blend of natural acne-fighting ingredients including activated charcoal, organic aloe vera, organic coconut oil, organic orange peel, vitamins B5 and C, as well as rooibos tea, white tea, and green tea extract.
Key Features:
Activated charcoal
Organic aloe vera, coconut oil, and orange peel
Triple tea extract
Cost: $19
Christina Moss Naturals Organic Face Wash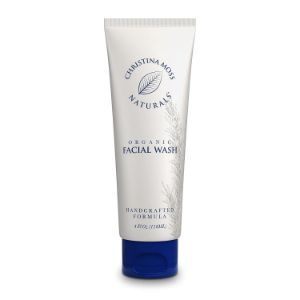 Acne can leave your skin feeling raw at the best of times. So dealing skin that's naturally sensitive on top of this can be a real nightmare. This hypoallergenic product will prove to be a lifesaver. Thanks to its certified organic ingredients, it will help to control your acne and improve the appearance of your skin without the aid of any harmful chemicals.
Key Features:
100% free of harmful chemicals
Hypoallergenic
Certified organic ingredients
Cost: $23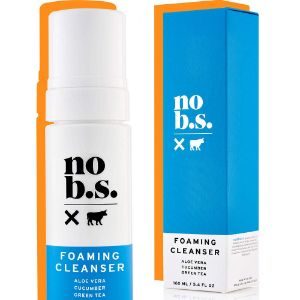 As the name suggests, this vegan and cruelty-free product doesn't mess around. Its trio of aloe vera, cucumber, and green tea work to effectively remove impurities from your skin and soothe your acne-prone skin. Who says you need to play dirty with harsh ingredients to win the fight against acne?
Key Features:
Vegan and cruelty-free
Aloe vera, cucumber, and green tea
100% satisfaction guarantee
Cost: $25
Beauty By Earth Foaming Face Wash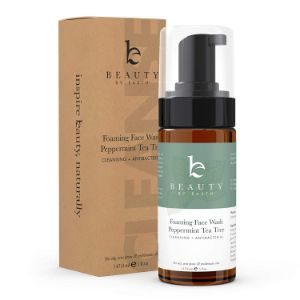 This non-drying foaming face wash will allow you to finally get a grip on your acne. It draws on natural and organic ingredients to eradicate acne-causing impurities and draw out toxins.
Key Features:
Natural and organic ingredients
Foaming
Draws out toxins
Cost: $20
Desert Essence Thoroughly Clean Face Wash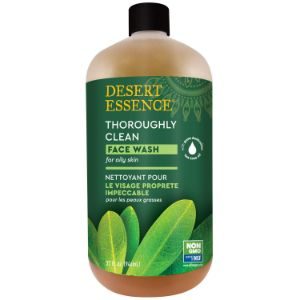 A serious contender for best budget buy, this 100% natural face wash with Australian tea tree oil boasts an ultra high 4.5 star rating from more than 1300 customers. Judging from their comments, it all comes down to the simple fact that it has proven time and time again to dramatically reduce facial acne!
Key Features:
32 oz face
100% natural
Australian tea tree oil
Cost: $15
Himalaya Purifying Neem Face Wash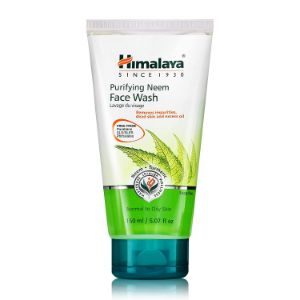 Dealing with occasional bouts of acne? This hypoallergenic and dermatologist-tested product is formulated with this particular purpose in mind. It draws on natural ingredients like neem and turmeric to detoxify and purify your skin.
Key Features:
For occasional acne
Dermatologist-tested
Neem and turmeric
Cost: $6
Dr.Organic Purifying Face Wash with Organic Tea Tree Oil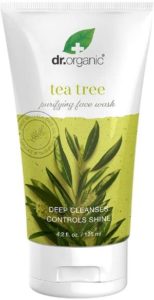 Another great option for those with occasional or mild acne is Dr.Organic Purifying Face Wash with Organic Tea Tree Oil. This product relies on organic and naturally sourced ingredients to help to control shine and give your skin a deep cleanse. It's also vegetarian, cruelty-free, and paraben-free to boot.
Key Features:
Organic and naturally sourced ingredients
Controls shine
Cruelty-free
Cost: $10
Burt's Bees Natural Acne Solutions Purifying Gel Cleanser

Given how skillful it is in getting rid of acne-causing bacteria, you'll wonder how you did so long without washing your face with this product. As we've come to expect from Burt's Bees, it's formulated primarily with natural ingredients—99.4% in fact!
Key Features:
99.4% natural ingredients
Willow bark
Evening primrose
Cost: $8
Acne Face Washes with Benzoyl Peroxide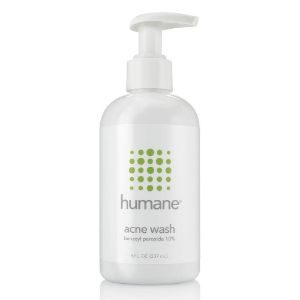 If your acne has long gotten out of control, it may be time to up the ante. This dermatologist-tested product uses a higher percentage of benzoyl peroxide (10%) than many other products to offer a particularly strong defense against acne. It's also worth noting that it has an average rating of 4.2 stars from 3000+ customers.
10% benzoyl peroxide
Dermatologist-tested
4.2 star rating from 3000+ customers
Cost: $22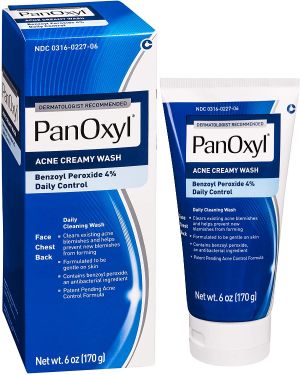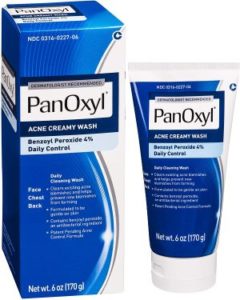 This pH balanced option features 4% benzoyl peroxide in a gentle formula that won't irritate your skin.
4% benzoyl peroxide
pH balanced
Gentle formula
Cost: $11
Acne Free Oil-Free Acne Cleanser
Featuring 2.5% micronized benzoyl peroxide, this fragrance-free acne face wash by Acne Free is suitable for use by even those with severe acne. It promises to help to clear as well as prevent your acne.
Key Features:
Micronized benzoyl peroxide
Fragrance-free
Suitable for severe acne
Cost: $6
CeraVe Acne Foaming Cream Cleanser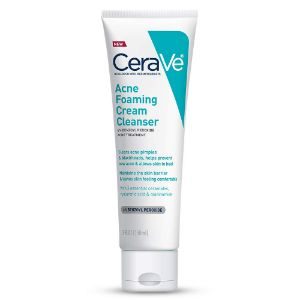 This cream-to-foam formula is bursting with ingredients that are known for helping to control acne. In addition to 4% benzoyl peroxide, it boasts three essential ceramides, hyaluronic acid, and niacinamide.
Key Features:
Cream-to-foam formula
3 essential ceramides
Hyaluronic acid
Cost: $12
Acne Face Washes with Salicylic Acid
Vichy Normaderm Daily Acne Treatment Face Wash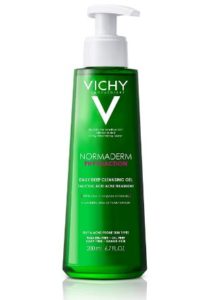 We're not surprised this revered French drug store brand to deliver the goods when it comes to an acne face wash that actually works. The soap-free and sulfate-free features salicylic acid, zinc, and copper minerals to remove dirt, oil, clogged pores, blackheads, and acne blemishes.
Key Features:
Soap-free
Zinc and copper minerals
For daily usage
Cost: $18
Neutrogena Oil-Free Acne and Redness Facial Cleanser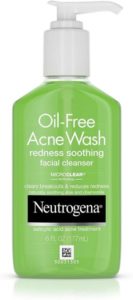 With an average rating of 4.4 out of 5 stars from 1000+ customers, this product is the real deal. Starring salicylic acid, Neutrogena's patented MicroClear technology, and naturally derived aloe and chamomile, it's formulated to both reduce acne and prevent the redness associated with acne.
Key Features:
4.4 out of 5 star customer rating
Reduces redness
Patented MicroClear technology
Cost: $7
Bioré Charcoal Acne Clearing Facial Cleanser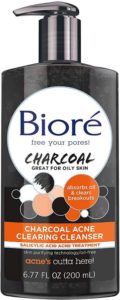 Your acne should expect a double blow to it if you use this product given that it features both salicylic acid and charcoal. It's designed for daily use, so you should see results in no time.
Key Features:
Charcoal
Pump bottle
Designed for daily use
Cost: $7
Alba Botanica Acnedote Maximum Strength Deep Pore Wash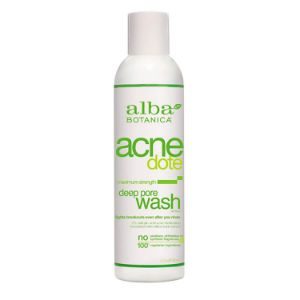 Free from parabens, phthalates, and synthetic fragrances this option pairs 2% salicylic acid with willow bark solution to keep your acne in check.
Key Features:
2% salicylic acid
Willow bark solution
Paraben-free
Cost: $7
Paula's Choice CLEAR Pore Normalizing Cleanser
A soothing, non-drying gel formula that promises to dissolve pore-clogging impurities. This product won't only help you deal with your acne, but it will also work to reduce blackheads, redness, uneven skin tone, and dullness, in addition to removing dirt, makeup, and excess oil.
Key Features:
Gel formula
Won't dry skin
Removes makeup
Cost: $13
DERMA E Acne Deep Pore Acne Cleansing Wash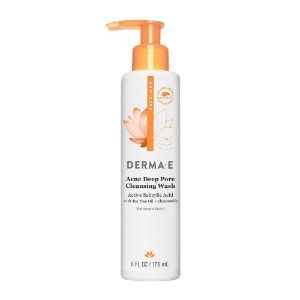 A vegan and cruelty-free daily cleansing wash that's formulated to reduce breakouts and unclog your pores. Key ingredients include salicylic acid, tea tree oil, and chamomile.
Key Features:
Can be used every day
Vegan and cruelty-free
Tea tree oil
Cost: $10
Neutralyze Moderate To Severe Acne Face Wash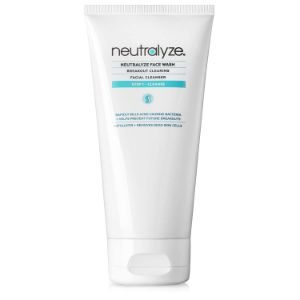 Looking for some proof that this acne face wash genuinely works? It's been clinically proven to be 95% effective. The cruelty-free product is formulated with 2% salicylic acid, 1% mandelic acid, and nitric oxide to improve acne-riddled skin.
Key Features:
Clinically proven to be 95% effective
2% salicylic acid
1% mandelic acid
Cost: $10
Probiotics, organic green tea, and salicylic acid come together in this face wash to offer you protection against future breakouts and eliminate existing acne-causing bacteria.
Key Features:
Probiotics
Organic green tea
Prevents future breakouts
Cost: $14