If you're struggling with your weight, you're not alone. Though they say the grass is always greener on the other side of the fence, the truth is that a lot of people are on a weight loss journey and lucky for us, there are a lot of those people who are documenting that endeavor. A weight loss blog can give you support when you need it in the form of ideas, workouts, recipes, and improving your overall health. Sometimes it's just nice to read the thoughts of someone trying to lose weight so you know you're not alone.
If you're not sure what kind of blog you should look into, fear not. Not only have we found the 51 best weight loss blogs, but a lot of these blogs will also touch on a lot of the most common struggles you'll face in your quest to lose weight.
Check our links below for easy access to our three categories of weight loss blogs:
Fitness Weight Loss Blogs
1. ACE Fitness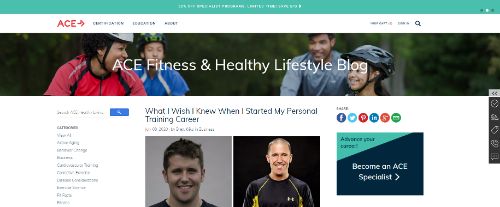 The ACE fitness blog comes as part of a greater community of those getting help and those who are certified as professional trainers. They even have nutrition, fitness, and specialist courses to make sure the ACE fitness community is on point.
Three posts we like from ACE Fitness:

If you're interested in the finer points of strength building and muscle development, this blog is definitely a good pick for you. Founded by brothers Dr. Joel and Joshua Seedman, also known as the Exercise Brothers, this blog is the go-to place for performance and athletic transformations.
Three posts we like from Advanced Human Performance:

As the name implies, this blog was created for mothers who maintain their fitness through running (primarily). So if that's your jam, then you won't want to overlook the valuable experience and knowledge these writers shares on this blog.
Three posts we like from Another Mother Runner:

If you want to take fitness advice from someone qualified, you're not going to get a more impressive resume than Ben Greenfield. He graduated high school at 15, college at 20, and has experience with personal training, nutritionist, fitness instructor, athletic trainer, strength and conditioning – all before he launched one of the world's first fitness podcasts. This man knows his stuff.
Three posts we like from Ben Greenfield Fitness:
5. Born Fitness

This blog uses science-based research to form their workouts and nutrition plans and makes them designed with a real life in mind – not some ideal scenario that requires you to sacrifice your entire life to get fit. The best part, though is that it has articles for any kind of experience level – so whether you're new to fitness or a pro, this will give you the content you're looking for.
Three posts we like from Born Fitness: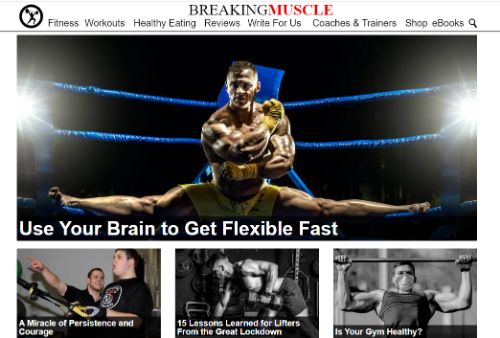 This blog has a variety of writers that tackle an even wider variety of topics within the fitness world. For workouts of all fitness levels and motivation that is invaluable, this blog will have you set to achieve your fitness goals.
Three posts we like from Breaking Muscle:
This blog has a realistic blend of fitness and real life. There are several workouts that will allow you to get your most impact with the smallest time investment and if you're looking for motivation, this blog has that in spades, too.
Three posts we like from Carrots 'n' Cake:
This blog is part of a bigger, brick and mortar business chain that employs trainers, and allows you to attend classes if there's one in your area. (They're primarily on the west coast of the US.) But even without actually physically attending the fitness center or becoming a member, you'll still benefit from the experience and knowledge they share on their blog.
Three posts we like from Chuze Fitness:

If you're struggling with how to balance motherhood with your desire to get or stay fit, then this blog is definitely worth checking out. They address a lot of our common problems – both the post-baby body and the hectic schedule of a mom with an active child.
Three posts we like from Diary of a Fit Mommy:
10. DIY Active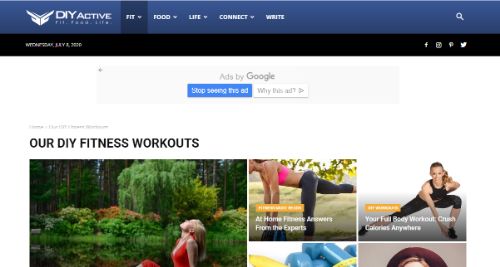 We love that this blog focuses on fitness and workouts in a totally realistic way. You'll get plenty of support and advice on how to manage your time and complete your work out on your own, without paying for equipment or memberships.
Three posts we like from DIY Active:
11. Kayla Itsines

If you're looking for a blog that will give you detailed workout schedules that you'll be able to accomplish at home, oftentimes without any extra equipment, then you'll want to check out this blog, for sure. They even offer suggestions on how to hold yourself accountable and maintain a regular fitness routine.
Three posts we like from Kayla Itsines:

This blog has plenty of helpful tips and plans for you to achieve your fitness goals. It also has a paid membership for even more details on all you'll need to give your weight loss the best chance. And once you've joined, it also has a free app that will give you access to all the same workouts and advice from your phone.
Three posts we like from Love Sweat Fitness:
13. Nerd Fitness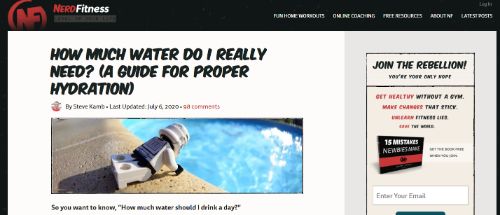 Where else will you get your workout and fitness suggestions with Star Wars, LEGO, and Batman references? If you're keen on the nerd-isms that make your fitness journey more relatable, then you'll want to subscribe to this blog and enjoy their practical, nerdy advice and knowledge.
Three posts we like from Nerd Fitness:
14. Total Shape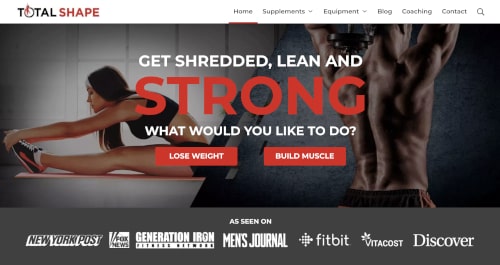 Total Shape teaches you how to lose weight and get into shape by eating healthy and working out without starving yourself. Their team of experts continues to tap into up to date supplement reviews, professional health advice, and workout and diet tips to help you be fit, healthy, and happy.
Three posts we like from Total Shape:
15. Preppy Runner
This is a blog from a New Yorker who loves marathons. She used running as her primary source of fitness and the cardio allowed her to lose 50 pounds when she first began her weight loss journey.
Three posts we like from Preppy Runner:
16. Pumps and Iron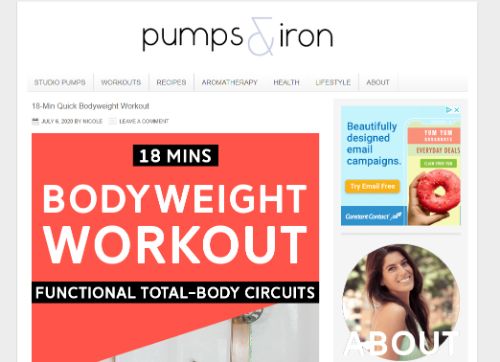 This blog comes from Nicole, a Bostonian fitness expert, and personal trainer. She has a lot of high-intensity workouts, along with workouts that target a specific area of your body – definitely a big plus if you have problem areas that you want to work on.
Three posts we like from Pumps and Iron:
17. The Fitnessista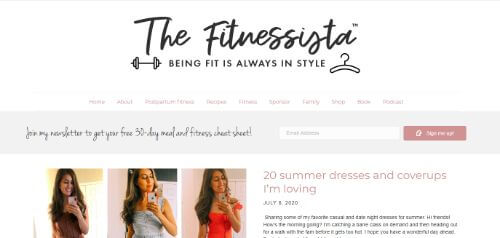 The Fitnessista is a mom personal trainer who specializes in incorporating fitness into your real life. She has quick workouts with high intensity that you can easily fit into your daily routine. And full disclosure, her Spotify summer workout playlist is now our favorite.
Three posts we like from The Fitnessista:
18. Workout Mommy

Stronger Mom Fitness or Workout Mommy is a blog that will allow you to discover new ways to balance your fitness goals with motherhood – no matter what stage of either you're in. This blog focuses on strength building and ways to motivate yourself into achieving your best self.
Three posts we like from Workout Mommy:
Health and Wellness Weight Loss Blogs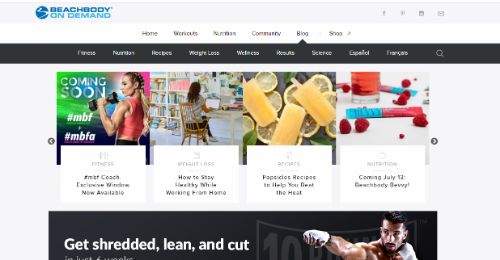 Though you'll certainly get more from the Beach Body brand if you pay for a membership, the blog actually includes a lot of content for free, too. You'll have plenty of workout tips, but even more, it takes an overall health approach to make sure you're doing all you can for the most healthy you.
Three posts we like from Beach Body on Demand:
20. Blogilates
There are some workout-routines and nutrition articles on this blog, and they're great! But our favorite is the wellness content to give your mind and body all of what it needs to make weight loss a more lasting, enduring achievement.
Three posts we like from Blogilates:

There's a little bit of everything on this blog, but if you're in need of some self-love help, Devon will definitely be able to help you with that. Whether, through your weight loss journey, you have your ideal body or not, this blog will help you come to terms with that and accept who you are as beautiful.
Three posts we like from Devon Day Moretti:
22. Downshiftology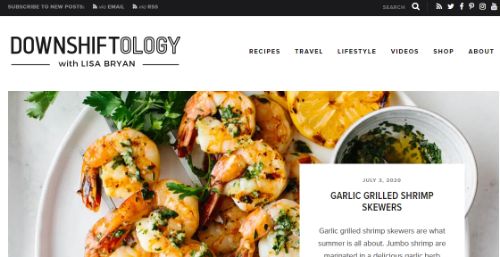 This blog will give you real-life, practical tips that can help you maintain and reach the kind of lifestyle that doesn't feel forced or like a rigid "diet." They'll offer ways to change your habits to have the kind of healthy lifestyle that just naturally leads to weight loss.
Three posts we like from Downshiftology:

This blog comes from holistic nutritionist Teresa Mari (of course) and is an excellent resource for all things veggie. She is also a certified personal trainer and plant-forward, so if you're living that veggie life, this is one blog you won't want to miss.
Three posts we like from Teresa Marie Fitness:

Whether you're looking to advance your career in a health and wellness field or you're more interested in the kind of support you can get with like-minded individuals, this blog is an excellent resource for continuous education – both official and more knowledge-based. It's geared to medical and fitness professionals, but if that's up your alley, this is a win.
Three posts we like from Evidence in Motion :

Anything that's a pun on a Queen song is probably going to be gold, and you won't be disappointed with this wellness blog. You'll appreciate the free workouts and the relevant content for you and your family.
Three posts we like from Fit Bottomed Girls: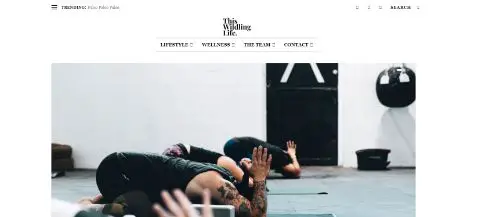 Fitness in the city, also called This Wildling Life, is an excellent resource for all things lifestyle and wellness. You'll see mostly fitness and nutrition content, but also a big surge in overall wellness (including some fashion) in recent months.
Three posts we like from Fitness in the City:
27. Jessi Kneeland

If your journey to weight loss requires a step involving self-love and mustering up the motivation to do the work required to meet your goals, this blog will have you covered. The blog's creator, Jessi Kneeland, regularly makes the effort to help you work through and cast aside any body image struggles.
Three posts we like from Jessi Kneeland:
28. Live Simply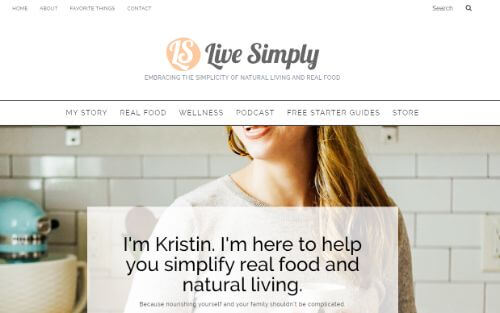 Living without the "extras" is one way to make the lifestyle changes that will inherently bring you weight loss. Whether that's fillers in your diet or excess in other areas of life, both will help you in your weight loss journey.
Three posts we like from Live Simply:
29. Mind Body Green

If you're looking for the most "green" way to naturally lose weight while balancing your body and mind's needs, then you'll want to check out this blog. YOu'll find current posts regarding the best advice and tips for the best way to achieve your healthiest life.
Three posts we like from Mind Body Green:
30. My Fitness Pal
You may have first been introduced to this blog from the free app, but it's more than just a tracking log. You can use the app for all the food and exercise tracking you need, but there is a robust blog that has a lot of content to help you manage your fit life, both mind and body.
Three posts we like from My Fitness Pal: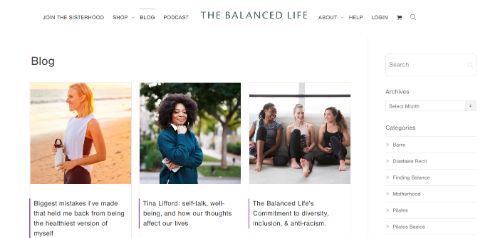 It's so easy to emphasize one part of your life and while you're succeeding in that area, your life suffers in other areas. You may be losing weight but you're stressed beyond belief? This blog is an excellent way to help you maintain a healthy balance to achieve your goals without sacrificing others.
Three posts we like from The Balanced Life:
32. The Fit Foodie
Along with the amazing recipes on this blog, you'll have a healthy dose of motivation and plenty of other overall health tips and information. This blog is geared towards the health of your entire body, and not just getting "fit."
Three posts we like from The Fit Foodie:
Nutrition Weight Loss Blogs
33. A Black Girl's Guide to … Weight Loss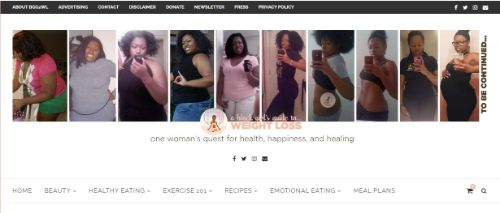 This blog is an excellent resource for those on a similar weight loss journey as the creator of this blog, Texan Erika Nicole Kendall. She's lost over 160 pounds to date and shares her thoughts, tips, struggles, and motivations as she blogs her way to a healthier life.
Three posts we like from A Black Girl's Guide to … Weight Loss:
34. A Clean Plate
While you may not have problems cleaning your plate, this blog is more aiming at helping you to eat clean. Your plate will have plenty of quality and healthy foods that are made with expert recipes from this blog.
Three posts we like from A Clean Plate:
35. All Day I Dream About Food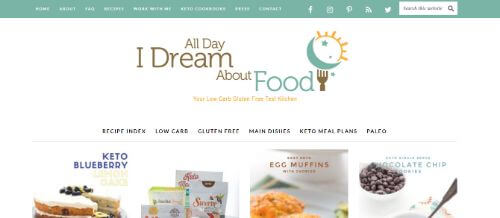 Though there are plenty of healthy food options on this blog, the focus is on low-carb foods. Whether you're aiming for a gluten-free diet or a Keto one, this blog will give you plenty (and frequent) content for the best foods for your preferred menu.
Three posts we like from All Day I Dream About Food:
36. Andie Mitchell

This blog has amazing recipes and relatable lifestyle content that gives you plenty of motivation, and low card food options. Our favorite part though is the weekly posts she makes "What I Love This Week" where she finds something about the world that week to love. No matter how tough life is, we appreciate the effort she makes to choose love each week.
Three posts we like from Andie Mitchell:
This blog offers excellent recipes with high protein, to make sure your foods will fill you up for even longer. You'll make the most out of your meals when you fill each meal with nutrition that keeps your body functioning optimally.
Three posts we like from Bites of Wellness: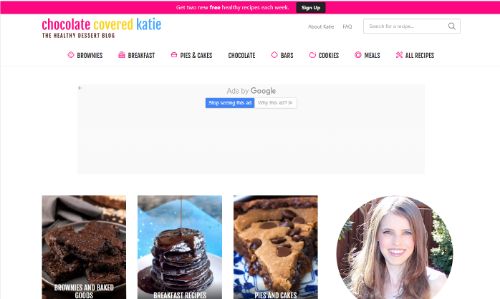 When you read this blog, we highly recommend making note that she's eating quality foods and maintaining a healthy and fit lifestyle. And she says she eats chocolate at least twice a day. Sign us up for losing weight and also eating chocolate.
Three posts we like from Chocolate Covered Katie:
39. Diethood
This blog is an immense collection of healthy recipes that will help you lose your weight as you make the change to a healthier lifestyle. There's even a section dedicated entirely to kid-friendly foods. (Which is amazing for parents!)
Three posts we like from Diethood:
If you struggle while you're losing weight with a constant feeling of hunger, then you'll want to check this blog, for sure. You'll still be able to lose your weight and eat these recipes until you're full!
Three posts we like from Eat Yourself Skinny: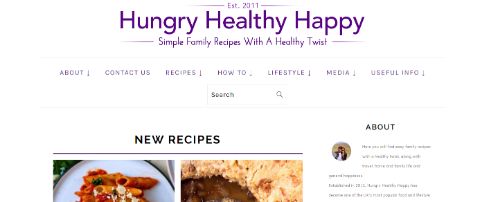 This blog's title refers to the three topics it focuses on: food, fitness, and happiness. The bulk of the content is food-related and with delicious recipes like this blog has, there's something for everyone.
Three posts we like from Hungry Healthy Happy:
42. KH Nutrition
This blog is from registered dietitian and certified intuitive eating counselor, Kim Hoban, who aims to help you make sure that your body is getting the nutrition it needs to live your best life. The articles on this blog offer a host of knowledge and experience in the realm of nutrition to make sure you're not making the wrong food choices as you try to lose weight.
Three posts we like from KH Nutrition:
If you combine our love of food with our love of puns, you'll get this blog's title and we're here for it. This blog has loads of recipes that help you eat seasonal foods and lifestyle content that could help you live a balanced and healthy life
Three posts we like from Making Thyme for Health:
This blog, from Coloradoan Kelly, will give you lots of recipes that you'll love on your healthy life quest. She has plenty of recipes without any kind of affiliate, but also some content that's targeted towards the Jenny Craig program.
Three posts we like from No Thanks to Cake:
This is an excellent blog to help support you as rebuild your new lifestyle of mindful and healthy eating habits. Founder McKel is a registered dietitian, wellness coach, and author, sharing her expertise and knowledge on her blog with plenty of recipes and tips.
Three posts we like from Nutrition Stripped:
This blog is run by a personal trainer, North Carolinian Julie Fagan, and has plenty of recipes for any meal, appetizer, snack, or dessert you could want. She has several delicious and healthy recipes that focus on dietary allergies, so if you're looking for gluten-free and dairy-free recipes to offer your family, this blog is a must-see.
Three posts we like from Peanut Butter Fingers:
We can certainly appreciate a blog that has beautiful content with fancy recipes and food that you'll love and enjoy making – and this blog will give you some of those – but the real rock star content is in the recipes that are made with real mom-life in mind. You don't always have the time, budget, and energy to make foods that your kids will hate and this blogger knows it – so it's packed with kid-friendly, quality foods you'll love making for your family.
Three posts we like from Real Mom Nutrition:
48. Snack Girl

Snack Girl offers recipes, reviews of food products, and information to support those on a healthy lifestyle journey. If you're looking for support in your weight loss journey, motivation to help you reach your fitness goals, and healthy eating tips and recipes, this is a blog you'll want to visit.
Three posts we like from Snack Girl:
49. The Fit Cook

This blog was originally created as "The Fit Men Cook Blog" so you'll see a lot of men specific content in older posts but since the revamp, "The Fit Cook" has plenty of recipes, tips, health, and wellness content that's excellent for everyone. He has budget-friendly recipes and fast and easy ones that will have you cooking up excellent food in no time.
Three posts we like from The Fit Cook:
50. The Full Helping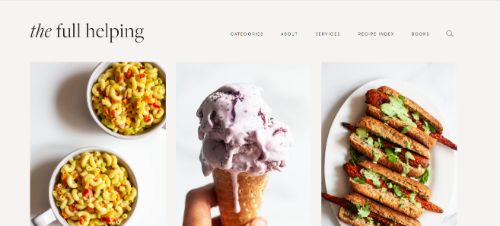 If you're constantly struggling with smaller portions than your body needs for you to feel full, then you should definitely check out this blog. Not only will the recipes on this blog give you healthy foods that will fill you up, but they're delicious, too!
Three posts we like from The Full Helping:
This blog has a blend of Weight Watcher-friendly recipes blended with some good old fashioned quality food tips that will have you happy to eat healthily. And you won't have to sacrifice the occasional cosmo for a mindless grind of cardio to lose weight following them!
Three posts we like from Trading Cardio for Cosmos: