If you're worried you're not getting enough fiber in your diet, you can watch what you eat more carefully, meticulously selecting fiber-rich foods, or you can take a slightly less intense method and take a daily supplement. There are so many different types of supplements, though, you may be lost on where to start. If that's the case, don't stress – we have you covered.
We reviewed dozens of fiber supplements to identify the best of the best. We looked for the fast-acting fiber that will keep your body in a natural and comfortable digestive cycle and those that will mitigate any frequent constipation issues, too. We found powders and pills, as well as fiber supplements for your kids. No matter who needs additional fiber – or why – we have the right choice for you.
If you're interested in secretly adding fiber into your child's diet without telling them, you may want to check out The Best Smoothie Makers & Blenders.
Early in our research, we determined that Benefiber Daily Prebiotic Dietary Fiber Supplement Powder was the obvious choice for the best overall fiber supplement. You'll easily be able to add this flavorless powder to your daily coffee or orange juice and give yourself the exact kind of fiber your body needs.
[toc]
The 5 Top-Rated Fiber Supplements
*Ratings are from Amazon at the time of publication and can change
Best Fiber Supplement Overall: Benefiber Daily Prebiotic Dietary Fiber Supplement Powder
The Benefiber Daily Prebiotic Dietary Fiber Supplement Powder will make sure your body is performing optimally without changing your routine at all. You'll simply add this taste-free powder into a glass of your favorite drink – even just water will work! After a thorough stir, the powder evaporates and you won't even know you've taken your fiber supplement, save for the reliable and consistent digestion you'll have that day.
Adults can take this supplement by adding two teaspoons to your choice of drink, three times daily. It's the perfect candidate for a supplement to your drink with each meal – that way you can ensure you're getting 100% of your recommended daily intake of fiber. For children from six to eleven, you'll want to half the dose and kids under six will need to talk to a doctor first.
Over 1,300 people have reviewed this product on Amazon, making it one that has a reliable rating – and considering that rating is an impressive 4.6 stars, there's certainly plenty to celebrate with this fiber supplement.
Benefiber Daily Prebiotic Dietary Fiber Supplement Powder Key Features:
100% of your daily intake
17.6 ounces in each container (125 servings)
Tasteless, texture-free
Best Fiber Gummies for Kids: L'il Critters Kids Fiber Gummy Bears Supplement
The L'il Critters Kids Fiber Gummy Bears Supplement is a sweet treat that your child won't mind taking one bit. Not only does it come in a tasty strawberry flavor and simulate the fruit snacks they crave, but this supplement leaves no yucky aftertaste, making it a vitamin they're eager to take.
If you're worried about what your kid eats, and what parent isn't, then you'll be comforted to learn that these gummies are made with naturally-sourced flavors and absolutely no high fructose corn syrup, no synthetic dyes, and no gluten. And for those of us on a mission to eliminate red 40 from our kids' diets, that's a big win.
With over 1,200 customer reviews on Amazon and an overall rating of 4.6 stars, there's every reason to think your little one will be pleased with this gummy. And anything that will help your child's health and comfort without a fight is more than a bit tempting.
L'il Critters Kids Fiber Gummy Bears Supplement Key Features:
Recommended for ages 2 and up
90-count (45 servings)
3 g fiber per serving
Best Budget Fiber Supplement: Optimum Nutrition Fitness Fiber
By adding the Optimum Nutrition Fitness Fiber into your routine, you're 5 grams closer to your recommended fiber intake each scoop you add. The recipe for this supplement contains six different fiber supplements, which means your body will have a bit of variety to respond at a more evenly paced digestive rate.
Because an adult is recommended to have between twenty-five to thirty-five grams of fiber each day, this supplement will need to be taken a few times each day to ensure you're getting 100% of your recommended intake. Luckily, this is a flavorless powder that can be added to virtually any kind of drink or food. Add it to your cereal, to your coffee, to your protein shake or even your pudding.
The numbers all add up big for this fiber supplement. Not only does it have an overall rating of 4.3 stars, with over 500 customer reviews on Amazon, but the best number is also the smallest – you can get this for well under $10. And if you subscribe to Amazon, you'll save even more!
Optimum Nutrition Fitness Fiber Key Features:
5 g fiber per serving
2 packaging options
Unflavored
Best Fiber Supplement Snack: Metamucil Fiber Thins
If you struggle getting supplements down, then you may want to consider tricking yourself into it. The Metamucil Fiber Thins are a snack that you can incorporate into your day by taking when your mid-afternoon snack would normally be, or maybe when you're just craving some chocolate. Who knows? Maybe this little chocolate fiber supplement is the thing you need to get you through to the next meal and keep you on a healthy diet.
Each package contains two fiber thin bars and both bars combine to offer you 100 calories and five grams of protein. They come in three flavors in multiple packaging options, you can even subscribe and save on some choices and that means you'll never be without the supplement that offers your digestion the support it needs.
This snack has an overall rating of 4.6 stars on Amazon, awarded by right around 400 customer reviews and that makes it a solid option for your supplement needs. A quick perusal of the reviews will have you convinced the bars are a satisfactory taste and from the #1 doctor-recommended brand of fiber, there's not much to sway you off this purchase.
Metamucil Fiber Thins Key Features:
Flavors available: chocolate, cinnamon spice, and apple crisp
Convenient on-the-go packaging
5 grams of Fiber per serving
Best Organic Fiber Supplement: Garden of Life Raw Organic Superfood Fiber for Constipation Relief
The Garden of Life Raw Organic Superfood Fiber for Constipation Relief will give you fiber, omega-3s, and a probiotic to make sure your digestive system has absolutely all the support it needs to function properly. With the right balance of healthy bacteria from the probiotic, and the Omega-3s, combined with the fiber to break your foods down easily, you're sure to have a high-efficiency digestive system.
This supplement uses only raw fiber, so you can ensure none of the quality fiber is depleted during any processing or cooking process, and that means it can provide you with an even higher dose per serving – with an impressive nine grams of fiber per scoop, this will give you over a third of your daily intake each time you take it. Even if you ate no fiber in your diet otherwise (which is pretty difficult), you could still ensure proper digestive health by simply taking this supplement.
With over 800 customer reviews on Amazon and an overall rating of 4.1 stars, you have every reason to believe this fiber supplement will satisfy your need for the digestive support – while giving you plenty of quality ingredients to make sure you're doing the best you can to maintain your lifestyle.
Garden of Life Raw Organic Superfood Fiber for Constipation Relief Key Features:
Raw, vegan, gluten-free, dairy-free, and psyllium free
2 size options
9 g fiber per serving
Who Should Buy Fiber Supplements
The most common use of fiber supplements is to aide with digestion. If your stomach has pains or you struggle with constipation, a fiber supplement may be able to make things move more comfortably, so to speak. For those with allergies, or for picky eaters, this is a huge help to ensure your body stays in optimal health. Kids, especially those who are going through a stage where they only eat mac-n-cheese, are very often in need of an extra fiber boost and there are plenty of supplements that will appeal to them. You can even slip flavorless powders into their mac and cheese!
Fiber will also make you feel fuller longer, and while that's most easily noticeable in fiber-rich foods, a fiber supplement can certainly help, too. For example, adding a powder fiber supplement to your coffee or orange juice in the morning will make those drinks stick with you longer, allowing you to curb your appetite for longer without the unnecessary snacking. Because of this, a fiber supplement is very often a key component for a good diet – especially one that's intended for those who overeat or snack frequently.
Important Features to Consider
A fiber supplement should have a few important features. Here's what to consider when selecting a fiber supplement:
Flavorless. Fiber has an ultra-sneaky method of consumption: It can be added without adding any taste or texture. That means you won't have to worry about gagging it down yourself, nor will you need to be concerned your dramatic child is going to throw up in rebellion of taking any supplement. It means the pills and gummies won't likely leave any aftertaste and these supplements can easily transform water into something yummy.
Gummies. If you can convince your kids that their fiber supplement is a treat, all the easier for them to get the fiber they need. You won't have to worry about "sneaking" anything into their other foods or drinks, nor will you have to tell them anything, if you don't want to. And for you, there's no psyching yourself up to take what you know s good for you – you may even come to think of this as your daily treat.
Pills. Sometimes, and for some people, popping a pill each morning is just the simplest method to make sure you're getting the fiber you need. No muss, no fuss, just add it to your daily to-dos and it's done. It's essentially no additional work if you're already taking a daily pill and the biggest perk is that it's usually the cheapest method to get your fiber.
Prebiotics. If you're taking fiber to aid your digestion, a prebiotic will help the fiber to be more effective. With a healthy balance of the beneficial bacteria and fungi in your gastrointestinal tract, you'll be more regular, and the fiber will allow you to be more regular more comfortably. Doubling up on the supplement that keeps your digestion performing optimally is an excellent idea.
On-the-go. If your mornings are packed with must-do activities, adding another thing to them is probably the last thing you want to do. You may want to consider how easy adding a packet of fiber to your water to make it taste better, or add a flavorless packet to your coffee or OJ for a virtually undetectable change to your morning.
Frequently Asked Questions
What is a fiber supplement and what do they do?
A fiber supplement is an additive that you can take – in pill, powder, gummy, snack, or liquid form – that will ensure you're getting enough fiber in your diet to keep your body operating properly. Most notably, fiber will help your digestion. We'd be remiss to neglect to inform that Fiber is most effective when consumed through your foods, however, if you aren't eating a fiber-rich diet, the supplement may be able to make up for what you're lacking. Because it has a number of health benefits – balancing blood sugar, lowering cholesterol, controlling your appetite, preventing constipation – the additional fiber in your diet will help a wide range of possible concerns, making it incredibly appealing to most anyone.
Is it OK to take a fiber supplement every day?
Supplements are a relatively new scientific study – relative to other diet and nutrition, that is. Taking supplements regularly has only been recommended for a hundred years or so, whereas diet and nutrition have been studied for many hundreds of years – more if you count the research on fossilized bone nutrition. That's all to say there's plenty of research to determine the health benefits of fiber, and nothing in that research has determined any evidence that taking a daily supplement could be harmful. However, you may notice some side effects that you'll want to avoid and, should they arise, you should stop taking them and talk to your doctor. You may notice unpleasant bloating and gas – along with abdominal cramping.
Fiber can also decrease the absorption rate of some other medications, making it unsafe to use in conjunction with other medications and supplements. Fiber can decrease your blood sugar levels, which certainly makes it a concern worthy of note for any diabetic person. Even without the other health concerns, you'll want to make sure you're consuming plenty of water to minimize any negative side effects.
When should you take fiber supplements?
You should take fiber supplements when you think you're not getting the proper amount in your diet. You may notice this by a few circumstances, but the biggest one will be digestion issues. If you notice frequent bouts of constipation, then your body may be struggling with too little fiber in its diet. Likewise, if you have a family history of specific health concerns, namely high blood sugar, colon cancer, heart disease, and high cholesterol, fiber can help prevent or lessen the impact these concerns have on your life.
If you're curious about what time of day is best used for fiber supplementation, then there's no cut-and-dry answer; you can try different times to see the schedule in which your body responds to it. (To put it less delicately, how long after taking your fiber does it make you poop.) Sometimes it will hit a person fast and you'll need to plan accordingly. You don't want to take it in the morning and have an emergency on the road, driving into work. However, if you want the full benefits of your appetite is curbed, then you will probably want to take it in the morning, or early afternoon. If it doesn't run through you, though, taking it at night may see you handling business, so to speak, as you get ready and it may just stave off your appetite until you're ready for a late breakfast or early lunch.
Does fiber help you lose belly fat?
Yes and no – fiber doesn't target belly fat and burn through your stores there, no. But it does keep you full for longer and that alone will have a dramatic impact on your weight loss. If you struggle with frequent and unnecessary overeating or snacking,m then the additional fiber in your diet, via supplementation, may help you lose weight faster. Additionally, if you ingest your fiber through a powder added to water, you're going to feel fuller longer due to the extra water and your body will run a bit better due to the extra hydration, too.
No research suggests that a fiber supplement will help you lose weight in your stomach first, though, so don't get too excited. If your stomach is where your fat reserves store, then you're going to get there sooner or later. With enough fiber, you'll also reduce your body's weight retention from a backed-up or delayed bowel movement as well as some water bloating, too. The short answer is that though it won't attack your belly fat specifically, it won't hurt.
Other Fiber Supplements We Reviewed
We looked at 20 other fiber supplements. Even though they didn't make our 5 best fiber supplements list, they're the best of the rest and each is still a great option for you. The information you'll need to compare each one is included with the listing.
Fiber Supplements Capsules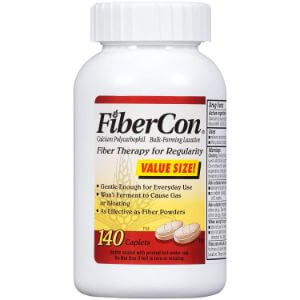 Help restore the proper balance in your intestines with the aid of this fiber supplement.
Key Features:
140 caplets
Gentle enough for daily use
Recommended for 12 years and up
Cost: $15
Metamucil Fiber Psyllium Husk Capsules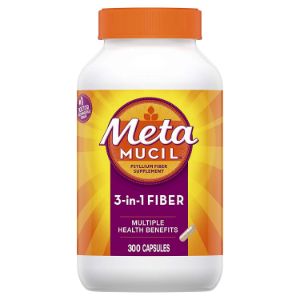 If you don't mind taking more pills when you need the extra fiber, this may be your best bet for a supplement.
Key Features:
60 servings per container (300 capsules)
Gluten-free
2 g Fiber per serving
Cost: $30
Nature's Nutrition Psyllium Husk Capsules, Highest Potency Dietary Fiber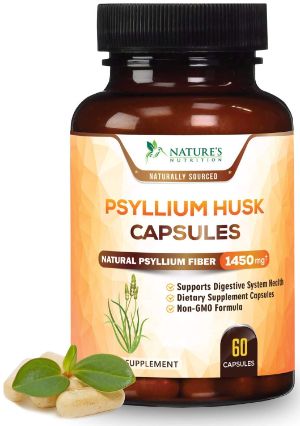 This fiber supplement utilizes the psyllium husk that will form a gel, when combined with water (make certain you're drinking 8 full ounces with these capsules), that will expand up to 50 times its initial size, to promote healthy digestion and regular bowels.
Key Features:
Non-GMO formula
2 size options available
1450 mg of fiber per serving
Cost: $10
Pure for Men – The Original Vegan Cleanliness Fiber Supplement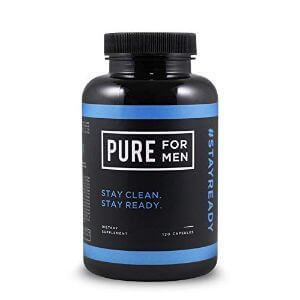 With each serving of this fiber supplement, you'll get a Pure's proprietary blend of fiber to make sure your bowels are consistent and your digestive system is healthy.
Key Features:
2 size options
Powder form also available
100% vegan
Cost: $30
Renew Life Adult Fiber Supplement
This supplement pulls its fiber from three different sources, oats, flaxseed and acacia to make sure your body is getting a healthy balance.
Key Features:
Non-GMO
150 capsules (30 servings)
Vegetarian formula
Cost: $15
Wise Woman Herbals – Fiber Flow Capsules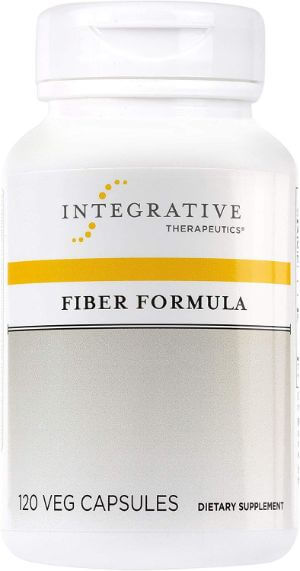 These all-natural, vegetarian capsules will ensure your body moves through its digestion at a healthy pace.
Key Features:
Recommended to take with 8 oz of water
No preservatives, salt, yeast, wheat, soy, dairy, or artificial flavors or colors
120 capsules (30 servings)
Fiber Supplements for Kids
Culturelle Kids Regularity Probiotic & Fiber Dietary Supplement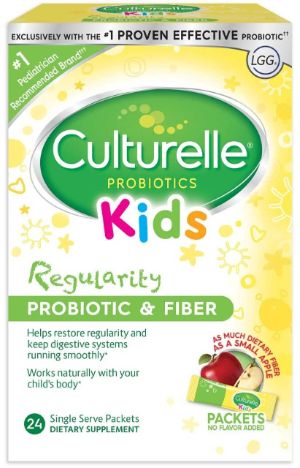 You can easily slip this supplement into your little one's food or drink and help tiny tummy digestion without anyone ever knowing.
Key Features:
On-the-go individual packs
Flavorless
2 packaging options
Cost: $20
DrFormulas Prebiotic Fiber Gummies Supplement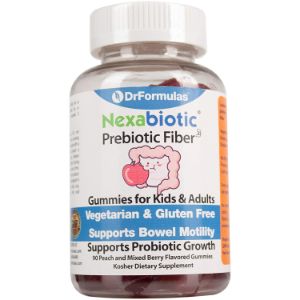 This yummy supplement will easily pass as a snack for your little one and that means you won't have to force him to take this vitamin.
Key Features:
Peach and mixed berry flavors
Prebiotic and fiber OR Probiotic supplements available
3.33 g of fiber per serving
Cost: $15
Fiber Advance Gummies For Kids Daily Fiber Supplement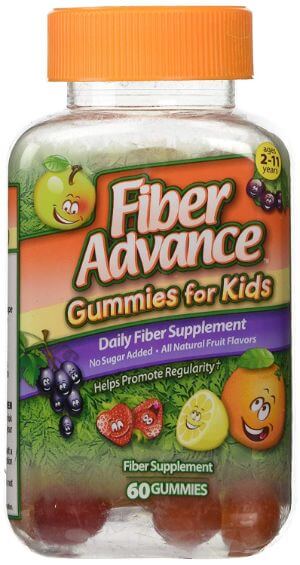 These fiber gummies will help your child maintain a more consistent bowel schedule and prevent any associated pain, as well.
Key Features:
60 gummies (30 servings)
Recommended ages 2-11
3 g of fiber per serving
Cost: $10
Fiber Choice Fruity Bites Daily Prebiotic Fiber Gummies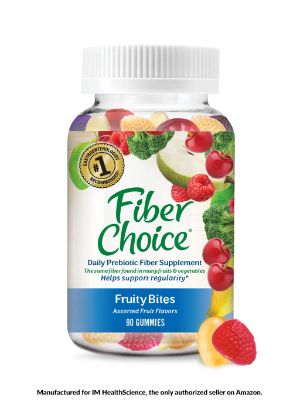 This kid-friendly supplement is made with inulin, a prebiotic fiber which is found in several fruits and vegetable to make sure your child is getting his recommended daily intake.
Key Features:
No gelatin or artificial colors or flavors
90 gummies (90 servings)
Assorted fruit flavors
Cost: $15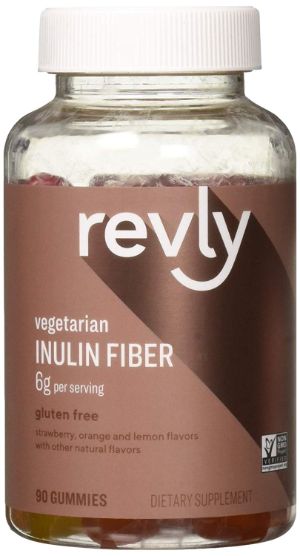 These gummies are flavored with strawberry, lemon, and orange flavors to appeal to even the pickiest kids.
Key Features:
6 g fiber per serving
Certified non-GMO
Vegetarian, gluten-free
Cost: $10
SmartyPants Kids Formula & Fiber Daily Gummy Vitamins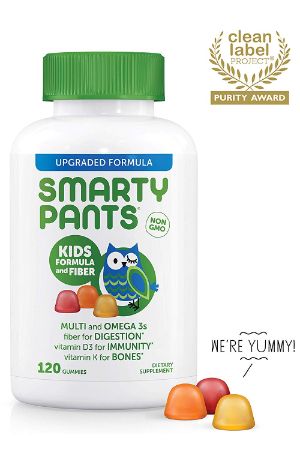 This supplement is a multi-vitamin that gives your child a slew of his recommended vitamins and an impressive four grams of fiber, as well.
Key Features:
Includes Vitamins D, A, C, B12, E, K, and B6
120 gummies (30 servings)
Non-GMO, no milk, eggs, peanuts, fish, soy, gluten, synthetic colors or flavors
Cost: $20
Zahler Chapter One Fiber Gummies
These gummies are made with the fiber of chicory root to make sure your little one gets all she needs to stay regular.
Key Features:
Made in the USA
3 g fiber
60 gummies (30 servings)
Powder Fiber Supplements
Benefiber Fiber Supplement Powder Stick Packs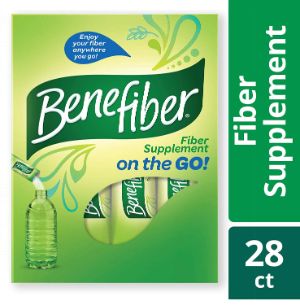 Not only is this on-the-go, pre-portioned powder easy to use, but it's also an excellent value – especially if you Subscribe and Save on Amazon!
Key Features:
100% natural
Taste-free
28 servings
Cost: $15
Heather's Tummy Fiber Organic Acacia Senegal for IBS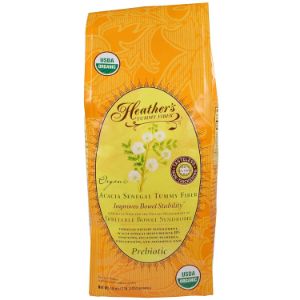 Although this may not be a powder., strictly speaking, it's very similar in its application – add this tea to (hot) water to enjoy.
Key Features:
Fiber derived from acacia powder
Certified organic
180 servings per container
Cost: $20
Regular Girl – Organic On The Go Powder
You can use the convenient on-the-go packs or opt for the savings with the bulk powder.
Key Features:
100% natural, organic
Tasteless powder
Gluten-free, non-GMO
Prebiotic Fiber Supplements
Fiber Choice Daily Prebiotic Fiber Chewable Tablets
This chewable daily supplement will allow you to get the digestive support you need, without choking down numerous pills.
Key Features:
Recommended from ages 4 and up
90 tablets (45 servings)
Take with meals
Cost: $15
GoBiotix Prebiotic Fiber Boost Powder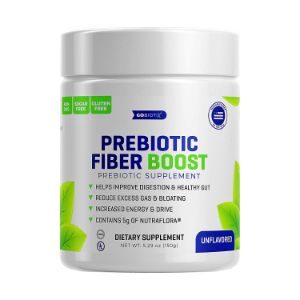 This vegan formula offers your digestive support in the form of a tasteless, powder that dissolves clear to make it virtually undetectable.
Key Features:
Sugar-free
Tasteless
30 serving per container
Cost: $25
Nature's Way Alive! Liquid Fiber Sugar-Free w/Prebiotics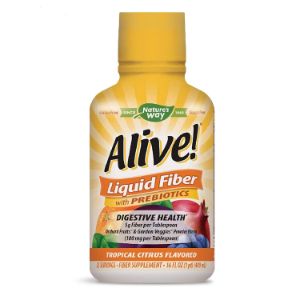 This is a liquid fiber that will help your digestive system with one fast and easy shot.
Key Features:
32 servings per container
Tropical citrus flavored
5 g fiber in each serving
Cost: $10
Yuve Vegan Prebiotic Gummies Supplement
These prebiotic gummies will give you plenty of fiber to make your body perform optimally and are third-party tested to ensure the highest quality.
Key Features:
3 g fiber per serving
60 gummies (30 servings)
100% money-back guarantee
Cost: $20