Purchasing a comfortable and supportive ergonomic chair is one of the best gifts you can give yourself if you sit for long periods of time at work or while playing computer games. The best ergonomic chairs can alleviate aches and pains in your back and joints by supporting your body and promoting good posture. There are many different types of ergonomic chairs, some that are ideal for the office, some for gaming, and others better suited to different work environments such as a hair salon, tattoo shop, or dentist's office.
We looked at dozens of different ergonomic chairs and have identified the best for several different types of common uses. While reviewing these chairs we considered factors such as ergonomic design, adjustability, and overall comfort to choose our top picks, and then we compiled a list of many other excellent ergonomic chairs and highlighted their key features for you the browse.
After examining many different ergonomic chairs, we chose the Duramont Adjustable Office Chair as our overall top pick.  The plush cushion seat and the long list of adjustable ergonomic components put this chair at the top of our list.
[toc]
The 5 Top-Rated Ergonomic Chairs
*Ratings are from Amazon at the time of publication and can change
Best Ergonomic Safe Overall: Duramont Adjustable Office Chair
The Duramont Adjustable Office Chair is a full-featured ergonomic chair that will keep you feeling comfortable and supported for many hours during long days at the office, home office, or at your computer gaming setup. Nearly every component of this chair is adjustable, and because of that it can fit people of many different shapes and sizes in its frame and encourage them to sit with good posture.
With a high back made of breathable mesh, your entire back will be kept cool and supported. An adjustable lumbar pad can be made more aggressive or relaxed with the simple twist of a dial, and the adjustable height headrest can easily be slid into the ideal place so that you can lean back in total comfort. Additionally, the backrest can be reclined back to 120 degrees and locked into place for when you need a break from sitting up straight.
More features include adjustable height armrests, a seat tension dial, and rollerblade caster wheels which glide more smoothly and silently on top of office tile, carpet, and hardwood floors than do traditional black nylon caster wheels. With as many adjustable parts as this chair has. you're certain to find a comfortable sitting position.
Duramont Adjustable Office Chair Key Features:
330-pound weight limit
Adjustable lumbar support and headrest
Rollerblade caster wheels
Breathable mesh back
Best Ergonomic Office Chair: ORVEAY Desk Chair
Whereas our top overall pick can be adjusted in every which way imaginable, the ORVEAY Desk Chair takes a different, more fixed approach to ergonomic design. The curved mesh back provides breathability and shapely support without the addition of extras such as a lumbar pad or headrest. Its minimalist design is more rigid in its approach, and that's a design choice that could be more welcoming to those who don't need or want a wealth of supportive bolstering.
This chair is height adjustable, and it can recline back to 125 degrees. The seat tensioner is adjustable as well, but that's it. Both armrests are fixed in place and absolutely sturdy. Likewise, the backrest and seat cushion have been designed to be supportive, but not overly so.
Five hooded dual caster wheels are attached to the five star aluminum base. Assembly is a cinch. The company says that the chair can be fully assembled in 15 minutes. Many users have praised this chair for its comfort, durability, and simplicity.
ORVEAY Desk Chair Key Features:
270-pound weight limit
Backrest recline to 125 degrees
Breathable mesh backrest
12-month warranty
Best Budget Ergonomic Chair: ORVEAY Armless Computer Chair
There's little that needs to be said about the ORVEAY Armless Computer Chair. It's a minimalist task chair with a concave memory foam seat and a curved mid-back support that provides ergonomic comfort despite its simplistic design. There are other wallet-friendly chairs in the style on the market, but the ORVEAY Armless Computer Chair is a high-quality option that excels because of its sturdy, ergonomic design.
We like that this task chair has a breathable mesh backing and is height adjustable via a pneumatic control system. The five hooded caster wheels are durable and roll smoothly on hard surfaces. Assembly is simple and many users are happy with the build quality and seat comfort, not to mention the great price. This is a fantastic multiuse desk chair that'll work well for many different applications.
ORVEAY Armless Computer Chair Key Features:
200-pound weight limit
Memory foam seat
Height adjustable
Convenient carry handle
Best Ergonomic Gaming Chair: AKRacing Core Series EX
There are many different gaming chairs on the market that look identical to one another and use cheap materials dressed up with colorful dyes and designs, but the AKRacing Core Series EX stands out as a top-quality alternative that does everything better. AKRacing makes these chairs so well that they back them up with a five-year overall chair warranty and ten-year frame warranty.
At first glance, you can tell that this chair is different than most other gaming chairs, and that's because it is covered in a soft fabric upholstery rather than the more commonly seen pleather found on other chairs. The result is a more pleasant and longer-lasting exterior, and there are several color combinations to choose from.
Structurally, this chair is made from a one-piece steel frame that's coated with anti-corrosion paint. The class four gas lift is the best available on the market, and the cold-cured molded foam cushion that pads all parts of the chair has been subjected to 80,000 stress tests to ensure its enduring support and longevity. It has been ergonomically designed to support the entire spine, and it has a lumbar pillow and head pillow that are both adjustable and removable.
AKRacing Core Series EX Key Features:
330-pound weight limit
Cold-cured molded foam cushion
Fabric upholstery
Five-year warranty
Best Ergonomic Saddle Chair: Kaleurrier Swivel Saddle Stool
Saddle chairs are a bit different from the other ergonomic chairs we featured in this article, but they can be quite comfortable and supportive, especially for those with sciatica and lower back issues. The Kaleurrier Swivel Saddle Stool is a fan favorite, and we like it for its high-grade construction and thick PVC leather seat.
As it is the only unique aspect of this chair, and the only part your body will regularly touch, the PVC leather saddle seat is an extremely important consideration in choosing a saddle chair. The durable fabric is soft, smooth, hypoallergenic, waterproof, and abrasion-resistant. The ergonomic design of the seat hits the perfect balance of support and comfort. Some saddle seats have an extreme design that provides extra support at the sacrifice of comfort, but we think this model got the design balance right.
This chair encourages you to engage your core and use your feet to remove tension from your lower back. The height adjusting lever is easy to access without having to bend, making it easy to adjust as needed on the go, and the caster wheels have been coated with a rubberized material to ensure smooth rolling on hard surfaces.
Kaleurrier Swivel Saddle Stool Key Features:
300-pound weight limit
Height adjustable
Durable fabric upholstery
12-month warranty
Who Should Buy an Ergonomic Chair
Anyone who spends any amount of time sitting in an office, home office, other places of business, or at their computer desk for gaming and leisure activities should buy an ergonomic chair. Ergonomic chairs are beneficial for everyone who sits in a location where they need to be active and productive.
Couches are great for relaxing, and dining chairs are fine for a meal at the dinner table, but ergonomic chairs are a must-have for any long-term productive setting. They help reduce fatigue and pain, and in doing so they promote blood flow to keep your body feeling good and your mind in an efficient, productive state.
Ergonomic chairs are also a fantastic option for anyone who suppers from back and joint pain as they can be a relief from standing or the uneven support of a plush sofa. If this sounds like something you're all too familiar with you may want to check out our take on the best joint supplements to keep your joints in tip-top shape.
Important Features to Consider
There are a few important considerations to think through before purchasing an ergonomic chair.
Your own posture. Choosing the best style of ergonomic chair will partially depend upon your posture and body shape. For example, there are many people who suffer from lower back pains who require strong lumbar support in order to sit at an office desk and work for long periods of time. Other people may not require strong lumbar support, but do need adjustable armrest to prevent carpal tunnel syndrome, or prefer a saddle stool that encourages them to engage their core muscles and enables them to work in a variety of settings. Your body's strengths and weaknesses play a vital role in the comfort effectiveness of an ergonomic chair.
Pressure points. Building upon the consideration of your posture, you'll want to note each and every part of you that will benefit from additional support. A thick seat cushion may be in order if your bottom usually becomes uncomfortable during long periods of sitting. Tilting seats can help alleviate pressure on the lower back. Bolstering will help to keep you aligned with the middle of the seat, and supports in the middle or upper back will help you sit tall and straight. Not all of these ergonomic tools are vital for everyone, so be sure to consider what support your body needs.
Use and duration. Not all chairs are made equal. Some ergonomic chairs are designed to keep you comfortable and productive through eight or ten hour workdays, but many fall well short of those extended time periods. Many task chairs and lightweight office chairs are designed for short durations of three hours or less, and the same can be said for many saddle chairs. You'll want plush cushioning and plenty of adjustable supports if you intend to sit in your chair all day long. Gaming chairs have a lot of customization and adjustability to accommodate extensive periods of gameplay that spans from the adrenaline and focus of fast-paced competitive gameplay to the lackadaisical chill gameplay of modern stress-free simulators, and everything else in-between.
Adjustability. Adjustability is key to customizing an ergonomic chair to support you in all the right places. Be aware that while most chairs will have features like armrests and lumbar supports, those very same components may be adjustable on some chairs and not on others.
Weight capacity. If you are a tall or heavyset individual you will want to keep a close eye on the weight capacity of different chairs before you make a purchase. Most chairs have a minimum capacity of at least 250 pounds, but if you weigh near that or heavier you'll want to make sure you find a chair that can not only hold your weight, but also provides the right amount of space and support for your body.
Frequently Asked Questions
What does ergonomic chair mean?
An ergonomic chair is a chair that was designed to promote a person's most comfortable and productive seating position. In short, ergonomic chairs are made to be comfortable. Using anatomy and workflow science, engineers have designed ergonomic chairs to support the entirety of the spine as well as provide support for a person's arms, butt, and thighs. This encourages people to sit in their chairs for longer and to be more efficient in their work.
Do ergonomic chairs really work?
Absolutely! Ergonomic chairs support your body and encourage good posture. A person who unwaveringly adheres to good posture principles may not need an ergonomic chair, but almost everyone will benefit from an ergonomic chair during long workdays. Even if you do a great job at holding a good posture you may succumb to fatigue after many hours at your office desk, and an ergonomic chair will support you when your posture begins to fail.
Are saddle chairs better for your back?
Many people with sciatica and lower back issues praise the comfort and support of saddle chairs. The seat style and height encourage you to use your legs for support which takes pressure off of your lower back, and the lack of a backrest, in conjunction with the pivoting base, encourages you to engage your core and maintain good posture.
Are ergonomic chairs comfortable?
Ergonomic chairs are the definition of comfortable. These chairs provide support and cushioning to enhance your comfort so that you can sit for long periods of time without fatigue or pain.
Other Ergonomic Chairs We Reviewed
We looked at 20 other ergonomic chairs. Even though they didn't make our five best ergonomic chair list, they're the best of the rest and each is still a great option for sitting for extended periods of time in your office, home office, or elsewhere. The information you'll need to compare each one is included with the listing.
Ergonomic Gaming Chairs
Designed for the comfort of larger gamers, the Blue Whale Big and Tall Chair is a sturdy gaming chair with an extra-wide seat and a steel frame that can support people up to 400 pounds in weight. It has a USB massaging lumbar support and a removable head pillow as well as adjustable seat and armrest controls.
Key Features:
400-pound weight limit
Massaging lumbar support
65-degree adjustable backrest
Cost: $210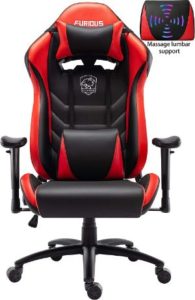 The Furious Gaming Chair has a multi-layered breathable seat cushion that provides comfortable support. The cushion has a high-density foam base that is topped off by fluffy cotton and a latex support layer. A USB-powered massaging lumbar pillow and removable head pillow are provided with the chair. An angle adjustment lever lets you lay back at various positions all the way down to a relaxing 160-degree recline.
Key Features:
350-pound weight limit
Massaging lumbar support
12-month warranty
Cost: $150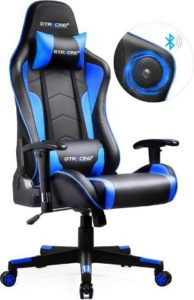 Prepare yourself for an immersive surround sound experience with the GTRacing Gaming Chair. With built-in speakers at the shoulder rests you can play your favorite tunes or hook up to your gaming system's audio by direct connection or via a Bluetooth adapter.
Key Features:
Built-in speakers
Removable headrest and lumbar support
300-pound weight limit
Cost: $160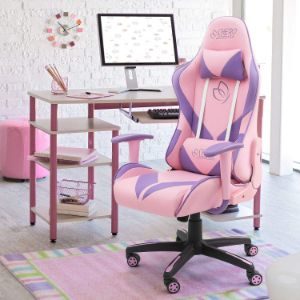 The Homall Computer Desk Chair has a unique design that can be customized at purchase. Standard gaming chair features such as adjustable seat height and armrests, tilting backrest, and supportive pillows are all included.
Key Features:
300-pound weight limit
70-degree adjustable backrest
Adjustable lumbar pillow and headrest
Cost: $120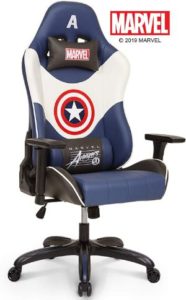 More than a marketing gimmick, the MARVEL HD Gaming Chair is a quality gaming chair for big and tall people. This model has a wide seat and 400-pound weight capacity. There are many different superhero designs to choose from including almost every Avenger. This is the big and tall version, but there are also different chair and stool designs to choose from under the MARVEL gaming chair umbrella if you're looking for a different style of chair.
Key Features:
400-pound weight capacity
180-degree recline
Multiple MARVEL designs to choose from
Cost: $210
Smugdesk Executive Gaming Chair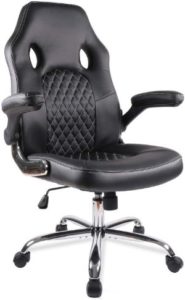 The Smugdesk Executive Gaming Chair is more of a blend between a gaming chair and an office chair. It has the frame and support of a gaming chair, but the refined looks of a professional office chair. The adjustable flip-up armrests are a unique feature, and this chair has a comfortable lumbar support design.
Key Features:
300-pound weight limit
Flip-up armrests
12-month warranty
Ergonomic Office Chairs
Alera ALE Veon Series Task Chair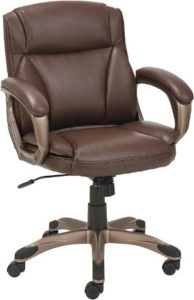 Designed with plush executive styling, the Alera ALE Veon Series Task Chair goes above basic ergonomic support by adding aggressive side bolstering tp support the mid-back and individually-wrapped coil springs in the seat cushion for day-long mattress-like comfort.
Key Features:
Coil spring seat cushion
Strong side bolsters
Waterfall seat edge
Cost: $150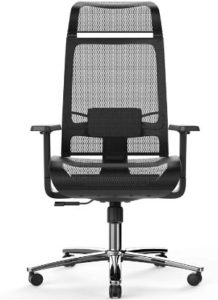 Adjustability is the virtue in which the Bilkoh Mesh Office Chair was built by. With adjustable lumbar support, headrest, backrest, arms, and seat height there is no end to comfort customization. The armrests in particular feature a three-way adjustable design which enables you to find the perfect angle to match your office desk and workflow. You'll never experience carpal tunnel again with this chair!
Key Features:
Breathable mesh design
Adjustable lumbar, head, and backrest
Three-way adjustable armrests
Cost: $280
Office Star ProGrid FreeFlex Seat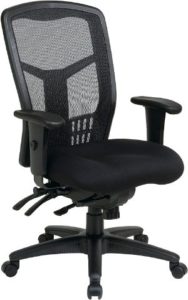 The Office Star ProGrid FreeFlex Seat gives you the opportunity to adjust the seat pitch and length. This enables you to find the ideal thigh comfort and lower back support by adjusting the position of the seat cushion. You can opt for either a high back or mid-back support design with this chair when you purchase it.
Key Features:
Adjustable seat slider and pitch
High back and mid-back design options
250-pound weight capacity
Cost: $185
OFM Core Collection Office Chair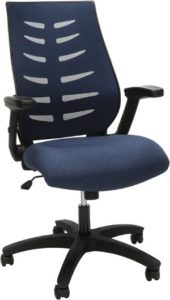 The OFM Core Collection Office Chair is one stylish looking chair. It features a breathable mesh design that has a contoured shape to support the entire spine. The flip-up armrests are adjustable as is the seat cushion and height. Multiple bright color options are available to choose from.
Key Features:
Ventilated and contoured design
Multiple color options
Lifetime warranty
Cost: $160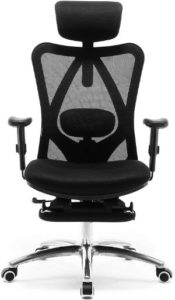 The Sihoo Recliner chair has it all. It can be adjusted in a multitude of ways to customize its ergonomic support specifically for your body, and it has a fold-out adjustable footrest so that you can recline and relax whenever the mood strikes.
Key Features:
Adjustable fold-out footrest
Adjustable lumbar support and headrest
12-month warranty
Cost: $275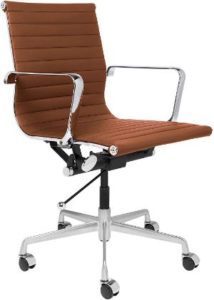 Minimalist in appearance, yet performing better than most, the SOHO Ribber Management Chair has an ergonomic design intended for people who sit for many long hours at a go. This seemingly bare-bones chair can support up to 400 pounds and has heat embossed ribbing to help keep you cool. There is a wide range of colors to choose from, and you can upgrade the PU leather to true Italian leather for a premium price.
Key Features:
Heat embossed ribbing
A rainbow of color options
24-month warranty
Cost: $240
Tempur-Pedic High Back Office Chair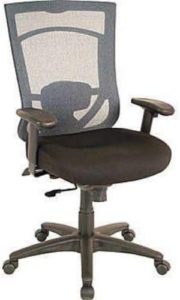 The Tempur-Pedic High Back Office Chair has as comfortable an supportive a seat cushion as you could ever imagine. The memory foam is rated for five to eight hours of usage per day. Being that this is my actual home office chair, I can personally attest to its long-term comfort and support. The two-way adjustable lumbar is definitely supportive, but not overly strong, and the armrests are quite sturdy.
Key Features:
Tempur-Pedic foam seat cushion
Breathable mesh back
Adjustable lumbar support
Ergonomic Saddle Chairs
The Antlu Saddle Stool is a sturdy seat with a firm cushion that propels you into a good seated posture. Users find the seat cushion to have the right balance between comfort and support, and they appreciate that the height control is accessible without having to lean to reach it.
Key Features:
400-pound weight capacity
Multiple color options
Adjustable height control
Cost: $90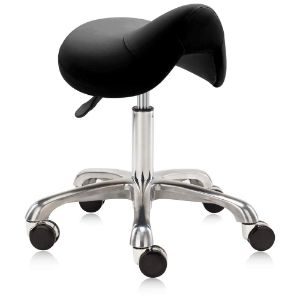 The Doctor Lomilomi Saddle Stool is a classic saddle stool that has been designed with medical-grade materials fit for dental offices, tattoo parlors, and anywhere else where material quality and cleanliness is required. There are multiple colors to choose from as well as an optional extra-large seat cushion.
Key Features:
400-pound weight limit
Flame-retardant molded foam cushion
12-month warranty
Cost: $100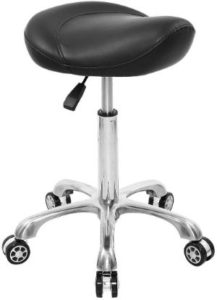 Built with a less extreme saddle arch relative to other saddle seats we looked at, the Easy Life Saddle Stool errs on the side of comfort more than ergonomic support, but it still does have a slightly concave design to encourage correct sitting posture. The relatively wide and flat seat will be more comfortable for those who find most saddle seats to be a bit too aggressive in their ergonomic design.
Key Features:
350-pound weight limit
Less extreme concave ergonomic design
Dual nylon swivel caster wheels
Cost: $85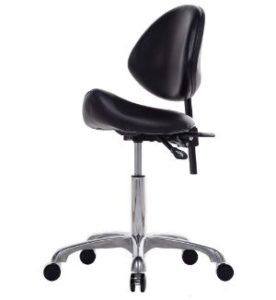 The FRNIAMC Hydraulic Saddle features a removable and adjustable backrest that users adore. The backrest has a curved, supportive shape that hugs the sides like seat bolsters, and people report that it is a great addition to the chair, especially for long durations of sitting. The backrest can be removed at any time to turn this chair into a traditional saddle stool.
Key Features:
350-pound weight limit
Removable backrest
12-month warranty
Budget Ergonomic Chairs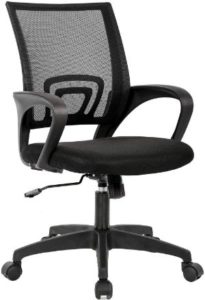 Budget chairs don't necessarily need to be uncomfortable golding chairs. The BestOffice Computer Chair offers many of the same comforts and ergonomic features provided in more premium chairs like a curved mesh backing, lumbar support, and a seat cushion tilt and tension adjuster. For the price, this is an excellent office chair.
Key Features:
250-pound weight limit
Mesh backing with lumbar support
Adjustable height and seat tension
Cost: $45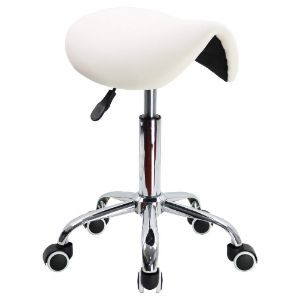 You would need a keen eye to be able to tell the KKTONER Rolling Saddle Stool apart from the non-budget-friendly alternatives we listed earlier. This model has a relaxed saddle design that is supportive, yet not as aggressively so as many others.
Key Features:
300-pound weight limit
Height-adjustable lever
Relaxed saddle design
Cost: $40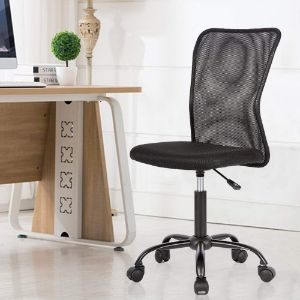 The XXFbag Office Chair is about as simple as a task chair can get, and it's also about as affordable as any other office chair on the market. It does have an ergonomically curved backrest and a cushioned seat, but don't expect to be comfortably sitting in this chair for long eight-plus hour workdays. This is a great budget chair for short term use throughout the day.
Key Features:
250-pound weight limit
Breathable curved mesh backing
Height adjustable
Cost: $35