A mini trampoline, sometimes called a rebounder, is a small version of the trampolines that the neighborhood children might have in their backyards. You can jump or jog on a trampoline; its cushioned, flexible surface gives you a great low-impact way to work out while being gentler than the floor on your knees, ankles, and hips. Many people use them in their home exercise programs.
We have evaluated dozens of mini trampolines to bring you a list of our favorites. We looked at various features (whether they had handles or nets, for example) so you can decide exactly what you want in a rebounder. We checked prices, whether they were easy to stow away, and what consumers had to say about them.
Looking for other easy-to-stash exercise equipment? You won't want to miss our review of the best under desk ellipticals.
Our top pick is the JumpSport 250. You can customize your workout by adjusting the tension in the bungee cords; whether you prefer a deeper or more shallow bounce, it will meet your needs. The arched legs help minimize the chances of tipping, and there are padded cord covers to keep you safe and increase your jumping surface. Altogether, this is a great product to consider if you are looking for a top-quality mini trampoline to use in your house.
[toc]
The 5 Top-Rated Mini Trampolines
*Ratings are from Amazon at the time of publication and can change
Best Mini Trampoline Overall: JumpSport 250
The JumpSport 250 easily made our top spot in our list of the 5 best mini trampolines. It has several features that help you keep your workout both safe and effective. First, the arched legs are patented and designed to keep the trampoline from tipping over. Also, the cords are covered with pads. These increase your bounce space and also keep you from catching your shoe or toes in the cords.
When you open the box, all you need to do is screw on the legs and you're ready to start bouncing. The jumping surface is 35.5″ in diameter, giving you plenty of room. The cords are adjustable, so you can tailor the resistance to your preferences.  And your bouncing will be very quiet, making it possible to jump at any time of the day or night.
JumpSport 250 Key Features:
Weight limit is 225 lbs
Easy to assemble
Pads covering cords
Adjustable tension
Arched legs prevent tipping
Best Double Mini Trampoline: ANCHEER Foldable Trampoline
The ANCHEER Foldable Trampoline is at the top of the list of double trampolines, which let two people jump at once. This one is perfect for two children or for a parent and a child. The weight limit is 220 lbs, so two small adults or teenagers could also use it. The rebounder can also be used by one adult at a time.
The trampoline comes with an adjustable handle bar for safety–it can be set from 38 to 45 inches. The handle bar has a foam cover to increase traction and keep it from wearing out. It features a heavy-duty frame, stainless steel springs, and legs with rubber tips to prevent slipping. The rubberized legs also keep noise to a minimum, which is useful if you are using it in an upstairs bedroom or if you have people living below you. It is easy to assemble and it folds down for easy storage.
ANCHEER Foldable Trampoline Key Features:
Foldable for storage
Can be used by two children or an adult and a child
Weight limit is 220 lbs
Adjustable handle bar
Handle bar covered in foam
Stainless steel springs
Slip-resistant rubber-tipped legs
Best Budget Mini Trampoline: Stamina 38-Inch Intone Plus Rebounder
The Stamina 38-Inch Intone Plus Rebounder is our top pick among the most budget-friendly mini trampolines. Combine your bouncing, jumping, or jogging with resistance exercise thanks to the included rubber latex resistance tubes that are attached to your rebounder. There's also an electronic fitness monitor that keeps track of your jumps, your jumps per minute, total workout time, and even the number of calories you burn.
Safety features include rubber-tipped legs to prevent slipping, a blue optic ring that keeps you aware of where you are in relation to the edge of the trampoline, and a safety pad to cover the cords. The trampoline is constructed of tough steel for longevity. The legs unscrew for storage, too.
Stamina 38-Inch Intone Plus Rebounder Key Features:
38″ in diameter
Electronic fitness monitor
Resistance tubes with handles
Slip-resistant legs
Safety pad
Steel construction
Best Mini Trampoline With a Handle: BCAN 40″ Foldable Mini Trampoline
The BCAN 40″ Foldable Mini Trampoline is our favorite mini trampoline with a handle. This one is has a heavy-duty design that can accommodate jumpers weighing up to 330 lbs. The steel handle can be adjusted from 32 to 42 inches, making it the right height for children and adults alike. It has a foam covering that makes it comfortable to grip and also improves traction to help avoid slipping.
The legs have rubber tips to help prevent sliding, and the mat is attached with commercial-grade steel springs. The safety pad, handle, and frame are covered by a one-year warranty, and you'll be able to get 24/7 customer service for the lifetime of the product.
BCAN 40″ Foldable Mini Trampoline Key Features:
Weight limit is 330 lbs
Adjustable steel handlebar
Foam covering on handle
Rubber-tipped legs
Commercial-grade steel springs
Warranty included
Best Mini Trampoline With a Net: Skywalker Mini Trampoline with Enclosure Net
The Skywalker Mini Trampoline with Enclosure Net earned our accolades in our category of mini trampolines with nets. Let your little one jump in safety while you exercise nearby, thanks to a sturdy net that will prevent him or her from falling off. The enclosure eliminates gaps where little feet can slip through, and it has a handlebar going all the way around to help prevent your child from losing their balance.
This mini trampoline is designed for children ages 3 to 7. Stretchy bands are used in place of springs to avoid pinching fingers and toes, and the netting is tightly woven to prevent stuck fingers. Of course, you still need to supervise your child while using this trampoline. There are several colors and sizes available, so you can choose your child's favorite.
Skywalker Mini Trampoline with Enclosure Net Key Features:
Net that contains the entire trampoline
Handle goes around the perimeter of the net
Enclosure has no gaps
Tightly woven netting
Stretch bands instead of springs
Made for children ages 3 to 7
Who Should Buy a Mini Trampoline
A mini trampoline is a great choice for anyone who wants to add exercise to their daily routines. It's so easy to simply take the trampoline out from behind a couch or inside of a closet, unfold it if applicable, and begin bouncing. You can bounce, jump, or jog while catching up on your favorite shows or listening to music or a podcast; it's a great way to multi-task, and it's fun, too!
Those who have trouble running on hard surfaces due to joint pain are often able to enjoy exercising on a rebounder because it is much more low-impact. If you have joint trouble, talk to your doctor or physical therapist about whether jumping or bouncing on a mini trampoline is safe for you.
Parents might also consider purchasing a mini trampoline for their children to help them "get the wiggles out" on rainy, cold, or very hot days. If your child enjoys jumping on his or her bed or the other furniture in your home, this is a wonderful way to encourage physical activity while also teaching them respect for the nice things that you have in your house.
Important Features to Consider
Mini trampolines can have features that you should think about before making your purchase. Here are some to keep in mind as you decide which is the right one for you:
Size. Particularly if you have a small home or limited storage, you'll want to be sure that the trampoline will fit where you need to put it. Check the measurements of the rebounder before ordering if there's any question.
Weight limit. Weight limits vary, so it's wise to check that the one you are considering will be able to safely accommodate any jumpers in your household. If you are buying a double mini trampoline, be sure to add the weights together of the two heaviest people who might jump at the same time to ensure it will be safe.
Foldability. Some mini trampolines fold down to slide under a bed or behind a chair. Others might require you to unscrew the legs. Check to see that you can make yours smaller to store it if that is a consideration you need to think about.
Special features. Do you need a handlebar? What about a net? Also look at the extras that might come with the trampoline: You might get a device that counts jumps, for example. Decide which features you want, then choose a mini trampoline that has those.
Safety features. There are a few safety features, such as covered springs, and slip-resistant legs, that should be part of most mini trampolines. Read up on whether the one you are considering has these or other safety features.
Frequently Asked Questions
What is a mini trampoline and what is it used for?
A mini trampoline is a piece of exercise equipment used for bouncing or jumping. It is also called a rebounder. It has a frame (often made of steel or another strong material) and a jumping surface that offers cushioning and bounce. A trampoline allows you to jump or jog without stressing your joints. It's also a great way for children and adults to burn off extra energy on days when the weather or timing makes it impossible to exercise outdoors.
Can you lose weight on a mini trampoline?
Yes, bouncing, jumping, or jogging on a mini trampoline can burn a lot of calories. In order to lose weight, you need to create a calorie deficit. If you can reduce your calorie intake by 250 calories per day and also burn an additional 250 calories per day with exercise, you should lose about 1 lb per week, which is well within the recommended guidelines for safe and healthy weight loss. Jumping on a trampoline burns about 430 calories for a person weighing 160 lbs. It will burn less for a lighter person and more for a heavier person.
Want more tips on burning calories? Check out How to Burn 500 Calories. Also, talk to your doctor before beginning any new diet or exercise program to be sure that it is safe and healthy for you to do so.
Are mini trampolines good for you?
Increasing your exercise level is good for almost everyone! Getting enough exercise can lead to a reduced risk of heart disease, diabetes, stroke, and depression, among other things. Because a mini trampoline makes it very easy and convenient to exercise indoors, it is a great option for those who find it hard or inconvenient to get out to a gym or go for a run in the neighborhood.
How long should I jump on a mini trampoline?
Bouncing on a mini trampoline is a low-impact workout, but you should not go from zero exercise to an hour of jumping in one day. This can lead to overuse injuries as well as sore muscles. Instead, start by bouncing for just a  few minutes, adding an extra couple of minutes every day or two until you are jumping for 20 minutes at a time. You can continue to add time if you want, but you will see a lot of benefits from even that short period of time. You should talk to your doctor about a reasonable goal for you if you are new to exercising in general or rebounding in particular.
If you think you've overdone it and you're a bit achy, read How to Relieve Sore Muscles After a Workout.
Other Mini Trampolines We Reviewed
In addition to the five that made our top spots above, we also reviewed 20 other mini trampolines. These are great options for you if you are looking to add some exercise to your daily routine. The information you'll need to compare them is included with each listing.
Double Mini Trampolines
Binxin Mini Rebounder Trampoline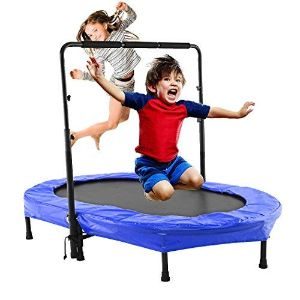 This double trampoline folds down with not in use. The foam-covered handlebar helps keep bouncers safe and the strong jumping surface can hold up to 220 lbs.
Key Features:
Adjustable handlebar
Rubber-tipped legs
Quick and easy assembly
Cost: $110
Fashionsport OUTFITTERS Trampoline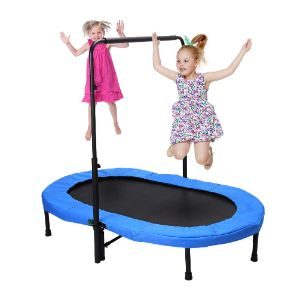 With a lifetime guarantee, this trampoline will have you and your child or your two children bouncing for years to come. Folds down to save storage space and is easy to assemble.
Key Features:
Sturdy design
Fits in a closet when folded
Handlebar for safety
Cost: $80
Hosmat Rebounders Mini Trampoline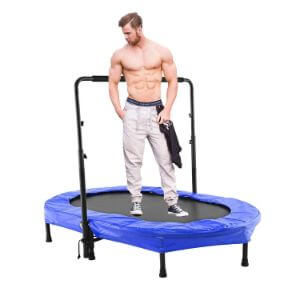 A total of 40 springs give this mini trampoline the strength and bounce it needs to accommodate two children or an adult and a child. It holds up to 220 lbs safely.
Key Features:
Made of iron, PVC and PP for strength
Folds for storage
Adjustable handlebar
Cost: $110
Jump2It Kids Portable 2 Person Mini Trampoline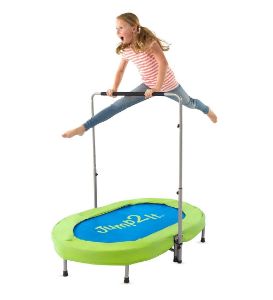 This is a mini trampoline designed for two children to use. The springs are covered to help keep little toes from being pinched, and the handle bar can keep kids from falling off and getting hurt.
Key Features:
Covered springs
Maximum weight limit is 180 lbs
Foam-covered handle
Mini Trampolines With a Net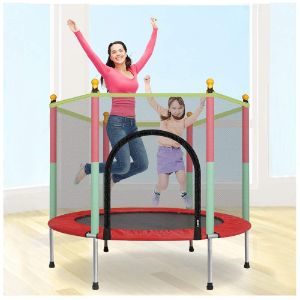 A frame with foam-covered tubes and a fully enclosed net keep your little ones safe as they bounce to their hearts' content on this mini trampoline. An adult can jump along with a child if desired.
Key Features:
Maximum capacity is 442 lbs
Full net enclosure
Covered springs
Cost: $65
Propel Junior Trampoline with Enclosure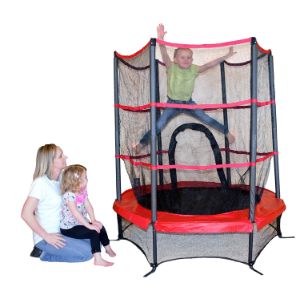 The net on this mini trampoline goes all the way to the floor, which prevents toys, pets, and children from going underneath, reducing the risk of injury to the person jumping as well as any pets or children who might go underneath.
Key Features:
Uses bungee cords instead of springs
Foam-covered poles
Use indoors or outdoors
Cost: $100
Upper Bounce 55″ Kiddy Trampoline & Enclosure Set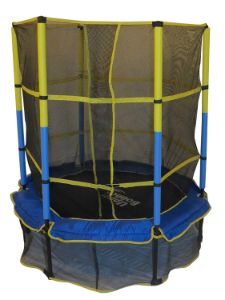 Heavy-duty mesh material keeps fingers and toes from getting caught in the netting of this mini trampoline. There is a gap-free closure to prevent dangerous falls.
Key Features:
Base net to keep pets and toys from getting underneath
No-spring bungee system
Easy to assemble, includes all tools
Mini Trampolines With a Handle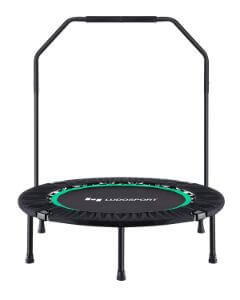 This trampoline has a tight surface that won't get stretched out or cave in. The slip-resistant adjustable handlebar can be removed if you don't want to use it for a particular exercise.
Key Features:
Supports up to 300 lbs
Foldable for storage
Slip-resistant rubber-tipped legs
Cost: $70
Marcy Trampoline Cardio Trainer with Handle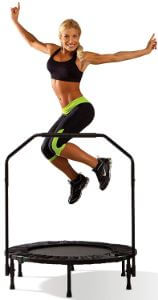 Take your workout on the go with this portable, easily stored mini trampoline. The handle allows you to stay safe while bouncing, and the springs are covered for safety.
Key Features:
Supports up to 250 lbs
Covered springs
Slip-resistant legs
Cost: $55
Maximus Pro Gym Rebounder Mini Trampoline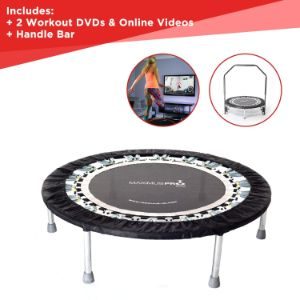 A large spring system gives you a very low-impact workout with this mini trampoline. The handlebar is removable, and it includes a DVD set with seven workouts ranging from beginner to advanced.
Key Features:
Supports up to 330 lbs
Includes DVD workouts
Covered springs
Cost: $200
Needak R02-R05 Soft Bounce Non-Folding Rebounder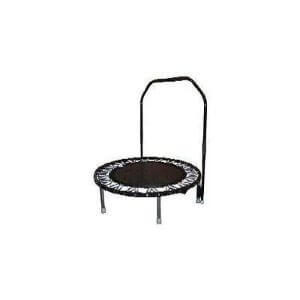 This is a high-quality mini trampoline that can be used in the home or even in a commercial setting. The stability bar is excellent for safety and the springs absorb 85 percent of the impact from bouncing.
Key Features:
Includes a DVD on rebounding techniques
Includes lubrication package
Quiet when being used
Cost: $425
Newan Exercise Trampoline for Adult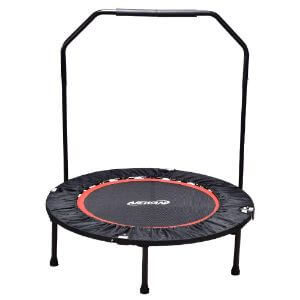 This whole trampoline folds down, including the legs, for fairly flat storage. Slide it under a bed or couch for convenience. It is made of strong mesh that will stand the test of time.
Key Features:
Supports 330 lbs
Springs are covered
Good stability
Cost: $70
SereneLife Portable & Foldable Trampoline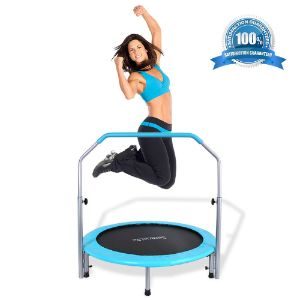 This portable, foldable trampoline can support up to 200 lbs. The adjustable handlebar is padded for comfort and slip-resistance and it is easy to assemble for ease of use.
Key Features:
Heavy duty construction
Padded handlebar
Comes with a free kit bag
Cost: $65
Sportplus Silent Fitness Mini Trampoline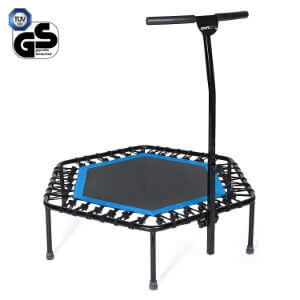 Reduce the impact on your knees and hips by exercising on this trampoline. The no-springs design features bungee cords, and the foam handlebar helps you keep your balance.
Key Features:
Supports 286 lbs
UV-resistant jumping pad
Slip-resistant rubberized feet
Other Mini Trampolines
Balanu 40 Inch Mini Exercise Trampoline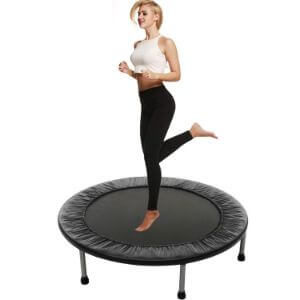 This mini trampoline has six reinforced legs with non-slip rubberized feet as well as pads on the springs for safety. It is easy to assemble and can be used indoors or out.
Key Features:
Supports 220 lbs
Rugged frame
Has 32 covered springs
Cost: $75
BCAN 38″ Foldable Mini Trampoline
The extended 360-degree mat prevents your toes from getting caught in the springs. This is a simple but effective design and the trampoline folds down easily to store in a closet, under a bed, or in a trunk.
Key Features:
Supports up to 300 lbs
Slip-resistant material
Lifetime service
Cost: $60
Booty Bounce Jogger Mini Trampoline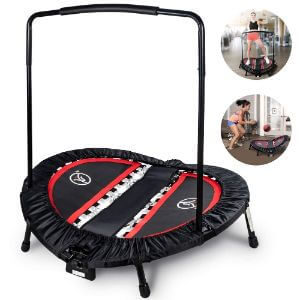 This jogger trampoline has a unique folded design that allows you to use it flat or partially folded to maximize your workout. It's great for jogging as well as bouncing and jumping.
Key Features: 
Lightweight and easy to carry
Includes a handlebar
Supports up to 250 lbs
Cost: $100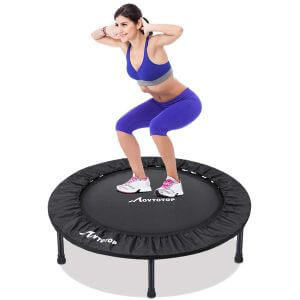 You can store this little trampoline anywhere thanks to its foldable design. It features skid-resistant legs as well as padding over the springs for enhanced safety.
Key Features:
Supports up to 300 lbs
Resists rust and stretching
Replacement for the lifetime of the trampoline
Cost: $60
Pure Fun Mini Rebounder Trampoline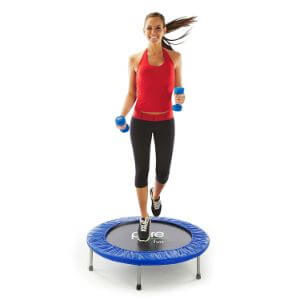 This is a great little trampoline for those who want to get fit on a budget. The exterior is padded and the mat is made to withstand years of use.
Key Features:
Supports up to 250 lbs
Covered springs
Plenty of space for bouncing
Cost: $40
Vsadey Foldable Mini Trampoline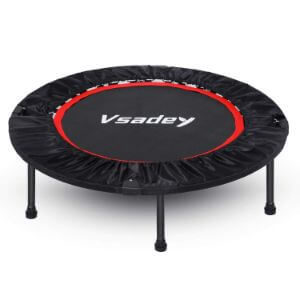 Get started with your exercise routine even sooner with this upgraded trampoline designed especially for its quick and easy assembly. It is foldable to allow for easy storage.
Key Features:
Supports up to 330 lbs
Foldable to save space
Anti-slip surface and legs
Cost: $80