If you're concerned your memory isn't what it used to be – or that it may be declining with age, then you aren't alone. – But even though memory loss is a common problem, that doesn't mean you have to suffer in silence. By adding the right brain health supplement into your daily regiment, you can improve your memory recall, as well as possibly prevent brain decay, if even only for a while. If you're not sure what supplement is the way to go, then don't let that add to your stress. We've done the legwork on the research for you.
We reviewed dozens of brain health supplements to boost memory to identify the best of the best. We looked at supplements that contain stimulants to keep your brain alert and better able to retain information, as well as the superfood supplements to make sure you don't suffer due to a deficiency in your diet. We found organic brain health supplements and those with all-natural ingredients. No matter what you're looking for to improve your memory recall, we found the right supplement for you.
During our research, identifying ht best overall brain health supplement to boost your memory was easy. Brain Powher has all the ingredients that will help you boost and protect your brain, preventing (at least temporarily) some memory decay and giving it the fuel it needs to make your memories accessible and clear.
[toc]
The 5 Top-Rated Best Brain Health Supplements to Boost Memory
*Ratings are current at the time of publication and can change
Best Brain Health Supplement to Boost Memory Overall: Brain Powher
Brain Powher features a specially formulated ingredient list to keep your mind clear and your memory strong. It contains a boost of vitamin B12, which can help reduce fatigue and tiredness, as well as 3 grams of glucomannan per daily dose. Glucomannan has recently been added to the definition of dietary fiber by the FDA, which has stated that it has beneficial physiological effects. Brain Powher also includes choline, which is linked to cognitive function as well as brain and neurological development.
This supplement is a low-stimulant, so you won't have to worry about it loading up on caffeine in order to get a big (but temporary) burst of clear-mindedness, only to crash into a deeper brain fog. And, if you're concerned with your overall health and fitness, bear in mind that a lot of its ingredients also support normal fat metabolism and digestion, to make sure your body's running optimally.
Brain Powher Key Features:
Good Manufacturing Practice (GMP) certified
90-day 100% money-back guarantee
Buy more and save in bulk
Best Superfood Brain Health Supplement to Boost Memory: Organixx OrganiGreens
Organixx OrganiGreens is an excellent source of the superfoods that your brain needs to perform optimally, and by taking this supplement regularly, you'll very likely notice an improved memory recall, as well as a wealth of other health benefits. You'll simply blend one scoop of this powder into your water or juice and with the boost of vitamin C, vitamin A, iron, and antioxidants, you could experience an improvement in your energy, a decrease in the frequency of brain fog, and improved mood, as well.
This superfood supplement is thirty-three times more potent than juicing, and it's far less work, too. This will support more than just your brain. With its seventeen enzymes and a natural probiotic, it will contribute to a far healthier gut.
Organixx OrganiGreens Key Features:
30 servings per container
Only 24 calories per serving
Non-GMO; no artificial sweeteners, flavors, preservatives, soy, yeast, or starch
Best Budget Brain Health Supplement to Boost Memory: Jarrow Formulas Methyl Folate 5-MTHF
The Jarrow Formulas Methyl Folate 5-MTHF will give you the kind of boost in brain function you've been looking for, in a convenient one-pill dose. The folate 5-MTHF, or 5-methyltetrahydrofolate, is a critical nutrient that all people need because it is key to the methylation cycle in the body. When the methylation system is functioning at peak performance, it assists and supports the neurological system (as well as a number of other systems such as the cardiovascular, reproductive, and detoxification systems). Roughly 60% of adults in the U.S. aren't getting enough 5-MTHF and although that can result in more drastic side effects, sometimes it just looks like memory loss.
Note that folate is an especially necessary supplement for pregnant women in order to reduce the risk of birth defects of the brain and spinal cord. Of course, you should always check with your physician (or obstetrician if you're pregnant) before starting any supplement.
This supplement has around 1,400 customer reviews on Amazon and an impressive overall rating of 4.7 stars. That's certainly something to tempt you with, but the number that's probably going to seal the deal is the price tag. You can pick up a two-month supply of these capsules for under five dollars!!
Jarrow Formulas Methyl Folate 5-MTHF Key Features:
No wheat, gluten, or dairy
2 packaging options
400 mcg of Folate per serving
Best CBD Brain Health Supplement to Boost Memory: NanoCraft CBD GREEN POWDER
If you're looking to incorporate CBD into your regular diet in order to take advantage of its potential memory-boosting properties, then you won't want to overlook NanoCraft CBD CBD GREEN POWDER. This particular supplement will also give you a boost of other vitamins and nutrients that you need to make sure your brain is functioning optimally. The healthier your diet, the healthier your brain function – and that means the better your memory.
While the CBD and green foods in this supplement can boost your memory recall nearly immediately, there have been several recent studies on CBD that suggest its impact on cognitive health may be stronger than previously thought. In fact, CBD has shown to reduce brain cell decline and the inflammation that can worsen Alzheimer's disease. CBD is also an antioxidant, which can promote healthy oxygen flow and eliminate the strain on the brain when oxygen levels are impacted.
NanoCraft CBD GREEN POWDER Key Features:
Buy more and save in bulk
Tropical flavor
20 mg broad-spectrum CBD per serving
Best Organic Brain Health Supplement to Boost Memory: Organixx Ageless Brain Capsules
The Organixx Ageless Brain Capsules will supercharge your memory with a combination of carefully selected, organic, and natural ingredients. Not only will this supplement help you right away, but it also offers benefits for people of all ages. This supplement will give your body the tools to support healthy cognitive function by utilizing high-quality ingredients from the Amazon Rainforest, like Camu Camu, Dragon's Blood, and a load of other antioxidants. Brain fog might just be a thing of the past.
As an added bonus, these ingredients can also boost your mood and promote a calmer attitude towards life. The unique ingredients that can offer these benefits include Cat's Claw, which helps repair damaged DNA and improve the transmission between your neurons, and Guayusa which can help address your anxiety and calm your response to stressors.
Organixx Ageless Brain Capsules Key Features:
Promotes new brain cell growth, promotes healthy oxygen levels and blood flow
Serving: 2 capsules daily
100% satisfaction guarantee
Who Should Buy a Brain Health Supplement to Boost Memory
If you find yourself occasionally, or even often struggling with remembering facts or events that you once knew, then you may want to try a supplement that will help boost your brain health and, subsequently, your memory. For those of us who struggle to recall what we had for breakfast, this may be an early warning sign that you're prone to memory loss, and taking action as soon as possible is a good idea. Taking supplements that will help optimize your brain function can help your brain from deteriorating over time.
If, however, you don't start your supplements before you notice a decline in your memory recall, there's still hope. Age-related memory loss is incredibly common, but you can mitigate the impact on your daily life by maintaining an active lifestyle, eating healthy, and taking the proper supplements. (Like those on our list.) Some studies show that you can even ward off Alzheimer's disease and other types of dementia (or at least lessen the disease's effects on your brain) with the proper brain health supplements.
Always consult with your healthcare provider before adding any vitamins or supplements to your daily routine to ensure that you can take them safely with any underlying health conditions or other medications you're currently taking.
Important Features to Consider
A brain health supplement to boost memory should do several things well. Here's what to consider when selecting a brain health supplement to boost memory:
Caffeine. Caffeine works to help your memory by keeping your brain alert and preventing a chemical called adenosine from making you sleepy. It can improve your mood, too, which may not have a direct impact on your memory, but when you're in a good mood, things do seem to go more your way, even with your memory. It also allows you to concentrate and focus more, giving you a better chance of retaining information.
Natural ingredients. Beyond caffeine, there are other more natural supplements that will help in much the same way, but mostly in a less noticeable way. Taking B vitamins, for example, is a much more natural way to keep your brain alert and your memory fresh. Along with these, you'll find ashwagandha root and ginkgo biloba are good options for helping your brain's syntaxes fire properly. If you're looking for a cognitive boost, then you may want to start with supplements with these ingredients as well as antioxidants, zinc, magnesium, iron, glucomannan, and vitamin K, to name a few.
Superfoods. When you think of superfoods, you may not consider their impact on your overall brain health, but they can have a dramatic impact, regardless. Fatty fish, for example, will greatly support your brain. Roughly 60% of your brain is made of fat and about half of that is the same kind of omega-3 fatty acids that you'll find in fish like salmon, trout, and sardines. Fish oil can slow mental decay and help prevent Alzheimer's disease, too. You can also incorporate foods like broccoli, coffee, turmeric, blueberries, and walnuts into your diet for a memory boost.
Organic. If your goal is to trigger your brain's cognitive abilities and recall memories easier, then you'll want to make sure the ingredients you're taking are high quality. While organic isn't the only way to ensure you're getting a quality product – and in fact, it doesn't necessarily mean the product is high quality – there are standards an organic food has to meet in order to earn the "organic" title. Starting there in your search for quality isn't a bad idea.
Carrier. How will you be getting your brain health supplements? If you know you can pop pills without forgetting or struggling, then capsules, tablets, or liquid gels are a simple solution. However, if you can't see yourself doing that daily, then you may have better luck with a supplement you can add to your morning cereal, or drop under your tongue while you're waiting on your coffee to brew.
Frequently Asked Questions
What is the best vitamin for memory and focus?
What works best for your brain may not be what has the most dramatic improvement in another's. The best vitamin for your memory and focus depends on your diet and body composition. You may have to try a few to see what you notice the biggest difference with. To make sure you're getting the impact you want, you may do best with a vitamin that combines the memory-improving ingredients. For example, look for something that combines some of the following: vitamin E, vitamin B12, omega-3 fatty acids, phosphatidylserine, choline alfoscerate (Alpha GPC), bacopa monnieri, caffeine, ginkgo biloba, L-Theanine, L-Tyrosine, Huperzine-A, Rhodiola rosea, and 5-HTP.
What is brain fog and is it curable?
"Brain fog" isn't a medical term, but it's a universally recognizable one. It refers to the feeling of confusion and a lack of focus you occasionally get. It is common, but not normal – it's usually possible to get rid of it, and even better, prevent it. In order to avoid it, you want to make sure you have a few healthy habits. The first is you need to avoid refined carbohydrates as your primary source of fuel for your brain. Because your body burns through them too quickly, your brain gets a burst of too much glucose, and then not enough. Instead, you'll want to pack your meals with the nutrients your brain needs – those superfoods listed above that are rich in the vitamins and minerals that excel in supporting your brain (vitamin E, vitamin B12, and omega-3s, for example). You also want to make sure you're getting enough sleep, getting enough exercise, and minimizing stress. If that all seems impossible, you may be surprised. Even if you can't eliminate stress or underlying health concerns, you can – and likely will – notice a big difference in your brain fog by just changing one or two of these habits.
In order to "cure" brain fog fast, your best bet may be trying stimulants like caffeine. Otherwise, you'll be stuck looking for the true source and rooting it out. If you're looking for more tips to get rid of brain fog, then you won't want to miss How To Get Rid Of Brain Fog: 10 Tips On How To Clear Brain Fog Quickly.
Is vitamin B12 good for memory?
Vitamin B12 certainly can be good for memory. There have been studies for decades that have shown promising data to suggest that vitamin B12 can slow the decay of your mind from degenerative diseases like dementia and Alzheimer's disease. There is certainly a strong relationship between low levels of B12 and memory loss. But, chances are you already get enough of it in your diet without taking it as a supplement. Taking more doesn't mean you'll be giving your brain all the surplus, unfortunately. If you are in any way deficient, though, it can bring your vitamin B12 level to an optimal level. (Vitamin B12 deficiency is most common among strict vegetarians and those with chronic bowel and digestive problems.)
How can I improve my memory recall?
The first step you can take is finding the proper supplement to give yourself a bit of an edge. If you're interested in sharpening your memory beyond just taking supplements, you can exercise your brain by using it. If you want to help your brain, then look for activities like puzzles, crosswords, chess, or learn an instrument or a new language. Drive a new route home, draw a map from memory, memorize phone numbers, or do the math in your head – these are all activities that can improve your memory recall.
Additionally, you can expect your brain to function optimally, particularly with regards to your memory, when you get enough sleep, exercise often, maintain a healthy diet, decrease stress (when possible), and make time for your friends. Research shows that those with an active social life have the slowest rate of memory decline. Connecting with new people and making new friends is especially helpful because you can tell a new person all your old stories and the recall will exercise your memory, strengthening it.
Other Brain Health Supplements to Boost Memory We Reviewed
We looked at 20 other brain health supplements to boost memory. Even though they didn't make our 5 best brain health supplements to boost memory list, they're the best of the rest and each is still a great option for you. The information you'll need to compare each one is included with the listing.
Brain Health Pill Supplements to Boost Memory
This supplement will give you a boost from several sources, including huperzine A, Alph GPC, Lion's Mane Mushroom extract and so much more.
Key Features:
3 capsules per serving
Subscribe and Save eligible
90 vegan capsules per container
Cost: $25
By adding this supplement to your diet, you'll be giving your brain the support it needs, not just for your memory but for anxiety and focus, as well.
Key Features:
1 tablet per serving
Contains L-Tyrosine, L-Glutamine, Rhodiola, 5-HTP, Phenylalanine, and more
30 chewable tablets per container
Cost: $40
Double Wood Supplements Acetyl L Carnitine
This will give your body's mitochondria the power to support your brain and maximize its function.
Key Features:
1000mg of Acetyl L Carnitine per serving
150 capsules per container
Made and tested in the USA
Cost: $20
If you're hoping to improve your cognitive ability and memory recall, this supplement promises to help.
Key Features:
Includes Folate, Vitamins B12, A, C, D, E, zinc, and more
120 tablets per container
4 tablets per serving
Cost: $30
Garden of Life Dr. Formulated Organic Brain Health Memory & Focus for Adults 40+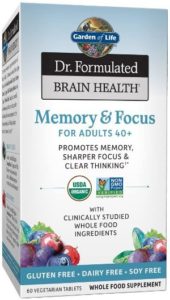 With this supplement, those over the age of 40 are going to get the extra support they need to combat memory loss.
Key Features:
Dairy, gluten, and soy-free
60 tablets per container
2 tablets per serving
Cost: $25
Havasu Nutrition Extra Strength Brain Supplement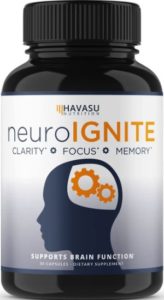 Adding the kind of boost for a brain that needs a bit of extra support is easy with this supplement that includes Bacopa Monnieri Extract, Ginkgo Biloba, and more.
Key Features:
2 packaging options
30 capsules per container
Subscribe and Save eligible
Cost: $20
This supplement focuses solely on giving your mind the memory support of Huperzine-A and no extra filler ingredients.
Key Features:
Bonus pill case included
180 capsules per container
Non-GMO, gluten-free
Cost: $25
NaturaLife Labs Acetyl L-Carnitine
The Acetyl L-Carnitine contained in this supplement will support your memory as well as boost natural energy.
Key Features:
100 capsules per container
1500 mg Acetyl L-Carnitine per serving
Corn, gluten, sugar, egg, peanut, and shellfish-free
Cost: $15
This supplement will support memory and learning as well as your energy and stamina.
Key Features:
Lab-tested in the USA for purity
400 mcg of Huperzine-A per serving
180 capsules per container
Cost: $25
NOW Supplements, Acetyl-L Carnitine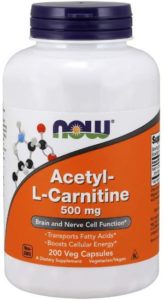 You may want to add this to your regular routine in order to support your brain and nerve cell function.
Key Features:
500 mg Acetyl L-Carnitine per serving
5 size and packing options
2 capsules per serving
Cost: $25
NuClarity – Premium Brain Supplement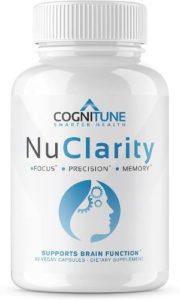 This supplement will offer your brain the kind of support it needs to make sure it's performing to its full potential.
Key Features:
Subscribe and Save eligible
Includes Ginkgo Biloba, Bacopa Monnieri, Alpha-GPC, Phosphatidylserine, and Rhodiola Rosea
30 servings per container
Cost: $30
Nutrition Essentials Brain Function Booster Supplement
With Ginkgo Biloba and St John's Wort, you'll notice a big improvement to your cognitive function and memory recall by taking this supplement.
Key Features:
Subscribe and Save eligible
60 capsules per container
Money-back guarantee
Cost: $10
This memory-boosting supplement is ideal for those who want to improve their recall and cognition.
Key Features:
Includes Apoaequorin & Vitamin D
3rd party-tested for allergens and toxicity
60 servings per container
Cost: $110
This supplement will replenish your body's levels of Huperzine that naturally decline as you age.
Key Features:
100mg Huperzine-A per serving
120 tablets per container
1 tablet per serving
Cost: $20
Vital Vitamins Brain Supplement
This is a lab-verified supplement without any GMOs and produced in a Good Manufacturing Practice-certified facility.
Key Features:
Contains Bacopa Monnieri Extract, Ginkgo Biloba, and more
30 capsules per container
1 capsule per serving
Brain Health Oil and Powder Supplements to Boost Memory
Adding this powder to your water or juice will boost your neurological energy, memory recall, and enhance your focus.
Key Features:
2.79 oz container
Watermelon flavor
15 servings per container
Cost: $35
Lion's Mane Mushroom Liquid Extract
By dropping this tincture into your water or juice, up to three times a day, you may notice a difference in your memory recall almost immediately.
Key Features:
Includes Lion's Mane Mushroom and Rhodiola rosea extracts
50 servings per container
Subscribe and Save eligible
Cost: $30
Micro Ingredients Maximum Strength Pure Organic Ginkgo Biloba Powder
This cognitive powder helps to support your memory and brain function.
Key Features:
8 oz container
USDA organic, non-GMO, gluten-free, and vegan
350 mg Ginkgo Biloba per serving
Cost: $20
Nordic Naturals Arctic CLO – Cod Liver Oil
This omega-3 supplement will give your brain the boost it needs to improve its overall function, including your memory recall.
Key Features:
16 fl oz
1060 mg omega-3s per serving
3rd-party tested
Cost: $45
Peak Performance Organic Lions Mane Mushroom Powder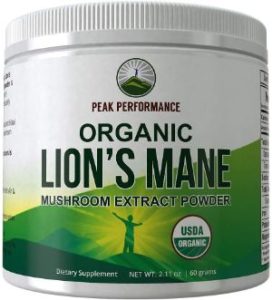 The suggested use for this supplement is to add it to your water, juice, milk, or smoothie to make sure your brain is getting the full boost from the Lion's Mane mushroom.
Key Features:
Includes Lion's Mane Mushroom extract, iron, potassium, and magnesium
USDA-certified organic
2.11 oz per container
Cost: $20