Having groceries delivered directly to your doorstep is an increasingly popular option, and there are a number of companies offering grocery delivery services in response to the growing demand. Whether you are avoiding the grocery stores in an effort to stay healthy or you are simply short on time, it is convenient to simply order your groceries and know that they will arrive on a specific day. There are many services available that can take on the task of compiling your groceries, so how do you know which is the right one for you?
We have looked at a dozen grocery delivery services to evaluate the pros and cons of each one. We looked at what types of products they offer, the cost involved, and how customers rated their experiences. You'll find a list of features included with each listing that will help you determine which grocery delivery service is best for your specific situation.
If you're looking for a service that delivers ready-to-prepare or fully prepared meals to your door, you'll want to check out our list of the best meal kit delivery services. If what you're searching for is groceries, however, read on!
[toc]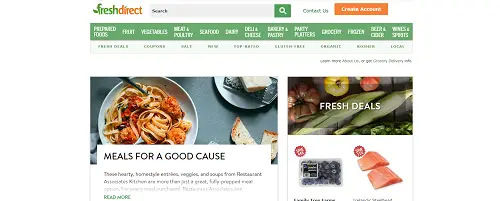 FreshDirect is an online grocery delivery service that offers a wide variety of groceries, including traditional and organic produce, meat, dairy products, party platters, frozen foods, and even wine and beer. They deliver to zip codes in and around New York City, New Jersey, Philadelphia, Delaware, and Washington, D.C. They also will deliver to some vacation areas on the Jersey Shore and in the Hamptons during the summer months.
The company specializes in a short supply chain. All of the fresh products are from local farmers, fishermen, and artisans, and they're delivered quickly after they're harvested, baked, caught, or otherwise processed. These items can last up to a week longer than the fresh products you purchase in a typical grocery store, because they have not been sitting for days on a truck or in a warehouse before they make it to your table. FreshDirect hires its own chefs and butchers to get your food ready for preparation.
There are coupons and sales available that can help you save money on your order, and they are currently piloting an EBT program for customers in select Bronx zip codes at the time of this writing.
FreshDirect Key Features:
Delivers to select zip codes in the New York/Washington D.C. area
Specializes in a short supply chain
Wide variety of fresh items available
Kosher, gluten-free, and organic options available
Food is acquired locally
Delivery fee: Delivery fees range from $6 to $16, depending on where you live.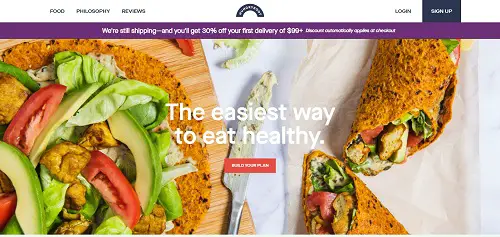 Hungryroot combines the best of meal kit delivery services and grocery delivery services, making it simple for you to get the groceries you need to create meals for your family. Say goodbye to the days of looking in the pantry and finding a lot of ingredients that really don't go together. In addition to delivering groceries (that you choose or that they choose based on your preferences), you'll also get recipes to help you put the ingredients together into meals that you and your household members will love.
Hungryroot realizes that what is healthy to one person might be intolerable to another. So while they strive to make all grocery deliveries as healthy as possible (avoiding ingredients that contain partially hydrogenated oils, high-fructose corn syrup, and artificial sweeteners, for starters), they work within your preferences and dietary restrictions. Gluten-free? They can handle it. Love pasta? No problem! They craft recipes that you'll want to eat because they're built around what you already like.
Hungryroot is offering Healing Daily readers 30 percent off of their first order. Just use this link to place your order.
Hungryroot Key Features:
Delivers groceries and recipes
Focuses on healthy foods
Creates recipes based on your preferences
Delivers to the continental United States
Customized shipping schedules
Delivery Fee: The shipping cost depends on where you live. If shipping is done by ground, it's free; by air, it's $10 per order.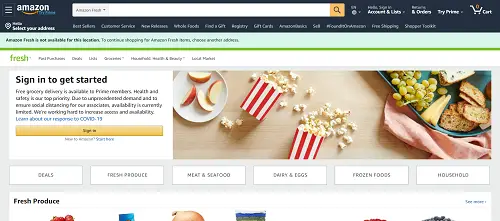 If you have an Amazon Prime account, you can order groceries through Amazon Fresh if you live in an area that they deliver to. To find out if you are in such an area, you can simply go to the website and log in. Amazon Fresh delivers groceries such as produce, meat, seafood, snack foods, dairy products, and frozen foods. They also deliver household supplies like paper products, cleaning products, and personal care products.
Users with EBT or SNAP cards issued by some states can use them to purchase Amazon Fresh items without a Prime account. Currently, the states participating in that program are Alabama, Iowa, Nebraska, New York, Oregon, and Washington. You can learn more about that here.
Those who have used the service say that their prices are in line with those charged at grocery stores such as Whole Foods. They are higher than what you might expect at discount grocery stores.
Amazon Fresh Key Features:
Available only in select areas
Deliver a wide range of products
Can be used with EBT/SNAP in some states
Prices in line with a more expensive grocery store
Must have an Amazon Prime account (or have EBT/SNAP)
Delivery fee: Depending on your location, you might be eligible for free delivery as long as you spend a specific dollar amount ($35 in most areas). If you aren't eligible for free delivery, the delivery fee will be added automatically before you check out.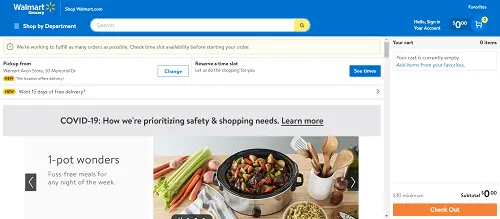 Walmart Grocery is an app and a website that allows you to order from your local Walmart (including Walmart Neighborhood Markets) and have the groceries delivered to your door. Note that you can also choose the option that has the groceries ready for curbside pickup, where you simply drive up, park in the indicated area, and an employee will bring the groceries to your car and put them in your trunk or back seat for you.
With the delivery option, you choose a delivery time from available pickup time slots and also choose your groceries. You will be able to order most of the items that the store has in stock, but not all of them. If there are items that are not in stock when it's time for the Walmart associate to pick your order, they will either make substitutions or refund you for those items. (When scheduling your pickup time, you can select individual items that you'll allow substitutions for or opt to allow substitutions for all items in your order.) You can also order beauty supplies, healthcare items, and some home goods.
Delivery is made by independent contractors. This service is available in various areas all over the country. You will need to enter your zip code on their website to find out whether it is available in your neighborhood.
Walmart Grocery Key Features:
Order from your local Walmart or Walmart Neighborhood Market
Can also choose curbside pickup
Can order a variety of items that are in stock
Substitutions will be made for out-of-stock items
Delivery is made by independent contractors
Delivery fee: Delivery charges average $9 and depend on the time of day and location. Alternatively, you can sign up for Delivery Unlimited, which allows you to have groceries delivered at no cost for $98/year or $13/month.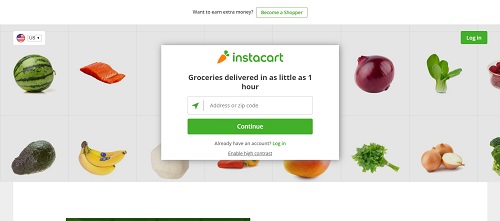 Do you ever wish that you could send someone to your local grocery store to pick out exactly what you want? If so, Instacart might be the solution. This is an app (or website) that you can use to order groceries from the store you usually use. An independently contracted shopper will pick up your items and deliver them to your door. This is available in most metro areas and the participating grocery stores vary by location. You can order anything they carry at the store; if it is not coming up on the app, you can still request it with a note.
One benefit to using Instacart is that if a particular item is out of stock, your shopper can text or call you to ask if you'd like a different item. If you were hoping to make bread, for example, but the 5-lb bag is not on the shelves, your shopper will likely ask you if you'd like two or three 2-lb bags. Because it's an individual person making the decision rather than a computer, you're likely to get most or all of what you asked for, with a few substitutions possible.
Delivery can be as quick as one hour; the times available for delivery will vary based on the number of shoppers available and the current demand.
Instacart Key Features:
Available in most metro areas of the United States
Uses local grocery stores
Will offer substitutions as needed
Shoppers are independently contracted
Quick delivery times (subject to availability)
Delivery fee: Depending on the demand and location, delivery fees can range from $4 to $9 or more. When you choose your delivery time, the specific information will be available.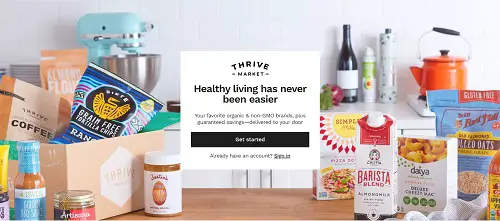 Thrive Market is a grocery delivery service that offers organic, non-GMO, and other healthful options. They offer food, home supplies, and beauty/body care products, all of which are safe, non-toxic, and non-GMO. Shopping is made simple if you have a special diet; the site is able to offer suggestions if you are buying foods to go along with a paleo, gluten-free, ketogenic, vegan, or raw lifestyle (in addition to many others). You can set up deliveries on a schedule so you don't run out of necessary supplies.
You need to have a Thrive membership, which costs about $60 per year. In turn, you can purchase items at wholesale cost; the money you pay toward a membership is to help balance out the lack of markups that most grocery stores (traditional and online) charge. Part of your membership fee also goes to help subsidize the fees for low-income shoppers, as well as those for teachers, veterans, and first responders.
Thrive delivers to all addresses in the continental United States.
Thrive Market Key Features:
Available in the contiguous USA
Organic, non-GMO, non-toxic foods and products
Works with various diets
Must have a membership
Enjoy wholesale prices
Delivery fee: Shipping and delivery are free if you spend a minimum of $49. If you spend less than that, the delivery fee is $6.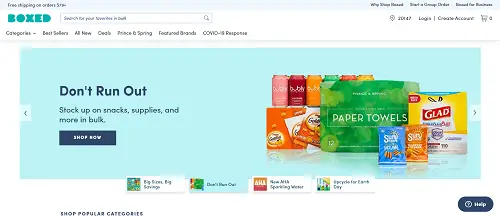 Those who would like to buy in bulk without having to pay a membership might like Boxed, a grocery delivery service that offers wholesale prices to anyone. Shopping at Boxed is the online equivalent of shopping at your local bulk warehouse store; the packages are large and you can stock up on snacks, beverages, health and wellness products, home care supplies, and more. Delivery is available to home and business addresses (not P.O. boxes) in the contiguous United States.
Boxed offers plenty of traditional items, and they also carry products that are gluten-free, vegan, ketogenic, organic, and other types of specialty foods. They carry numerous name brands. This company also offers monthly specials and even free samples that can be added to any order. If you are ordering for a company, there are extra perks that are available for free; just sign up as a business account.
Boxed Key Features:
Available in the continental U.S.
Wholesale prices
No membership needed
Carries products for various diets
Has monthly specials
Offers free samples
Delivery fee: Shipping is free if you spend more than $49. If you spend less, the fee is about $7.
Shipt is a grocery-delivery service that uses shoppers in your area who go to local stores on your behalf. You pay a membership fee ($99 per year paid in one lump sum or $14 per month if you choose monthly billing), and as long as you spend $35 in groceries, delivery is free. This service is available throughout the contiguous United States, but you will need to enter your zip code on their site to determine whether it's available in your particular neighborhood. You can choose any items that are carried by your preferred participating grocery store, and in many areas, shoppers are available anytime the store is open.
The way it works is that you place your order and a shopper goes to the store in your neighborhood to pick up your items. Communication is done in real-time, so if you want to request a substitution or you think of something else you need in the section where your shopper currently is, you can add it. In many cases, delivery can be made in an hour.
Shipt Key Features:
Must pay a membership fee
Uses local shoppers
Uses participating grocery stores in your area
Delivers to most of the USA; enter zip code for specific information
Communication takes place in real time
Same-day delivery in most cases, sometimes under an hour
Delivery fee: If you order more than $35, there is no delivery fee.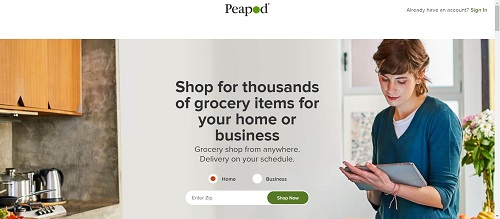 Peapod is a grocery delivery service that provides white-glove service from picking out your groceries to delivering them. Everyone involved is hired by the company, including the delivery drivers, so you won't be at the mercy of an independent contractor or a national delivery service. Peapod delivers in 24 metro areas in the Northeast and Midwest; you can enter your zip code on their site to see if they are in your area.
With Peapod, you can order various types of groceries, from organic produce to meal kits and even alcohol in select areas. There are also cleaning supplies and other items that you might buy at a grocery store. The service partners with a grocery store that is local to your area; for example, in Connecticut, you'll receive items from Stop & Shop, and in Washington, D.C., you might get your groceries from Giant. Some locations also offer a pickup option, where you can go to the store and simply pick up your items curbside.
Peapod Key Features:
Available in select locations
Deliveries by Peapod employees
Wide variety of items to choose from
Partners with local grocery store chains
Curbside pickup available in some areas
Delivery fee: The minimum order is $60, and the delivery fee is $10. If your order is over $100, your delivery fee is discounted to $7.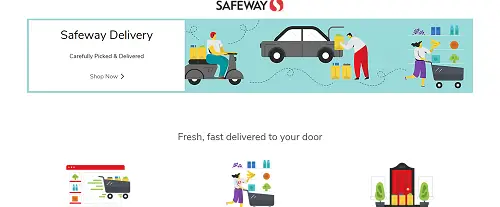 Safeway is another grocery store company that brings products to your door. They deliver in many areas in the United States, but you'll need to enter your zip code in their website to find out if they are available in your area. In many cases, groceries are delivered by Safeway employees with their own delivery trucks, but in other instances, Safeway uses third-party shopping companies (such as Instacart or Shipt) to shop for and deliver the groceries.
You can order just about anything you'd buy from the grocery store if you went in person. Also, if you use the app on your phone, you can scan the barcodes from items you already have at home and it will put those items on your shopping list.
If you already have an account with Safeway, you can use your Just for U savings on your ordered items the same way you'd use them in the store.
Safeway Key Features:
Available in many areas across the United States
Orders fulfilled and delivered by Safeway or by third party shoppers
Scan barcodes to add items to your shopping list
Use Just for U savings if you already have a Safeway account
Delivery fee: Delivery fees range from $10 to $13, depending on the size of your order.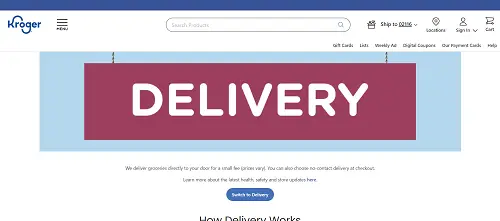 Kroger is another popular grocery store that offers a delivery option. They use third-party delivery services, so while you can place the order through Kroger, be aware that your shopper (who is the person delivering as well) will be a contractor for one of the third-party services. Kroger delivers to many areas; you can check your zip code on the website to see if the one local to you delivers.
Since Kroger also offers a curbside pickup service, you need to be sure that you have chosen the delivery option before placing your order. One nice feature is that you can leave detailed instructions regarding substitutions, how you want your produce (are you making guacamole with those avocados today or do you want them to ripen in a few days?), and so on. Your shopper will look at those notes when making selections for you, so it's as reliable as choosing your own items.
Kroger Key Features:
Uses third-party delivery services
Also offers curbside pickup
Can leave detailed instructions
Delivers in many states/metro areas
Delivery fee: The delivery fee is $10.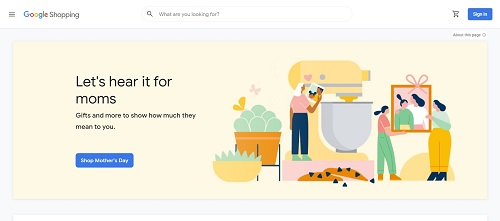 Google allows you to search for many things, and groceries are, of course, one of them. Google Shopping is a service that allows you to order groceries in the same way that you might order items from Amazon. They partner with many different stores, including Costco, Target, and Walmart, and you can order items from any of those sites and have the items delivered to your door, usually in about three days. There are other faster shipping options, too.
You can search for products in the Google Shopping search engine, so if you like a specific brand of, say, crackers that is available only at one store but you need a brand of cheese that that particular store doesn't carry, no worries: You can still order both. You'll also find customer reviews for many of the items.
Google Shopping Key Features:
Order products from various stores
Search via the site's search engine
Customer reviews are available
Orders usually delivered within three days
Delivery fee: Orders above $35 incur no delivery fee. There are fees for smaller orders or if you want items shipped more quickly.
Whether you're short on time or simply dread going to the grocery store, or you're stuck at home due to a pandemic like COVID-19, grocery delivery services are a convenient option to keep your fridge and pantry well-stocked with fresh ingredients and everyday essentials. Give one of these grocery delivery services a try and find out how it can make your life easier!