If you find yourself sleeping poorly, there's no reason to think you can't improve your situation. Before you go to the doctor, though, you may want to try a simple addition to your bed that will position your body to relieve your pain or discomfort. Whether you need the pillow for occasional use or you need it nightly, there are a variety of wedge pillows that you can choose and the selection can be overwhelming if you're not 100% on what's best for you. To take some of the pressure of this choice off your shoulders, we've done the research for you.
We reviewed dozens of wedge pillows to identify the best of the best. We looked at wedge pillows that will help with occasional reflux or GERD and those that will help you recover from a leg or back injury. We found the best pillows for inclined legs and those for a pregnant belly. No matter why you need a wedge pillow, we've found the right one to fit your needs and help you get the best night's sleep you can.
Early in our research, it was obvious that the InteVision Foam Bed Wedge Pillow was the obvious choice for best overall wedge pillow. Not only will it give you your choice of height elevation, but you'll get the bonus of a memory foam headrest pillow, too.
[toc]
The 5 Top-Rated Wedge Pillows for 2019
*Ratings are from Amazon at the time of publication and can change
Best Wedge Pillow Overall: InteVision Foam Bed Wedge Pillow
The InteVision Foam Bed Wedge Pillow is made with a memory foam outer layer that's placed atop a firmer base. That means that you can sink into the pillow to gain a bit of comfort and neck support, but you won't sink in too deep, making it dangerous to sleep on. A memory foam headrest is also included with your purchase, in case that makes for a more comfortable night's sleep; and you could always use your own favorite pillow if you find it the best alternative.
This pillow, due to its size, will ship vacuum sealed into a smaller package than you may be expecting, but note that after just a short time, it will regain it's shape and provide the kind of support you need for sleep. Just make sure not to use the pillow until it has regained its shape.
Over 5,100 peopole have felt strongly enough about this wedge pillow to come back and leave a review on Amazon, which, in and of itself, says a lot. To add to those numbers, bear in mind that 76% are positive reviews and have earned this pillow an overall rating of 4.1 stars.
InteVision Foam Bed Wedge Pillow Key Features:
3 sizes available
Bamboo, machine washable, removable pillow cover
Bonus headrest memory foam pillow included
Best Wedge Pillow for Reflux or GERD: Brentwood Home Zuma Therapeutic Wedge Pillow
The Brentwood Home Zuma Therapeutic Wedge Pillow will help you sleep a bit easier if you need an incline to battle GERD or frequent reflux. Though if it's a chronic problem, a pillow may not be enough – if it doesn't help you'll definitely need to see a doctor regarding your condition. Even if you're just congested from a cold and can't stand the horizontal position without triggering a coughing fit, this pillow is extra helpful to have on hand. Even if you store it under your bed and only pull it out occasionally, it's still plenty worth the purchase for a good night's sleep.
However, if you do use this pillow nightly for your chronic problems, then there's more good news. This pillow uses a gradual incline, and you'll get to choose how high the pillow sits at the time of your purchase. You can opt for a smaller incline with a height of just seven inches, or you can go all out to the twelve-inch pillow. There's even a medium, ten-inch pillow available, too.
With well over 1,000 customer reviews and an overall rating of 4.3 stars on Amazon, there's every reason for you to believe the accuracy of that rating and feel confident in your purchase.$40
Brentwood Home Zuma Therapeutic Wedge Pillow Key Features:
Made with certified flexible polyurethane foam
Machine washable bamboo cover
3 sizes available
Best Budget Wedge Pillow: Drive Medical Folding Bed Wedge
The Drive Medical Folding Bed Wedge is an excellent option for your injury and is, in fact, designed to address recovery, as you may be able to tell from the company's name. You may choose from the three heights and if the incline that comes in the triangle shape does not suit your needs, this wedge will also fold, allowing you to place bent legs on the pillow. Side sleepers may appreciate the placement of the fold and slide their arm into the fold, making it comfortable whether you sleep on your side or your back.
It comes with a case that makes for excellent storage, though it may not last as long as the pillow; the pillow is made to last and the case is meant only for transport. The cover is a machine washable fabric that slips both on and off the pillow as needed and that means you won't have to worry about finding a cover for this wedge; this one won't be ruined by stains or spills.
Nearly 2,000 customer reviews on Amazon have earned this wedge an overall rating of 4.2 stars, and we think that certainly adds to the pro column. After all, thousands of people can't all be wrong.
Drive Medical Folding Bed Wedge Key Features:
3 heights available
Carry handle
Incline or block design
Best Folding Wedge Pillow: Cushy Form Memory Foam Bed Wedge Pillow
The Cushy Form Memory Foam Bed Wedge Pillow will allow you to change the configuration and the incline on your wedge pillow, making it a perfect selection, no matter what the cause for purchase. If you need it only occasionally for a cold or random bout of reflux, it may be best to use in the steepest incline, while if you use it on a regular basis for a chronic problem, the less steep problem may give you a better night's sleep in the long run. You can use this one, folding pillow in 5 different configurations to get just the comfort and fit you need.
The pillow itself is made with a breathable memory foam on the outer 1.5″ layer, while the deeper base levels will ensure you get the support you need, without detracting from your overall comfort. It will hold its shape, even after months of use and the cover is easily removed and machine washable to make cleaning it a breeze.
There are over 400 customer reviews on Amazon for this wedge pillow, and it has an overall rating of 4.5 stars – not too shabby! And after perusing the reviews, we think you'll be sold on its quality.
Cushy Form Memory Foam Bed Wedge Pillow Key Features:
5-in-1 design
Removable cover
100% money-back guarantee
Best Wedge Pillow for Pregnancy: hiccapop Pregnancy Pillow Wedge for Maternity
For a pregnant woman, unable to find a comfortable position, the hiccapop Pregnancy Pillow Wedge for Maternity may just be the best thing since sliced bread. You can use it for those months where only side sleep is realistic and it will support the belly that has taken over your bed. And for back or stomach sleepers, anything to make this new position more comfortable is a big win. It's compact enough that its use doesn't necessarily kick your partner out of bed, and the new position may allow you a bit more sleep – making you more likely to feel better in the morning.
You won't need to use this pillow exclusively for the stomach, either. You can use it as a slight incline to your sleep, making back sleep possible for a bit further into the pregnancy and even in a sitting position it may give you lumbar support to help reduce pressure on your back or shoulders.
While the promise of better sleep will very likely be plenty to tempt you, the fact that it has an overall rating of 4.6 stars given by over 2,000 customers on Amazon will definitely contribute to its case.
hiccapop Pregnancy Pillow Wedge for Maternity Key Features:
Different sides; different firmness
2 color options
Made without flame retardants, mercury, led, heavy metals, formaldehyde, or phthalates
Who Should Buy a Wedge Pillow
If you have back pain, then you may be able to find a wedge pillow to make sure your sleep isn't causing or worsening it. You can relieve the strain on your lower back by lifting your legs slightly, or you can find a more comfortable position for your back or knees using a set of pillows to lift your legs and incline your back. For side sleepers, a wedge to go between your knees will keep your circulation flowing optimally and your hips from aching due to the extra pressure side sleeping often puts on them. If you have any injury on your back, hips, or legs the wedge pillow may be the one thing that keeps you sleeping even while recovering and no other position seems comfortable.
Sleeping at an incline is excellent for your reflux, too, so whether you have the occasional problem with reflux after a big Italian dinner or you have a chronic condition like GERD, the wedge pillow can be a total lifesaver.  For a chronic condition, obviously, you'll need to consult your doctor, and the pillow won't take the place of necessary treatment and medication, but you may find yourself struggling less with your sleep by introducing the right pillow to your routine. For the occasion-specific use, you'll probably appreciate the incline for times when you're pregnant and need to find a new position to keep you from being weighed down by the weight of your belly. For side sleeping, you can use a wedge to support your growing baby belly.
Important Features to Consider
A wedge pillow should have a few important features. Here's what to consider when selecting a wedge pillow:
Inclined sleeping. Whether you have a cold that leaves you congested or chronic reflux, the incline of your sleep will have a dramatic impact on your sleep. The best angle of the incline for you will change based on your need, but if you have any problem that's improved by sitting up a bit as you lie down, then an inclined wedge pillow will go a long way to help you sleep more soundly.
Leg support. If you suffer from knee and leg pain or a leg injury, a pillow that elevates your leg, or raises your knees can help you finally get comfortable enough to fall asleep. Even if your legs aren't the problem, by changing the position of your legs, you can help your hips and back tremendously. Beyond those pillows is the wedge pillow that is contoured and rests between your thighs to help your lumbar, spine, cervix, and possibly most surprising, your blood circulation. The position that the knee wedge will force your body to take will contribute to an optimally working circulatory system, and that means a deeper, more restful, and healthier sleep.
Pregnancy. For pregnant women, getting comfortable is difficult, to say the least. You may find less room in your bed that ever, but the extra pillows will add the support you need to keep your circulation flowing at a healthy rate and as much pressure off your hips and back as possible. That means in addition to the usual in-between the leg wedge pillow, you may also want a wedge to slip under your ever-growing belly so that the weight of the baby doesn't pull you over into an awkward angle. For back-sleepers, or those who suffer from increased reflux while pregnant, a wedge will help you in more than one way. When your belly grows to the point where you can't lie on your back without feeling like you're being squashed, the incline will help; and you can use that same incline to support your belly on your side, as well.
Inflatable. While an inflatable pillow may not be a permanent one, it's an excellent option if you're traveling or if you want to try it before you invest in a more durable wedge pillow. Packing it in your luggage will keep you sleeping comfortably, even if you have to spend the night away from your luxury wedge pillow. The inflatable wedge will also cost you far less than the You can deflate and fold it away for occasional use, making storage almost a non-issue.
Sets. If you're not buying your wedge pillow for on specific purpose, then a set may be your best bet. Most often the set will allow you to rest your legs on a triangle and use a bigger pillow to keep your back at an incline, as well. You can even control more or less of an incline with more pillows in the set, adding additional pillows for a steeper incline and taking away others to lie back further. If more is better, the set that will allow you to incline your back and elevate your feet is the winning combination!
Folding. Folding pillows will allow you to increase or decrease the angle with which you sleep, making a steeper incline (60 degrees, for example) for while you're sitting up and relaxing or 30 degrees to make a more gradual incline to make sleeping easier on you. You won't have to worry about losing the smaller pillow because they're connected, nor will you have to worry about portability because the folding pillows will nest together and store easily with Velcro holding them together.
Frequently Asked Questions
What is a wedge pillow used for?
A wedge pillow puts a wedge between you and something. There are several types that have their own purpose and knowing which each does will make it easier for you to find the right one for you. Inclined wedge pillows will allow back sleepers to lie down at a more upright position without needing to sit fully up and come in a variety of heights, creating a very different angle with which you could sleep. All wedge pillows are made of a strong foam that won't compress when you lie on it, most common being memory foam. You can use a wedge to support your legs at a bend or to raise them for an injury or to release pressure on your back. Leg wedge pillows have three different designs: knee rests, contoured, and elevated. Knee rest wedge pillows will allow you to lie with your knees bent and give you support through the entire bed of your legs. Contoured wedge pillows will fit between your thighs to boost circulation and relieve pressure. Elevated wedge pillows will give your legs support on the incline and keep them raised to a plateau for extended elevation. You can find any combination of the inclined wedge pillows or leg pillows, or you could opt for a set.
How high should a wedge pillow be?
There is no strict number of how many inches tall your pillow should be or at how steep an incline. The tallest wedge pillows stand about fifteen inches high, but that's the extreme; they generally range between eight to twelve inches with the smallest standing about six inches. To see minimal effectiveness in reflux, you'll want a pillow that's at least six to eight inches; that will put you at an angle of thirty to forty-five degrees. This height can also improve your breathing, which is especially helpful for the occasional bout of congestion that comes with a cold. If you find this incline isn't doing what you'd like it to, then you can increase it. While you don't want to incline a baby, as an adult, you are capable of determining what is a safe and comfortable height for your pillow.
Are wedge pillows bad for your back?
Unless you have an injury of some kind, an inclined wedge pillow with which you lie on your back could actually be a big help for your back. The position will take the pressure off your lumbar and cervical spine and if you sleep on your side, the position will offer added support for your neck and shoulders, too. A wedge pillow that slips between your legs to boost circulation will help you sleep better with better blood flow, but also give ample support for the lumbar spine. Of course if you do have a back injury, you'll need to check with your doctor before making a big investment, but the chances are even in that scenario, a wedge pillow or two will help your back significantly.
Do you use a pillow with a wedge?
You shouldn't need to use a pillow on top of a wedge pillow, no. If you find that you would like a steeper incline, then you may be able to use a strong foam pillow to increase the height with its addition. If you find yourself unable to get comfortable on the wedge without the added "regular" pillow, and you may need it to get to sleep. Bear in mind, that by adding another, standard pillow, you'll be losing some of the benefits of your wedge – namely some of the support of your neck and shoulders. And if you're a side sleeper, it may be even more difficult to adjust to without the pillow, but we recommend trying it. You won't harm yourself or strain your back, neck, or shoulders with the added pillow, but the wedge pillow isn't designed for it.
Other Wedge Pillows We Reviewed
We looked at 20 other wedge pillow. Even though they didn't make our 5 best wedge pillow list, they're the best of the rest and each is still a great option for you. The information you'll need to compare each one is included with the listing.
Wedge Pillows for Legs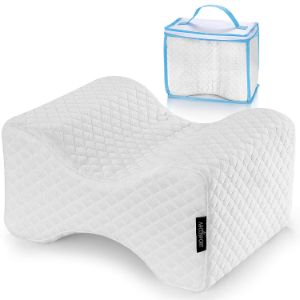 Maintain a healthy spine and hip alignment with a wedge pillow that stays between your knees and fits perfectly.
Key Features:
Made with memory foam
Removable machine washable cover
Travel bag included
Cost: $25
ComfiLife Orthopedic Knee Wedge Pillow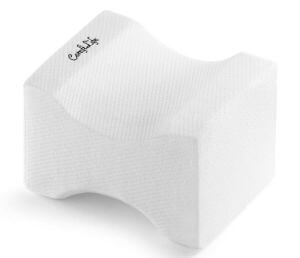 This ergonomically designed wedge pillow fits perfectly and comfortably between your legs to give you a good night's sleep.
Key Features:
9.8 x 7.9 x 6.3 inches
High-density memory foam construction
Removable cover
Cost: $30
Cushy Form Elevating Recovery Wedge Pillow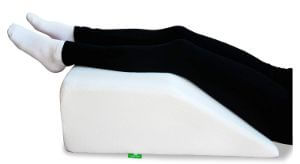 Perfect for injury or to relive the pressure off your lower back, this wedge will elevate your legs for your comfort.
Key Features:
Removable cover
24″L x 21″W x 8″H
Memory foam top
Cost: $50
DMI Ortho Bed Wedge Elevated Leg Pillow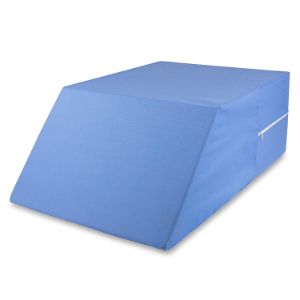 Your legs will be completely supported every inch of their path with this elevated wedge pillow.
Key Features:
Machine washable cover
50-degree slope
3 size options
Cost: $55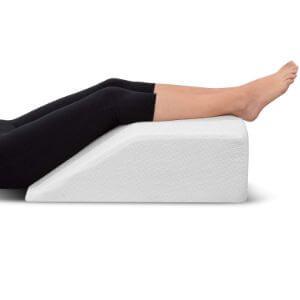 Even if you don't want to use this pillow for your legs, it's also wonderful for a supported, relaxed reading perch, too.
Key Features:
24" x 21" x 8"
Removable cover
Improves circulation
Cost: $40
Restorology Elevating Foam Wedge Pillow
The cover on this wedge pillow is a plush and luxurious microfiber as well as removable and machine washable.
Key Features:
Durable, firm foam construction
16.5″W x 23.6″L x 8″H
Lightweight: 3.08 lbs
Cost: $25
Xtra-Comfort Leg Elevation Wedge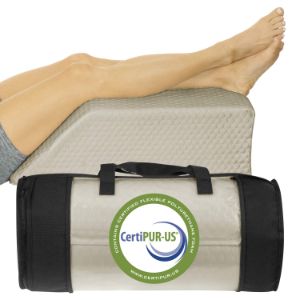 Though you may struggle to get it back in the carrying case it comes in, the protector is certainly durable enough to make transport easy.
Key Features:
Removable, machine washable cover
45-degree incline
2 color options
Wedge Pillow Sets
AllSett Health Bed Wedge Pillow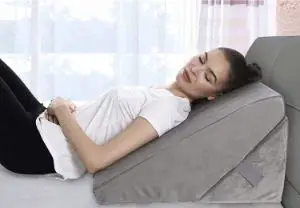 This pillow set has a plush outer layer and a firmer base that will allow you to sink into a comfortable position while still supporting your neck and back while you sleep.
Key Features:
22″W x 12″D
Machine washable cover
7-in-1 design
Cost: $60
Contour Products BackMax Full Body Foam Bed Wedge Pillow System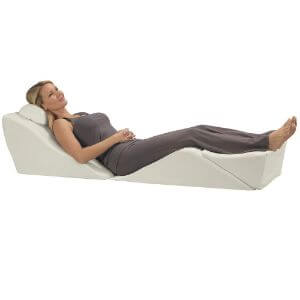 With these four pillows, you'll easily be able to find a comfortable sleeping position, no matter how you like to lie.
Key Features:
Storage case available
2 size options
Washable cover
Cost: $250
ENITYA Bed Wedge&Body Positioners Pillow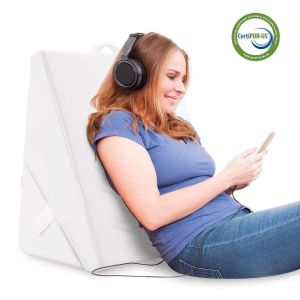 This folding pillow set will allow you to adjust your position to a lying configuration or to an upright supported seated position.
Key Features:
3D air layer layer cover
1.5″ memory foam top layer
On-the-go-handle
Cost: $50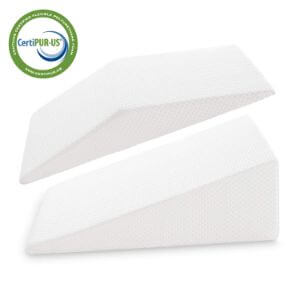 By arranging these pillows differently, you can use this set for optimal positions for your leg elevation, reading, sleeping, and so much more.
Key Features:
Removable and washable cover
2 color options
2 pillow set
Cost: $45
Lisenwood Foam Bed Wedge Pillow Set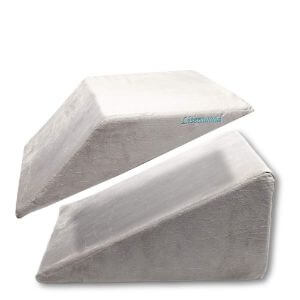 This pillow set has a more plush cover that will give you a more luxurious feel to your skin, which you'll especially appreciate if you chose not to add another cover atop it.
Key Features:
2 separated pillow set
Washable, plush pillow case
Lifetime warranty
Cost: $60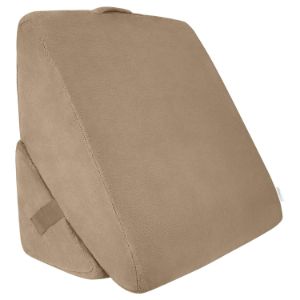 This folding pillow will give you a comfortable incline for your sleep or a more steep (and equally comfortable) incline for your seated position.
Key Features:
Made with breathable memory foam
To-go handle
4-in-1 design
Wedge Pillows for Inclined Sleep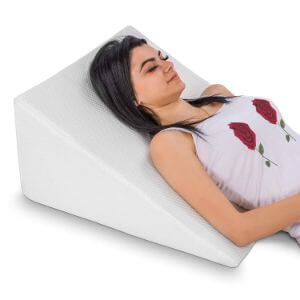 This wedge offers a memory foam top layer with a cover that breaths to keep you from getting overheated at night.
Key Features:
25 x 24 x 12 inches
Removable and washable cover
Hypoallergenic
Cost: $40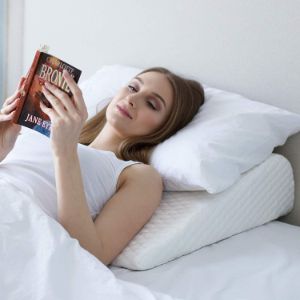 This wedge pillow offers an exclusive curve on the edge, making it all the more versatile and comfortable for elevated leg use.
Key Features:
3 size selections
2 covers included
Satisfaction guarantee
Cost: $35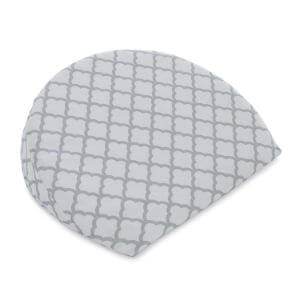 You'll be able to use this smaller pillow to support your growing belly and then, after delivery, for lower back support, too.
Key Features:
2 colors available
Removable, machine washable cover
14 x 4 x 12 inches
Cost: $15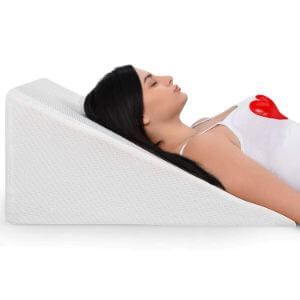 With a one-inch top layer of memory foam and firmer base, you'll easily find a comfortable, yet supportive position for a gloriously rested night's sleep.
Key Features:
Removable machine washable cover
2-year warranty
25" x 24" x 12"
Cost: $40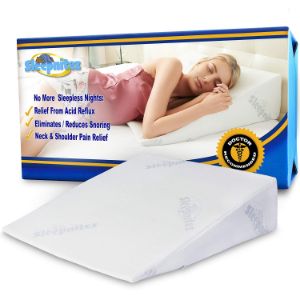 This wedge pillow offers an impressive three and a quarter inches of memory foam for the top layer, allowing the pillow to meld to your body.
Key Features:
27.2 x 25.2 x 8 inches
Removable, machine washable cover
Satisfaction guarantee
Cost: $45
SnugStop Bed Wedge Mattress Wedge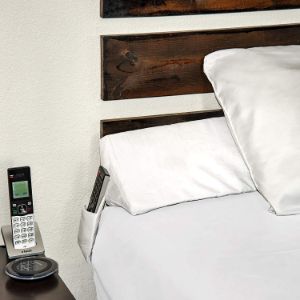 This is the perfect solution to incline your pillows, no matter how many – an inclined wedge pillow that fits securely on the head of your bed.
Key Features:
3 bed sizes available
Side pocket perfect for remote or phone
Machine washable cover
Cost: $45
WEY&FLY Inflatable Wedge Pillow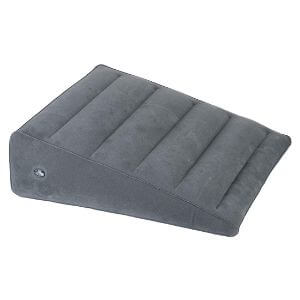 This pillow may not be perfect for a permanent fixture in your home, but if you plan on using it only occasionally, or to travel, this is the pillow for you.
Key Features:
5 style choices
23.6″ x 22″ x 7″
Made of PVC flocking
Cost: $20