It's important to consume enough vitamins and minerals, so if you think you're not getting ample magnesium in your diet, add a magnesium supplement. Magnesium is abundant in the human body and plays a role in more than 300 internal processes, including synthesizing DNA and RNA, maintaining healthy nerve functions, and supporting bone health. Magnesium supplements may also help with a range of complaints, such as insomnia and headaches.
We reviewed dozens of magnesium supplements to identify the best of the best, considering a range of factors such as delivery method (sprays and powders versus tablets and capsules), form of magnesium, dosage, and customer ratings.
Following our careful research, there was no doubt about it: Nobi Nutrition Magnesium Complex Premium had to take the top spot. It contains magnesium oxide for healthy heart, bones, nerves, and more, plus magnesium citrate for better absorption of essential vitamins and minerals, so it covers all bases.
[toc]
The 5 Top-Rated Magnesium Supplements
*Ratings are from Amazon at the time of publication and can change
Best Magnesium Supplement Overall: Nobi Nutrition Magnesium Complex Premium
Nobi Nutrition Magnesium Complex Premium is our most highly recommended magnesium supplement. It's a magnesium complex containing two distinct types of magnesium: magnesium citrate which has an incredible 90% bioavailability so it's highly absorbable and magnesium oxide which is less bioavailable but contains the highest amount of elemental magnesium by weight of all the different magnesium types.
In each bottle, you get 60 easy-to-swallow 500 mg capsules. These are vegan capsules, so they're suitable for anyone who avoids consuming gelatin for ethical or religious reasons. Retailing at roughly $22 for 60 capsules, they are on the pricey side, but they have a high Amazon rating from a large number of reviews, and buyers praise them for all kinds of helpful properties from relieving insomnia and leg cramps to lessening the symptoms of menopause.
Nobi Nutrition Magnesium Complex Premium Key Features: 
Made in the USA in an FDA-approved facility
Tested for quality by a third party
Vegan-friendly formula
Best Magnesium Supplement Tablets: Nature's Bounty Magnesium
If you prefer tablets over capsules, or you're simply looking for a lower priced option, consider Nature's Bounty Magnesium. This supplement contains magnesium oxide only, which isn't as bioavailable as some other forms of magnesium, which means you may need to take a higher dose to get the same effects. However, since this bottle contains 200 tablets of 500 mg for around $10, it won't put you out of pocket.
The tablets are vegetarian, and free from all common allergens, including gluten, soy, milk, eggs, and shellfish. They're laboratory tested for safety and quality and free from GMO ingredients.
Nature's Bounty Magnesium Key Features: 
Coated tablets for easier swallowing
Made in the USA
500 mg per tablet
Best Budget Magnesium Supplement: Nature Made Magnesium Oxide Tablets
Sometimes, getting the cheapest option available is essential and you won't find a much lower price than these Nature Made Magnesium Oxide Tablets, which cost just $4.20. You do only get 100 tablets to a bottle and each tablet contains 250 mg of magnesium, so this might not be the best value option out there, but if pure low price is your goal then buy, buy, buy!
Like our top magnesium tablets, these contain just magnesium oxide, which hasn't got the best bioavailability. The stated dosage is just one 250 mg tablet per day, but you may wish to take two if you really want to boost your magnesium levels. These tablets are gluten free with no synthetic dyes or artificial flavorings.
Nature Made Magnesium Oxide Tablets Key Features: 
Free from major allergens, such as gluten, eggs, and milk
Contains natural dyes only
100 tablets to a bottle
Best Magnesium Supplement Spray: Seven Minerals Pure Magnesium Oil Spray
We mentioned above how magnesium oxide isn't the most bioavailable form of magnesium out there. Seven Minerals Pure Magnesium Oil Spray contains magnesium chloride, which is well-absorbed by the body and can even be absorbed via the skin, which is why this magnesium spray works topically. It's especially great for relieving muscle cramps and other topical uses, such as headaches and joint pain. However, it can be absorbed into your system in general through your skin, so it's good for anything an oral magnesium supplement works for.
This spray is made from high quality USP grade magnesium and is one of the purest sprays on the market. You can buy a 2 fl oz travel spray for $10, a 12 fl oz spray for $20, or a large 64 fl oz refill bottle for $50.
Seven Minerals Pure Magnesium Oil Spray Key Features: 
Uses highly bioavailable magnesium chloride
Liquid form doesn't need further processing by your body
Money back guarantee if it doesn't work
Best Magnesium Supplement Powder: Pure Essence Labs Ionic Fizz Magnesium Plus
It's also possible to get your magnesium in a tasty drink form, such as the Pure Essence Labs Ionic Fizz Magnesium Plus. Not only does it contain 300mg of magnesium per serving, it also contains a range of vitamins and other minerals, including vitamin C, vitamin B6 and B12, a vegan form of vitamin D3, copper, and zinc.
You simply mix it with water to make a drinkable vitamin and mineral supplement. Choose from three flavors: raspberry lemonade, mixed berry, and orange vanilla. A 12-ounce pot contains 2 months worth of servings for one person and costs around $30. You can also buy a smaller 6-ounce pot for $20 if you don't want to commit to a large one before you know you like it.
Pure Essence Labs Ionic Fizz Magnesium Plus Key Features: 
Vegan formula
Gluten, milk, egg, and soy free
Made in the USA in a cGMP facility
Who Should Buy a Magnesium Supplement
Magnesium occurs naturally in foods such as leafy greens, legumes (beans, peas, and lentils), whole grains, nuts, seeds, tofu, and some fatty fish. If you don't believe you eat enough of these foods, then you should probably buy and take a magnesium supplement to boost your levels. Some people also find magnesium helps with insomnia and others take it for post-workout recovery.
For those interested in magnesium as a post-workout supplement, you may also want to consider taking a supplement before the workout, too. If that's the case, you may want to check out The Best Muscle Building Supplements.
Important Features to Consider
A magnesium should have a few important features. Here's what to consider when selecting a magnesium supplement:
Supplement type. You can choose from a range of magnesium supplement types: tablets, capsules, spray, powder, and even chewable or gummy tablets. There may be some difference in absorption levels between supplement types but not enough to make a significant difference. More important is to choose a supplement type you'll reliably use so if you hate swallowing tablets, for instance, try a powder or spray.
Magnesium formulation. There are different formulations of magnesium on offer and not all are equally effective. Magnesium oxide is a common choice because it contains the largest amount of elemental magnesium by weight, but its bioavailability is poor. Magnesium citrate and magnesium chloride are more easily absorbed by the body, while magnesium glycinate is especially good for muscle relaxation.
Dosage strength. Check the milligrams (mg) of magnesium per tablet, capsule, or serving. Most magnesium supplements contain between 250 and 500 mg. Higher doses are safe (up to about 2,500 mg), but can cause diarrhea.
Filler ingredients. Some magnesium supplements, especially tablets, can contain filler ingredients as binders or similar. Most are free from common allergens, such as gluten and dairy, but it's worth double-checking if you have a food allergy.
Frequently Asked Questions
What is a magnesium supplement and how does it work?
A magnesium supplement is some kind of dietary supplement (such as a tablet or powder) that contains the mineral magnesium. When you take it, it releases magnesium into your bloodstream, boosting the levels contained in your body.
Should you take a magnesium supplement?
Magnesium is an essential mineral that's involved in all kinds of bodily processes, so you should take a magnesium supplement if you don't think you're getting enough in your diet. It's hard to get too much magnesium (taking 5,000 mg a day or more a day can lead to magnesium toxicity, but most supplements contain 500mg or less and you're unlikely to get more than the same again from your food) so it's worth taking a supplement even if you're unsure whether or not you're eating enough magnesium-rich foods.
What are the symptoms of low magnesium in the body?
Early signs of low magnesium levels include muscle cramps, fatigue, insomnia, and digestive issues. A serious magnesium deficiency can cause some nasty symptoms, including high blood pressure, an irregular heartbeat, depression, and memory problems.
Does magnesium make you gain weight?
No, it doesn't. In fact, low levels of magnesium can lead to insulin resistance which is more likely to cause weight gain and, more seriously, is a high-risk factor in type 2 diabetes.
Other Magnesium Supplements We Reviewed
We looked at 20 other magnesium supplements. Even though they didn't make our 5 best magnesium supplements list, they're the best of the rest and each is still a great option. The information you'll need to compare each one is included with the listing.
Magnesium Supplement Sprays
Activation Products Ease Magnesium Spray

This quality magnesium spray prides itself on improving muscle pain, sleep quality, headaches, and overall mood.
Key Features: 
Non-greasy formula
Eight-ounce bottle
Not animal tested
Cost: $39
ASUTRA Topical Magnesium Spray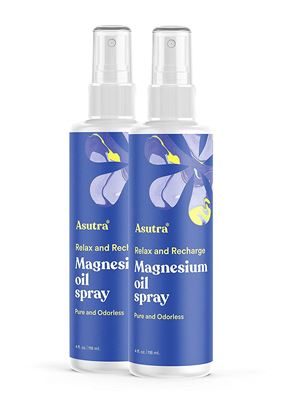 Thanks to the magnesium chloride formulation, you know you're getting a magnesium product that's highly absorbable by the body.
Key Features: 
Pack of two provides great value
Odorless formula
Absorbs quickly into the skin
Cost: $17
Essentially Based Magnesium Oil Spray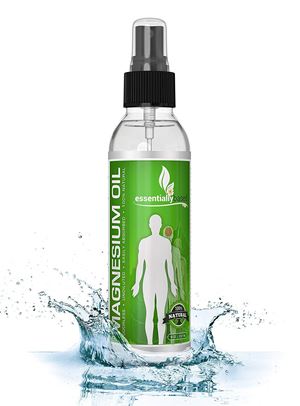 This 100% pure magnesium oil claims enter the body on a cellular level offering excellent bioavailablity.
Key Features: 
Great as a sleep aid
Can help muscle pain
Not animal tested
Cost: $10
Magnum Solace Magnesium Oil Spray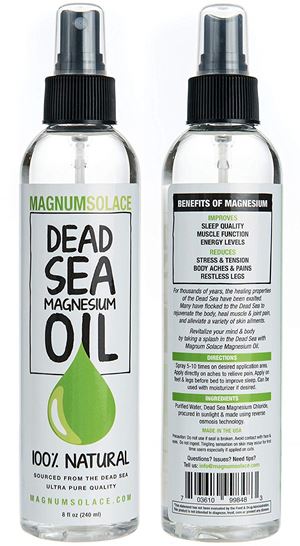 Using magnesium sourced from the dead sea might not objectively make any difference to how it functions, but it's still an appealing notion.
Key Features: 
Three size options
Eight-ounce bottle lasts around six months
Relieves stress and tension
Cost: $10 to $40
Seven Minerals Magnesium Joint and Arthritis Pain Relief Spray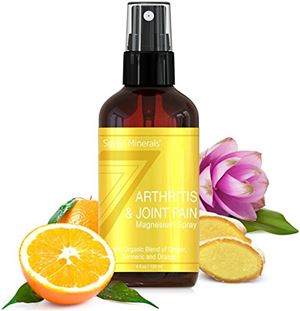 This formulation is particularly designed for relieving arthritis and other forms of joint pain. It also contains turmeric, ginger, and orange essential oils.
Key Features: 
All-natural formula
Money back guarantee if it doesn't work
Made in the USA
Magnesium Supplement Powders
BulkSupplements Magnesium Citrate Powder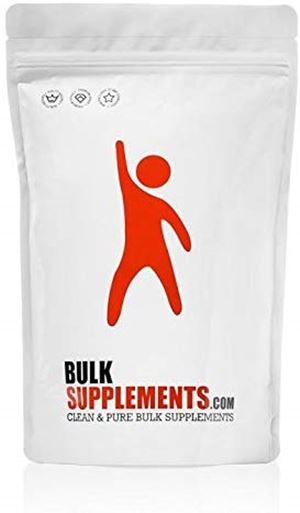 If you want a completely plain and pure magnesium powder, this is a perfect option. It contains nothing but highly absorbable magnesium citrate.
Key Features: 
Available in four sizes between 17 ounces and 55 pounds
No fillers or flavorings
Highly versatile
Cost: $16 to $145
Garden of Life Dr. Formulated Whole Food Magnesium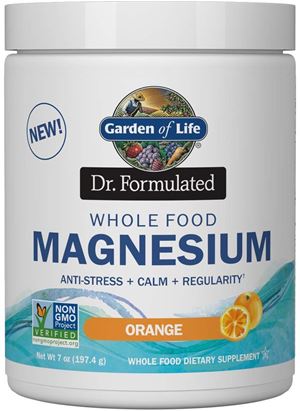 This orange-flavored magnesium supplement contains 350mg magnesium per teaspoon plus a blend of probiotics for digestive health.
Key Features: 
Certified kosher and vegan
Non GMO
Helps sleep when taken before bedtime
Cost: $17
Micro Ingredients US Origin Pure Magnesium Citrate Powder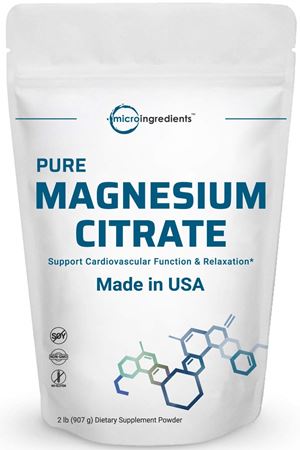 Looking for a magnesium powder with great absorption? This one is made from pure magnesium citrate, which is around 90% bioavailable.
Key Features: 
Vegan formula
No fillers
GMO free
Cost: $24
Natural Vitality Calm Magnesium Supplement Powder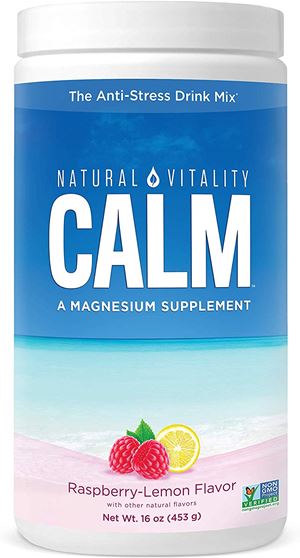 An effective magnesium supplement powder that's available in five flavors (raspberry-lemon, cherry, watermelon, orange, and lemon) as well as an unflavored option.
Key Features: 
Promotes natural relaxation
Suitable for vegans
Sweetened with stevia
Cost: $13 to $20
Whole Family Naturals Calcium Magnesium Powder Supplement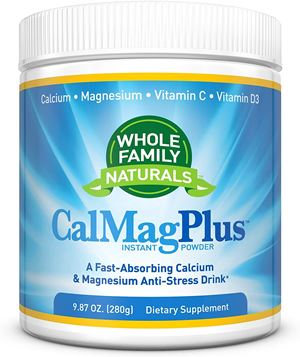 This blend of calcium and magnesium is great for relaxation, sleep, leg cramps, bone health, and much more.
Key Features: 
Choose from berry, citrus, or unflavored
Also contains vitamins C and D3
Non GMO
Magnesium Supplement Capsules
Divine Intervention Pure Magnesium Citrate Capsules
These high-dose magnesium capsules are great for boosting low levels but may be overkill for day to day use.
Key Features: 
1,300 mg magnesium citrate per capsule
Pack contains 120 vegetarian capsules
No artificial ingredients
Cost: $15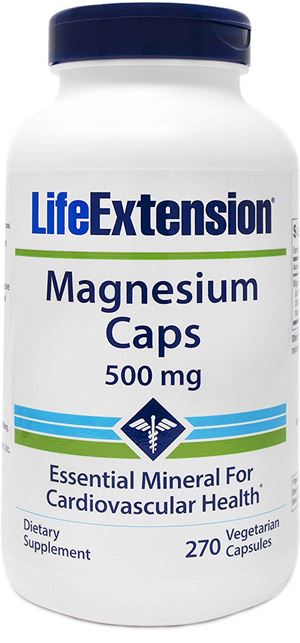 You'll get excellent value from these capsules, with 270 – 500 mg veggie caps in each bottle.
Key Features: 
Contains four types of magnesium for better absorption
GMO free
Vegan formula
Cost: $20
Natural Rhythm Triple Calm Magnesium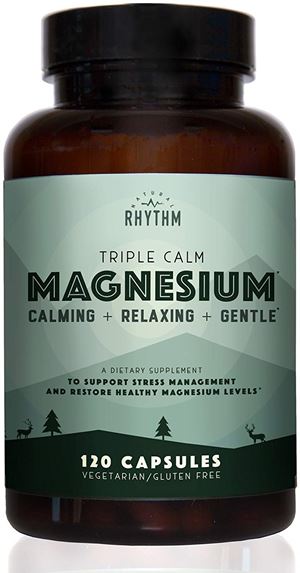 With just 150 mg of magnesium per capsule, these aren't the best for boosting very low levels, but they can supplement a slightly low magnesium intake to help keep you healthy.
Key Features: 
Bottle contains 120 vegetarian capsules
Designed for relaxation and stress relief
Includes a blend of three magnesium types
Cost: $22
NOW Supplements Magnesium Caps
Each of these veggie caps contains 400 mg of magnesium, which is around the recommended daily dosage.
Key Features: 
Contains 180 capsules per bottle
Blend of three magnesium types
Made by a family owned and operated business
Cost: $9
Number One Nutrition Premium Magnesium Complex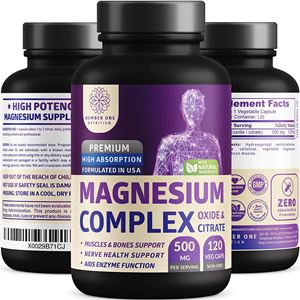 A complex of magnesium citrate and magnesium oxide allows for optimal absorption, with a total of 500 mg per capsule.
Key Features: 
Suitable for vegans
Extra strength formula
Made in the USA
Cost: $20
Rootcha High Potency Magnesium Zinc Complex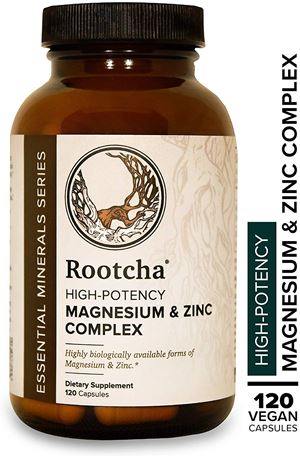 These capsules contain magnesium citrate with an added boost from zinc, which helps with DNA synthesis and immune function.
Key Features: 
Designed to aid sleep, recovery, and the immune system
Highly bioavailable magnesium and zinc
Vegan capsules
Magnesium Supplement Tablets
Doctor's Best High Absorption Magnesium Tablets
Formulated with optimum absorption in mind, these tablets contain a combination of Magnesium glycinate and magnesium lysinate.
Key Features: 
200 mg magnesium per two-tablet serving
Good GI tolerance
240 tablets per bottle
Cost: $13
Jigsaw Health MagSRT Magnesium Malate Supplement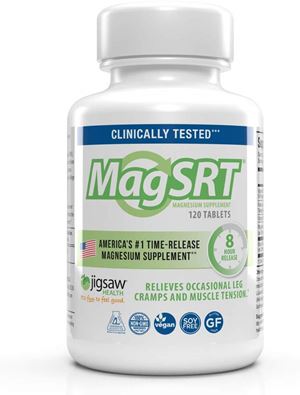 This time-release supplement delivers a steady dose of magnesium over eight hours, which reduced digestive issues sometimes caused by magnesium.
Key Features: 
Contains 500 mg magnesium per serving
Also contains vitamins B6, B12, and folate
Highly absorbable
Cost: $23
KAL Magnesium Glycinate Tablets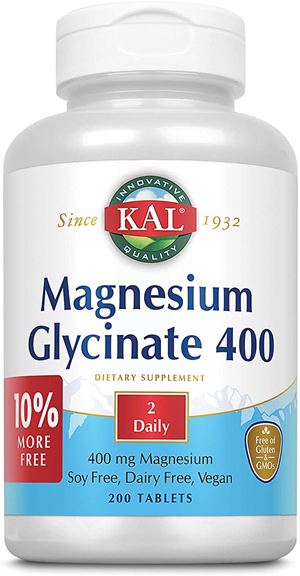 Containing 100 servings of 400 mg, this bottle of magnesium tablets will last the average person over three months.
Key Features: 
Contains chelated, highly bioavailable magnesium glycinate
Vegan formula
Non GMO
Cost: $24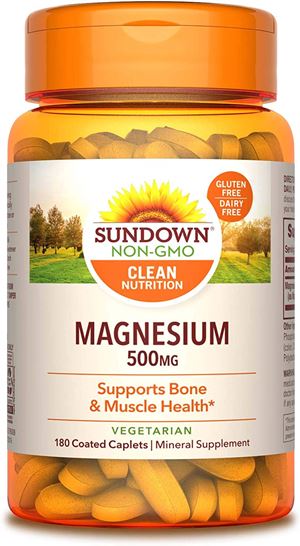 These coated caplets are easy to swallow and contain 500 mg of magnesium oxide each.
Key Features: 
Bottle contains 180 tablets
Free from GMOs
No wheat or dairy
Cost: $7