An at-home drug test kit can be a convenient product to have in your home if you or a loved one is going through the process of drug detoxification and you want to monitor their progress. Lab tests can be expensive and it's not always easy or affordable to make a trip to the doctor's office for a lab test. Testing for drugs at home can be a lot more private for you or your loved one while still giving you the peace of mind of getting quick results.
We reviewed dozens of at-home drug test kits to find the best of the best. In our search, we looked for a few specific features to help us identify stand-out drug test kits, like cost per kit, ease of use, types of drugs able to be tested, and readability of your results.
We've chosen the Easy@Home 12 Panel Instant Drug Test Kit as our top winner for the best drug test kit for a few reasons, but the feature that makes it stand out as a clear winner is its clear instructions and easy-to-use testing process. For those who haven't used an at-home testing kit before, this one is about as simple as you can get to ensure that you have accurate results.
[toc]
The 5 Top-Rated Drug Test Kits
*Ratings are current at the time of publication and can change
Best Drug Test Kit Overall: Easy@Home 12 Panel Instant Drug Test Kit
If you're interested in getting a comprehensive at-home drug testing kit that's affordable and easy to use, you probably won't find much better than the Easy@Home 12 Panel Instant Drug Test Kit. This kit includes anywhere from two to 200 single-use tests that screen for 12 commonly used drugs, including THC, AMP, PCP, OXY, and MTD. This kit is a dip-test type, meaning that you follow the instructions to dip the test strip into urine to receive your results within minutes.
One of the perks of this kit in particular is how easy it is to understand your results. Some at-home drug tests can be easy to use but confusing to read. This one is both straightforward in its use and reading, giving you results in about 5 minutes with large, clear readings. Simply match up the test results to the key that comes in your kit. Several customers have commented that this kid, by far, has been one of the most accurate and easy-to-use at-home tests they've used. 
Easy@Home 12 Panel Instant Drug Test Kit Key Features:
Quick results
Individually wrapped test strips
No-mess testing
Sensitive detection
Satisfaction guaranteed policy
Best THC Drug Test Kit: Utest Single Panel THC Home Test Kit
THC is one of the most common types of drugs people use. Sometimes, having an at-home THC drug test kit at your disposal can be enough of a deterrent to use the drug. The Utest Single Panel THC Home Test Kit is simple to use and read if you do need it, though, offering a standard screening level of THC concentration similar to lab tests. This one-step kit requires you to dip the test into a cup of fresh urine and remove it when a line appears. You'll have your results in about five minutes.
The instructions included with this single-use test are clear and easy to understand, so it's not likely that you'll receive a messed up result. Still, even the smallest pack comes with two tests, so you'll have a spare handy just in case you need to retest.
Use the code CLEAN10 when you purchase this kit on PassYourTest.com to get 10% off your order.
Utest Single Panel THC Home Test Kit Key Features:
Simple result reading
Sensitive THC detection
99% accurate
GMP certified product
Money-back guarantee
Best Budget Drug Test Kit: Prime Screen Drug Test 10 Panel Kit
With the Prime Screen Drug Test 10 Panel Kit, you get a full testing panel that screens for 10 types of drugs without having to spend anywhere near the cost of a typical drug panel you get through a lab or doctor's office. This convenient at-home testing kit makes it easy to look for specific drugs, like MET, PCP, and THC, with sensitivity levels similar to those you find in lab tests.
This kit is simple to use, too. Just place the dip sticks into a cup of urine without going past the line, and you can read the results on the card in about five minutes. The testing card includes clear instructions of what you need to look for to get your results right at your fingertips. Several customer reviews note that although this kit doesn't come with detailed instructions, they aren't needed because of the clarity of the readout instructions on the test card.
Prime Screen Drug Test 10 Panel Kit Key Features:
Several purchase options with multiple tests available
Five-minute readout
Instructions included on card
Testing for 10 specific drugs
100% money-back guarantee
Utest Single Panel Nicotine Test: Utest Single Panel Nicotine Test
If you're trying to quit smoking or have a loved one who is, a Utest Single Panel Nicotine Test could come to the rescue. This test detects nicotine in the body at a standard minimum level of 200 ng/mL, so even small amounts of nicotine will show on the test. That's good news if you want to make sure you're completely nicotine-free. This straightforward urine test can give you results in just a few minutes, giving you an accurate reading right on the stick itself.
Like other Utest testing kits, this nicotine test is GMP certified, meaning that Utest adheres to strict requirements and regulations for manufacturing practices set by the U.S. Food & Drug Administration (FDA). Your purchase is also backed by a 100% satisfaction guarantee, so if the strips aren't working well for you even after reading the instructions, you can still rely on the company for a refund. Get 10% off your Utest Single Panel Nicotine Test order with the code CLEAN10.
Utest Single Panel Nicotine Test Key Features:
99% accurate
Sensitive nicotine testing
Quick results
Straightforward instructions
Comes in two, three, or five packs
Best Hair Drug Test Kit: HairConfirm 10 Panel Hair Drug Test
Hair follicle drug test kits are among the most accurate types of drug tests, but they aren't readily available for home use. However, the HairConfirm 10 Panel Hair Drug Test is one that you can get for home drug testing. You'll use the kit to collect hair according to the test's instructions. Then, you can mail a sample using a prepaid shipping label to the lab for accurate testing along with a lab fee.
This type of test can be good to use when some time has passed after drug use but you still want to monitor the progress of yourself or someone else because it can usually detect drugs for longer periods of time than urine or saliva tests. And, although there's an extra fee for the lab test that you'll need to pay in addition to the test kit itself, it's still quite affordable compared to a traditional doctor's visit and lab testing.
HairConfirm 10 Panel Hair Drug Test Key Features:
Prepaid return box
Detects drugs up to 90 days
10-drug screening
Lab fee payable online
Results available in as few as 3 days
Who Should Buy a Drug Test Kit
Buying a drug test kit is something people do for different reasons. Some parents choose to buy an at-home testing kit if they believe their child or teen is abusing drugs. Others might purchase a drug test kit to monitor their own progress as they work to get clean from a past substance abuse problem. Some people might also use a drug test kit to monitor the progress of their loved ones undergoing a detoxification process from drugs.
Many at-home drug tests can also be used by businesses to drug screen their potential or current employees or by schools, colleges, and universities to drug test students, although it's more common for these organizations to use medical-grade tests for higher accuracy.
If, for whatever reason, you find yourself in need of a detox then you may want to check out The Best THC Detox.
Important Features to Consider
A drug test kit should have a few important features. Here's what to consider when selecting a drug test kit for home use:
Type of test. At-home drug test kits can test hair follicles, urine, and saliva. The type you choose will likely depend on personal preference, so be sure to check the product description for more information before ordering.
Type of drugs. Not all drug tests can screen for all kinds of drugs. Some test for only one drug while others test for ten or more. If there's a specific type of drug you want to test for, you should look for a kit that includes screening for that drug.
Accuracy. Some tests are more accurate than others. Generally, hair follicle tests are the most accurate at-home tests, but they're not as available as urine and salive test kits. 
Readout. The readout of an at-home drug test should be simple enough for you to understand without the help of a medical professional. Spend some time looking at how the test gives you results and what reviews say about the ease of reading them.
Number of tests. Drug tests sometimes come in single-test packages or multi-test packages. If you plan to test for drugs frequently, you can often save money purchasing multi-packs over single tests.
FDA approval. FDA-approved testing kits are often the most accurate to use at home because they follow FDA guidelines. However, you should prepare to spend more money on these tests.
Frequently Asked Questions
What is a drug test kit and how does it work?
A drug test kit contains everything you need to test for a specific drug or multiple drugs at home. Drug test kits work differently depending on the type of test, such as urine, hair follicle, or saliva. Urine and saliva drug tests look for specific enzymes that show a presence of drugs in the body, while hair follicle tests gas molecules from drugs that get left behind in your hair.
What are the different kinds of drug test kits?
Labs often use blood tests to detect drugs in patients, but at-home kits are commonly either hair follicle, urine, or saliva tests. Hair follicle tests detect drugs on strands of your hair. Saliva tests require the use of a mouth swab to give you your results. Urine test kits usually come with a urine test cup and a test swab to dip in urine to detect the presence of drugs.
How long do drugs stay in your urine?
The length of time drugs can be detected in your urine depends mostly on the type of drug. According to American Addiction Centers, several drugs can show in your urine for up to three days. THC can potentially show in your urine for up to seven days.
Are home drug test kits accurate?
They can be, but they may not be as accurate as a blood test you'd get from a lab. At-home testing kits do have a margin of error depending on how closely you follow the test's instructions and how accurately the test can read your results. It's also possible to have a false negative or false positive with an at-home test.
Other Drug Test Kits We Reviewed
We looked at 20 other drug test kits. Even though they didn't make our 5 best drug test kit list, they're the best of the rest and each is still a great option for at-home testing. The information you'll need to compare each one is included with the listing.
Multi-Drug Screen Test Kits
EZ LEVEL 6 Panel Urine Multi Drug Test Kit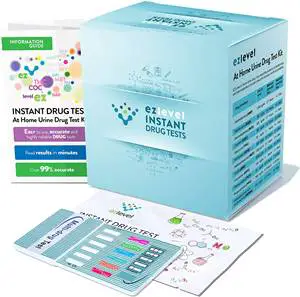 Try this 10-pack of urine drug tests at home to test for six common drugs, including COC and THC. The easy-read results are available in minutes.
Key Features:
Urine dip stick tests
Simple instructions
Quick results
Cost: $22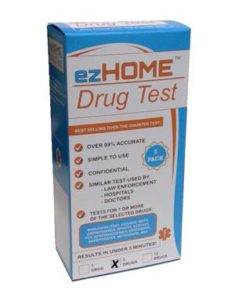 This urine dip stick drug test kit makes it easy to test for five different drugs at home in just a few minutes.
Key Features:
Two-pack
Tests for five drugs
Includes collection cups
Cost: $7
MiCare 12-Panel Multi Drug Test Cup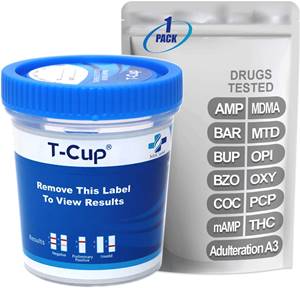 This unique urine drug test has its testing panel inside the cup. All you need to do is remove the label to view the results.
Key Features:
Wide cup size
Tests for 13 drugs
Quick readout
Cost: $9
MOD Complete The Home Drug Test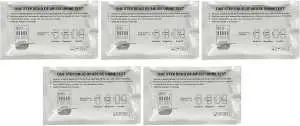 These individually wrapped urine dip stick tests check for six commonly used drugs so that you can get your results quickly and easily from the privacy of your home.
Key Features:
Five-minute results
Pack of five tests
Tests for opiates, amphetamines, and more
Cost: $10
Prime Screen 14 Panel Urine Screening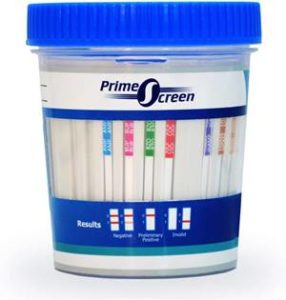 With testing for 14 drugs, this urine drug test is one of the most comprehensive at-home tests you'll find.
Key Features:
Easy-to-read in-cup results
Lab grade
100% satisfaction guarantee
Cost: $27
THC Drug Test Kits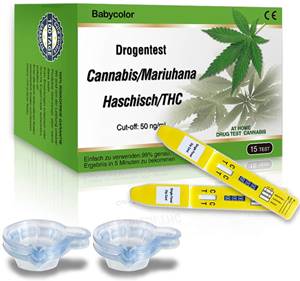 This is a full kit that comes with testing strips and urine cups for each test to make at-home testing for THC simple and convenient.
Key Features:
Everything you need for 15 tests
Ships in private package
CE Certified
Cost: $11
Care Check Marijuana THC Drug Screen Test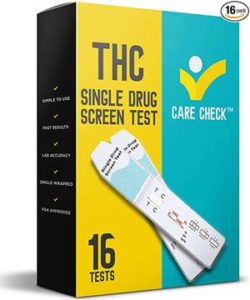 Care Check's dipstick THC single-use tests provide all readout instructions right on the stick, so there's no fumbling around for results when you're ready to use the test.
Key Features:
16 tests
Five-minute results
FDA approved
Cost: $10
Easy@Home THC Single Panel Drug Tests Kit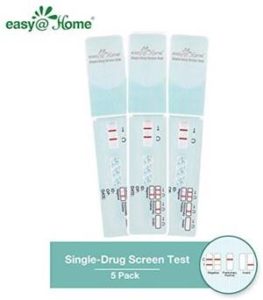 Get five single-use THS at-home tests in this pack, which is perfect for having extra tests at your disposal when you need them.
Key Features:
FDA-cleared
Money-back guarantee
Negative result shows in one minute
Cost: $7
Exploro Highly Sensitive Marijuana THC Test Kit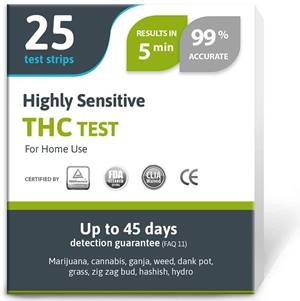 When you need sensitive detection of THC, this kit comes to the rescue by detecting THC in the body for up to 45 days after consumption.
Key Features:
Lab tested and calibrated
99% accurate
One-year guarantee
Cost: $16
First Check Home Drug Test Marijuana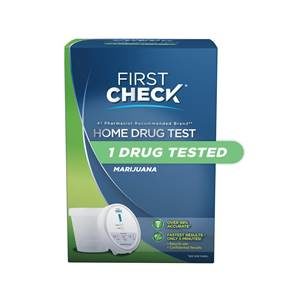 First Check makes it as easy as possible to test for THC at home with this all-in-one kit featuring an accurate, quick, and easy-to-understand results readout.
Key Features:
Quick results
Results readable on lid
Includes testing cup
Cost: $13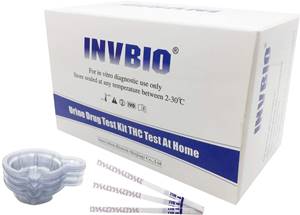 This kit includes everything you need for 30 at-home tests for THC, like urine cups, test strips, and clear instructions.
Key Features:
Sensitive detection
Results available in as little as five minutes
Individually wrapped strips
Cost: $12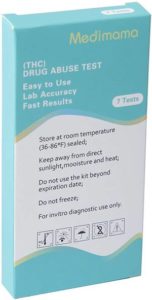 Customers like that these THC at-home tests are incredibly affordable compared to similar tests you can purchase at your local drug store – and work just as well.
Key Features:
Seven single-use tests
Quick readouts
Individually wrapped
Cost: $9
MiCare 1-Panel Urine Drug Test Card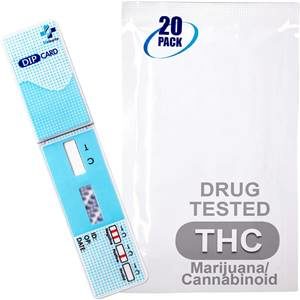 These single-use tests detect THC in the system for up to about five days after usage with a cutoff level of 50ng/mL.
Key Features:
Clear readouts
Lab-quality results
Five-minute readout
Cost: $14
SafeScienceTHC Ultra Low Detection THC Test Kit
Those wanting several THC tests for home use to track progress or monitor someone could benefit from this pack of 25 single-use, ultra-low detection tests.
Key Features:
Urine dipstick tests
Detects up to 45 days after usage
Eco-friendly strips
Cost: $16
ÜTest Highly Sensitive Instant THC Test Kit
When you want to detect even the smallest amounts of THC in the body, this test can help you do it. Unlike many other THC tests with a cutoff level of 50 ng/mL, this one has a cutoff of 20 ng/mL.
Key Features:
Two tests included
Instructions attached to pouch
Customer service available for assistance with testing
Cost: $6
Mouth Swab Drug Test Kits
MD SalivaScreen 5 Panel Instant Saliva Drug Test Kit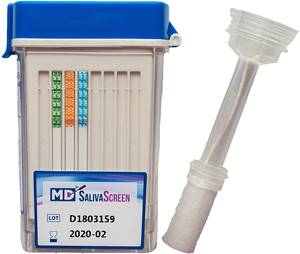 Get your results almost instantly with this easy-to-use testing system that offers results for five commonly used drugs right on the collection container.
Key Features:
Rapid swab testing
99% accurate
Clear results reading
Cost: $12
NicoTests Saliva Nicotine Smoking Test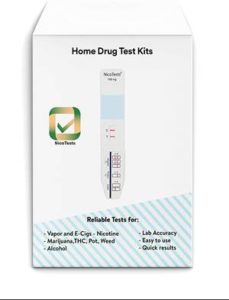 This saliva test detects nicotine in the system at a sensitive level of 30 ng/mL, meaning that it may also detect the use of nicotine vapes.
Key Features:
Cheat-free
Immediate results
Includes five tests
Cost: $23
Oral Cube 5 Panel Instant Swab Drug Test Kit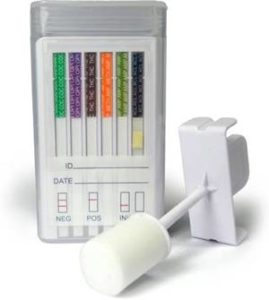 This straightforward saliva collection tests makes it easy to find out if someone has drugs in their system from the past few hours or days.
Key Features:
Low detection cutoff levels
Simple to follow instructions
Five-drug screening
Cost: $6
Prime Screen 10 Panel Oral Saliva Test Kit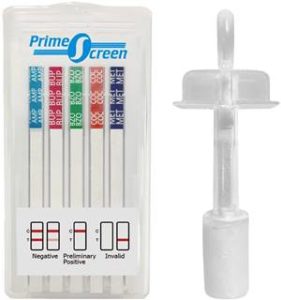 You can read most results from this test within five to seven minutes, offering a quick and convenient way to screen for drugs without visiting the lab.
Key Features:
Five individually wrapped tests
Citrus swab to promote saliva production
Easy-to-read result panel
Cost: $30
SalivaConfirm 12 Panel Drug and Alcohol Test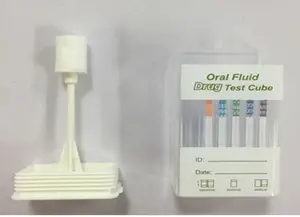 This kit is only available for a bulk purchase with 25 units, but if you plan to test for drugs regularly as part of a progress monitoring routine, then it might be worth the cost.
Key Features:
Tests for 11 drugs
Detects more than a 0.02% blood alcohol level
Sensitive detection levels
Cost: $200