Collagen plays a significant role in our health, including that of our skin, hair, joints, and nails.1 Research highlights that collagen is a crucial nutrient is responsible for the strength of our hair and nails and the brightness of our skin.2 Humans naturally begin to lose collagen as we age, which results in brittle nails, hair, dull skin, and joints.3
To replace this collagen we're missing, many people opt to take a collagen supplement, which can reduce the aging process. (N.B. collagen supplements should not replace consumption of a well-rounded diet equipped with adequate protein).
We reviewed many different collagen supplements to find the best of the best. We carefully considered each supplement's ingredients, concentration, effectiveness, quality, and customer reviews while ranking each one.
Take 10% off your Organixx order when you use the promo code FITTER10
Out of all the supplements we researched, the Organixx Clean Sourced Collagens came out on top. This supplement contains all five types of collagen, which is notable given that many other options only contain one or two types. This third-party tested product also comes with a 100% satisfaction guarantee.
Legal Disclaimer
In general, the FDA has limited regulation on OTC/online supplements before they are available for purchase, so use caution when choosing and using supplements. All supplements are not regulated for potency and effectiveness.
The 5 Top-Rated Collagen Supplements
*Ratings are from Amazon at the time of publication and can change
Our Top Pick: Organixx Clean Sourced Collagens
It quickly became evident that the Organixx Clean Sourced Collagens is the best supplement available. This supplement by Purely Optimal contains all five types of collagen to maximize effectiveness and tackle your beauty, aging, and heart problems. It gets these five collagen types from four different sources: grass-fed beef, antibiotic-free chicken, wild-caught fish, and eggshell.
The ingredients in this product may help to reduce stretch marks, wrinkles, and fine lines, while also strengthening joints, improving hair growth, and strengthening connective tissue. This is one of the few all-in-one collagen supplements on the market, which is one of the big reasons it ranked so high. No matter why you're looking into a collagen supplement, this power has you covered.
These supplements, and all the products at Organixx, are third-party certified for purity and potency by NSF (an internationally recognized leader in independent product testing). You can even read the results of the NSF's testing. 4 In other words, a separate company has tested these supplements and verified that they do contain everything they say they do.
Many customers had raving reviews for this product. In fact, it is difficult to find an even moderately lousy review. Nearly every customer reported that this supplement greatly improved their health and beauty. Take 10% off your Organixx order when you use the promo code FITTER10
Organixx Clean Sourced Collagens Key Features:
Contains five types of collagen
Improves skin, hair, nails, and heart health
Third-party certified
Formulated with vitamin C, horsetail extract and zinc for better absorption of the collagen's protein
Our Runner Up Pick: Collagen Peptides Powder by Sports Research
This Collagen Peptides Powder by Sports Research supplement is also very high-quality with rave customer reviews. The collagen it contains comes from grass-fed, pasture-raised beef. Designed to support healthy skin, hair, bones, and joints, this supplement comes in a powder form. Mix this supplement in warm or room temperature water and enjoy. You can also mix this powdered supplement in cold water, but clumping may occur. It is recommended to mix it in room temperature water first, and then add ice to chill it.
Like our top pick, this supplement is certified by a third-party company for quality and concentration. You can rest assured that what is claimed to be in this supplement is really in it. All ingredients are also non-GMO verified by the IGEN program. They are also paleo and keto-friendly and are certified by the Paleo and Keto Foundation. The creators of this powder offer a 90-day satisfaction guarantee. You're free to try the product for 90-days. If you don't like it, you can return it for a refund.
There are approximately 41 servings in a case, so don't let this product's somewhat high-cost fool you. You're getting your money's worth when you purchase this product, even if you're spending a little more upfront. It's important to note that all servings are based on weight and not volume, so we recommend weighing each scoop instead of just relying on the included scooper.
Collagen Peptides Powder Key Features:
Contains type I and III collagen
Made from grass-fed beef
Certified by a third-party
41 servings per case
Best Budget Pick: Youtheory Collagen Advanced with Vitamin C
Youtheory Collagen Advanced with Vitamin C is a supplement that isn't quite as expensive as some other options. It includes collagen as well as vitamin C, which plays an important role in the production of collagen.5 Each serving of this supplement contains 6,000 mg of collagen. The formula is hydrolyzed, which increases its bioavailability (i.e. is absorbed into your body faster and more completely).6
This supplement contains collagen types I, II, and III. Type I and III support connective tissue, including your hair, nails, and skin. However, type II is known to aid in joint cushioning, so it might benefit you if you're experiencing some muscle stiffness.7
While this supplement does not contain all five types of collagen, many customers reported excellent results. Customers mostly reported improved hair growth and nail strength. Keep in mind; you likely won't see results until you nearly start your second bottle. However, almost every customer who wrote a review noticed a positive difference, so stick with it, and you'll likely see improvements as well.
Youtheory Collagen Advanced with Vitamin C Key Features:
Contains collagen types I, II, and III
Hydrolyzed formula
6,000 mg of collagen per serving
290 pills per bottle
Best Collagen Supplement Powder: Collagen Peptides Powder by Physician's Choice
If you're thinking about purchasing a collagen supplement, taste (or lack thereof) will likely be one of the main features you consider. Out of all the supplements we reviewed, Collagen Peptides Powder by Physician's Choice was one of the most versatile powders to drink day after day as it's virtually tasteless. Many customers reported noticing no difference in taste or texture when they added it to their protein shakes, ice cream, water, or coffee. You can easily mix this powder into your morning smoothie.
This supplement contains collagen types I and III, which are known for improving hair, nail, and skin growth.8 To improve absorption, it features double hydrolyzed collagen. According to research, hydrolyzed collagen, also known as collagen peptides, has "proved to be an alternative solution in slowing down the effects of aging."9
It's also completely Keto-friendly, non-GMO, and made from only grass-fed beef. All Bovine who contribute to this product is pasture-raised. If you don't notice a difference from this supplement, you can return it for a refund. It is made in the United States and crafted in an FDA certified facility.
Collagen Peptides Powder by Physician's Choice Key Features:
Contains type I and III collagen
Flavorless
Double hydrolyzed
Non-GMO and Keto friendly
Best Chewable Collagen Supplements: Havasu Nutrition Collagen Gummies
Chewable supplements can be an easy way to vital nutrients, especially if they taste good. These Havasu Nutrition Collagen Gummies have a fruit flavor and contain collagen types I and III. These are the types of collagen that are known to help with hair, nail, and skin health.10 If you're looking for a collagen supplement to help your hair grow or get rid of wrinkles, this one might work for you. The dosage on the bottle suggests taking two gummies a day, which means a single bottle will last you a month.
This supplement also contains a few other vital nutrients, including vitamin C and vitamin E. Many of these supplements can also improve the health of your skin, making this a multi-faceted skin health supplement. If you're on any other supplements, though, make sure you aren't doubling up on any of these ingredients.
All Havasu Nutrition products go through a strict testing process to ensure that the ingredients and final products meet their rigorous standards. Every batch is made in an FDA-approved facility, and third-party tested to ensure correct potency.
Havasu Nutrition Collagen Gummies Key Features:
Contains types I and III collagen
Fruity flavor
Third-party tested
60 gummies a bottle
Who Should Buy a Collagen Supplement
Collagen is the most abundant protein in our bodies.11 It makes up everything from our skin to our heart to our hair. Sadly, as we age, we tend to lose collagen, which can cause heart problems, wrinkles, and a slew of other aging-related illnesses.12 Further research into the benefits of taking a collagen supplement is needed. That being said, research results thus far have been promising regarding the ability of collagen supplements to increase our body's collagen levels.13
Studies have shown that collagen can prevent the formation of wrinkles.14 Collagen supplements have also been shown to play a role in joint health as well as support bone health.1516 It may be especially useful for women, given that calcium-collagen compounds have even been shown in studies to reduce bone loss in osteoporosis. If you have osteoporosis, you might want to talk to your doctor about trying a collagen-based supplement.17
Collagen also offers an array of other potential health benefits from aiding weight regulation, to increasing the speed of wound healing.18 If your reasoning behind taking collagen supplements is joint pain, you may want to consider other supplements as well. The Best Joint Supplements will tackle supplements that target your joints, specifically.
Important Features to Consider
A collagen supplement should have a few essential features. Here's what to consider when selecting a collagen supplement:
Type of collagen included. There are five different types of collagen, and they don't all do the same thing. If you're looking for stronger hair, for instance, you may wish to opt for a different kind of collagen than someone looking to improve their joint pain. Most collagen in our bodies is type I, II, or III, with Type I being the most common.19 Type I is naturally distributed in bones, ligaments, and tendons, and is also present in skin.20 Type I and Type III are the most common form of collagen found in supplements. Type II has been shown to support cartilage health, so may be useful for those with joint pains.21 It's not typically included in supplements aiming to improve skin health, so double-check before you make a purchase. Type III supports a variety of internal organs and our skin.22  It is used in most supplements. Type IV functions as a barrier between tissue compartments, however, it is rarely used in supplements.23
Other ingredients. Some collagen supplements also included other components besides just collagen. Vitamin C is commonly paired with collagen, for example. Supplements that are advertised to improve healthy skin and hair seem to be more likely to included other vitamins. We recommend you check the label carefully before taking any supplement. Don't just assume it only contains collagen. If you're taking a multivitamin or other supplement, be sure that your collagen supplement doesn't include something you're already taking. Too many vitamins can be a bad thing, so check with your healthcare team to make sure you aren't taking more of a vitamin than you need.
Type. Collagen supplements come in three primary types: gummies, pills, and powder. What kind you get is mostly a matter of personal preference. Some people find gummy supplements easier to take, while others would rather take a pill and get it over with. Which you select is up to you, as they deliver about the same amount of collagen.
Certification. Third-party companies certify some collagen supplements for potency and quality. If a supplement is verified, it means another company came in and checked to make sure it included what the label said. Certification ensures that you're getting what it says on the label, so we recommend checking for certification when choosing your collagen supplement.
Frequently Asked Questions
What are collagen supplements, and how do they work?
Collagen supplements contain collagen as their primary ingredient. Some included other vitamins and minerals as well, but their primary purpose is to supply collagen. Collagen is one of the most abundant proteins found in your body. It is in nearly every organ, as well as your skin, hair, and nails.24
As we age, we naturally lose collagen.25 This protein is a vital building block throughout your body and works like "glue" to hold everything together. Many people opt to take a collagen supplement as they age to prevent wrinkles, hair loss, and brittle nails.
How much collagen should you take a day?
This is a question you should speak to your doctor about. Many different factors go into how much collagen you should take, including age, weight, and gender. In terms of a daily recommended amount, major nutrition associations have yet to pinpoint one, so there is varying research to fall back on. According to the Therapeutic Research Center Natural Medicine database, up to 2.5 mg daily collagen may be safe without side effects.26 Other sources say functional doses of 10g per day of gelatin, which is made from collagen, may be used for up to six months.27 All in all, more research is needed to determine a safe amount, which is why it is best to consult your doctor about how much collagen you should take a day.
What are the side effects of collagen supplements?
Some people might experience diarrhea or a very mild rash.28 Some people have been known to experience an allergic reaction with bovine collagen. Other side effects may include nausea, heartburn, diarrhea, constipation, drowsiness, skin reactions, and headache.
Do collagen supplements really work?
There is not enough substantial research to prove that collagen will cure any specific disease. It also is not to replace a healthy diet that is rich in protein. Let's be clear: collagen supplements are not a miracle pill. You are not going to wake up the next morning and be a completely new person. You probably won't see much of a difference for a month or two. The important thing to any supplement is to stick with it.
Other Collagen Supplements We Reviewed
We looked at 20 other collagen supplements, as well. Even though they didn't make our 5 best collagen supplements list, they're the best of the rest, and each is still a great option. The information you'll need to compare each one is included with the listing.
Collagen Supplement Pills
CodeAge Multi Collagen Protein Capsules
This product contains collagen types I, II, III, V, and X to provide a well-rounded all-in-one supplement. This collagen supplement will help support your hair, skin, nails, metabolism, and gut function.
Key Features:
Unflavored
18 different amino acids
Contains collagen types I, II, III, V, and X
Cost: $34
Omni Life Collagen Peptides Pills
To strengthen your hair, skin, and nails, try this collagen supplement. It is formulated with biotin, hyaluronic acid, and horsetail.
Key Features:
2000mg of collagen protein per serving
Biotin for healthier hair, skin, and nails29
Lifetime guarantee
Cost: $20
This product is specially formulated to help support your cartilage with Type II collagen. This collagen supplement also features hyaluronic acid, which has been shown to retain moisture in the skin, leading to younger-looking skin.30
Key Features:
Type II collagen with hyaluronic acid
Hydrolyzed complex for better absorption
Gluten-free
Cost: $18
Revly Collagen Peptides + Vitamin C
This product is formulated to help support younger-looking skin by utilizing Type I and III Collagen and Vitamin C.
Key Features:
Type I and III collagen
Gluten-free
Contains Vitamin C
Cost: $9
Sanar Naturals Premium Collagen Peptides Pills
By using Type I and III collagen, Vitamin C, and Vitamin E to slow down the effects of aging, this product may help you feel younger. This product has 150 capsules per container.
Key Features:
Supports joints and bones
Type I and III collagen
Promotes healthy skin, hair, and nails
Cost: $18
Sdara Skincare Multi Collagen Powder Capsules
This formula is backed by science to improve skin, hair, and nail health. It contains all five types of collagen, ensuring that you're covered everywhere it matters.
Key Features:
Contains 5 types of collagen
No added wheat, peanuts, and soy
90 count
Cost: $20
Superstar Premium Hydrolyzed Collagen Capsules for Women
This multi-collagen supplement boasts types I, II, III, V, and X. It's made in a GMP compliant facility and is third-party tested.
Key Features:
Made in the US
Multi-collagen supplement
Third-party tested
Cost: $15
Welluxa Premium Multi Collagen Pills
According to Welluxa, these collagen pills have a 99% absorption rate. They are designed to reduce the effects of aging and produce vibrant, youthful skin.
Key Features:
Third-party tested
Contains 5 types of collagen
90 count
Cost: $19
Wholesome Wellness Super-Absorbable Multi-Collagen Protein Pills
These pills include every major type of collagen for a well-rounded anti-aging formula. It is designed to improve your skin, bones, joints, digestion, and other common problems associated with aging.
Key Features:
Hydrolyzed formula
GMP certified manufacturing
Certified wild fish
Cost: $27
Viva Naturals Multi Collagen Pills
These collagen peptides contain a heavy shot of biotin for stronger and healthier nails and hair.
Key Features:
Supports joint functions
Supports healthy hair and nails
120 count
Cost: $20
Collagen Supplement Powders
Ancient Nutrition Multi Collagen Protein Powder
This product contains a robust multi-collagen formula to promote healthy skin, joints, and bones. All collagen proteins are sourced from the Midwest US and South America using grass-fed, pasture-raised cows, and wild-caught, cold-water fish.
Key Features:
5 Types of collagen
Keto-friendly
Antibiotic and growth hormone-free
Cost: $44
Bulletproof Collagen Protein Powder
Sourced from pasture-raised cattle, this supplement can be mixed with any liquid drink. It only contains a single ingredient: hydrolyzed collagen powder.
Key Features:
Single-ingredient formula
Unflavored
17.6 oz. tub
Cost: $40
This unflavored supplement contains both Type I and III collagen for skin and hair support. This powder comes in a choice of either a 7 and 14 oz. tub.
Key Features:
Type I and III collagen
Hydrolyzed
Unflavored
Cost: $12
Renew Multi Collagen Protein Powder by WellPath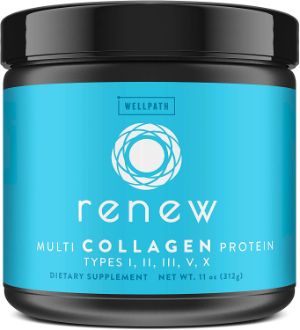 All proteins in this product are sourced from pasture-raised cattle and wild-caught fish. The formula contains 5 types of collagen.
Key Features:
Paleo- and keto-friendly
Multi-collagen formula
Unflavored
Cost: $23
Vital Proteins Hydrolyzed Collagen Powder
This multi-collagen product consists of a specially formulated mix of hydrolyzed collagen proteins for rapid absorption into the body. This product is also easily dissolvable, making it ideal for mixing with any kind of beverage or food.
Key Features:
Hydrolyzed
Easily dissolvable
Paleo-friendly
Cost: $31
Chewable Collagen Supplements
DACHA Nutrition Natural Liposomal Vitamin C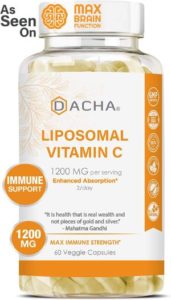 This supplement includes numerous ingredients to help fight aging, including vitamin C and collagen. Thanks to liposomal technology, this formula is easily absorbable.31
Key Features:
Non-GMO ingredients
Vitamin C to fight off free radicals
Helps produce collagen and aides T-cell regeneration
Cost: $22
Collagen Gummies for Men and Women's Hair, Skin, and Nails by Purify Life
This product supports healthy skin and hair by using Type I and III Collagen strains. This product also features a unisex formula.
Key Features:
Unisex formula
100mg of collagen per serve
Non-GMO
Cost: $17
Flamingo Supplements Hydrolyzed Collagen Gummies
These collagen gummies feature Type I and III collagen to help promote healthy hair, skin, nails, and joints.
Key Features:
Kosher / Halal
Great flavor
Non-GMO
Cost: $17
Intego Nutrition Collagen Gummies
Designed to reverse premature aging, this supplement contains collagen and features a tropical flavor.
Key Features:
Delicious tropical flavor
Allergen-free
Money-back guarantee
Cost: $20
NeoCell Beauty Bursts Collagen Soft Chews
This product contains several ingredients to help your skin look and feel younger and more elastic.
Key Features:
Fruit Punch flavor
Hyaluronic acid
Non-GMO ingredients
Cost: $12
Article Sources
Healing Daily uses only high-quality sources, including peer-reviewed studies, to support the facts within our articles. Read our editorial process to learn more about how we fact-check and keep our content accurate, reliable, and trustworthy.