In an ideal world, women would eat a healthy diet all the time. But so few of us have the luxury of making sure each meal is filled with fruits and vegetables, lean proteins, healthy fats, whole grains, and lots of fiber, while low in sugar and unhealthy fats.
Should we be taking a multivitamin to fill in the gaps? And if so, which one is best?
Health experts encourage women to get their nutrients from food as that's the healthiest way to consume them. But since so many women are deficient in nutrients, like vitamin D and vitamin B12, a quality multivitamin can help.
We recently reviewed dozens of women's daily multivitamins to find the best. We looked at quality and level of ingredients, absorbability, the formula's suitability for a woman's needs, cost and other concerns like the ease of digestion and gut-health support. Then we narrowed it down to our top 5 women's multivitamins—those we believe are most likely to promote a woman's health.
We've identified Feel Great 365 Women's Multivitamin as the best option. It not only gives you the nutrients you need, many at higher-than-adequate levels, but it uses the latest in scientific research to provide women with additional support where they need it, such as in the areas of immunity, bone, and joint health, digestive health, and energy. If you're looking for a true "does-it-all" sort of multivitamin, you'll find it with this product.
[toc]
The 5 Top-Rated Multivitamins for Women
*Ratings are from Amazon at the time of publication and can change.
Best Women's Multivitamin Overall: Feel Great 365 Women's Multivitamin
Feel Great 365 Women's Multivitamin is the ultimate high-potency daily nutrient boost, designed to improve your mood, energy, and immunity while giving you all the basic nutrients you need and more. Scientifically formulated for optimal effect, this multi strives to be the only supplement you'll need, and from the supplement facts, we think it succeeds. You'll enjoy more than 100 percent of key nutrients like the B vitamins, plus 100 percent of zinc and over 70 percent of immune-boosting selenium.
If Feel Great 365 stopped there, this would still be a quality multivitamin, but it goes much further. It contains a 42-fruit & vegetable blend with blueberries, cranberries, black cherries, and more, plus an enzyme blend to help smooth digestion. It's packed with energy-producing ingredients like ginseng and green tea, along with several plant-derived ingredients and alkalizing greens like spirulina, which can help support the body's natural pH balance.
Just read the ingredient list—you'll find real foods there along with herbs, flavonoids, and even some fiber. The manufacturers did their research on this one. They've added ingredients that have been shown in recent studies to help support a woman's optimal health, covering you on those days when you may not be able to eat the healthiest diet, or when you may be feeling worn out and stressed.
Feel Great 365 Women's Multivitamin Key Features:
Uses many whole-food ingredients as sources of nutrients
Includes several nutrients at ultra-potency levels
Provides plant-based ingredients meant to support immune health and energy
Has antioxidants and other nutrients that help tame inflammation
Non-GMO, gluten-free, and safe for vegetarians
Enzyme blend and prebiotic fiber from Psyllium Husk for improved digestion
PABA (para-aminobenzoic acid) for skin health
Made by a family-owned business
Best Multivitamin for Women Over 50: Nature's Way Alive! Women's 50+
Women over 50 years of age need different nutrients than younger women do. As menopause comes on and menstruation stops, women need less iron, but more calcium and vitamin D to protect bone health. Digestion slows down and the stomach produces less acid with age, so digestive enzymes and fiber become important.
Nature's Way Alive! Once Daily Women's 50+ Ultra Potency delivers all this and more. For only $12.99 for 60 tablets (two months' worth), you get all the nutrients you need at meaningful levels—no pitiful amounts here. Plus the vitamin is formulated with food-based blends including orchard fruits and garden veggies to help promote absorption and energy.
If you've noticed your digestion isn't as trouble-free as it used to be, this vitamin may help with that, too. It contains a fiber blend including flax and lignan and a digestive enzyme blend to help the stomach more easily break down foods. And if you can't remember where you placed your keys, don't worry—Nature's Way Alive! includes a mind and body energy blend meant to keep you alert and sharp.
Nature's Way Alive! Once Daily Women's 50+ Ultra Potency Key Features:
1,000 IU of vitamin D3, plus plant-based calcium
High-potency B-vitamins
Food-based blends, including leafy greens and fruits
Specially formulated for women 50 and older
Users report feeling more energy and an overall sense of well-being
Best Budget Multivitamin for Women: VitaFusion Women's Gummy Vitamins
If you struggle to swallow tablets and capsules, your best choice may be the VitaFusion Women's Gummy Vitamins. You get 150 gummies (over two months' worth) for under $10, and they taste good enough that they received the 2018 ChefsBest Excellence Award. A daily serving gives you a good basic supply of all the nutrients you need, plus these gummies give you a little extra vitamin D and vitamin B.
Best of all, you won't find any high fructose corn syrup—good for the waistline—and no synthetic dyes or artificial flavors. VitaFusion uses natural fruit flavors instead. If you're sensitive to gluten or dairy, these are free of those ingredients too. The company says the multi is clinically proven to absorb well, though we couldn't find who did the testing, so take that one with a grain of salt.
Some users do warn that the gummies can melt during shipment, so you may want to buy these directly from the store to avoid that potential outcome.
VitaFusion Women's Gummy Vitamins Key Features:
Perfect for those who have difficulty swallowing regular vitamins
Flavored with natural fruit flavors
Free of artificial colors and dyes
Award-winning taste
Basic nutrition for a good price
Safe for those who are sensitive to gluten and dairy
Best Whole Food Multivitamin for Women: Plant Vital Whole Food Multivitamins
Supplements have traditionally included only isolated nutrients—those separated from the source in a laboratory. But with studies showing mixed results on their effectiveness, manufacturers are rethinking that approach. Some are trying to get closer to matching what whole food provides by including the source of the nutrient in the pill.
Of course, it's not easy to consolidate all the benefits of a blueberry in a capsule, but whole-food vitamins come closer to that goal by providing nutrients made from concentrated and dehydrated foods, rather than synthetic sources as traditional vitamins are. Some provide the ingredients sourced directly from whole foods, and others blend the nutrients with some whole foods to make them easier to absorb.
Plant Vital Whole Food Multivitamins gets almost 100 percent of its nutrients from whole foods, not synthetic nutrients, so it may provide more noticeable benefits. This multi contains non-GMO superfoods, fruits veggies, mushrooms, probiotics, and more, all without artificial colorings, flavorings, or additives.
We liked the smart approach the company took with this multi, as even though it's not made specifically for women, it contains everything a woman needs for good health and more.
Plant Vital Whole Food Multivitamins Key Features:
Contains probiotics and enzymes for digestive health
Nutrients almost 100 percent derived from 56 whole-foods, superfoods, and other ingredients, including acai, pomegranate, kale, and blueberry
Herb blend includes Echinacea, ginger, milk thistle, and Korean ginseng
GMO-free, cruelty-free, and suitable for vegans
Gluten-free, soy-free, dairy-free, hormone-free, and sugar-free
Includes antioxidants for immune health
Provides omega-3 nutrition
Good source of folate and vitamin B12
Best Gummy Multivitamin for Women: CBDfx CBD Gummies with MultiVitamins for Women
If you're looking for the best bang for your buck, you won't be able to find better than the CBDfx CBD Gummies with MultiVitamins for Women. It's packed with nutrients to help support overall health—plus reviewers have raved about the great taste!
As you review the supplement facts, you'll see folic acid, zinc, biotin and vitamins A, B6, B12 and C. All these are great for immune support, bone health, and hair and nail health. In addition to essential vitamins, CBDfx adds their premium CBD hemp extract. The CBD is organically sourced in the US and each gummy contains 5 mg of CBD hemp extract.
CBDfx CBD MultiVitamin for Women Key Features:
US grown CBD
10 mg of CBD hemp extract per serving (2 gummies per serving)
Vegan and non-GMO
Nutrients that help create strong hair and nails
Who Should Buy a Women's Multivitamin
Try as we might, studies indicate that women are coming up short when it comes to some key nutrients. In a 2014 study, scientists found that young women were at an increased risk of micronutrient deficiencies, with 11.3 percent low on vitamin B12, 23 percent low on copper, and 11 percent low on selenium.
Research has also found that it's common for women to be low on vitamin D. Between 1988 and 1994, 45 percent of people studied had a healthy level of vitamin D in their blood, but a decade later, just 23 percent of them did.
It's critically important for women of childbearing age to get enough folate and iron for reproductive health, and for postmenopausal women to get enough calcium and vitamin D for bone health. Older women need to be sure they're getting enough vitamin B12, which typically becomes more difficult to absorb with age.
With the rise of vegetarian and vegan diets, too, women have to be cautious of nutrient levels. Vegans, in particular, are at risk for deficiencies in iron, vitamin B12, calcium, vitamin D, omega-3 fatty acids, and protein.
Finally, we are learning more every day about gut health. A tribe of good and bad bacteria—called the microbiome—lives in every one of us, and it has a lot to say about our overall health. The microbiome affects not only digestion, but immune health, brain health, mood, and more.
Unfortunately, many things can throw off the balance of good and bad bacteria, including illness, antibiotics, poor diet, stress, and more. Now that we know more about it, we're doing more to take care of the microbiome, and that can include making sure you get enough probiotics—nutrients that promote gut health—in your daily diet.
Yes, it's all a bit complex, and though a healthy diet is always the priority when it comes to your vitality, a multivitamin can help give you much-needed peace of mind that you're doing everything you can to take care of yourself.
Important Features to Consider
When shopping for a women's multivitamin, consider the following features:
How well it's absorbed. This is one of the most important things to consider because no matter what the product says it has on the label, it won't do you any good if your body can't absorb it. The term "bioavailability" is used to describe how well a certain nutrient may be absorbed after you take it. Though we know that stomach acid and the health of the microbiome can affect bioavailability, we don't completely understand all of the factors that may be involved. Personal health plays a part too, so your best bet is to look for those products that are making an effort to improve bioavailability.
The levels of each nutrient. How much of a certain nutrient do you need? Most vitamin manufacturers go by the "Daily Value," which is a set level established by the Food and Drug Administration (FDA). These are the levels believed to be necessary for good health, but research is changing all the time. Many experts now believe, for example, that we need more vitamin D than is currently recommended—600 IUs per day. Some studies suggest between 1,000 and 4,000 IUs per day instead. When shopping for a good multivitamin, make sure the levels listed are adequate. Some manufacturers slip in an ingredient here or there to improve marketing, but it may not be enough to matter to your body.
The nutrients you need. Women require different nutrients at different times in their lives. Women of childbearing age, for example, must make sure they're getting enough folate, iron, and vitamin D. Postmenopausal women, however, don't need iron, but they do need vitamin B12, calcium, and vitamin D. Older women may also benefit from digestive enzymes to help break down food, and probiotics can benefit women of any age. Women who are stressed out may need more antioxidants or herbs, whereas active women will look for nutrients that help promote energy.
Tablet, capsule, or gummy? Some women struggle to swallow a tablet and may prefer a capsule or gummy. Tablets may also have coverings made of ingredients avoided by vegans—many women's multivitamins now have so-called "Vcaps" which are made without animal ingredients.
What it doesn't have. Are you sensitive to gluten in your diet? Do you want to avoid genetically modified organisms (GMOs)? Vitamin manufacturers are responding to consumer demands for products made without gluten, GMOs, artificial flavorings, sugars, and more.
Any allergies you may have. If you have tree, soy, nut, or other allergies, you may want to make sure that your multivitamin is made in an allergy-free environment. Some products advertise that very feature.
Third-party certifications. Manufacturers that use third-party testing to confirm that their products are organic, well-absorbed, or certified by a certain organization want to assure you that their products can be trusted. These sorts of certifications, depending on where they come from, can give you peace of mind. Just read the certification carefully so you know exactly what it means. Some companies simply slap a seal on a product to make it look good, when the certification is relatively meaningless.
Frequently Asked Questions
What are multivitamins for women?
Multivitamins for women are supplement products specifically made for a woman's health. They contain a combination of vitamins and minerals, and may also include other ingredients like probiotics, herbs, enzymes, antioxidants, and more. They are designed to be taken daily to help fill in the gaps that the diet leaves behind and to help promote optimal health.
Most multivitamins come in tablet, capsule, or gummy form, though some may also be available in powders and liquids.
Do women need to take a multivitamin?
Whether women need to take multivitamins is debatable, according to recent research. As noted, we get most of our nutrients from food, and food remains the best source because the nutrients in foods are more likely to be well absorbed and used by the body.
As to whether multivitamins offer any true health benefits, the jury is still out. Though some studies show that they may help reduce the risk of heart attacks and death, others show that they do not affect these outcomes. In some cases, they helped reduce the risk of cancer, but in others, they did not.
Multivitamins have been found to improve brain health and memory in older adults, reduce the risk of age-related macular degeneration, help older adults avoid bone fractures, and assist certain groups at risk of nutrient deficiencies, such as vegetarians and vegans, seniors, and those with inflammatory bowel disease.
What most studies seem to agree on is that multivitamins are safe for daily intake—as long as you aren't taking additional vitamins as well. You can get too much of a vitamin, so it's important to look at every supplement you're taking to be sure you're not going overboard. Check with your doctor to be safe.
The good news is that today's vitamins aren't the same as they were even a couple of decades ago. Manufacturers are taking advantage of what we're learning about bioavailability, digestion, whole-food benefits, and more to create quality nutrients that may benefit your health.
What supplements should women take?
As to what nutrients a woman needs, it depends on her age, diet, and lifestyle. In general, younger women need to be sure they're getting enough:
Folate
Iron
Magnesium
Vitamin D
Iodine (most of us get enough in our diet, but women between the ages of 20 and 39 may be low, and this nutrient is critical for a healthy pregnancy)
Women taking birth control pills should also be sure they're getting enough B vitamins, as the pill can deplete these nutrients. Active women need to be sure they're getting enough of all of the above, plus potassium—particularly if you're working out hard on a regular basis.  Middle-aged women who haven't started perimenopause yet should be sure they're getting all the nutrients recommended for younger women, plus probiotics for digestion and an immune boost. Women going through perimenopause and menopause need to adjust their nutrient intake, and make sure they're getting enough:
Vitamin D
Calcium
Fish oil (omega-3 fatty acids)
Magnesium
Vitamin B complex (particularly vitamin B12)
CoQ10 (for heart health)
Probiotics
Digestive enzymes (levels of stomach acid decline with age, making digestion more difficult—enzymes can help)
Should I take multivitamins in the morning or at night?
In general, digestion tends to slow down at night, which could negatively affect absorption, so it's usually best to take your multivitamin in the morning. The nutrients may also help stimulate energy and brain function, which can benefit you as you go through your day.
In most cases, it's also best to take your multivitamin with food to avoid any potential upset and improve absorption. When your stomach is already working away on foods, it's revved up and ready to go, and will be more likely to efficiently break down the multivitamin. Many fat-soluble vitamins also require fat (from food) to be absorbed.
If your multivitamin has probiotics, take it with a meal or about 30 minutes before. Taking them after a meal robs you of the benefits they bestow on digestion. And make sure you always take your multivitamin with a full glass of water, as the liquid is necessary to help break down the tablet, capsule, or gummy.
Other Multivitamins for Women We Reviewed
We looked at 20 other women's multivitamins. Even though they didn't make our top 5, they are still worth considering depending on your unique needs. The information you'll need to compare each one is included with the listing.
Multivitamins for Women Over 40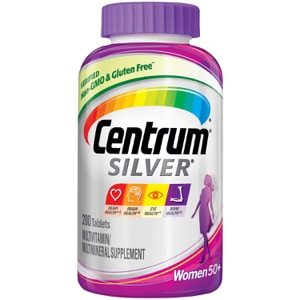 This multivitamin is age-adjusted for women over 50 and is verified non-GMO and gluten-free. It has Centrum's highest levels of vitamin D3 as well as extra vitamin B12.
Key Features:
Extra vitamin D and vitamin B12
Lutein for eye health
Budget price
Cost: $7 for 65 tablets
New Chapter Women's Multivitamin 40+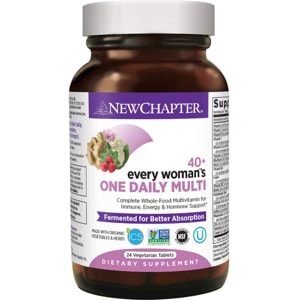 New Chapter prides itself on providing a multivitamin you can absorb. It includes fermented ingredients that are gentle even on an empty stomach.
Key Features:
Easy to digest
Contains superfoods like ginger, turmeric, and fenugreek
Provides additional blends to support the immune and cardiovascular systems, along with support for stress and energy
Cost: $17 for 24 vegetarian tablets

Gummy Multivitamins for Women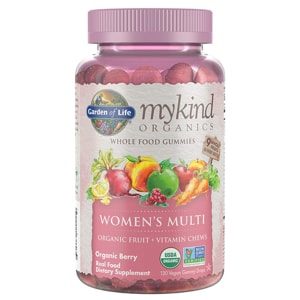 This certified organic product provides nine organic whole fruits and "clean" gummy technology with no candy ingredients or pig gelatin. It has all the nutrients you need along with real food-based nutrients.
Key Features:
Certified organic
Real-food ingredients
"Clean" gummy technology
Cost: $23 for 120 vegan gummy drops
Nature's Bounty Women's Multivitamin Gummies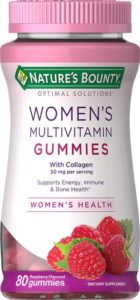 Save your money with this gummy multivitamin. It's a great budget pick with all the basic nutrients plus a little collagen thrown in for healthy skin.
Key Features:
Basic gummy multi for not much money
No artificial flavors, sweeteners, or colors
No milk, lactose, soy, or gluten
Cost: $6 for 80 gummies
Nature's Way Alive! Women's Gummy Vitamins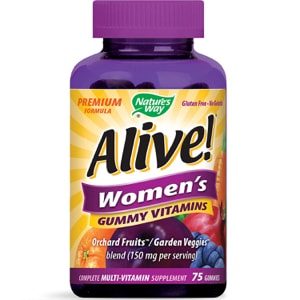 This option is similar to our top pick for women over 50, but it's in a gummy rather than a tablet. You'll find the same quality nutrients and the fruit and veggie blend in a gummy that may be easier to tolerate.
Key Features:
Fruit & veggie blend
Easy to tolerate gummy
Gluten-free with no gelatin or artificial flavoring
Cost: $11 for 75 gummies
OLLY The Perfect Women's Multi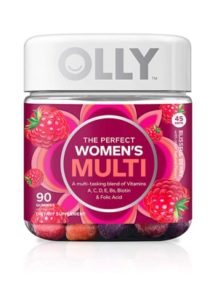 If you're looking for another budget-friendly gummy, this is your answer. This one has the basic nutrients you need plus extra vitamin D and B vitamins, along with choline to support brain health.
Key Features:
Blissful berry flavored
Basic nutrients for overall wellness
No artificial colors, flavors, or sweeteners
Cost: $12 for 90 gummies
Simply Natural Complete Multivitamin for Women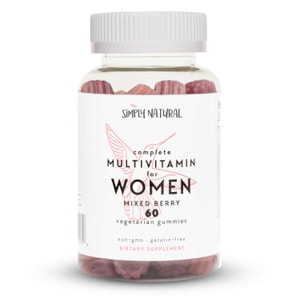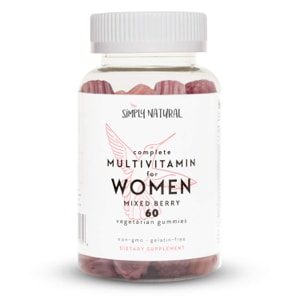 This is a basic multivitamin for women for no artificial colors, preservatives or flavors. It's also good for those with allergy concerns, as it's free of soy, nuts, dairy, fish, eggs, and gluten.
Key Features:
Safe for allergy-sensitive women
No artificial colors, flavors, or preservatives
Basic nutrition formulated for women
Cost: $18 for 60 vegetarian gummies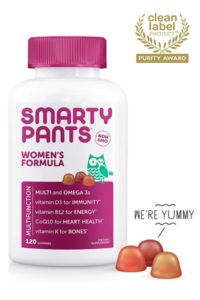 If you'd like to add some fish oil to your daily multivitamin, choose this one. It has 510 mg of fish oil in it, as well as some coenzyme Q10 for cellular energy and heart health.
Key Features:
Includes fish oil to help reduce inflammation
Heart-healthy coenzyme Q10
Non-GMO and gluten-free
Cost: $14 for 120 gummies
VitaFusion Women's Organic Gummy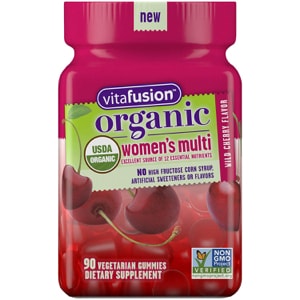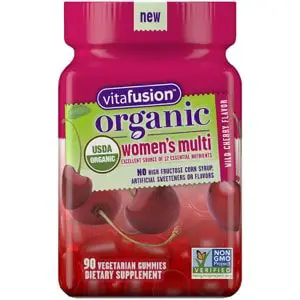 Like our best of gummy pick above, this VitaFusion comes in a tasty gummy, but it goes the extra mile to include organic ingredients.
Key Features:
USDA certified organic
No high-fructose corn syrup, or artificial sweeteners, flavors, or dyes
Basic daily nutritional support
Cost: $10 for 90 vegetarian gummies

Whole Food Women's Multivitamins
Garden of Life Women's Raw One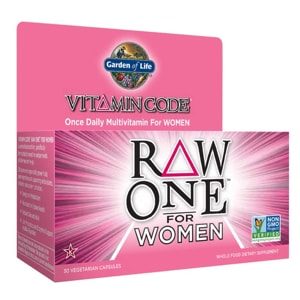 Women looking for whole-food ingredients and organic quality will like this product. The manufacturer is dedicated to providing clean, organic, and non-GMO options.
Key Features
Includes probiotics and enzymes for ease of digestion
Raw organic fruit & vegetable blend
No artificial sweeteners, flavors, colors, or chemicals
Cost: $18 for 30 vegetarian capsules
Gold Health Women's Multivitamin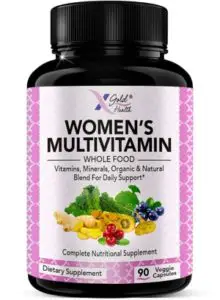 This is another great all-around whole-food multivitamin that includes a superfood blend with berries and kale, as well as 100 percent or more of most nutrients.
Key Features:
Superfood blend with organic foods and herbs
Good for vegans
Non-GMO
Cost: $20 for 90 veggie capsules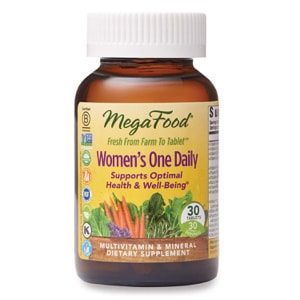 This multivitamin contains real food ingredients and includes a nourishing food and herb blend that includes herbs specifically linked to stress relief. It doesn't have as much vitamin D as we'd like to see, but it provides suitable levels of most nutrients.
Key Features:
Can be taken on an empty stomach
Tested for 125+ herbs and pesticides
Made with real food ingredients
Cost: $21 for 30 tablets
New Chapter Women's Multivitamin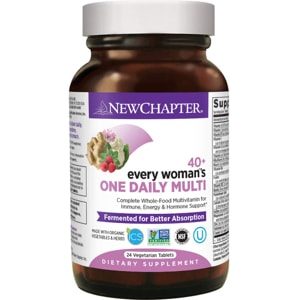 This is a complete whole-food multivitamin designed to be more easily absorbed by your body. Users note that it can be taken on an empty stomach.
Key Features:
Fermented with probiotics to improve absorption
Contains superfoods like ginger and turmeric
Made with certified organic vegetables and herbs
Cost: $36 for 72 vegetarian tablets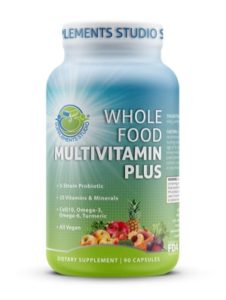 Though not specifically formulated only for women, this whole food vitamin can work just as well if you're looking for food-based ingredients. It helps promote lasting energy while boosting the immune system.
Key Features
Perfect for vegans and vegetarians
Supports mental clarity
Made from real whole foods
Other Women's Multivitamins
Naturalo One Daily Multivitamin for Women
In addition to providing 100 percent of many of the nutrients women need, this multivitamin also gives you a fruit and vegetable blend including carrots, kale, and berries. It's also non-GMO and made in the USA.
Key Features:
The vegetarian formula contains raw B-vitamins cultured in probiotics for ease of absorption
Doesn't have the stuff you don't want, including GMO, soy, gluten, gelatin, and preservatives
Contains cell-protecting antioxidants
Cost: $20 for 60 vegetarian capsules
NatureWise Women's Stress Support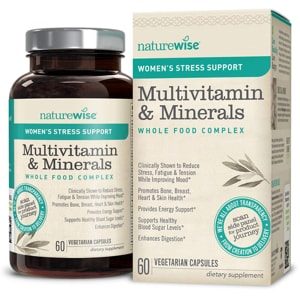 Women who live stressed-out lives will appreciate this product. It contains herbs and nutrients like ashwagandha to help the body deal with stress. It also gives you organic fruits & vegetables and nutrients to support heart and skin health.
Key Features:
Specifically formulated to help manage the effects of stress
Includes organic fruits & vegetables and select botanical extracts
Food-grade digestive enzymes & probiotics
Cost: $28 for 60 vegetarian capsules
Women of reproductive age may like this multivitamin as it's formulated to help make monthly menstruation periods a little easier. In addition to your basic nutrients, it contains evening primrose, cranberry, horsetail silica, and other ingredients to help better manage menstrual symptoms.
Key Features:
Formulated specifically for women of reproductive age
Softgels are gentle and easier to swallow than tablets
No artificial colors or flavors
Cost: $23 for 180 soft gels
You get a lot of quality nutrition for the money with Optimum Nutrition (ON) Opti-Women, which has 23 essential vitamins and minerals plus 17 specialty ingredients to support an overall active lifestyle. Some of those special ingredients include lutein and zeaxanthin for healthy eyes, grape seed extract for healthy blood vessels, citrus bioflavonoids and lycopene for antioxidant support, and nutrients for a healthy urinary tract like uva ursi and horse chestnut.
Key Features:
Quality nutrition and higher-than-adequate levels for a good price
Extra nutrients to help maintain healthy eyes, blood vessels, and urinary tract
Antioxidant support
Cost: $10 for 60 capsules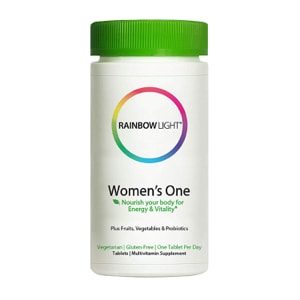 This basic women's vitamin provides the nutrients you need for good health along with some fruits, vegetables, and probiotics. It also includes nutrients designed for digestive support, like plant-sourced enzymes.
Key Features
High-potency vitamin
Supports a healthy digestive system
Gluten- and dairy-free
Cost: $24 for 90 tablets
Vimerson Health Women's Multivitamin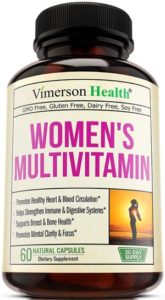 Get what you need for basic health plus a little more with this multivitamin. It contains ultra-potency nutrients like vitamin B12, biotin, and chromium (but not vitamin D) as well as extra blends to support the immune system and cellular health.
Key Features:
Extra blend for "female support" includes wild yam extract and lutein
Antioxidant fruit and energy blend
Immune blend with Echinacea root
Cost: $20 for 60 natural capsules