Being sick is the worst. When you're not sure if you're symptoms include a fever, then you'll want to use a thermometer that's easy and accurate. And sticking something in your mouth while you're nauseated isn't ideal – not only could it induce vomiting, it makes transmitting your sickness all the easier to put your saliva all over something else. We no longer have to suffer that inconvenience to determine your body's temperature, though. With a forehead thermometer, checking your temperature is easy as pie; just a swipe of the device over your forehead and you know. If you're stuck on which one to get, though, don't worry! We have you covered.
We reviewed dozens of forehead thermometers to identify the best of the best. We found the forehead thermometers that double as ear thermometers and those that use infrared sensors so you won't even have to touch skin to get an accurate read. We found the
From the very beginning f our research into forehead thermometers, it was easy to determine which was the best overall. The iProven Medical Digital Ear Thermometer with Temporal Forehead Function stood out among its peers based on ratings, accuracy and overall performance.
[toc]
The 5 Top-Rated Forehead Thermometers
*Ratings are from Amazon at the time of publication and can change
Best Forehead Thermometer Overall: iProven Medical Digital Ear Thermometer with Temporal Forehead Function
The iProven Medical Digital Ear Thermometer with Temporal Forehead Function is a jack of all trades, but he's also a master of them all, too. You can count on reliable readings from both the temporal forehead readings as well as the readings you get from an internal ear function, as well. And you can get these results fast and if you're sick, fast is definitely a big selling point. For the ear, you need only let the thermometer rest within the ear canal for one second before the results display. You'll simply slip the temporal guard off for the ear and put it back on for the forehead readings.
For each of the functions, you'll press a different button which will help your thermometer determine the reading accurately and whether or not it's a fever worth concern. The forehead button is located at the top of the device while the ear is at the bottom.
Over 8,000 customers came back to Amazon after their purchase to leave their reviews and when you consider how passionately you have to feel about a product to come back and write something up, then you may get a sense of how impressive its overall rating of 4.1 really is. Either way, we think you'll find it more than a little tempting.
iProven Medical Digital Ear Thermometer with Temporal Forehead Function Key Features:
Clinically calibrated for medical use; unfailingly accurate
2 buttons for 2 functions
100-day money back guarantee
Best 3-in-1 Forehead Thermometer: Purea Forehead, Ear, and Infrared Thermometer
The Purea Forehead, Ear, and Infrared Thermometer can detect a temperature from a touch on the forehead, in the ear, or with infrared sensors. If you're not sure what will work best for you, then this is the thermometer you'll want to start with. And because each of the methods are accurate and fast, you may just end with this thermometer in your home for the rest of your life.
If you have children, or plan on having them soon, this thermometer is perfect for variety. Different children prefer different methods and as you'll know if you've ever wrestled a child to stay still while you try to get an accurate reading on a thermometer, variety can be invaluable!
Nearly 2400 customer reviews on Amazon have earned this thermometer an overall rating of 4.7 stars, making this a safe bet for a solid investment into a thermometer for your family. It's worth keeping in mind that this thermometer comes with a 90-day money-back guarantee as well as a 1 year warranty.
Purea Forehead, Ear, and Infrared Thermometer Key Features:
3-color backlit LCD for normal, low-grade and high-grade fevers
LED screen
90-day money-back guarantee
Best Budget Forehead Thermometer: CandyCare Touchless Smart Infrared Thermometer
The CandyCare Touchless Smart Infrared Thermometer will quickly and easily give you a reading from a forehead. Simply press the button and within just one second, it will display the reading. That's all there is to it!
For a product that's around $20, it certainly comes with a lot of features! One of our favorites is the 'mute' button, which helps ensure you won't wake your little one if they're sound asleep when you're taking a reading. We also love the fact that it's completely contactless and easy to use.
With an average rating of 4.5 stars from nearly 1250 customer reviews on Amazon, it has already established a firm reputation as a reliable thermometer. It even comes with a 1-year warranty, which is yet another drawcard of this budget, yet high-quality product.
CandyCare Touchless Smart Infrared Thermometer Key Features:
Large LCD backlit display
3-modes
Volume control
Best Strip Forehead Thermometer: Finyosee Forehead Thermometer Strips (50-Pack)
We couldn't have a top forehead thermometers without calling back to the technology where they all began. The Finyosee Forehead Thermometer Strips (50-Pack) doesn't need to rely on batteries, nor will make any noisy beeps. It may take a bit longer to get the read of this thermometer, as you need to wait until the strips places flush against your or family member's forehead to stop changing. But you can rest assured they they won't die or lie.
Finyosee Forehead Thermometer Strips are undoubtedly an excellent option for the "just in case"—no matter how reliable and amazing your home thermometer happens to be. They're also ultra-convenient, as you can easily carry them around. They're even reusable once you give them a clean! As far as strip forehead thermometers go, these are without a doubt the best of the best.
Finyosee Forehead Thermometer Strips (50-Pack) Key Features:
Reusable – wipe with soap and water
50-pack
Easy to carry
Best No-Touch Forehead Thermometer: DISEN Non-Contact Forehead Thermometer
The DISEN Non-Contact Forehead Thermometer will give you an accurate and fast reading each and every time, displayed on an easy-to-read, backlit LCD screen. Thanks to its advanced infrared sensor technology, you won't even need to touch your child to get an accurate reading. Simply point the device at your child's or your forehead (within a range of 0.39-1.18 inches), and you'll get the answers you're after.
This thermometer is ingeniously designed, so you won't need to second guess yourself. It will display red if it detects a high-grade fever, yellow for a low-grade fever (or medium temperature), and green for a normal temperature. Another handy feature is that it lets you store up to 35 temperature readings for future reference.
All of these features make this option sound great, but how does it actually stack up in terms of customer reviews? Over 1,500 customer reviews have given it an overall rating of 4.7 stars on Amazon. So you can rest assured that the DISEN Non-Contact Forehead Thermometer will give you the confidence you need to make the right decisions about the health of your family.
DISEN Non-Contact Forehead Thermometer Key Features:
3 colors to indicate temperature levels
Store up to 35 temperature readings
Choice between Celsius and Fahrenheit
Who Should Buy a Forehead Thermometer
The convenience of use with a forehead thermometer is a huge factor in anyone who decides to purchase a forehead thermometer. It takes far less time, as well, so those with a scenario of urgency, the thermometer is a huge perk that will make the stress of waiting to see your results a non-factor. For parents with sick kids, sometimes that 10-30 seconds of holding the thermometer in your child's mouth is the most stressful of your life and making the wait disappear can't be understated. Additionally, for parents of toddlers, or special needs kids, the forehead thermometer being easier to take means you will have to hold them, screaming and crying, down less, and the last resort of rectal thermometers becomes less common. That alone makes the forehead thermometer worth its weight in gold.
For homes with multiple people – roommates or families – having a thermometer that won't need deep disinfection after each use hold a pretty big appeal. Of course, you should wipe it down after every use, but on the forehead, it's less likely to come into contact with the fluids that are most likely to transmit illness. For no-touch thermometers that rely on infrared readings, you won't even need to touch the sick patient and that means you may spend less overall time as a household sick. For families that spend months sick during cold and flu season, that's a big pro and for those living with people with immune disorders, it could possibly save lives.
Important Features to Consider
A forehead thermometer should have a few important features. Here's what to consider when selecting a forehead thermometer:
Ear, too. No two people are the same and what bothers one will not necessarily bother another. For that reason, a thermometer that will detect your temperature via your forehead and your ear makes it twice as useful. When you have an ear infection, the forehead may be preferable, while sicknesses with a headache may be better suited for an ear reading. For a squirmy child, you never know what they'll prefer from one day to the next, so you'll definitely benefit from options.
No-touch. For an infrared thermometer, you won't need to even touch your or your child's forehead to determine the temperature. You will point the thermometer and it will read the temperature from the forehead from a distance by directing an infrared light to bring back the energy on the device and convert it through photodetectors into a temperature. This method of temperature detection has far less wear and tear and will likely last much longer. You may also be able to use it on other objects, as well; a bathtub or bottle, for example, will be particularly helpful for your baby.
Infant and toddler. For an infant or toddler, you need a reliable and fast thermometer that's easy to read and use. A forehead thermometer will let you swipe the forehead of your child quickly and is far more accurate than the armpit method you may have previously used. Not only that, but if you get a thermometer that is no touch, you won't even need to disturb them from their sleep, so you can check on them in the middle of the night.
Alarms and colors. With alarms and color changes on your thermometer, you'll know from the second it determines your temperature if it's something for which you need to be concerned. So you won't even need to reach over for your glasses if you blindly grab at it in the middle of the night. You'll know instantly by the sound and light that it displays and sounds. Keep in mind though, that's not necessarily a good thing. If you want to hide how sick your child is to keep them from worrying, then that will be a bit more difficult when the thermometer flashes red
Memory. At 3 am, when you check your temperature for fever while sick, you can't be expected to remember what you discovered on the thermometer. Having your thermometer remember the last temperature you took is a big win for the fever-induced or late-night confusion. If you can easily see the temperatures back-to-back, you'll know if your fever is breaking more easily.
Accuracy. There's no way around the fact that internal thermometers will be the most accurate. Oral or rectal will be the most consistently accurate. However, using them is far less pleasant and unless you are particularly concerned, the accuracy of a forehead or ear temperature reading will be plenty accurate enough. Make sure you're following the manufacturer's instructions to ensure accuracy, as well. Some forehead thermometers feature sensors that require "warming up" for an accurate reading. Make sure you're getting the same reading if you use the thermometer twice in a row. Keep checking your thermometer to make sure it's accurate and if something seems a bit fishy (like a temperature 5 degrees lower than what you're expecting), try a few times to get a consistent reading.
Frequently Asked Questions
What is a forehead thermometer and how does it work?
A forehead thermometer detects your body's temperature externally by checking the temperature of your forehead. Just as generations of mothers have checked their children's temperatures with the back of their hands, this type of thermometer also utilizes the location as a true indication of the body's temperature. There are a few kinds of forehead thermometers and they've become more and more common over the years. They've been commonplace in hospitals for years, but as they grow in popularity and the technology behind them advances, their prices have dropped enough to accommodate home use.
The most common kind will be placed on your forehead on one temporal artery and slide across your forehead to the other in order to determine your temperature. These kinds will often have an ear thermometer option that allows you to take off a protective guard and insert the thermometer into your ear for fever detection. If nothing else, it gives you a variety of options that many people will appreciate. The newest thermometer growing in popularity is the no-touch kind that relies on infrared light and reading to determine your body's temperature from a distance, without ever requiring touch. The strips that have been used for decades and are meant to be temporary, will be pressed against your forehead and warm the strip to the temperature on the scale your body is putting off.
Is the forehead thermometer accurate?
Yes, a forehead thermometer is accurate – or rather, it can be. A forehead thermometer may not have the precision of an internal thermometer, but it will be able to read your body's temperature with plenty enough accuracy to determine if you have a fever or not. As with any electronic device, though, a forehead thermometer is only as good as the quality of the manufacturing. You should get the same temperature if you use if back to back, so if you don't, you may want to consider another thermometer. To avoid this as a likelihood, you should look at the reviews and see if it's a common problem for other customers.
You will always want to check for accuracy, not only because the thermometer could be losing accuracy as it gets older (and that's a bigger concern for less expensive budget models), but if you don't place the thermometer properly (or your child squirms and makes getting a proper reading difficult), you will want to make sure you're reading the temperature until you get a consistent number each time.
What temperature is a fever on the forehead?
The temperature at which you're considered to have a fever on your forehead is the same as the temperature as given by a rectal or ear thermometer: 100.4 degrees Fahrenheit or 38 degrees Celsius. An oral temperature of 100 degrees Fahrenheit or 37.8 degrees Celsius is a fever, and for an armpit, a fever is anything over 99 degrees Fahrenheit or 37.2 degrees Celsius.
As a reminder, a high-grade fever will justify a trip to the doctor and is anything over 103 degrees Fahrenheit or 39.4 degrees Celsius. Even without that significantly high of a fever, if it lasts for over seven days, it also will require medical treatment.
Which type of thermometer is most accurate?
Unfortunately, there's no way around the fact that an internal thermometer is going to be the most accurate. However, the good news is that there aren't huge differences in accuracy anymore. And, unless you need a percentage of a decimal difference annotated, the forehead and ear thermometers all have about the same likelihood of detecting a fever as a rectal or oral thermometer. One other fact worth mentioning, though, taking the temperature in your armpit is not a reliable method of temperature detection. Though it may be an old-school policy for babies who can't have oral thermometers, the advancement in forehead thermometers has effectively replaced that for home fever detection.
Other Forehead Thermometers We Reviewed
We looked at 20 other forehead thermometers. Even though they didn't make our 5 best forehead thermometers list, they're the best of the rest and each is still a great option for your family. The information you'll need to compare each one is included with the listing.
Forehead and Ear Thermometers
Caroune Ear and Forehead Thermometer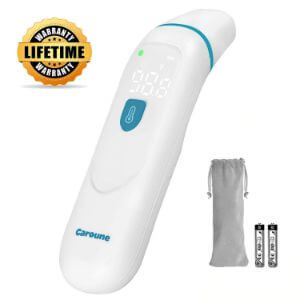 You can use this forehead thermometer for a 1-second reading that will have the process over fast.
Key Features:
Includes carrying bag and 2 AA batteries
6-month money back guarantee
32 sets of memory data
Cost: $25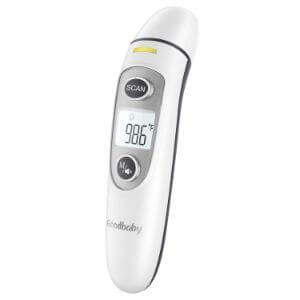 You'll be able to see your temperatures in whatever setting you prefer, Fahrenheit or Celsius.
Key Features:
HD LED display
0.1 degree margin of error
35 memory readings
Cost: $25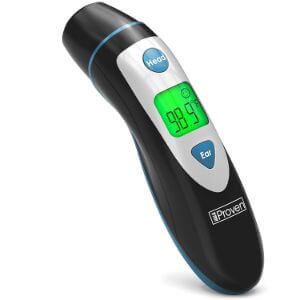 With clearly labeled buttons, you'll easily be able to tell which button does which method of temperature reading.
Key Features:
Batteries and travel pouch included
Calibrated for ear or forehead
Reading in 1 second
Cost: $30
Metene Infrared Infant Thermometer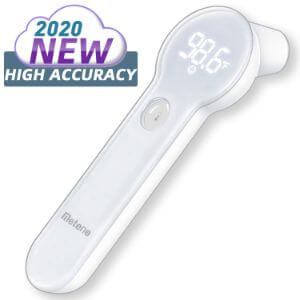 Switching back and forth between functions with this forehead and ear thermometer is a breeze; simply add or remove the forehead guard.
Key Features:
Fahrenheit or Celsius
Includes batteries and storage bag
Margin of error: 0.5 degree
Cost: $30
Metene Medical Forehead and Ear Thermometer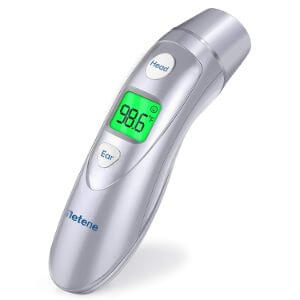 You'll get fast and clinically accurate results with the addition of this thermometer into your home.
Key Features:
Includes batteries and storage bag
Separate buttons for separate modes
Store up to 20 readings
Cost: $30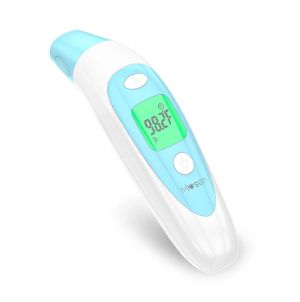 This thermometer isn't just effective for your baby, but it certainly does wonders at keeping a sick baby calm.
Key Features:
3 colors back lit (for high, medium, and normal temperatures)
2 modes
Forehead guard for different modes
Cost: $25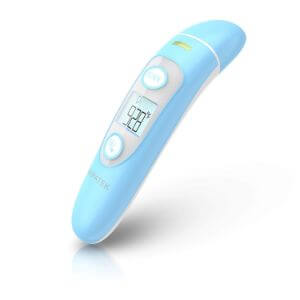 Made with a durable plastic, you won't need to be concerned this thermometer will break to harm your child.
Key Features:
Silent mode for sleep
1-year warranty
1-second reading
Cost: $30
NURSAL Medical Forehead and Ear Thermometer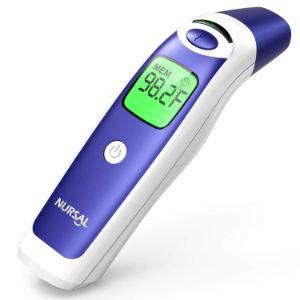 With one button and one second, you can have an accurate depiction of your, or your family member's temperature.
Key Features:
1-second reading
2 AA batteries included
32 memory recall
Cost: $20
SANPU 5-in-1 Professional Digital Medical Forehead Thermometer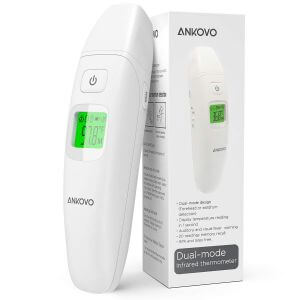 This dual-mode thermometer will read in Fahrenheit or Celsius to give you the display you want, without any self-doubt in conversion.
Key Features:
Backlit LCD display
Fever alarm; beeping for high fever
2 AAA batteries included
Cost: $30
simplife Baby Forehead Thermometer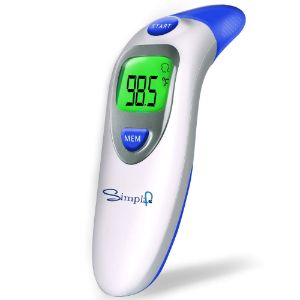 This thermometer has an auto shut-off after 29 seconds to preserve the (not included) 2 AAA batteries.
Key Features:
Dual mode
Fahrenheit or Celsius
4 color options
Cost: $20
Viedouce Ear Forehead Thermometers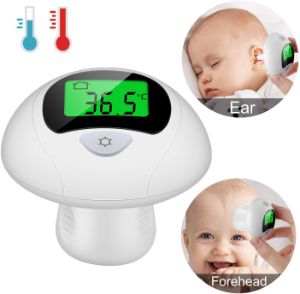 You can use this compact thermometer on ear or forehead and if you're travelling, the portability of this is a convenience you can't deny.
Key Features:
Silent mode for sleep
LCD display; ergonomic design
100% satisfaction guarantee
Cost: $10
Vigorun Forehead and Ear Thermometer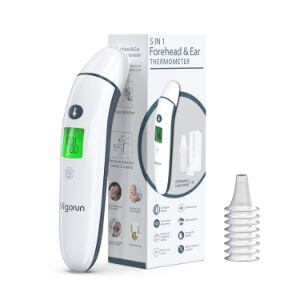 Not only will you have variety in mode options, but for the ear readings, you'll have 20 lens covers to minimize contagion spread.
Key Features:
Backlit LCD display
35-readings in memory
1-second reading
Cost: $30
Vigorun Medical Forehead and Ear Thermometer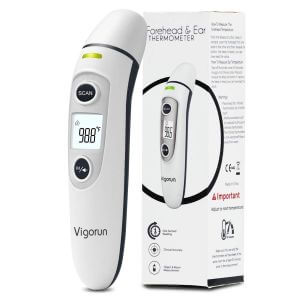 You'll have instant results with this thermometer, whether you opt for the ear or forehead reading.
Key Features:
℃ and ℉ easily switched
1-second reading
Mute mode for sleep
No-Touch Forehead Thermometers
Braun 3-in-1 No Touch Thermometer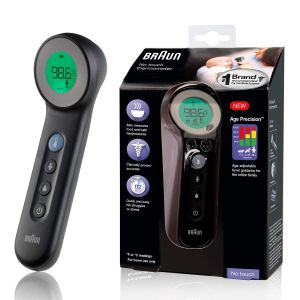 If you want clinically accurate readings, without any contact to the sick patient, this may be the thermometer for you.
Key Features:
Precise reading for any age
Safe and hygienic
Guidance light for proper aim
Cost: $70
Chooseen Digital Medical Forehead and Ear Thermometer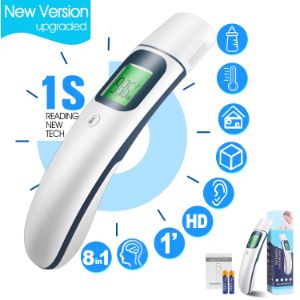 You can easily determine the temperature of nearly anything with the infrared sensors in this forehead thermometer.
Key Features:
1-second reading
Fever alarm
18-month replacement guarantee
Cost: $25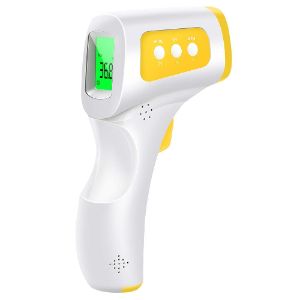 You simply point and click for a fast reading of any surface, nearly instantaneously.
Key Features:
3-modes
Stores up to 35 readings
Displays in Fahrenheit or Celsius
Cost: $20
Lakmus Pro Medical Forehead Thermometer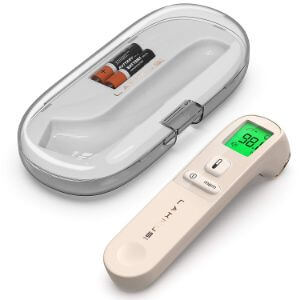 Not only does this thermometer have a storage case to keep it protected, it even has battery storage so you can keep a spare with the thermometer for the times the batteries run out.
Key Features:
2 colors available
Memory for 9 readings
Suitable for all ages
Cost: $20
PURUIZT Non-Contact Forehead Infrared Thermometer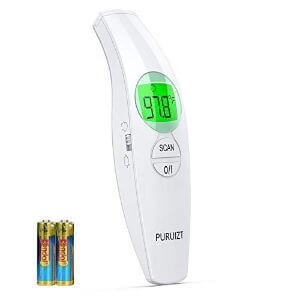 Within two seconds of pointing this thermometer the infrared sensor will be able to give a precise reading of temperature.
Key Features:
Red back light and fever alarm
30 readings stored
Fahrenheit or Celsius
Cost: $25
TLINNA Forehead and Ear Thermometer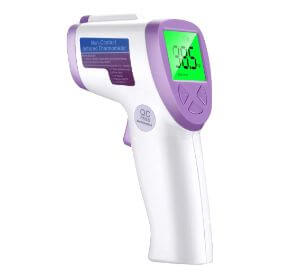 With easy to decipher green, orange, and red back lights, you'll easily be able to tell if there's cause for concern with the temperature reading on this thermometer.
Key Features:
1080p HD display
Ergonomic handle
2 modes – body mode and object mode
Cost: $30
WEALLNERSSE Digital Infrared Forehead Thermometer Gun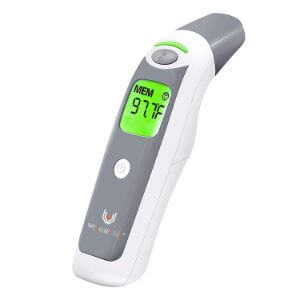 Use this one thermometer for what you need, when you need it; no more wrestling with the forehead and ear thermometer, nor do you have to take the temperature from a distance. If you or your loved one, is sickand need the comfort of contact with the thermometer, this will work just as well either way.
Key Features:
Memory recall up to 32 readings
Dual mode
3-color back lights
Cost: $20