Kettlebells are the new big thing in the exercise industry. Their versatility and simplicity allow them to target any part of your body. They're the only tool you need for a complete, well-rounded exercise regime. Because of their popularity, many different kinds of kettlebells available on the market, including adjustable kettlebells. Adjustable kettlebells allow you to increase or decrease their weight. This allows experienced athletes to adjust the weight for different exercises while allowing the beginner to experiment with what size they might need.
We reviewed dozens of adjustable kettlebells to find the best of the best. Each kettlebell was rated based on adjustable range, durability, comfort, versatility, customer reviews, and cost.
Out of all the kettlebells we reviewed, the Apex Adjustable Heavy-Duty Exercise Kettlebell came out on top. This kettlebell has a large weight range and is made from solid cast-iron for extra durability.
[toc]
The 5 Top-Rated Adjustable Kettlebells
[table "26" not found /]
*Ratings are from Amazon at the time of publication and can change
Our Top Pick: Apex Adjustable Heavy-Duty Exercise Kettlebell
The Apex Adjustable Heavy-Duty Exercise Kettlebell was by far the best one we reviewed that was at a reasonable price. It is a complete weight set that comes with almost everything you need to stop lifting – except the weights. This kettlebell comes with 4 unweighted spacer plates, which allows the kettlebell to stay "full" even if you don't have many weights in it. The handle is 15 pounds, which the bottom plate is 5 pounds. Depending on how heavy you need your kettlebell to be, you might be able to use this one without putting any weights on it at all.
The whole thing is made out of solid cast-iron and reinforced with a powder coating. It is designed to stand up to tough exercises. You can adjust the total weight of this exercise tool between 20 to 50 pounds by replacing the spacer disks with standard weights. Replacing the spacer disks is very easy and can be done in a matter of minutes. You just turn the knob at the bottom of the kettlebell to remove the pin that holds the whole thing together. Then, you can take spacer disks out and put weights in as you please. The handle on this kettlebell is u-shaped, allowing you to get optimal grip and control while working out.
Apex Adjustable Heavy-Duty Exercise Kettlebell Key Features:
Weight adjustable from 20 to 50 pounds
U-bar handle
Cast-iron construction
Comes with 4 spacer disks
Our Runner Up Pick: Ludus Imperium Adjustable Kettlebell Sandbag
We also quite liked the Ludus Imperium Adjustable Kettlebell Sandbag. This kettlebell can be adjusted from 1 to 45 pounds by your choice of sand weight, making it completely customizable to your workout. The grip is a ergonomic ally designed, durable plastic that won't tear up your hands and the size is compact enough that you can use this bag without diverting from your typical form with a standard kettlebell. It closes securely with two Velcro strips that roll and then a zipper will ensure no extra mess is made for your workout.
The bag is ultra portable by allowing you to empty and refill as needed without straining yourself during transport. This makes it an excellent choice to take with you on your business trip, or to the beach to make sure you're not letting your hard work go to waste by too much down time.
Ludus Imperium Adjustable Kettlebell Sandbag Key Features:
Adjustable up to 45 pounds
90-day money back guarantee
Inner bag lining prevents mess
Best Budget Pick: NewMe Fitness Adjustable Kettlebell Handle
If you're looking for something inexpensive, the NewMe Fitness Adjustable Kettlebell Handle is the way to go. This handle is just that – a handle. You add the weights as necessary. Because this kettlebell set doesn't come with spacers or weights, it is much less expensive than most other models. This kettlebell works with more 1", standard plates, so you can use the ones already at your gym or home. It can use multiple weights at once up to 6.25 inches. You can swap out different size weights to get the exact size that you need. No more carrying around multiple kettlebells for a varied workout. Just take this one and change the weights out as you go.
This kettlebell handle is not made with cast iron. Instead, it is constructed with soft metal. This material is still quite durable, but not as much as a cast-iron kettlebell would be. However, for the price, this model really can't be beaten. The grip is decently comfortable and the clamp design makes adjusting the weight pretty easy. In total, this exercise tool weights 6.15 pounds without any added weights. This should be a low enough starting weight for just about everyone.
NewMe Fitness Adjustable Kettlebell Handle Key Features:
Uses 1" standard plates
Inexpensive
Made with soft metal
Adjustable from 6.15 pounds
Best Adjustable Soft Kettlebell: Adjustable Kettlebell by Kettle Gryp
The Adjustable Kettlebell by Kettle Gryp is a completely adjustable soft kettlebell with a unique design. This kettlebell holds most dumbbell handles, allowing you to adjust the weight within a wide range. Adjusting this kettlebell is extremely easy. You just open the handle, place the dumbbell on the foam insert, and then close the handle. Because this kettlebell does not have any spacers, it is extremely easy to transport. Just take the weights off and you'll have an easy-to-store, soft handle. If you travel a lot and want a kettlebell to take with you, this is the model you need. Compared to some other models, this adjustable kettlebell is also quite inexpensive, especially when you consider it's adjustability.
Many customers had rave reviews for this product. However, some did report that the larger size made some exercises difficult to do and caused bruises to their legs and ankles while they were doing some exercises. This seemed to be more of a problem for those with smaller forms, like women. Many stouter men did not seem to have this problem. Still, you can't beat this kettlebell's portability or inexpensive price.
Adjustable Kettlebell by Kettle Gryp Key Features:
Completely adjustable
Very portable
Inexpensive
Lifetime warranty
Best Heavy-Duty Adjustable Kettlebell: Titan Fitness 10-40 lb Adjustable Kettlebell
If you're looking for a kettlebell that can stand up to the toughest workouts, give the Titan Fitness 10-40 lb Adjustable Kettlebell a try. This adjustable kettlebell includes 6 cast-iron weights that can be removed or added easily to change this tool's weight. Unlike most kettlebells, this one comes with its own weights, which means you won't have to use a separate weight at the gym or purchase separate weights for you home. While this kettlebell is a little more expensive than many of our other choices, the included weights make it worth it if you don't have any standard, cast-iron weights at home.
This kettlebell can be adjusted from 10 to 40 pounds, which should be enough for most people's needs. The bottom is flat, making it easy to stand it up in storage or put it down between exercises. The handle is 1.5" wide and made of heavy-duty cast iron. The handle is also powder-covered for even more durability. Each weight is held on by a separate, heavy-duty clamp, ensuring the weights stay in play no matter how many you're using in your workout. Titan provides a 100% satisfaction guarantee. If you don't like this product, you can return it for a complete refund.
Titan Fitness 10-40 lb Adjustable Kettlebell Key Features:
Heavy-duty clasps
6 cast iron weights included
Adjustable from 10 to 40 pounds
5" wide handle
Who Should Buy a Kettlebell
Kettlebells are a versatile fitness tool and are used in a variety of workouts. While most workouts involve your arms, there are kettlebell workouts that include the legs and back. They're an inexpensive and space-conscious way for beginners to get into fitness. Instead of needing to purchase a whole slew of gym equipment, all you need it a kettlebell. Kettlebells also create functional strength. Unlike some exercise tools, many kettlebell exercises help you get stronger at every-day movements, like lifting or swinging things. You'll see a noticeable strength difference in your everyday life when you train with a kettlebell, while you won't necessarily see such a difference with other workout equipment.
Those who are just getting into fitness and experts who are looking to shake things up will likely benefit from a kettlebell. These easy-to-use tools are versatile and can help you work out all parts of your body at once. They're wonderful for those with time constraints, as they let you shove cardio and weight exercises into one routine.
After your workout with your adjustable kettlebells, you may find yourself hurting. If you've pushed yourself and are in need of a way to ease that discomfort, be sure to check out How To Relieve Sore Muscles After A Workout.
Important Features to Consider
A kettlebell should have a few important features. Here's what to consider when purchasing a kettlebell for your exercise routine:
Durability. Kettlebells are used in some rough exercises. They're slung around, set down, and occasionally rammed into things. In order to keep up with this tough routine, any kettlebell you choose needs to be durable. The most durable kettlebells are made with cast-iron. This material is both durable and heavy, which is useful if you're trying to squeeze more weight into the small fitness tools. Types of metal can also work well and are typically used for less expensive kettlebells. Metal won't be as heavy as cast iron and isn't quite as durable, but it can be a decent, cheaper material.
Adjustability. An adjustable kettlebell should have a wide range of adjustability and be easily adjusted. A kettlebell is not going to do you much good if you have to spend twenty minutes to adjust it by five pounds. A kettlebell should preferably only take a few moments to adjust and should be able to accommodate a large range of weights. If you're a beginner, be sure any kettlebell you choose goes down to a low enough weight. Many start a little high and are not quite suitable for those starting to get into fitness.
Included weights and plates. Some adjustable kettlebells come with weights or plates. If weights are included, you will not have to purchase weights separately or use the standard weights at the gym. These tend to be a little more expensive, but the included weights mean that you can start using the adjustable kettlebell immediately. On the other hand, some kettlebells come with plates, which are weightless but work a place-savers for weights. These plates can make your kettlebell more balanced if you aren't putting tons of weight on it.
Comfort. Not all kettlebells come with comfortable handles. Be sure whatever kettlebell you purchase has a large enough handle for you to grip comfortably with two hands. Otherwise, you might have difficulty doing certain workouts.
Warranty. Most kettlebells come with a warranty of some sort, but it is a good idea to check before you make a purchase. It is nice knowing that if a kettlebell doesn't work out for you, you can get your money back.
Frequently Asked Questions
What is an adjustable kettlebell and how does it work?
An adjustable kettlebell is a piece of exercise equipment that is used for specific exercises. Basically, these are large, weighted balls with a single handle that are swung or held while working out. A kettlebell that is adjustable has the ability to change its weight. Often, you can add or take off standard weights to adjust these kettlebells. However, some come with their own weights that can be added or taken off. Adjustable kettlebells are useful for those who need different weights for different exercises or beginners who expect that they'll need to increase their kettlebell's weight in the near future.
What are the benefits of using an adjustable kettlebell?
Kettlebells are a versatile exercise tool. These pieces of exercise equipment can be used to exercise pretty much any muscle group. They're also relatively small and can be transported around easily, especially when you purchase one that was made to be portable. Beginners can also learn kettlebell exercises easily, which cannot be said for all workout tools.
An adjustable kettlebell's weight can be adjusted. This means you won't have to carry around or store multiple kettlebells for all your different exercises. You can just adjust your kettlebell's weight as you see fit. Many take standard weights, which means you won't have to carry around your own when you go to the gym.
How do you adjust the weight on an adjustable kettlebell?
This differs from model to model. Some have a pin on the bottom that is turned and removed, allowing you to add or take off weights as necessary. Others have clamps that can be disengaged to take weights off, and others are compatible with different sizes of barbells. Nearly every kettlebell has its own method of adjustment.
What exercises can you do with an adjustable kettlebell?
There are tons of different exercises you can do with an adjustable kettlebell. There is a group of exercise for pretty much every muscle group, so you can get a complete workout with only this tool. Many exercises are a combination of cardio and weight-lifting, allowing you to combine these parts of your fitness plan. Many gyms have kettlebell classes, where you can learn different exercises, or you can check out an online guide, like this one found at Runner's World.
Other Adjustable Kettlebells We Reviewed
We looked at 20 other adjustable kettlebells. Even though they didn't make our 5 best adjustable kettlebell list, they're the best of the rest and each is still a great choice. The information you'll need to compare each one is included with the listing.
Heavy Duty Adjustable Kettlebells
Titan Fitness 5-20 lb Adjustable Kettlebell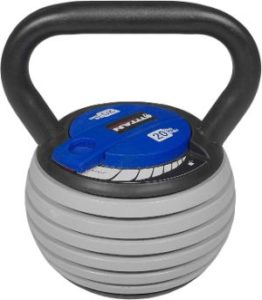 Featuring smaller weights with less drastic jumps in weight, this alternative kettlebell to the Titan Fitness 10-40 lb kettlebell is better-suited to beginners or others who are training with lower weights.
Key Features:
Smaller, more incremental weights
Easy to adjust
Perfect for beginners
Cost: $70
POWERBLOCK Adjustable Kettlebell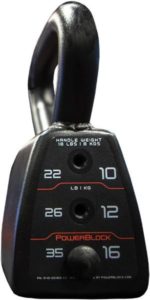 Replace a few of your kettlebells with this one compact-sized kettlebell. To adjust the weight on this product, simply insert the provided rods into the kettlebell.
Key Features:
Comfortable grip
Replaces four separate kettlebells
Weight increments of 18, 22, 26, and 35 lbs
Cost: $145
REP FITNESS Adjustable Kettlebell
Available in 16 or 24 kilograms, or 40 pounds, this kettlebell is designed with ergonomics and comfort in mind. This product has 5 separate weights.
Key Features:
Fast and easy weight changes
Ergonomic design
Multiple weight options
Cost: $160
Bowflex 840 SelectTech Kettlebell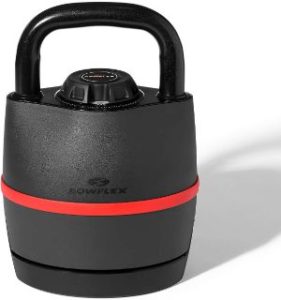 This product is the perfect kettlebell for people who live in small homes and have limited storage space. This adjustable kettlebell features a compact design. Switch weight on the fly with a simple turn of a dial.
Key Features:
Innovative design
Space-efficient
Effortless weight adjustment
Cost: $150
Fitness Gear Adjustable Kettlebell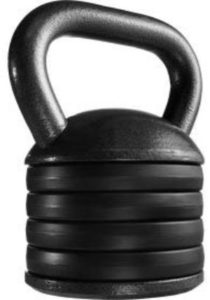 This adjustable kettlebell eliminates the need for 11 different kettlebells by utilizing plates of various weights. The weight range supported by this product is from 20 to 50 pounds.
Key Features:
Simple construction
Durable
Black powder coat
Cost: $65
Empower Kettlebell Weight Set for Women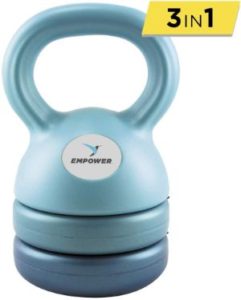 With small jumps in weight of 5, 8, and 12 pounds, this adjustable kettlebell set is perfect for the woman who has just started her workout routine. Effortless weight adjustments make changing weight on the fly very simple.
Key Features:
Designed for women
Ergonomic construction
Easy to adjust
Cost: $31
Kettlebell Kings Black Adjustable Kettlebell Weights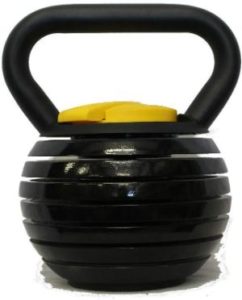 This kettlebell set supports weights between 10 to 40 pounds. Switching between weights is easy, all you need to do is slide a lever then insert the desired amount of plates.
Key Features:
Beginner-friendly
Durable construction
Simple weight adjustments
Cost: $130
Stamina X Adjustable Kettle Versa-Bell
This product offers variable weight adjustments without altering the shape of the kettlebell. To adjust the weights inside the kettlebell, simply place the shell over the plates and insert the retention pin.
Key Features:
Patented weight-adjustment system
Plates fit inside the shell
Red shell
Cost: $117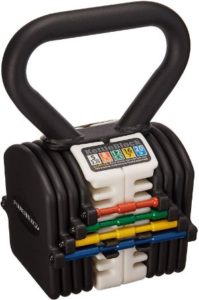 This uniquely designed adjustable kettlebell can replace 5 individual kettlebells by itself. This product was designed to provide a more compact solution to having several kettlebells.
Key Features:
Unique design
Adjusts up to 20 pounds
3 to the 5-year manufacturer warranty
Cost: $85
Soft Adjustable Kettlebells
Hyperwear SoftBell Adjustable Kettlebell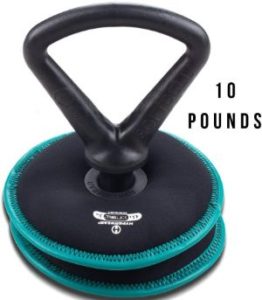 Featuring a modular design for soft kettlebell weights, this kettlebell weight system is perfect for home gyms with young children. These weights are also perfect for delicate flooring.
Key Features:
Handle constructed of fiberglass reinforced plastic
Quieter than metal plates when dropped
Easily adjustable
Cost: $39
JMJ Products Kettlebell Sandbag
Train like a gladiator with these soft kettlebells filled with sand. Featuring a secure inner bag for filling with sand, you can be sure that there will be no leakage or spills s while you train. Sand is not included.
Key Features:
Secure containers ensure no leakage
Durable construction
Adjustable
Cost: $29
Brute Force Kettlebells: Adjustable Kettlebell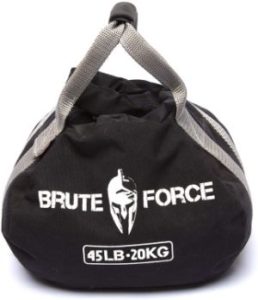 This product features a drop-in container for sand to create a leak-proof construction. This sandbag kettlebell is perfect for use indoors and inside home gyms.
Key Features:
Versatile
High-quality construction
Comes in black or multicam camo pattern
Cost: $79
Meister Elite Portable Sand Kettlebell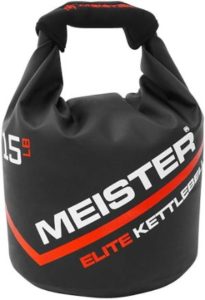 This product is an inexpensive option for those who live a highly mobile lifestyle and travel frequently. To better suit a mobile lifestyle, this sandbag kettlebell is virtually leakproof so you don't have to worry about spills in your vehicle.
Key Features:
Portable
One-piece construction
Leakproof
Cost: $10
Ardorlove Adjustable Kettlebell Sandbag
This product is ideal for those who do not yet know if they prefer more traditional styles of kettlebells. Many people use an inexpensive option like these sandbags to test if they like sandbag kettlebells before upgrading to higher-quality products.
Key Features:
Inexpensive
Supports weights up to 10 kilograms, or 22 pounds
Canvas construction
Cost: $11
This adjustable kettlebell can be filled with anything, whether it's sand, dirt, gravel, lead shot, or water, and is leakproof. It is made with military-grade Cordura with ballistic nylon webbing, offering over 1800 pounds of tensile strength.
Key Features:
Can be filled with anything
Highly-durable construction
Wide variety of color options
Cost: $50
Adjustable Kettlebell Handles
Titan Plate Loadable Kettlebell Swing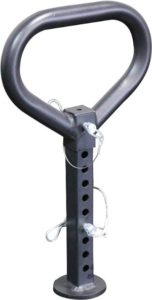 If you value a minimalistic and utilitarian approach to fitness, this kettlebell handle is for you. Capable of supporting a wide variety of weights up to 500 pounds, this one handle replaces a huge set of kettlebells. Plates are not included.
Key Features:
Plate loadable
9 Adjustable positions
500-pound capacity
Cost: $45
TreadLife Fitness Threaded Kettlebell Handle

This kettlebell handle is another product that appeals to weightlifters that appreciate minimalistic and utilitarian fitness equipment. Featuring a threaded design along its shaft, this kettlebell handle can fit a vast array of weights.
Key Features:
Easy to adjust
Modular
Lightweight
Cost: $40
Ironmaster Quick-Lock Kettlebell Handle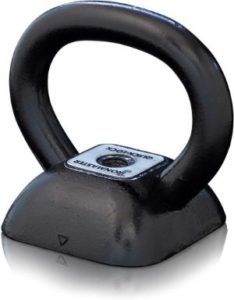 If you have other Ironmaster products at home, this handle is for you. This kettlebell handle is designed to fit seamlessly and work in tandem with other Ironmaster products.
Key Features:
Lifetime warranty
Works with Ironmaster plates and dumbbells
Easy to use
Cost: $125
C-0290 Extra Wide Threaded Kettlebell Handle
This inexpensive option for kettlebell handles has an extra-wide grip so that you can handle the weights with two hands. This product has a 70-pound weight capacity.
Key Features:
Inexpensive
Knurled grip
Can be used with two hands
Cost: $40
Kettlebud Adjustable Kettlebell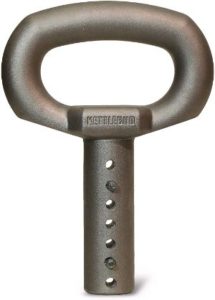 This product is yet another option for those who love simplicity. This kettlebell handle is designed to fit some of the most common types of plates found in almost any gym.
Key Features:
Fits most common plates
Highly durable cast aluminum construction
Quick-release pins
Cost: $69