Frequent swimmers can suffer from eye irritation caused by chlorine and other chemicals in pools or contaminants in bodies of water. Swim goggles can help protect sensitive eyes from coming into contact with these chemicals and contaminants. They also give you a clear view of what's around you, whether you swim competitively or just enjoy going for dips in the pool.
We reviewed dozens of swim goggles in different categories, like racing goggles and goggles for indoor and outdoor swimming, to find the best of the best. A few features we considered in our research include adjustability, comfort, type of lenses, and ability to keep water from coming in.
The  Speedo Vanquisher 2.0 stood out as a clear winner.  These goggles come in multiple colors – one for everyone to enjoy! – and their mirrored, anti-fog lenses are perfect for both outdoor and indoor swimming. Cushioned seals also keep water out effectively while lending comfort to the area around your eyes and nose.
[toc]
The 5 Top-Rated Swim Goggles
*Ratings are from Amazon at the time of publication and can change
Best Swim Goggles Overall: Speedo Vanquisher 2.0
Our all-around winner for swim goggles is the Speedo Vanquisher 2.0, which has wide lenses for panoramic views in the water and fits snugly against your face to stay in place as you swim. Although Speedo has several types of swim goggles in its lineup, these are among the most versatile for any type of swimmer. Use them for racing or casual swimming; the mirrored, anti-fogging, and UV-protected lenses will keep you comfortable and safe in the water.
These goggles also come with four interchangeable nose pieces that you can choose from to cradle your nose comfortably. Cushioned seals keep water away from your eyes while allowing the goggles to rest against your face without scratching or squeezing the skin. In fact, some customers who are in the water for long periods of time note that these goggles are just about as comfy as you can find for long swims. 
Speedo Vanquisher 2.0 Key Features:
Blocks UVA and UVB rays
Provides shade for outdoor swimmers
Excellent seal
Wide view
No need to readjust while swimming
Best Swim Goggles with Nose Cover: Aqua A Dive Sports Swim Goggles
If you prefer a nose cover on your goggles for a more comfortable swim, try the Aqua A Dive Sports Swim Goggles. These goggles are perfect for casual swimmers and those who enjoy spending a lot of time underwater checking out the sights below. The goggles seal around the forehead, eyes, and nose, effectively keeping water from getting in the way of your view.
These adult-sized goggles are easy to adjust using the adjustable silicone straps and buckle. Once you have it set to the right size, the straps remain in place as you swim, so you won't have to keep readjusting them during your time in the water. If anything doesn't work as you expect with these goggles, the company will offer you a full refund. 
Aqua A Dive Sports Swim Goggles Key Features:
Buckle adjuster
Includes case
Broad view with side windows
Mist barrier to help with fogging
UV protection
Best Budget Swim Goggles: Aegend Racing Style Swim Goggles
Many swim goggles are affordable, but the Aegend Racing Style Swim Goggles are one of the most affordable options on the market. They're technically racing style goggles, but they'll also work well for casual swimmers who just want a pair of easy-adjusting, non-fogging goggles to keep water out of their eyes.
Unlike other goggles, this pair may also give you a little bit of a clearer view underwater. The lenses are anti-fogging and are crisp and clear to let you see well beneath the surface. While above the water, you'll benefit from UV protection to shield your eyes from the sun's harmful rays.
Aegend Racing Style Swim Goggles Key Features:
Three replaceable nose pieces
Flexible seal
Flat lense style
Sleek and streamlined design
Double-sealed
Best Polarized Swim Goggles: Speedo Speed Socket 2.0
If you frequently swim outdoors in the bright sunlight, you probably have battled with the glare in your eyes from the sun. The Speedo Speed Socket 2.0 swim goggles have polarized lenses that could help keep glare from interrupting your swim. This type of lens works to block light that reflects horizontally on the water and into your eyes.
In addition, these goggles come with UV protection to actually prevent the sun from harming your eyes. You'll also see clearly when underwater or out of the water, thanks to the anti-fogging coating. A unique curved lens design helps boost your peripheral vision, giving you a broad view of what's around you. 
Speedo Speed Socket 2.0 Key Features:
Curved lense to increase peripheral vision
Low-profile design
Durable strap
High nose bridge
Hypoallergenic seals
Best Swim Goggles for Racers: Michael Phelps XCEED Swimming Goggles
What better way to swim competitively than by wearing swim goggles created by the ultimate swimmer himself, Michael Phelps? The Michael Phelps XCEED Swimming Goggles are a popular option for competitive swimmers with their sleek design and aggressive look. The wide field of vision from side-wrapped lenses helps you see everything you need to in or out of the water.
These goggles are a bit more rigid than others you might have used. The outer frame isn't as flexible, but that gives it maximum stability in the water. Your goggles will stay in place and won't yield to water, giving you the ability to break through the water with speed. The gaskets are flexible, though, keeping the goggles comfortable and tightly sealed as they frame your face.
Michael Phelps XCEED Swimming Goggles Key Features:
Interchangeable nose pieces
Quick-adjust strap
UVA and UVB protection
Titanium metal lens coating
FINA-approved
Who Should Buy Swim Goggles
Many people like to wear swim goggles simply to help them see underwater. Without them, you can't see clearly underwater with your eyes open, and your eyes have no protection against contaminants in the water. However, swim goggles can also help protect your eyes when swimming in a pool, lake, or ocean, even if you don't plan to open them. Swimmers can be prone to irritation or infection from pool chemicals and contaminants when they don't wear swim goggles. Although goggles don't give 100% proof against infection and irritation, they do offer a solid layer of protection for the swimmer.
Important Features to Consider
Swim goggles should have a few important features. Here's what to consider when selecting a pair of swim goggles for your next pool, beach, or lake adventure:
Lens type. Swim goggle lenses are available in different types, such as mirrored, polarized, and anti-fogging. Mirrored lenses reflect light well, making them beneficial for swimming in indoor pools. Polarized lenses can reflect sunlight and often come with a layer of UV protection for outdoor swimmers. Anti-fog lenses keep the lenses from fogging as you move in between the water and air indoors or outdoors.
Lens shape. Swim goggles come in narrow and wide lens shapes. Wider goggles with clear sides can help you see better around you instead of what's straight in front of you.
Adjustability. Adjustable straps make swim goggles fit to any head shape and size, giving you a more comfortable fit.
Interchangeable nose pieces. Some swim goggles come with interchangeable nose pieces in different sizes, allowing the wearer to pick one that fits the bridge of the nose snugly and comfortably.
Comfortable gaskets. The gaskets around the goggles' eyes not only keep out water, but they also offer a layer of comfort to your face if they're designed well. They shouldn't rub against your skin or have no give to the contours of your face.
Frequently Asked Questions
What are the best goggles for swimming?
The best swimming goggles for you depend on a few factors: your budget, the type of swimming or water activities you do, and the comfort you need. Some goggles are designed for competitive swimmers with high-quality lenses that don't fog and prevent glare from indoor or outdoor lighting. Others are polarized and have UV protection to protect your eyes from the sun outside. If you're more of a laid-back swimmer, you might prefer a pair of goggles with a nose cover to allow you to stay underwater without it traveling into your nose.
How do I choose swimming goggles?
Your most important consideration when choosing swimming goggles should focus on the type of swimming or water activities in which you participate. Indoor swimming doesn't carry the risk of UV damage to your eyes, but mirrored lenses can reflect indoor light glare. Outside, a polarized lense with UV protection can keep out damaging sun rays. If you participate in active water sports or swimming, it's necessary to look for goggles that are adjustable to fit snugly around your head without being uncomfortable for long wear.
What are the most comfortable swim goggles?
To remain comfortable during your time in the water, swim goggles should have seals around the eyes that double as padding. These seals keep water from coming into the eye area and are usually cushioned to provide comfort to the area. Some goggles also come with nose pads to allow the goggles to sit comfortably on the nose. Most goggles have adjustable straps as well to help you fit the goggles to your head.
Is it OK to swim without goggles?
For short trips in the water, swimming without goggles might be okay. But if you plan to spend a long time in the water, you might want to strap on the goggles. Goggles can protect your eyes from bacteria, chemicals, and other contaminants in the water that result in redness, irritation, and even infections. Goggles can also help you see clearly around you, giving you an extra layer of safety in the water.
Other Swim Goggles We Reviewed
We looked at 20 other swim goggles. Even though they didn't make our 5 best swim goggles list, they're the best of the rest and each is still a great option for swimming. The information you'll need to compare each one is included with the listing.
Swim Goggles for Outdoors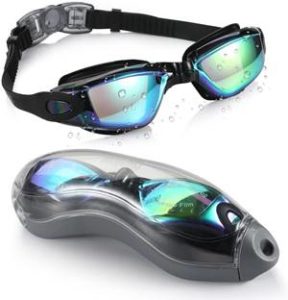 These shatter-resistant goggles have protection from the sun built into their lenses, making them a perfect outdoor swimming option.
Key Features:
12-month guarantee
No-fog lenses
UV protection
Cost: $13
Aqua Sphere Kayenne Swim Goggles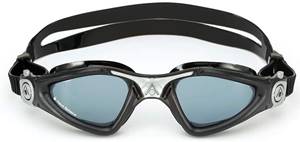 These goggles have an exclusive design that cradles the bridge of the nose for added comfort, while the anti-fog, UV-protected lenses cater to outdoor swimmers.
Key Features:
Curved lenses
Reduced glare
Scratch-resistant
Cost: $28
You'll get anti-glare, anti-fog, and UV protection with this 2-pack of goggles, which also includes mesh carrying cases and ear plugs.
Key Features:
Wide-view lenses
One-touch-open straps
12-month warranty
Cost: $16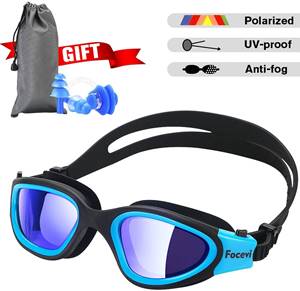 Protect your eyes from the sun and its glare when swimming outdoors with this pair of swim goggles from Focevi.
Key Features:
Polarized lenses
Leakproof gaskets
Non-slip silicone strap
Cost: $25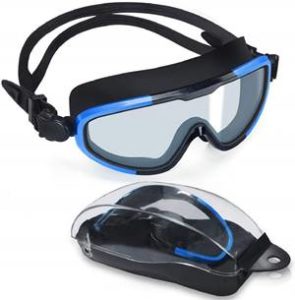 These larger swim goggles offer a greater line of sight while still keeping your eyes shielded from the sun thanks to their UV-resistant coating.
Key Features:
Easy-adjust strap
Silicon seals
Wide vision lenses
Cost: $16
Swim Goggles for Indoors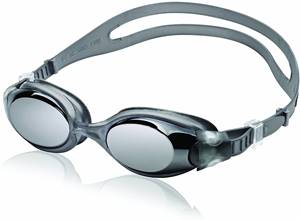 The mirrored lenses on these Speedo goggles are perfect for reflecting light that shines off indoor pool water.
Key Features:
Low-profile design
Non-slip strap
Made without latex
Cost: $16

Go for a little bit of a different look with these swim goggles and their eye-catching, multicolored anti-fog and mirrored lenses.
Key Features:
UV protection
Adjustable nose bridge
Slim design
Cost: $27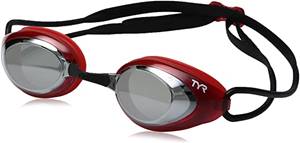 These attractive racing goggles are also perfect for indoor swimmers with their mirrored, anti-fog lenses.
Key Features:
Excellent for racing
Anti-fog
Comfortable silicone gasket
Cost: $12

Going for a unique swimming look? Try these TYR Swim Shades that replicate the look of stylish sunglasses while keeping your eyes safe in the water.
Key Features:
Easy to adjust
No-frame design
Ultra reflective mirrored lenses
Cost: $17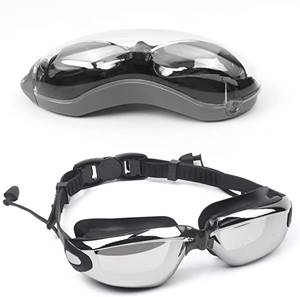 These goggles boast a unique design and anti-fogging, mirrored lenses to allow you to swim comfortably and safely.
Key Features:
Attached earplugs
Soft nose piece
Quick-release strap
Cost: $8
Swim Goggles for Racers
These mirrored swim goggles with anti-fogging lenses are an excellent choice for indoor competitive swimmers.
Key Features:
Several color options
Sleek, speed-focused design
Dual silicone strap
Cost: $43
Fluidix Competitive Swimming Goggles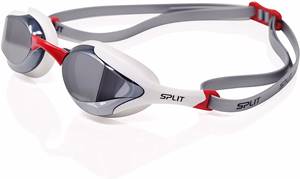 These wide-angle racing goggles give you a little extra sight to the side of you to see where your competition is at all times.
Key Features:
Interchangeable nose pieces
Low-profile design
Flexible inner gasket
Cost: $26
Proswims Racing Swimming Goggles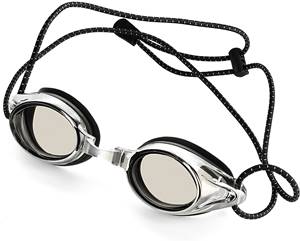 Keep your racing goggles adjusted to your head easily with this unique bungee strap that takes seconds to adjust and keeps the straps in place as you swim.
Key Features:
Adjustable bungee strap
Three interchangeable nose pieces
UV protection
Cost: $13
Resurge Sports Anti Fog Racing Swimming Goggles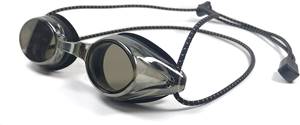 The mirrored lenses on these goggles can prevent glare from indoor pools from distracting you as you train and compete.
Key Features:
Anti-fogging
Bungee strap
Money-back guarantee
Cost: $18
TYR is a big name in racing goggles, and this unique pair will help you stand out – and get ahead – in the water.
Key Features:
Interchangeable nose pieces
Anti-fog
Dual-strap design
Cost: $13
Swim Goggles for Kids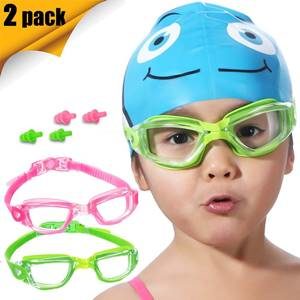 Get two goggles for kids at one low price with these cute and comfortable pairs by EverSport.
Key Features:
Various color options
UV-protected
Impact-resistant
Cost: $13
FINIS Frogglez Kids Swim Goggles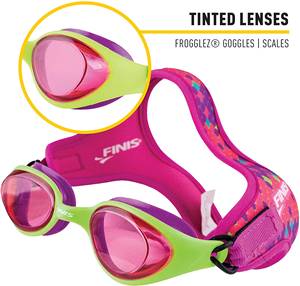 These goggles come with tinted lenses that can help your little one see better when swimming outdoors in the bright sun.
Key Features:
Head strap to keep goggles in place
Float in the water
Simple adjustment
Cost: $18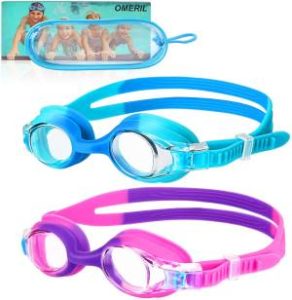 Your child can swim with these wide-view goggles that are simple to adjust, have an anti-fog coating, and include soft, comfortable silicone seals to keep water out.
Key Features:
Double silicone seal
Includes carrying case
Anti-scratch coating
Cost: $13
For little scuba divers, try this nose-covering mask from Speedo. This may be a good option for swimmers who are just learning to swim beneath the surface and have trouble keeping water out of their nose.
Key Features:
Broad view
Polycarbonate lenses
Adjustable straps with clips
Cost: $18
If your child prefers a lower profile design, these goggles from Speedo might do the trick. They have a thin, but effective, silicone gasket around the eyes.
Key Features:
Speed-Fit adjustment
UV protection
Several color options
Cost: $10