MCT oil is a common supplement used for boosting endurance during a workout. It can also be used for enhancing weight loss. MCT, which stands for medium-chain triglycerides, is a type of oil extracted from coconut oil, as well as palm oil. Some people following a ketogenic (also called keto) diet sometimes use MCT oil as a supplement, as it increases the development of ketones.
There are various types of MCT oil available, and it can be hard to choose just the right one. We have evaluated dozens of MCT oil products, including some MCT oil capsules and powders, MCT oil containing CBD or hemp, and organic MCT oil. We've reviewed them below so you can choose the one that is best for you. If you are looking for CBD products (without MCT oil), check out our article on how to choose a CBD oil.
Sports Research Premium MCT Oil made the very top of our list of the best MCT oils. This product is sourced only from non-GMO coconut oil; it does not contain any palm oil. It is also certified vegan, keto, and paleo friendly, so if you follow one of these diets, you'll be all set choosing this brand. This is the 32-ounce bottle, but it's also available in larger and smaller quantities to suit your budget and your needs.
[toc]
The 5 Top-Rated MCT Oils
*Ratings are from Amazon and might change over time.
Best MCT Oil Overall: Sports Research Premium MCT Oil
Our top pick goes to Sports Research Premium MCT Oil. Sourced from non-GMO coconut oil, this MCT oil works overtime to help you achieve ketosis and makes it easier to lose weight if you are on a ketogenic diet. This brand is Non-GMO Project verified in addition to the certifications of paleo, keto, and vegan friendly.
This MCT oil is odorless and tasteless, so you can add it to coffee, shakes, or other beverages without altering the taste. It is also gluten and dairy-free, making it appropriate for many people with food allergies and sensitivities. You can start by mixing one tablespoon of the oil into your coffee or shake. It's recommended that you take it with food, as it can cause stomach discomfort if taken on an empty stomach. (This is true of all MCT oils.) The maximum recommended dosage is three tablespoons per day, but you should work your way up to that gradually if desired. Taking too much at once if you are not used to it can increase the risk of stomach discomfort, bloating, and nausea.
Sports Research Premium MCT Oil Key Features:
32 ounces
Sourced from non-GMO coconuts
Good for keto, paleo, and vegan diets
Add to coffee or shakes
Dairy and gluten free
Best MCT Oil With CBD: CBD Tincture Oil 1000mg
Our favorite MCT oil with CBD is CBD Tincture Oil 1000mg. In addition to 1,000 mg of hemp oil, this bottle also contains 30 ml of MCT oil. The two oils work together: The fatty acids and aminos in the MCT oil help you to absorb the CBD oil more quickly and more fully. If you are taking the CBD to relax, to ease anxiety, or for other reasons, the MCT oil will help you get the most benefit.
This tincture is vegan and all-natural. The CBD is of moderate strength and best taken if you have tried a lower strength of CBD oil before. The CBD oil is 100% organic, and there are no filler ingredients; it's just CBD oil and MCT oil–nothing else! Even better, you can save 10 percent off of your order by using the code FXSAVINGS.
CBD Tincture Oil 1000 mg Key Features:
1 ounce
Contains 1,000 mg CBD oil
Vegan, cruelty-free
All-natural
MCT helps you absorb the CBD
Save 10% with code FXSAVINGS
Best Budget MCT Oil: Bulletproof Brain Octane MCT Oil
Bulletproof Brain Octane MCT Oil is at the top of our list of wallet-friendly MCT oils. This is a three-ounce bottle, so it's a great size for trying it out to see if it's right for you. This non-GMO formula is extracted only from coconut oil, not palm oil. It has a long list of benefits, from helping you lose weight, combating cravings, and even boosting your cognitive abilities. It also helps your digestive system to run smoothly and supports your immune system.
This brand goes through triple distillation to remove any impurities from the finished product. The process includes water, heat, and pressure to ensure that your MCT oil is as pure as possible. The result is quick ketone development, which provides your brain with energy right away. You will feel full and able to focus. You'll also be able to recover more quickly after a workout.
Bulletproof Brain Octane MCT Oil Key Features:
3 ounces
non-GMO
Extracted from coconut oil
Helps with weight loss and cognitive function
Triple-distilled for purity
Great for energy and focus
Best Organic MCT Oil: Viva Naturals Organic MCT Oil
For those looking for organic MCT oil, our top recommendation is Viva Naturals Organic MCT Oil. This is a great addition to your morning coffee. Just add one tablespoon and see how much better your energy levels are. It will help you stick to your keto diet, and it's also paleo diet certified. This MCT oil is extracted only from 100% organic coconut oil and comes in a 32-ounce bottle.
Some of the benefits of this organic MCT oil include better stamina, enhanced focus, and the increased ability to burn fat. Take it in the morning before your workout or before your workday. It works especially well if you are going no- or low-carb; mix it into your favorite protein shake, use it in place of olive or avocado oil in salad dressings, or add it to sauces to give them a boost. Keep in mind that this oil is virtually flavorless; you won't be getting a coconut flavor by adding it to your food or beverages.
Viva Naturals Organic MCT Oil Key Features:
32 ounces
Sourced from organic coconut oil
Good for ketogenic diets
Paleo diet certified
Increase your stamina and focus
Flavorless
Best MCT Oil Capsules: Zeal Naturals Pure MCT Oil Capsules
Zeal Naturals Pure MCT Oil Capsules are our favorite in this category. Some people prefer to swallow their MCT oil like a supplement, and these soft gels make that possible. This is a bottle of 360 soft gels, which is a 120-day supply, making it an economical way to ensure you have your MCT oil on hand for the next four months. The company recommends that you start with one soft gel at a time and gradually increase it to the maximum dosage as desired and tolerated, so you will actually have more than a four-month supply if you start off slowly.
These soft gels are made from unrefined, virgin coconut oil. They are easy to swallow, or you can drop them into your hot coffee, where they'll dissolve. They are great for fueling both your body and your brain, and they go along nicely with the ketogenic diet. These are a powerful source of ketones and can provide immediate fuel to your cells without you having to rely on carbs. Note that these do contain gelatin, so they are not vegan.
Zeal Natural Pure MCT Oil Capsules Key Features:
360 soft gels (120 servings)
Made from unrefined virgin coconut oil
Easy to swallow
Will dissolve in hot beverages
Great for keto diets
Not a vegan supplement
Who Should Buy MCT Oil
People who are on a ketogenic diet, either because they want to lose weight or because they have a condition such as epilepsy or Alzheimer's disease, might find that MCT oil helps their bodies create ketones. If you have a health condition, it is important to talk to your doctor before adding any supplements to your regimen.
Other people who can benefit from using MCT oil include athletes who are hoping to increase their stamina at the gym. MCT oil can act as fuel for your brain and body, keeping you focused, alert, and energetic through your entire workout.
Finally, if you are using CBD to enhance your concentration and focus, getting a product with MCT oil included can make it even more beneficial. You should try CBD and MCT oil separately so you know how your body reacts to each one, and then feel free to combine them in a product such as the ones listed in this review.
Important Features to Consider
When looking at various MCT oil products, it's easy to get overwhelmed by the variety available. Here are some important features to consider that will help you narrow down your choice.
Ingredients. If you are looking for an MCT oil that contains CBD, just check the ingredients list to be sure that the right amount is included. Also, if you have allergies, always check to be sure that nothing you are allergic to has been added.
Organic or non-organic. If living an organic lifestyle is important to you, consider looking for organic MCT oil. We have reviewed several in this article.
Formulation. MCT oil comes as an oil that you can add to your coffee, salad dressing, or any other liquid. You can also purchase it as capsules or powder if that works better for you.
Frequently Asked Questions
What is MCT oil good for?
Many people find that MCT oil helps them lose weight and perform better at the gym. There is also some evidence that it can help control blood sugar and also lower levels of LDL (bad) cholesterol. It is important to talk to your doctor before taking it so he or she can help you decide if the supplement is right for you.
Is MCT oil the same as coconut oil?
Coconut oil contains MCTs, but it also contains other compounds that are not present in MCTs, including lauric acid, unsaturated fats, and long-chain triglycerides (LCTs). The two substances have different strengths. For example, MCTs are great for weight loss and working out, while coconut oil is better for cooking and skincare.
When should I take MCT oil?
If you are using MCT oil for its weight loss benefits, try breaking your morning fast with it. You can mix it into coffee or add it to whatever else you are eating. If you are using it to enhance your workouts, try adding it to some food about an hour before hitting the gym. You should start with a small dose (one tablespoon) daily, then you can gradually increase it. The recommended upper limit is seven tablespoons daily, but you should only take that much if you have worked your way up to it in increments.
What are the side effects of MCT oil?
Most people don't experience side effects from using MCT oil. If you do, the side effects are likely to be stomach upset, diarrhea, bloating, and cramping. You might be more likely to have these effects if you take a lot; always start with a small dose to see how your body reacts. If you take MCT oil with CBD included, you might experience side effects from that ingredient. Those can include nausea, anxiety, dry mouth, dizziness, and changes in mood. Often, these will pass, but if they don't or if they bother you, be sure to check with your doctor.
Other MCT Oil Products We Reviewed
In addition to the oils that made our top 5 list, we also reviewed 20 other MCT oil products. While these weren't at the very top of our list, they are still great options to consider if you are hoping to lose weight, boost your gym performance, or reduce your cholesterol levels under your doctor's supervision.
MCT Oils With CBD
A great CBD tincture for beginners, this product contains 500mg of hemp oil and includes MCT oil to boost absorption.
Key Features:
1 ounce
Organic hemp oil
Save 10% with code FXSAVINGS
Cost: $35
Green Earth Botanicals Hemp Oil 1000mg
Control anxiety, nausea, insomnia, and more with this potent hemp oil. The MCT oil helps you absorb it and can also boost your mental focus.
Key Features:
1 ounce
Natural inflammatory
Peppermint flavor
Cost: $45
Green Garden Gold 750mg Med Pac
You can get this medium-potency CBD oil blended with MCT oil in several flavors. This one is orange, but there's also lemonade, berry, and chocolate mint.
Key Features:
1 ounce
Comes in various flavors
Save 15% with code GGG4U
Cost: $85
Organic Diet MCT Oil with Hemp
This is a 16-ounce bottle of MCT oil that also contains hemp oil for its stress-relieving properties. Add it to your coffee like any other MCT oil.
Key Features:
16 ounces
Reduces stress
Keto-friendly
Organic MCT Oils
Garden of Life Dr. Formulated Brain Health MCT Oil
This 100% organic MCT oil is great fuel for your body and brain. It's certified non-GMO, gluten-free, and vegan, so it's good for a variety of diets.
Key Features:
16 ounces
Contains 13g of MCTs
Hexane-free
Cost: $20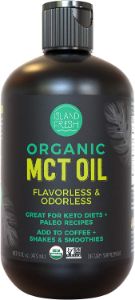 This creamy MCT oil is an excellent choice if you are looking for a product to put in your coffee that will boost your energy without ruining your keto diet.
Key Features:
16 ounces
Increases mental focus
Stir into coffee
Cost: $27
If you are looking for an organic MCT oil that comes in a glass bottle, this one is a good choice. It's certified organic, paleo and keto friendly, vegan, and Kosher.
Key Features:
32 ounces
Glass bottle
Great for many different diets
Cost: $35
This high-quality MCT oil is organic, gluten-free, and a great source of triglycerides. Stir it into your morning coffee for a low-carb lifestyle.
Key Features:
32 ounces
Flavorless and odorless
Great for improving focus
Cost: $35
Sports Research Organic MCT Oil
This MCT oil is derived from sustainable, organic coconuts using a patented heat process that does not employ the use of hexane.
Key Features:
32 ounces
Sourced only from coconuts
3rd party certifications
MCT Oil Powders and Capsules
This MCT oil powder contains collagen and prebiotic acacia fiber, which is good for gut health support. This brand is cinnamon-flavored.
Key Features:
1.1 pounds
Cinnamon flavored
Suppresses the appetite
Cost: $35
Mix this smooth powder into your coffee, tea, shakes, or baked good batter to help keep you fuller longer and to boost your level of ketones.
Key Features:
10.6 ounces
Mixes easily
Enhances mental function
Cost $35
Turn your morning coffee into a keto powerhouse by stirring in some of this powder, which can act as a delicious, diet-healthy creamer.
Key Features:
8.8 ounces (25 servings)
Contains acacia fiber
Unflavored
Cost: $30
These soft gel pills are easy to swallow and sourced from coconut. They're flavorless, odorless, and can be dropped into hot beverages if you prefer.
Key Features:
300 soft gels (100 servings)
From unrefined coconut
Boosts energy levels
Cost: $27
Micro Ingredients Organic MCT Oil Powder
This is a pound of MCT oil powder that's ready for you to spoon it into your coffee or other beverage. It's GMO-free and contains no fillers.
Key Features:
1 pound
Scoop included
Easy on the stomach
Cost: $30
NOW Sports Nutrition, MCT Oil Softgels
Meet your weight-loss goals with these diet-friendly MCT oil soft gels. They are absorbed and metabolized quickly to help you burn fat.
Key Features:
150 soft gels
Great for weight loss
GMP quality assured
Cost: $14
Sports Research Keto MCT Oil Capsules
Fuel up not only your body but also your brain with this two-month supply of soft gels. They'll help you stay in ketosis and come with a money-back guarantee.
Key Features:
240 soft gels
Gentle on the stomach
90-day guarantee
Other MCT Oils
Keto Science Ketogenic MCT Oil
This ketogenic MCT oil provides you with sustained energy and boosts your metabolism and brain function. It's colorless and unflavored.
Key Features:
15 ounces
Helps burn fat
Great in coffee and shakes
Cost: $13
This MCT oil comes in a convenient pump-top glass bottle for ease of use and environmental friendliness. It has no flavor, so it can be mixed into anything without altering the taste.
Key Features:
32 ounces
Comes in a glass bottle with a pump top
Unflavored
Cost: $35
If you use a lot of MCT oil or you're sharing it with your family, this gallon-sized container of coconut-sourced MCT oil will keep you in good supply.
Key Features:
1 gallon
Food-grade container
No flavor or odor
Cost: $60
Zenwise Natural Coconut MCT Oil
Derived only from coconuts, this MCT oil will promote healthy digestion, help you lose weight, and keep you motivated and moving at the gym.
Key Features:
32 ounces
Boosts energy
Blends easily with coffee
Cost: $25