Whether you want a massage table for personal or professional use, it's important to find one that fits your needs, your wants, and your budget. Massage tables come in a variety of sizes with a range of features, leaving you with several options to find the very best one to add to your home or business. And, your new massage table can be just what you need to look forward to after a long day of work or when you need just an extra bit of relaxation.
We've reviewed dozens of massage tables to help you identify the best of the bast. We looked at several features, such as comfort, adjustability, accessories, and overall convenience, to help us narrow down our choices into five top tables and 20 other honorable mentions.
In the end, we identified the EARTHLITE Premium Massage Table as our top choice. This table comes as a package that's portable and includes accessories to make every massage comfortable. There are also two different sizes and multiple color options to choose from to ensure that it fits into your decor.
[toc]
The 5 Top-Rated Massage Tables
*Ratings are from Amazon at the time of publication and can change
Best Massage Table Overall: EARTHLITE Premium Massage Table
One of the best, most well-rounded massage tables is the EARTHLITE Premium Massage Table, which is why we chose it for our top pick. This table is portable, allowing you to fold it up when you're not using it or need to travel with it. Still, it's surprisingly cozy when unfolded and set back up. The tabletop is made from durable, comfortable foam that cradles your body as you lay on it in whatever position you prefer.
We also love that this table doesn't act like some lower-budget portable tables that are prone to squeaking and swaying when someone's laying on it. This table by EARTHLITE has a unique joint and frame design that's reinforced with real wood and braces to ensure sturdiness and prevent squeaks when a client moves. And, the frame even comes with a lifetime warranty. With several color options, you can find the perfect table to fit your massage area.
EARTHLITE Premium Massage Table Key Features:
Adjustable face rest
Oil and water-resistant
Turns into carrying case when folded
800-lb capacity
Lifetime frame warranty
Best Portable Massage Table: SierraComfort Basic Portable Massage Table
Portable massage tables can be extremely convenient for the traveling masseuse – or even to save room in your massage area or home! The SierraComfort Basic Portable Massage Table is one of the best of its kind, offering both the convenience of simple portability and the strength you'd expect from a stationary table. The beech hardwood frame combined with multiple cables for additional support creates noticeable strength that can hold up to 400 pounds of working weight.
You can also adjust this table to your height preference with its nine points of adjustments in the legs. Your clients will also feel relaxed and comfortable on the tabletop's cushioned foam pad that's easy to clean after each use. Rounded corners ensure that there is no possibility of bumps, snags, or discomfort to your clients.
SierraComfort Basic Portable Massage Table Key Features:
Adjustable to 33.5 inches
3+ inches of padding
Extremely sturdy
Easy to fold down and assemble
Two-year limited warranty
Best Budget Massage Table: BestMassage Portable Massage Bed
It's not impossible to find a good massage table for under $100, and the BestMassage Portable Massage Bed is proof of that. This portable table has similar features to other top picks, including its lightweight structure, sturdy frame, adjustable height, and cushioned, durable padding. You'll also get an adjustable headrest that moves up and down and a resting area for hands to go to relax the arms while being massaged.
Even though this is a low-budget massage table, it can still hold up to 450 pounds, which is right in line with many pricier models on the market. Widened metal hinges, a reinforced frame, and solid wood legs ensure that the table, when set up, is sturdy, durable, and reliable to hold clients safely. Several customers also praise this table for being so easy to take down and set back up when they need is.
BestMassage Portable Massage Bed Key Features:
Comfortable padding
Easy to clean
Rounded corners
Adjustable table height
Wide hinges for easy folding and unfolding
Best Professional Massage Table: Saloniture Professional Portable Folding Massage Table
When you look for a portable massage table, you probably look for convenience, easiness of setup and take-down, and stability. The Saloniture Professional Portable Folding Massage Table has all these features and more. This table is designed to be incredibly easy to fold up after use, set back up when you need it, and carry along with you to its next destination. Not only does the bed fold into a carrying case, but Saloniture also includes a carrying case to protect the bed and store accessories for convenience.
When in use, the table has two inches of premium density foam for ultimate comfort. Plus, a sturdy base made of hardwood and reinforcement cables ensures that the bed remains strong and stable when someone lies on it. This table holds up to 450 pounds, yet is only about 27 pounds itself, making it a breeze to transport. 
Saloniture Professional Portable Folding Massage Table Key Features:
Several color options
Detachable head and armrests
3-inch face cushion
Chrome hardware
Non-slip feet
Best Warming Massage Table: Master Massage Therma Top Massage Table
For a more premium massage and spa experience, the Master Massage Therma Top Massage Table might do the trick. This professional table not only has an extremely comforting three-inch-thick foam padding with multi-layer construction, but it also has built-in warming pads for the ultimate spa-like massage. The warming Therma Top technology meets ETL/CETL-certification standards to ensure safety for you and clients.
This table is portable with a folding body and folding legs that are easy to deconstruct in just a few minutes. Steel support cables keep the table nice and sturdy while allowing it to hold up to 750 pounds. You can detach the adjustable headrest to store inside the convenient carrying case when you're not using the table. Six different color options lets you purchase the Therma Top table that works with your design.
Master Massage Therma Top Massage Table Key Features:
Ergonomic face cushion
Contoured armrest
Durable, abrasion-resistant upholstery
Easy-to-use warming controls
Adjustable height
Who Should Buy a Massage Table
Massage tables can certainly be an investment. However, if you plan to start a spa or massage business, you'll need a massage table that can withstand frequent use and offer reliable longevity to keep up with your customers. When you have the right table that meets the demands of your business, it can pay for itself quickly.
Some people also use massage tables in their homes for personal use. Those who suffer from tightness in their backs, necks, and shoulders, especially, can benefit from regular massages to loosen up the muscles. Massages with massage oils can also be stress-relieving. Your massage table can help turn an area of your home into a spa-like retreat after a rough day.
Important Features to Consider
Massage tables should have a few important features. Here's what to consider when selecting a massage table to bring the spa to your home:
Portability. Some massage tables are designed to fold up and carry with you, which is necessary if you travel to homes or businesses for massages. However, a stationary table might suit you better if you don't plan to transport your massage table. Stationary tables are often heavier but also more durable and hold more weight.
Lightweight. Again, traveling masseuses may need to consider a lightweight table to carry with them to each job. Most portable options are lightweight enough for you to carry easily in their included carrying cases.
Comfort. Comfort is key when getting or giving massages. A massage table should have a cushioned, cozy surface that keeps massage receivers comfortable in each position. Many also come with a pillow or a face cushion for added comfort while on their back or face-down.
Size. Some massage tables have adjustable legs and lengths to extend their heights and lengths to accommodate any massage customer and masseuse. Others also come with adjustable back and leg rests to allow the customer to move into a position that's most comfortable for them during their massage. Other tables have no adjustability, which may not be as convenient for you or customers.
Price. Your budget is a major consideration when choosing your massage table. Massage tables are available in a wide range of prices, from under $100 to $1,000 or more. It's important to consider the features you really need versus those that are nice to have to determine what massage table you should spend your money on.
Frequently Asked Questions
What is the best massage table?
The best massage table for you will ultimately depend on the features you need and want the most. If you plan to travel with your massage table, a portable one is probably your best option. But you should also consider its adjustability, comfort, included accessories, price range, and additional features to determine what massage table will suit you best.
How do I choose a massage table?
There are certainly a lot of massage table types on the market, making it challenging for some to choose just the right one. First, think about the table size. It should be wide enough and durable enough to accommodate those who will be using it, while also sitting at a height that's comfortable for you if you'll be the one giving massages. You'll also want to consider features like portability, storage, and comfort. It's always a good idea to read customer reviews of any massage table you're considering purchasing to get an idea of the pros and cons of the table.
How much does a massage table cost?
Massage table prices can range significantly, from under $100 to well over $1,000. Those on the lower end of the price range are often best for casual massage use, while the upper price range models target professional masseuses who use their tables multiple times per day. The good news is that you can usually find a massage table that works within your budget if you're careful about comparing features and prices.
What can I use instead of a massage table?
Although you can use other furniture, like a soft or bed, or body pillows in its place, a massage table is the best option. These tables are made specifically to prove comfort and convenience to those getting and giving massages. Plus, a massage table can also make you look much more professional in your masseuse practice than alternative options.
Other Massage Tables We Reviewed
We looked at 20 other massage tables. Even though they didn't make our 5 best massage tables list, they're the best of the rest and each is still a great option for your spa routine. The information you'll need to compare each one is included with the listing.
Adjustable Massage Tables
BELLAVIE Massage and Facial Bed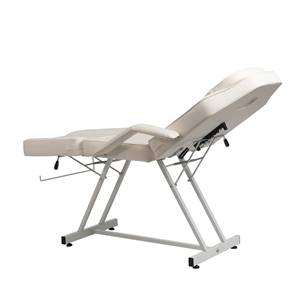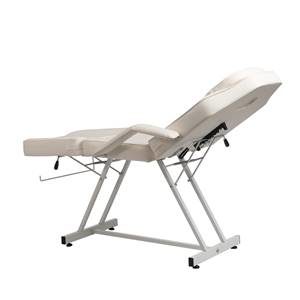 The back and legs of this bed adjust to meet the needs of any massage client. Removable arm and headrests make it even more customizable.
Key Features:
Leather
Two color options
375-pound capacity
Cost: $170
BestMassage Adjustable Aluminum Spa Table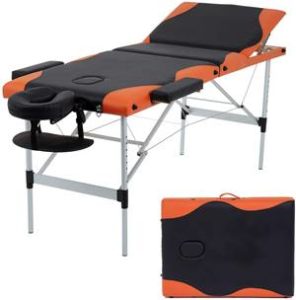 The leg and headrest on this massage table are adjustable in a few different positions. You can also make the table higher or lower to keep you in a comfy position while giving massages. 
Key Features:
Aluminum legs
Easy to clean material
Lightweight
Cost: $95
BestMassage Foam Adjustable Massage Table
This plush foam table looks like a stationary one, but it actually folds to carry with you wherever you go. You can also adjust its height, headrest, and footrest.
Key Features:
Portable
Waterproof
Height adjusts to 34″
Cost: $170
Mefeir Adjustable Massage Table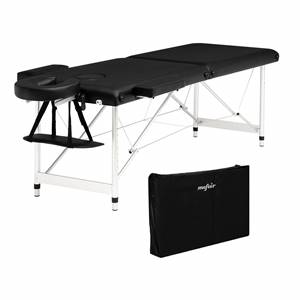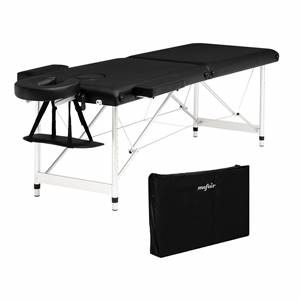 Both the face cradle and the legs on this table are adjustable, so both you and your massage clients can stay comfortable.
Key Features:
500-lb capacity
Lightweight to carry
Includes carrying case
Cost: $85
SierraComfort Adjustable 4-Section Massage Table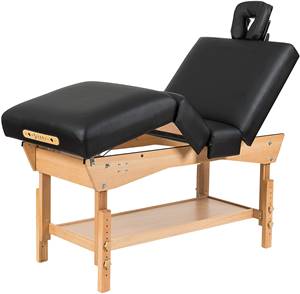 For full adjustability, try this massage table that moves in four spots to get just the right position for every client and every massage.
Key Features:
Leather
500-lb capacity
Pneumatic gas lift assist
Cost: $495
Massage Tables with Face Cushions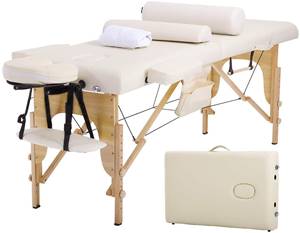 This massage table has accessories galore, including an adjustable face cradle, a hand pallet, and a storage pouch that hangs from the side of the bed.
Key Features:
Easy to set up
Foldable
Premium foam padding
Cost: $110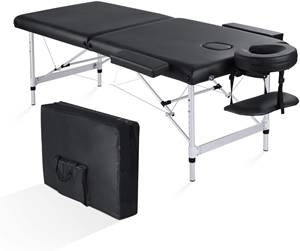 This affordable massage table option is lightweight and super portable. Set it up in minutes and adjust the face cradle to meet the comfort needs of your client.
Key Features:
Lightweight
Easy to clean
Extra-wide
Cost: $95
MT Midas-Tilt Portable Massage Table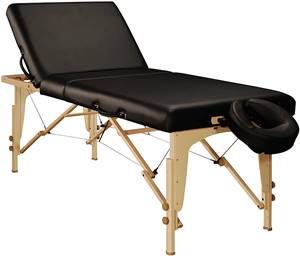 The face cushion on this table adjusts up or down to keep your client comfortable in any position they prefer.
Key Features:
AutoLock hinges for sturdiness
Adjustable backrest
Dense, durable foam
Cost: $270
Saloniture Professional Portable Massage Table with Backrest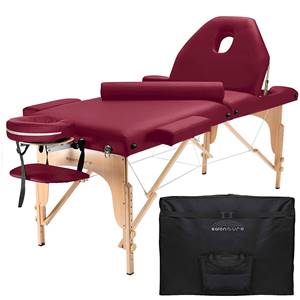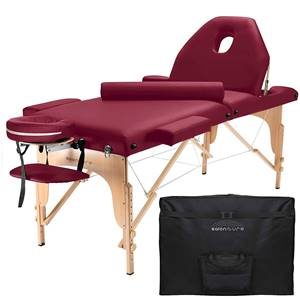 Massage clients will be able to relax for any massage with this table's cozy face cradle, hand rest, armrests, and adjustable backrest.
Key Features:
Oil and waterproof
2 1/2-inch memory foam
Holds up to 450 pounds
Cost: $145
This accessorized table comes with everything you need for relaxing massages, including a face-cradling cushion that you can remove easily when it's not needed.
Key Features:
Storage pouch
Hand rest
Reinforced wood frame
Cost: $115
Portable Massage Tables
Artechworks Folding Portable Table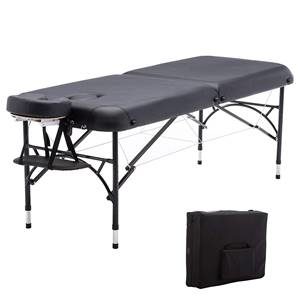 This portable table has a layer of thick memory foam that makes it incredibly comfortable to lay on while still being surprisingly compact when folded.
Key Features:
Excellent stability
Face cradle and hand rest included
Two width options
Cost: $155
BestComfort Portable Massage Table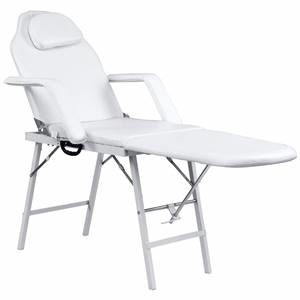 You can fold this BestComfort massage table in two places to adjust it to each client's needs. Or, fold the whole table down when you need to bring it along with you or save space.
Key Features:
PVC leather
Removable armrests
Maximum weight of 490 pounds
Cost: $160
Master Massage Santana Portable Massage Table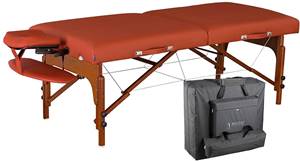 This massage table comes in both a standard and Therma Top version, both of which are portable and easy to fold up or set up.
Key Features:
Holds up to 1500 pounds
3-inch cushion layer
Includes carrying case with storage
Cost: $275
STRONGLITE Portable Massage Table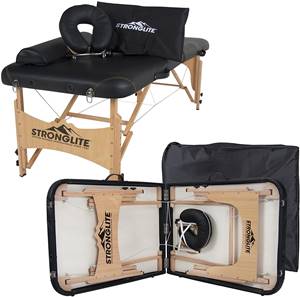 Fold up this table in a matter of minutes to have it ready to travel with you. A durable carrying case lets you fit everything you need for massages conveniently inside.
Key Features:
Nylon carrying case
5-year frame warranty
35-pounds carrying weight
Cost: $210
Yaheetech Portable Massage Bed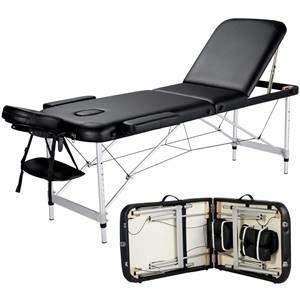 All accessories on this table – the face cushion, armrests, and arm sling – come off quickly and tuck away inside the folding bed to keep everything organized when on the go.
Key Features:
Maximum load weight of about 550 pounds
Adjustable height
Removable accessories
Cost: $100
Stationary Massage Tables
BestMassage Stationary Spa Bed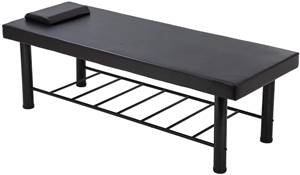 If you're going for a clean, streamlined modern look for your spa area, this stationary massage table might do the trick.
Key Features:
PU leather
4-inch tabletop
Easy assembly
Cost: $230
EARTHLITE Stationary Massage Table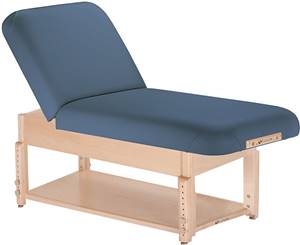 This stationary massage bed comes in several types to suit your needs, including a pneumatic folding top, a flat top, and a manual tilt top with cabinets underneath. 
Key Features:
Holds up to 4,000 pounds
Adjustable heights
Lifetime table warranty
Cost: $1050
Health Line Massage Products Massage Table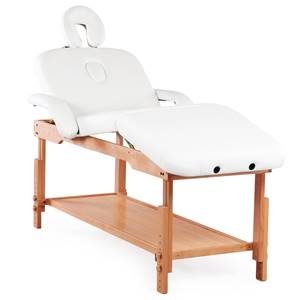 This beautiful massage table has "spa" written all over it, from its wood frame to its calming white tabletop that adjusts for comfort.
Key Features:
Several backrest angles
Non-slip feet
Under-table shelf
Cost: $480
Master Massage Laguna Stationary Massage Table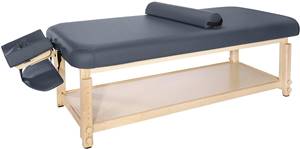 This Master Massage table uses a multi-layer small cell foam to cradle massage clients around every curve.
Key Features:
1,000-pound working weight
Includes disposable face covers
Sealed wooden frame
Cost: $600
MT Harvey Stationary Massage Table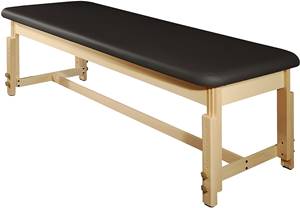 Stick to the basics with this tabletop massage table with adjusting heights to cater to the comfort of the masseuse. The massage receiver can benefit from a comfortable, easy-to-clean, dense foam tabletop.
Key Features:
Oil and water-resistant
Beechwood frame
Up to 1,000 pounds of working weight
Cost: $400