Whenever you're hiking and on the move, hydration packs can help you grab a sip of water without needing to slow down. Plus, most hydration packs strap straight onto your back so you don't need to fumble around with a water bottle.
We reviewed dozens of hydration packs to identify the best of the best. We considered each product's capacity, fit, size, warrant, comfort, weight, and customer reviews.
In the end, the REINOS Hydration Backpack rose to the top of our list as the best hydration pack for most buyers. It comes in multiple different colors and is suitable for both genders. It is insulated with a decent water capacity while remaining lightweight. It is FDA approved and BPA-free. The unique padded shape allows airflow between the pack and your back, keeping you cool. Plus, it comes with a 100% money-back guarantee.
The 5 Top-Rated Hydration Packs
[table "136" not found /]
Best Hydration Pack Overall: REINOS Hydration Backpack
The REINOS Hydration Backpack is easily one of the best hydration packs you can purchase. It holds two liters of water – enough for most hiking trips without getting too heavy. It is entirely BPA-free and FDA-approved, so you can rest assured that it is safe to use. It comes in multiple different colors and is decently stylish. On top of holding plenty of water, it also has two storage compartments for smaller items like your phone, snacks, and towels. The bladder pocket itself is insulated to keep your water cold. Furthermore, the bag also comes with a dust cover and quick-release, leakproof bladder connector, both of which work quite well.
Both the chest strap and shoulder strap are adjustable and can fit a large variety of sizes. The company guarantees that the pack will fit without bouncing around while you run. They offer a 100% money-back guarantee for 90-days. If you aren't happy with the pack after this period, you can return the pack with no questions asked.
Overall, the pack is very lightweight and durable. The total weight for the bag without anything in it is only 13-ounces. Furthermore, it is completely waterproof and made of an extra-durable material that is designed to last for years to come.
REINOS Hydration Back Pack Key Features:
BPA-free
Adjustable straps
Weighs only 13 ounces
100% money-back guarantee
Best Hydration Pack for Running: MIRACOL Hydration Backpack
Unlike my hydration packs, the MIRACOL Hydration Backpack is designed for running. It is incredibly lightweight so that it won't slow down your run. It is designed to sit very slimly against your back, preventing it from creating any wind resistance. Because of this, it is also very suitable for cycling, where your back is often exposed to the wind. The shoulder and chest straps are adjustable, allowing it to fit most people comfortably. The straps allow almost complete control of how the pack sits, so you can adjust it for your preference and prevent the pack from moving up and down as you run. The straps are easy to adjust according to most customers.
A unique airflow system prevents sweat from building up underneath the pack and helps you cool down. A 2-liter hydration bladder is included with the bag. It is BPA-free and does not transfer a taste to the water. A small front pocket on the bag can hold everyday items like your wallet, keys, and phone. If you have any complaints about the product, the company will refund you or send you a new product per their warranty policy.
MIRACOl Hydration Backpack Key Features:
2-liter capacity
Airflow system
Adjustable straps
BPA-free
Best Budget Hydration Pack: Vibrelli Hydration Pack
For those on the hunt for a cheaper option, the Vibrelli Hydration Pack is a good option. It comes in multiple color options and is gender-neutral. It looks very professional when compared to some other backpacks, as well. It features an easy-twist mouthpiece that doesn't leak. The water flows very quickly when the mouthpiece is activated, but it won't drip on your shoulder while you're running. Because it doesn't drip, it is perfect for hiking and cycling, where the bag tends to get knocked around a lot.
The bag does not transfer a taste to the water. It is made from medical-grade materials and is free of BPA and PVC. There are also multiple storage pockets included in the bag, allowing you to carry a few smaller items with you. Despite this, the bag is not bulky and weighs just 14 ounces by itself. The straps are adjustable, and it is designed to fit most people. The bag also comes with a 5-year manufacturer's warranty.
The only downsides of this pack are that the waist strap is very short, which can limit the people who can wear it. Furthermore, the straps are narrow and thin, which raises durability questions. However, this pack is covered by a warranty, so you won't be out much if it does break.
Vibrelli Hydration Pack Key Features:
BPA and PVC-free
14-ounces
5-year warranty
Lightweight
Best Kid's Hydration Pack: CamelBak Mini Kids Hydration Backpack
Children will often need a smaller backpack just because of their smaller size. They also don't need as much water because of their smaller weight. If you're looking for a bag for your child, we recommend the CamelBak Mini Kids Hydration Backpack. The pack comes in multiple colors and designs, so your child will likely be able to find something they like. It carries 1.5 liters of water – more than enough for most children. It is incredibly lightweight and comes with a few extra storage pockets for small items. Reflective accents increase visibility in dim conditions.
The on/off switch system is straightforward to use, and an ergonomic handle makes refilling very easy, even for children. The Crux reservoir delivers 20% more water with each sip, and the mouthpiece is designed for preventing leaking. The back is made with a breathable mesh to help the user stay cool, and there is a stretch pocket that is perfect for stashing a poncho or extra layer.
The pack is designed with most of the features standard in adult packs. Only everything is mini-sized for children. If your kids want an adult-like bag, this one is the best option currently on the market.
CamelBak Mini Kids Hydration Backpack Key Features:
Multiple colors available
Holds 1.5-liters of water
Kid-friendly on/off lever
Comfortable
Best Hydration Waist Pack: Osprey Packs Seral Lumbar Hydration Pack
If you can't wear a hydration backpack for whatever reasons, a waist pack might be useful. These aren't as popular as the hydration backpacks, but they are equally as helpful during a run or a hike. We looked at a few different waist hydration packs, and the Osprey Packs Seral Lumbar Hydration Pack stood out as the best. It is a bit more expensive than some other options, but you are getting your money's worth.
It comes with a 1.5-liter reservoir and a magnetic hip valve attachment. Unlike some waist hydration packs, it has an actual mouthpiece and tube, so you can drink without stopping or messing with a flask. It comes in a few different colors and patterns. Each pattern is unisex, so there is something for everyone available. The main zippered compartment is also large enough to hold a few other small items. There are also two zippered hip pockets for more small items, like money and your keys.
The only significant complaint about this pack is that the magnet is not as strong as it could be, which causes the tubbing to come loose. This is only a minor annoyance, but it is a design flaw many of the customer reviews mentioned.
Osprey Packs Seral Lumbar Hydration Pack Key Features:
Multiple patterns available
5-liter reservoir included
Dual-zippered hip pockets
Magnetic bite valve attachment
Who Should Buy a Hydration Pack
Hydration packs are designed to let you take a quick sip of water without slowing down or messing with a water bottle. While most people might be fine throwing a water bottle in a backpack, those who don't have the liberty of stopping every time they want a drink will need a hydration pack. This includes hikers, runners, and cyclists. Those in competitions and on time-crunches will benefit the most from a hydration pack. However, even those who just don't want to slow down can benefit from one of these systems.
Another big perk of a hydration pack is its space-saving nature. Hydration packs don't take up extra room in your backpack. Instead, they often come with straps and are wearable independently. Because of this, you have more room in your backpack to put items you might need. They're also more lightweight since they hold more than the average water bottle but are made of very light material.
If you want a hydration pack in order to up your cycling efficiency, then you may also consider The Best Bike And Cycling Computers. If you decide against a hydration pack, then you should still check out The Best Water Bottles.
Important Features to Consider
A hydration pack should do several things well. Here's what to consider when selecting a hydration pack:
Size. The bigger the pack, the more water it will be able to hold. How much water you'll need will differ depending on what you're doing. A cyclist who is gone for a few hours at a time will need less water than a hiker who is often on the trail all day. Of course, you can fill up your pack with less water to keep weight down if you're only going somewhere for a few hours. However, you cannot fill a pack past its limit. Because of this, bigger is often better.
Weight. Weight is significant. If a pack is hefty, it is only going to slow you down and can fatigue your shoulders and back faster. Luckily, most packs are pretty lightweight, and many weigh only a few ounces by themselves. Double-check the weight on anything you purchase, though, to ensure you aren't getting something ridiculously heavy.
Durability. Your pack is likely going to be put through a lot. Whether you're hiking, running, or cycling, there are plenty of bumps and snags each hydration pack is going to experience. They must be durable enough to survive an active lifestyle. Otherwise, you could end up with a busted bag and soaking wet clothes.
Ease of use. The point of a hydration pack is so that you can easily take a sip of water without stopping. If the bag is difficult to use, it isn't doing its job.
Cleaning. You will need to clean your hydration pack at some point. In some cases, this is extremely easy to do. However, some packs made it very difficult and were not designed with cleaning in mind. Look for packs that have removable bladders, as they tend to be easier to clean.
Extra storage. Many packs included extra storage pockets for small items. Some people will find these pockets very helpful, while others won't care much about them. It depends on your situation and personal preferences.
Fit. If a pack doesn't fit correctly, it will jump up and down, potentially breaking and messing with your balance. In some cases, it can even rub and create sores. Choose a back with adjustable straps so you can perfect the fit.
Frequently Asked Questions
What is a hydration pack, and how does it work?
A hydration pack is a bag with a clear bladder inside. This bladder is filled with water and connected to a tub, which has a mouthpiece on the end. When the mouthpiece is "opened" or sucked on, the water goes through the rub and into the user's mouth. Typically, these hydration packs are carried on the back or on the hips. This allows it to be close by when the user needs a sip of water.
Can you put ice in a hydration pack?
It depends on the pack and how big the opening it. Most do have a large enough hole for you to insert ice cubes into the pack, but this isn't true in all cases. Of course, the size of your ice cubes also matters.
Many people will fill their hydration pack up half the day before they use it and put it in the freezer. Then, when they're ready to head out the door, they'll remove the frozen hydration pack from the freezer and fill the rest with water. This ice will melt even slower than ice cubes because less surface area will be exposed to the warmer air and water.
Can you put Gatorade in a hydration pack?
Yes. Any liquid can go in a hydration pack. However, keep in mind that Gatorade is very sugary, which will make mold and bacteria grow faster inside the tubing and mouthpiece than usual. If you put Gatorade in your hydration pack, make sure to give it a good cleaning.
Can you put a hydration pack in a regular backpack?
Yes, but it might not be a good idea. Most hydration packs are designed to be worn alongside a regular backpack. If you put it inside your regular backpack instead, you may run into problems with leakage and tubing management. Most backpacks are not going to have an easy way to run the tubbing or a waterproof container for the hydration pack.
Other Hydration Packs We Reviewed
We looked at 20 other hydration packs as well. Even though they didn't make our five best hydration packs list, they're the best of the rest, and each is still a great option. The information you'll need to compare each one is included with the listing.
Hydration Packs for Running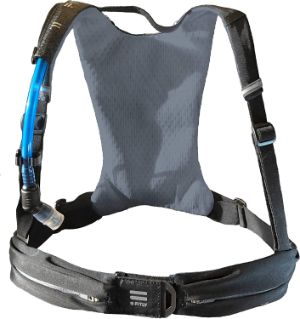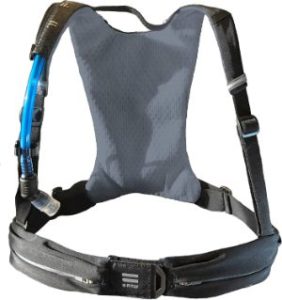 This running pack is minimal and minimalistic, which is excellent for those who don't like the bulk of other packs. It is light and made to fit snuggly, preventing snags, and bouncing.
Key Features:
100% anti-sway
Magnetic closure
Water-resistant
Cost: $59-$79
Hydrosleeve Hydration Pack for Runners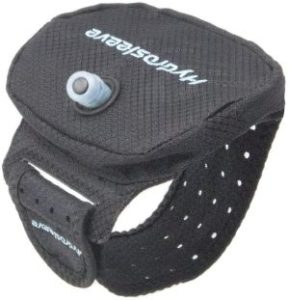 This unique hydration pack is designed to clasp onto your arm, providing easy access to water while you're on the more. It is free of both BPAs and PVC.
Key Features:
Many colors available
Insulated
Holds 7.5-ounces
Cost: $39
Mubasel Gear Hydration Backpack with 2-liter bladder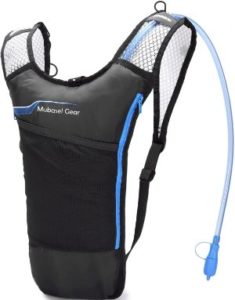 Featuring a 2-liter bladder and large storage compartment, this hydration pack is best for longer runs. It is FDA-approved and 100% leakproof.
Key Features:
Many colors available
Can hold 132 pounds
Large enough to add ice cubes
Cost: $25
Like most packs, this one by Nathan holds 2-liters of water. It features a patented 3-way harness and distributes the weight of the water efficiently without bouncing.
Key Features:
2-liters of water
Breathable
Lightweight
Cost: $75
Nathan QuickStart Hydration Pack Running Vest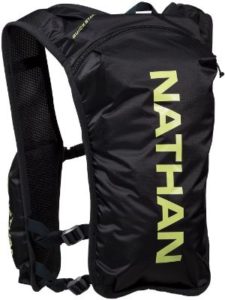 With a capacity of 1.5-liters, this pack is somewhat smaller than other options. However, it is perfect for a quick run and suitable for both men and women.
Key Features:
Lightweight
One size fits most
Two front storage pockets
Cost: $69
Hydration Packs for Hiking
CamelBak Arete 18 Hydration Backpack for Hiking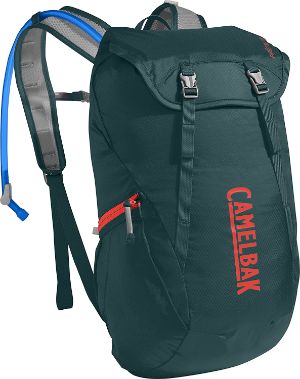 This CamelBak is specifically designed for hiking. It is lightweight and comes with a 1.5-liter capacity. Many of the straps are adjustable to help you achieve the perfect fit.
Key Features:
Many colors available
Lightweight
20% more water per sip
Cost: $42
CamelBak HydroBak Hydration Pack
This lightweight hydration pack is suitable for cycling or hiking. It comes with a 1.5-liter water capacity and delivers 20% more water per sip.
Key Features:
Multiple colors available
Lightweight
Ventilated mesh
Cost: $50
KBNI Hydration Backpack with 2-liter Water Bladder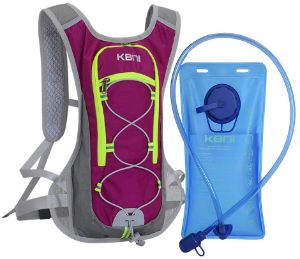 For a simplistic backpack, this is a good option. It has a 2-liter hydration bladder that is easy to clean and large enough for ice cubes. The airflow system keeps you cool while you're wearing it.
Key Features:
Many colors available
Large, 2-liter volume
FDA-approved
Cost: $29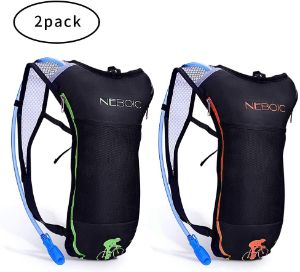 This pack comes with two different hydration packs, which is perfect for those who are always on the go. You can use one while your other one is being cleaned or share with a spouse or workout partner.
Key Features:
2-liter capacity
Three storage pockets
Quick-disconnect tubing
Cost: $37
Teton Sports Oasis 1100 Hydration Pack
Because of its large opening, this pack can be loaded with ice and is very easy to clean. It can hold a total of 2-liters and has various pouches for small belongings.
Key Features:
Bungee string system
Kink-free tubing
Lightweight
Cost: $47
Hydration Waist Packs
Dakine Hot Laps 5-liter Waist Bag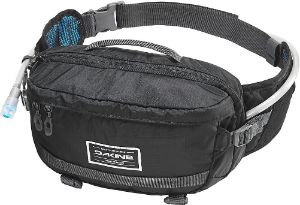 Because it is made of ripstop nylon, this pack is very durable. It has a magnetic buckle to keep the hydration hose in place and can hold 2-liters of water at a time.
Key Features:
Limited lifetime warranty
Polyester
2-liter water capacity
Cost: $75
Nathan Peak Hydration Waist Pack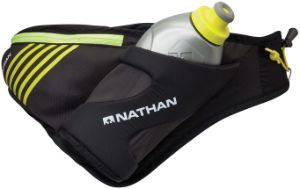 This hydration waist pack is designed to be used alongside a water bottle. The bottle holder is insulated and angled to allow for easy access and storage.
Key Features:
Easy-to-release belt
Extended side panels
Minimalist
Cost: $30
Nathan NS4523 Swift Plus Hydration Pack

This pack is hugely minimalist and includes a 10-ounce flask for water as well as a small pocket for your personal belongings. It is bounce-free and very adjustable to ensure a correct fit.
Key Features:
Two colors available
Flask included
Bounce-free
Cost: $25
This simple running belt can hold a 27-ounce water bottle for you to use while you're running. It is angled to provide quick and easy access and has an extra pocket for your phone.
Key Features:
Multiple colors available
Reflective design
Very adjustable
Cost: $18
Waterfly Fanny Pack with Water Bottle Holder
This fanny pack comes with room for two different water bottles. There are many different colors available, and the pack included quality, breathable pads.
Key Features:
Multi-functional
Reflective design
Ventilation
Cost: $23
Kids Hydration Packs
CamelBak 2018 Kid's Scout Hydration Pack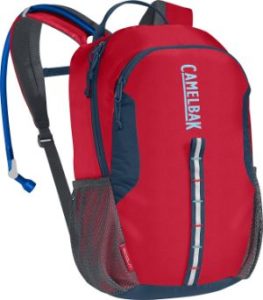 For most children, this scouter's backpack is a great option. It is easy to take on and off, features a breathable mesh back panel, and comes with transparent external pockets.
Key Features:
Many patterns available
20% more water per sip
Safety whistle included
Cost: $60
CamelBak Women's L.U.X.E Hydration Pack
This pack is most suitable for older children. It is technically designed for women but can work for older children as well. It features a stabilizing hip belt to prevent bouncing and compression straps.
Key Features:
Three colors available
Delivers 20% more water per sip
Airfoil back panel
Cost: $75
Osprey Moki 1.5 Kid's Hydration Backpack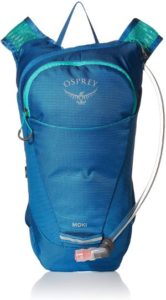 For hotter climates, this pack is an excellent option for children. It comes with a 1.5-liter reservoir and features quick zipper access. There is also a front pocket for quickly storing layers.
Key Features:
Blue and red colors available
5-liter capacity
Blinker light attachment for safety
Cost: $41
This pack comes in three different colors. It is designed for adults but will work for older children as well. It can hold 1.5-liters of water and comes with a blinker light attachment.
Key Features:
5-liter capacity
Dual-upper side compression straps
Blinker light attachment
Cost: $75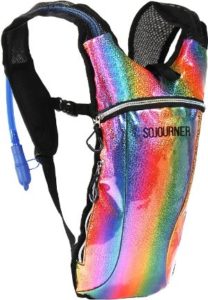 For kids who love to personalize their stuff, this pack comes in countless unique colors. It is extremely light and can fit most children and even some adults.
Key Features:
Brightly colored options
Very adjustable
2-liter capacity
Cost: $26