Purchasing an exercise bike for your home is an excellent way to get your lifestyle back into shape, as well as you, yourself. Rather than paying the often outrageous monthly fees of a gym, in addition to taking the time out of your schedule to travel to and from the gym, a one-time purchase of an exercise bike can save you big in the long run. The convenience of having your favorite type of workout machine right in the comfort of your own home will take away nearly all the excuses you keep giving yourself and get you in shape much faster.
We reviewed dozens of exercise bikes to identify the best of the best. We looked at the upright bikes that will keep you pushing yourself, and the bikes that are ideal for recovering from an injury. We found the bikes with a wide range of resistances, and those that you can pop under your desk to work while you work. No matter what type of exercise bike you want, you can find your best bet here.
If you're interested in more options for when you just can't seem to get away from your desk, you may want to consider The Best Under Desk Ellipticals. To jump start the possibility of staying in shape during those busy work days, check out How To Burn More Calories While Sitting: 10 Best Ways To Burn Calories.
The obvious choice for best overall exercise bike has to be the Marcy Recumbent Exercise Bike. With an ultra comfortable seat and adjustable resistance,  you're guaranteed to get just the type of workout you need to leave you feeling just how you want.
[toc]
The 5 Top-Rated Exercise Bikes
*Ratings are from Amazon at the time of publication and can change
Best Overall Exercise Bike: Marcy Recumbent Exercise Bike
The Marcy Recumbent Exercise Bike is a durable bike that is designed with 14-gauge, powder coated steel. The pedals are counter balanced, offering you maximum foot support to ensure your safety and prevent foot slips. The display will act as an odometer, tracking your progress each workout; time, speed, distance and estimates calories burned are all shown to keep you motivated.
The 8-levels of resistance is completely controlled by you and it means you'll be able to use this machine, even as you progress in your fitness level. And because the resistance is magnetic, you'll have a smoother, more consistent stride, making your work more efficient and less wasted or un-tracked energy.
You'll be hard pressed to find something to complain about with this recumbent bike. Over 3,500 customer reviews on Amazon have awarded it an overall rating of 4.3 stars – no easy feat for anything on Amazon, but particularly not for an exercise bike.
Marcy Recumbent Exercise Bike Key Features:
Seat made with high density foam
8 levels of resistance
LCD display screen
Best Folding Exercise Bike: ProGear 225 Folding Magnetic Upright Exercise Bike
The ProGear 225 Folding Magnetic Upright Exercise Bike is ideal for those who need more compact exercise equipment. It folds together to fit into small spaces when not in use and even when you are using it, the footprint is still rather small, comparatively.
Between the ergonomic seat, the foam padded handlebars and the straps over the pedals to keep your feet securely in place, you should have no comfort complaints while you're using this folding bike. The LCD screen will display your speed, distance, time, calories, odometer and even your pulse – so you'll never need to wonder just how fast you're going or how hard you're really pushing yourself; it will all be right there for you at the touch of a button.
This is one folding bike you won't want to overlook. With nearly 350 customer reviews and an overall rating of 4.5 stars on Amazon, there's enough positive support for this bike that you shouldn't have to question your purchase.
ProGear 225 Folding Magnetic Upright Exercise Bike Key Features:
Ergonomic seat cushion
220 lb weight capacity
8 magnetic resistance levels
Best Budget Exercise Bike: Sunny Health & Fitness Magnetic Mini Exercise Bike
The Sunny Health & Fitness Magnetic Mini Exercise Bike is a perfect compact bike that will allow you to get your pedaling in with the comfort of whatever seat you choose. You can store it practically anywhere, and when you pull it out, it won't be in the way at all; you'll have nearly the same footprint to your floor as you would if you stretched your legs out, too.
This is such a compact exercise bike, you'll love to keep it at your desk or in your living room to use while you're working or watching TV. With this bike, you'll absolutely be able to increase your endurance and overall fitness, without too much change to your every day routine – if any at all! You can still do all the same things, but now you can get fit while you do so.
Nearly 1,200 customers have come back on Amazon to reviews this bike and have awarded it an overall rating of 4.5 stars. The best part of the bike though, has to be the cost; you can get this bike for under $100! – A total steal.
Sunny Health & Fitness Magnetic Mini Exercise Bike Key Features:
Adjustable safety straps
8-levels adjustable tension
LCD screen display
Best Mini Exercise Bike: Exerpeutic Motorized Mini Exercise Bike
The Exerpeutic Motorized Mini Exercise Bike has so many features, this one tiny machine can give you one massive workout. It will help you promote blood circulation, improve your balance and, of course, strengthen your muscles. As you progress in your capability and endurance you can increase the motors speed to help recover from an injury or to get your body into fighting fit shape.
You can easily take it with you with the carrying handle, so you can use this wherever it's convenient. This mini bike will do more than just let you work passively while you're going about your regular schedule (though it will let you do that, too). You can use this bike with your legs, placing each foot in a securely strapped  pedal, or use those same pedals as handles to get a good arm workout, too.
There are right around 750 customer reviews on Amazon for this mini exercise bike; combine this with the overall rating of 4.1 stars and those numbers are definitely enough to give you confidence in your judgement, picking up this bike.
Exerpeutic Motorized Mini Exercise Bike Key Features:
Adjustable speed motor
Multi-function LCD display
1-year warranty
Best Spin Bike: YOSUDA Indoor Cycling Bike Stationary
The YOSUDA Indoor Cycling Bike Stationary is an ideal bike to use for your at-home spinning. After you've decided spinning is for you, you may find your ability to attend a class is limited. Purchasing a bike for your home will allow you to complete your workout in your own time based entirely on what's convenient for you without any of the extra membership fees. You can check videos for ideas on a routine or just go with what feels good in the moment. The tablet mount will help you watch the just-right video you find, too.
The brakes on this exercise bike are covered to make sure no little fingers can get hurt while you're working out; and if you're working out during nap time, you may find this is a huge help to keep working out if your child wakes up before you expect.
This spin bike will let you push your bike as hard as you do yourself, and just like you, it won't give up, either. It's absolutely designed to take the beating of a hard workout and the reviews on Amazon indicate it does it well. Well over 600 customer reviews have earned this spin bike an overall rating of 4.3 stars.
YOSUDA Indoor Cycling Bike Stationary Key Features:
Rust-proof, powder-coated steel frame
LCD display screen tracks time, speed, distance, calories, and more
Adjustable seat and handlebar heights
Who Should Buy an Exercise Bike
If you're looking to loose weight and you want to find a cardio machine that will help you on your journey, an exercise bike can help. It's a particularly appealing method, too, if you have a good leg strength. If your legs will withstand the rigorous training an exercise bike, you won't have to push quite as hard to work up a sweat. Strong legs will happen, whether you're a natural or not, though, so if that's what you want, the exercise bike will go a long way towards that, as well. For those recovering from an injury on their knee or leg, the right bike may be able to speed that recovery right along and having one in your home can minimize the physical therapy time, as well.
Whether your legs are your target area or not, the regular use of an exercise bike can give your entire body a big workout. You'll have your choice of bikes that will give you different areas affected, an upright bike for spinning and a stronger workout for your core, a recumbent bike in case you want to focus on your legs, or a mini bike under your desk or at your favorite chair will make sure you lead a more healthy lifestyle. And while that won't keep you from the extra donuts, the effort you make on your bike may make you particularly motivated to opt for the granola instead.
Important Features to Consider
An exercise bike should have a few important features. Here's what to consider when selecting an exercise bike:
Recumbent. Recumbent refers to lying down and while that doesn't necessarily ring true for your bikes, it does mean that you'll have a more comfortable seat than a standard upright position. You'll often have a backed seat and that alone will take pressure off your body. You'll especially appreciate this bike if you're struggling with pain caused by the position of the seat and handlebars. The pedals are positioned in front of your body so your knees will see less strain, (and that's really saying something since biking is usually considered one of the lest stressful on your joints) so this is perfect for any knee recovery. If you're looking to get back and shape and your excess weight is a barrier for the bike, this is one solution that will keep the weight off your knees and allow you to get to work.
Folding. If you're pressed for space, then a folding exercise bike may be for you. These types of bikes will usually be able to fold up into a compact position and allow for easy storage. You'll be able to drag the bike into the middle of the living room and use it when you're able, then store it when you're not. It will be an X-shape that has the seat on one side and the handles and pedals on the other side f the X. You can adjust the seat's height to fit each person who uses it. However, "folding" can also refer to the movement of the bike. Some of the folding bikes will let you use additional muscles by lifting your back, guiding you to a standing position and back to a sitting, all while pedaling.
Mini. A mini exercise bike is just the pedals of the bike. That means you'll be able to plop it under your desk or in front of the TV. You will have the comfort of your own seat and that means you can chose the most comfortable seat. So if you have time to sit, you have time to burn a few calories, too. You can use this if you have a back back or knees to give you a similar experience to a recumbent bike, or to just extend your regular workout to burn the maximum amount of calories each day. You can place it under your desk so that even when you're working, you'll still be able to work out, too.
Spin. Spin bikes are upright stationary bikes that will allow you to change positions. You can stand, lean, and sit on this bike, all with the same level of stability because the bike is so well balanced. Your movements won't sway the bike and because of this, you can get a much more thorough workout for your entire body. The handles are lower than a standard, making them more similar to a road bike, so you'll need to hunch to reach them. The spin bikes have a fly wheel that, if you keep them in motion, will make the workout easier on your joints and you'll be better able to maintain a rigorous pace. (For other bikes, you'll never experience the "coasting" that you can get from a road bike.) If you've ever attended a spin class, though, you know there are plenty of ways you can rotate your position and each will kick your butt in its own way. A spin bike doesn't need to be used for a more rigorous spin routine, though, and that may be the biggest benefit of bringing home a spin bike.
Magnetic resistance. For an exercise bike with adjustable resistance, you'll see two primary forms. The first, more "traditional" method is a manual resistance that will tighten a tension knob to tighten brakes around a belt, making it more or less difficult to pedal. As time goes, the belts can break and the knob's hold on the belt could relax, as well. Magnetic resistance is more advanced, technologically, and as magnets won't lose their magnetism, they're more likely to keep a consistent resistance over time. There are two magnets set on either side of the wheel, that brakes. When you increase the resistance, the magnets move closer together, creating tension and making it more difficult for you to pedal through the magnets. Decreasing the tension will make the magnets move further apart. It's a smoother movement with far less noise, as well. As it seems with any technology, though, you'll be paying a bit more for the magnetic resistance. The good news is that the cost difference does seem to be leveling out some as it gains popularity and the belts phase out some.
Seat. You're more likely to find a comfortable seat that comes standard with any stationary bike than you would a road bike. Maybe because the manufacturer expects you to use it more frequently, or because you're expected to stand for some of your road biking, but (with the exception of spin bikes, which mimic road bikes), you'll find more comfortable seats. However, there is still a range on just how comfortable the seat is and you do have some control, there. You may be able to find a more comfortable seat to purchase separately, or you could modify the seat, possibly. But bear in mind that a workout isn't supposed to be relaxing. You're meant to work, so as long as the seat isn't causing too much strain or harming your body, then the seat is probably going to be just fine as is.
 Frequently Asked Questions
Can you lose belly fat by riding a stationary bike?
You can absolutely lose belly fat from riding a stationary bike. In fact, it's an excellent source of cardio and for many people, that's the most effective method of weight loss. As long as you're pushing yourself enough to sweat, then it's a good bet you're burning calories, and if you have excess fat on your stomach, then there's a high likelihood that you're going to lose that belly fat. It may not be as simple as a formula for your specific body, but the general rule is, if you burn more calories than you consume, you'll lose weight. (Just to reiterate, though, the bike won't prevent you from consuming excess calories, so you'll want to make note of what's going in, as much as what you're burning off.)
The bike workout may not target your stomach specifically, but you will see some results there. If you're interested in targeting your core and tightening it up some, then a good upright exercise bike, which will allow you to do a spin method, will be ideal for you. The harder you work, the faster you'll see the results. Of course, you want to make sure you're not pushing beyond what is a healthy standard; you should also consider running any notable change in your fitness routine and levels by your doctor. He may know your medical history enough to make suggestions on your goals.
Is a spin bike the same as an exercise bike?
A spin bike is an exercise bike, just a specific type of one. They're often called upright bikes, but the spin bike will allow you to utilize different positions and not all uprights do the same. The spin bike will allow you to rotate from sitting, standing, and leaning while you pedal, making it easier to burn fat fast. If you've ever been to a spin class, or your frequently do a spinning workout, you'll know that the biggest difference between spinning and a regular workout with an exercise bike is that the spinning will definitely make you sweat. (And possibly cry, if you're not in good shape, let's just be honest.) Spinning is an intense workout that will cycle through a variety of positions to really get the most out of your exercise and your machine. The bike itself is an upright stationary bike, but more, too. It is made to more imitate a road bike than other exercise bikes; the handles are more level with the seat and the wheels will allow you to gain momentum unlike most exercise bikes. So while you can get an upright bike that is not appropriate for spinning, you won't have a spinning bike that isn't an upright.
Is cycling bad for your knees?
Cycling is a relatively low-impact workout that is actually one of the safest for your knees. It won't strain your knees or hips and the benefits for your knees are actually far more than you may expect. The most obvious benefit is probably the weight loss or maintaining of a healthy weight. Without extra pounds on your body, your knees won't carry as much strain from your regular movement. Not only that, but extra weight can also inflame your joints, which can worsen any injuries or weak joints you already have. You'll strengthen your muscles on a bike, making your life a bit easier to navigate, promoting your endurance, and ability to go on adventures. It will help you maintain a healthy range of motion and because you can adjust the intensity of your workout with a bike's resistance and with your own enthusiasm, you'll be improving your benefits as your strength builds, as well.

How long should you ride an exercise bike?
Because riding a bike is, as we just detailed above, a low-impact activity, so you won't have to limit yourself much. The high end of time duration is going to cap based on your level of fitness. You may push more or less depending on your lifestyle and your goals, but the recommended frequency and duration is to ride your stationary bike for thirty minutes, five times a week. It is safe to ride every day and if you suffer from an injury or joint pain, this low-impact exercise may benefit you to do daily. If you want to extend each workout, you can do so, but only by a bit. A forty-five to hour long workout will be the cap of your caloric burn benefits. That's not to say you won't burn more calories after the hour mark, but your energy will likely wane and the additional time won't be as efficiently spent. You'll need to talk to your doctor in this case, to make sure you're not pushing too hard, but for healthy individuals without underlying health concerns, thirty to sixty minute intervals, five to seven times a week is ideal.
Other Exercise Bikes We Reviewed
We looked at 20 other exercise bikes. Even though they didn't make our 5 best exercise bikes list, they're the best of the rest and each is still a great option for your workout. The information you'll need to compare each one is included with the listing.
Folding Exercise Bikes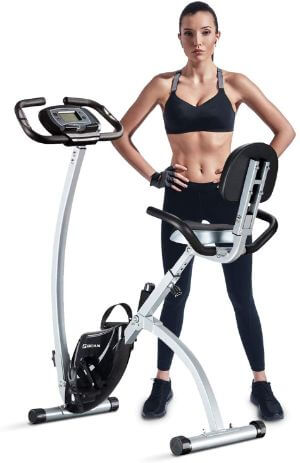 With a high backed seat, you'll have the best comfort of just about any bike available, with the convenience of a bike that folds compactly.
Key Features:
3.7″ LCD display screen
Folds to 46"H x 22" L x 19.6" W'
Unlimited magnetic tension
Cost: $145
Doufit EB-01 Adjustable Magnetic Workout Bicycle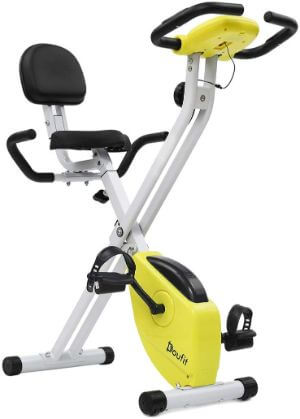 The two sets of handle bars on this folding exercise bike will let you grasp  differently for when you lean forward and when you recline, as well.
Key Features:
LCD digital display
Pulse sensor for heart rate tracking
High-density foam sponge cushions
Cost: $140
Exerpeutic Folding Magnetic Upright Exercise Bike with Pulse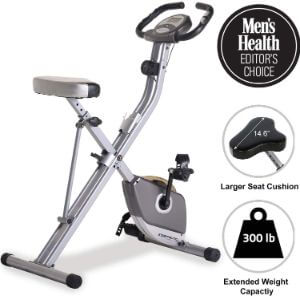 The large, ergonomic seat cushion is comfortable enough that it won't limit your ability to workout for as long as you want to reach your goals.
Key Features:
300 lb weight capacity
3.3″ LCD display screen
Folds to 22" L x 20" W x 55.5" H
Cost: $140
Harvil Foldable Magnetic Exercise Bike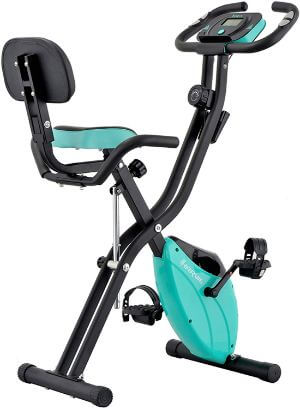 With a weight capacity of 330 pounds and a minimum height of 3'10", this seat will work for most adults.
Key Features:
26.4 L x 20 W x 46 H inches
10-level magnetic resistance
Adjustable backrest, and seat height
Cost: $150
XTERRA Fitness FB350 Folding Exercise Bike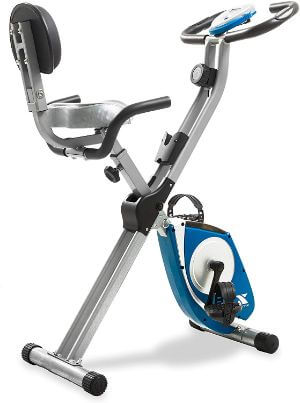 The X-frame of this folding bike will allow it to take such little space that you can fold it to a 20.5″ by 20″ space when not in use.
Key Features:
2″ x 1″ display screen
8 levels of resistance
3-piece pedal crank
Recumbent Exercise Bikes
EXERPEUTIC 900XL Recumbent Exercise Bike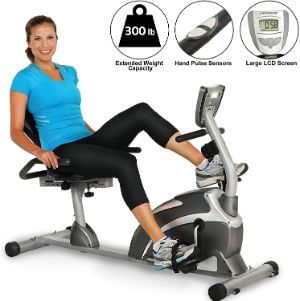 Without straining your back or joints, you'll still be able to get a thorough leg workout on this recumbent bike.
Key Features:
Hand pulse sensors
300 lb weight capacity
1-year warranty
Cost: $165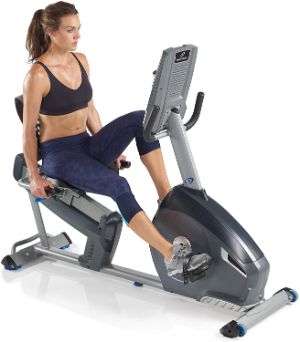 With the console speakers and USB port, you'll easily be able to project your music loud enough to hear, even without the headphones.
Key Features:
3 models available
22 programs, 9 user profiles
Weight capacity: 300 lbs
Cost: $415
With the free RideSocial app, you can see the world virtually as you ride alongside your friends in real time.
Key Features:
3 models available
29 programs; 12 user profiles
25 levels of resistance
Cost: $550
Sunny Health & Fitness Magnetic Recumbent Bike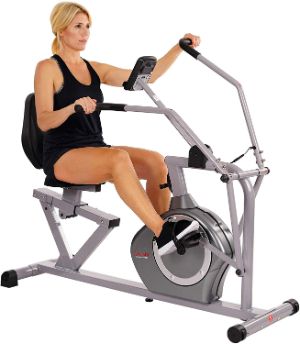 The movable handlebars on this recumbent bike will let you maximize your workout for a more all-over exercise.
Key Features:
Pulse sensors
8 levels of resistance
Large seat with backrest
Cost: $295
Sunny Health & Fitness Magnetic Recumbent Desk Exercise Bike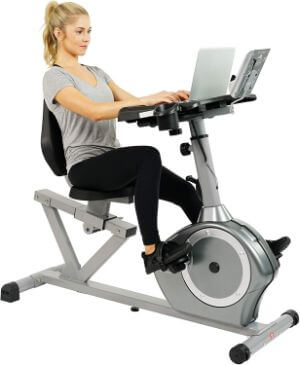 You'll be able to use this bike with a laptop to make sure that you can work and workout.
Key Features:
Safer, step-through design
Transportation wheels for portability
High-backed seat
Upright Exercise Bikes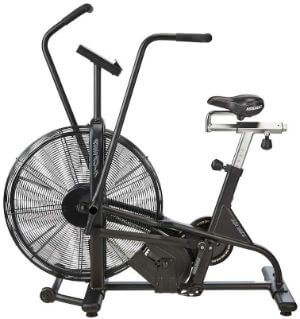 This bike will allow you to work arms and legs alike with the moving handlebars.
Key Features:
Advanced LCD screen
Maximum 350 lb weight capacity
25″ steel fan for maximum resistance
Cost: $700
Keiser M3i Indoor Cycle Bundle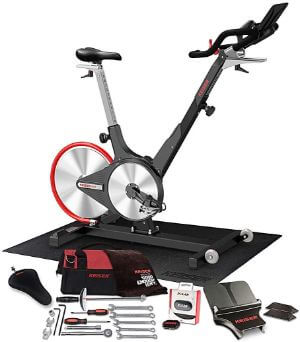 This kit makes assembly so easy, you won't need to devote your entire evening to figuring it out.
Key Features:
Includes stretch pads, floor mat, gel seat cover, media tray, and more
Bluetooth enabled
Built in the USA
Cost: $1995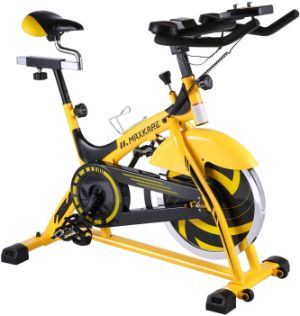 This customized design will allow you to adjust the handlebars up and down, and the seat can be adjusted up, down, front, back.
Key Features:
Emergency stop brake
LCD digital display
264 lb weight capacity
Cost: $220
NordicTrack Commercial Studio Cycle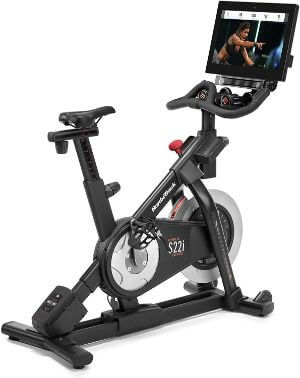 With your purchase of this commercial studio exercise bike, you'll receive 1-year iFit membership with access to an interactive trainer.
Key Features:
2 size display screens available
10% to 20% Live incline matching technology
24 levels of resistance
Cost: $2000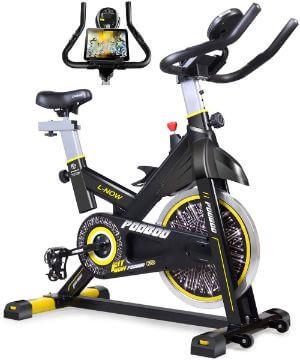 You'll be able to customize this bike to fit your whole family, with the adjustable seat, handlebars, and pedals.
Key Features:
Bottle cage included
Supports up to 330 lbs
0.12″ solid steel frame
Cost: $320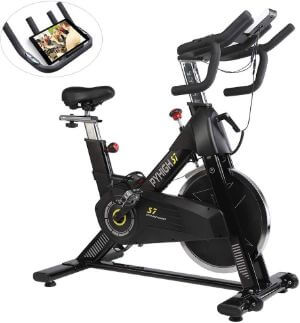 The adjustable resistance will allow you to increase and decrease your speed as you go, and the phone holder knows just what you need to keep you on the bike for longer.
Key Features:
48 lb flywheel and drive belt system
LCD digital display
1-year warranty
Cost: $460
Schwinn M717 170 Upright Exercise Bike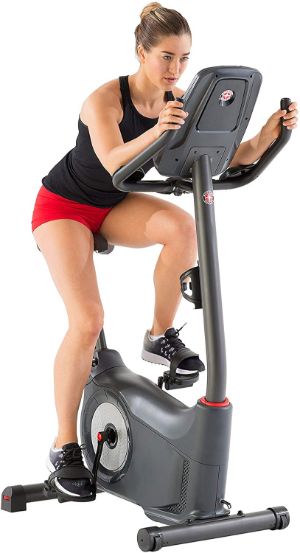 With 29 programs to choose from, you'll definitely be able to get your preferred workout by using this exercise bike.
Key Features:
DualTrack LCD console
Padded, contoured seat
Heart rate sensors
Cost: $450
Sunny Health & Fitness Indoor Cycle Bike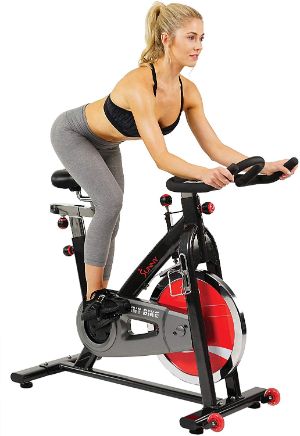 With a sturdy frame and 49-pound weighted flywheel, you can be sure this exercise bike isn't going anywhere as you push yourself and not it.
Key Features:
275 lb weight capacity
4-way adjustable seat; 2-way adjustable handlebars
Built-in bottle holding cage
Mini Exercise Bikes
DeskCycle 2 Under Desk Stationary Mini Exercise Bike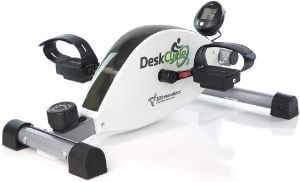 This under-desk mini exercise bike may be just what you need to boost your productivity at work and your fitness levels, too.
Key Features:
6-function LCD display
Magnetic resistance is excellent for your joints
8-levels of resistance
Cost: $170
MagneTrainer-ER Mini Exercise Bike Arm and Leg Exerciser
This mini exercise bike will allow you to control your resistance for each of your workouts with a convenient twist along the back of the machine.
Key Features:
15″ wide base
Made with durable steel
Displays speed, distance, time, and calories
Cost: $160