The most common sleep problems are trouble falling asleep, trouble staying asleep, and the quality of sleep when you do finally get to sleep. If you're struggling with one or more of these, the good news is that CBD gummies are a natural alternative to high-risk prescription medications that could just be the most effective for your body. If you're not sure where to start when looking for the right dosage and type of CBD gummy to help your sleep, look no further.
We reviewed dozens of CBD gummies for sleep to identify the best of the best. We found the CBD gummies that will incorporate melatonin to have you falling asleep faster than ever, as well as the gummies designed to make sure your body is relaxing enough to allow you to stay asleep. We found pure forms of CBD isolate, and the THC-free broad-spectrum CBD, as well as the mostly untouched full-spectrum forms. No matter what you're looking for in your CBD gummy, we've found the right one for you.
It was easy to pick the best CBD gummy for sleep when you take a careful look at our top pick. Little Drops is lovingly infused with CBD so that each gummy has a consistent dosage, and the hemp made for these gummies is all organically-grown.
[toc]
The 5 Top-Rated CBD Gummies for Sleep
*Ratings are from the time of publication and can change
Best CBD Gummy for Sleep Overall: Little Drops
The Little Drops gummies are infused with 20 mg of CBD to help you ease into an excellent night of sleep in the most relaxing way. In recent days, there has grown a surplus of CBD products on the market, and you can never be too careful with the quality you're getting. Some CBD gummies are actually just cheaply made gummies that are purchased from a manufacturer and later sprayed with a CBD oil. This isn't the best way to ensure the dosage, because oil has been known to rub off. Little Drops infuses each gummy to ensure the dosage of 20 mg is precise.
These gummies are also vegan-friendly and naturally flavored, so you won't need to worry about what you're putting into your body, regardless. (And that natural flavoring happens to be a yummy "blueberry terna tea" blended with fruit pectin, rather than gelatin.) They're also produced in a state-registered, hemp-licensed facility that guarantees consistent production.
Little Drops Key Features:
Organically grown CBD
20 mg CBD per gummy
3rd party tested
Best CBD Gummy with Melatonin: CBDfx Gummies – Sleep Melatonin
The CBDfx Gummies Sleep Melatonin are made with exclusively vegan ingredients, making it an ideal pick, even for the most discerning customer. By blending the calm-inducing CBD with the hormone your body produces to make you tired, you're sure to be maximizing your night's sleep. Not only will Melatonin make you sleepy, even if you don't feel any of it naturally, but the CBD is also long-lasting so that it's long-term relaxing effects will keep you asleep longer, as well. All this combines to make this excellent for those who have trouble falling asleep, those who struggle staying asleep, and those who have problems with both.
Each gummy contains 5 mg of melatonin and 10 mg of CBD, and the recommended dose is two before bedtime. (Though it doesn't say it explicitly, you should plan to take if at least 15 minutes before bed as it does take about this long before it could begin affecting you.) As an added bonus in the ingredient list, you'll also find the calming chamomile, lemon balm, and a proprietary terpene blend.
CBDfx Gummies – Sleep Melatonin Key Features:
60 gummies per container
Non-GMO and vegan
Broad-spectrum CBD
Best Organic CBD Gummy for Sleep: Joy Organics CBD Gummies
The Joy Organics CBD Gummies comes in a delicious strawberry lemonade flavor and uses the most natural ingredients available to them. When finding the best gummy for yourself, you'll have to consider the quality of the ingredients, and these gummies definitely pass the test. Both organic tapioca syrup and organic cane sugar are the sweeteners to create its taste, and in combination with USA-grown hemp, this is a gummy that you'll feel comfortable eating.
The CBD used for these gummies is a broad spectrum and completely free of THC, as well as made with the same consistent manufacturing process that maintains a consistent dose in each gummy. So when you plan to take your gummies, you'll always be able to trust that each gummy is as labeled, 10 mg of CBD.
Joy Organics CBD Gummies Key Features:
THC-free, broad-spectrum CBD
USA grown hemp
Money-back guarantee
Best Budget CBD Gummy for Sleep: MedTerra CBD Gummies – Sleep Tight
MedTerra/CBD Gummies – Sleep Tight has an incredibly effective dosage of CBD for promoting sleep. Each serving, one gummy, contains a full 25 mg of CBD, making it efficient and convenient dosing. After all, the fewer you need to take, the better for your teeth. (Though you should still plan to brush your teeth after eating these gummies.)
These gummies are made in the USA, non-GMO, and have 0% THC so that they fit into anyone's lifestyle. They also include lemon balm, chamomile, L-theanine, CBD, 5-HTP, and more. These ingredients combine to give your body the kind of support it needs to keep your body calm and sleep to come faster than before.
And if you're not convinced, keep in mind that the cost for these isn't as astronomical as a lot of the CBD competitors. You can pick up a 30 count bag of these gummies
MedTerra CBD Gummies – Sleep Tight  Key Features:
Recommended dose: take 1 gummy one hour before bed
Strawberry flavor
30-day money-back guarantee
Best Full-Spectrum CBD Gummy for Sleep: Charlotte's Web CBD Gummies – Sleep
Charlotte's Web CBD Gummies – Sleep combines the power of CBD with melatonin and the naturally-occurring phytocannabinoids found in the remainder of the hemp plant. These three ingredients provide you with an effective sleep aid that will allow you to fall asleep faster, sleep more soundly, and wake refreshed. The CBD contained in these gummies is from USA-grown hemp plants and is a full-spectrum CBD to help you maintain a healthy and regular sleep schedule.
The raspberry flavor of these gummies makes it an enjoyable supplement to take and one that you should take roughly 30 minutes before bed to allow the gummy to process through your body and the full effects of the ingredients to hit your system.
Charlotte's Web CBD Gummies – Sleep Key Features:
10 mg per gummy
60 gummies per container
30-day satisfaction guarantee
Who Should Buy CBD Gummies for Sleep
If you're struggling to fall asleep due to chronic insomnia, CBD and its relaxing effect it has on your body's central nervous system can help you. The gradual absorption into your body after digestion is perfect for taking the CBD supplement at the beginning of your bedtime routine. When it takes up to 90 minutes to hit your system, you'll have the time to shower, brush your teeth, (which you'll definitely want to do if you're eating a gummy supplement) and prep for the next day before lying down just in time for the CBD to hit and your body to sink into a restful and uninterrupted sleep.
For those who struggle to fall asleep and stay asleep due to pain or anxiety, then CBD can help with your sleep in this respect, as well. CBD will decrease your body's inflammation and the ability it may have to boost your serotonin levels can help soften the sharp edge of anxiety that has you up late. If you're looking for a faster relief to either of these problems, though, you could look into topical creams for the pain and tinctures for anxiety. Both of these methods will have your body responding to the CBD faster.
Important Features to Consider
CBD gummies for sleep should do several things well. Here's what to consider when selecting CBD gummies to help with your sleep:
Relaxation. If you're struggling to fall asleep due to your inability to relax, the CBD can help, to be sure. With the near-sedative effect that it can have on your nervous system, you'll find yourself relaxing much easier. In fact, even if you're not falling asleep right away, lying in bed, relaxing may do a world of good for your body. For this reason, taking your CBD before bed is usually an excellent idea. It remains in your system for up to five days, so you'll probably feel that relaxation's effect well into your next day.
Melatonin. By adding melatonin to CBD, you'll find yourself falling asleep as soon as the CBD and melatonin hit your system. It will need to be digested before it hits when you ingest it in gummy form, so plan accordingly and get it in your system approximately thirty to ninety minutes before you're hoping to fall asleep. For more on CBD and melatonin, check out CBD And Melatonin: Can You Take CBD With Melatonin?
Sugar content. Not only will you want to avoid the more sugary gummies due to your teeth – after all, gummies tend to stick into the grooves more effectively than any other food – you'll also want to make sure you're not sugaring yourself up too much and keeping yourself from sleeping.
CBD dosage. The rule of "less is more" isn't necessarily what you're looking for in a medical supplement, but then neither is "the more, the better." The National Center for Biotechnology Information published a study that showed 25 mg of CBD is most effective for helping calm anxiety, but greater doses were more effective at helping sleep concerns. The general consensus is that you'll want to stay between 10 to 400 mg per day. Even in higher doses, though, CBD isn't toxic. You just may notice more of the negative side effects in a higher dosage.
Hemp oil. Hemp vs. CBD a tricky line to draw when you're finding the right gummy because though Hemp seeds (and their oil) don't contain CBD, they do have a lot of the same benefits – just in far less potent doses. Hemp is far easier to purchase, and runs virtually no risk of testing positive on a drug test, not to mention, it's still incredibly rich in nutrients and bioactive compounds.
Frequently Asked Questions
What are CBD Gummies for sleep, and how do they work?
CBD gummies are orally taken supplements that contain cannabidiol, or CBD. CBD has calming effects on your nervous system, and that effect is an excellent boost to your ability to fall asleep. In fact, studies published by Harvard University have shown that CBD helps you both fall asleep and stay asleep. Not only does the CBD help with your nervous system relaxing your body physically, but it will also help pain, inflammation, and anxiety, so if any of these are the causes of your insomnia, CBD can still be the fix.
Can CBD gummies make you sick?
CBD gummies shouldn't make you sick. If you notice any kind of sick-like symptoms, you may be taking the wrong dosage. Depending on the severity of the side effects, you may want to talk to your doctor or just try backing off in your dosage. The most common side effect will be an increased feeling of fatigue and a kind of mental sedation if you take too much. The good news is that they're not toxic, even at higher dosages. You just may feel less than peak shape if you're not taking the right dosage, or if the CBD is interacting poorly with your other medications.
How many CBD gummies should I take for sleep?
Well, the easiest way to make sure you're taking the right amount of CBD gummies for your bedtime routine is pretty obvious: follow the instructions. If you have a CBD gummy supplement that isn't explicitly designed for sleep, though, you may need to look a little deeper. CBD gummies for sleep, for example, will require a higher dosage, whereas CBD for anxiety is best when taken at a lower milligram. For sleep, you may want to start dosage lower and work your way up. Most find the optimal effectiveness at or below 1,500 mg. Again, follow the instructions, and be at ease doing so, because CBD isn't toxic.
What drugs should not be taken with CBD?
Though CBD isn't toxic, and you won't need to worry about harming yourself when experimenting with dosage, there are exceptions to that. Some of your other medications may interfere with the CBD, and they absolutely can damage you. You won't want to take CBD supplements of any kind if you're taking Warfarin, Theophylline, Clobazam, Valproate. You should also be especially careful mixing CBD and alcohol because the two can amplify the effects of each other.
If you have any medications you take regularly, then you will need to talk to your doctor before missing CBD into your medication regiment.
Other CBD Gummies for Sleep We Reviewed
We looked at 20 other CBD gummies for sleep. Even though they didn't make our 5 best CBD gummies for sleep list, they're the best of the rest, and each is still a great option for your sleep. The information you'll need to compare each one is included with the listing.
CBD Gummies for Relaxation
Charlotte's Web/CBD Gummies – Calm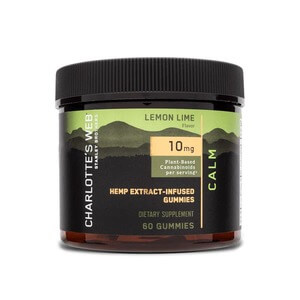 These CBD gummies will help you relax and calm (hence the name) so that easing into sleep is easier than ever.
Key Features:
Includes lemon balm, and hemp extract
60 gummies per container
10 mg CBD per serving
Cost: $45
Calming your nerves is one of CBD's specialties, and this gummy supplement excels at it.
Key Features:
Tropical fruit flavor
30 gummies per bag
25 mg CBD per gummy
Hemp Gummies for Sleep with Melatonin
HempZZZ Gummies for Deep Sleep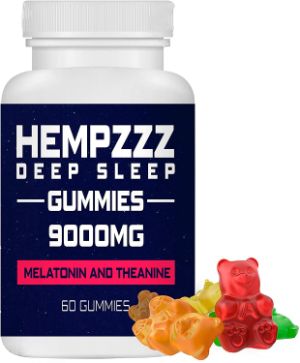 This hemp gummy uses melatonin to help you fall asleep fast, and the hemp will help you get better quality sleep all night long.
Key Features:
Grown in USA
Includes hemp oil, L-theanine, omega 3, 6, 9 and more
3 mg melatonin per gummy
Cost: $35
The manufacturer of these gummies boasts that they'll help you relax, relieve your pain and even re-balance your body's hormones.
Key Features:
Also includes omega 3, 6, 9, vitamin A, and E
60 gummies per container
Infiused with hemp oil
Cost: $20
Vitafuel Melatonin Hemp Gummies
The blend of melatonin and hemp of these gummies are an excellent combination to help you mitigate your sleep concerns.
Key Features:
25 mg hemp extract; 5 mg melatonin
30 gummies per container
3rd party tested
Cost: $25
These hemp gummies will help you ease into your bed and sleep as deep as you ever have.
Key Features:
25 mg hemp in each gummy
5 mg melatonin
30 gummies per container
Cost: $25
Your Teddy Hemp Gummies for Sleep
These teddy bear gummies pack enough hemp and melatonin that you're going to have far fewer problems with your sleep schedule.
Key Features:
5 mg melatonin, 25 mg hemp
30 gummies per container
100% money-back guarantee
Other CBD Gummies for Sleep
American Shaman Sample Pack Of Gummies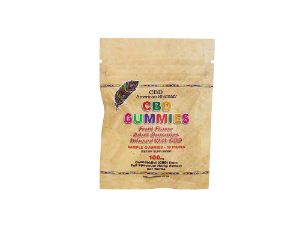 If you're not sure if CBD will give you the kind of help you're looking for, a sample pack like this one is a great plan.
Key Features:
Fruit flavor
10 mg CBD per gummy
10 gummies per bag
Cost: $20
American Shaman/CBD Gourmet Gummies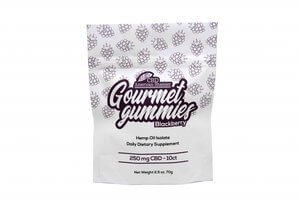 These gummies come in so many delectable flavors that you're sure to find one that hits your favorites.
Key Features:
THC options: 0% or 0.3%
8 flavor choices
10 gummies per bag
Cost: $50
These gummies are packed with terpenes, that are known to cause a relaxed and mellow feeling that can help your sleep.
Key Features:
30 gummies per container
Misc fruit flavors
10 mg CBD per gummy
Cost: $60
CBD Living CBD Gummies – Vegan
These CBD gummies will give you an effective dose of broad-spectrum CBD that you'll relax easier than ever.
Key Features:
2 dosage options
2 packaging choices available
Cherry, strawberry, orange, and lemon flavors
Cost: $30
CBD Living CBD Gummy Rings – Cherry
With a calming effect, you'll see the CBD of these gummy rings helping you sleep more peacefully than ever.
Key Features:
2 size options
2 packaging choices
10 mg CBD per gummy
Cost: $30
CBDfx/ Gummies 300MG- Apple Cider Vinegar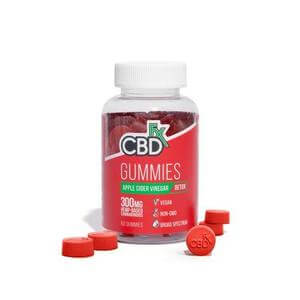 If you enjoy a relaxing cup of apple cider vinegar, warm water, and honey before bed to help ease you to sleep, this convenient alternative may be just as effective.
Key Features:
Pomegranate flavor
Vegan, non-GMO
60 gummies per container
Cost: $50
CBDfx/ Gummies 300MG- Men's Multi Vitamin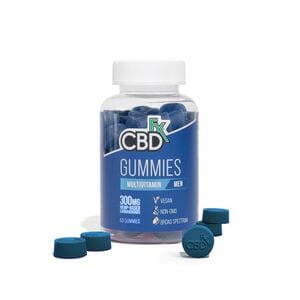 If you're planning on taking a daily CBD supplement, then why not find one that will give you the vitamins and minerals your body needs, too?
Key Features:
Vegan, non-GMO
3rd party tested
Includes vitamin A, B6, E, and more
Cost: $50
CBDfx/ Gummies 300MG- Women's Multi Vitamin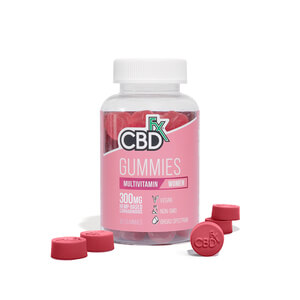 This CBD multivitamin will give your body the vitamins it needs, and a healthy dose of CBD to keep you relaxed and ready for bedtime.
Key Features:
Non-GMO and vegan
Broad-spectrum CBD
60 gummies per container
Cost: $50
Charlotte's Web/CBD Gummies – Recovery
If aches and soreness are keeping you awake, this CBD gummy to help you recover could very well be your ticket to a good night's sleep.
Key Features:
10 mg CBD per gummy
60 gummies per container
Ginger flavor
Cost: $45
Green Garden Gold/CBD Yummy Gummies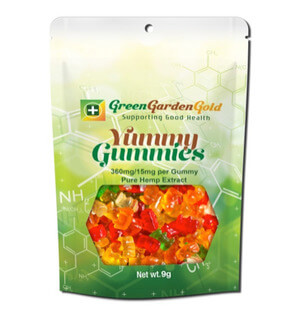 These yummy gummies are aptly named and sure to help you get the night's sleep for which you've been longing.
Key Features:
4 delicious flavors
15 mg CBD per gummy
24 gummies per pack
Cost: $30
Joy Organics/CBD Gummies Tincture
These gummies are formulated to make sure you're getting all the effects of high-quality CBD, without the THC.
Key Features:
THC-free
Green apple flavor
30 gummies per container
Cost: $40
While a lot of this gummy's competitors require frequent consumption, one dose of these CBD gummies will last you all day long
Key Features:
10 mg CBD per gummy
30 gummies per container
Berry flavor
Cost: $25
Sunday Scaries/CBD Vegan Gummies 
If anxiety prevents you from getting the kind of sleep you'd like, then these anxiety-relieving CBD gummies can be a huge help.
Key Features:
Take 2-3 gummies as needed
20 servings per container
10 mg CBD
Cost: $40